This article may contain affiliate links; if you click on a shopping link and make a purchase I may receive a commission. As an Amazon Associate, I earn from qualifying purchases. 
I love it when I do a product review on this blog because I get the most wonderful comments. I find out different ways to use the product, places to get it cheaper, and I also get suggestions for other products based upon what I wrote.
In my last post about beauty products, the comments were amazing and I got so many ideas on what to purchase when my current stash ran out.
I was currently switching between DiorShow
and Maybelline Falsies
for my mascara. I didn't like Falsies
(very wet, didn't hold curl, smudged easily) but wanted to use it up; I was keeping my beloved DiorShow
for special occasions. Reader Jil had a suggestion:
Hyperlash Mascara by Smashbox!!! Finally, a mascara that lasts all day, doesn't flake, doesn't rub off, doesn't irritate my contact-wearing eyes, makes my eyelashes look like they go on for days, water-resistant but not water-proof, doesn't clump when you use the brush/comb it comes with. I love this mascara. It's pricier than the pharmacy but lasts forever and is WELL worth it.


Allie, maybe you should try it. Just about the same price as your Dior (a little less), but doesn't dry out and lasts forever.
When my DiorShow
ran out, I decided to get a tube of Smashbox Hyperlash
. I didn't open it for the lonest time, trying to get my money's worth from Maybelline Falsies
. I finally gave up on that and opened up the Hyperlash.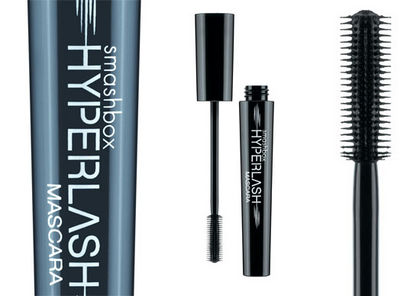 I really like it. It has a very stiff short brush – more like a round comb than a brush. It makes it really easy to get to the roots and separate your lashes. They always say to wriggle your brush as you paint your lashes but it's often hard to see if you're doing it with big fat caterpillar brushes; it's easy to do it without a mess with the Hyperlash
brush.
The color stays all day, I don't get raccoon eyes by 5pm. No flaking into my eyes, no irritation. It doesn't give me drag queen lashes, but it's a great choice for day and doesn't get grody when I layer. I don't know if it can replace
DiorShow's
place in my heart, but it's by far one of the best mascaras I have ever tried!
Thanks Jil!
April D had a TON of great product suggestions, some that I too love and others I had never heard of. One really piqued my interest:
Highlighter: TheBalm Mary-Lou Manizer. I put this on the inner corners of my eyes, on top of my cheek bones, and in the bow of my upper lip. A makeup artist asked me how I got my skin to "glow," and this, blended in with some Bare Minerals Clear Radiance, is my trick.
As I get older, I see how my skin has lost its dewy glow. I have tried a ton of highlighters over the years – some hardly make an impact, some make me look like a disco ball. I was currently using a matte ivory in the corners of my eyes and wanted something that looked a bit more dewy; I also was looking for something that was easy, could be used in many ways, but still look realistic for the workplace.
TheBalm's Mary-Lou Manizer
sounded like a good choice.
Love love LOVE this stuff! The packaging reminded me of Benefit with it's witty cartoon and message, however I was terrified when I opened the compact and saw a very shimmery, shiny gold creamy powder.
All fear disappeared when I actually tried this product
. I adored the creamy yet powdery finish – it blended great into my skin without getting weird in my fine lines. I have literally worn this product every day since purchase. I put it in the inner corners of my eyes, my brow bones, on my cheekbones, and the bow of my upper lip. It really doesn't look as though I am wearing anything, just that my skin looks happier.
I found I cold control the amount of shimmer – a light touch was perfect for weekends, a bit more for work, another layer for a night out. On weekends I will wear TheBalm Mary-Lou Manizer
, concealer, mascara and tinted lip balm and feel finished. For work days I put Manizer
on after concealer but before foundation so it gives a glow without being too intense. I have even mixed some with my lip gloss for a shimmery evening look.
Thanks April!
Because of you readers, I have learned about so many beauty products, clothing companies like Boden and CAbi, and even Sofft shoes – the only shoes I found to be comfortable and cute in my last trimester and right after having Emerson. Thank you, and keep those suggestions coming!