This article may contain affiliate links; if you click on a shopping link and make a purchase I may receive a commission. As an Amazon Associate, I earn from qualifying purchases. 
Oh the weather was FANTASTIC this weekend! I love weekends in fall that are so crisp and clear and have weather mild enough that you can go outside and enjoy the beauty of the season!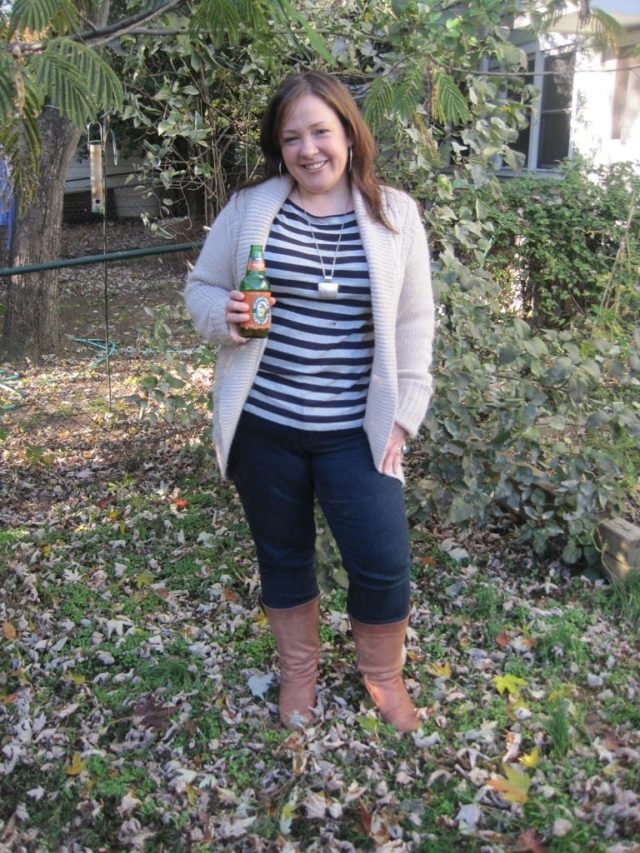 Saturday, our friends Nicole & Ryan invited us over for a cookout. Very casual affair, didn't change from what I was wearing earlier in the day to the playground and for being around the house.
Sweater – Ann Taylor (no longer available)
Tee – Lands End Canvas
Jeans – NYDJ "Marilyn"
Boots – DUO
Necklace – Vintage (have had the pendant for about 20 years, used to wear on a necklace cuff)
Earrings – Argento Vivo
Silver Cuff
Beverage – Woodchuck Hard Cider (so appropriate this time of year)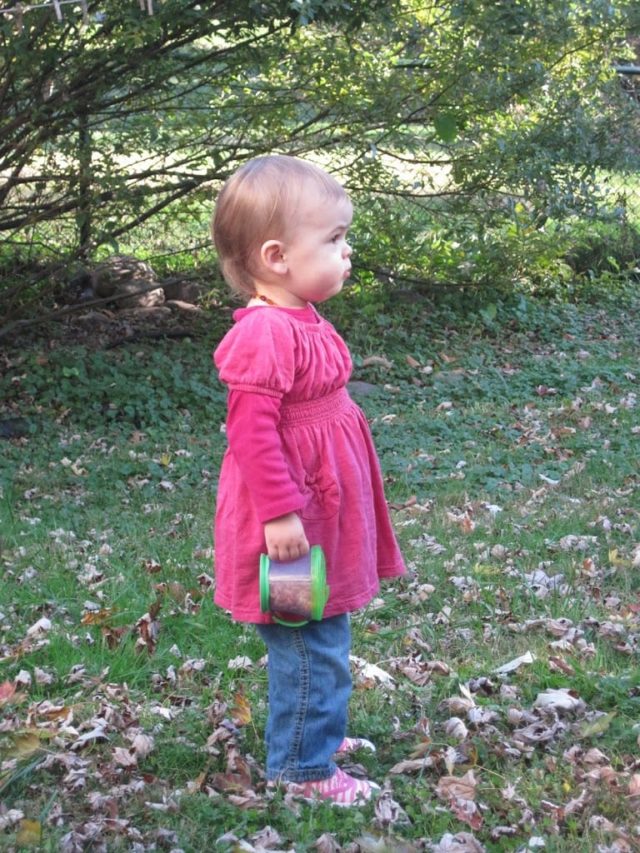 Emerson is totally taking after her father and is all legs. Her 2T dresses and pants are too big, but her 18-24 month clothes are getting pretty short. I have been putting her in dresses with jeans lately so that she can get wear out of these clothes I bought her, she can stay warm, and not look bootylicious. This is what she wore to the cookout on Saturday.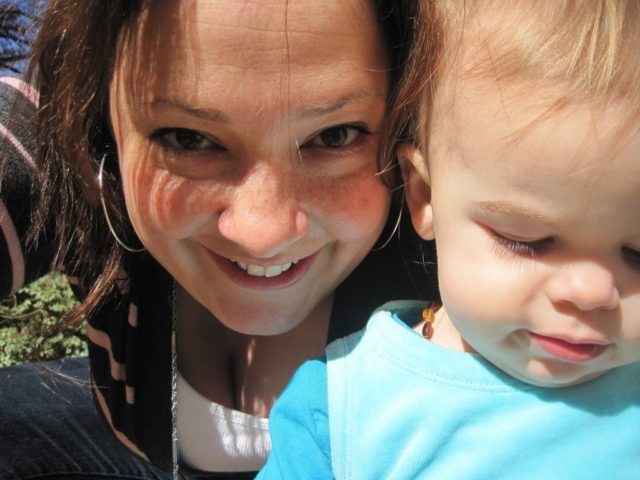 Sunday was another beautiful day. We started it at the farmer's market where we stocked up on dark leafy greens and Zeke's Coffee. No full picture of me, here's a self-portrait with Emerson (who is wearing another dress over jeans).
Cardigan Sweater – Ann Taylor LOFT (not same but similar style)
Tank – Caslon for Nordstrom (not available now but will be available prob come spring)
Jeans – Ann Taylor LOFT
Boots – DUO
Necklace – Vintage
Earrings – Argento Vivo

One of the vendors had some turkeys there and Emerson was totally entertained by them. They made me even more certain that I am going back to being a vegetarian. I know the purpose of their visit to the farmer's market was to show how happy and healthy their turkeys are, and those turkeys looked very well cared for and relatively calm and confident, but it just made me feel even more guilty.
Last night I used this recipe to make collard greens. I never ate collard greens growing up, I think the first time I had them was in high school when having dinner at a friend's house. I found them gross – very greasy, all brownish-green and weird. Collard greens are healthy, and CHEAP at the farmer's market so I bought some yesterday to try cooking.
It was GOOD! In place of the crushed red pepper, I added three mini hot peppers from the bundle we also bought that AM at the market. I didn't add the tomatoes, added more garlic than asked (think I used four cloves), and used chicken broth since there was an open carton in the fridge that needed to be used before it expired. I also added a splash of cider vinegar. If you cook for about 10 minutes, they greens end up a bright emerald shade and are still a bit crunchy but delish. If you like the classic buttery-soft collard greens, you can cook from 40 – 60 minutes. I did half at the 10 minutes, and then the rest we simmered for over an hour for two different options. Quite delish, and not at all bitter!