This article may contain affiliate links; if you click on a shopping link and make a purchase I may receive a commission. As an Amazon Associate, I earn from qualifying purchases. 
I ask you to please forgive the quality of these pictures. It was an early day at work so no full-body shot by the hubby, and I swear each time I went into the office bathroom there were people in there. Very few coworkers know I have a blog (I don't hide it, I just don't advertise it) so I didn't want them to catch me shooting a self portrait. The headshot was taken as another woman was flushing (maybe she wouldn't hear the camera), the leg shot was taken in the office hallway. Oh so glam and polished!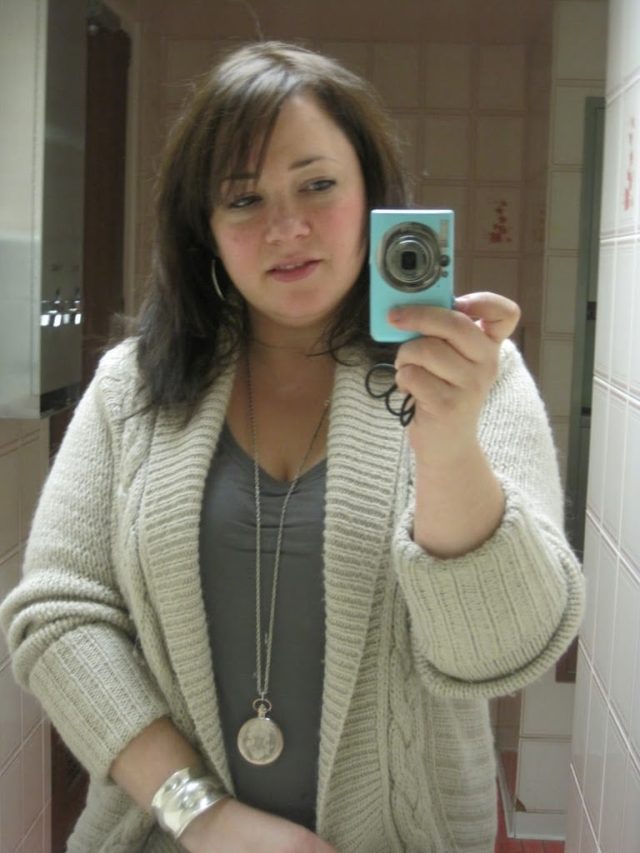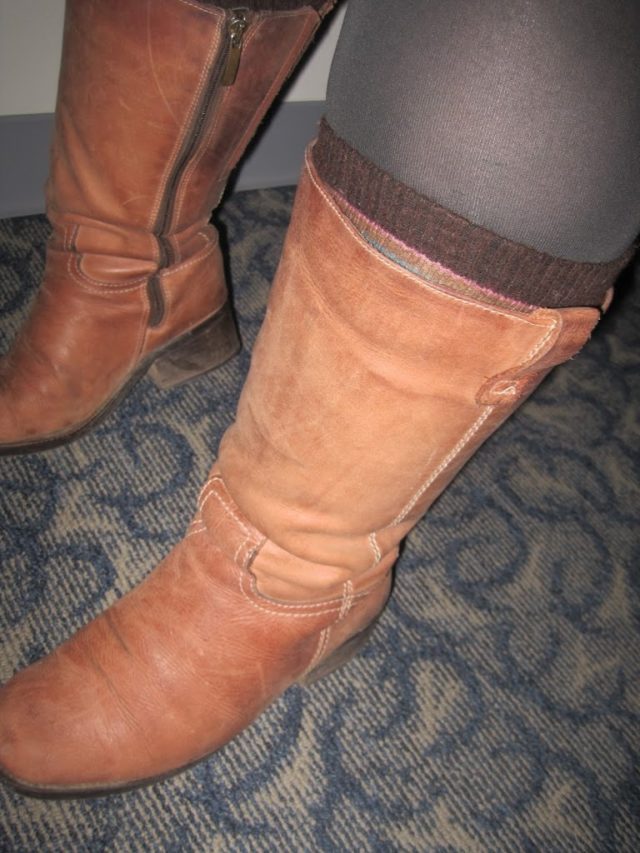 Taupe chunky cardigan – Ann Taylor (last year)
Gray pima scoop tee – Banana Republic (also last year)
Denim pencil skirt – Ann Taylor (this fall, and too large. Will be going on eBay come 2011)
Gray tights – Spanx
Cashmere knee socks – Gift from my fabulous sister
Tan Boots – DUO Boots "Bern"
See? Craptastic pics. And it's unfortunate because I am actually having a decent hair day, and my outfit is actually kinda cute in a bundled-up Casual Friday sort of look. This morning on Twitter I said it was, "Cozy Casual Friday for a Snowy City." Yep, that sums it up. It snowed yesterday. Nothing compared to other parts of the country (folks did you see this lighthouse in Ohio? OMG! And FYI link goes to a video) but DC folks freak with one snowflake. Today is sunny but cold, and I wanted to take advantage of it being Friday and wear a more casual look.
So what are your weekend plans? Top of my list? A CHRISTMAS TREE! Yeppers, we have YET to get on the ball and get our tree. Tomorrow after my husband finishes teaching, if Emerson is still awake we're going to go get one. Tomorrow evening my friend A is having her annual Christmakwanzaayulenukkah party. Christma-wha? From her invite:
Christ-ma-kwan-zaa-yule-nuk-kah (unpronouncable) n. festival combining a variety of winter holidays having to do with lights, turning points & new beginnings and learning about & celebrating their similarities and differences; great excuse to avoid other gatherings; reason to get drunk and party with friends
Sounds pretty fabu, eh? Well it is! Still not sure what I will wear, will see how the mood strikes me that day. I'll be sure to take pictures, and pictures far better than the ones from today!
Hope you have a fantastic weekend!