This article may contain affiliate links; if you click on a shopping link and make a purchase I may receive a commission. As an Amazon Associate, I earn from qualifying purchases. 
Last week was pretty hectic. I had a lot of contracted work to complete, it was my sister's birthday, and it was the week that Girl Scout cookies arrived. As the Troop Cookie Manager, we had to go pick them up (over 200 cases), I had to speak at this week's meeting, and all weekend parents from the troop were coming to our house to pick them up. However, I still got dressed a few days and even had a bit of fun!
Back in Black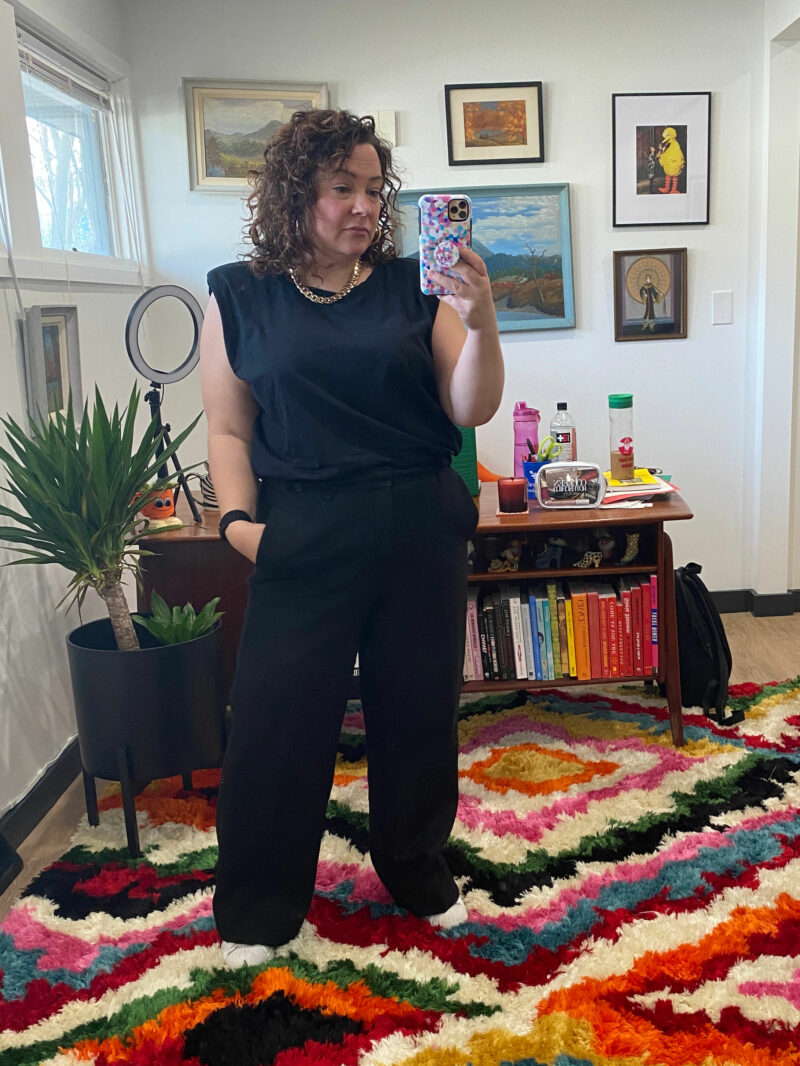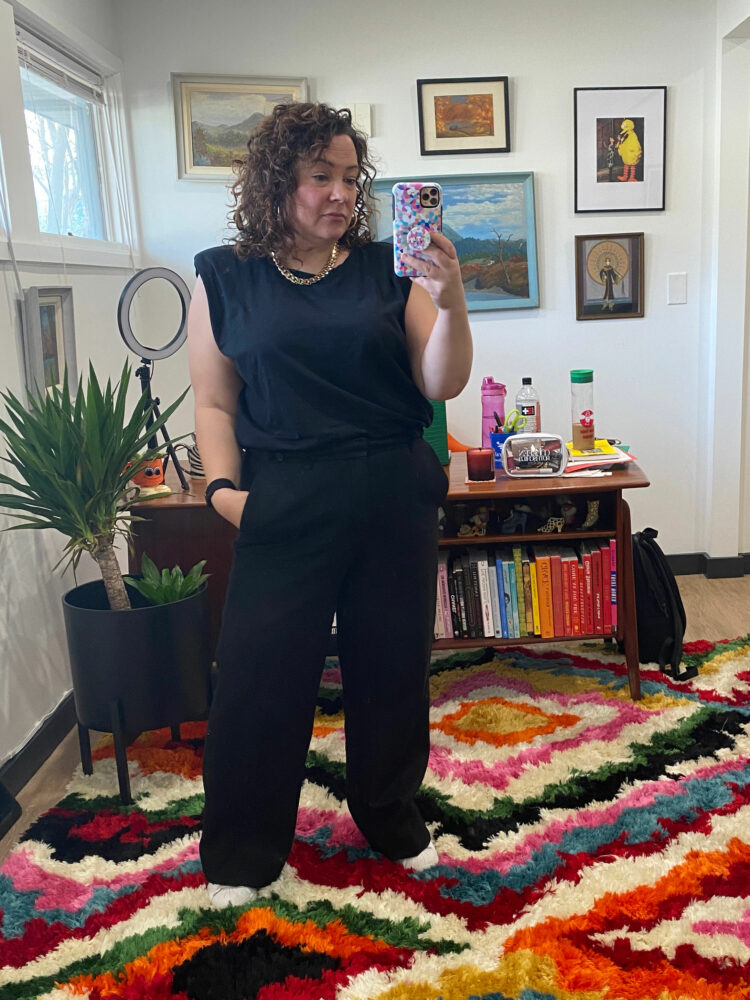 This was a day where I knew I'd be running around but didn't want to overheat… and didn't want to look a mess. This top is a padded shoulder tee from Banana Republic I got this summer. They don't have it any more but the Banana Republic Factory has this crepe version which I really like and Banana Republic has a French terry version. I am wearing size large.
And speaking of Banana Republic Factory, that's where these pants are from. While I like the cut of these pants, I hate the fabric which is a lint trap. This was a day where I was crawling around on my office floor dealing with cords and outlets and this carpet and these pants are NOT friends.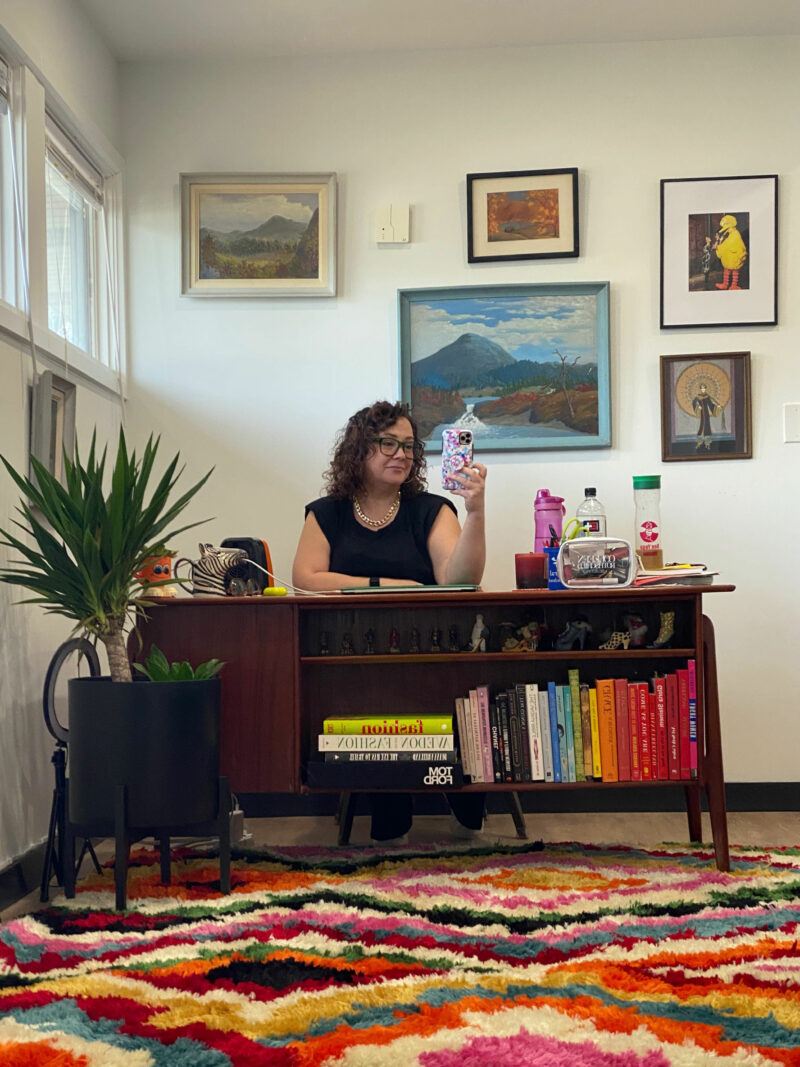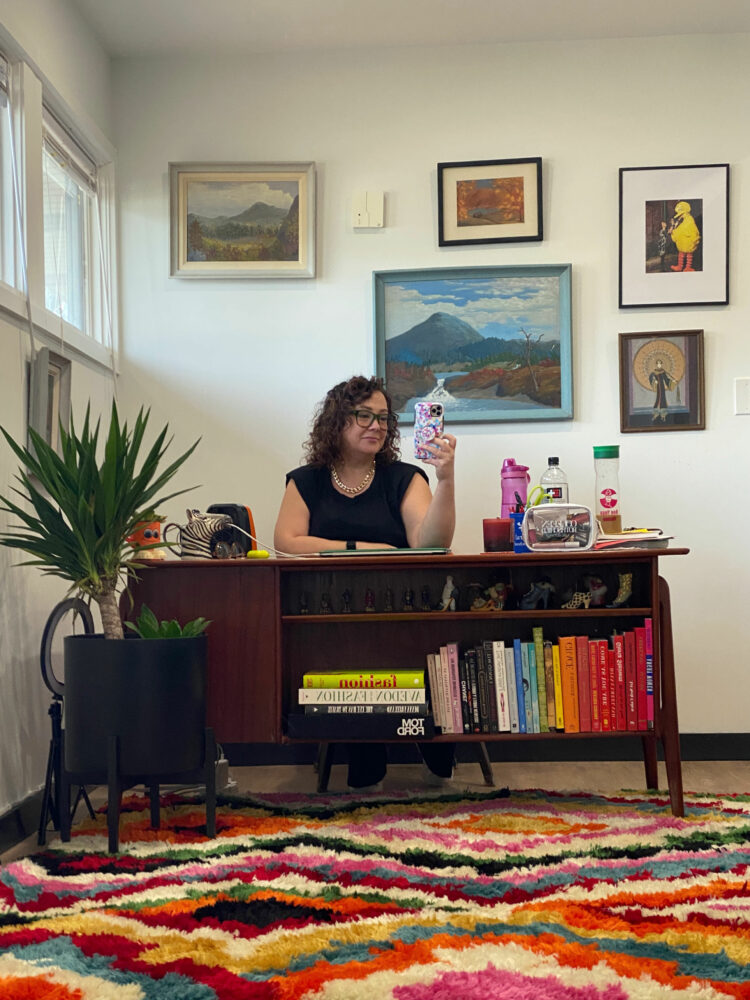 I added my Baublebar curb link necklace and Adidas shelltops to give a modern, casual vibe. It's a good example how work trousers don't have to be only for work, don't only have to be with blouses and loafers. If they work with flatter work shoes, they may also work with a pair of sneakers!
Pretty in Pink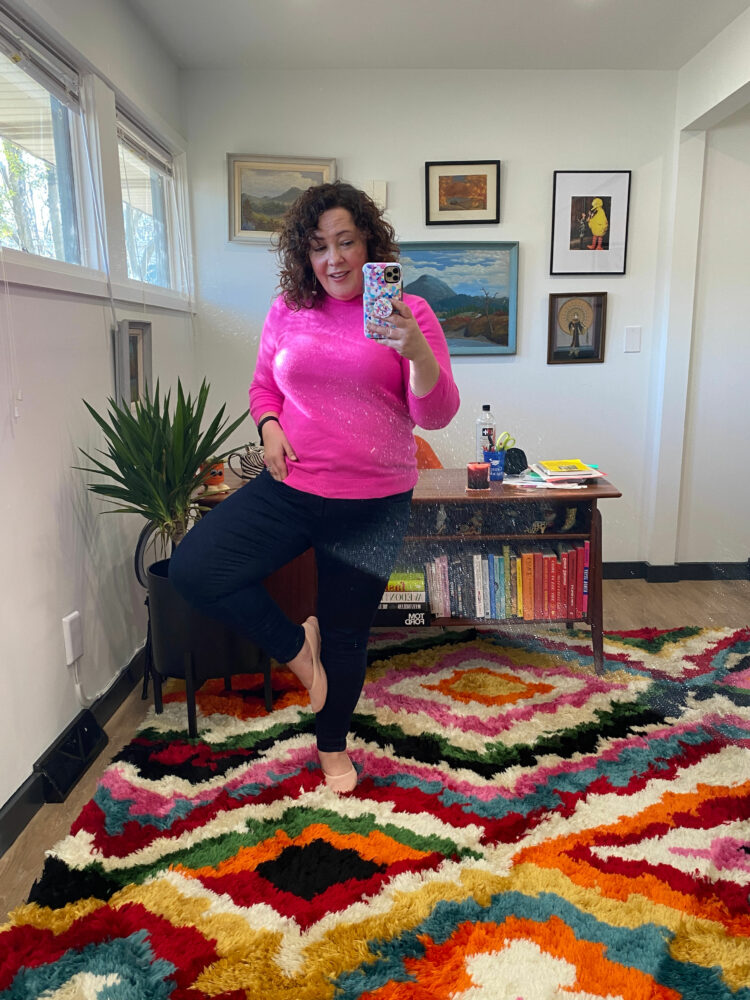 I had to come into the office this weekend to get some contracted work done. It was video content where I'd only be seen from the waist up. I put on my favorite highlighter pink cashmere sweater from Talbots (this color no longer available but they have some other fun colors like a gorgeous emerald) and a pair of Universal Standard Seine Jeans (10 regular; they run big). I knew the jeans wouldn't give me muffin top when sitting, and be comfortable for a long day. I am wearing the sweater in XL petite and the jeans in 10 regular.
On my feet are a pair of LISSOM flats. If you've been reading Wardrobe Oxygen for a while, you know I went from being a major fan to having a serious issue with LISSOM, to cautiously resuming my love for these shoes. I think the shoes are fantastic; I think they are a more structured and comfortable alternative to Tieks and have a cool modern silhouette. The owner paid me back for the affiliate income she owed and sent me two pairs in apology. These are my favorite casual flats and I like this blush color which is low contrast.
When In Doubt, Leather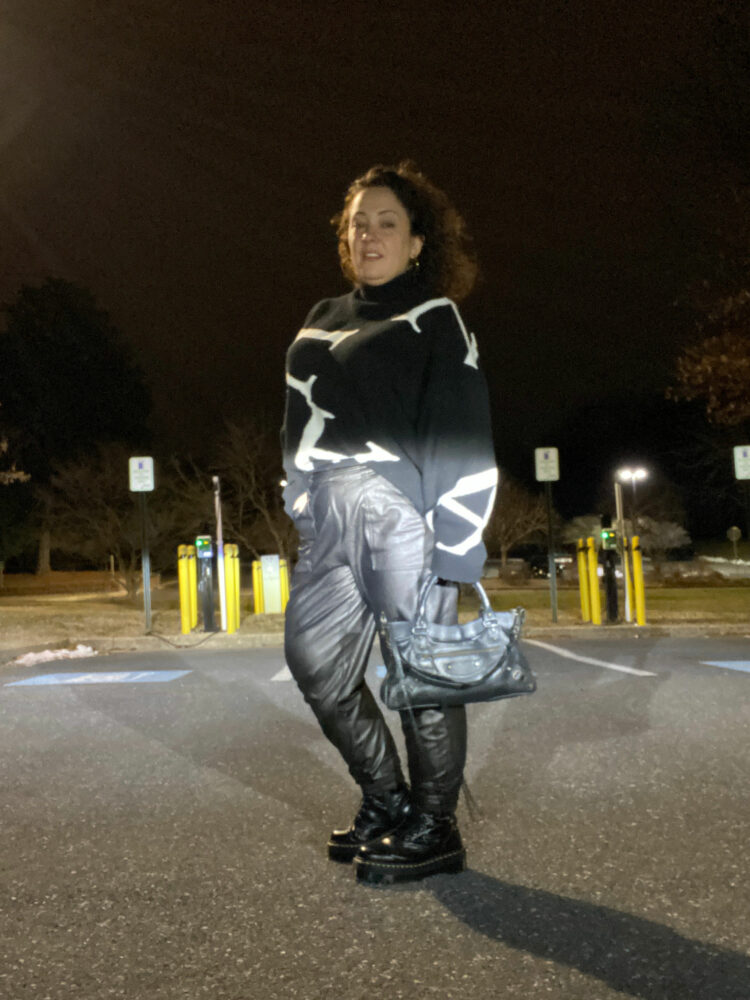 Friday I met friends for a late lunch. It was super cold and I wanted to be comfortable but also look like I made some effort so I chose my Spanx faux leather joggers. They have the ability to make an outfit look more… more even though they're as comfy as knit joggers and as easy as jeans. Mine are years old and have been washed over a dozen times (read my Spanx faux leather joggers review). I have size Large; if in doubt size down I think they are roomy and will grow after a few washes.
The sweater is ALLSAINTS and a bit of a splurge I got for myself at the end of last year, but it's so cozy and comfy and I couldn't resist a knit with my initial all over it! I am wearing a size Large. I bought mine at Nordstrom but it's sold out; the ALLSAINTS site has it in XS and Harrods has it in sizes XS-M. The boots are Dr. Martens and I love that they have a platform sole so I feel tough and big, and they zip up the side so they're easy to get on and off.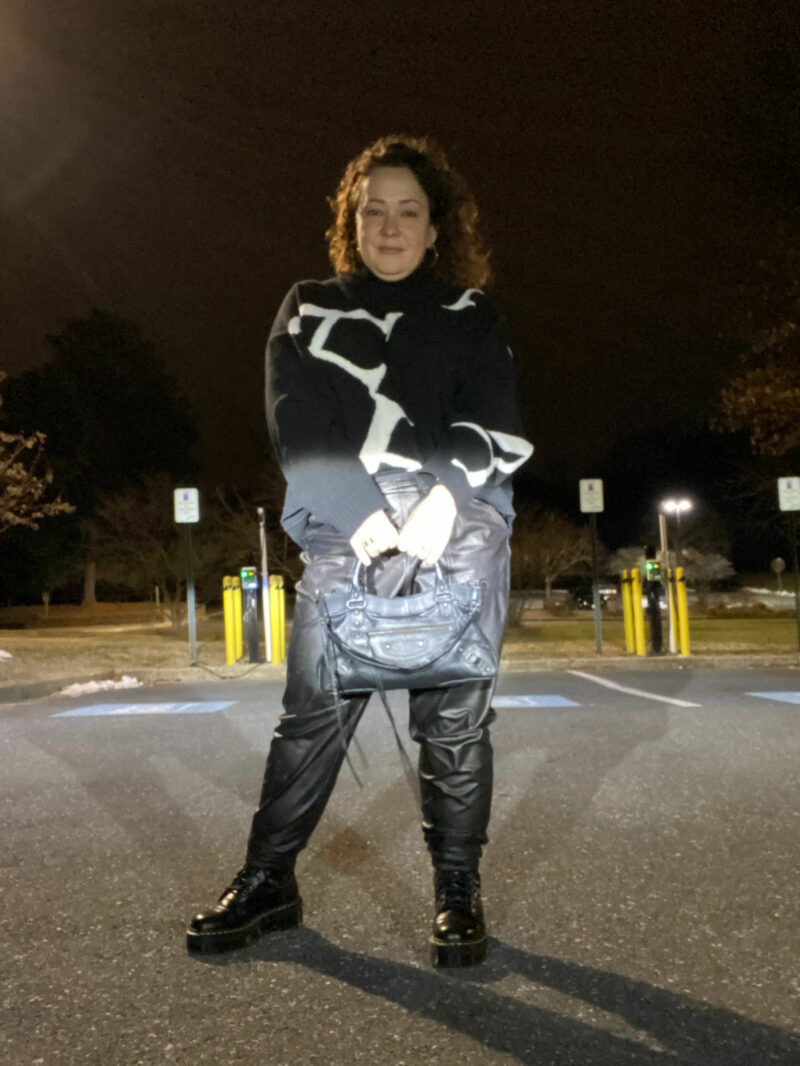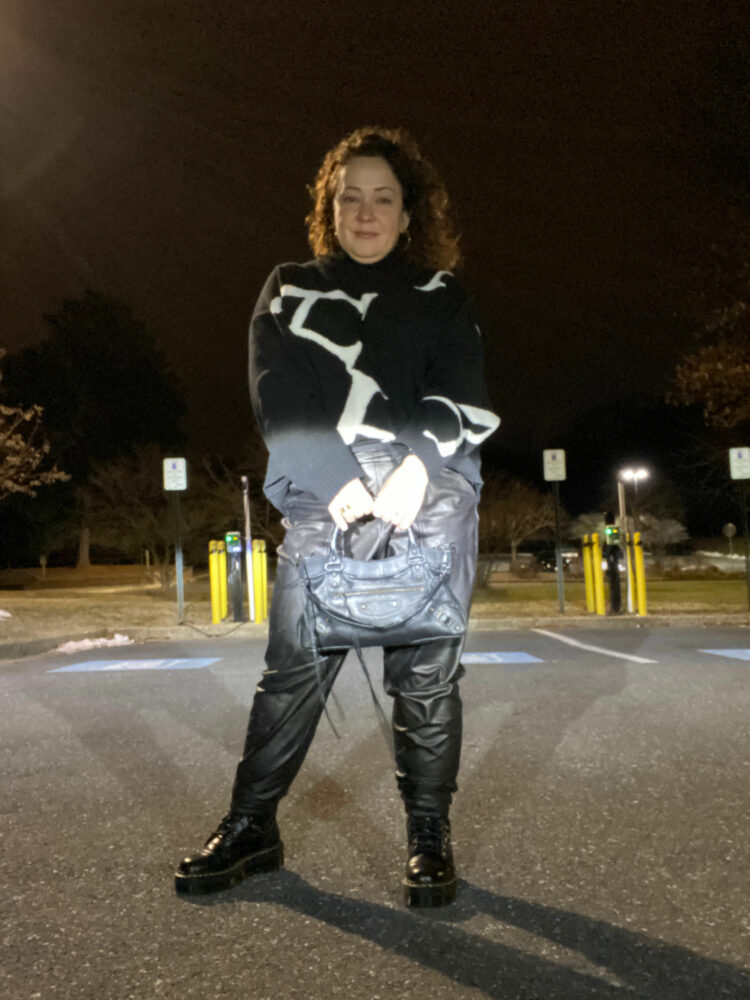 The bag deserves it's own post, and better photos than this. To summarize, I have wanted a Balenciaga City bag for over a decade. My husband was planning us a trip to NYC for my birthday and with being Cookie Manager for the Girl Scouts and Omicron, we canceled. He realized this bag on resale sites was about the same amount as a weekend in the Big Apple and so now I own my first high-end designer bag! We got it off Tradesy; do some googling for promo codes before shopping because we found one for $100 off! We chose Tradesy because they had the size I wanted in one of the colors I desired, the price to condition ratio was way better than The RealReal, and at Tradesy you can do returns (for store credit). We were going to get one off Fashionphile but it sold before we committed. I'll delve into a whole post on the process soon!
Anyway, after lunch, I came home long enough to brush my teeth and wash my hands and was back out to speak at my kid's Girl Scouts meeting about cookies. I finished before the meeting did so I captured these photos while waiting to take my kid home at the end!