This article may contain affiliate links; if you click on a shopping link and make a purchase I may receive a commission. As an Amazon Associate, I earn from qualifying purchases.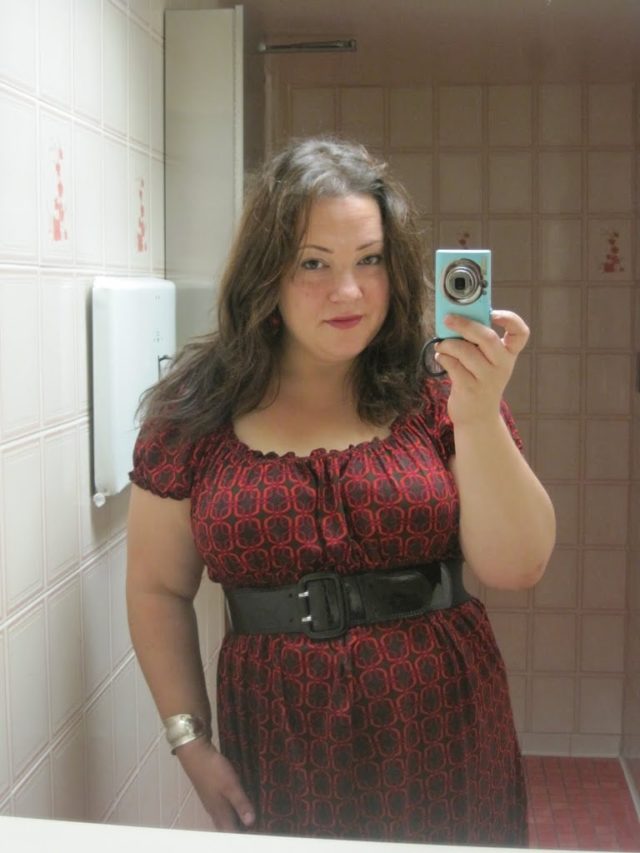 Yesterday reader Taleia noticed I made my blog post's title, "Thursday."  I think it was wishful thinking that it was closer to the long Labor Day weekend!  Well TODAY is Thursday, and we are one day closer to the end of the week.  Hooray! Another uber-early morning for me, another day of dressing in the dark and taking my picture in the office bathroom.  Gotta love dresses, it makes early mornings so easy!
Dress – Max Studio
Belt – Ann Taylor
Shoes – Sofft (my black patent T-straps)
Earrings – My mom got them for me when she went on an African safari
Bracelet – natch!
Hair is second day, just put big sections in the curling iron and then finger combed once cool.  I REALLY need a cut and color, today I will call to make an appointment!  Makeup is very very basic – Max Factor Pan-Stik, DiorShow mascara, the ivory shadow from my Revlon ColorStay shadow quad, Clinique's Almost Lipstick in Black Honey on lips and cheeks.
Last night after work I drove to my friend S's house.  She, my friend B and I had a quick little girl's get together of sushi takeout, Miller Lites and catching up on one another's lives.  My friend S made an awesome and Weight Watchers – friendly dessert – she grilled large rings of fresh pineapple, put a dollop of light ice cream in the center and drizzled toasted coconut on top.  So delish!  And did you know you can toast coconut in the microwave?  I had no idea!  Anyway, what she made was a variation on this WW recipe (not coconut sorbet and no mint leaf), so I tracked it as three points.
It was such a nice evening, my husband took care of Emerson so I could get out and see friends I don't see as often as I should or would like.  Nights like that with friends are what keep me balanced and sane.  Thanks S & B for such a lovely time!