This article may contain affiliate links; if you click on a shopping link and make a purchase I may receive a commission. As an Amazon Associate, I earn from qualifying purchases.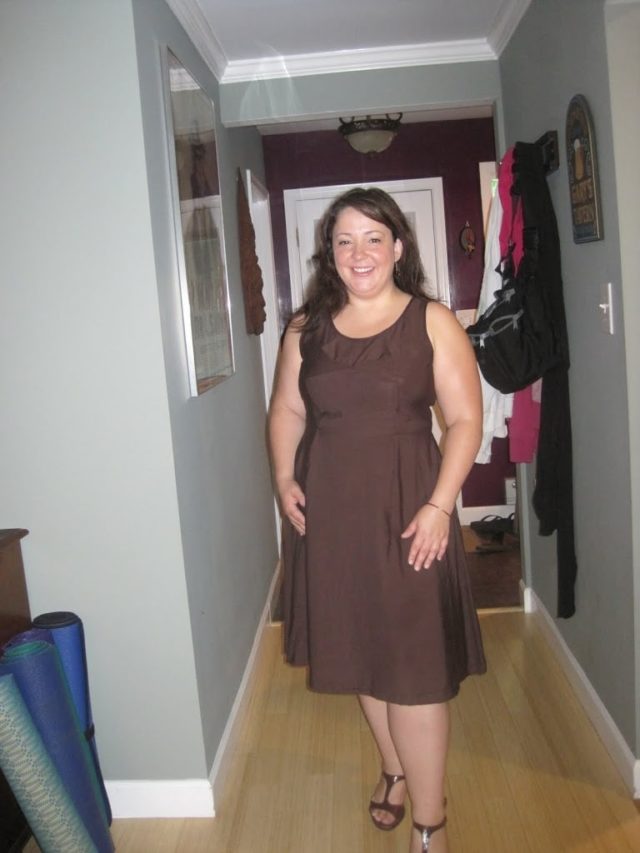 Today my husband had a photo shoot and was out the door by 5am. My mom is awesome and came to my house at 7am – Emerson was still asleep so she hung out until she woke, then took her to her own house to watch her for the day. She captured this picture as I was heading out the door. Kind of a strange angle, but I appreciate her helping out with the blog!
This dress is from Merona for Target. This weekend I went to Target to see if I could find some sort of storage container for Emerson's toys that would look nice in the living room. I didn't find anything that was quite right, but I did find this and many more dresses that were quite lovely! This dress is only $39.99, fully lined, a nice fabric that will transition into fall nicely. I got a size 14 which fits well (even with the two hot dogs, pizza and carrot cake I consumed yesterday – ACK!). When I bought it, I envisioned wearing it with a belt from my collection, but found I liked it better without. I paired it with very simple Tortoise Shell earrings and a single gold bangle from Ralph Lauren. Sandals by Sofft.
Haven't gotten a haircut or color touchup yet, been a slacker. This morning I washed, conditioned, added some Bumble & Bumble cream and dried it semi-straight. This means I flipped my head over, used a paddle brush while reading the latest issue of Bazaar magazine. Makeup is Max Factor Pan-Stik, Laura Mercier bronzer and Secret Camouflage, Nars blush in Orgasm, Revlon ColorStay shadow quad in Neutral Khakis (the ivory in inner eyes and on brown bone) & Super Lustrous lip gloss in Nude Lustre, Lorac shadow in Serenity, DiorShow mascara, Tarte's Indelible Wink liner in black.
This weekend was nice – nothing insane. Started the day with a trip to the playground with Emerson. Met up with my sister who came home with us. While Emerson napped, we had a nice lunch. When Emerson woke, we had a quick visit to our town's Labor Day festival. Not super long – long enough to see the sights and get some funnel cake. Plan was to return later in the weekend so Emerson could ride the carousel. That night we had our friends M & S over for dinner. Sunday was their one-year wedding anniversary, I was the Matron of Honor in their wedding, and it was nice to celebrate with them. We had a bottle of bubbly, some of the beer they brewed themselves for their wedding, and my husband grilled shrimp and rockfish.
Sunday I hit up Tarjay and got today's dress, as well as new curtains for Emerson's room. I have been searching for simple white sailcloth panels for her room that aren't sheer, aren't textured, aren't tab top. I found some at Pottery barn Kids but they were like $39 per panel. Well Target now has these curtains, and they are $17.99 for a pair! Hooray! Now I just need rods – hope to have these up this weekend. At Tarjay I tried on a bunch of dresses and would have probably purchased more if they had more sizes (and some if they had petites). I loved this dress, almost bought it but then remembered my mantra of "I don't Go to Cocktail Parties." I also tried it in simple gray, but liked the print better. This dress was utterly adorable, but the largest they had was a 12 and after trying on the other dresses, I knew a 12 would be too tight. This dress looked far more expensive than its retail price, but I would have needed it in a petite – way too long in the torso and it would have needed to be hemmed.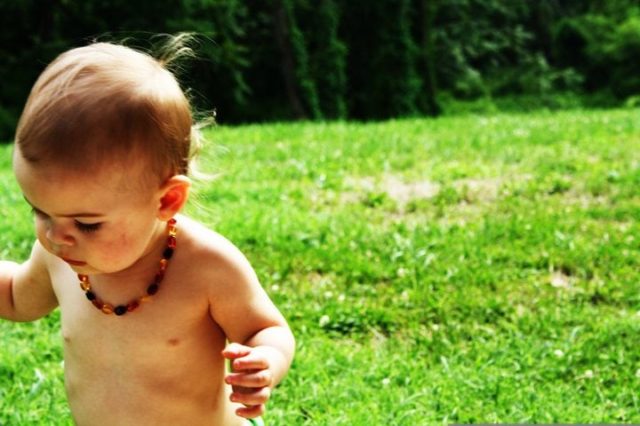 I also got a few frames – my cousin's daughter took this picture of Emerson and I had it made into an 11×14 print. Our hallway is slowly being filled with various photos of the family, a real mix of frames but all are black with white matting. I thought this would be a nice addition, and loved that my cousin took the picture.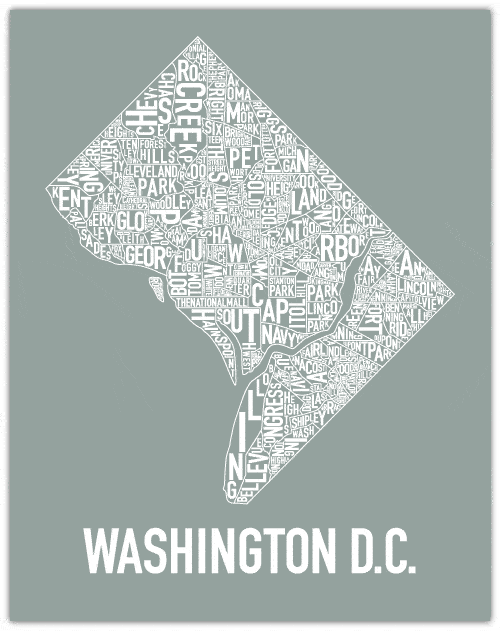 I also got a frame for this print from Ork Posters, and it's now hanging in my office here in DC. Just a simple black frame, no matting. I thought it was a cool print, and coworkers have already stopped by to check it out and examine the detail. You should check out Ork Poster's site, they have many different cities to choose from and a variety of colors and sizes of prints. Shipping was quick, and it looks as cool in person as it does on their Web site!
Sunday early evening, our friends had a party. The house is great for parties – big deck, gorgeous inground pool, large patio. They set up a tiki bar, have grilling, etc. We took Emerson but she wasn't feeling it. I think she was tired, and she kept bumping into things and falling down. After less than an hour I decided to take her home and let my husband stay at the party. We decided to stop by my sister's house on the way home and that was a nice visit. Emerson had a great time and wore herself out exploring the back yard. That night I had a nice night of watching St. Elmo's Fire and eating a salad and baked potato and some leftover grilled shrimp.
Yesterday was our town's Labor Day parade and I went with my sister, my mom, her boyfriend and a blog reader and her family! I met Martha through this blog, she and I were pregnant at the same time and we met once to trade hand-me-down maternity jeans – she gave me the petites she received, I gave her pairs that were too long for me. We became friends on Facebook and she was asking about activities for the Labor Day weekend and I mentioned the events in my town. Well she took me up on it and it was pretty great to spend the event with her and her awesome fam! After the parade, my husband grilled hotdogs for lunch – Martha had to head home (and put her little one down for a nap), but my family stuck around. After that, my husband and I decided to imitate Emerson and take a nap. When she woke we considered heading down to the festival, but I wanted to get some stuff done around the house. So my husband and Emerson went down to see the sights, and I spent the time organizing Emerson's room. I packed up clothes that no longer fit but I want to keep, made a pile of clothes to sell or donate, organized her big clothes into stuff for fall/winter, and stuff that is for Summer 2011 and beyond. Finally hung a framed poster version of her baby announcement and started painting her nursery rocker glossy white (has been a flat weird white color since she was born).
So nothing super awesome, but a really nice long weekend full of family and friends!