This article may contain affiliate links; if you click on a shopping link and make a purchase I may receive a commission. As an Amazon Associate, I earn from qualifying purchases.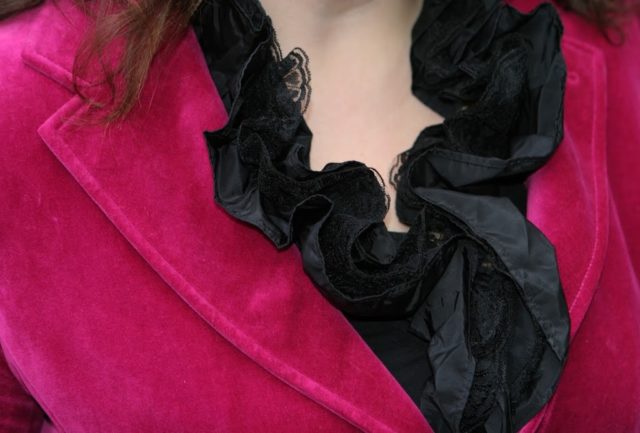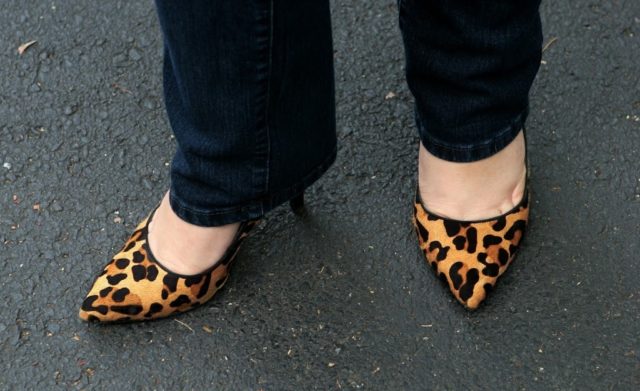 Velvet blazer – Ann Taylor via eBay (similar)
Ruffled tank – c/o CAbi
Jeans – JAG (similar)
Shoes – Nine West (similar)
I feel very Austin Powers today. I just got this top from CAbi, and this jacket JUST came in the mail Saturday ($19.99! Love eBay!). The jacket is a bit big (a 12 instead of 12 petite) so I will need to get it altered, but the color is so amazing I just couldn't wait to wear it.
While all my clients have the day off work for Columbus Day, I am in the office. While I would rather be at home with my family, it's really nice to be in the office without the phone ringing (and half of my coworkers took the day off so it's super quiet). I have accomplished so much already; I needed a work day like this so I could catch up a bit!
This weekend was awesome and for no particular reason. Saturday I took Emerson to swim lessons, and it was far more successful than the first. She got on the kickboard and kicked, and even jumped off the side of the pool into my arms twice. Far fewer tears as well. She felt very accomplished at the end of the lesson. When we got home Emerson was ready for a nap… and so was Mommy. The past two weeks have been kicking my tail and I feel as though I am years behind in sleep. So I put Emerson down, and my husband and I headed upstairs for a decadent mid-day nap. When we all woke up, we went to a local family-run Italian place for dinner – Emerson adores their pizza and the waitstaff fawns all over her. We got home early enough to play and hang out together before E's bedtime. Once she was down, my husband and I got to have a quite night of wine and randomness on the DVR.
Sunday I got some writing projects completed while my husband and Emerson went to the farmers market for produce, bacon and eggs. We cooked up bacon, egg, and cheese burritos for breakfast. My mom came by around 1:30 to watch Emerson so the two of us could go photograph a wedding. It was a gorgeous wedding – a venue I had never before visited, a darling couple, heartfelt ceremony and a fun reception of just dear family and loving friends. We got home and had an hour before Emerson's bedtime – we were famished so we went to a local cafe for dinner and live music. Got home just as my mom and sister were getting E ready for bed. Got to read her a goodnight story, and then an early bed for us parents!
How was your weekend? Did you have as glorious of weather as we did in DC?
Follow Me | Twitter | Facebook
Save