This article may contain affiliate links; if you click on a shopping link and make a purchase I may receive a commission. As an Amazon Associate, I earn from qualifying purchases. 
Okay, by now we all know I am a big fan of the clothing company Universal Standard. I've been wearing Universal Standard for years and have loved seeing the brand grow and improve over the years. I think it was last year when they came out with Foundation, a line of super soft, stretchy knit pieces. They sent me a Foundation turtleneck, and I bought myself another one. I now have a long-sleeved Foundation tee and three short-sleeved ones. I wear these Foundation pieces all of the time, and am impressed by how well they keep up, even if my husband accidentally puts it in the dryer with a load of jeans or towels. Just a few weeks ago, Universal Standard had a buy-one-give-one offer of Foundation where if you purchased a piece, a piece would be donated to a healthcare worker. Universal Standard donated $500,000 worth of Foundation pieces to doctors, nurses, and other medical workers fighting COVID-19 on the front lines. It's so awesome to see the Universal Standard tagged photos on Instagram and see these healthcare workers wearing their Foundation pieces under their scrubs or at home when getting a moment to decompress.
I've noticed in the past few weeks I have worn my Foundation pieces more than before, but they haven't really been seen on the blog because they're the kind of pieces I wear when I don't really think about taking pictures. The pieces I put on early on Sunday with pajama pants and my robe to let Oscar out and then leave on when I crawl back into bed. The thing I wear under my fleece, the thing I wear to bed when it's chilly, the thing I wear just with underwear when I'm sitting in bed writing my Weekend Reads, the thing I throw on after a shower so it can absorb my Neutrogena Body Oil and not get all icky with oil stains and then smell super good the next time I put it on. They truly take a licking and keep on ticking. So today I am showing how my well-loved and well-worn Foundation tees have been worn recently, and how they should be worn more often.  I have the short-sleeved tee in three colors; I show how to wear each one two ways and also show how Universal Standard can work with a variety of personal style aesthetics.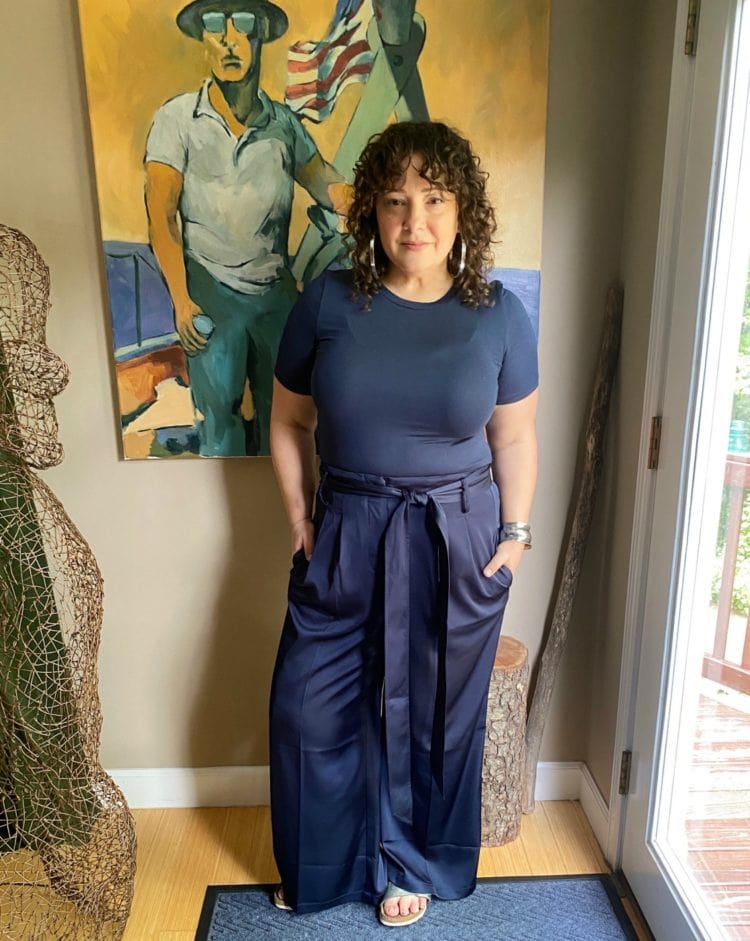 If you watched my Instagram Live yesterday, you know I wore a variation of this exact look.  This is the Foundation tee, XS, in navy with the Universal Standard Tresa Pants in XS Petite.  You've seen me wear the Tresa pants before in this outfit post from last August.  I love that the navys match quite well, elevating the look of the t-shirt.  And while these pants look all fancy, they're stretchy and machine washable and I've started wearing them around at home because… why not?  Why keep "the good stuff" for whenever they can be worn again?  Who knows when that will be and who knows if I'll still want to wear them then so if they can be machine washed and they're comfy, I'm rocking them now!  And with it, my silver Birkenstocks and silver hoops (they're from Jenny Bird but no longer available).  For my Instagram Live, I wore the same top and bottom but with a silk scarf from Talbots tied around my neck and my thin gold Jenny Bird hoops.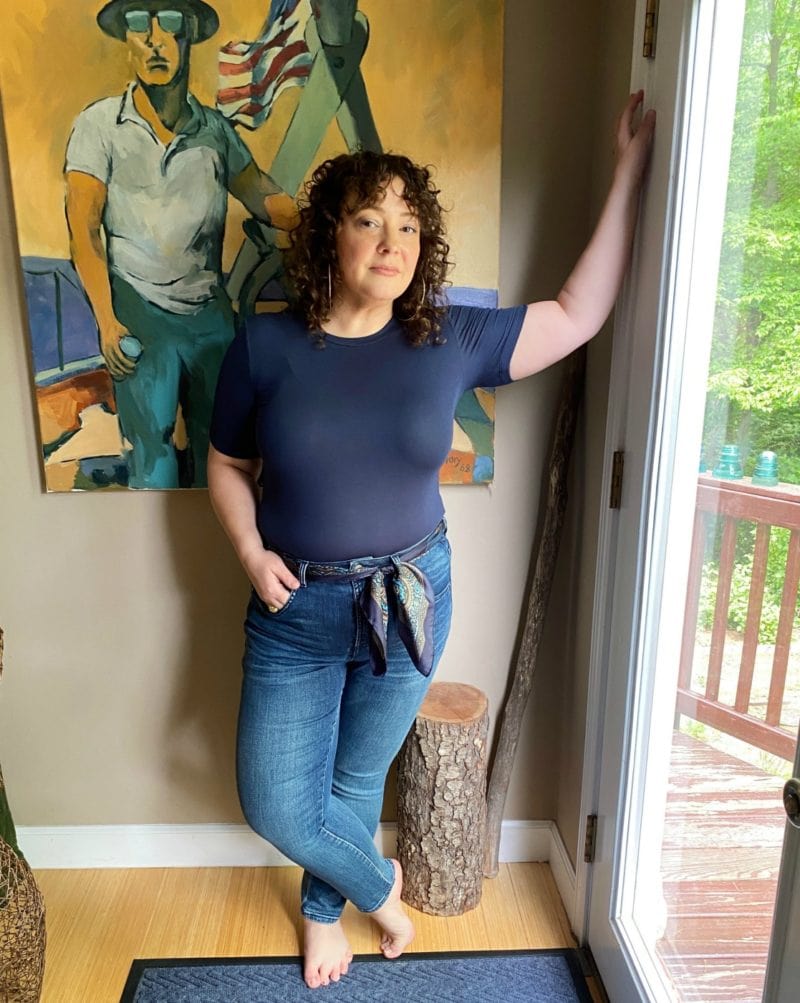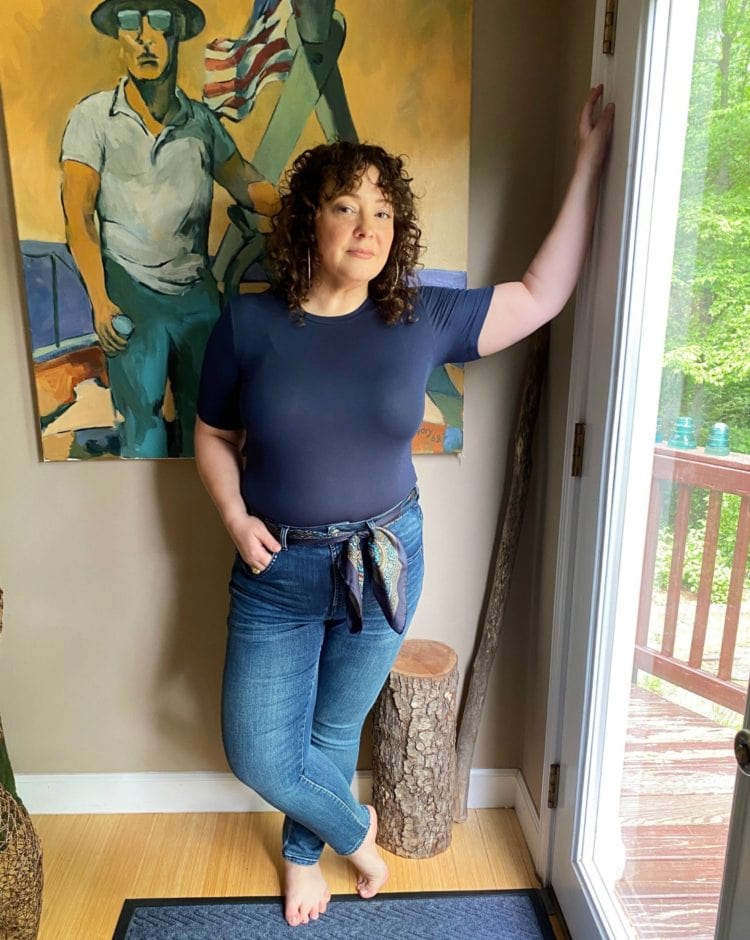 Same Foundation tee, this time with the Universal Standard Seine jeans.  These are the Seine High Rise 27" length in size 10.  They're the same jeans I'm wearing in this Instagram post from early March. With these jeans, I recommend you size down a minimum of one size because they do stretch and mold to your body.  That being said, these are really comfortable jeans, some of the only ones I've worn while staying at home. The scarf and the earrings are the ones I mentioned I wore on the Instagram Live.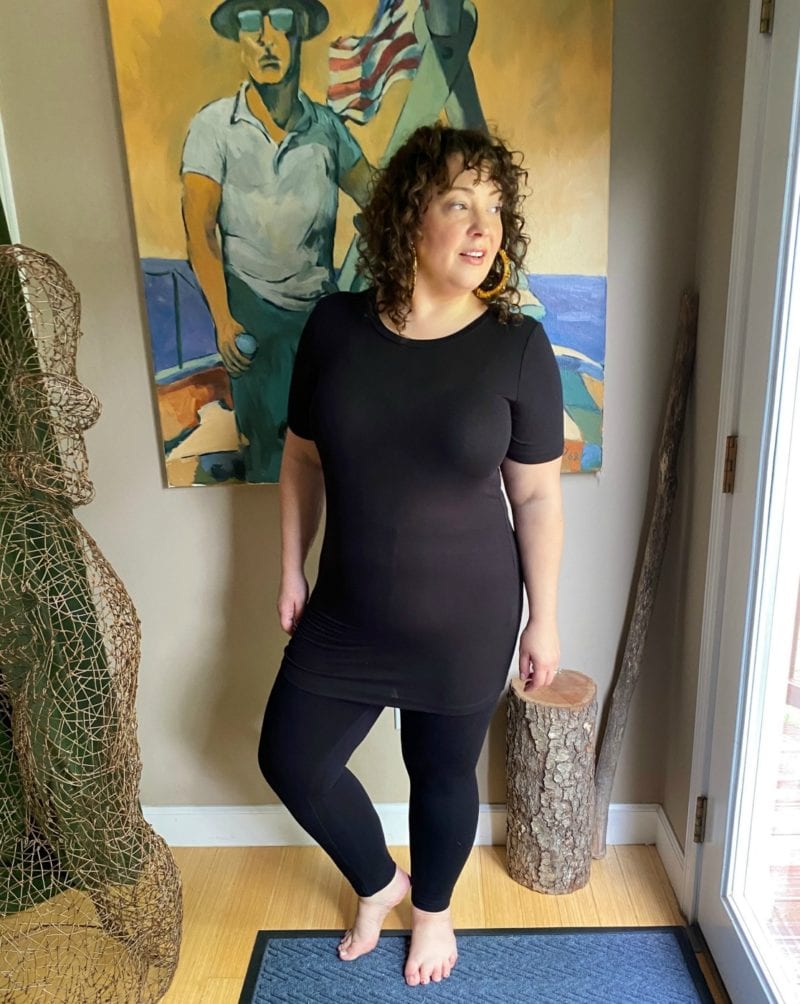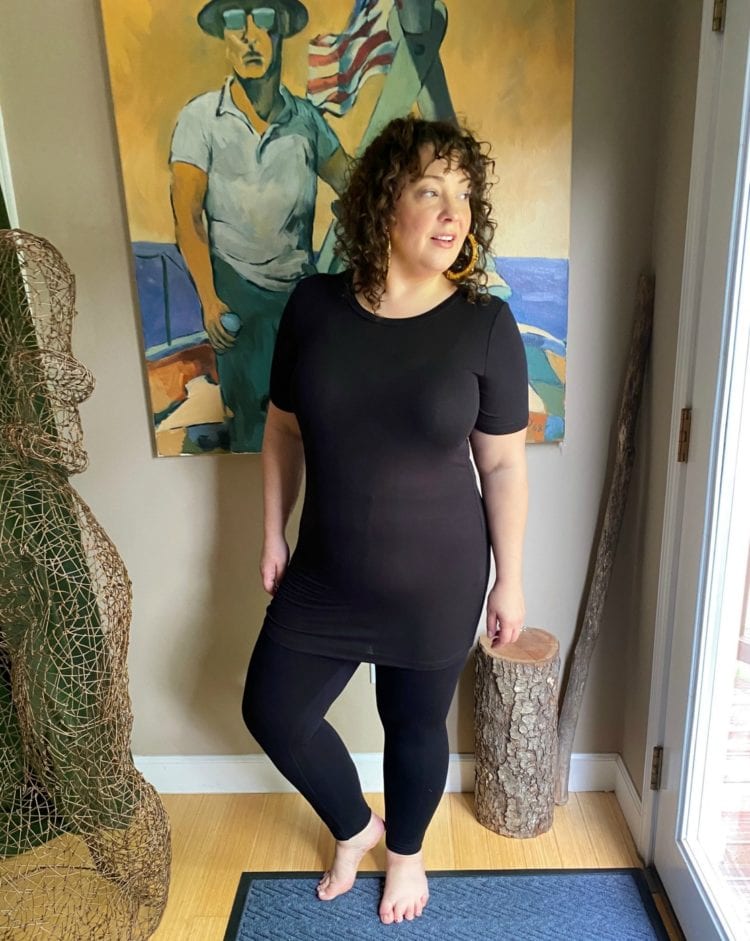 I'm 5'3″ and these Foundation tees could legit be minidresses on me if I was the kind of person to rock a minidress. But it's not annoying, I mean I wear this black Foundation tee all the time (it's my oldest one).  I am wearing it in this post, this post, and this review of jeans from last February.  I often wear it more like a tunic with leggings when hanging out at home.  The leggings here are the Soma Essential ones which are super soft and also super durable; I'm wearing a Large.  The earrings are from Etsy.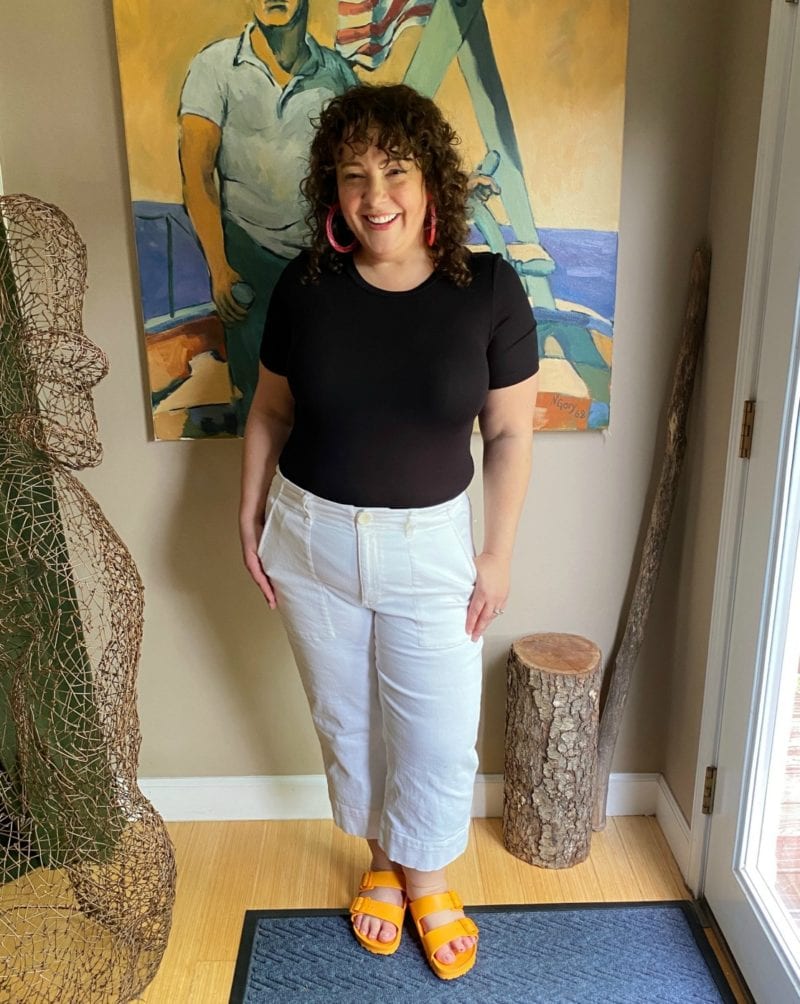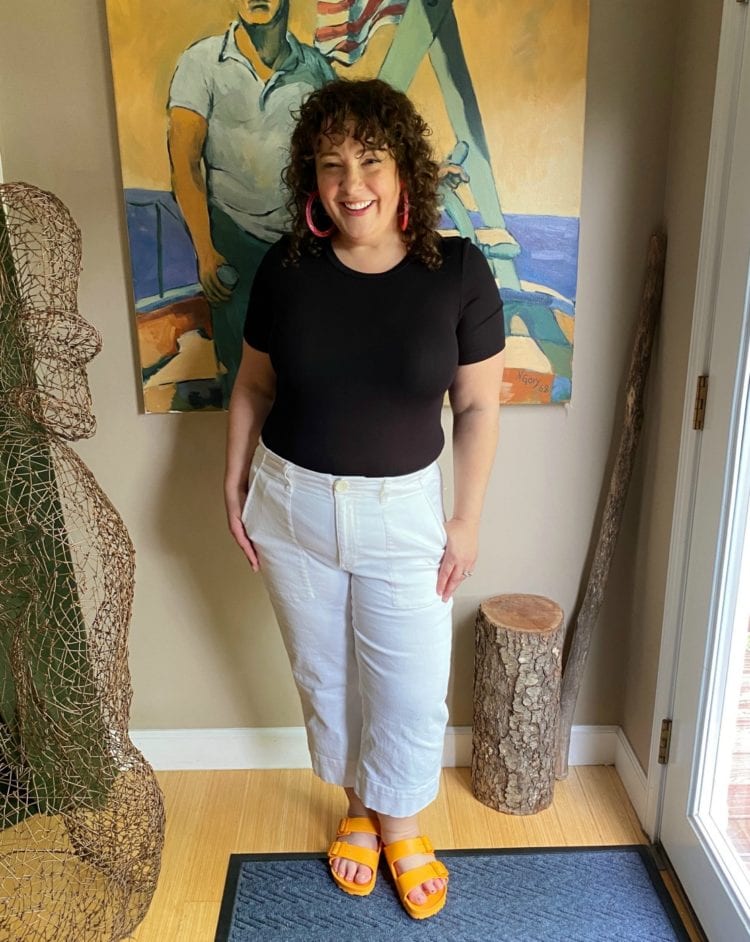 Same t-shirt, but this time with white cropped pants.  These are the Lido Crop from cabi, size 12 and I had them shortened a bit by my tailor before lockdown.  I love these pants, I throw them in the washer and dryer and they look great.  They are thick enough that you can't see my undies through them, they have nice deep pockets, have a bit of stretch so they're comfy, and I think they look cute with or without a belt (or a scarf as a belt!). I added some pops of color with my orange EVA Birkenstocks and my pink lucite hoops from Baublebar (they're over a year old and no longer available but these are similar).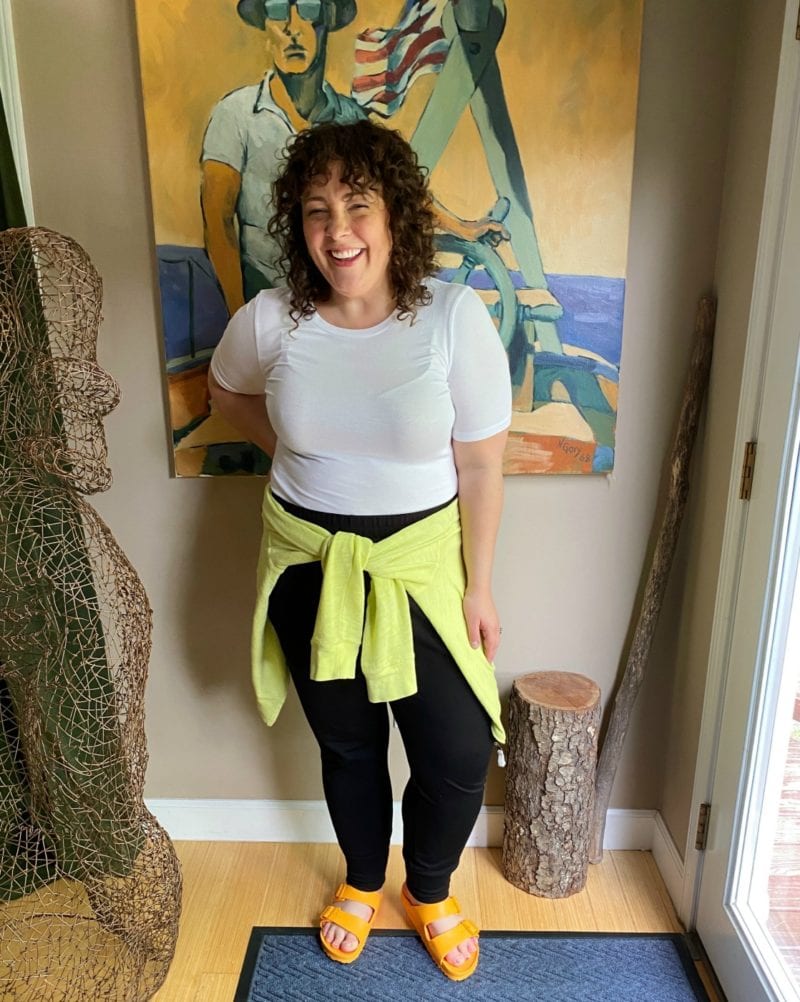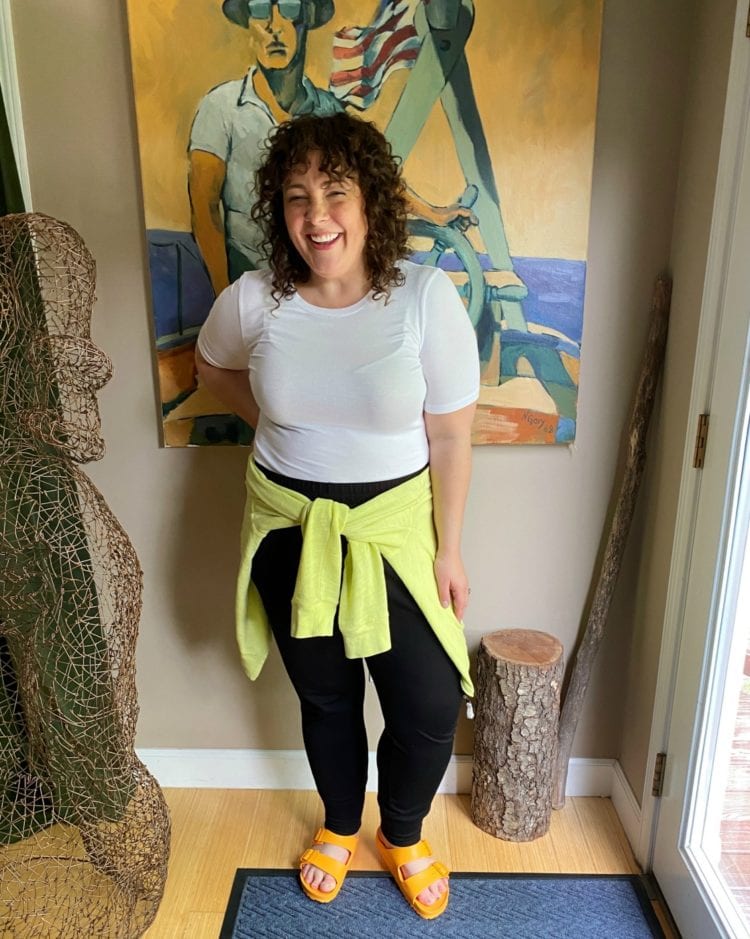 White tees are hard, but I do love the white Foundation tee.  I also have a white Foundation turtleneck.  I like that they're not thick, but they're also opaque.  Sure, a smooth skin-colored bra will look best underneath, but you're not seeing my freckles and belly button through it.  And it washes up great.  Here I'm wearing it with my cabi joggers (these from Universal Standard are a nice alternative since cabi no longer has these) and my J. Crew hoodie from my stay at home capsule wardrobe is tied around my waist.  And the orange Birks make another appearance!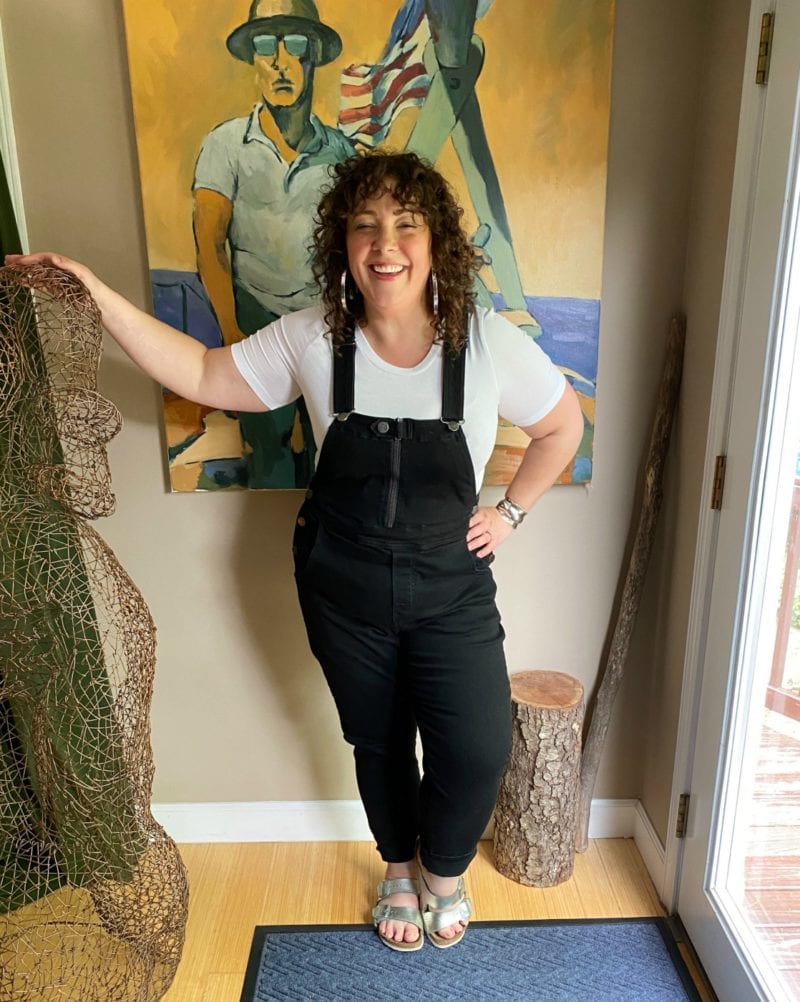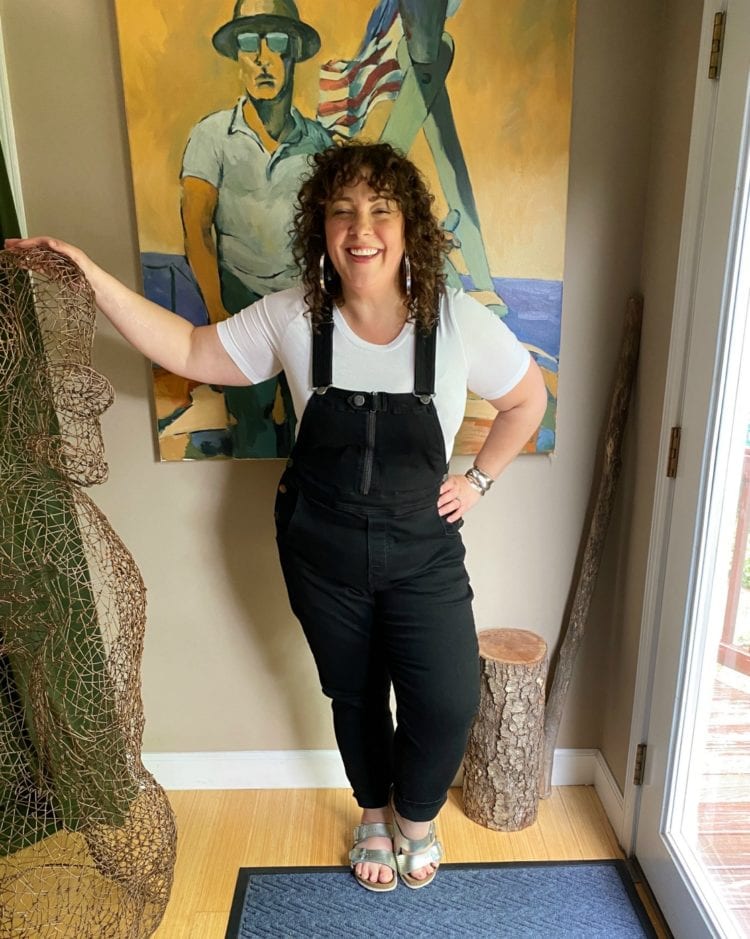 So I haven't had this exact look on the blog, but I have worn this look before.  I mean, here I am in 2018 in pretty much the same outfit but with the black tee instead!  These are the Universal Standard overalls in black (which I featured in my capsule wardrobe for staying at home) in size XS.  I gave them a wide cuff to make them ankle length which I think looks nice with the silver Birkenstocks. I added silver jewelry to give some polish and fun!
This post may feel like an ad, it's not.  I have received free clothing from Universal Standard over the years and that includes some of these Foundation pieces but I wasn't paid for this post or asked to write it.  Universal Standard has been featuring their Foundation lately, and invited customers who love it to share photos of them wearing it on Instagram, especially now as we're looking for some comfort.  I wanted to share some photos because I'm truly a fan!
Shop the Post: