This article may contain affiliate links; if you click on a shopping link and make a purchase I may receive a commission. As an Amazon Associate, I earn from qualifying purchases.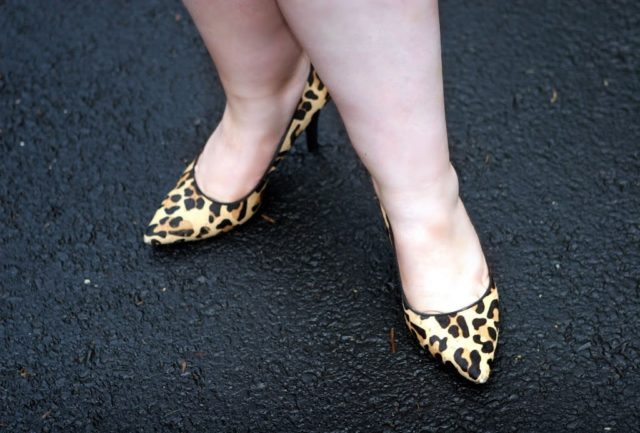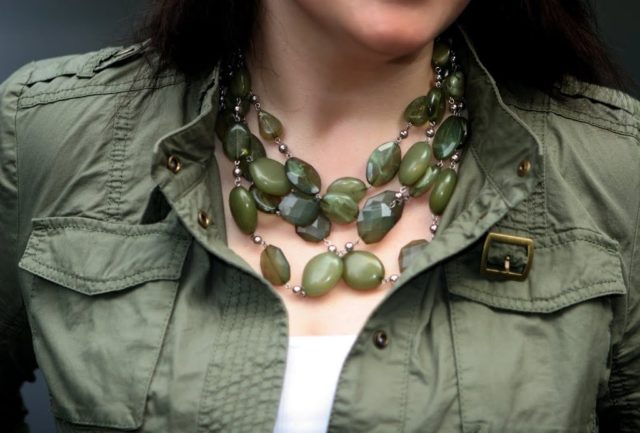 Olive cargo jacket – Caslon
White ribbed tank – Caslon
Denim pencil skirt – Halogen
Leopard pumps – Nine West "Madeup" (no longer available)
Silver and green necklaces – New York & Co (no longer available)
Silver cuff
So I did a little online shopping and these are my two new purchases.What's funny is that this skirt arrived from a store (Nordstrom often fulfills online purchases from stores) and it was on sale for $39.50; however it is not this skirt. Maybe it's on sale in the stores? Well I also got a dark pair of cuffed ankle jeans and a couple things from Old Navy that hopefully will work for Bonnaroo (haven't had the time to try it all on!).
Totally not fashion related, but I made the most amazing salad this weekend and wanted to share with you all. Whether you are on Weight Watchers, love your local farmer's market, or are part of a CSA you are probably trying to figure out ways to enjoy kale. Oh kale, it's so good for us but so… big and green. It's easy to get stuck with sauteeing or steaming it, but I wanted to find a way to enjoy it raw so I could get all the healthy benefits of this superfood. Enter Massaged Kale Salad!
I found the original recipe on the Food Network, but adjusted it to accommodate what we had in our kitchen. If you have pepitas and mango, check out the original recipe. If your pantry is more… standard like mine try my version below:
Massaged Kale Salad
Ingredients
1 bunch kale, stalks removed and discarded, leaves thinly sliced
1 lemon, juiced (microwave for a couple seconds to get the most juice possible)
1 tablespoon apple cider vinegar
1/4 cup extra-virgin olive oil, plus extra for drizzling
Kosher salt
2 teaspoons honey
TONS of freshly ground black pepper
Two teeny apples slices into sticks (about 1 cup)
Small handful of sunflower seeds (about 3 Tbsp)
Directions
In large serving bowl, add the kale, half of lemon juice, a drizzle of oil and a little kosher salt. Massage until the kale starts to soften and wilt, 2 to 3 minutes. Set aside while you make the dressing.
In a small bowl, whisk remaining lemon juice, the cider vinegar with the honey and a ton of freshly ground black pepper. Stream in the 1/4 cup of oil while whisking until a dressing forms, and you like how it tastes. (I found I didn't need the whole 1/4 cup of oil; probably used half.)
Pour the dressing over the kale, and add the apples and sunflower seeds. Toss and serve. Then, when your husband has four leftover pieces of bacon from breakfast you can crumble them and toss them into the salad.
This is even better the second day. No bitterness, the kale is really soft and tender, the flavors are pretty awesome together (note I used a heckuvalot of pepper and used a mix of different colored peppercorns so a tad more spicy). This recipe says it serves four, but there were four of us eating it for dinner last night and there was still enough left for 2-3 more people. I took a cup of it to work today and there's still plenty left for my husband to eat for lunch. If you are following Weight Watchers, it's great because it has so little points (I think this serves 6 and if you remove the bacon it's only 3 PointsPlus per serving; make it less with less oil and drop the sunflower seeds!).
Follow Me | Twitter | Facebook