This article may contain affiliate links; if you click on a shopping link and make a purchase I may receive a commission. As an Amazon Associate, I earn from qualifying purchases.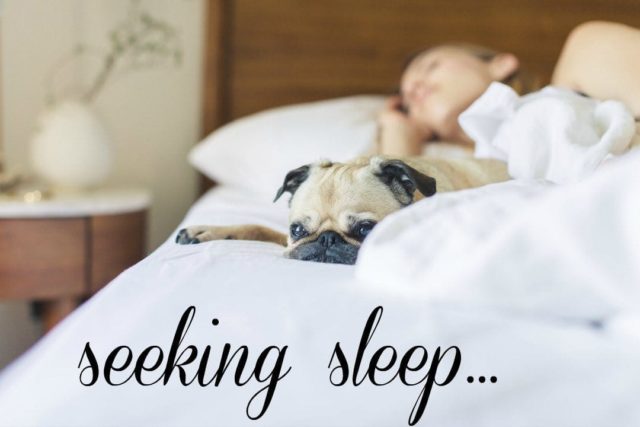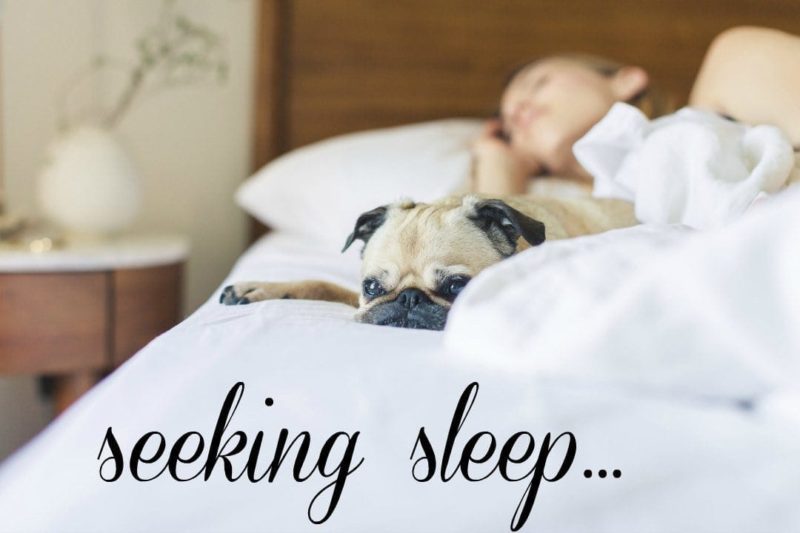 I'm famous for being able to sleep anywhere. My husband loves to tell the story of how we went to this little bar in Ocean City, Maryland to see Jimmy's Chicken Shack play and I fell asleep sitting up at a bar right on the edge of the stage, head propped up with my hand, right in the face of the guitarist and sitting right next to the mom of one of the band members. No offense to the band, I don't really know their music, but I was tired. I remember in high school having a man wake me at the old 9:30 Club and talk to me about the evils of drugs; I wasn't on drugs I was just resting up before the headliner. I as recently as September took a power nap on the rail before Young Thug performed at the All Things Go Fall Classic.
When it comes to bedtime, it's often hard for my brain to shut off and sleep, hard to stay asleep, and also hard to be comfortable all night. I have arms fall asleep, crooks in my neck, I get hot, I get cold, and I'll sometimes wake up with a start and not be able to get back to sleep. I have tried a few products and methods to improve sleep and I plan to share them with you; many of you have shared with me that you too have trouble with sleep. Whether it's age, stress, or health, many of us are lacking the sleep we need to be at our best. I'll share what we've tried and whether it worked or not.
How to Fall Asleep More Easily
Turn Off the Phone
The biggest thing that keeps a lot of us up at night and not sleeping well is our phones. That bright blue light in your face, scrolling through Instagram or Facebook isn't doing any favors. The last time I look at my phone now is just before I go upstairs to bed.
If you do need to see your phone at night, consider adding the red filter with this tutorial. This way press the home button three times and your screen will go red, cutting out the blue light that will get your brain thinking it's daytime, but you can see enough to set your alarm, read a text, or reply to an urgent email.
Have a Bedtime Routine
I find having a bedtime routine has really helped get my mind into sleep mode. Unless there's a special circumstance, I am walking upstairs by 10pm. I change, wash my face, brush my teeth, then apply my nighttime skincare routine. At my bedside, I apply almond oil on my arms, shoulders, décolleté, neck, and under my eyes. Hand cream, lip balm, and a final spritz of moisture.. Even if I'm tired, or have to wake up super early, or I'm sick I still go through this same process.
Tips to Sleep Longer
Warm Feet for Better Sleep
The ideal sleeping temperature is 65 degrees, but studies have proven that warming up cold feet will dilate blood vessels triggering your brain into thinking it's time for bed. In fact, a Swiss study showed that one falls asleep on average 15 minutes quicker with warm feet. I hate wearing standard socks to bed, they make me feel clammy. A slightly oversized chunky knit sock makes me the most comfortable because it's not tight on my feet or ankles. I love the Lands' End Thermaskin Socks for this – I've stretched them out so they're not tight on the legs or ankles, and fold them over and then slouch them down.
Switch up your Diet
Karl and I take a few vitamins and supplements and one is tart cherry, which helps reduce inflammation and supposedly lower blood pressure. Well it also is high in melatonin so we started taking it at night instead of the morning with my other vitamins. Tart cherry juice works even better than the pill version, though it's more costly.
I've also stopped drinking alcohol except for very special happy occasions. I used to drink wine almost every evening and thought it relaxed me, but it caused me to have restless sleep and often wake with a start after five hours.
I also found eating dinner earlier helps with deeper sleep. Again, I felt a full tummy relaxed me but often caused restless sleep and crazy dreams. Having dinner before 6pm and at most having a small piece of chocolate after that helped greatly with falling asleep and staying asleep all night.
Tips to Prevent Snoring
Yep, your gal Allie snores. Sometimes it's the angle I'm in when sleeping, sometimes it's allergies, sometimes it's what I eat. I found by cutting out red meat and most meat, it reduces snoring. Alcohol also will cause snoring, I've cut out most of that this year as well. But I still wanted to find something that would prevent snoring other times.
Breathe Right Extra Strength Strips
The most famous and budget-friendly option for reducing snoring is Breathe Right strips. I've used them on and off for years and for me, they're not optimal. First, they won't stick to moisturized skin so I can't do my nightly routine on or around my nose. Call me vain, but I really hate having to decide between treating and protecting my face and stopping snoring. And even with dry skin, I still experienced these strips popping off in the middle of the night and even when they did stay in place, they didn't always stop my snoring.
SnoreCare Nose Vents
These were recommended on Amazon when I tried the last time to make Breathe Right strips work and I was intrigued. Hey, I could moisturize my face as much as I desired with these jammies! These are silicone tubes attached with a strip and they go up into your nostrils. The strip keeps them from going up too far, but you want these to go up as far as you can. Flare your nostrils and they will keep your nasal passages open, not only preventing snoring but for me, giving me a deeper sleep because it's so much easier to breathe.
SnoreCare comes in a plastic case with four different ones to choose from. Two sizes, some with ribs, some without. At first I found the smaller version without ribs to be the most comfortable, but after wearing them for a while I tried the other ones and found the small one with the ribs to stay in my nose better. Even the small version takes some getting used to, I found for over a week I'd pull it out in my sleep. But like an NTE or nightguard for your teeth, you get so used to it you don't sleep as well without it. Because they're medical grade silicone you can wash them as often as you wish without them getting misshapen or degrading.
Finding the Best Pillow
For years my pillows came from Marshall's. They had this random brand of 'Hotel Pillow' that I loved for not being too soft or too hard. They weren't pricey, I'd replace them when they'd get flat, life was good. Then I went into Marshall's and the pillows were gone. I tried a couple others from Marshall's, TJ Maxx, Target, and none were quite right. It made me realize how important a good pillow is for good sleep and I went on a search for the best pillow.
MyPillow
I heard of MyPillow from one of Karl's yoga students before they were advertised every five minutes on TV. She loved them because they could be washed and dried without affecting the fluffiness, keeping them free of dust and the critters that love dust. I liked the concept of choosing a pillow based on my size and sleeping habits. I got one for me and one for Karl. Karl thought his was okay, I didn't like mine. I tried his (we ordered different ones), I still didn't like it.
Even after being washed a few times the MyPillow still feels like a bag full of chopped up foam. It does a good job of staying lofty without putting your neck and head at an uncomfortable angle, but I don't like the lumpy feel and while it does stay cooler than some pillows, it has this weird hollow feel that isn't snuggly and comforting. However, the ability to throw it in the washer and dryer on hot is a nice selling point and these have become our camping/guests visiting pillows because of it. We have the MyPillow travel pillow, which is half the size of a standard pillow and it's great for car trips and Emerson's sleepovers since it can be sanitized but the comfort isn't anything amazing.
If you wish to try MyPillow, I recommend researching on their site but buying from Amazon. MyPillow is pretty tough with returns and return fees and they do everything in their power to get you to add on a bunch of stuff you don't need before completing your order. Amazon you get the same price, free Prime shipping, and likely less hassle if you choose to make a return.
Casper Pillow
Oh Casper, you're one of those companies that I'd probably like better if I weren't a blogger and didn't see how the sausage is made. Casper is one of those brands that preys on new and naive bloggers trying to get free link placement on their blogs in exchange for a big fat goose egg. No product, no payment, just "share your sleep habits with us!" I think this article is also interesting and worth reading if you're searching online for honest reviews of mattresses from companies such as Casper.
But I was intrigued by Casper's pillows – they have a great marketing campaign. And so to celebrate my annual review and bonus I bought myself one of their $75 pillows. I know, $75 for a pillow, that's insane! But if I think how valuable sleep is… I'd spend $75 on a sweater or a pair of shoes but not sleep? So yeah, in April bought a $75 pillow. As an FYI, Casper pillows are now $55 and also available at Target.
And I freaking LOVE that pillow. I am allergic to feathers and down, and have always been sad I couldn't experience the heavy yet lofty feel of a down pillow (well I have experienced it when at sleepovers and visiting relatives and always woke wheezing with swollen eyes and welts on my neck). The Casper pillow has that same heavy yet lofty feel of down without the allergic reaction or being poked in the cheek with the tip of a feather. The way your head slowly, decadently sinks into a Casper pillow is pretty freaking amazing. It stays cool, and after a week with my Casper pillow I stopped having the weird little crook in my neck.
Thing is, the Casper pillow doesn't last. Sure, experts say to replace your pillow every 6-12 months, but with normal people budgets I see that for the cheaper pillows called Hotel that you get at Marshall's not one you paid $75 for that has a special core and all that jazz. In less than a year my Casper pillow is still on my bed, but it's become more mushy and flat. However, I love this pillow so much I think I'll budget in 1-2 a year and sacrifice elsewhere.
Threshold Cool-Touch Comfort Bed Pillow
My Casper pillow was getting flat, but I didn't want to fork over $55 for another so I tried this pillow. It got rave reviews online and I loved the concept of a pillow staying cool all night long. While I've learned warm feet bring on better sleep, a warm head does not.
I think if I had never tried the Casper pillow I'd love this pillow. It won't stay cold all night, but it doesn't get as hot as traditional pillows and stays cool long enough for me to drift off to dreamland. It is soft and fluffy yet lofty and holds your neck at a comfortable angle. The only issue I find with it is how lightweight it is. It's even lighter in weight than the MyPillow. There's no sinking into this, it feels like near nothing though it does cradle your head. I hate that this may look like a negative review because this pillow is far better than many other pillows I've tried. I tried to go with this one instead of Casper, but middle of the night I go back to Casper.
Upgrading the Bedding for Better Sleep
I shared in my Nordstrom Sale post that I bought us a new comforter and new sheets. Both of those were not great buys, and I hate that I recommended them. The comforter is so noisy! It's really crisp heavy cotton and crinkles so loudly it would literally wake me up (yes, the me who can sleep through a concert). The sheets were super thin and soft, and with washing got even more thin and pilled in places and after a couple months ended up tearing. Fail.
Sheets
We picked up these sheets from Fieldcrest at Target and are big fans. Sure they crinkle a bit, but it fades with washing without losing their smooth crisp feeling. We got Essential Grey which is a lovely dark charcoal color that looks luxe and is a nice contrast to our colorful quilt. I want to get another set to have on hand when these are in the wash!
Weighted Blanket
Karl was curious about weighted blankets, I did a bit of research and got him this one for his birthday. Since he's over 6' tall and 200 lbs, I got him a 20 lb blanket. This blanket comes from China, so it took about three weeks to arrive and the box weighed a ton (well actually it weighed 20 lbs) and was taped like crazy. The blanket comes separate from the cover, it takes two people with plenty of patience to get the blanket into the case. But since then (except for when we've washed the cover) it's been smooth sailing and deep sleep for my husband.
This blanket is twin sized, which is awkward for a queen size bed shared by two people. When under it you don't feel suffocated, just really secure and relaxed. There's the weight of a bunch of blankets without it being so hot. However, if the person under the weighted blanket turns over, the weighted blanket goes with him, and so does the flat sheet and if there's any quilt or comforter you're sharing. We've learned to have the flat sheet just a hair over the edge on his side and hanging lower on my side so I remain covered even if he tosses and turns a bit through the night. We share a king size quilt over both of us in winter, again with it hanging longer on my side to accommodate for him flipping over. Sometimes I feel like we're in separate beds when we're sleeping on our backs or back to back because the blanket will fall between us. However, you can still spoon with the blanket just on one person and we both snuggle under it when watching a movie in bed. I sometimes take a nap with the weighted blanket and see the appeal. Under it you feel really secure and fall asleep pretty quickly. However, I don't like the feeling enough to experience it every night. Karl however would rave about it until the cows come home.
Aller-Ease Comforter
I love the fluffy cloud feeling of a comforter. With Karl having the weighted blanket, a queen or king sized comforter makes little sense so I decided to get a twin comforter. I had been doing a bit of research and this comforter got good reviews for quality, as well as it repelling dust and dander. I do have allergies and covers for my pillows and mattress for allergies, so I figured why not?
This comforter is just as lofty as the one I got from Nordstrom. The fabric exterior is a bit denser; it's still soft and cottony but not as crinkly. I don't use a duvet cover on it, I just throw it in the washer and/or dryer every so often and it launders great. The price is pretty amazing for the quality. The only issue with this is it's warm. I really only could have it on me all night once it got below 40 degrees outside.
How Is My Sleep Now?
Well right now it's not awesome because I'm still recovering from a pinched nerve in my neck, but in general these changes have really improved my sleep, and my husband's sleep. We'll spend on a pair of shoes or a new eyeshadow palette… well sleep is more important. Good sleep affects your skin, your posture, your attitude, your ability to handle stress, your blood pressure, your weight, and much more. So many ailments can be resolved with enough sleep and enough hydration. If you have any great tips for good sleep, please share them in the comments!