This article may contain affiliate links; if you click on a shopping link and make a purchase I may receive a commission. As an Amazon Associate, I earn from qualifying purchases.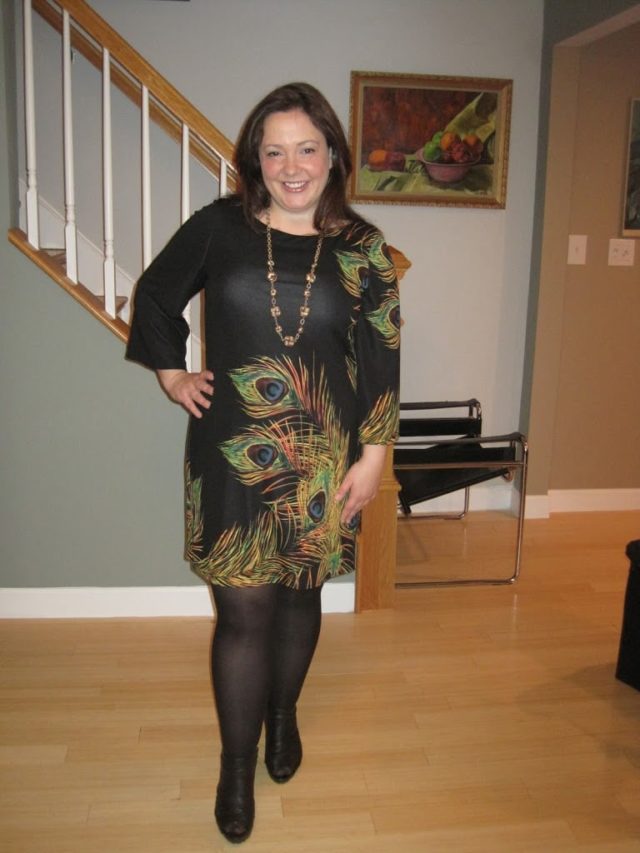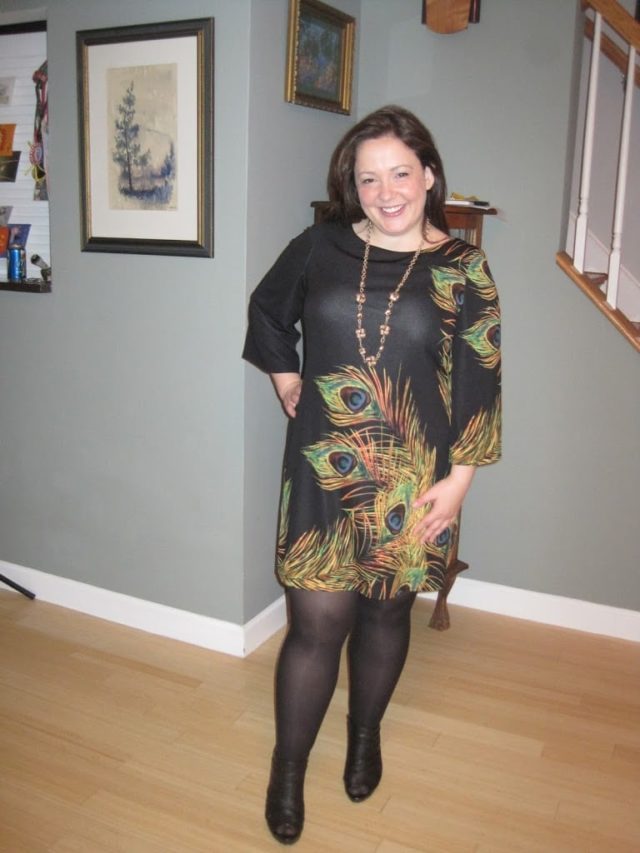 Dress – Muse (last year)
Tights – Nordstrom
Booties – Miss Sixty
Necklace – Ann Taylor (no longer available)
Nope, that's not my bra shining through the dress – dress is black ponte with a black lining and underneath is a black bra.  In the 30 seconds I allot each morning for the photo, my mom and I didn't have time to figure out how to get the flash to NOT bounce off my boobs!
And you can see a bit more of the "art gallery" which is my house.  In a previous post, a reader asked about the painting of fruit at the bottom of my stairs.  It was painted by a very dear friend, and that is a temporary place.  We think we have a better place for it upstairs.  We currently have black frames with white matting in the stairwell, random sizes, styles, and photos.  The plan is to have that extend down the stairs and it will fit  in where that painting currently resides.
The little piece in the gold frame above the glass curio cabinet was done by my maternal grandfather – he was a painter, and this piece is one of my favorites.  It's a pastel on velvet and really lovely.  The larger work that is near the bar for the kitchen was done by my father in law's college roommate – a popular local artist named Harry Richardson.  we have several of his pieces throughout the home.
We have never purchased art for our walls because we have so many pieces that are gifts or inherited.  My maternal grandfather and my husband's paternal grandfather were/are artists, my cousin, my mom, and my husband's uncle are all artists, and then my father-in-law's friend and one of our best friends are painters.  Then add photographs by my husband and his father to the mix… well we have stacks of works in frames in our office waiting for the right place to be hung!  Six months from now, the whole layout could end up being completely different! 🙂

Save