This article may contain affiliate links; if you click on a shopping link and make a purchase I may receive a commission. As an Amazon Associate, I earn from qualifying purchases. 
It's great living in the DC area – access to amazing FREE museums, living within an hour of three major airports, one of the best concert venues in the country (I love you 9:30 Club!), all the convenience and options of a major city, yet close proximity to the ocean, the bay, wineries, and farmland.
However as a blogger, I sometimes feel left out when I get all these emails from PR folks telling me about great sample sales taking place in New York, London, and Los Angeles. What about DC? Where's OUR sample sales?
Well Hobo International is based out of Annapolis, Maryland and I found out they had a sample sale this past weekend. Score! I adore Hobo bags – they are stylish without being trendy, well made, and fit my personal sense of style. I follow Hobo on Twitter and the week prior to their sample sale they had a Twitter contest where a few followers could win 50% off their entire purchase at the sale. And moi? Winner winner chicken dinner!
Annapolis isn't too far from where I live – I actually passed my "bachelorette pad" on the way (lived in Annapolis prior to moving in with my husband). My mom, Emerson, and I arrived about 20 minutes prior to them opening the doors for the sale and there was a good dozen of folks ahead of me. These were serious shoppers – women in sneakers, sans purses and handbags, ready to shop. I probably would have been better off without a toddler in tow, but I didn't have anyone to watch her and Emerson is pretty chill in chaotic situations and don't mind crowds.
The sale was well managed – many Hobo International staff on hand to pass out shopping baskets, answer questions – one even offered to watch Emerson so I could shop! Instead, my mom and I took turns – one would watch Emerson while the other would do a mad dash around the sale, toss things in the basket. We would switch, and then while watching Emerson, could look through what we picked up, decide if it was purchase-worthy and put back that which we decided against keeping.
After about 30 minutes (time flies when you're running around like a mad woman, surrounded by leather goods and other mad women!) we were DONE. Emerson had been fantastic but was starting to whine and I didn't want to torture her any longer. We had collected a nice haul and felt accomplished so my mom took E to the car and I headed to the register.
And now on to the most important thing – my haul: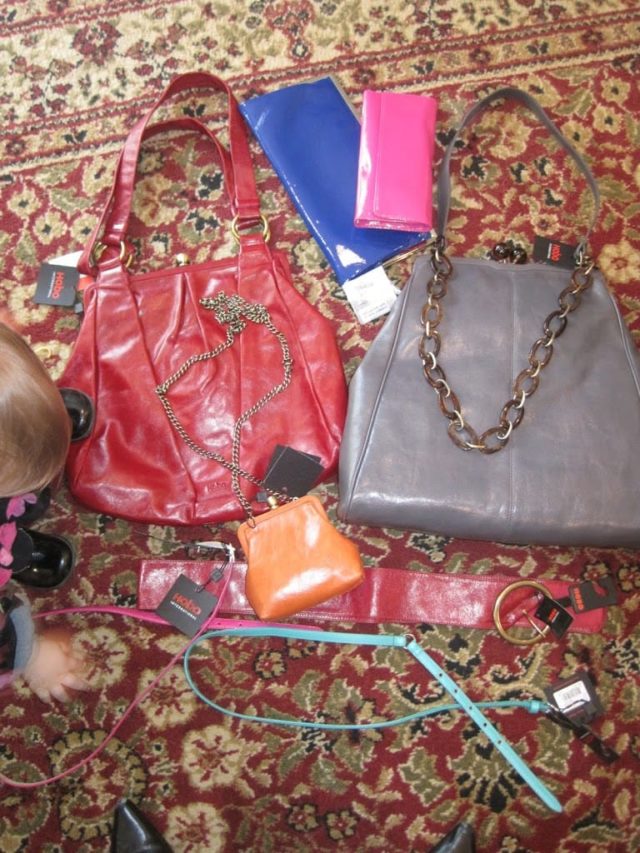 Emerson likes the pretty pink belt
– The Libby in Pumpkin
– The Penelope in Maroon
– The Bartola in Stone
– The Sadie wallet in hot pink patent
– The Valentina clutch in cobalt patent
– A belt that perfectly matches the Penelope (same leather and same hardware)
– A skinny hot pink patent belt (not on site)
– A skinny mint green leather belt (not on site)
My mom got a handbag, a belt, a wallet, and a little business-card holder/keyring combo thingie. Our purchases combined came to just over $200! How utterly insane is that? Seriously folks, if you live in the Annapolis area, this sale IS worth attending. Some items were previous seasons, but you can see three bags I got (and possibly my mom's – can't recall the style) are current colors and styles on sale on the Hobo International site.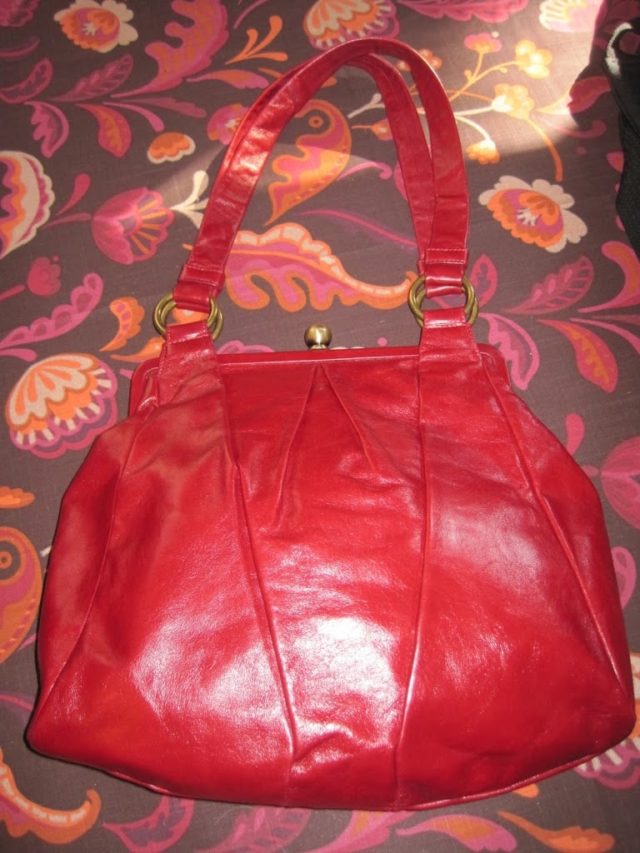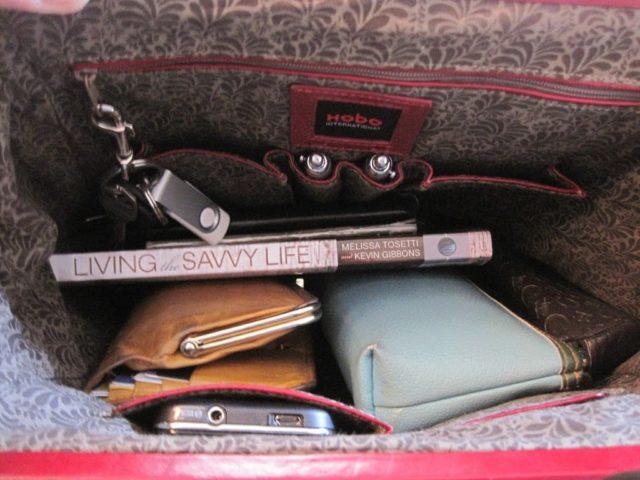 As soon as I got home, I switched all my purse essentials over to the Penelope – here you can see how much this bag holds – a full-size book
(which I will be reviewing soon), my "Diane" wallet from Hobo, sunglasses, camera, SmartPhone, engagement calendar, cosmetics bag and more!
Keep tabs on Hobo International via Facebook or Twitter and you will know when their next sale will take place!
P.S. I met a blog reader at the sale! So hectic, no chance to really talk. However it was great to meet you! 🙂


Note: Everything written in this post is my own opinion – I did not receive compensation to write about Hobo International, and was not asked by them to write. I attended this sale purely as a customer and paid for everything I received at the sale.