This article may contain affiliate links; if you click on a shopping link and make a purchase I may receive a commission. As an Amazon Associate, I earn from qualifying purchases.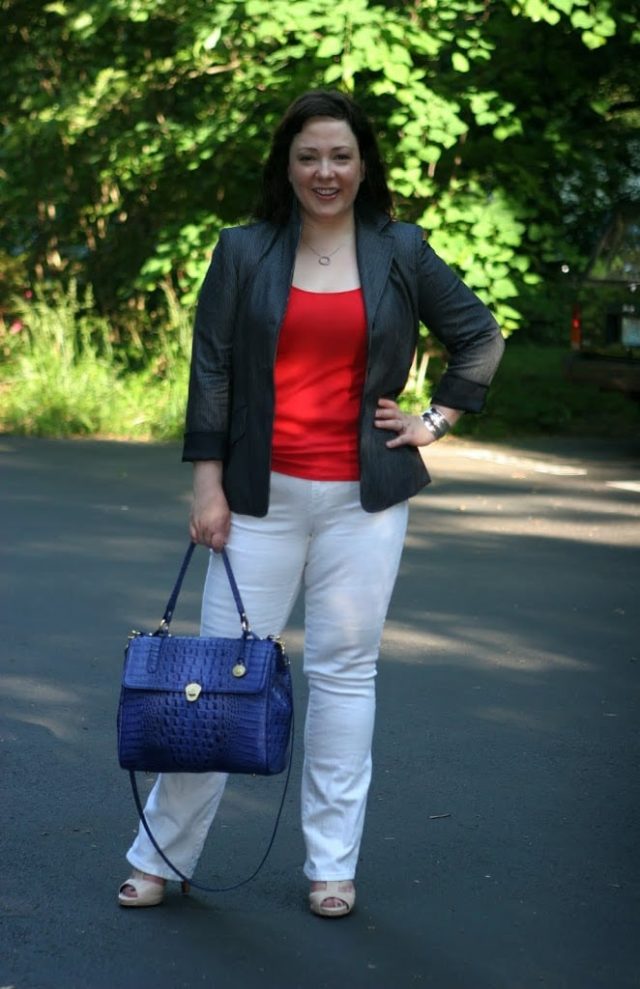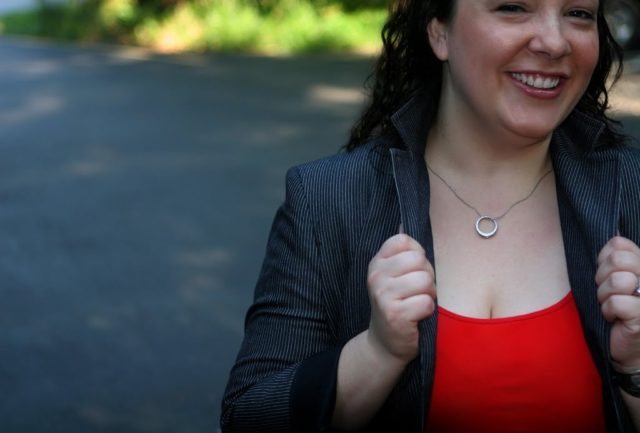 Dark denim-look jacket with white pinstripes – Ann Taylor (no longer available)
Orange-red tank – Ann Taylor
White jeans – Kut from the Kloth
Beige sandals – Sofft "Pavia"
Blue bag – Brahmin "Melbourne Chelsea Selia"
Silver cuff and chain with wedding band
I bought this jacket a decade ago. I remember wearing it to a training seminar with khaki capris and a dark red cowl-neck sleeveless sweater. Back then, I wore the sleeves unrolled and believe I wore tan kitten heel sandals. The fabric is like suiting, it's fully lined like suiting, but the dye of the jacket makes it look as though it is made from denim.
As you see, mama's got a brand new bag! I got an annual bonus and promotion this year and thought long and hard how to use the money. I decided to put some in savings for summer, got myself a netbook, and then got this bag. I have been obsessing over Brahmin bags for a long while and wanted a bag that was unique, yet a good bag for work. This bag is amazingly designed; I can fit my netbook in here and still have room for a paperback novel and all my purse essentials. There's a pocket for my SmarTrip card, my phone, and every other thing you can image. I know it will be great on travel because it is so organized! Right now in it I have my "Diane" wallet from Hobo International, my sunglasses in a hard case, my camera, a cosmetic bag, phone, small paperback, my WeightWatchers guide, a sandwich, a comb, two pens, a pack of gum and my ring of keys in there (oh and a top to mail out today from Shop My Closet!) and it's not stuffed and not heavy. Check out my review on the link above – had to give a shout-out on Nordstrom!
I still have my fun purses for everyday – my Sandhursts in brown and black, my new tan Banana Republic bag, my red Hobo International purse, and all my smaller novelty bags. but this is my first fancy bag, and one I think I will be using for years to come.
Follow Me | Twitter | Facebook