This article may contain affiliate links; if you click on a shopping link and make a purchase I may receive a commission. As an Amazon Associate, I earn from qualifying purchases. 
The year 2020 broke my addiction to heels to make me look taller and Spanx to make me look thinner. I no longer wanted to sacrifice my comfort for my appearance. I no longer wanted to feel trapped in my clothing. But I didn't want to lose my personal style for these freedoms.
A lot of clothing that is seen as stylish yet comfortable for women is crafted in dark and neutral solid colors, occasionally embellished with a bit of embroidery or beading. That's fine if it fits your aesthetic, but it doesn't fit mine.
So, when I see something that fits my aesthetic and my body, I get excited. Sometimes, it's a score at a price I am comfortable with. However, the older I have gotten, the more often that piece is more expensive than most of the other items in my closet.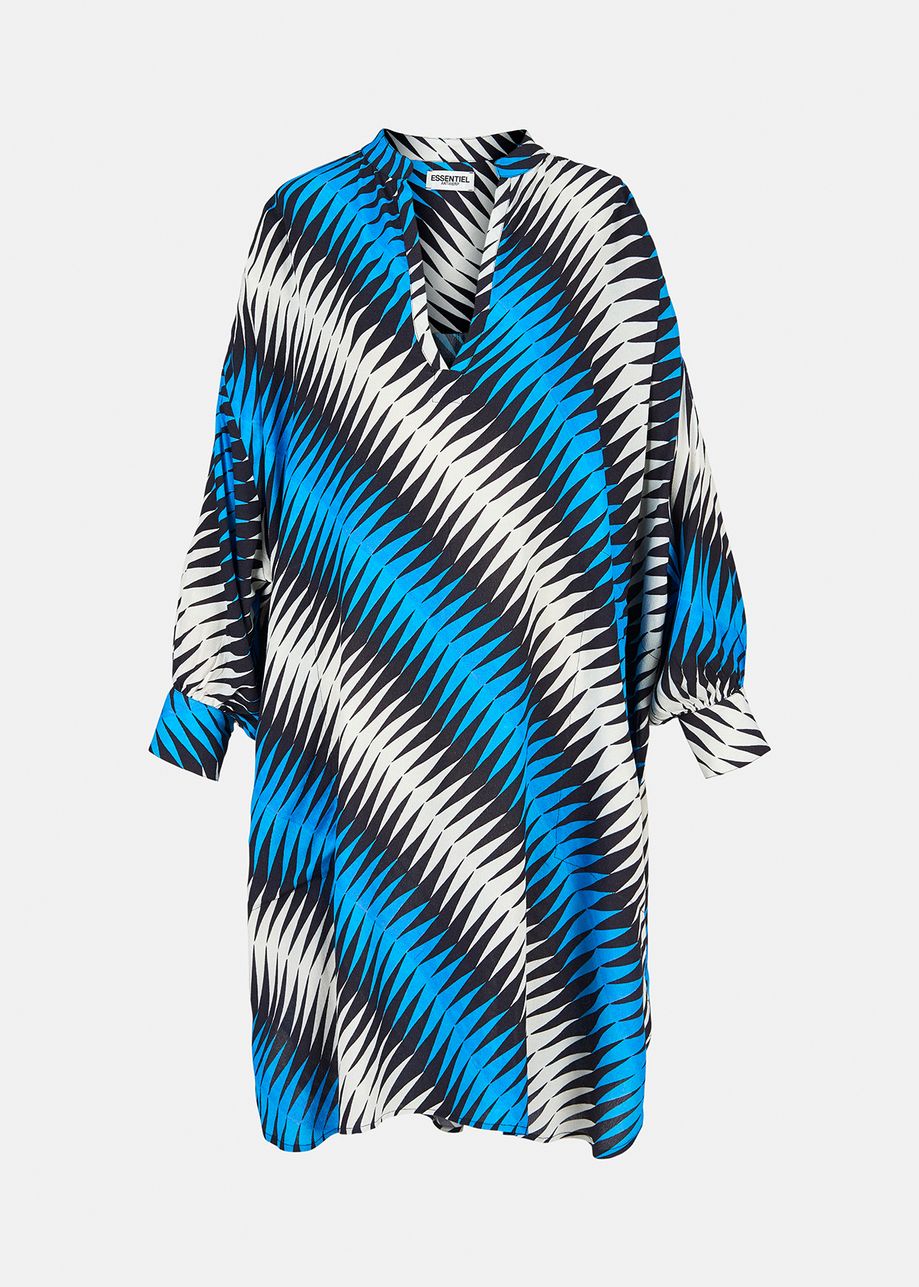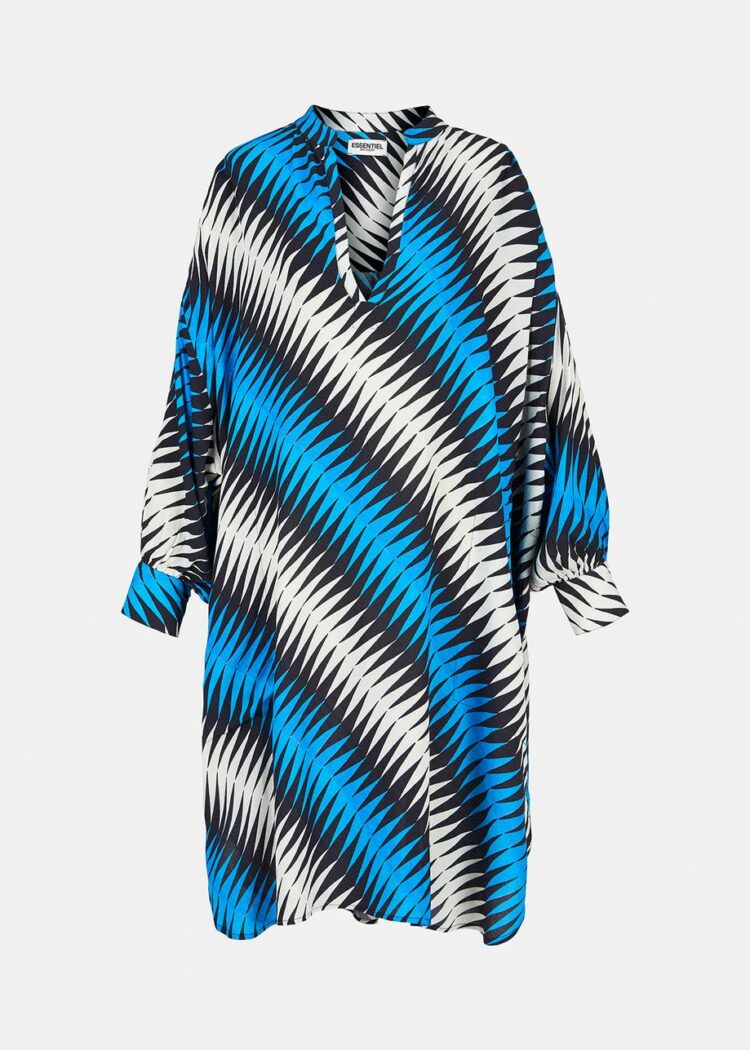 Is it because I am GenX that the idea of $209 for essentially a viscose caftan makes me angry? I mean come on, it's viscose, this price is ridiculous, they sell viscose at Old Navy, at Shein, at Forever 21 for an eighth of this price. I won't shop at those places, but does that mean $200 is an acceptable price for such a basic garment?
I'm smart, I am creative, I figure things out. I could totally make this dress. I own a sewing machine, it's not a fabric that requires a serger, the only two buttons are on the cuffs and I could switch out proper cuffs for an elasticized one. I bet I could even find this fabric, or something similar to it.
I have played this dance for YEARS. I love X, but I can't justify the price, so I buy Y. But Y isn't quite right, so I buy Z which isn't quite right either but now I have spent as much as X and have two pieces that I don't love. Which means I spend even more on another item trying to catch the thrill of X which is now out of stock in my size, or I stop and feel frustrated by my closet.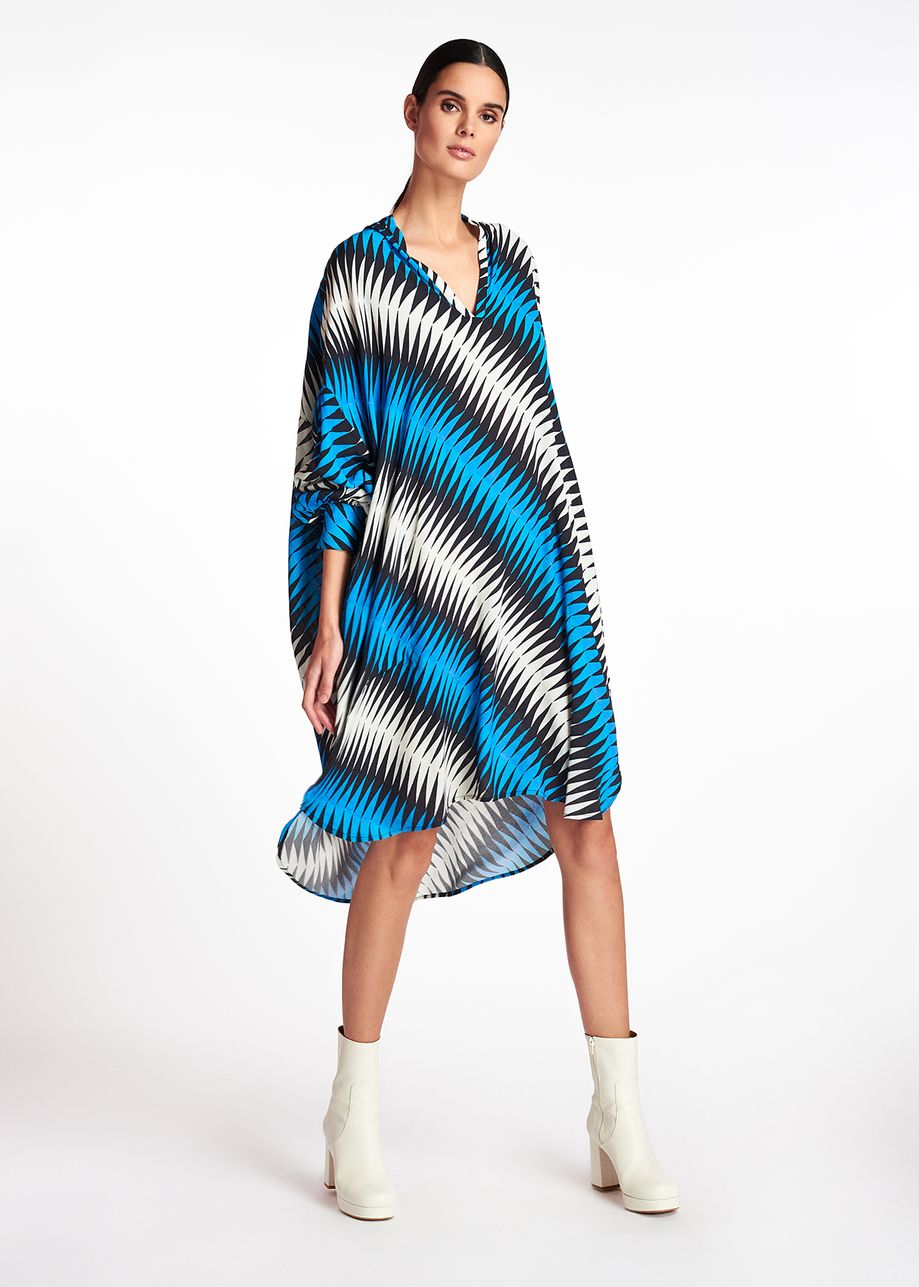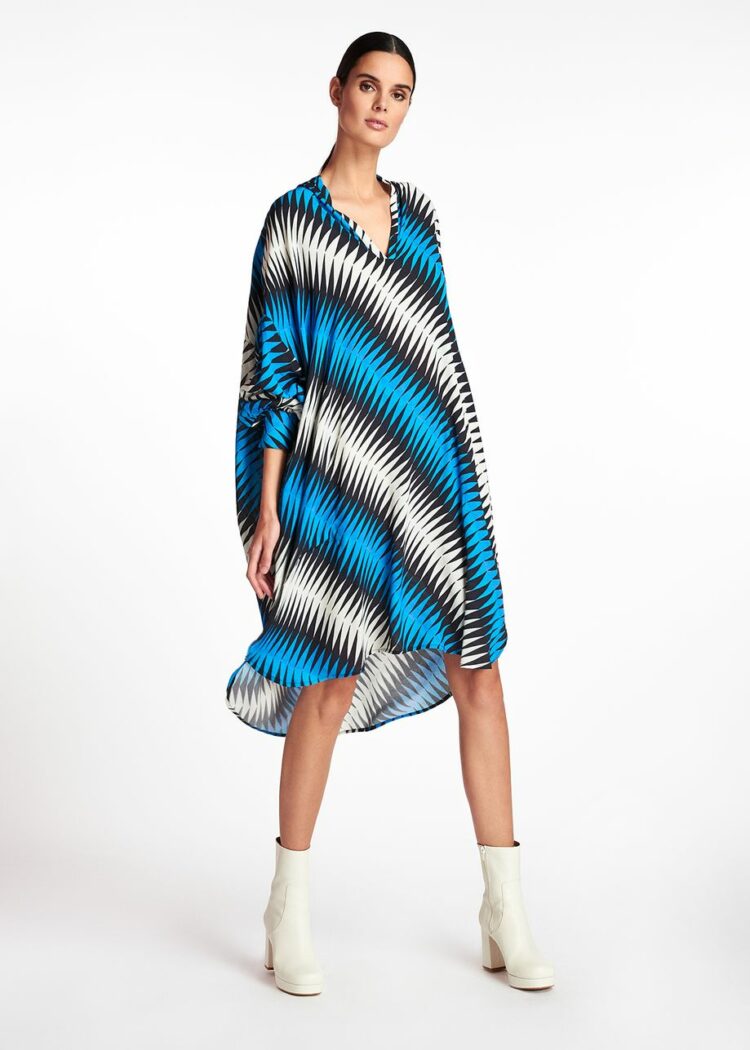 This is why I bought this dress from Essentiel Antwerp, a brand I never heard of before I scrolled past this jaw-dropping print on a page at Nordstrom.
For last week's Friday Shop, I was considering making a collage of boldly printed pieces I've gravitated towards this summer. I ran out of time, but when seeking out size-inclusive offerings I found this dress. However, this dress was only available in size Medium so I couldn't add it to a collage. But I couldn't stop thinking about the print and all the ways I could style the dress.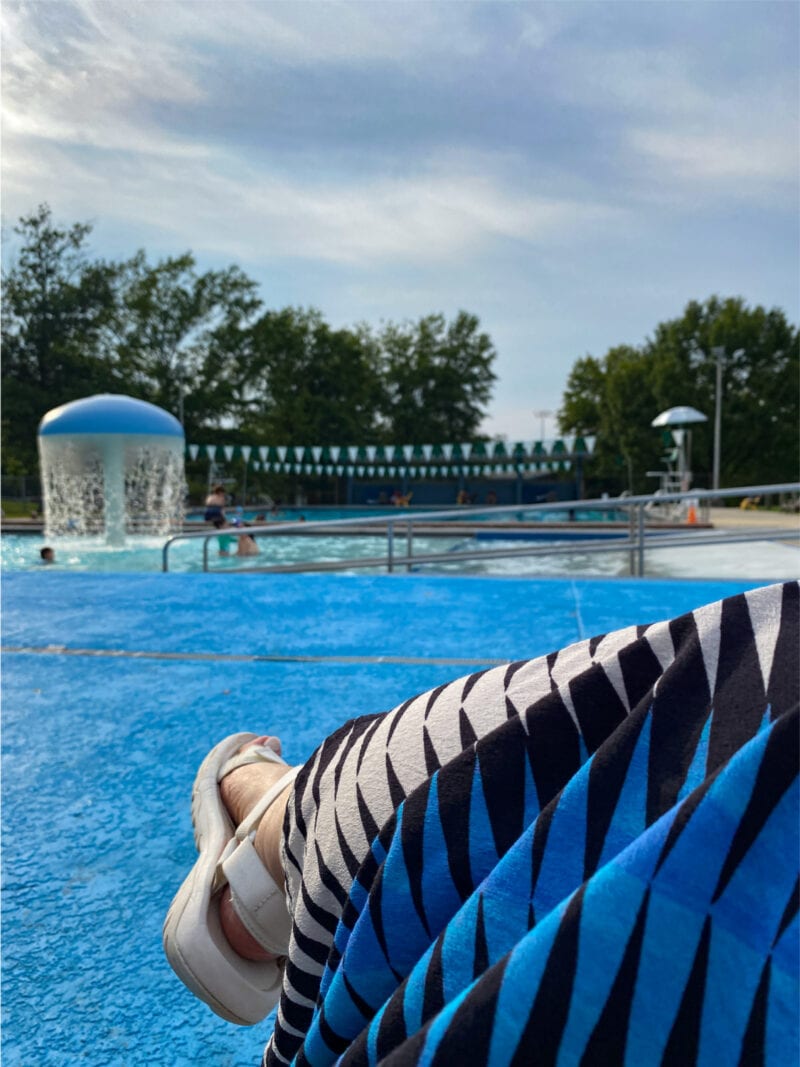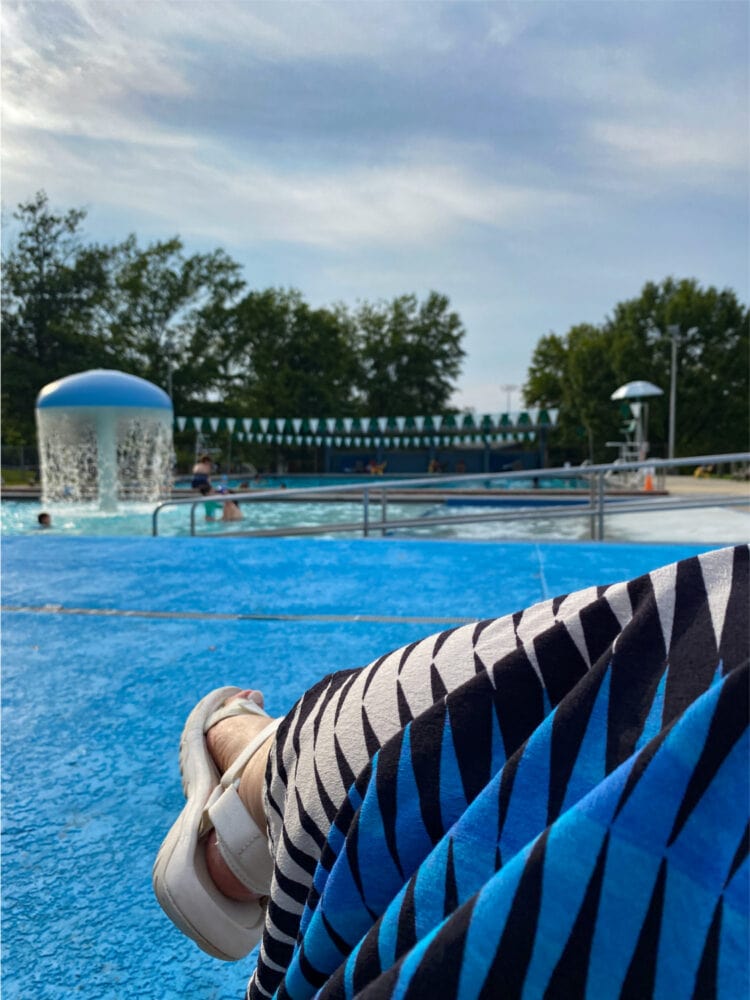 Come on Alison, this dress is ridiculous. Hand wash and line dry? Viscose? It's going to look like a tent on you. You will look shorter, and rounder. It's going to hit your boobs and go straight down. You'll look like one of those wrapped traffic boxes.
I had to tell myself to eff that noise I was making. To stop having those "rules" about fashion get in the way of who I am and want to be. Stop all the judgment that is blocking my path.
I looked at the photos and thought… a Medium may work. I am a size 14 with a large bust; I am usually an XL. This dress stated that a Medium was a size 6; a size I haven't worn since I was a teen. But with the full sleeves and tent-like shape I was curious to see if it may be a different silhouette, but possibly a great one. And well, Nordstrom makes it easy to return if it's a fail.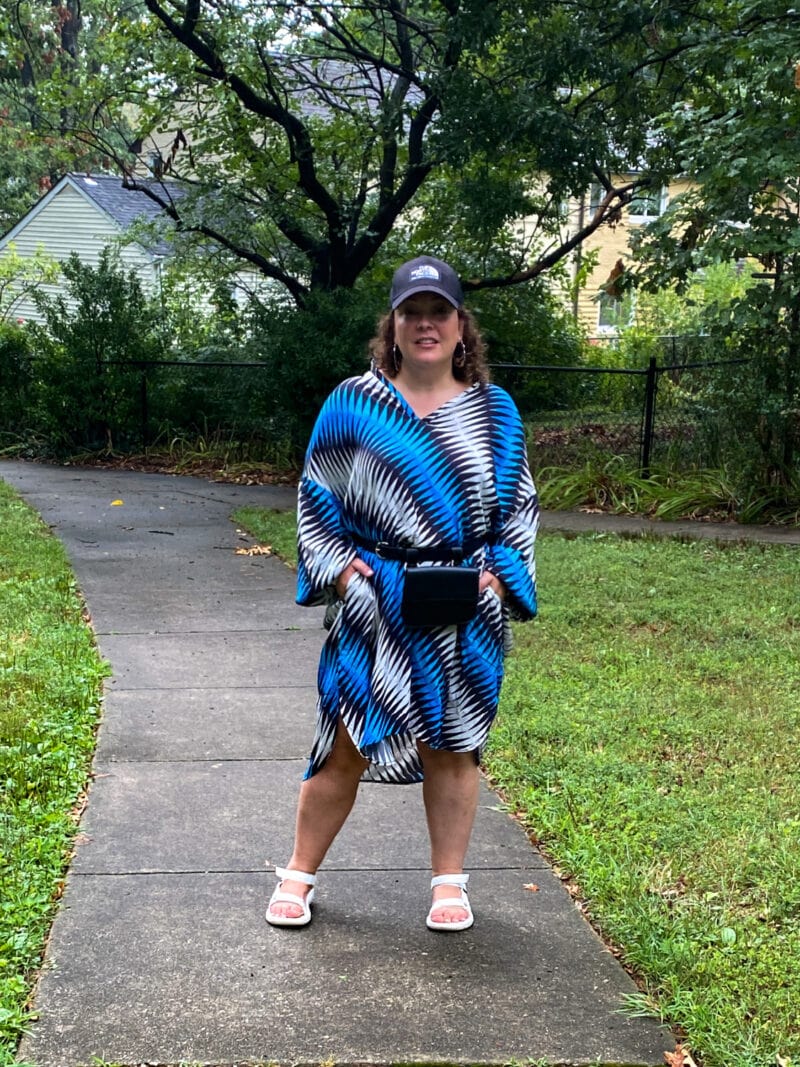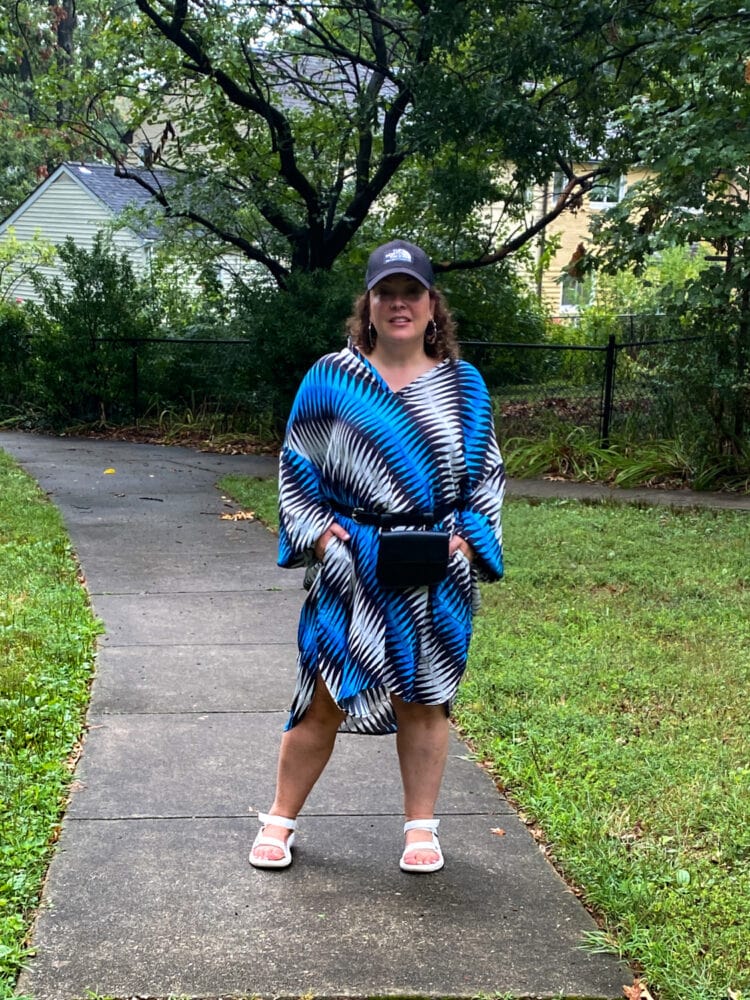 I wore it just yesterday with this belt bag I got years ago from Universal Standard, my white Tevas, and my North Face cap because my hair was on second day and I was heading home to ride my Peloton and didn't feel like doing hair to have it destroyed in a few hours. I caught my reflection in the mirror before I left and thought… this is the kind of clothes I enjoy wearing. Practical, comfortable, but not at all boring.
Shop Black Leather (and leather-look) Belt Bags: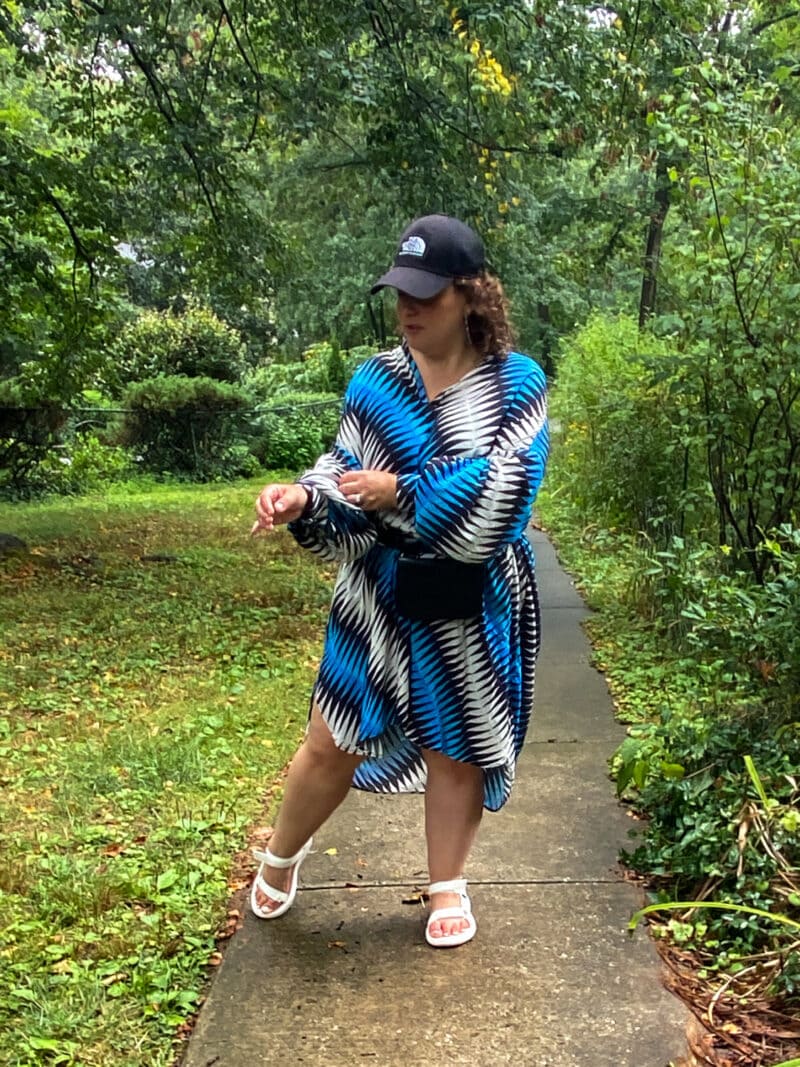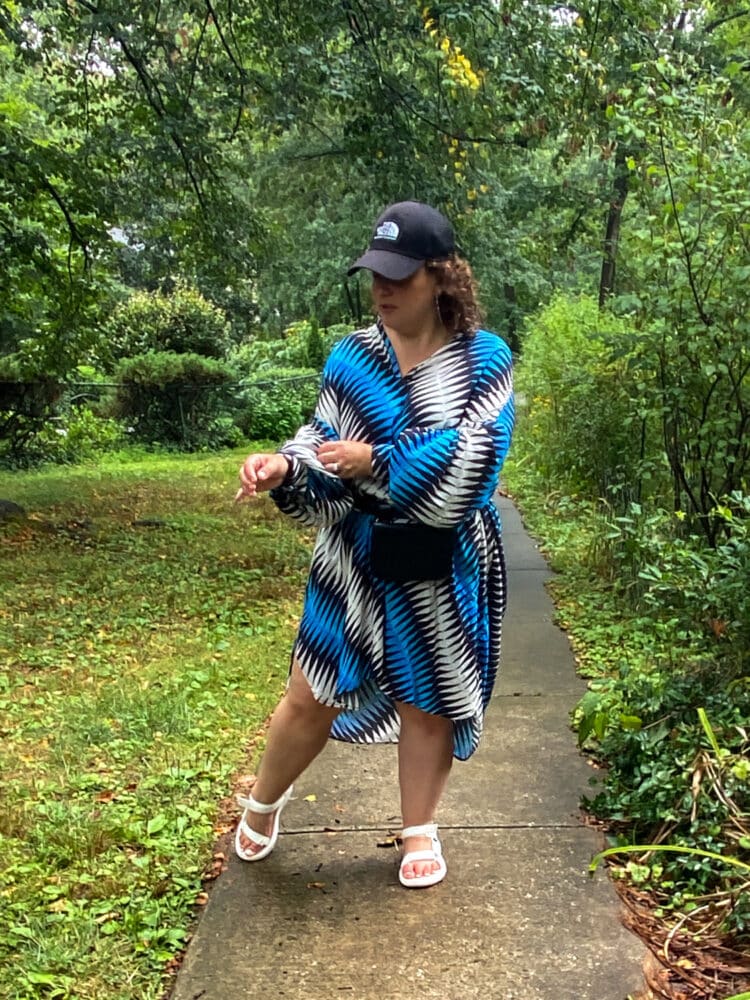 I've worn this dress to run errands with my white leather Birkenstocks and my big silver Jenny Bird hoops. No makeup, my everyday hair, and a black and white print face mask. Three women, all different ages and shapes and styles stopped me to not just compliment but ask where I got the dress.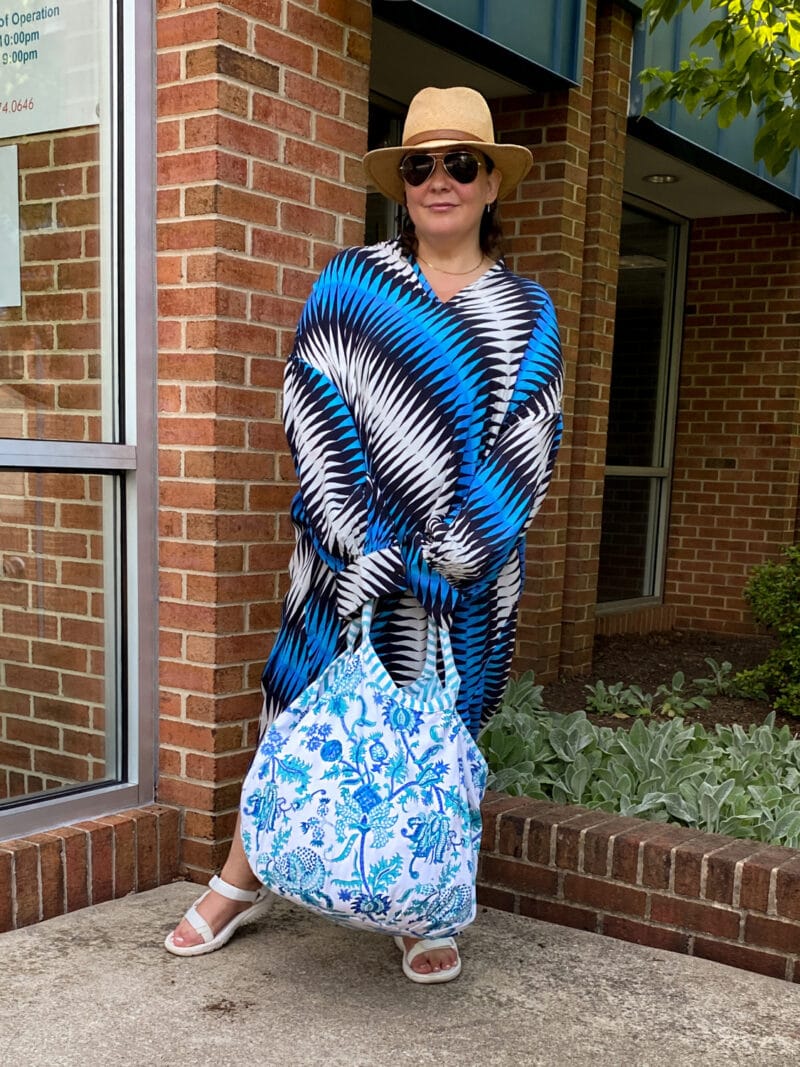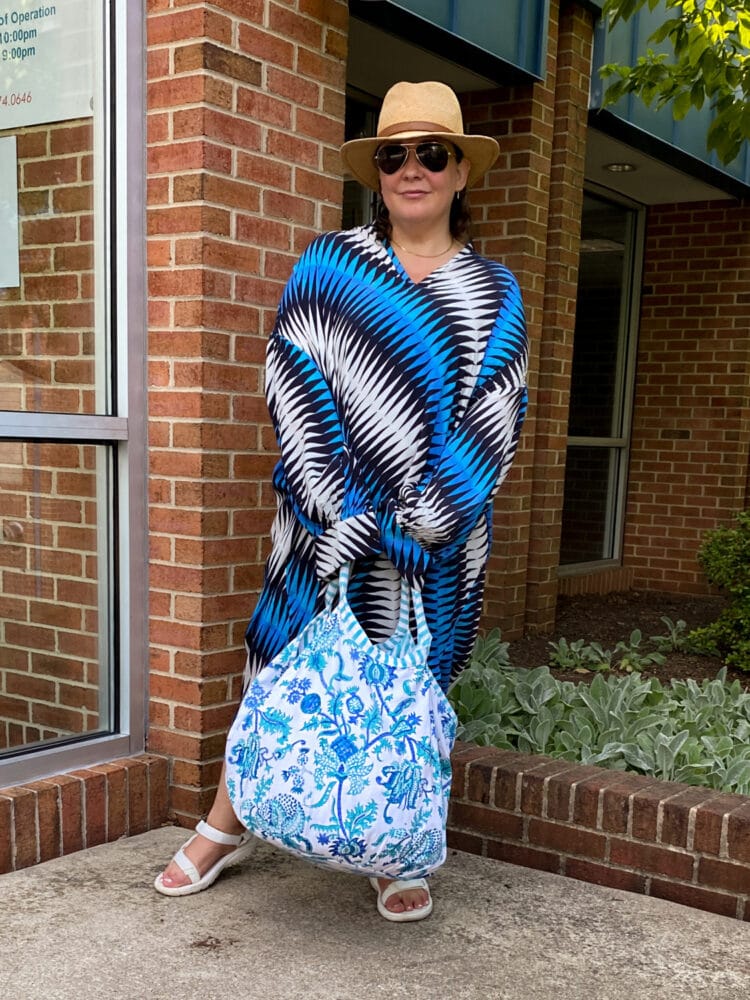 This weekend, I wore this Essentiel Antwerp dress as a beach coverup. Hand wash and line dry be damned, I am going to treat it like my other viscose pieces and wash on gentle, hang on a hanger or over the curtain bar in the bathroom to air dry, and steam it before I wear it (or a few minutes in the dryer).
I've been playing with the sleeves. They can push up a bit, but on my solid arms not enough to make it look like the model on the website. I tried rolling up and it's messy because the sleeves have a heck of a lot of volume. I rolled under, which worked and looked better. But honestly, with such a breezy silhouette, having the sleeves buttoned on a hot day wasn't any hotter than rolling them above my elbows. Come fall I may have a tailor shorten the sleeves so they aren't quite as… much on my petite self.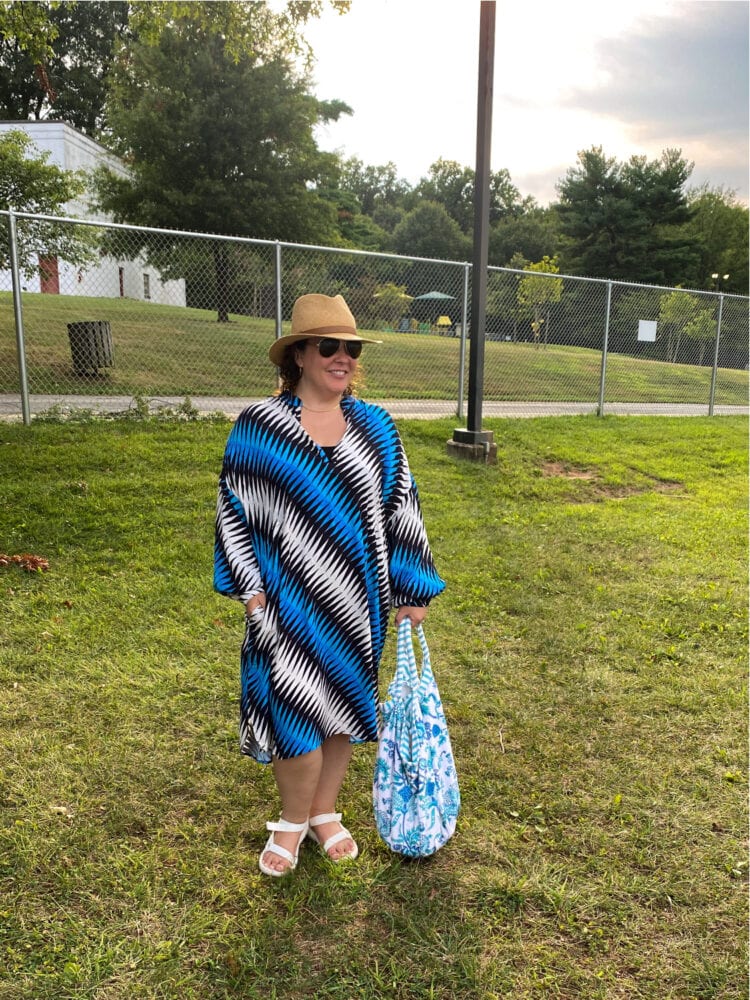 I'll feature this dress again for I have played with it and made some great looks with belting and even some strategic wearable pinning. I haven't yet tried, but I can see a lot of ways to make this work into fall and winter. Nordstrom has a small selection of Essentiel Antwerp, as do FARFETCH and YOOX. The Essentiel Antwerp site has the biggest selection (including several other dresses with full silhouettes), but they do not ship to the US.
As for the beach bag, it was swag from when I was an ambassador for a skincare company. Each quarter, the brand would send me a supply of their product and my assignment (a photo on Instagram featuring a certain hero product or theme). I wasn't paid money, but each delivery came with the best swag. One of their summer products came in this bag from Roller Rabbit.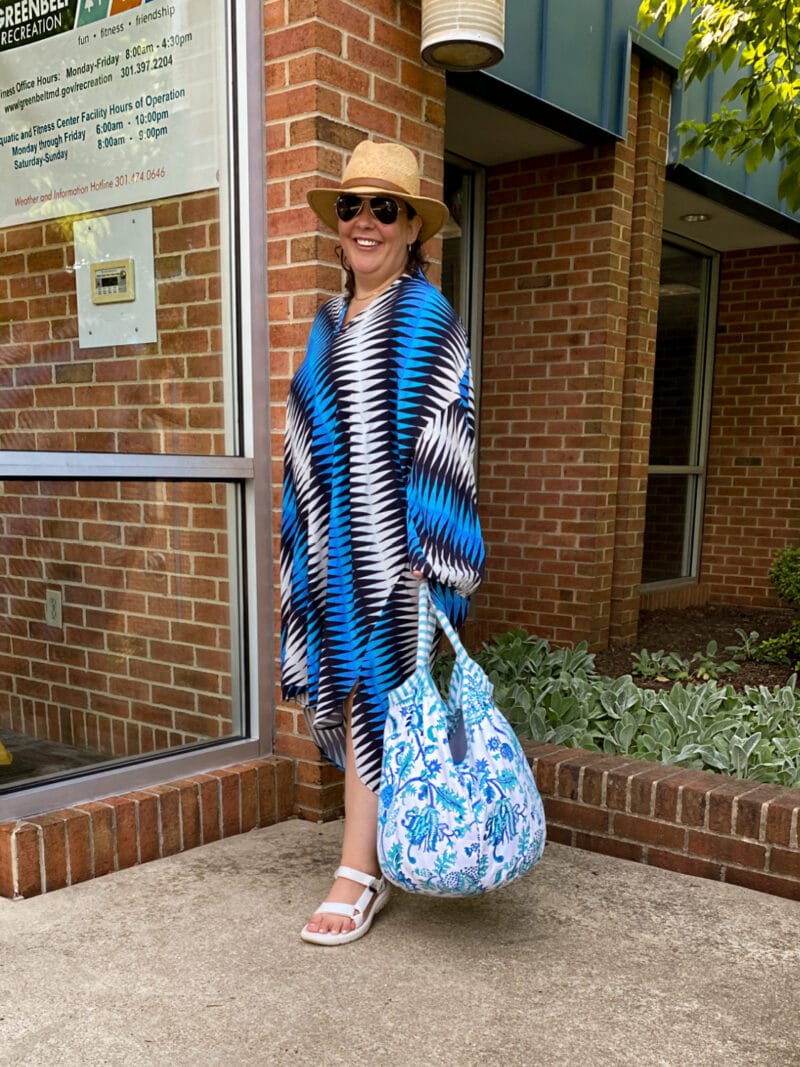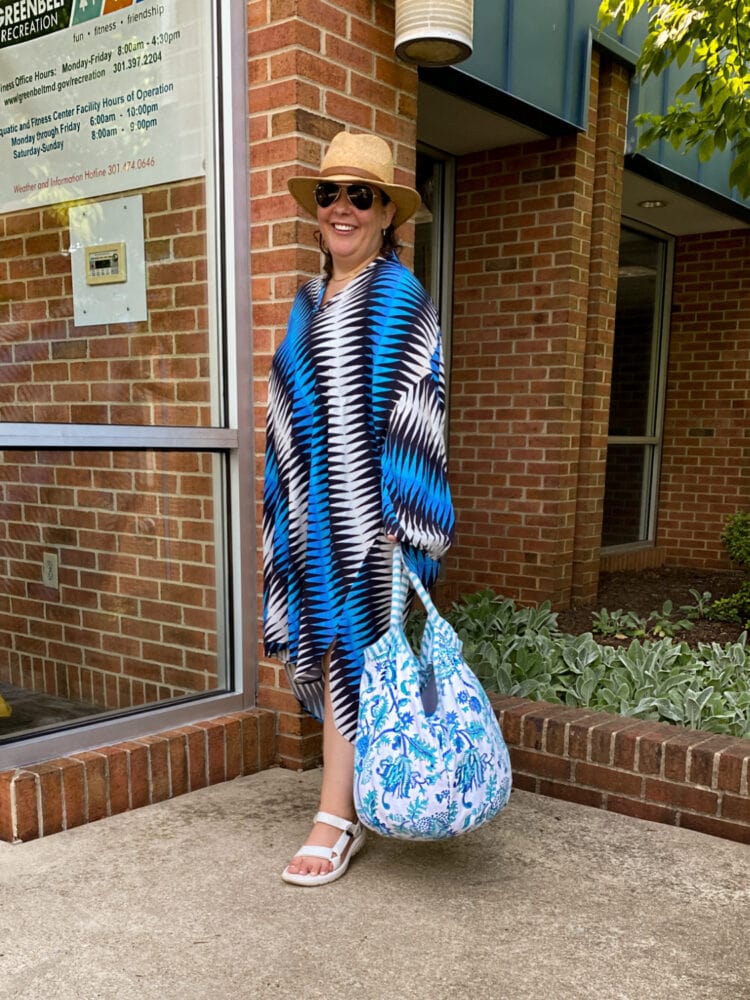 This is not a bag I'd normally buy. Cotton absorbs moisture, the print is a bit more twee than my usual style, and yet again, this Gen X-er is freaking out over the price for something I could likely make myself (though never would). But dang if I don't love this bag!
It fits just right over my shoulder, I can also carry it in my hand with my elbow relaxed and it won't drag on the ground. As a 5'3" person this is not common. Also, I can fit in it two thick beach towels and all kinds of other pool/ocean essentials and It doesn't weigh a ton. It's lined with an interior zipper pocket and two ties so you can cinch the top.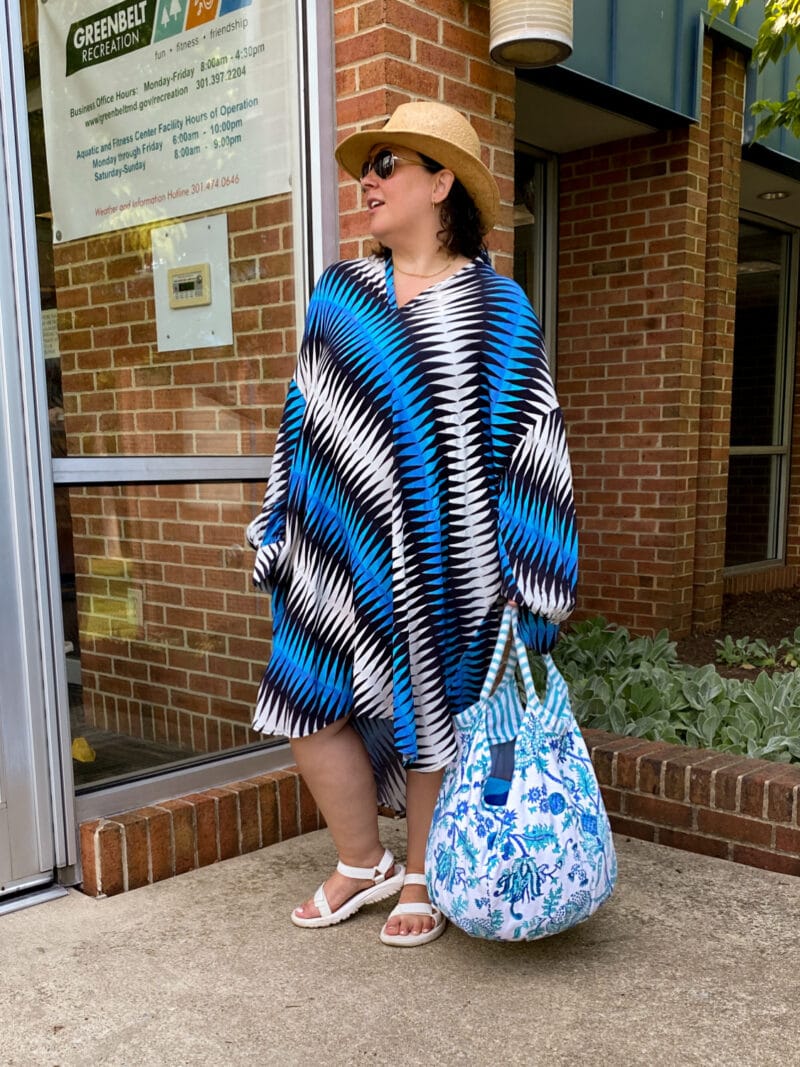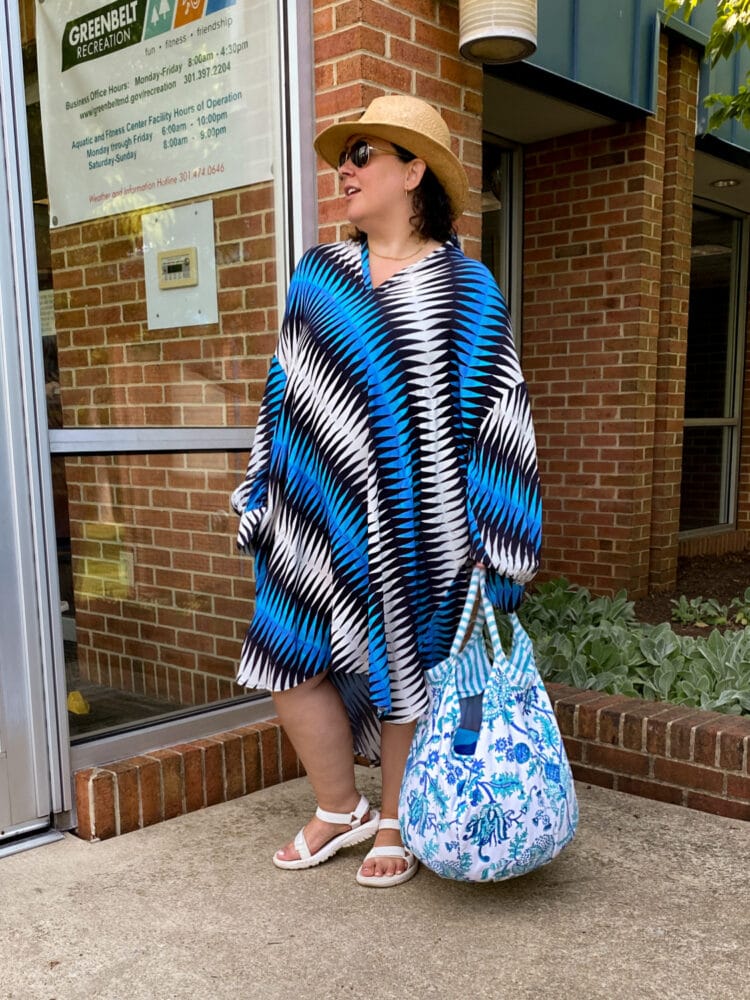 I've thrown it in the washer and dryer a handful of times over the years and while the lining isn't all flat against the exterior anymore, it still looks good and works well, whether carrying a few things or completely stuffed.
Roller Rabbit also has this same exact bag in a pink/red colorway and a darker blue colorway. I am super into this embroidered version of the same bag. When researching the brand Roller Rabbit for this post, especially since I think it used to be called Roberta Roller Rabbit, I found this 2010 New York Times article about Roberta Freymann, the woman behind this brand, and much more.
The hat is Banana Republic, I think this is my third summer wearing it. This hat from Banana is similar (might be exactly the same) but is only available in black. The shoes are Teva. The sunglasses are ROKA.
Shop the Look: