This article may contain affiliate links; if you click on a shopping link and make a purchase I may receive a commission. As an Amazon Associate, I earn from qualifying purchases.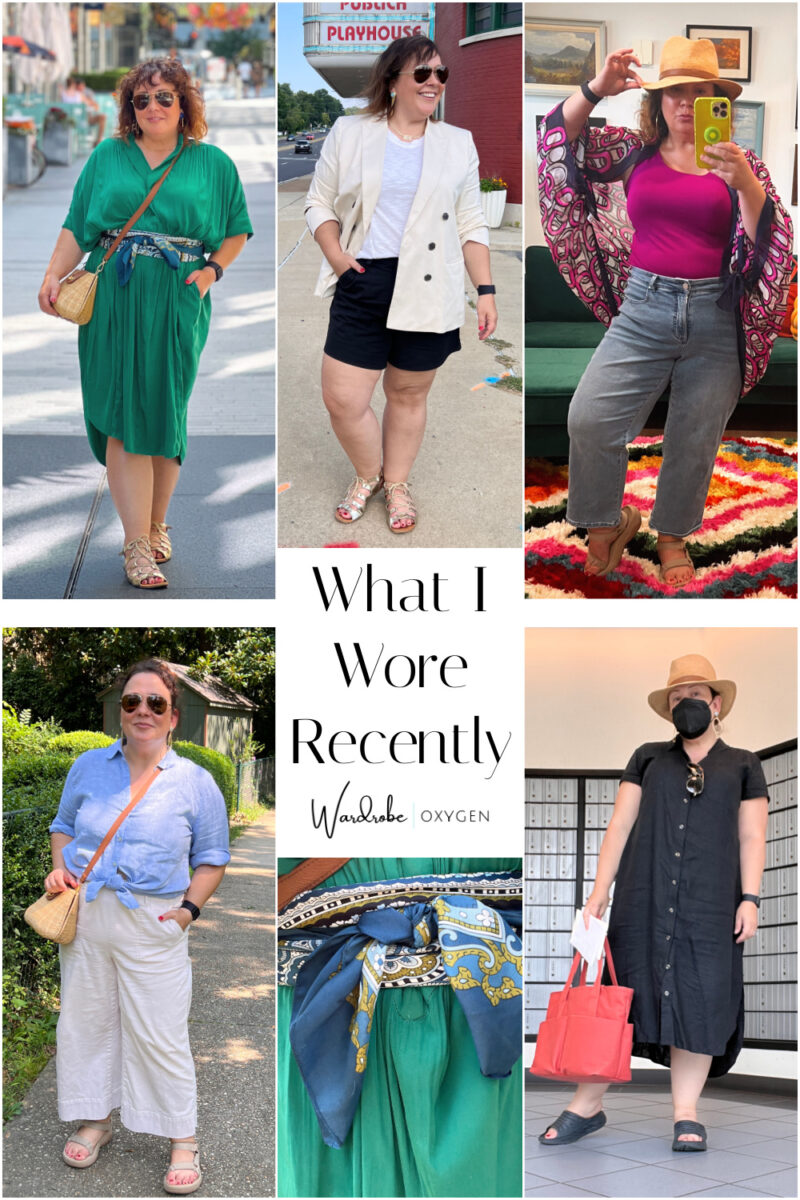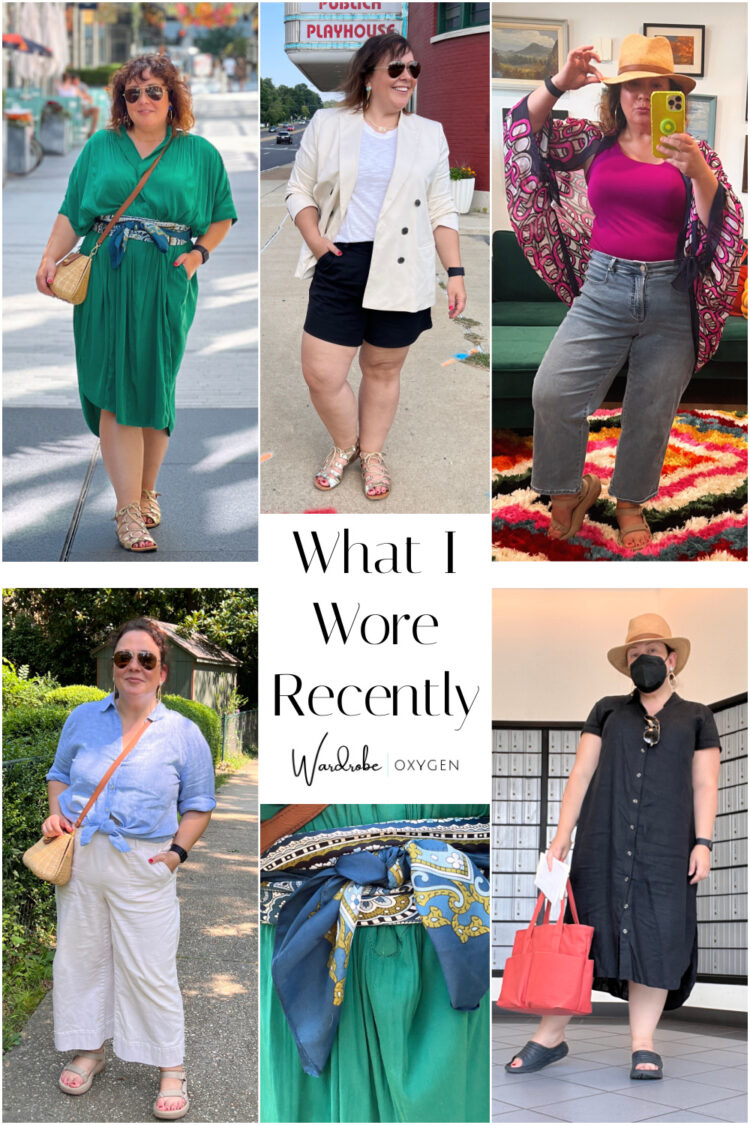 The weather has been brutal – extremely hot, extremely humid, and lots of thunderstorms or days that look as though a storm will happen any minute. To be honest, I have spent a lot of time indoors wearing loungewear and not getting gussied up. But the few times I have been out and about I've tried to capture photos so you can see what I wore recently.
Fancy Lunch in the City on a Sweltering Hot Day
What do you wear to lunch in DC on a day that will hit 100 degrees and you may have to park a distance from the restaurant? I dealt with a similar issue last summer and loved my every by X dress and I chose my Emeraldine petite One Dress for this day's activities.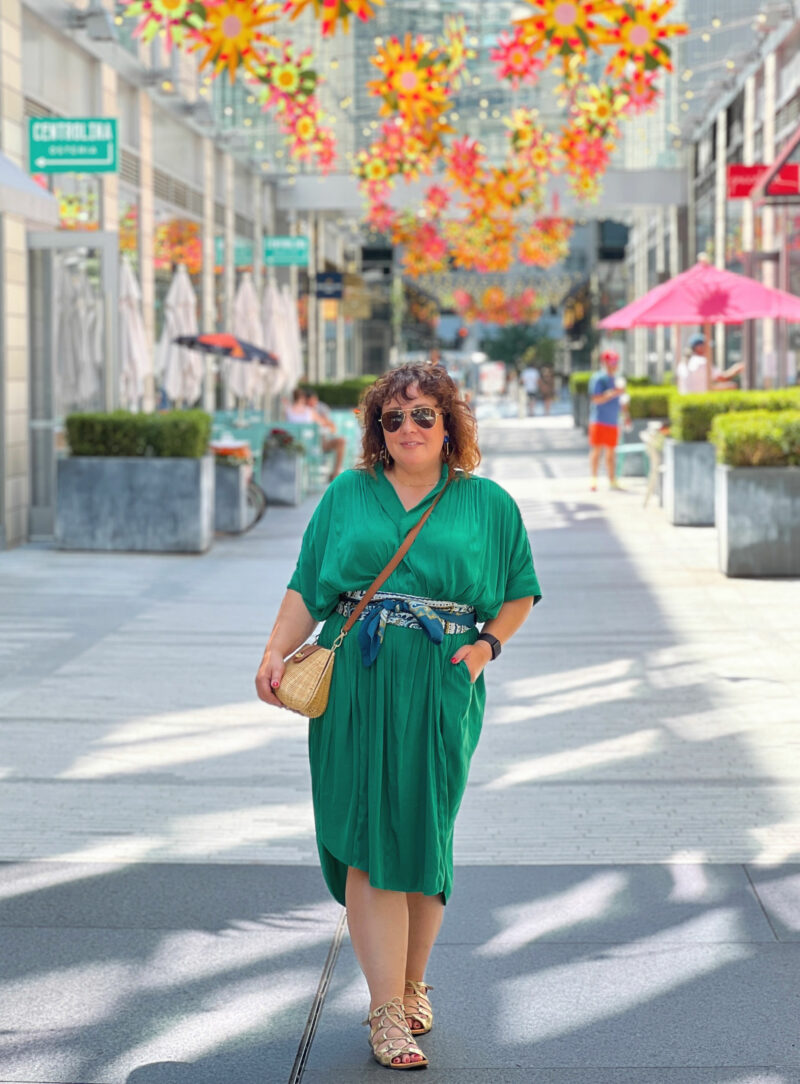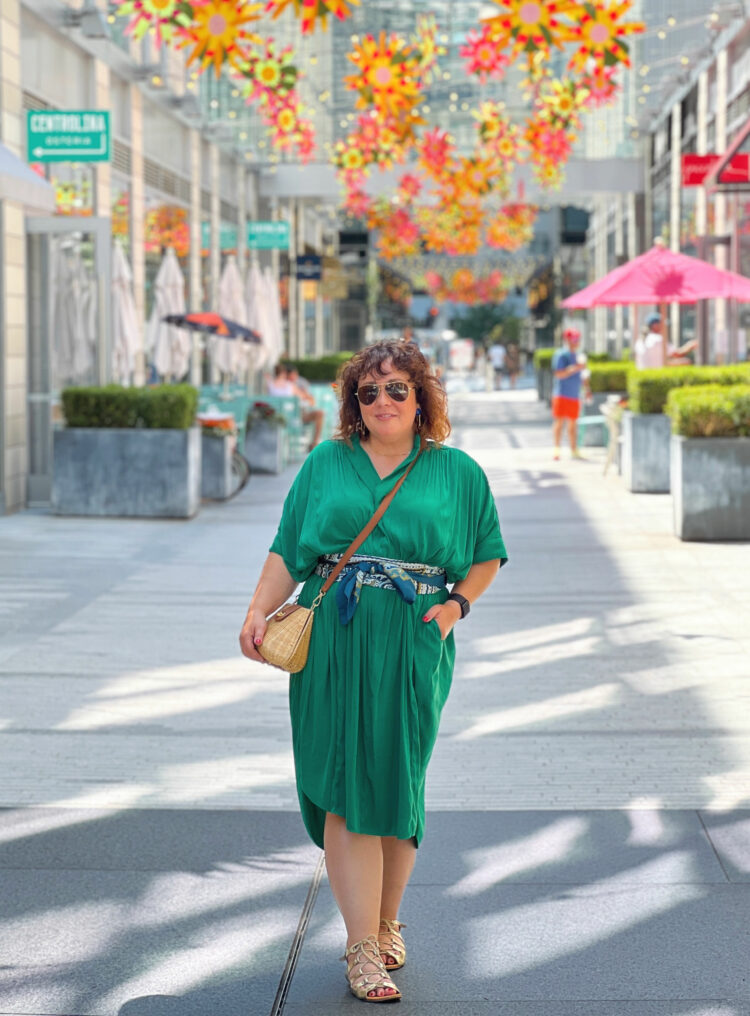 I've worn this dress a LOT. It's funny, I gave my navy ever by X dress to Carrie and got the emeraldine and wondered if the green was maybe not as versatile. But scrolling through my Instagram alone I wear this thing all the time! And as you read this I am heading to the beach and you can be sure this dress is in my luggage!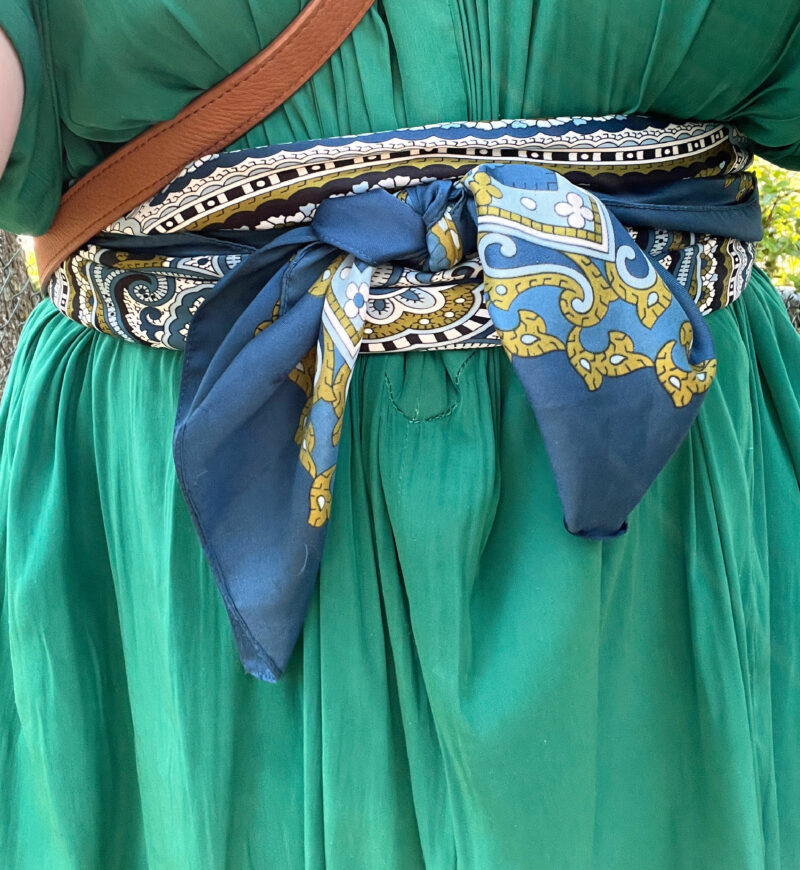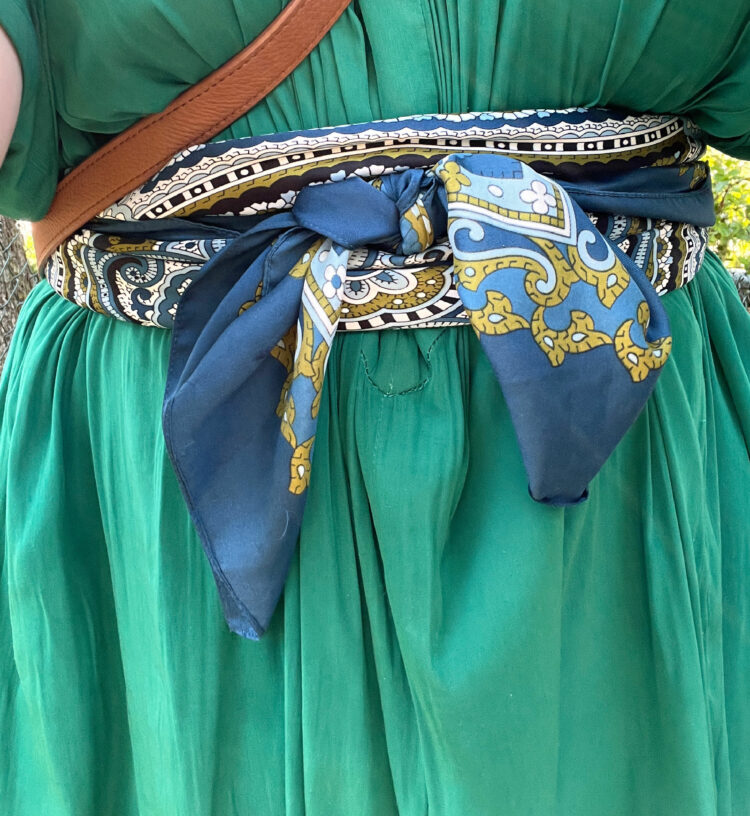 Anyway, to switch up the look (and to hide lower back sweat stains) I removed the self belt and cinched the dress with an extremely oversized silky square scarf I got at H&M over a decade ago (here I am wearing it in 2010 in the same manner). It's so big I folded on the diagonal just like one would to tie around their neck, laid it flat across my stomach, crossed it in back and tied in front. A square knot kept it from slipping.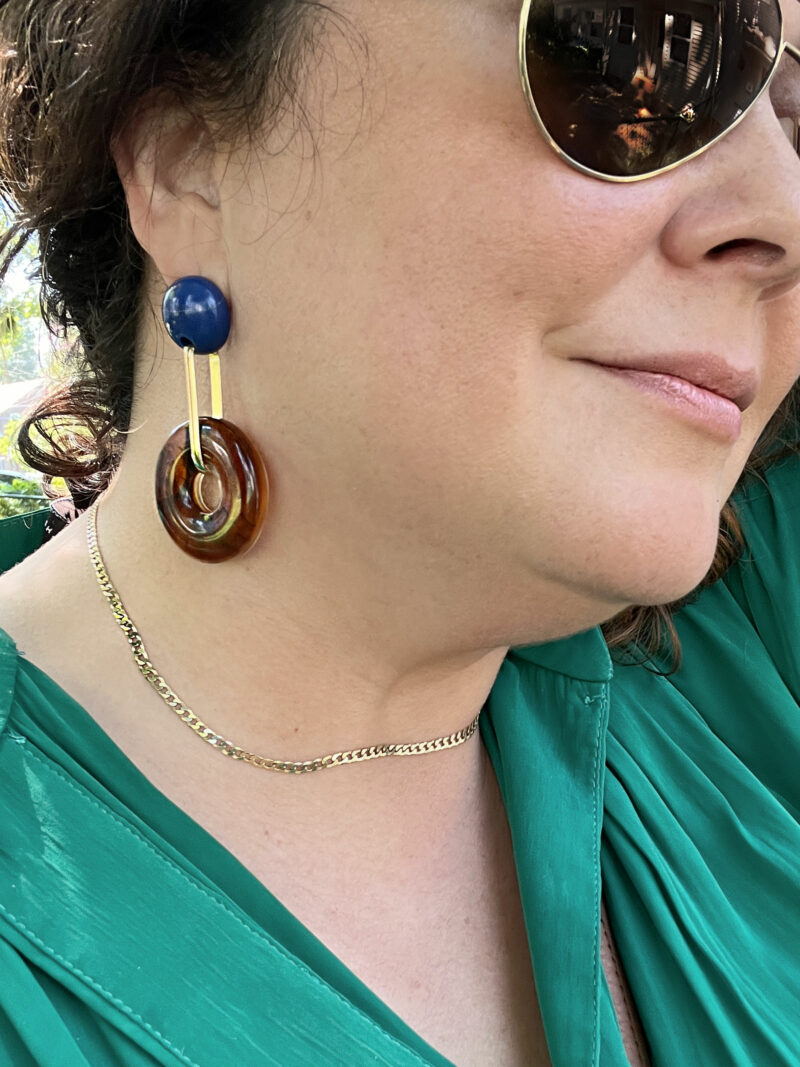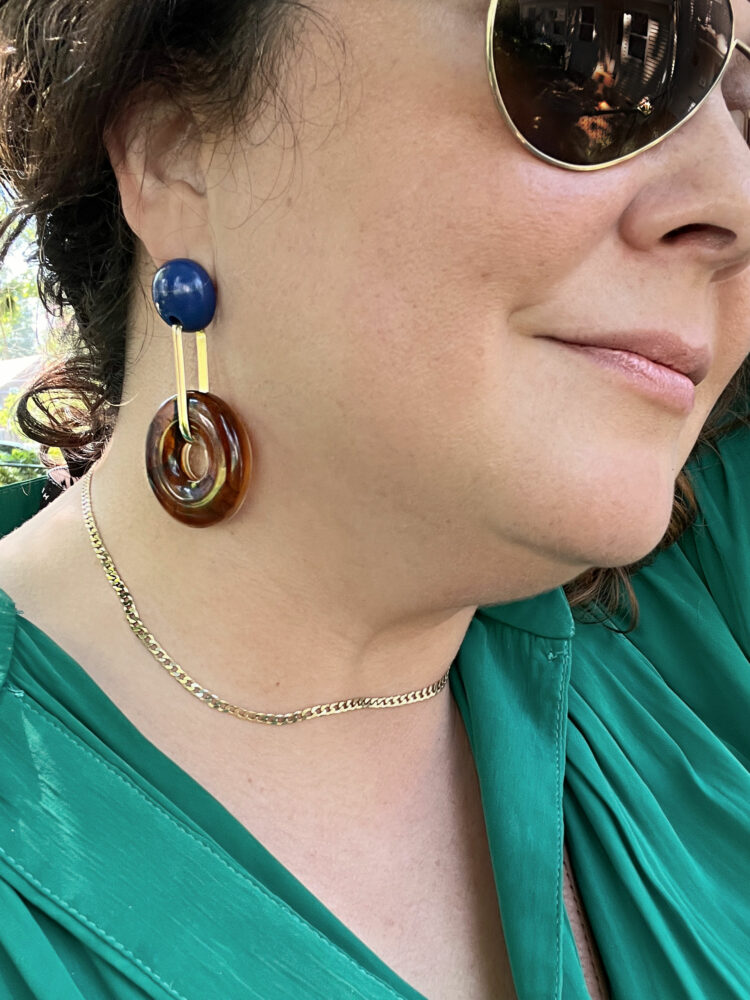 As I shared in Instagram Stories, there is no emerald green in the scarf but the tones worked well. No need to be matchy matchy to coordinate. To have the scarf "go" even better, I am wearing these earrings I got last year during one of the Target Designer Collaborations. I wore my flat gold sandals because I didn't know how much I'd be walking. The bag is Talbots from early summer/late spring.
I can't recommend enough trying a highly-rated or trendy restaurant for lunch. The prices are often lower, and it's far easier to get a reservation. If in a shopping/tourist part of the city, try for a weekday. If you're in a business district, try for a weekend. We went to Cranes, which recently got a Michelin star, and on a Saturday at 1pm there were maybe a dozen other tables seated yet we had the same service experience I encountered on a Saturday night.

Weekend Casual Style
Weekends are pretty casual for me and my family. We may visit the community garden plot to care for it and pick produce, may stop by the farmers market, visit my mom, maybe visit a friend or have friends over for a meal. This past Sunday, I wore this casual look.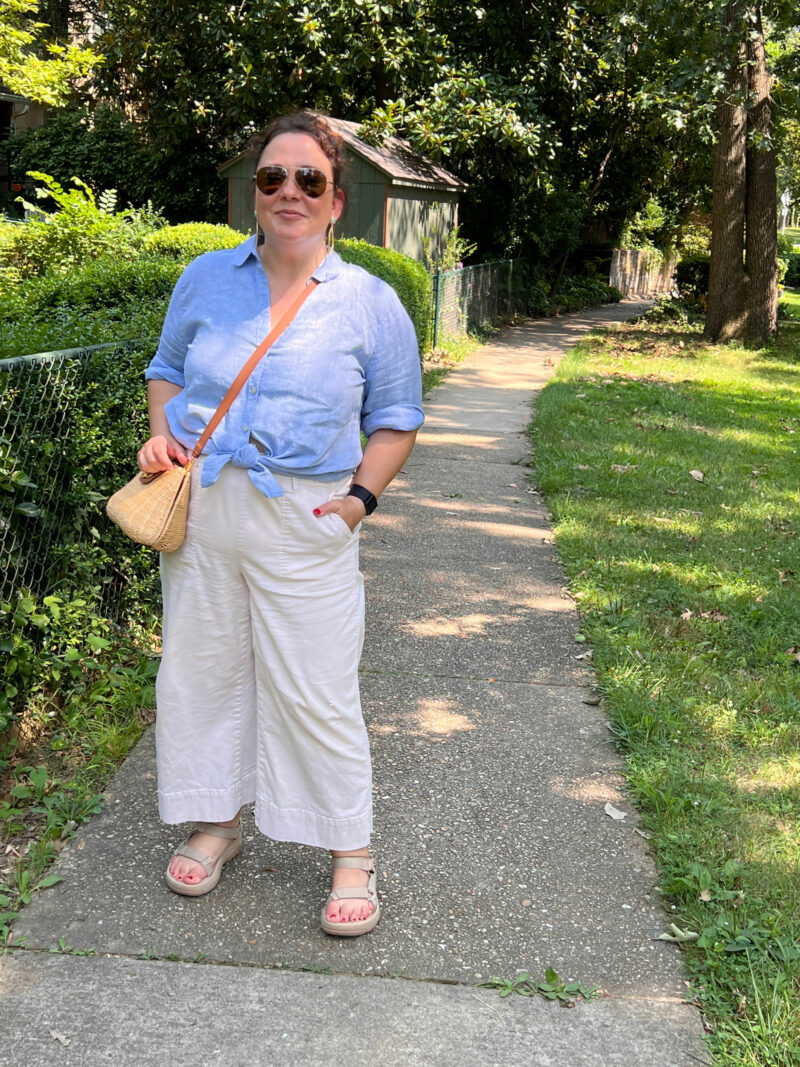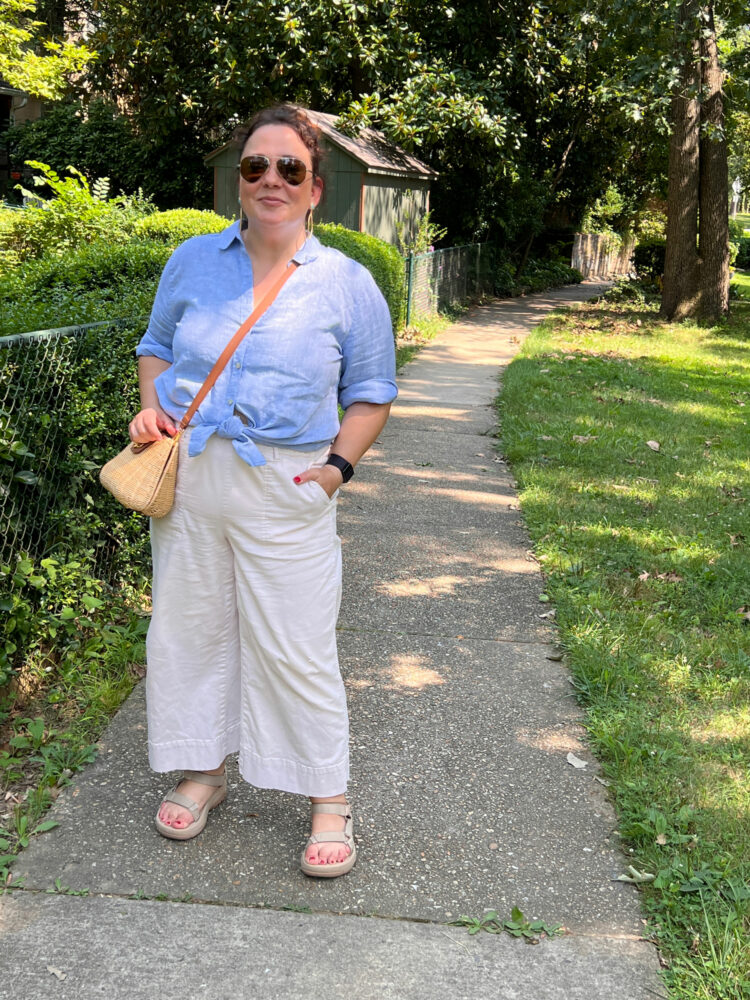 You've seen a variation of it many times before. The shirt is a Chico's no-iron linen one I got from them a couple of years ago. It remains my favorite because it doesn't have any chest pockets (my boobage doesn't need any more volume). It's like a short tunic; short enough to wear untucked with shorts but long enough to be a swim coverup or tie nicely at the waist.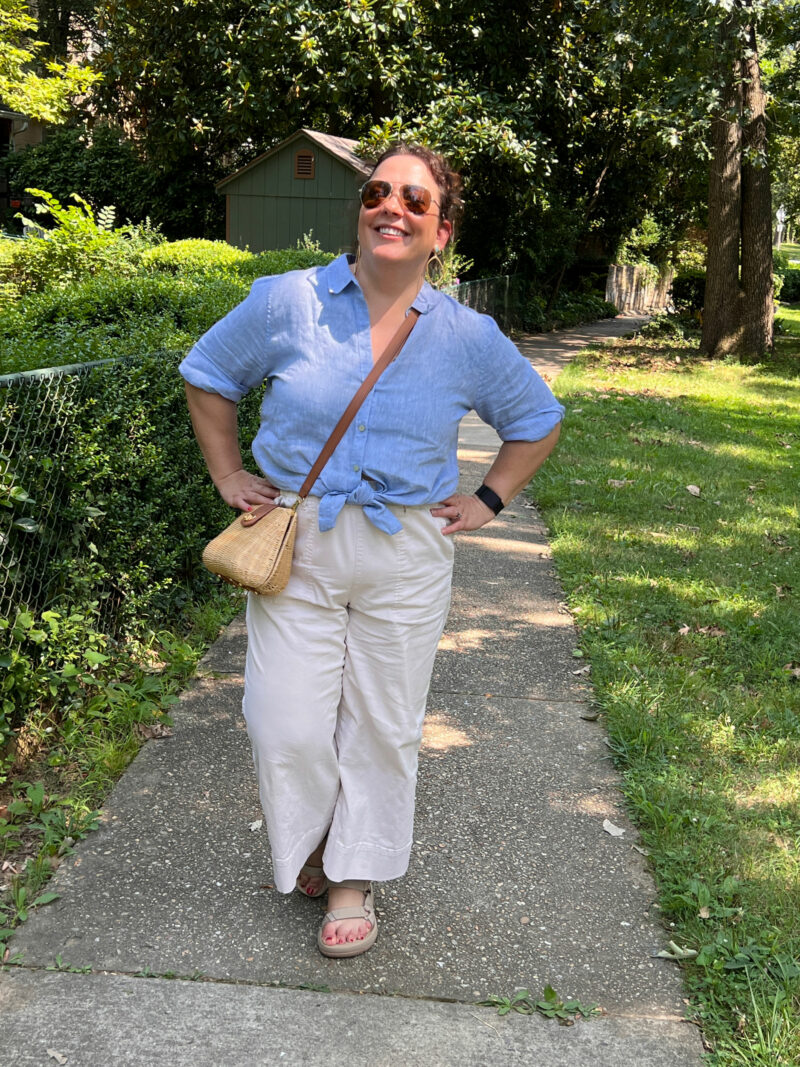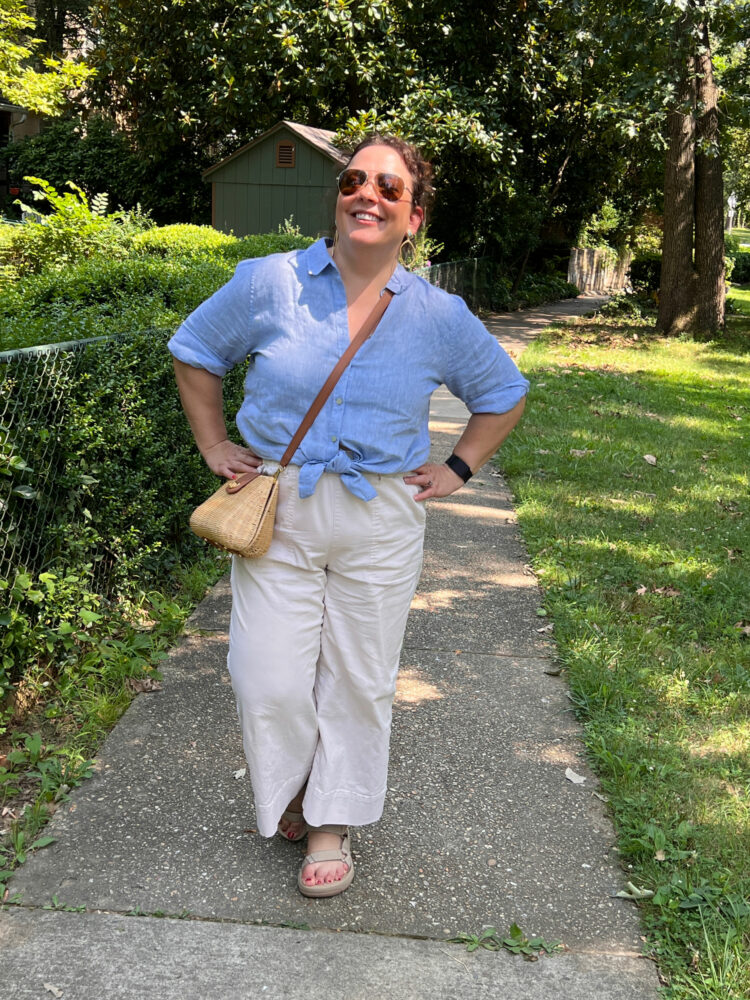 The pants are J. Crew from last year; they are an elastic waist wide-leg chino and I wish I got more pairs. In fact, these got caught on a fence and have a little hole near one knee. The bag is the now out of stock Talbots wicker bag, the shoes are Teva. The earrings are from Marcia Moran and the bag I got at Talbots at the end of spring/early summer.

A Summer Shrug from a Scarf
I headed into the office this week and knew I wouldn't have any client calls or meetings so I kept it casual. I am wearing one of Chico's microfiber tanks (you know I am such a fan of these opaque, versatile, polished tanks; I'm wearing a size 2) and the Universal Standard Bae jeans in size 12.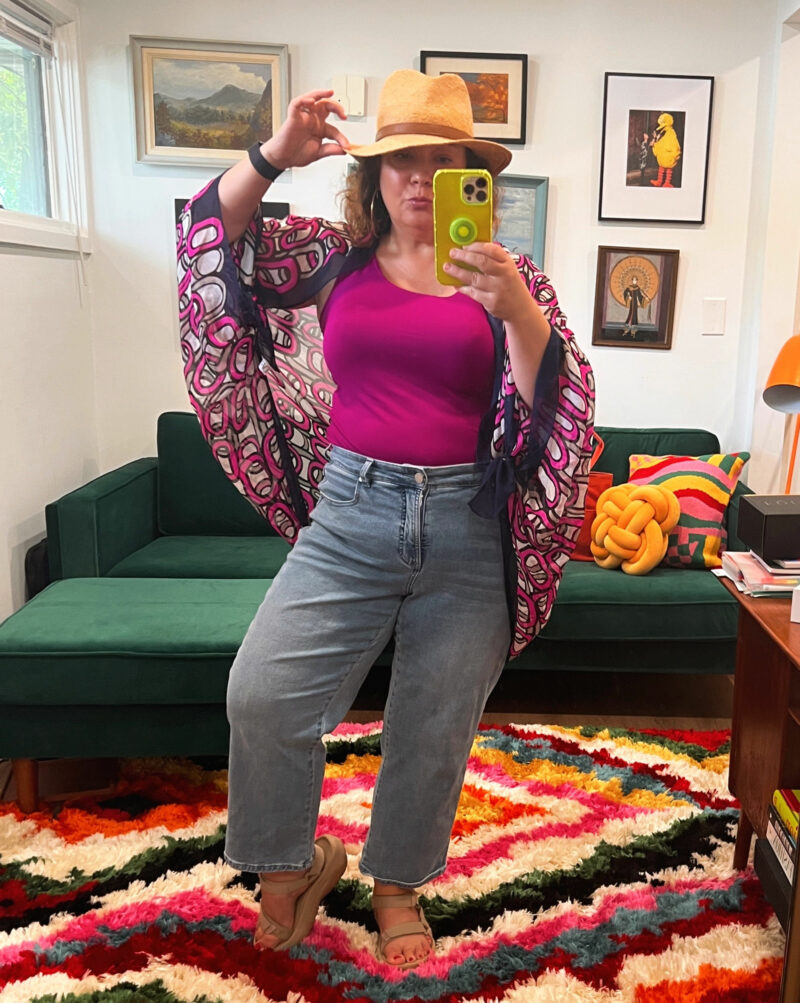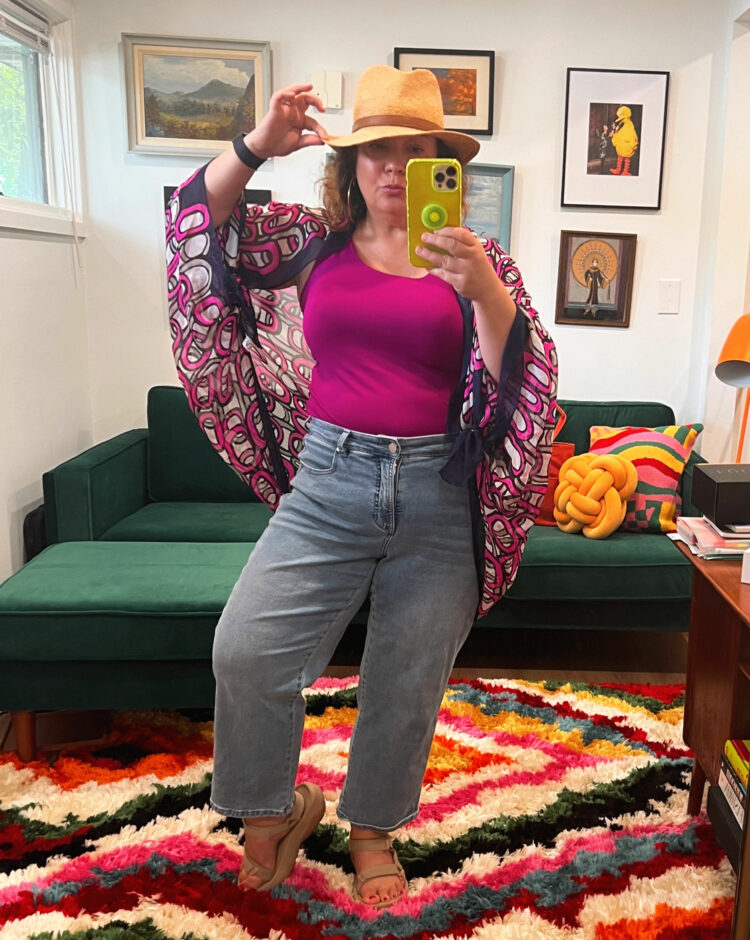 On my shoulders is an old DVF scarf I got on Poshmark many years ago (I know I wore this scarf in 2016 and 2017 to my old job). I turned it into a shrug by tying the ends around my wrists. But to keep it from slipping off my shoulders, I took two of those little gold safety pins that connect tags to garments and used them inside the tank along the shoulder seams to pin the scarf in place. I pinned near the edge of the scarf so the sewn edge would offer more stability and prevent snagging.
And a hat (old Banana Republic; this looks the same) because it was hot and there was no point in doing my hair. My earrings are Jenny Bird.

A Night at the Community Theater
My daughter was in a two-week summer camp that wrote a musical. They performed the musical on a Friday evening at a community theater. After we went as a family to dinner at a local favorite Italian restaurant.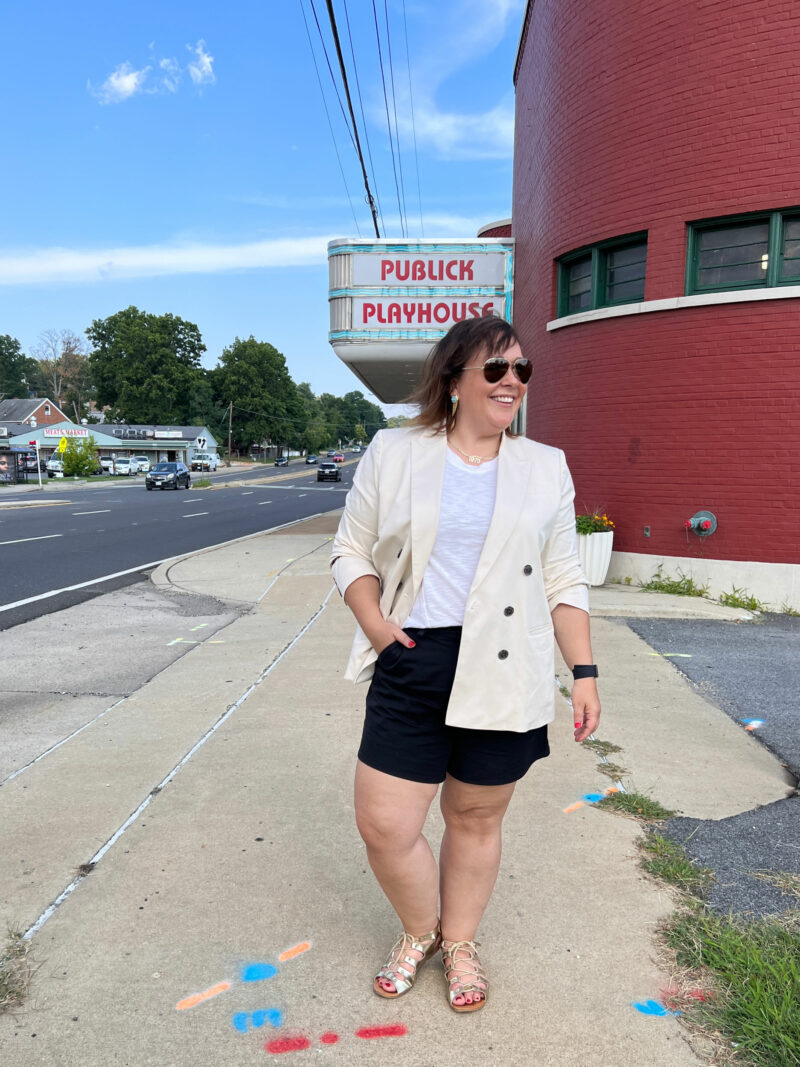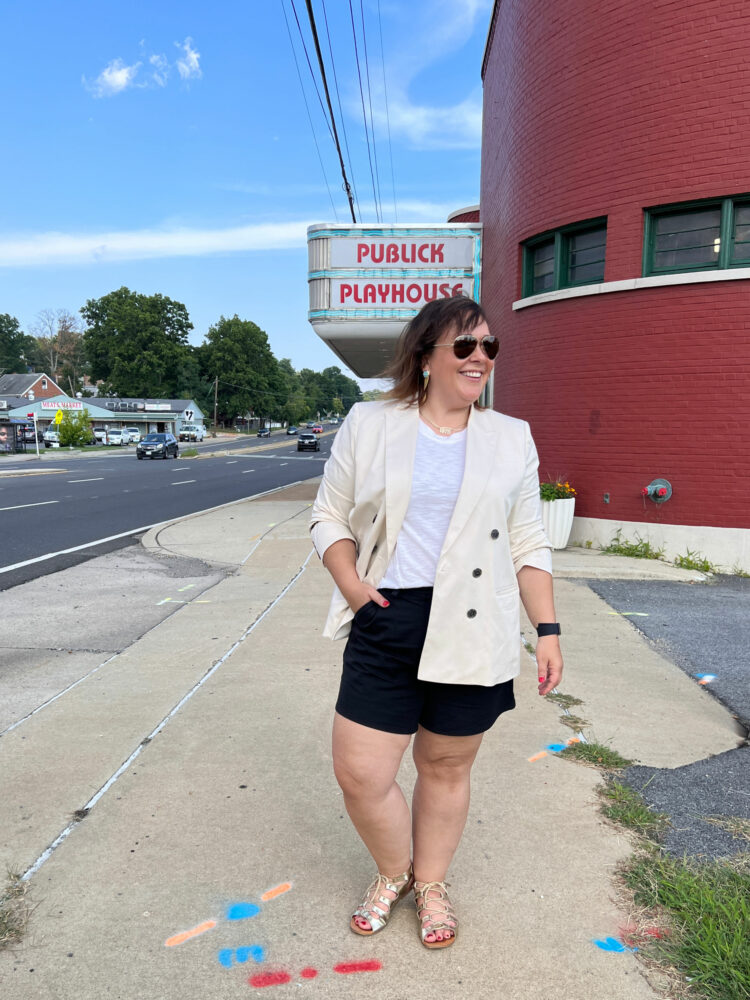 It was hot, but I knew the theater would be chilly. I decided on shorts with a blazer for a versatile easy but polished look. The blazer is J. Crew, a chino double-breasted version of their Alfie blazer that I bought this spring (size 16). It has been a good purchase as it's not as refined as suiting, but more polished than knit or linen.
The tee is actually the white slub tunic I wore in my latest Chico's capsule wardrobe (size 2). The shorts are these stretch twill shorts from Universal Standard in size 12. My earrings are Marcia Moran. And again, my well-loved old gold flat sandals.

Getting into Vacation Mode
Finally, keeping it real, this is what I wore this week to run errands to get ready for our beach vacation with extended family (you're reading this likely while we're driving there). Dropped off returns, checked the PO Box, bought groceries, filled the has tank, that sort of thing.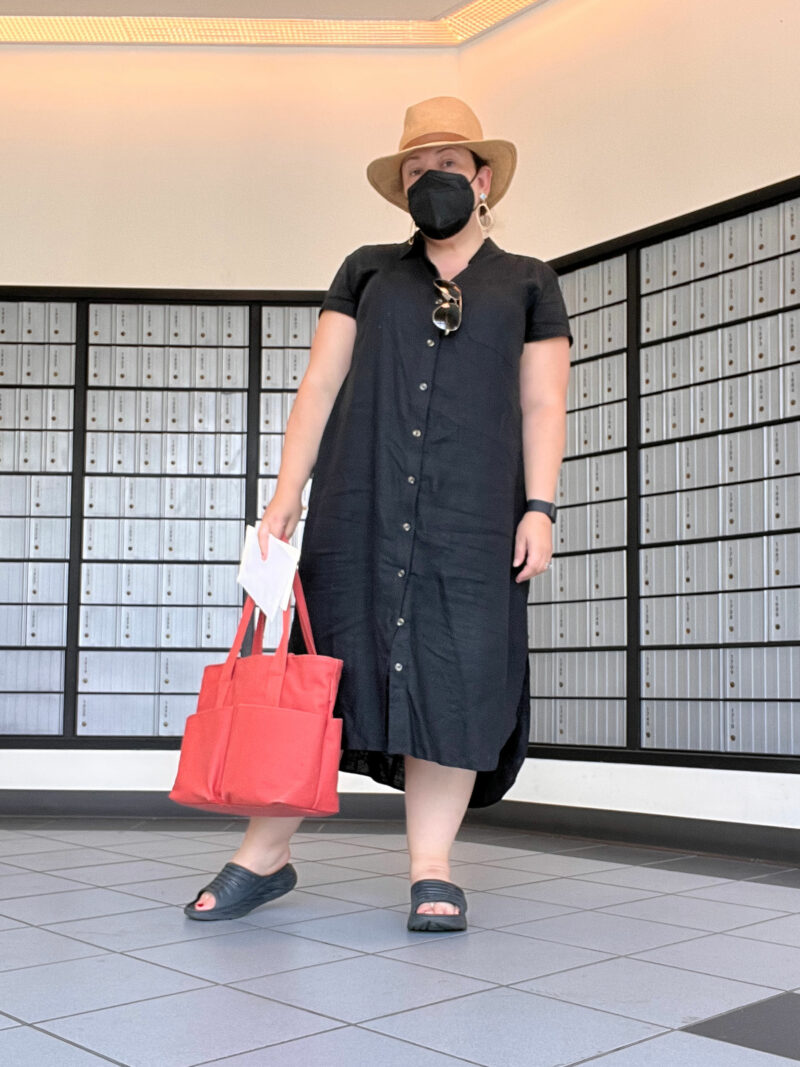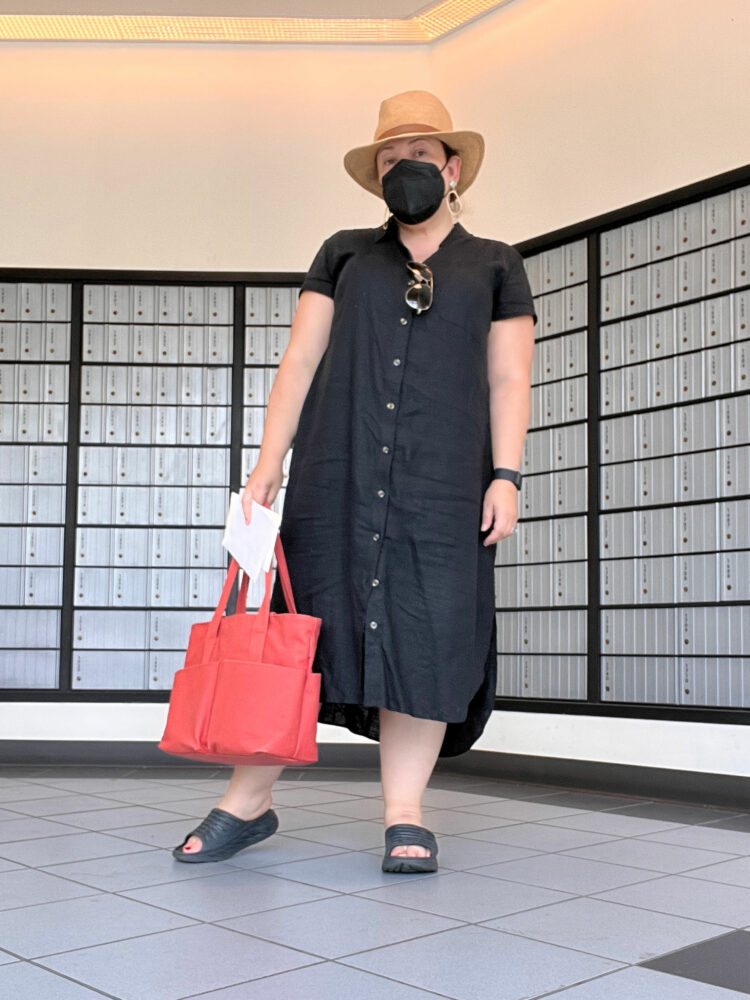 This is the Dune linen dress from Universal Standard (which is part of their current sample sale but a bunch of the sizes are already out of stock). I am wearing an XS. The bag is Dagne Dover (which is also on sale), the shoes are the HOKA Recovery Slides and a gamechanger if you have unhappy feet. After a run, a day barefoot, a night in heels, wear these and your feet will have cushioning, support, and will just relax. I love them, and they come in a bunch of great colors! Again, wearing my Banana Republic fedora.