This article may contain affiliate links; if you click on a shopping link and make a purchase I may receive a commission. As an Amazon Associate, I earn from qualifying purchases. 
This weekend was all about Christmas!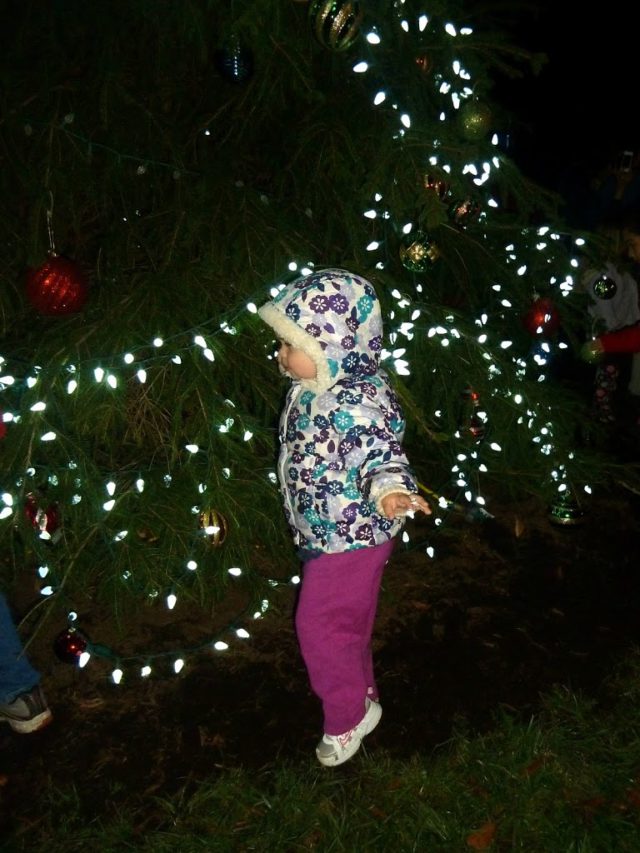 Friday night we went to our town's Festival of Lights. This was the first year we attended and I felt as though I was in Mayberry. They had free hot chocolate and cookies, the high school choir and the town's marching band performed, the town pageant winners were up on stage in their tiaras, the mayor made a speech. Santa arrived on top of a firetruck and they lit the big tree to much applause. This is Emerson scoping out the big tree.
Have coffee, will shop!
Saturday after my husband got back from teaching yoga, we went to Target to get new lights for the tree. We had hung our Christmas lights around the deck for my husband's birthday party and liked them so much we left them there. Since Emerson is OBSESSED with lights in our neighbor's yard we also got some to string along the top of the fence around our front yard. Got some gift wrap and were off to get our tree!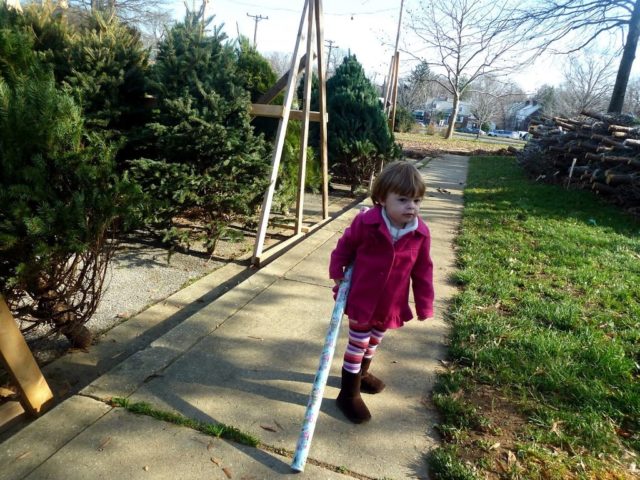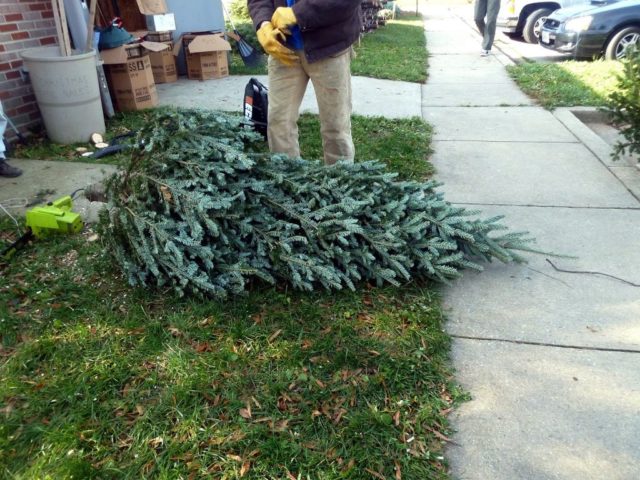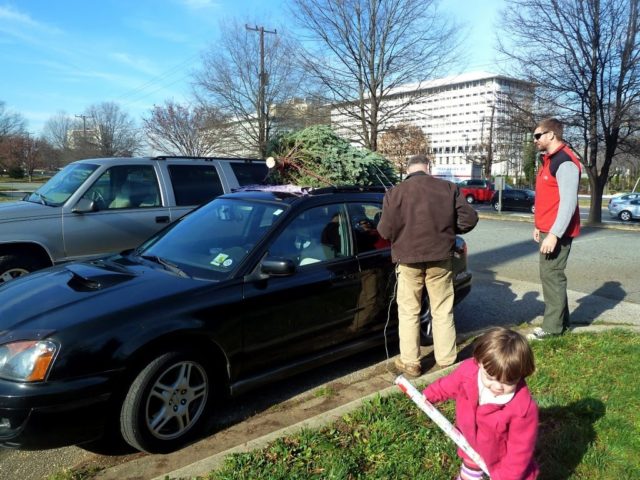 We went to my husband's K-8th grade school to get the tree – we do this every year, and every year we end up bumping into one of his old teachers. Emerson decided that a lever would help with picking out a tree and used one of the rolls of gift wrap to "lever lever lever" all over the place. Thanks to Sid the Science Kid and Sesame Street for teaching her what a lever is!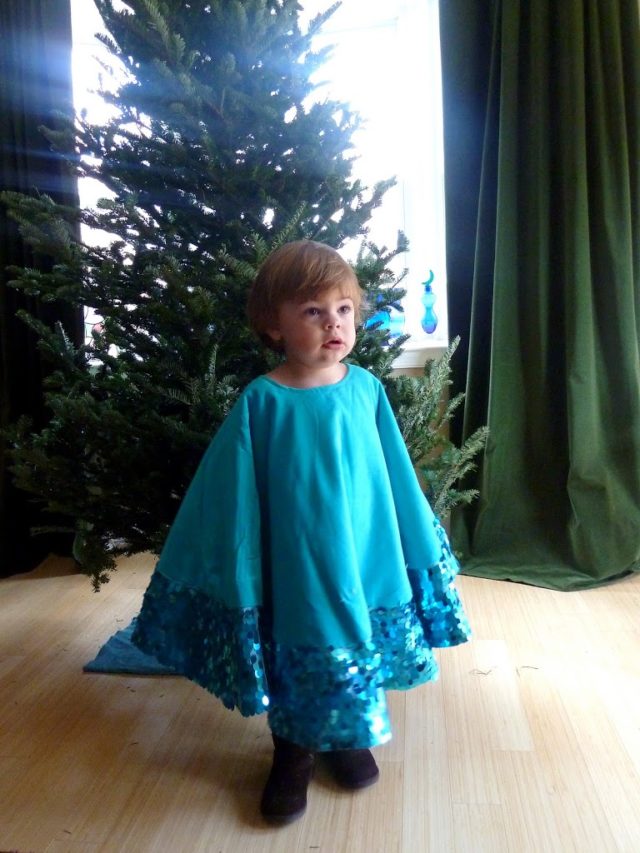 Emerson loved our tree skirt and was very sad to find out she couldn't keep it for herself. We had to put her down for a nap so I could actually decorate the tree, she was so into all the decorations.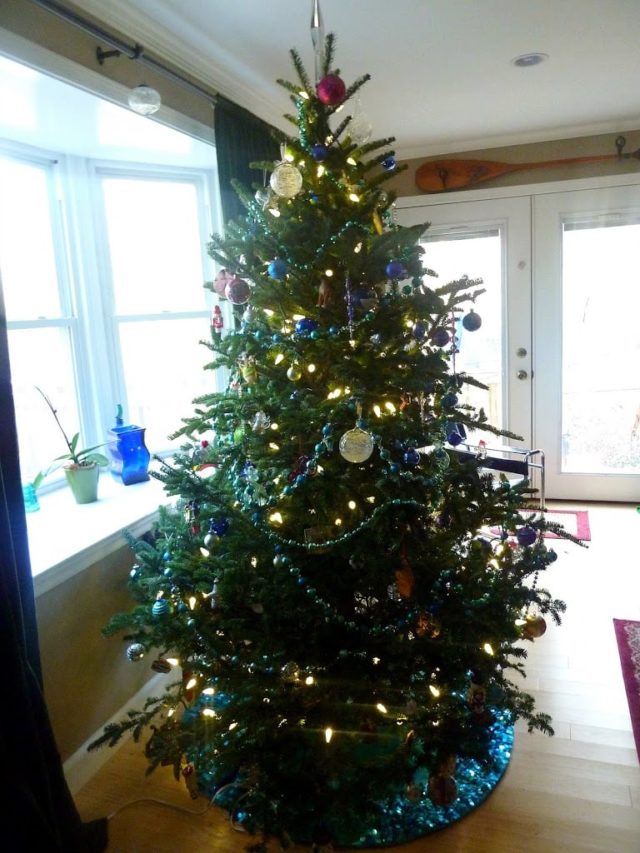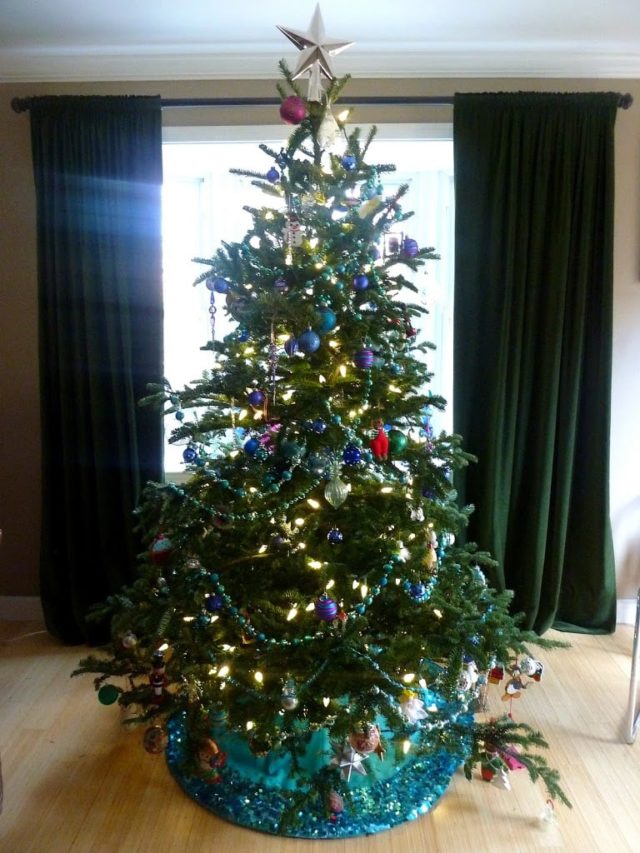 The result! This year we decided to put the tree in front of the bay window. The first year of the new home, we put it in the corner (to the left of this window) but it was hidden and too close to a heat register. Last year we put it in a corner of the dining room but it felt in the way. So far liking this location best!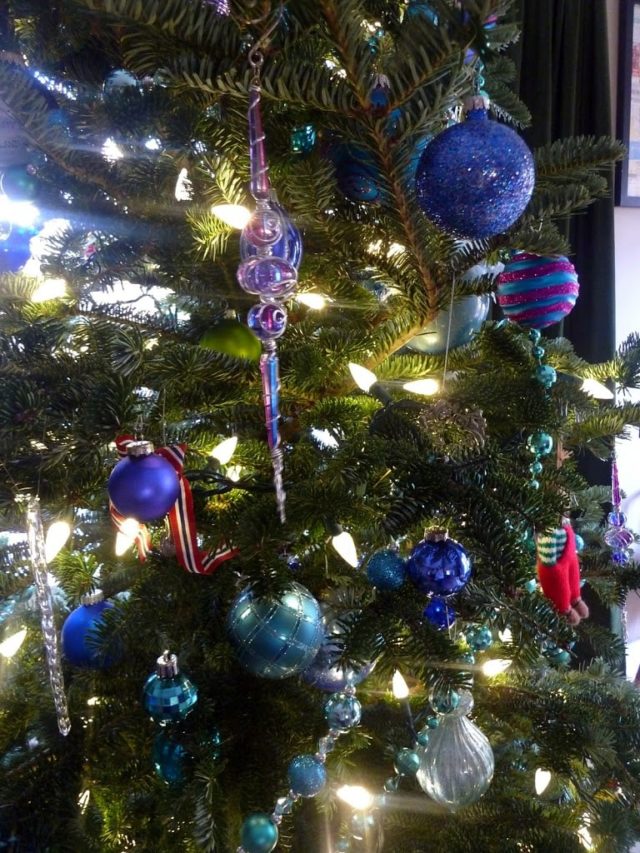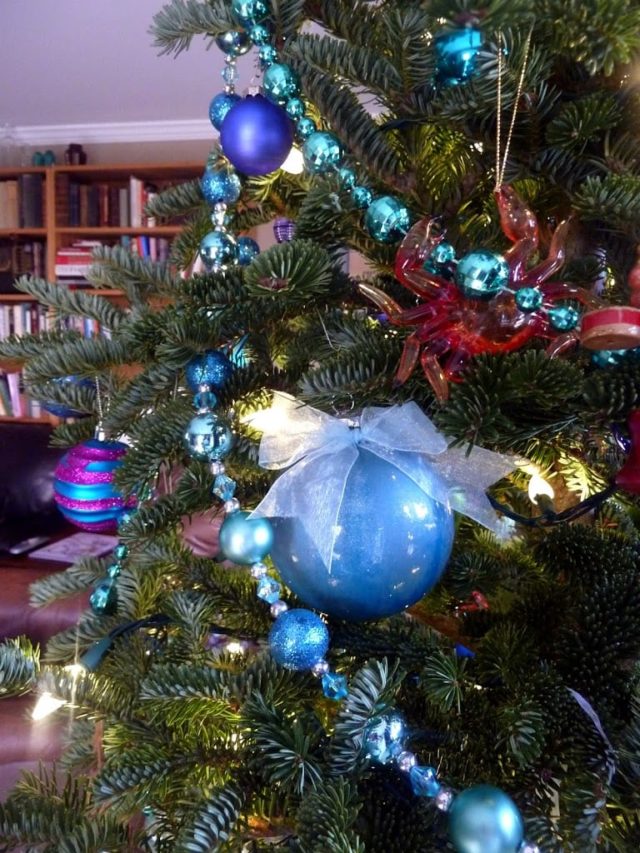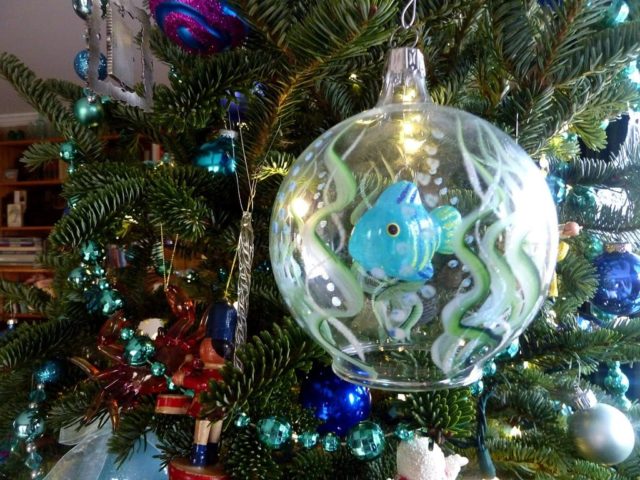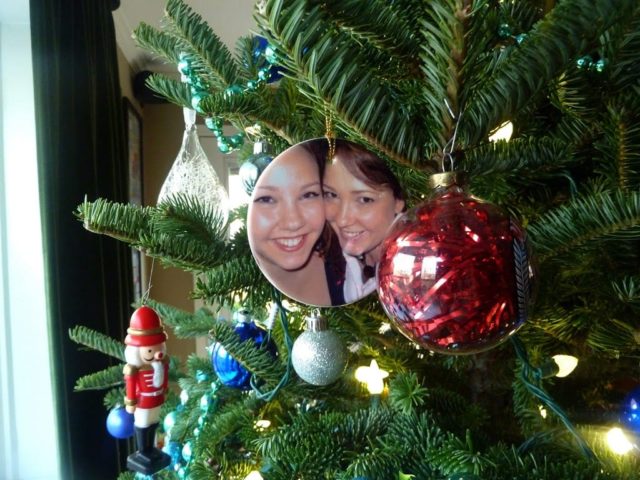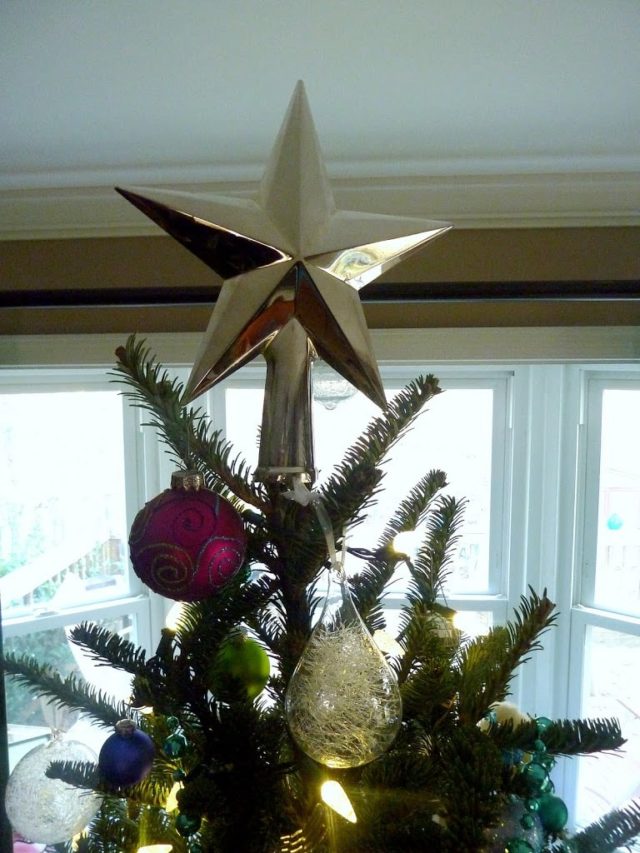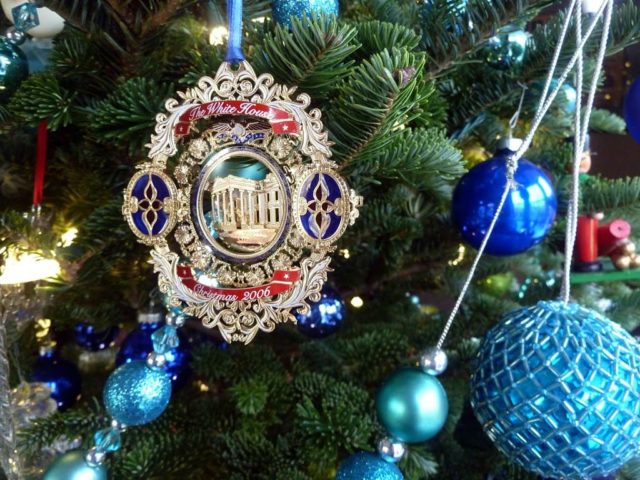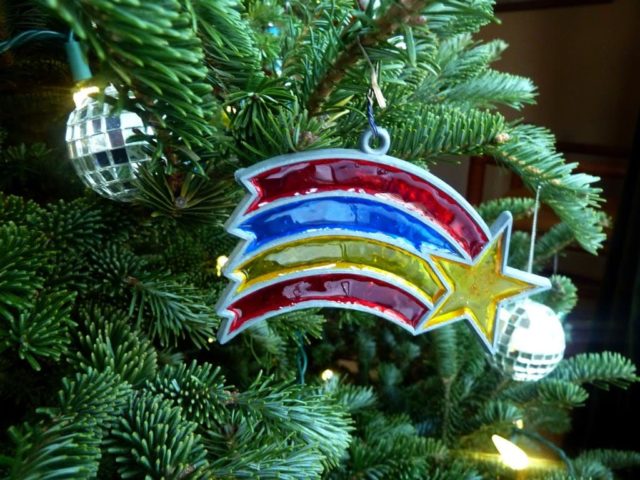 A few of the ornaments on the tree. I have a blue theme, but it's also mixed with ornaments with sentimental value, and ones we inherited from my husband's dad. The star I bought from Pottery Barn back when I was in high school – I loved it so much I didn't even have a tree for it. Still love it today!
Sunday morning, my sister and I went to a day spa for some pampering. She received a gift card from a client, enough for the two of us to get massages. They got the scheduling messed up so I ended up getting a facial instead. I think it was a good mistake – the most decadent and relaxing facial ever! Also happy that the esthetician said I had glowing skin, and even asked what products I use. Three cheers for drugstore brand beauty products!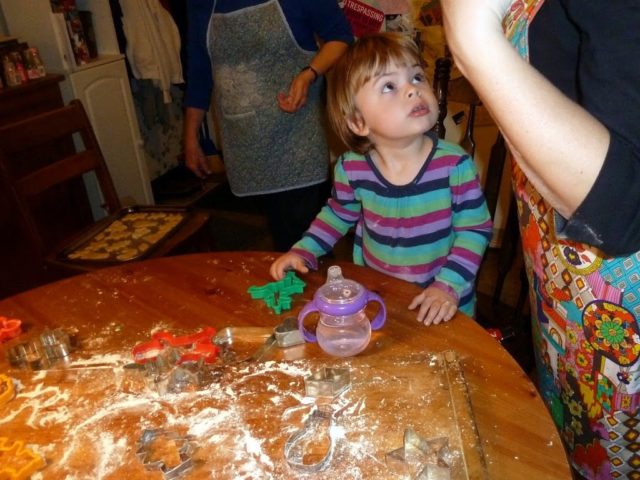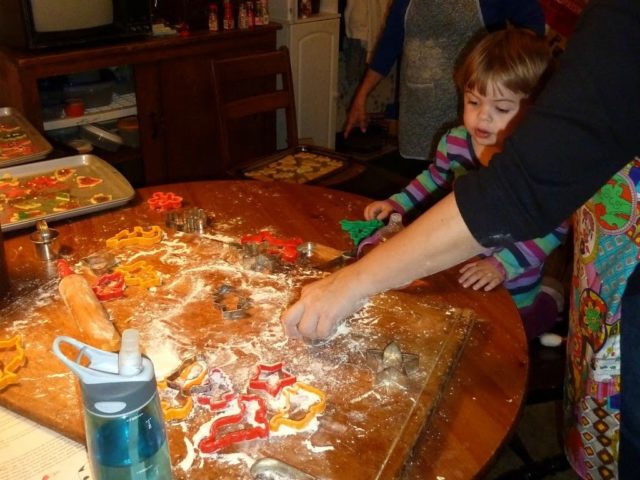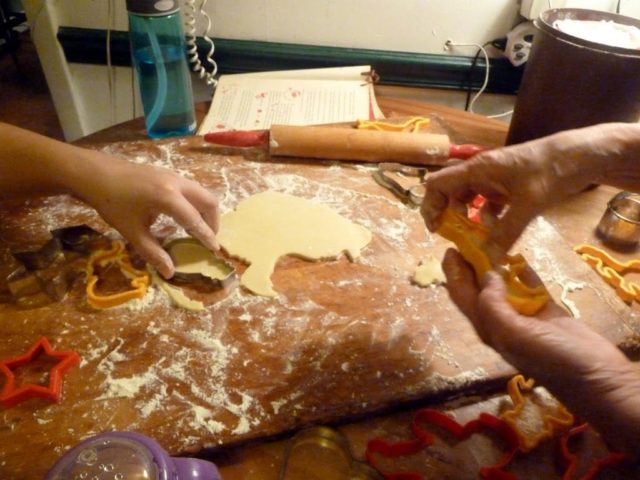 Sunday evening, we went to my mom's house to bake Christmas cookies. As a kid, my sister and I loved this tradition. We always did the same recipe, used the same cookie cutters. We used to get really into decorating, using sprinkles and dots to make eyes, clothing, or ornaments on cookies shaped like bears, trees, and snowmen. Last night we continued the same exact tradition.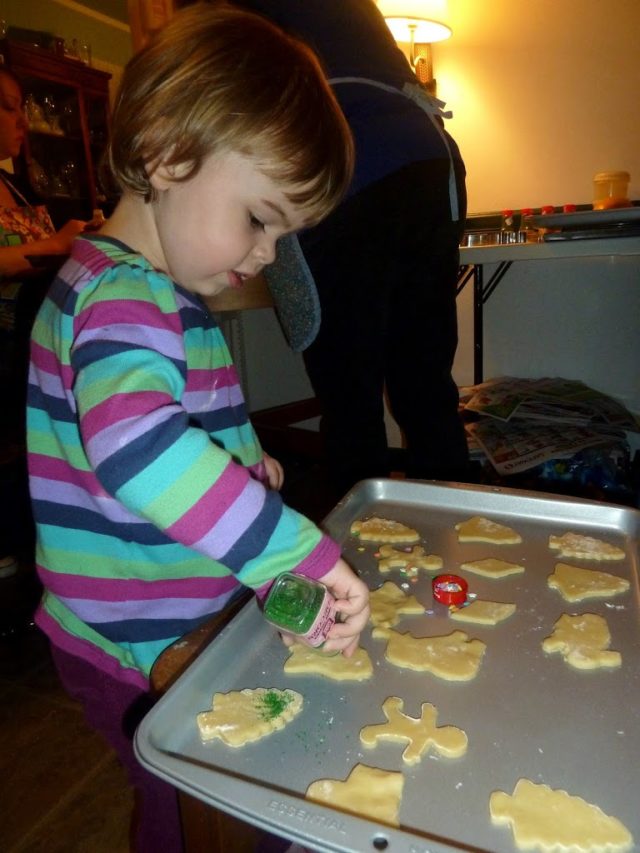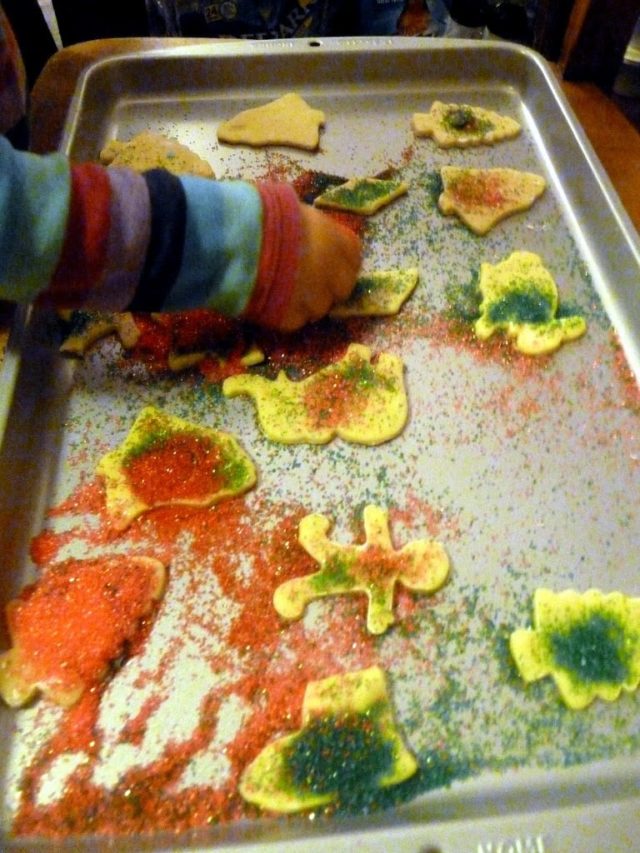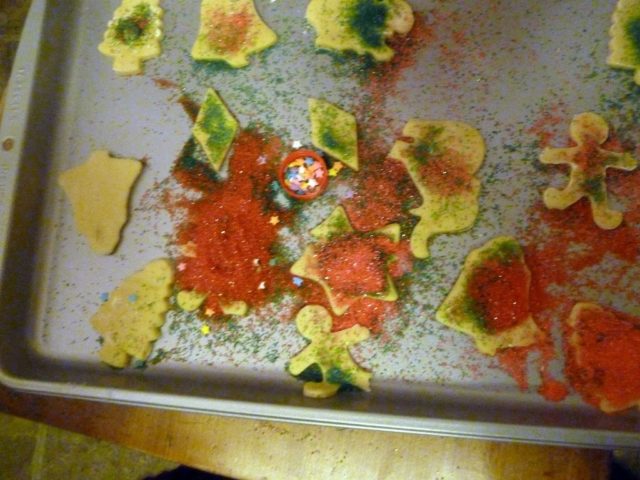 Emerson really liked adding sprinkles to the cookies. A little too much! I tried to scoop up some off the cookie sheets and distribute them to other cookies.
It was a fun family-themed weekend. Emerson is in love with the tree and the outdoor lights and is so excited for this season. I don't think she even comprehends presents yet, which makes this year even more awesome. She loves Christmas for the good cheer, the time with family, the lights and fun instead of what will be under that tree on the 25th. I will enjoy this while I can!
Follow Me | Twitter | Facebook