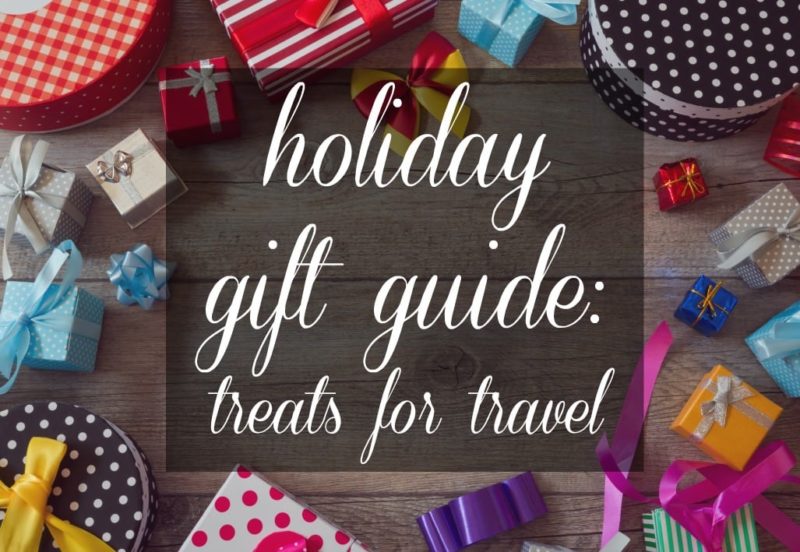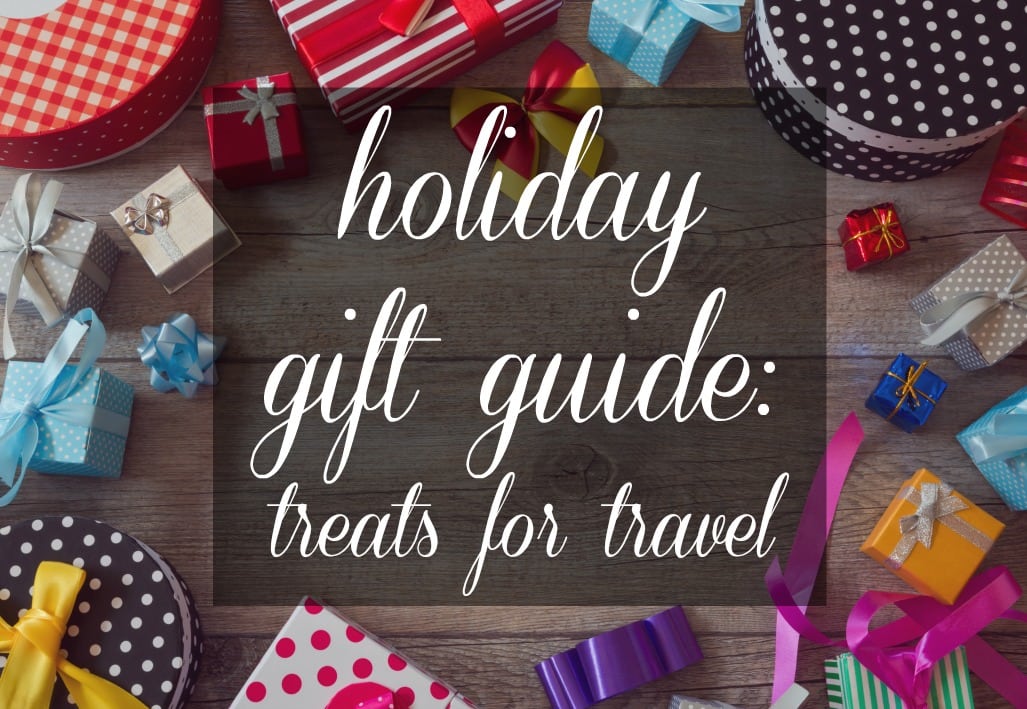 Have a loved one who does a lot of travel for work? A friend with the travel bug who wants to step foot on every continent? Newlyweds who are doing a bunch of weekend getaways? Whoever it is, this is the gift guide for you. Presents at every pricepoint to make travel more enjoyable for your friend or family member.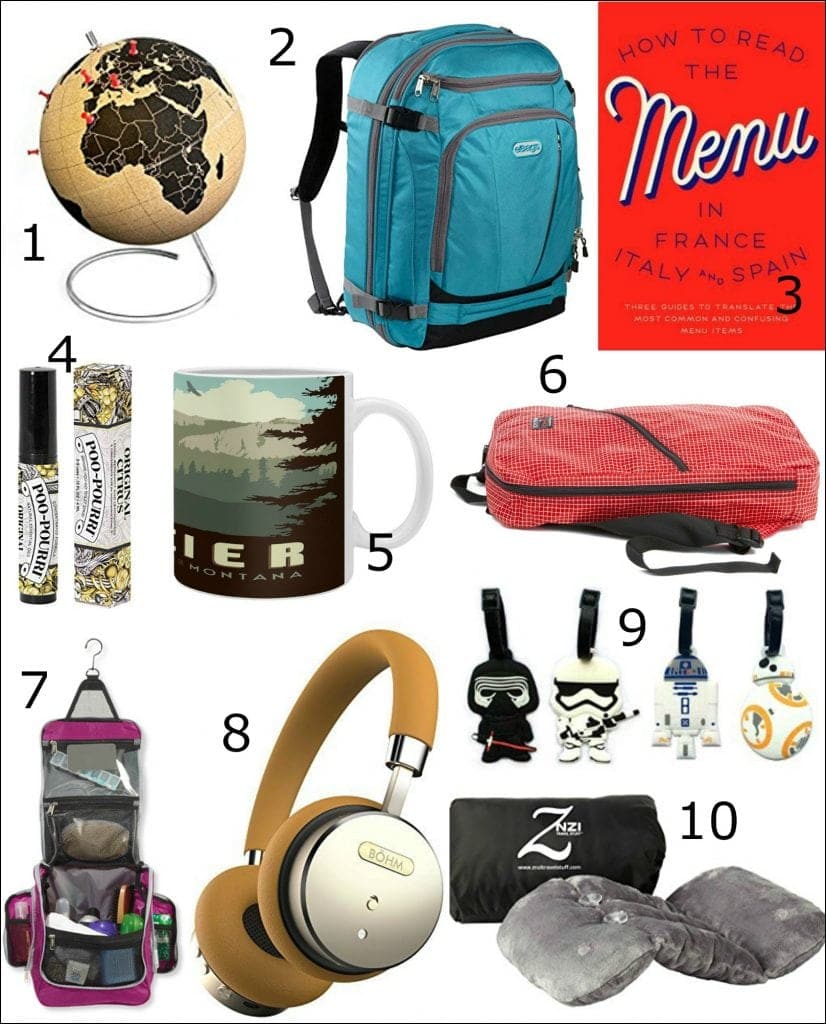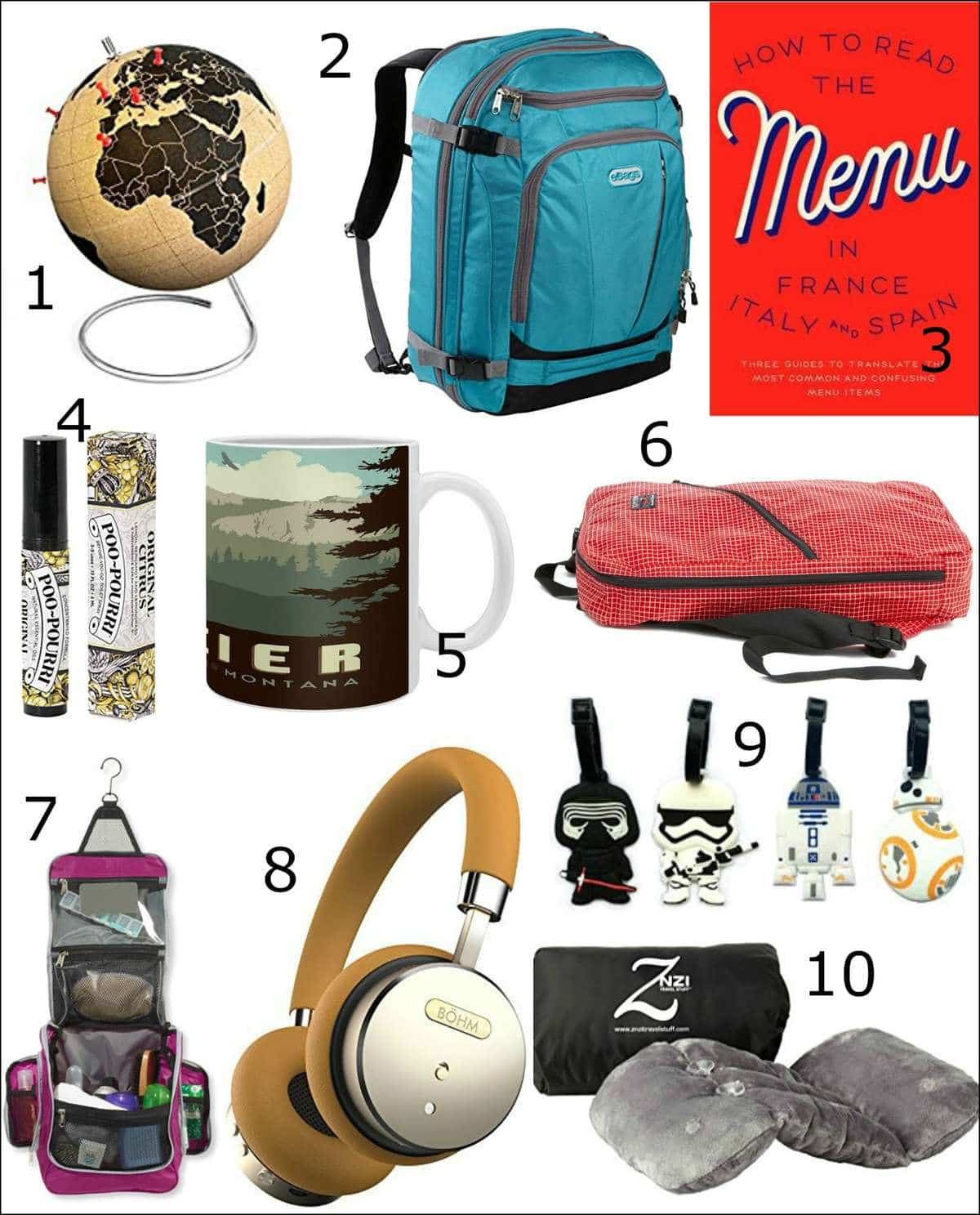 A great gift for the world traveler, she can use push pins to note all the places she traveled on the globe. Rotates on a stainless base and sits just under 6" tall so it's perfect to place on a desk or tuck into a bookcase (there is a larger version also available at the link). $41.13 and free Prime shipping via Amazon.
Sometimes Facebook ads are successful. The one with a little video showing the versatility of this bag got me to click, but it also helped that I've shopped eBags before and have always been pleased with the product and experience. Also that 96% of people who have purchased it would recommend it. This bag is a beast. It fits in the plane's overhead compartment, has a hand strap, shoulder strap, and backpack straps (all that can be hidden away if not used). Laptop compartment, pouch for your water bottle, expansion zipper, mesh dividers to separate clean and dirty clothes, even a little pocket at top perfect for storing your liquids for easy access at TSA check. Six colors to choose from. $99.00 with free shipping and returns at eBags. And if you wish it just had wheels, or just was a bit smaller, check out the rest of the TLS collection!
A set of tiny guide books the size of a credit card to help you decipher menu items written in French, Spanish, and Italian. A-Z listing of terms makes it easy to find items; the compact size means you can refer to it without the whole restaurant noticing. And while we all have smartphones, a book means no roaming fees. $11.95 and free Prime shipping via Amazon.
I know, who wants to admit they poop? But we do, and there's nothing worse than when last night's meal disagreed with you and you're sharing a hotel room with another. This stuff works. I first experienced it in Berkeley Springs. Car ride, long soak in a mineral bath, massage, and facial and well… all my body wanted to detox. And I wasn't the only one. The day spa had Poo-Pourri in the bathroom, we all used it, and we all were oblivious to one another's bodily functions. Trust me, your BFF, sister, or even your mom will thank you for such a gift after their first situation when they use it. $6.90 for a tiny bottle that fits in your makeup bag and lasts 3-5 uses, $8.99 for a bottle with 100 uses. Free shipping via Amazon.
Beautiful retro art on this 12 oz. mug perfect for your US road-tripper or camping enthusiast. Eight different national parks to choose from. Dishwasher safe. $12.00 via eBags.
What traveler doesn't love a product that multitasks? Tom Bihn is one of my very favorite travel companies, their bags are utterly brilliant. Their Aeronaut 45 is the bag Karl and I always take on every trip, and we swear by their packing cubes and accessories. This bag is no different – it works as a travel cube to organize and slim down a suitcase, but also can be a backpack for day trips once at the destination. Made in the USA, lifetime guarantee, and take it from me Tom Bihn's products are well made, smartly designed, and can take a beating while still looking great. $52.00 via Tom Bihn.
I have one that is 20 years old and is still awesome. This item has over 600 5-star reviews and it blows any other toiletry bag out of the water in regard to its durability and smart design. FYI, this is the kind pf bag made to hang, not to sit on a counter. Sure there's super cute designer ones out there with glitter and gold, but this is one that won't break mid-trip and be a reliable piece of luggage for years to come. There's 12 colors to choose from. $29.95 and free shipping via L.L. Bean.
Whether it's because your friend has the iPhone 7, or because it's a pain to deal with wires especially on a flight or train ride, Bluetooth headphones are a blessing. Add a comfortable on ear style and noise cancelling technology and they're a must for a traveler. These from BÖHM also have a built-in mic so you can answer your phone right from your headphones and great sound… and well they look cool too without looking too young or trendy. They also come in a really nice case that is sure to impress. A charge keeps them going for 16 hours, they come in two colors, and the price is pretty nice for all the technology and features. $84.99 and free Prime shipping via Amazon.
Stand out from the crowd at the luggage carousel with this set of four Star Wars-inspired durable silicone luggage tags. Your loved one isn't into Star Wars? This link has all sorts of characters available from My Little Pony to Mario Brothers, various Marvel and DC comic superheroes to Hello Kitty. $14.99 and free Prime shipping via Amazon.
We've seen plenty of folks walk onto a plane with a mini Boppy around their neck. And while having one of those is better than no pillow at all, sometimes that shape is pretty useless and uncomfortable. Enter the Znzi pillow. With six strategically placed magnets and two suction cups, this pillow will mold and conform to your needs, whether it's leaning against the wall of a plane, angling your face to the side while trying to sit upright and not fall on your neighbor, whether you're taller or shorter than the headrest. Comes with a travel bag that can clip to your carryon luggage, and makes for a comfy additional pillow once you reach your destination. $38.99 and free Prime shipping via Amazon.