This article may contain affiliate links; if you click on a shopping link and make a purchase I may receive a commission. As an Amazon Associate, I earn from qualifying purchases. 
After my husband and Emerson picked me up at the Metro after work, we stopped by our neighborhood cafe for a quick drink and snack. We bumped into some friends and watched the band that was playing later set up on the stage. Emerson was enthralled – she loved the guitars hanging on the wall and just had to be up on the stage; she clapped and cheered every time the pianist finished a song.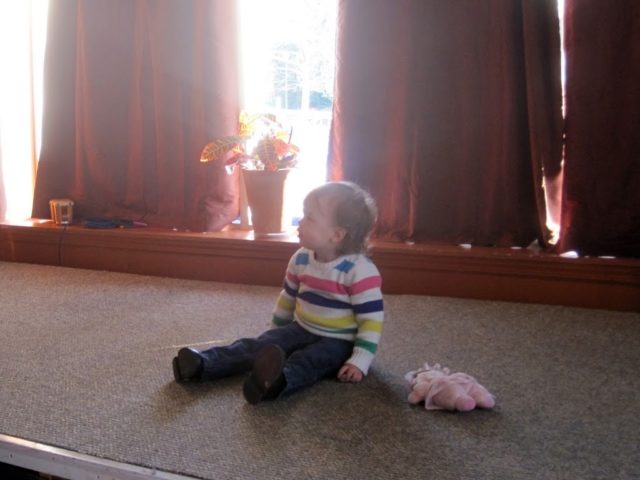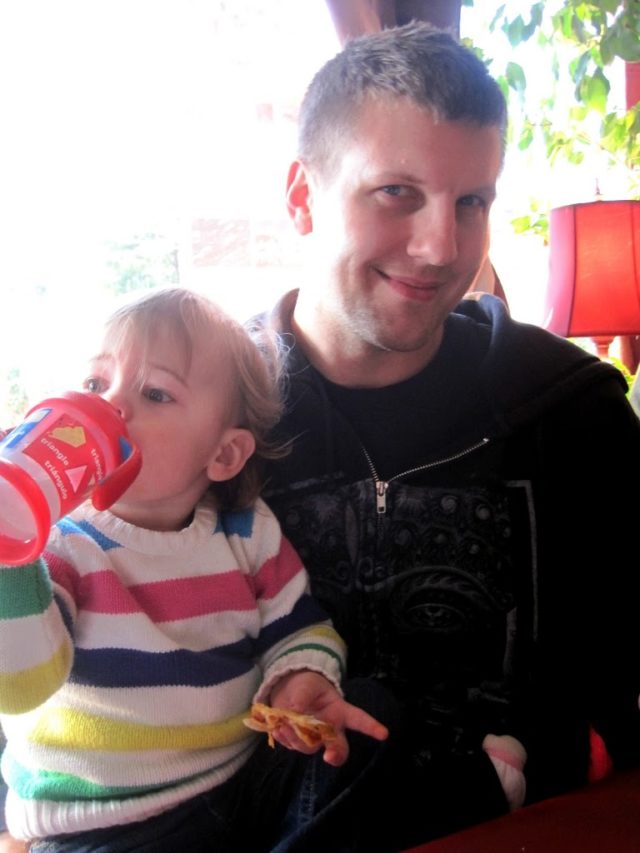 Unfortunately we had to head out around 7:00 because it was Emerson's bedtime.  She would have loved to see the band perform but was rubbing her eyes and yawning.
Saturday was our good friend's 40th birthday party – the three of us headed to his house to celebrate.  However we couldn't stay as long as we had liked because I had purchased Warpaint concert tickets months earlier for that evening.  So after an hour and a half, we headed to my mom's to drop off Emerson, then home to feed the dogs and let them out one last time, then to DC for Date Night!
Jacket – Ann Taylor (no longer available)
Tee – Ann Taylor LOFT
Skirt – J. Crew via eBay (only $5!)
Tights – Nordstrom
Booties – Miss Sixty "Jaiden"
Bag – Hobo International "Libby"
I love this purse, so cute, so tiny yet it held my camera, Smartphone, lip gloss, and all the other necessities!
We had reservations at Bistro La Bonne but shocker, Metro was off schedule and we showed up late and they gave away our table.  We walked down a couple doors to Al Crostino who was able to seat us sans reservation.  Had a nice little dinner, and then headed over to Eatonville for a pre-concert drink.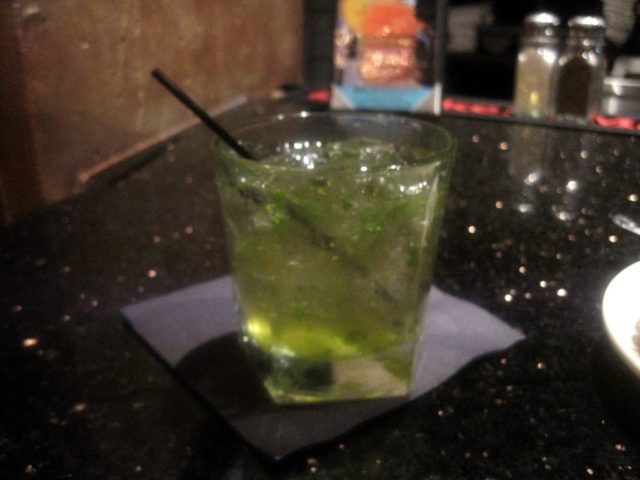 I hadn't been here before and gosh was it gorgeous!  The bartenders were so charming and I had the first mint julep (and second mint julep) of my life.  I now see why they are so popular when it's hot out – very refreshing!
We then headed over to The Black Cat and saw the second half of the opening band's show and got to meet up with fellow blogger Amanda from Miskabelle and her husband!  Isn't she the cutest?
We then saw Warpaint and loved it.  I found out about Warpaint last year when I saw they were going to perform at Bonnaroo.  I checked out their music and loved it – so did my husband.  Also love their latest album.  Thought the show was great, I can't describe their music as anything other than gorgeous and the drummer is amazingly amazing!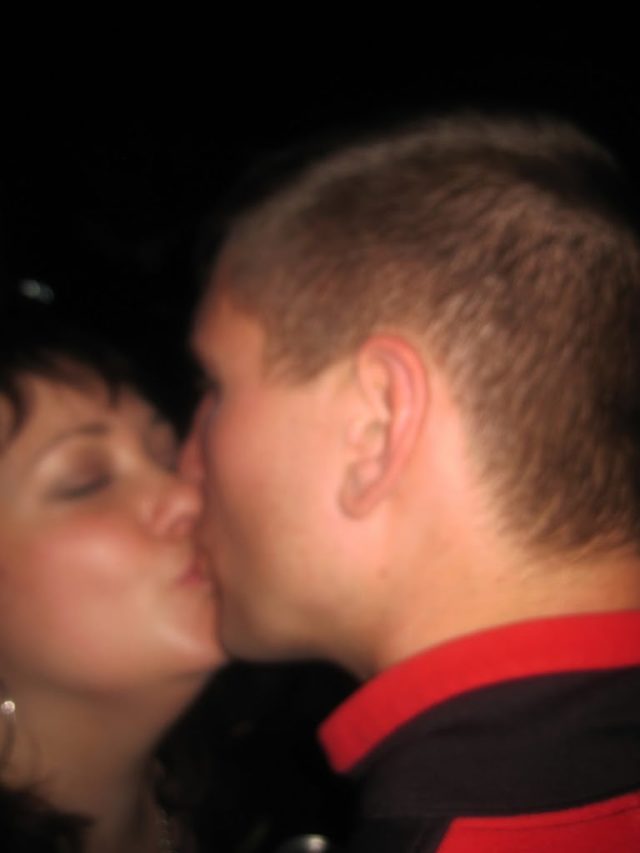 My mom was watching Emerson overnight so we didn't have a kerfew – it was a fun Date Night for us.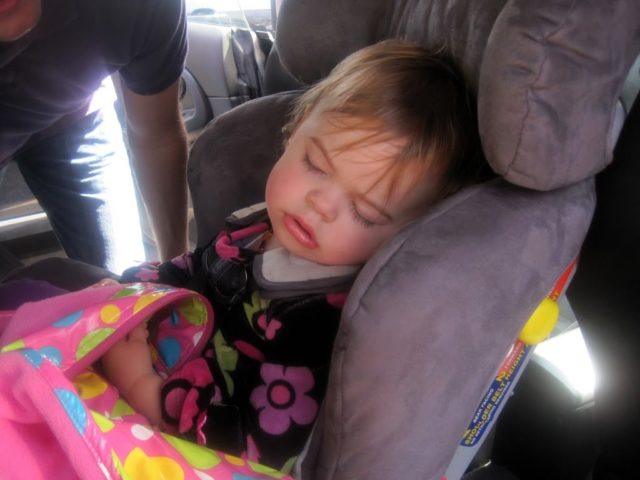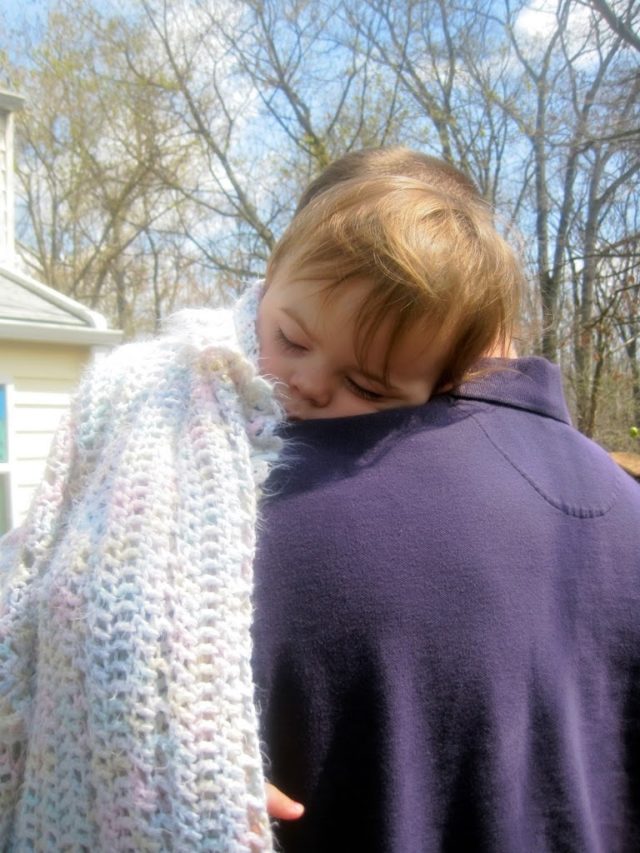 The next day we headed over to pick up Emerson and then the three of us went to one of our favorite local restaurants – Franklin's.  Had some Coke and a burger to settle my slightly hangovered tummy and Emerson enjoyed dancing to Parliment over the speakers, flirting with the waitstaff, and chomping on grilled cheese.  Poor girl was wiped out from a fun evening at Grandma's and passed out in the car on the ride home.
My friend A is expecting so she came over Sunday afternoon with her mom and son to pick up my stash of maternity clothing.  My sister came over and played with Emerson while I finished an article, and then we all had an awesome dinner of steak, salad and asparagus.
All in all a pretty awesome weekend!
Follow Me | Twitter | Facebook