This article may contain affiliate links; if you click on a shopping link and make a purchase I may receive a commission. As an Amazon Associate, I earn from qualifying purchases. 
This post is sponsored by Nature's Bounty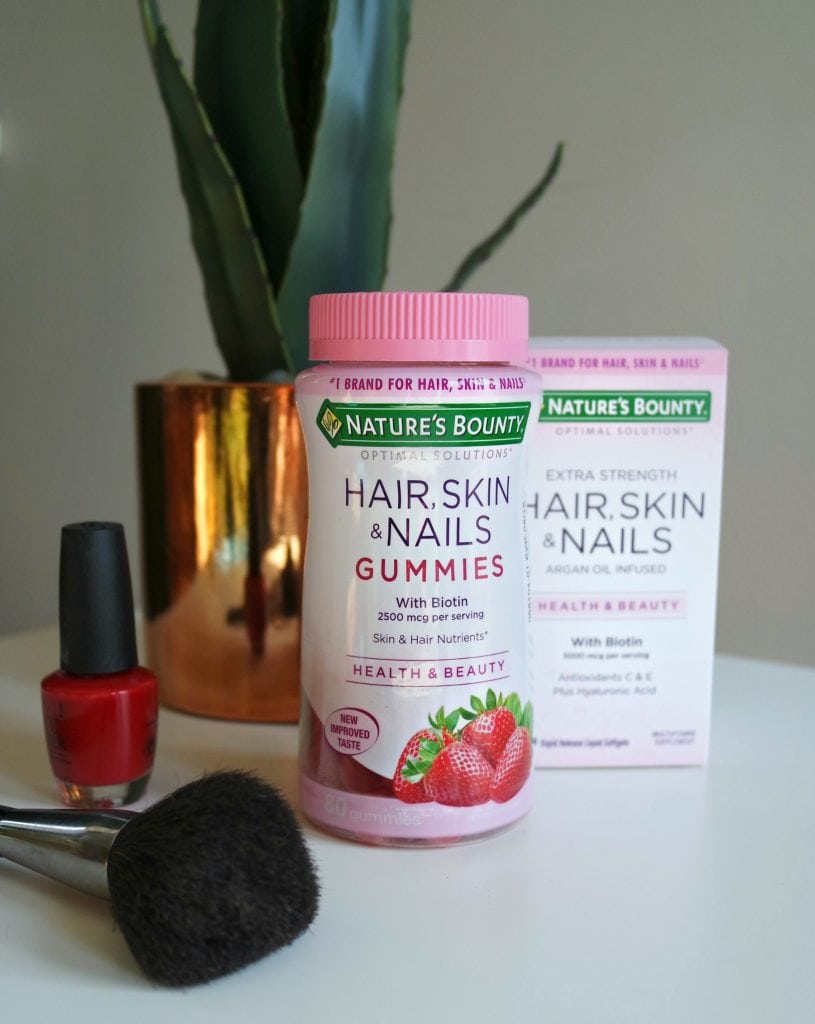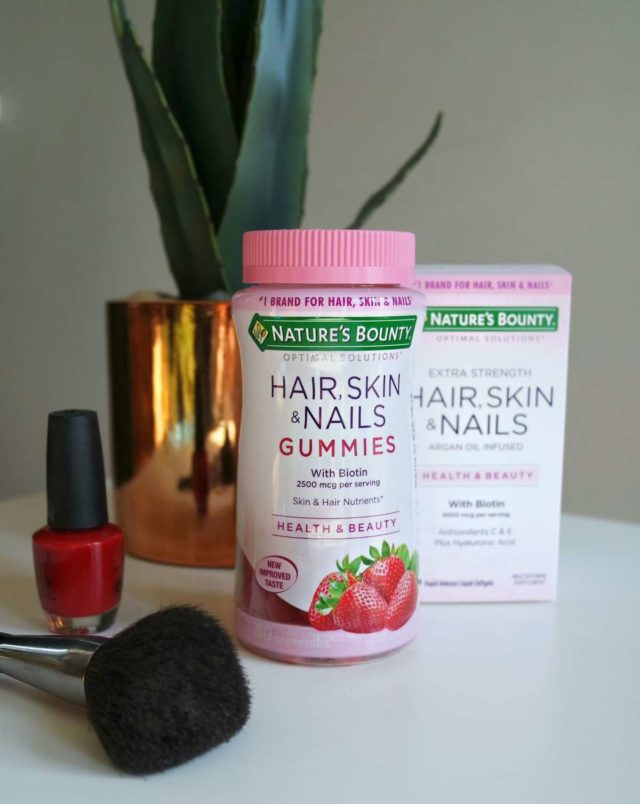 As I've mentioned a few times on the blog I've been having issues with my hair. It's been thinning, and it, along with my skin, has been dry and dull looking. I've been tested and my doctor agrees it's likely a combination of stress and age. Well I'm not taking this lying down; I've been doing my research and trying a few different things and the best results I've found is from changing my diet and adding supplements. As they always say, beauty starts from within.
I've tried some popular brands of supplements geared specifically towards hair loss and haven't been thrilled with the results – greasy hair, breakouts, and not a huge difference in my hair. After doing more research, I decided to go more direct with vitamins and supplements know to improve hair, skin, and nails. One that I bought was Nature's Bounty® Hair, Skin & Nails Gummies. Two weeks later, they reached out and asked if I'd like to do a post about their product. Um, yeah, I've been gobbling two of your tasty gummies each morning already. And I did say I was going to write about my new hair routine on the blog!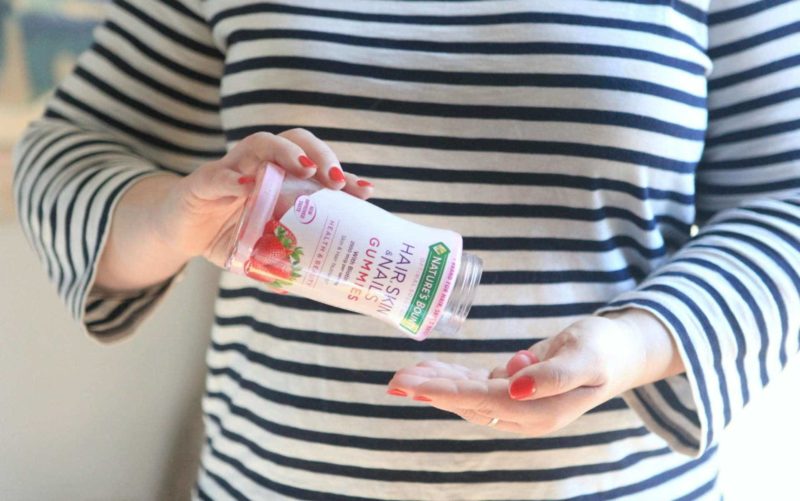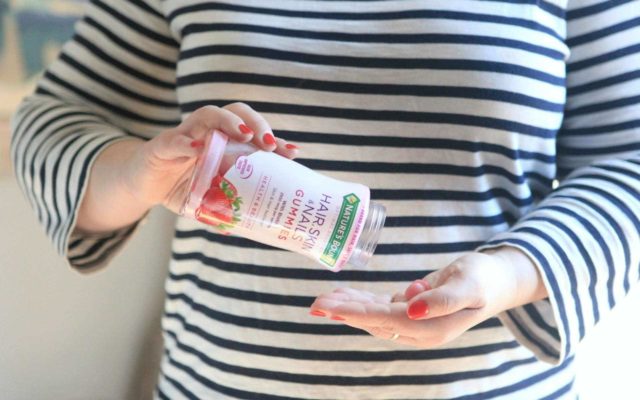 With a mix of vital nutrients including Biotin, Vitamin C and Vitamin E, Nature's Bounty® Hair, Skin & Nails Gummies and Softgels work from within to support lustrous hair, vibrant skin and healthy nails.* I'm finishing up my first bottle of Nature's Bounty® Hair, Skin & Nails Gummies and I am an honest fan. First of all the taste: while many gummies can taste like stale sorbitol and sadness, these are genuinely tasty, sort of like strawberries but not nearly as potent as the fruit snacks we put in Emerson's lunch box. As for what's inside, they contain 2,500 mcg of Biotin per serving and Vitamin C & E. Those ingredients are great for your hair as well as your skin and nails because:
Vitamin E, is an antioxidant and it supports skin health.*
Vitamin C is involved in collagen production and formation which forms the basis for vibrant skin.*
Biotin is a B complex beauty-supporting nutrient, which plays a role in hair, skin, and nail health, making it the perfect foundation for any beauty routine.*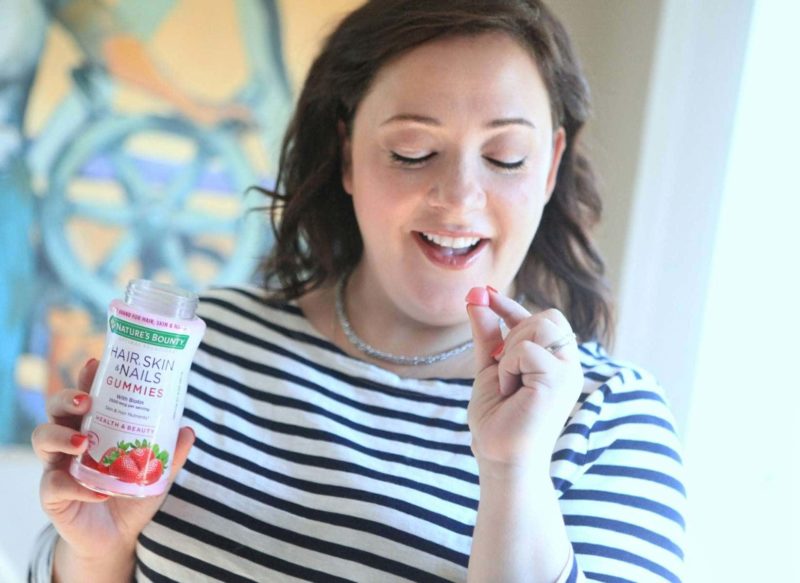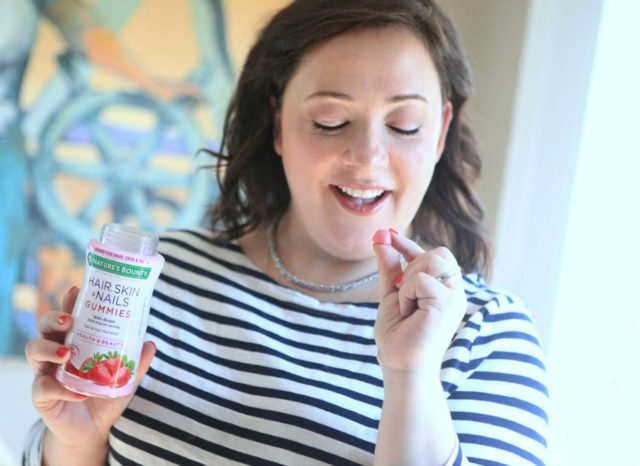 I do take some other supplements along with my Nature's Bounty® Hair, Skin & Nails Gummies and will share in a future post, but this is an addition that's easy to add to my morning routine. I usually keep my two daily gummies to snack on during my drive to the office. I have seen a positive change to my hair and also to my nails. My hair looks more lustrous, and my nails, which break so easily, seem healthier.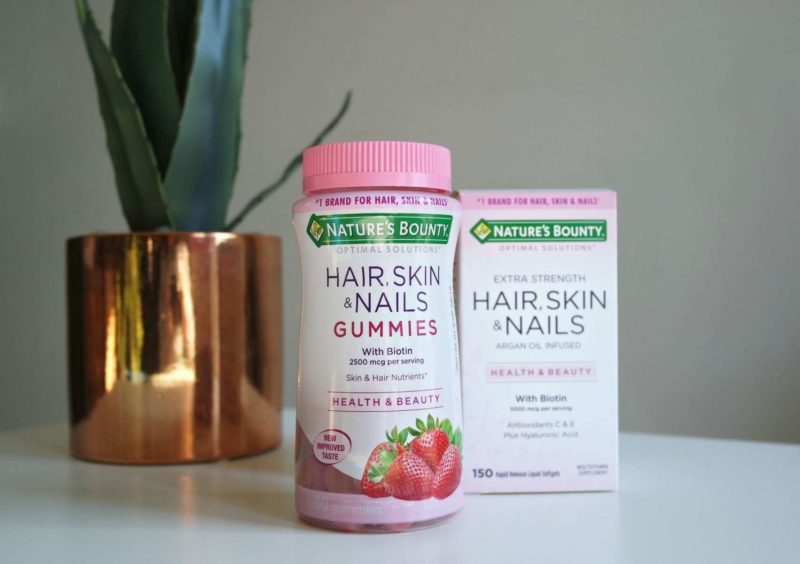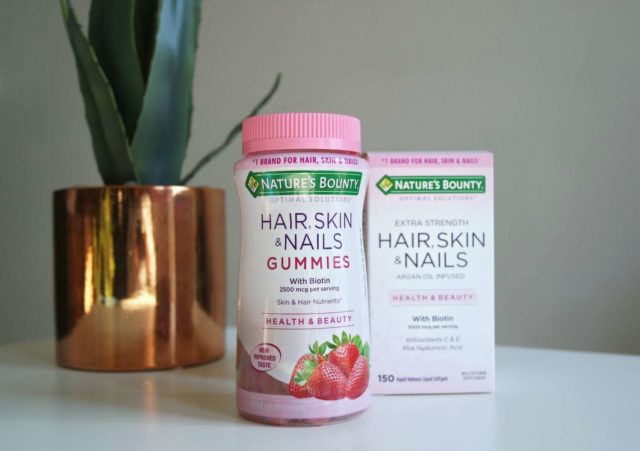 Nature's Bounty® Hair, Skin & Nails Gummies contain no artificial flavors, milk, lactose, soy, gluten, wheat, yeast, or fish and are sodium free. If gummies aren't your jam, these same ingredients come in Softgels (they sent me a bottle, I haven't tried yet but will after I finish my current bottle of gummies). You can find Nature's Bounty Optimal Solutions Hair, Skin & Nails Gummies and Softgels in the beauty aisle of your nearby Walgreens. Nature's Bounty® Hair, Skin & Nails Gummies are full of vitamins to help you feel healthy, feel beautiful and feel well. Nature's Bounty is so confident in their product that if for any reason you don't like it after 30 days, they will give you your money back.
*These statements have not been evaluated by the Food and Drug Administration. These products are not intended to diagnose, treat, cure or prevent any disease.