This article may contain affiliate links; if you click on a shopping link and make a purchase I may receive a commission. As an Amazon Associate, I earn from qualifying purchases. 
I am not a beauty blog, and I don't claim to be an expert. However, after mentioning my beauty routine in a previous post, I have received many emails and comments wanting to know more about what beauty products I use. Today's post will be about my medicine cabinet.
Though we had our house remodeled over two years ago, we still don't take showers in the new master bathroom. There seems to be some place where it's leaking, and we need to seal it properly… and just haven't gotten around to it. So while I use this bathroom for getting ready in the morning and before bed, I actually take showers in the hallway bathroom. So my medicine cabinet only holds the items I use at bed, in the morning, and when doing my hair post-shower: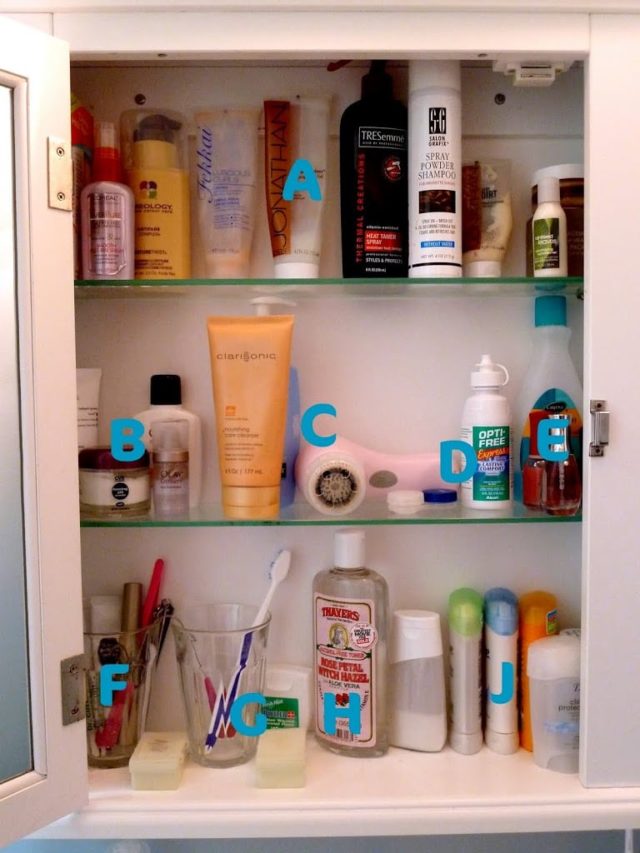 A. Get My Hair Did
In the far right corner is Jonathan Dirt, a replacement brush head for my Clarisonic Mia, and a bottle of bath and Body Works body lotion from a hotel (sometimes use it as a hair styling product). Far left next to the serum is some Sally Hansen hair remover – every 2-3 weeks, does a great job of getting rid of the 'stache without irritation or redness.
B. Hydrate!
C. Washing Up
D. My Eyes! My Eyes!
I wear contacts. Here's my case, here's my solution (I ran out so am using my travel size for now).
E. Get My Nails Did
I am not a big nail person, I never wear polish on my hands and often go sans color on my feet. These are the basics – polish remover, clear topcoat to maintain a pedicure, and a lovely sheer pink that will make nails just look healthy and complete without color. I usually keep any colorful polishes in my dressing table.
F. So Random
This tumbler from my kitchen holds all the little random things in one place:
G. Brusha Brusha Brusha
H. Holy Grail
Next to the witch hazel is one of our three toothpastes. This was from Bonnaroo (travels well, won't explode in heat – think it's Colgate but when I went to peel off the safety packaging the whole label peeled off). We also have some tube of Tom's of Maine that is almost gone, and a new tube of Crest 3D White because my husband believed the hype. It's new, so I don't know yet whether it will take our coffee- and wine-loving chompers to pearly white-ness… will keep you posted.
J. Got Sweat?
Does one household really need four different deodorants? Guess so. I switch between Dove formulas for day (find if I stick with one too long it stops working). For night I was using CertainDri but it seemed to stop working so I switched to Dove Clinical. The Dove is almost out, so I'll go back to CertainDri until the bottle is empty and go back to Dove. The yellow is Arm & Hammer, my husband switches between that and the blue Dove.
And when you turn around from the sink you see the bathroom's second door. I didn't want this door. The bathroom is half in the master bedroom, half in our office. The contractor and my husband thought a second door would be useful if we used the office as a guest room, if we tried to sell the house. We never use the door – there's furniture in front of it in the office and it's a waste of space in the bathroom that could be used for a proper cabinet. So this is how I use it: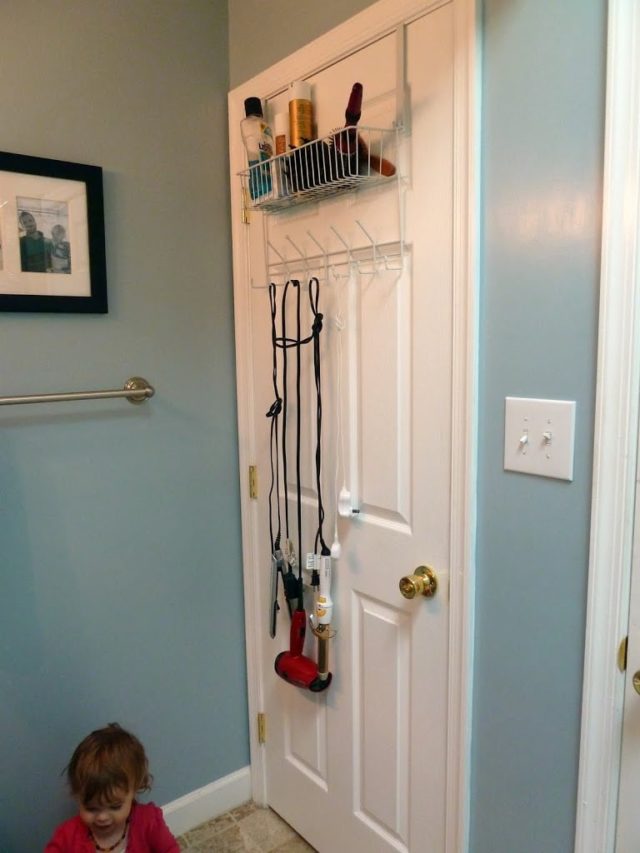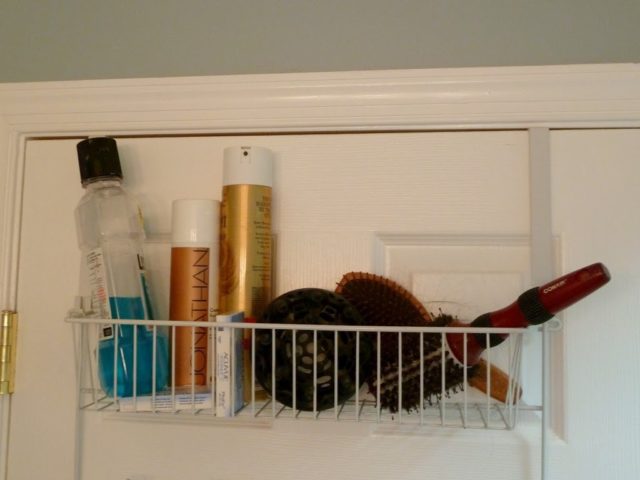 This over-the-door rack was originally purchased for the powder room on the main floor. I envisioned umbrellas in the basket, lightweight jackets and such on the hooks. We don't have a closet on the main floor, so figured this would be a great alternative (we have a coat rack near the front door that is always overflowing). When I realized this bathroom has no wall space for a proper cabinet, I put this here for a "temporary fix." Two and a half years later it's still here. Usually there's towels hanging there, but I took these pictures on laundry day.
In the top are all the things that don't fit in the medicine cabinet:
While the hooks hold damp towels, they also hold all my appliances:
Oh and yes, photobomb by Emerson who was using her potty as a cave for her bath toys.
Whew, are you still here? Still reading? I am impressed! So that's my bathroom in a nutshell. Not a lot of fancy, fun, and glamorous things but things that get the job done. Still need to get a proper day moisturizer and face cleanser, but I'm frugal and wait until the current bottle or tube is completely empty. So keep sending me your recommendations, I am noting all of them and they will help me when I do finally purchase!
Follow Me | Twitter | Facebook