This article may contain affiliate links; if you click on a shopping link and make a purchase I may receive a commission. As an Amazon Associate, I earn from qualifying purchases. 
I hardly ever watch a television show the day it airs. I fought tooth and nail against the expense of a DVR, I found it to be unnecessary but my husband won the battle. And now, I am more addicted to the DVR than he. I love being able to fast-forward through commercials, watch my guilty pleasures at 5:30am while my husband is asleep, be able to stop a show halfway through to go to bed and finish up the next day, go on vacation and not have to wait until a favorite show reruns an episode months later.
I didn't get around to last week's Project Runway last night. And after watching it, I was even more thankful for my DVR.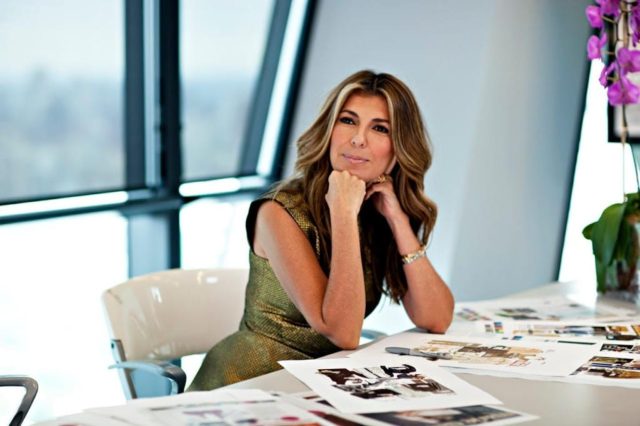 In this episode, the contestants had to create a day to night look for Nina Garcia, Fashion Director of Marie Claire and Project Runway judge. The contestants were terrified, and rightly so. Yes, Garcia is a judge. Yes, Garcia isn't one to mince words. But the biggest thing they had to fear is her definite personal style. Nina Garcia isn't one to wear sequined cigarette pants one night, a feathered ball skirt the next, and a chambray shirt dress the next. While Nina Garcia embraces current fashion trends and is always on the look for the next big thing in fashion, she is always fiercely loyal to her personal style. I have always liked and admired Garcia, but after seeing this episode I truly find her to be a style icon.
Think about style icons past and present – Grace Kelly, Audrey Hepburn, Jackie Onassis, Diane von Furstenberg, Carolina Hererra, even the Olsen twins and Chloe Sevingy. These women are icons of style because they are so true to their personal style. So true, you could create a caricature of them in their "uniform." Audrey in cigarette pants and ballet flats, Grace in a full skirt and Hermes purse, Carolina in a crisp white shirt. They aren't ashamed of having a uniform, a signature style. They embrace it, they take pride in it.
During this episode of
Project Runway
, I loved hearing
Nina Garcia
inform the contestants of what she DIDN'T like. One was taped wishing that Garcia would mention what she DID like. The thing is, when you possess personal style, it's hard to say what you love, for you may fall in love with something you have never before experienced. It's easier to rule out things that go against your personal style.
Sometimes what you hate is more telling than what you love.
When trying to find your personal style, it is important to think about that which you are drawn to, but equally important is to constantly remember that which you do not like. Maybe you don't like it because it reminds you of a person or thing you don't like, maybe it's because you hate warm colors, maybe because you're allergic to a certain textile, or you feel a certain silhouette draws attention to your least-favorite feature. Often, it's because a certain trend or silhouette goes against your personal style aesthetic – for me, I usually stay away from pastels, lace and ruffles because I don't feel that they mesh well with my personal style of clean, classic, simple pieces in strong colors. While I love these trends, and admire them on others, I rarely wear them myself and usually shy away from them.
If you are stuck in a style rut, take a moment to write a list of what you don't like.
Let it all out – write down hem lengths, fabrics, colors, silhouettes, celebrities, eras, genres of music, schools of art, types of food. I know that if I wrote down everything I liked it would seem as though five different individuals wrote my list – I like boho, rocker chick, classic with a preppy edge. I like hard rock and college radio and country and blues. I enjoy sushi and fried chicken, mudslides and martinis, Gossip Girl and Frontline. However, if I write a list of that which I do not like or do not feel an emotional connection with, the list is far more streamlined and far more telling.
I find myself to be a pretty positive person, and even considering such an activity seemed to be encouraging negative thoughts. But the thing is, you can't find you if you're lost in a sea of everyone else. The reason Baskin-Robbins is popular is because they offer 31 different flavors of ice cream. They don't expect every single person to like Rocky Road or Baseball Nut (a little shout-out to Tina my high school exchange student from Germany who loved this flavor). Baskin-Robbins knows that some people just plain hate chocolate or are allergic to nuts. There's something for everyone.  If your friend orders Cherries Jubilee and you don't like it, you don't end your friendship, you just order your cup of Jamoca Almond Fudge. Style is the same way – just because you don't connect with a trend doesn't mean it's bad, it's just that you are being aware of your personal tastes and embracing them.
Also keep in mind that sometimes you may find yourself embracing that which you ruled out. Even in this Project Runway episode, Nina Garcia states that she doesn't like sparkle while wearing a sparkly jeweled shell, and mentions how she doesn't like wearing loud colors while wearing a top with coral sleeves. Nick Verreos pointed out on his blog that while Nina Garcia asked contestant Anya for a Plan B after seeing her choice of mustard-colored fabric, Garcia herself has been seen many a times wearing shades of mustard and gold. I myself write this while owning two pastel-colored oxford shirts and a beige ruffled lace skirt. This doesn't mean we aren't staying true to our personal style, it's just that we're still being open minded, seeing that occasionally there is a piece that may be from our "Do Not Like" list that is so perfect for our aesthetic that it's worth bending a few rules.
Not sure if you're a city diva or a country darling? Are you chiffon or caplets? Leather or lace… or both? When you feel you have too many options and too many desires, it may be helpful to take a moment to organize that which you don't like. With such a list, you may be better able to see yourself in the sea of style.
Follow Me | Twitter | Facebook