This article may contain affiliate links; if you click on a shopping link and make a purchase I may receive a commission. As an Amazon Associate, I earn from qualifying purchases. 
You all know my love for Gwynnie Bee, but many of you have asked if there is a similar program for those who are smaller than a size 10. Le Tote is also a clothing rental company, but with a different concept.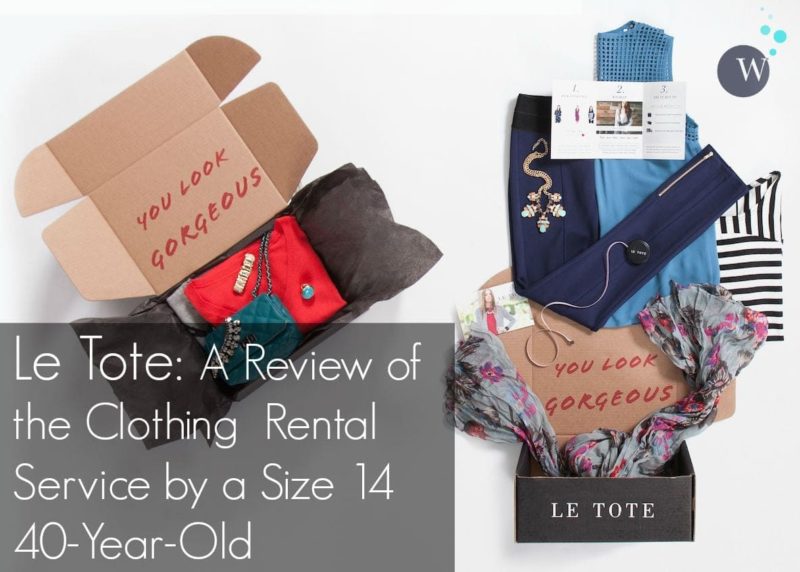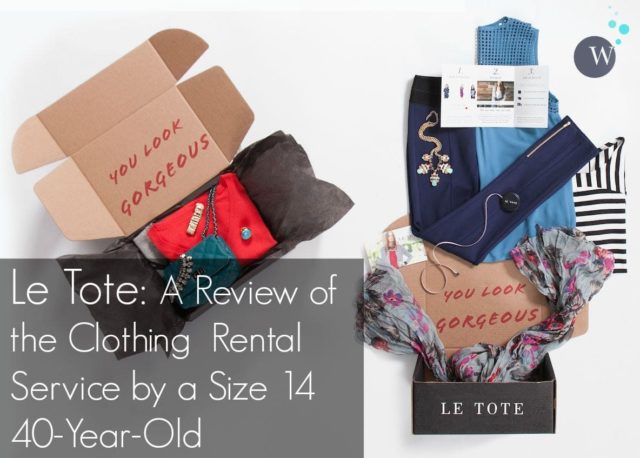 Le Tote helps you curate a box of not just clothing but accessories. For a $49 monthly fee, you receive a box with three garments and two accessories. You can keep items as long as you wish, and anything you love you can keep forever and Le Tote will charge your card. Send items back, and get news ones – you have unlimited Totes for your subscription fee. If you love and choose to keep everything in your shipment you get a free month of Le Tote. Le Tote wants you to love what you receive; you fill out a style profile upon joining, you can customized your delivery and know exactly what you will receive, and Le Tote has stylists on staff to help choose the perfect items for you and your personal style.  Not only that, when you go to the page for a certain item, you can see photos from other Le Tote members wearing the piece, helping you decide if it's a good choice for your figure.
I received the opportunity to try out Le Tote free for one month. When you join, you will fill out a survey about your size and style and from that certain items will be suggested. However, you can look at all items available and add anything you desire to your virtual closet. Unlike Gwynnie Bee, you can choose exactly what items will arrive in your next shipment – this is great if you're planning around an event or travel. Like Gwynnie Bee, shipping is free and return packaging and shipping label is included. While it's called Le Tote, my items arrived in a sturdy Le Tote branded box, wrapped in tissue. Le Tote is big on communication – you'll receive emails and texts when your next tote is ready to customize, when it ships, and more. You have the ability to control what kind of communication you receive.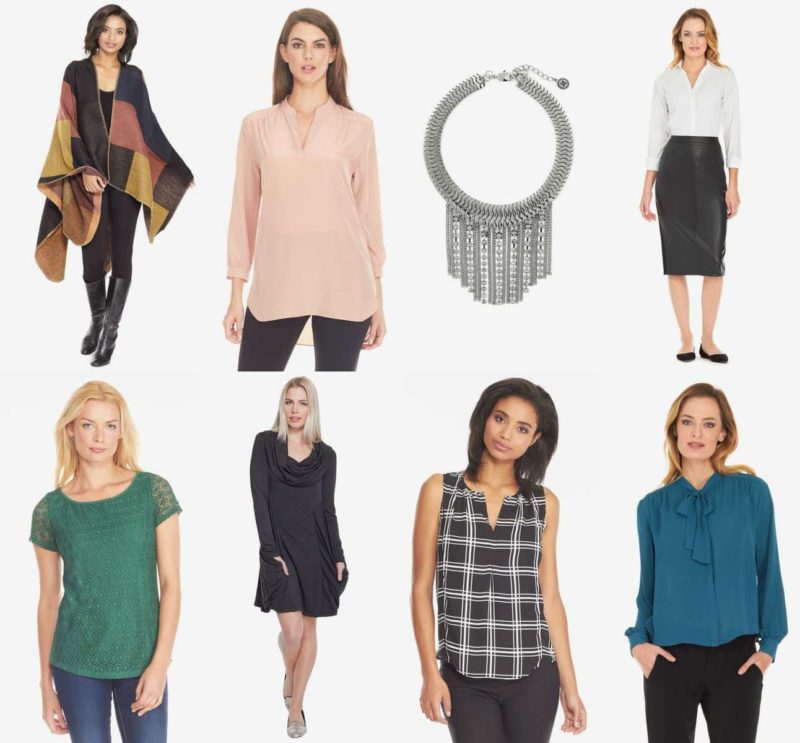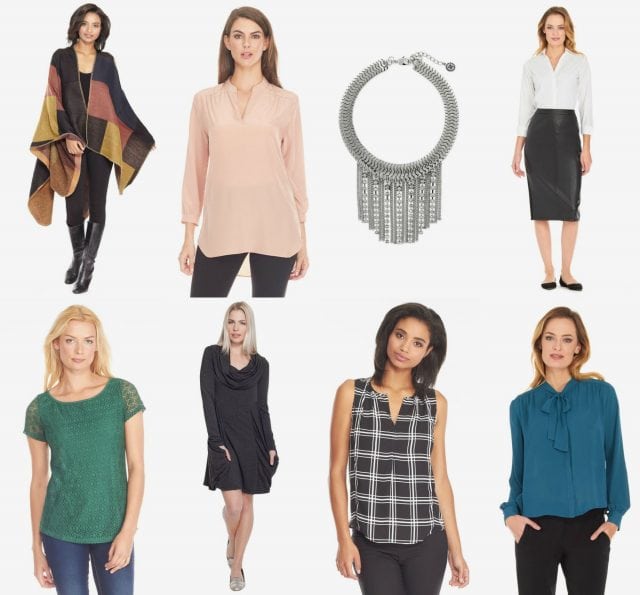 A few of the Fall 2015 New Arrivals at Le Tote
Le Tote features popular department store brands like Vince Camuto, Max Studio, French Connection, and BCBGeneration and some lesser-known brands that I have seen at TJ Maxx and Marshall's. While Le Tote offers clothing up to an XL or 16, pickings get slim when you go larger than an L or 10. While the majority of the vibe of Le Tote is relaxed simple fashion, they do offer a few cute dresses or jumpsuits for a night out, and lots of separates that would be office appropriate.
I tried out LeTote at the end of August and had a very hard time finding anything I wanted in my first collection. The accessories weren't my style – very delicate, simple, a bit too trendy, and as a 40 year old professional, a bit too young and cheap looking for my taste. The clothing felt very… basic. One thing I love about Gwynnie Bee is that it often forces me out of my comfort zone and introduces me to new brands, silhouettes, and prints. Le Tote is simple clothing, which could be amazing for one who doesn't like or have the time for shopping or really isn't into fashion but felt too simplistic for me. I ended up going with a black and white striped knit tee shirt inspired dress, a spaghetti-strap midi dress, a blazer, a delicate necklace with a pave circle, and a pair of ear jackets.
Everything fit like Juniors. The black and white dress was a nice heavy weight and well constructed, but so short it hardly covered my bum. The midi dress was a gorgeous teal color and one of those convertible pieces that has a smocked bodice that can be worn with the adjustable straps, styled strapless, or slid down and turned into a maxi skirt. It was fine, but it really felt like something I'd see on the rack at TJ Maxx for $19.99 in 50 different colors. The jacket was very tight in the arms and shoulder, unlined, and just looked and felt cheap. The same with the accessories; the necklace was pretty but looked like it was from Claire's Boutique and the earrings were a weird overly yellow shiny gold that just looked too cheap for me. The only piece I wore was the teal midi dress, and it was because I was going to be outside volunteering at a fair and knew it would be hot out. It was perfect for such a situation, but not awesome enough to keep or even wear a second time.
I hate to dismiss Le Tote because it truly could be a great option for some. If you are a size 10 or smaller, if you're not terribly tall or petite, if you're under 35 and you're looking for a reasonably priced way to add a bit of variety to your wardrobe without looking too trendy or outlandish, Le Tote could be a great option. The price is also pretty great – it's easy to spend this much on a sweater or casual dress that only gets worn a handful of times; with Le Tote you get three garments for the price of less than one plus two accessories to complete the look.  And like Netflix, send back and get another one right away.  Le Tote could prove to be a great way to shop and build a wardrobe as the company will adjust recommendations based upon your reviews and what you choose to keep. Just don't expect to find any garments that will stop people in their tracks, transform your personal style, or find a ton appropriate for weddings and more formal social occasions. Their fall collection looks more promising and stylish than their summer selections, if you did want to try such a service this looks to be a good season to do so.
If you're interested in trying out Le Tote, use code LETOTEME and receive 50% off your first month's subscription.
Have you used Le Tote? What are your thoughts on the clothing and accessories rental service?  Do you think it's worth it for me to try it again?