This article may contain affiliate links; if you click on a shopping link and make a purchase I may receive a commission. As an Amazon Associate, I earn from qualifying purchases.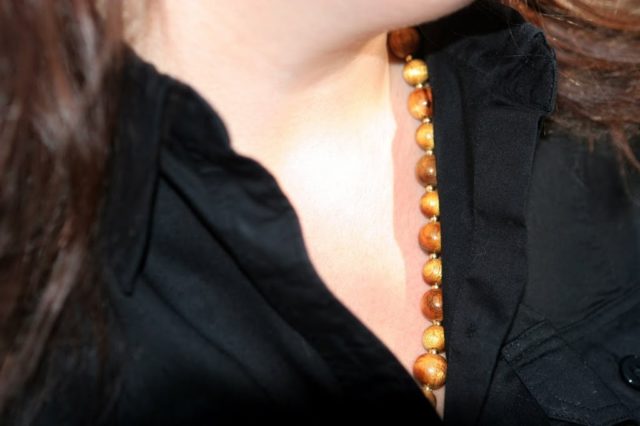 Black cotton shirtdress – Lauren Ralph Lauren (no longer available)
Jute and leather belt – Anthropologie (not available online)
Sandals – Sofft (no longer available)
Bracelet – eBay (don't recommend, a piece falls off each time I wear it)
Necklace – Belonged to husband's grandmother
So DC had an earthquake today, the second one I have ever experienced. A year or so ago we had one in this area but I was in bed half asleep and hardly felt it. This one I felt – a bit of vibrating, and then true wobbling and shaking up on the 9th floor where my office is located. Windows rattling, a couple things fell off shelves. I went into the hallway to see what was up, and felt it was safer than right next to my office window. Being in DC I didn't think earthquake… I thought it was a bomb in a nearby building. Once I saw on Twitter it was an earthquake, I then relaxed. I did leave work early though because Metro was only running at 15 MPH and traffic out of the city was insane with so many people being evacuated or racing home to get their kids from evacuated schools.
This necklace is a new addition to my collection, and from a bittersweet situation. My husband's grandparents are moving to an assisted living community so they have to pare down their belongings. My husband went over last week to help and his grandmother gave him some jewelry and a jewelry box for me since she knows I love accessories. This necklace is made of myrtlewood and her name is Myrtle. I am honored that she thought of me and gave me the pieces she did. I think this necklace has a great story, great energy from a great woman, and it looks awesome too. I have worn it almost every day since she gave it to me and can't wait to see her this Sunday so I can thank her in person.
Follow Me | Twitter | Facebook