This article may contain affiliate links; if you click on a shopping link and make a purchase I may receive a commission. As an Amazon Associate, I earn from qualifying purchases. 
Dear Allie:

I am getting back into the workforce after five years as a SAHM. I'm really excited, but am having a hard time finding nice work clothes. I am a size 18, 5'5" and an apple and all I seem to find are lowcut dresses and polyester pants. Do you know where I can find suits and work clothes like dresses and blouses for my size?

 

Why are all plus sized suits made out of polyester? Where can I find a suit that is equal in quality and price to J. Crew but goes above a size 16?

 

I was recently promoted and my new position requires me to travel on business several times a month. For such trips, I will need to wear a suit while at the office I can usually get away with casual pants or even nice jeans. While I have a great wardrobe of business casual pieces, it is proving difficult to find more corporate of attire for my size (I vary between a 20 and 22). Do you know of any retailers who specialize in suiting and corporate attire for plus-sized women?

 

Hi Allie, I need to improve my look at work. We're allowed to wear anything we want but I don't want to look like a slob any more and think if I look good I may be more likely to get a raise or promotion. I'm 5'7", a size 20 with a large bust and don't even know where to start looking for nicer work clothes. HELP!
I am not sure why the world thinks women over a size 12 don't hold professional jobs. They must think that with the poor selection of career wear for plus-sized women. While quality suits and stylish business casual clothing does exist, it's hard to find. Below I feature some brands who realize that just because you wear a larger size doesn't mean you wish to sacrifice style, quality, or professionalism.
If you're plus sized, I'm sure you already know about Lane Bryant, Avenue, Ashley Stewart, One Stop Plus/Woman Within/Roamans/Jessica London, and other retailers who specialize in plus size fashion. Below are some suggestions on brands I know who aren't the typical shops, and who provide quality, well-crafted and stylish career wear in plus sizes
Nordstrom
I know, I know, Nordstrom again? Thing is, they offer a great selection of quality brands and style for plus sizes. MICHAEL Michael Kors, Rachel Palley, Calvin Klein, Karen Kane, Eileen Fisher, Tahari Woman, Vince Camuto, Kenneth Cole… all these brands and more are offered in plus sizes at Nordstrom stores and online.
Unlike many other department stores who think a woman in a size 22 dress wants a muumuu or a flowing polyester pantsuit, Nordstrom buyers find brands and pieces that are in the same vein of style as the rest of the store. Great colors, fun silhouettes, lots of options. Nordstrom has free shipping and free returns, will perform alterations onsite, and have personal shoppers that can help you secure a professional wardrobe for your job.
Macy's
Macy's is another department store who offers a fantastic selection of brands and styles for plus sizes. Alfani, Calvin Klein, Lauren by Ralph Lauren, Jones New York, and then their in-house brand INC International Concepts are great resources for great plus size office wear. Like Nordstrom, Macy's provides a good amount of real estate in most of their stores for plus-sized fashion.
Macy's always has promotions for discounts and shipping deals. Macy's has a great return and exchange policy, where you can return by mail or at any nearby store.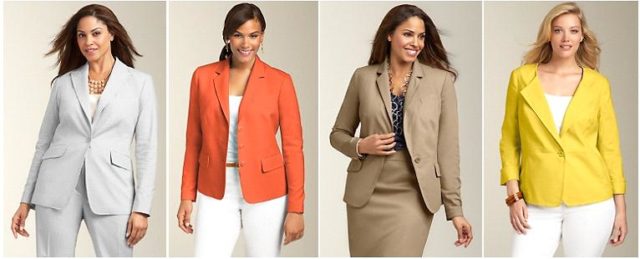 Talbots
Talbots Woman comes in sizes 12-24 regular and 12-22 petite. Each season they offer several styles of suit separates so you can mix and match for the perfect career look. Talbots also specializes in business casual looks, with tailored trousers, well-crafted skirts, polished knits and sweaters and even shoes and accessories.
While many retailers hide their plus size department in a dusty corner or keep it only online, Talbots often has separate stores just for their Woman line, or else it gets plenty of real estate in their mixed-size store. Talbots is phenomenal with customer service, seeking out sizes at other locations, taking returns in-store, and giving you honest feedback and offering suggestions at the fitting room. When I was a size 18, Talbots was my go-to store, where I knew I would find quality, style, and a supportive staff.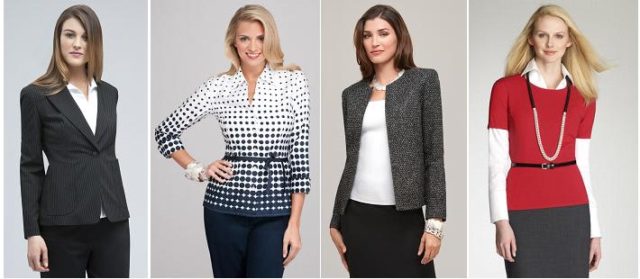 Jones New York
While Jones New York is a department store staple, they also have their own online boutique that has a large selection of career wear in extended sizes. Since you have to return by mail (they offer a pre-paid shipping label), it's good to try out JNY in a store to know how it fits, and then go online to find a larger selection.
Kiyonna
Kiyonna knows how to dress a woman. They make well-made pieces that are stylish and flattering to a plus-sized figure. No muumuus and garish prints here, Kiyonna offers beautiful dresses, and also a beautiful selection of separates. While their bottoms are very basic, they are well-made and classic. Some of their tops can run on the sexy side, but many are great pieces for business casual environments or fabulous shells under suits. Their return policy is pretty standard but I hear their sizing is quite consistent so once you know how you fit in Kiyonna you won't have to make as many returns and exchanges.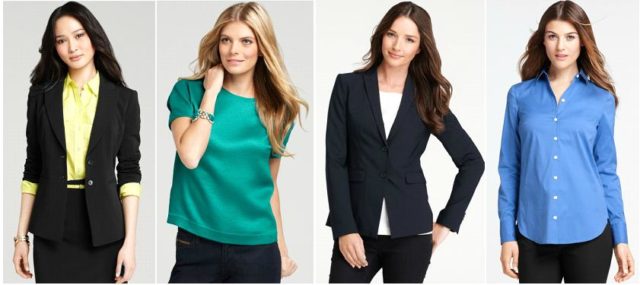 Ann Taylor
If you enter an Ann Taylor store, you may think they don't care about anyone over a size 12. However online they go up to size 18 and XXL on the majority of their pieces. I also find Ann Taylor runs a bit large and many of my readers have agreed that their size 18 can often fit a size 20 woman.
Ann Taylor regularly has promotions for free shipping and percentages off select items – it's smart to sign up for their emails or follow them on Facebook or Twitter so you stay updated. Their online selection can sell out pretty quickly when they have such sales, so shop early. While Ann Taylor doesn't offer free returns, they do accept returns even of larger sizes in any store. And if you have to do a return, check out their sale rack where I have regularly seen larger sizes from other women who have made returns.
Lands' End
Lands' End may not be the retailer you would think for career wear, but they do have a pretty great selection of workwear staples. While their summer selection is more geared towards shorts and dresses, they always have a good selection of blazers and coordinating bottoms and come the cooler months have an even greater selection of suiting and work-appropriate pieces.
Lands' End often has promotions for discounts and free shipping so sign up for their emails to get the latest news. Lands' End also accepts returns at Sears stores which makes shopping with them even more convenient.
Eddie Bauer
Like Lands' End, Eddie Bauer mainly focuses on casual weekend fashion. However, like Lands' End they have a few stand-out pieces each season for career wear. Eddie Bauer often focuses on easy-care pieces, and you're likely to find wrinkle-free suiting, no-iron button-front shirts, and machine washable trousers and dresses. Eddie Bauer offers free exchanges and accepts returns by mail (they will provide a pre-paid shipping label or you can send by your own method) or in store.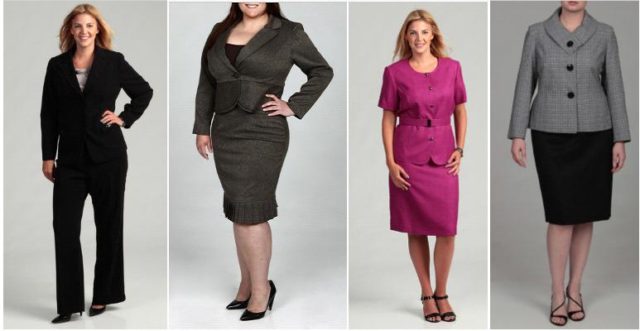 Overstock
I'm quick to head to Overstock to find a toaster oven or an area rug, but I have now learned to go to this site for fashion. Popular brands like Tahari, Kasper, Calvin Klein, and Ann Klein are featured by Overstock, and at nicer prices than at the department store. While some of the styles offered on Overstock are a bit strange, you can also find some gems – often pieces being sold right now at your nearby Belk or Macy's. Overstock has customer reviews, ridiculously cheap shipping, and a reasonable return policy.
TJ Maxx
While most of my local discount big box retailers will have some plus size fashion, it's usually a small section, messy, and full of strange pieces I wouldn't be caught dead in. Not so for TJ Maxx, who usually carries higher-end brands than similar stores, and they usually have a larger and better organized plus size department.



Where do you find stylish and well-made plus size career wear? I'd love to know your suggestions!
Follow Me | Twitter | Facebook
–>