This article may contain affiliate links; if you click on a shopping link and make a purchase I may receive a commission. As an Amazon Associate, I earn from qualifying purchases.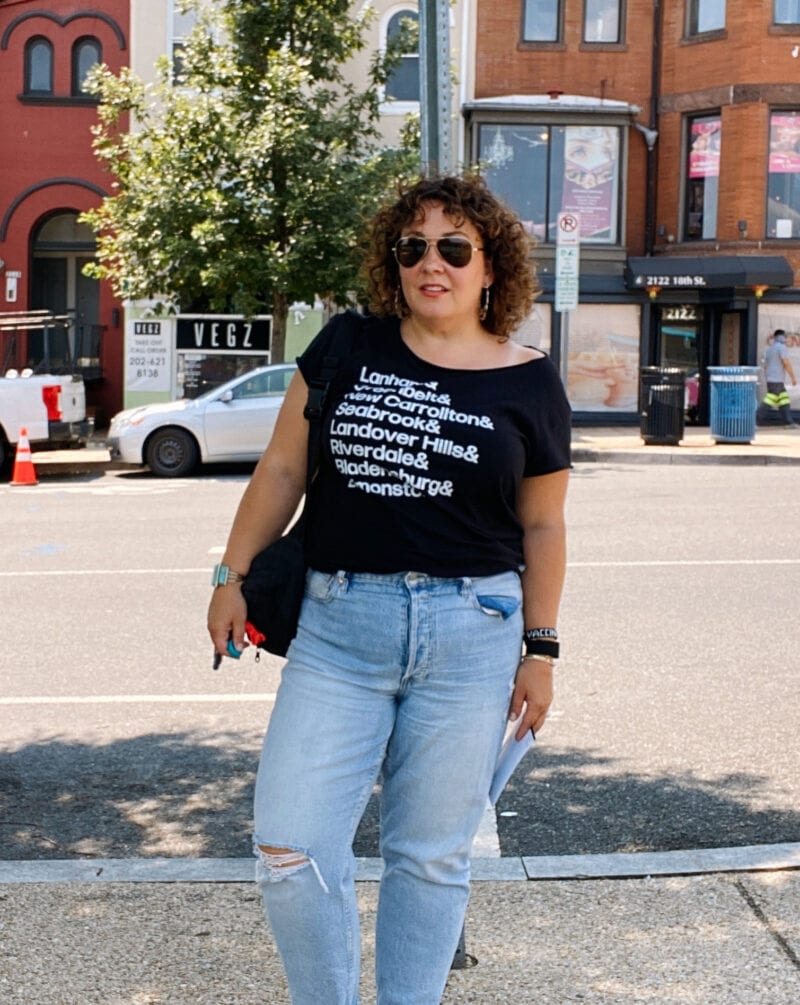 I love a graphic t-shirt, but as a petite curvy woman, they don't always love me. Most graphic t-shirts have a "unisex" fit which has a high crew neckline and long snug sleeves that aren't really my jam. Over the years I have mastered a super easy no-sew, no measure, no tools needed except a decent pair of scissors way to cut my t-shirts for a more feminine fit. Below are my favorite no-sew DIY T-shirt modifications: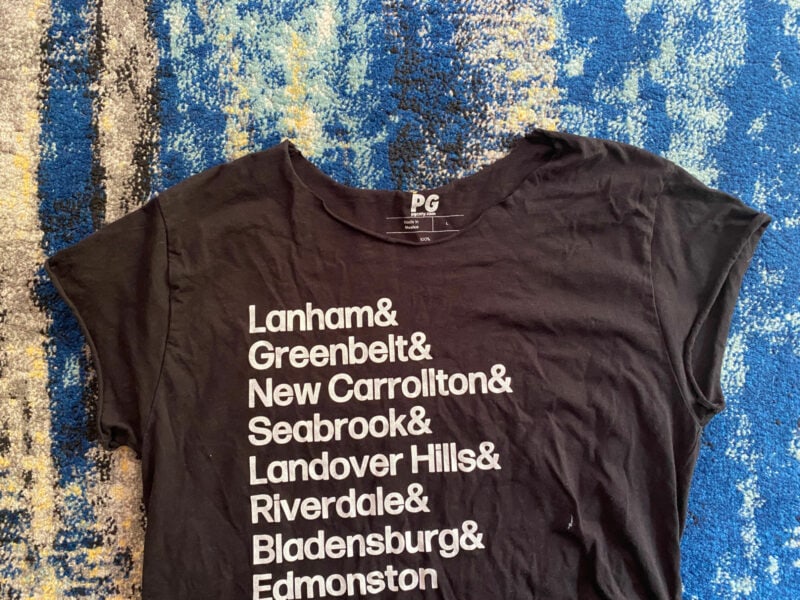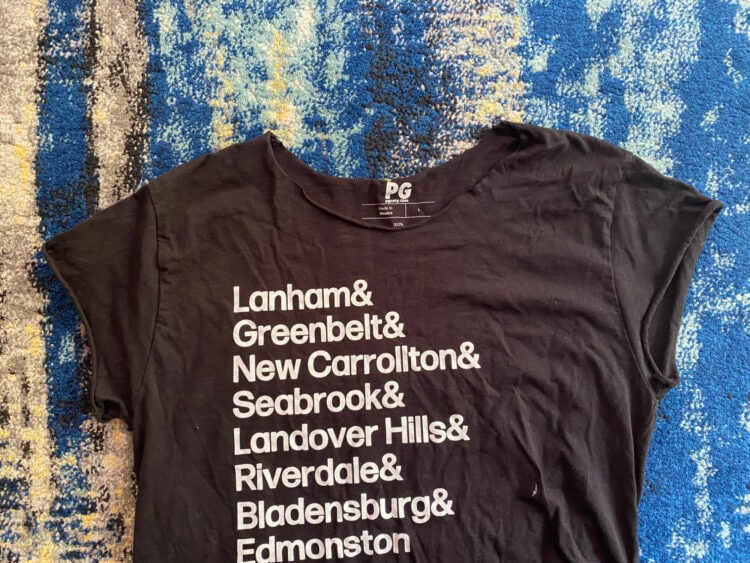 No-Sew DIY T-Shirt Modifications for a More Feminine Fit
My sewing machine is covered with dust and most of my scissors have been hijacked by my kid for school and girl Scout crafts. Even so, I usually modify every unisex t-shirt I get with at least one of these two steps below. Super easy and quick, yet quite effective in making a straight-cut t-shirt more feminine or work better with curves.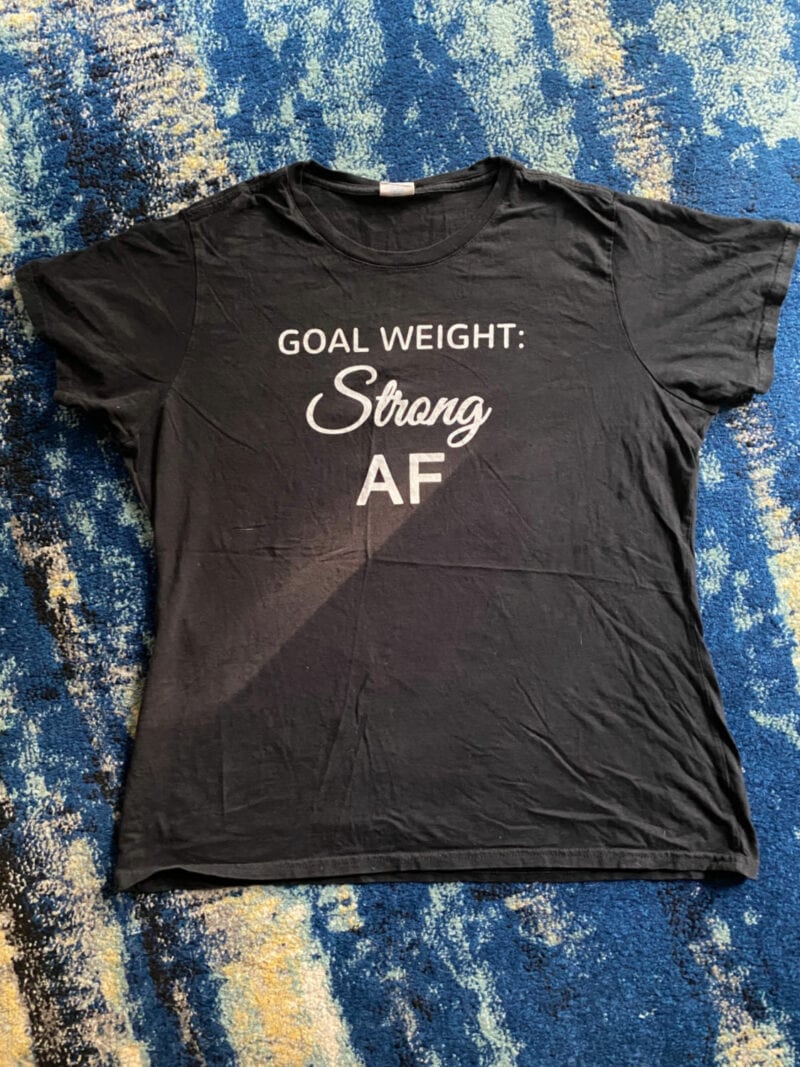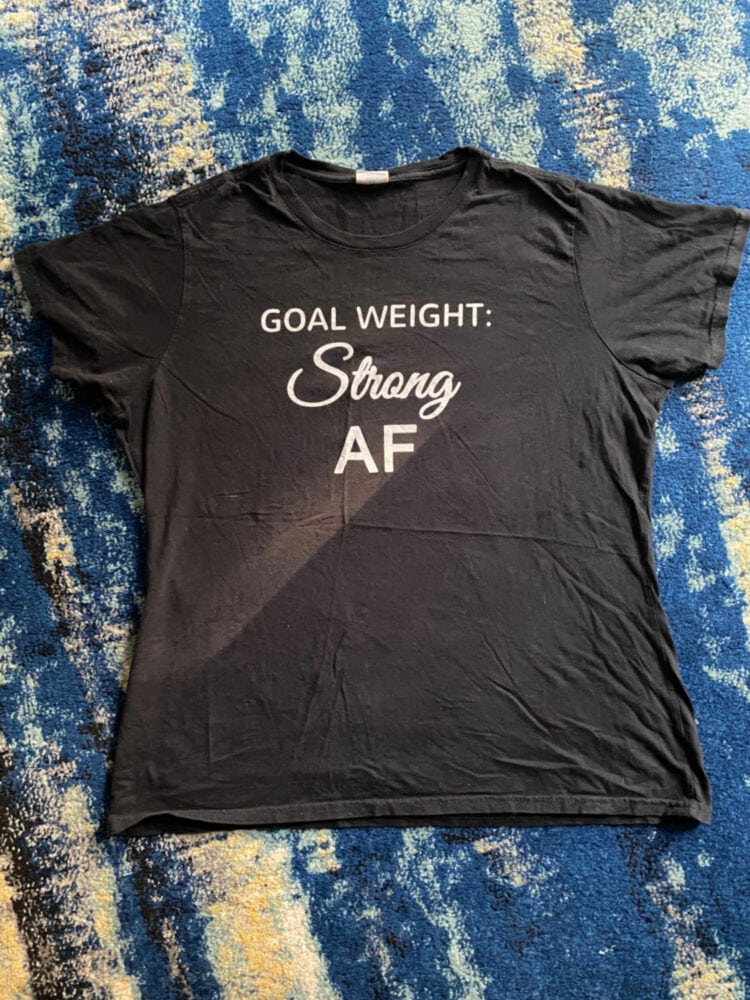 I am going to show how I do these easy DIY t-shirt modifications with a favorite t-shirt of mine that my sister got me when I was regularly weightlifting before the pandemic. Clearly, I've worn it a lot, but now I want to modify it to wear outside the gym.
The Easiest No-sew DIY T-shirt Modification: Shorten the Sleeves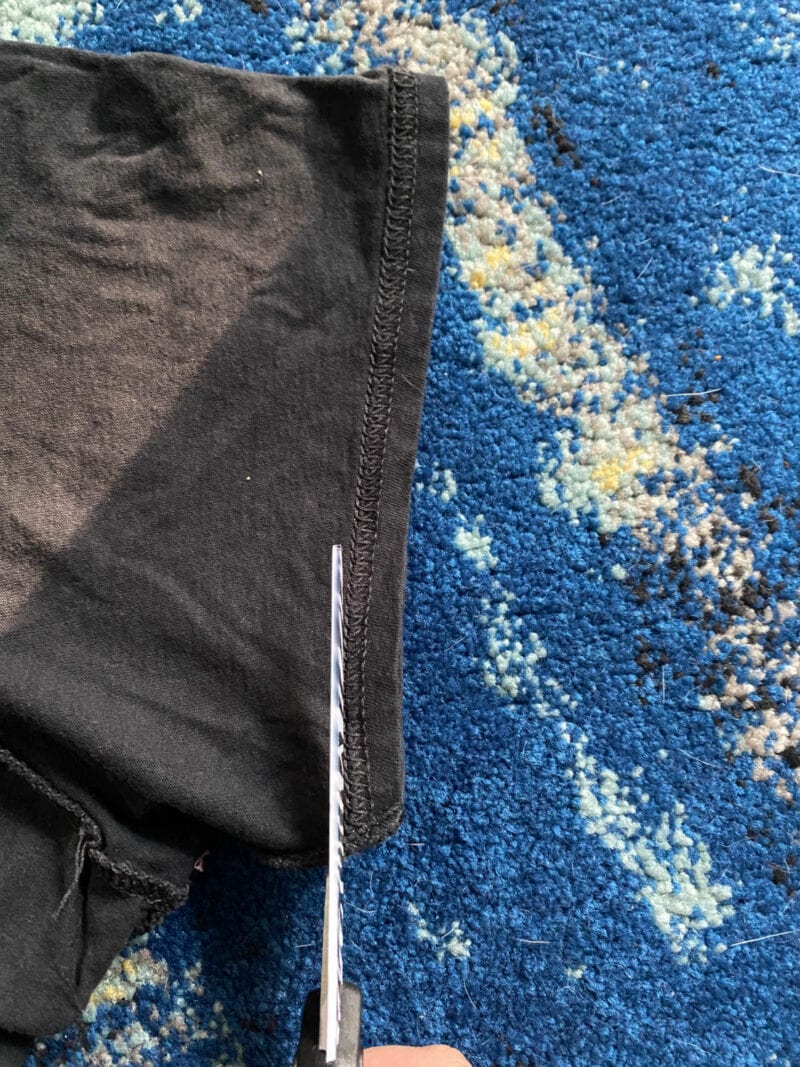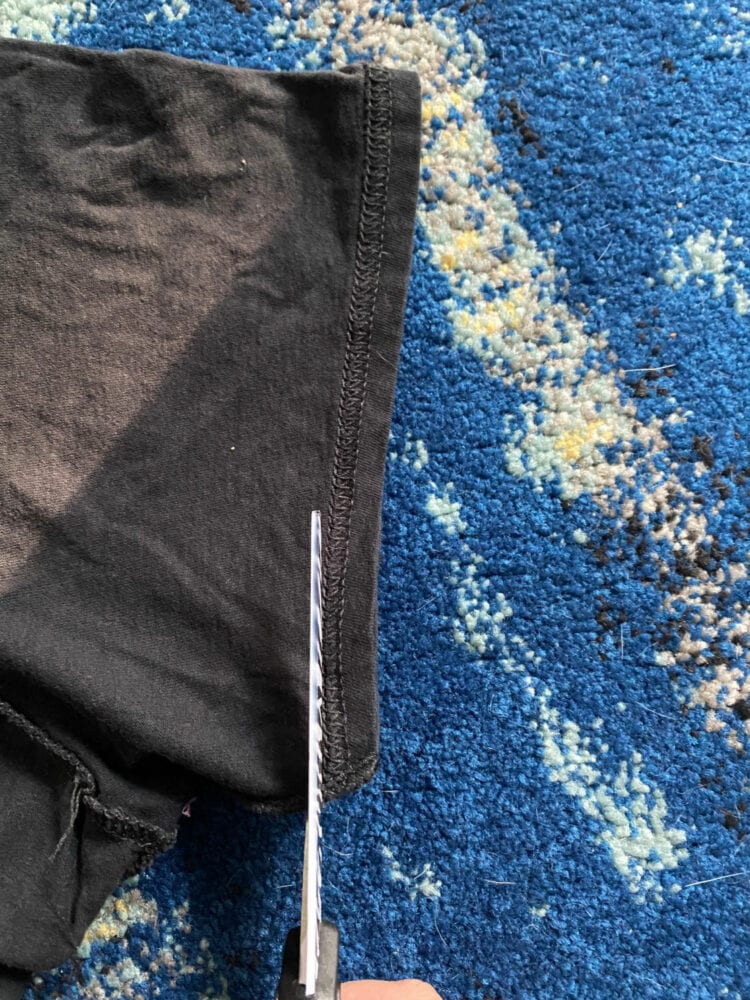 The easiest and quickest way to improve the fit of a t-shirt is to shorten the sleeves. I am 5'3″ and whether I have been a size 10 or a size 16, I find just cutting off sleeves right above the hem gives just the bit of lift and softness I desire.
No need to be precious, but you will have a better time using fabric shears instead of that sticky rusty pair of scissors in your junk drawer that also open shrink-wrapped packaging and cardboard boxes. The ones I linked to are under $10 and a highly-rated classic. Hide them from your family so they are only used for fabric.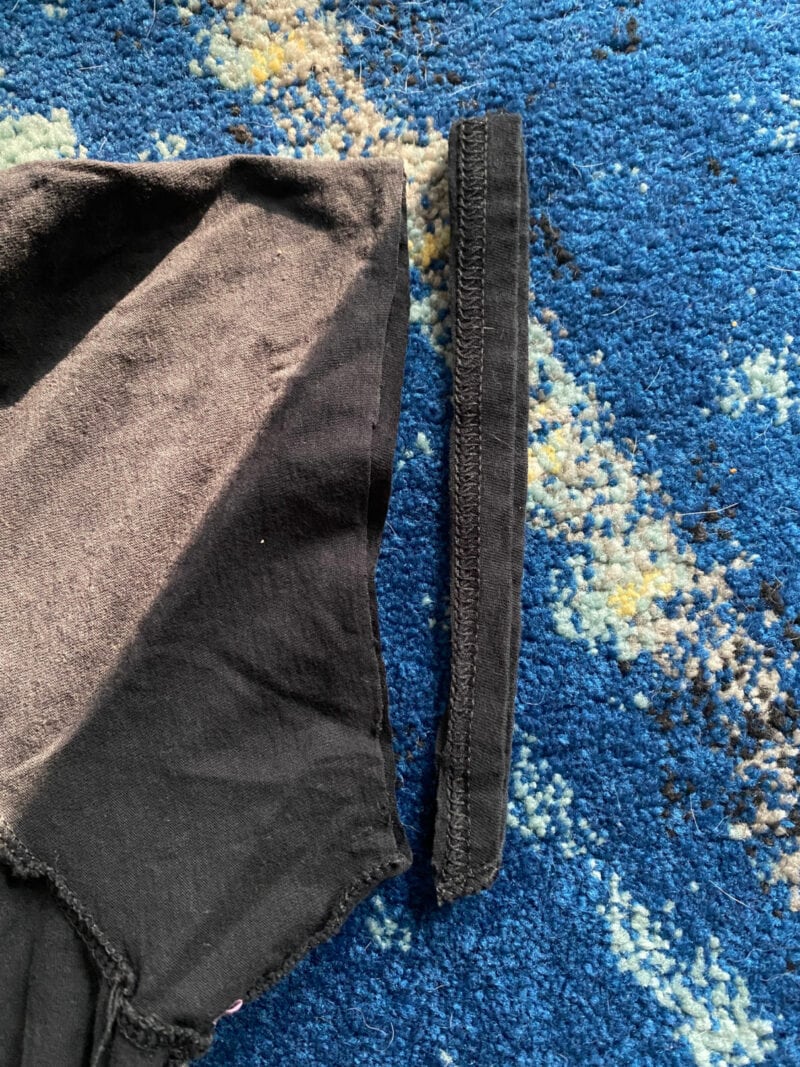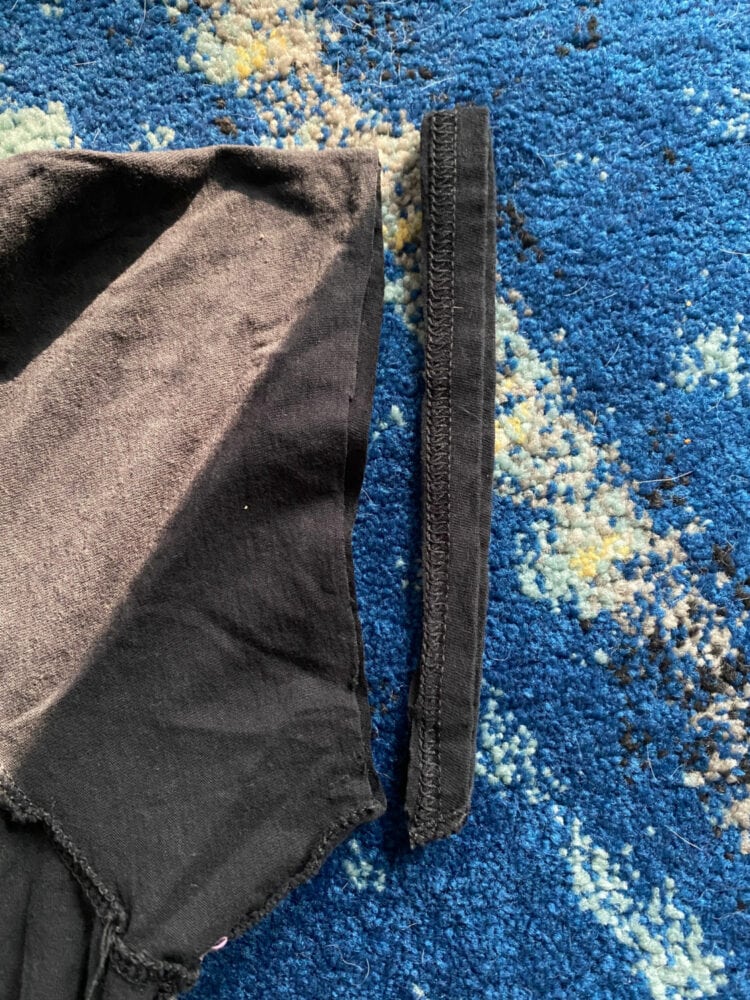 Snip right along the edge, and when finished, give a little tug and gently stretch the sleeve so the unfinished edge curls. There is no need to finish the edge; it won't fray. I have shirts decades old I've done this to and the sleeves haven't frayed, the seams haven't unraveled, they still look great.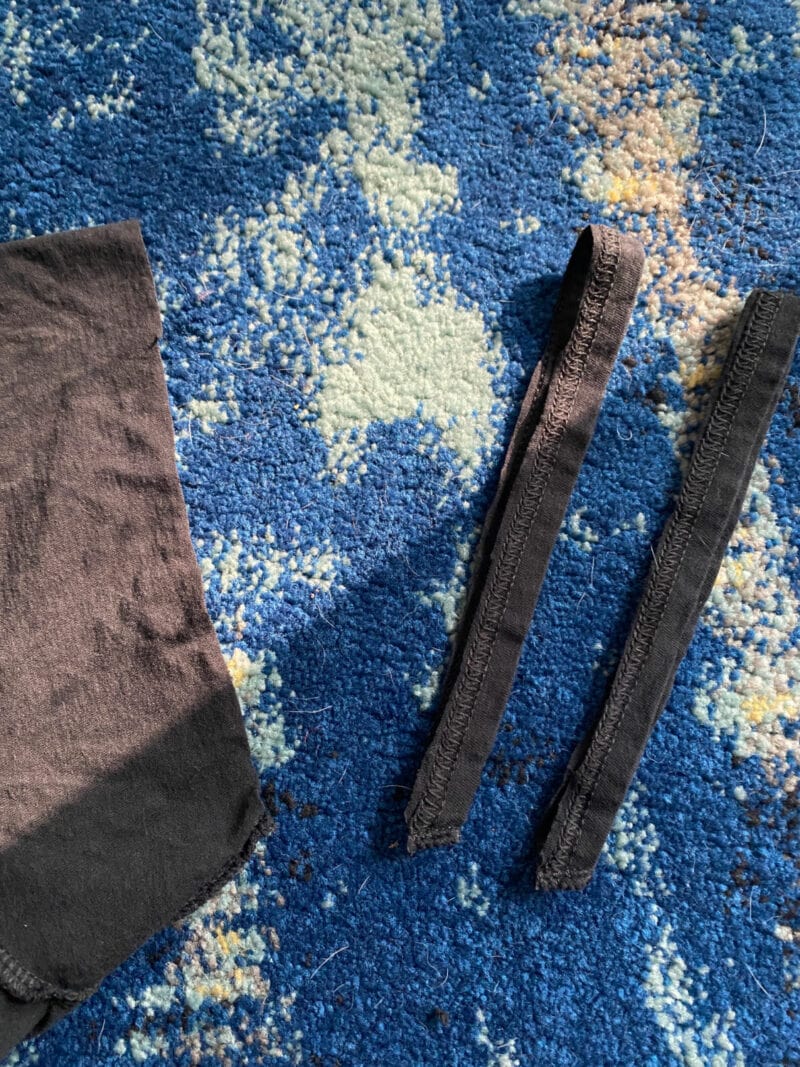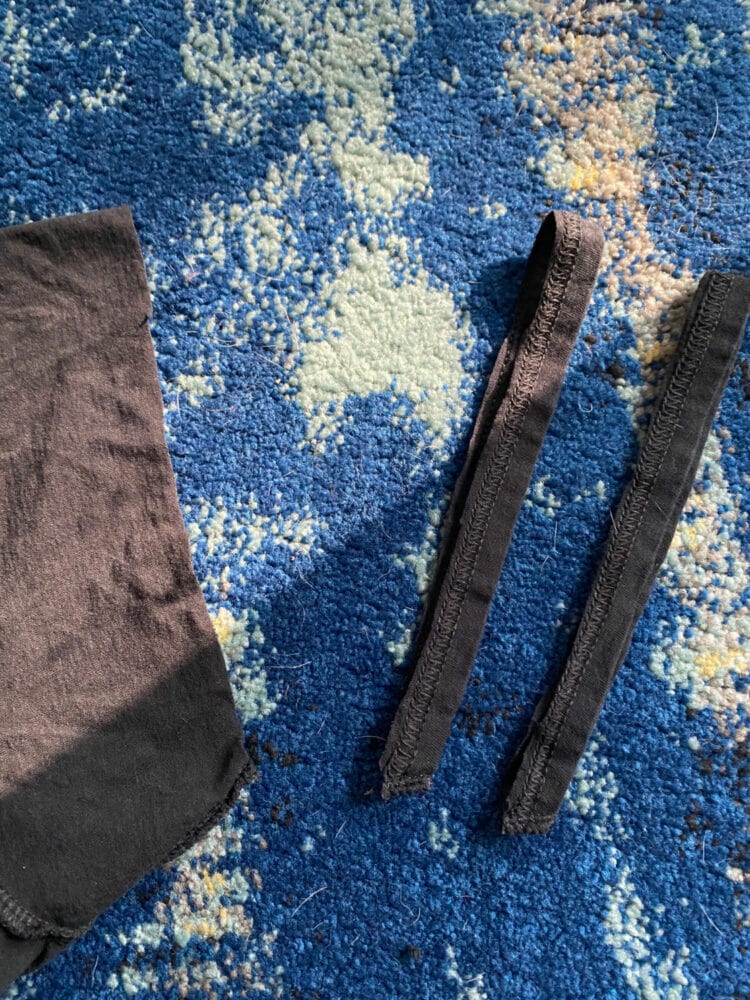 A perk, that little loop of fabric that was the original hem makes for a good headband! Even my big noggin finds them comfortable and good for workouts!
How to Modify a T-Shirt's Neckline Without Sewing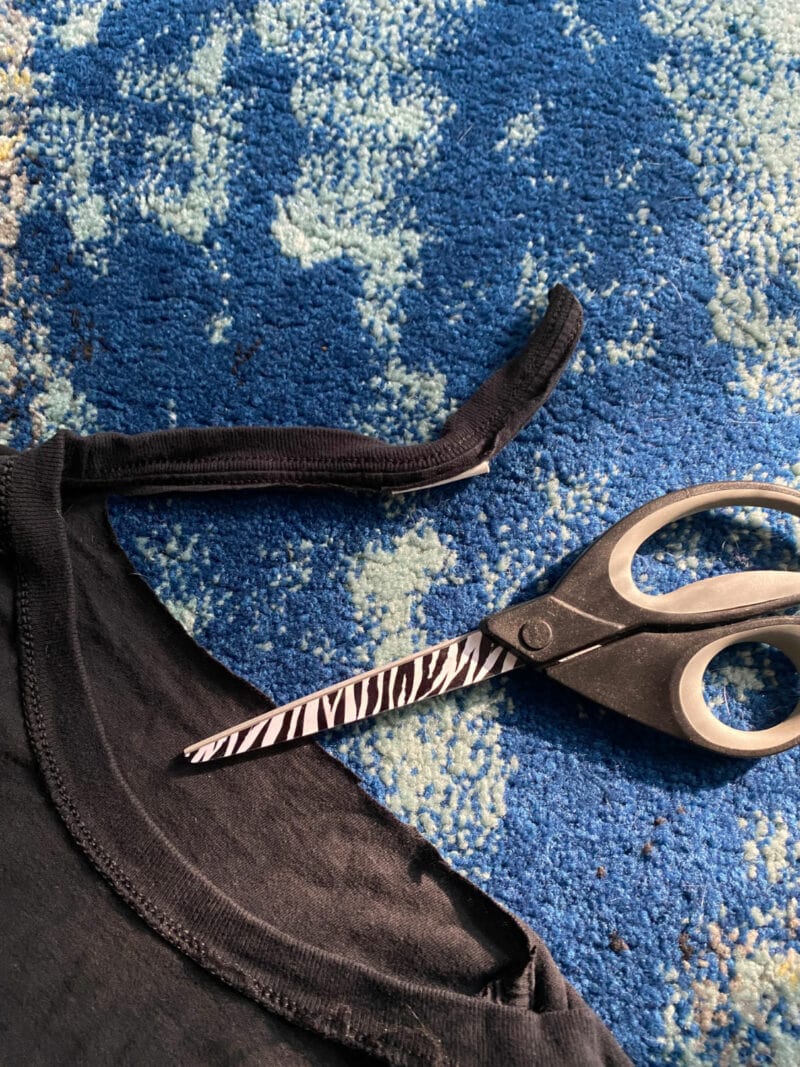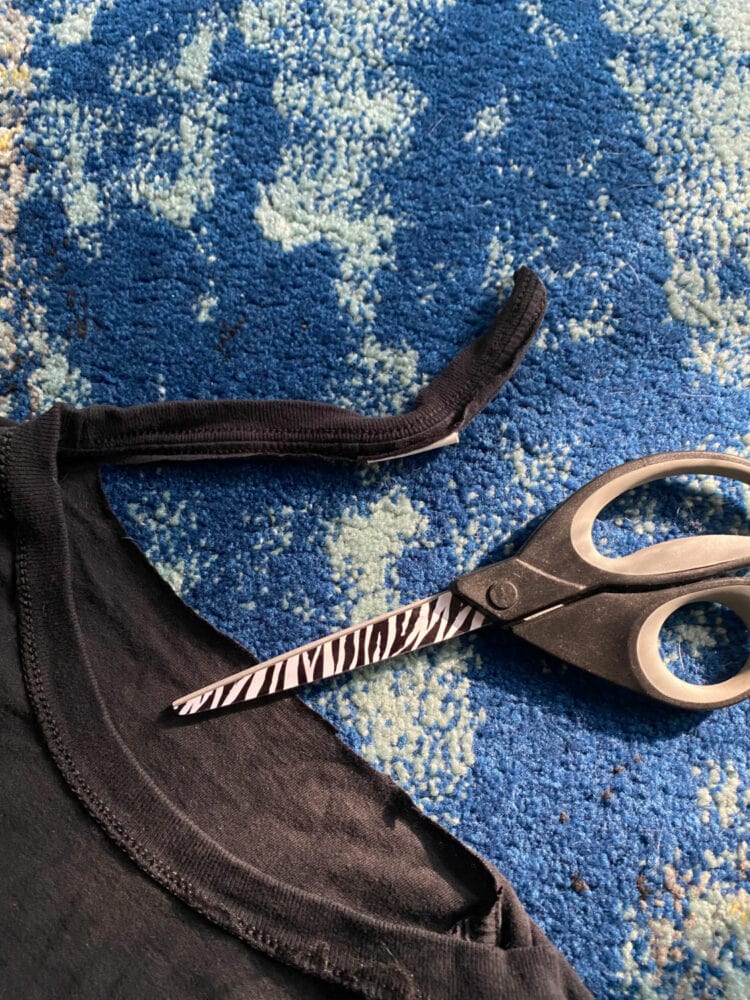 First step for some is the only step needed to modify a t-shirt's neckline: do exactly what you did with the sleeves. Turn the t-shirt inside out and cut along the neck band, removing it (this will also remove the tag). This simple modification will instantly open the neckline while still covering bra straps.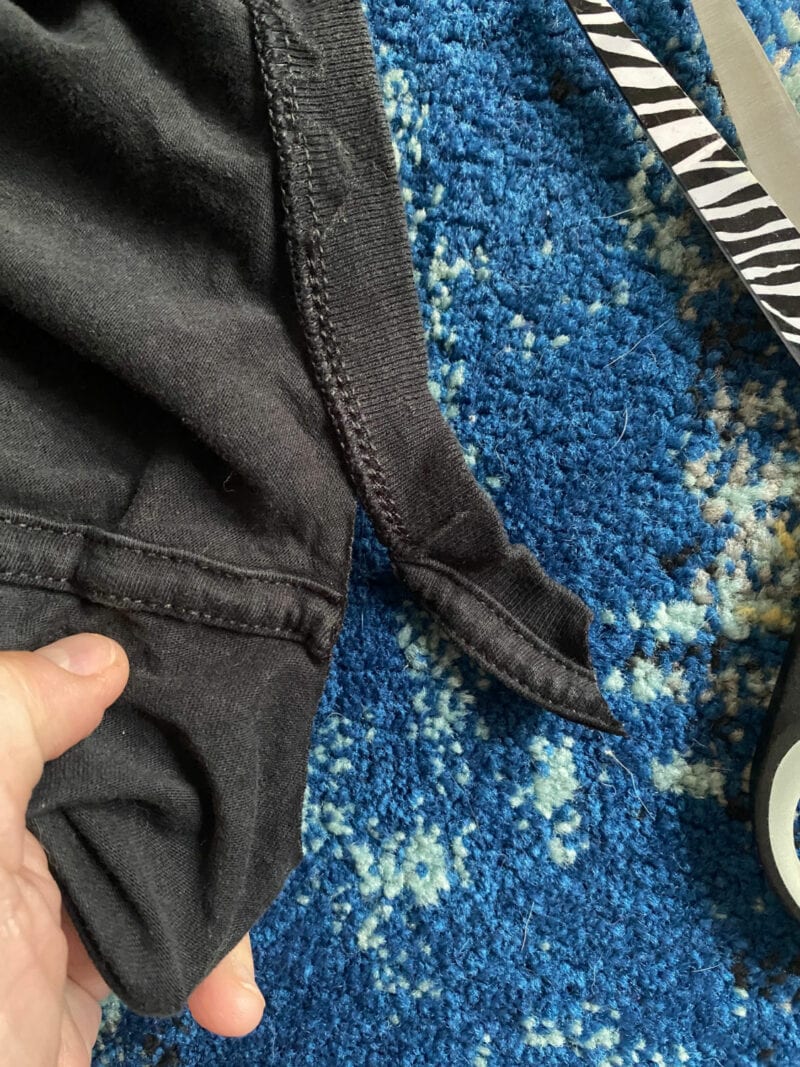 At the crossover shoulder to neck seams, cut across it, using the ribbed neck band and not the seaming as your guide. I promise these seams will not unravel even with multiple trips through the washer and dryer. When you have removed the neck band, again give the opening a bit of a tug so the edges curl under. Snip off any points that are jagged and obvious (often the shoulder seams will stick up) and tug again.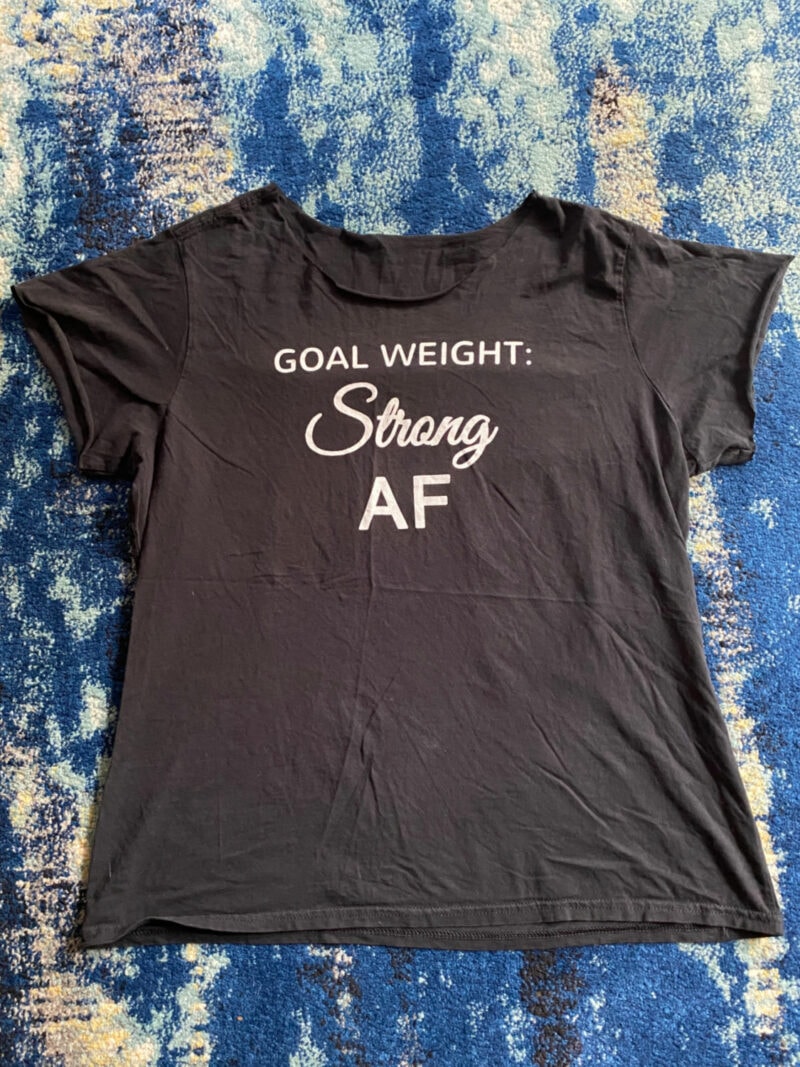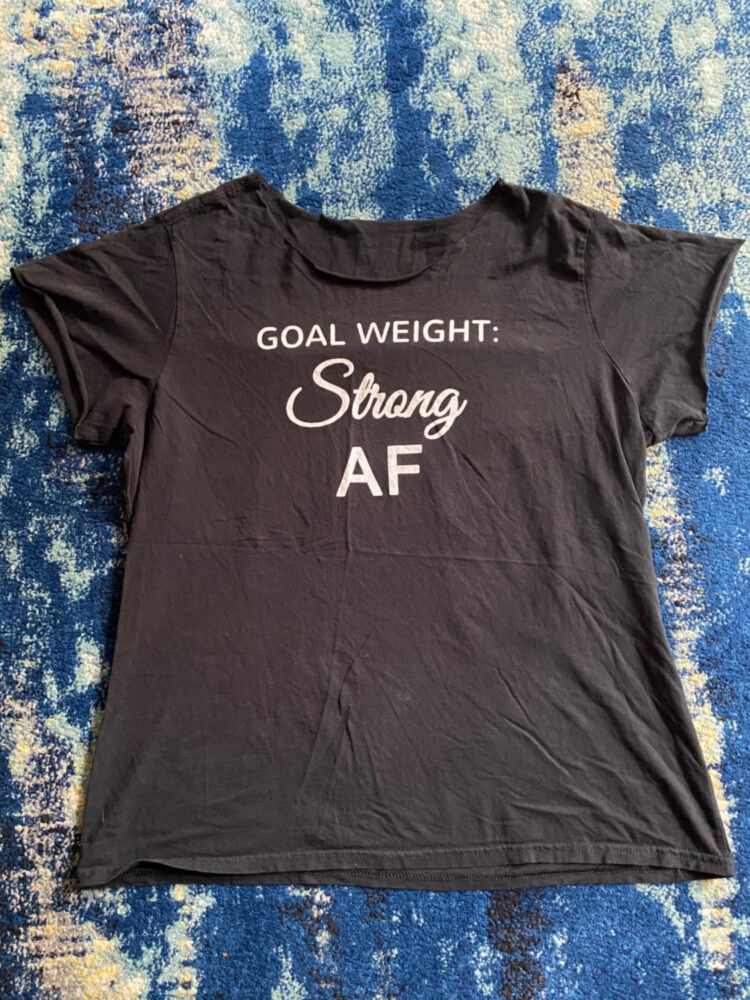 Put on the shirt with any undergarments you would wear with it. Check yourself out in the mirror. Wish the neckline was a bit more open/boatneck? Wish it would scoop lower in the front or back? Think more of a v-neck line would be better? You can do this and more… but you need to go slow, take off slivers at a time, keep the shirt rightside out (so you are always aware of the location of the graphic), tug to curl after each snip, and try on again after each snip.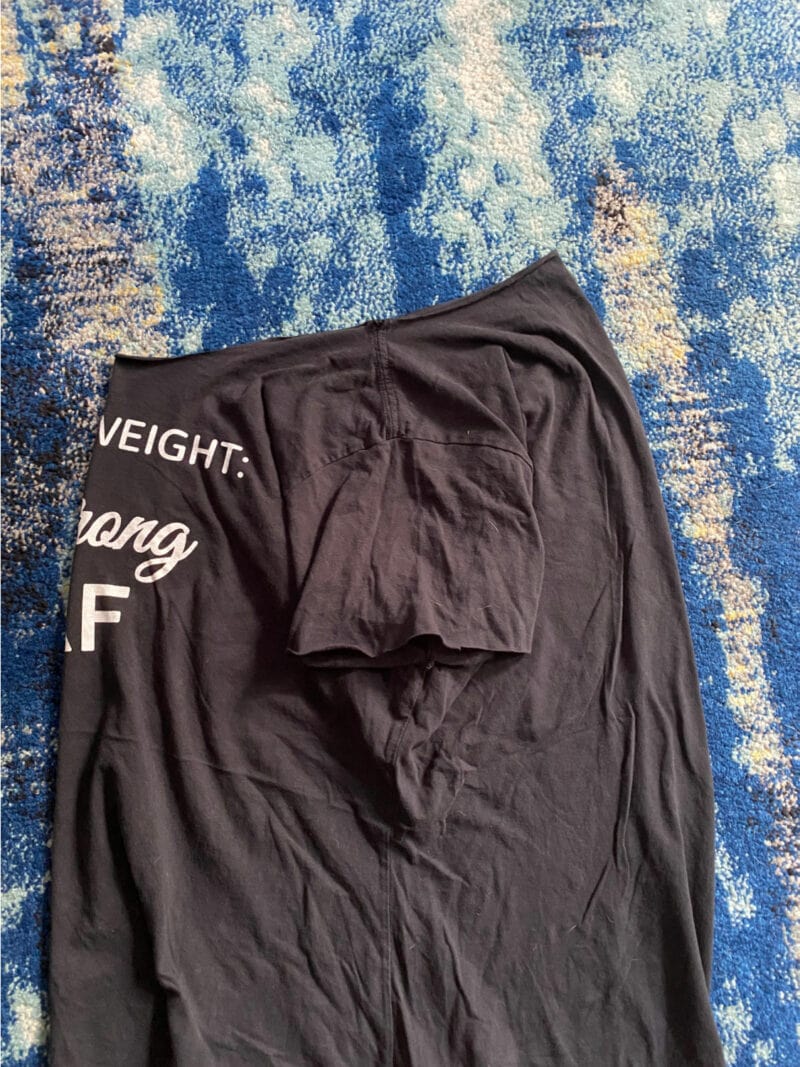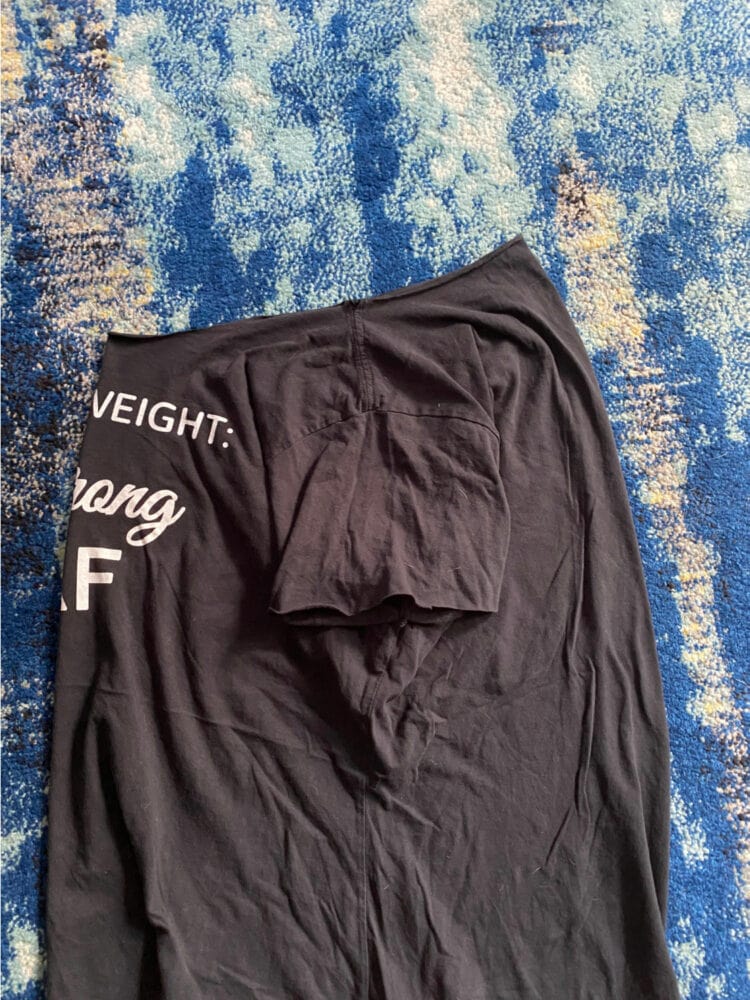 I usually desire a bit more of a scoop in the front. To do that, I have the shirt right side out, and match up the shoulder seams so the "front" of the shirt is the sleeve, not the graphic. Then with a tailor's marking pencil, a bit of bar soap, or even the more crumbly sidewalk chalk, I'll draw a little smaller than what I think will be the right angle.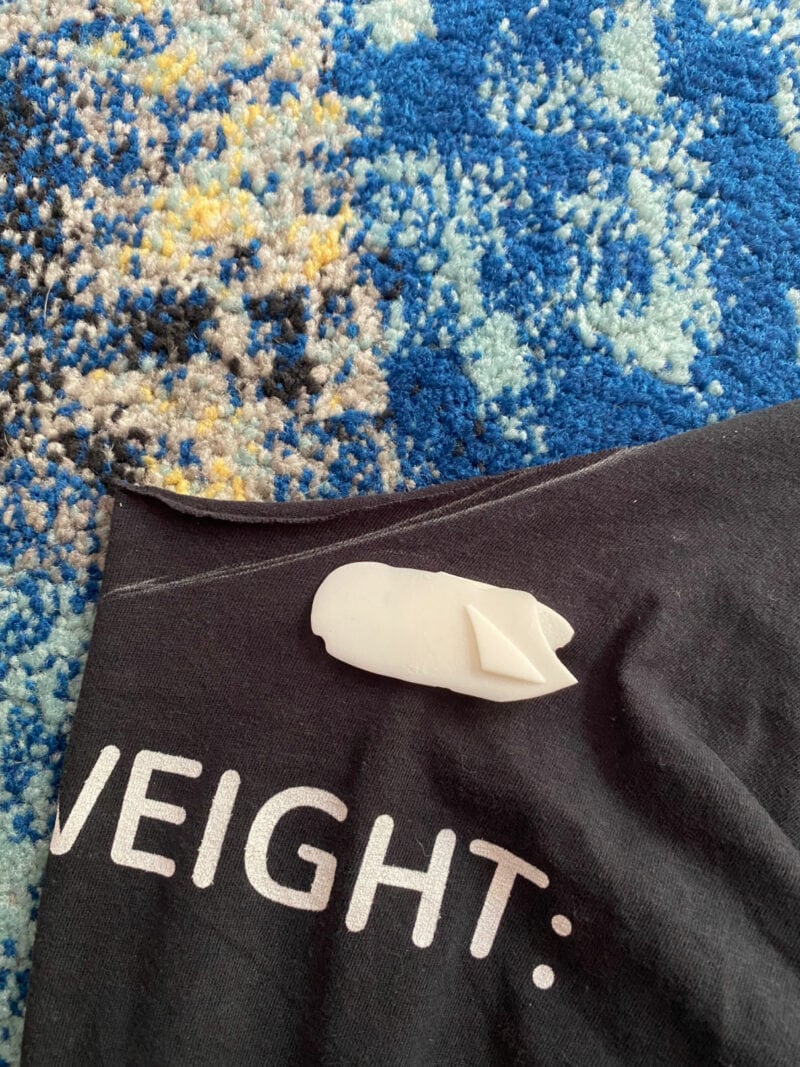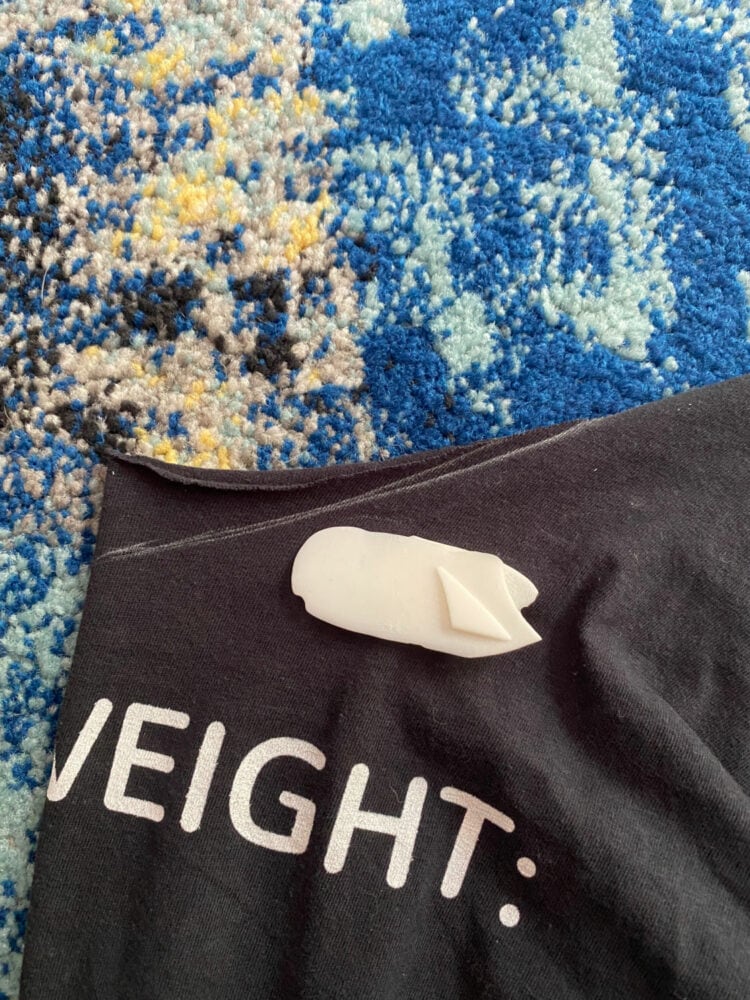 Note I said angle, not width. Imagine you're cutting the thinnest of slices of a pie. It will be thicker at the crust, and get thinner until it makes a point at the center of the whole pie. You may be drawing a line 1/4″ from the center of the neckline but you'll angle it getting thinner and thinner until it ends, likely an inch or so before the shoulder seam. Cut on the outside of your mark so nothing is left on the t-shirt. Tug to roll, try on again.
If you want your shirt off the shoulder, I have had more success with cutting another "pie" off the back of the shirt and tugging and trying it on before cutting wider into the shoulders. Try this first, but be conservative as we are all shaped differently and what works for me may not work for you.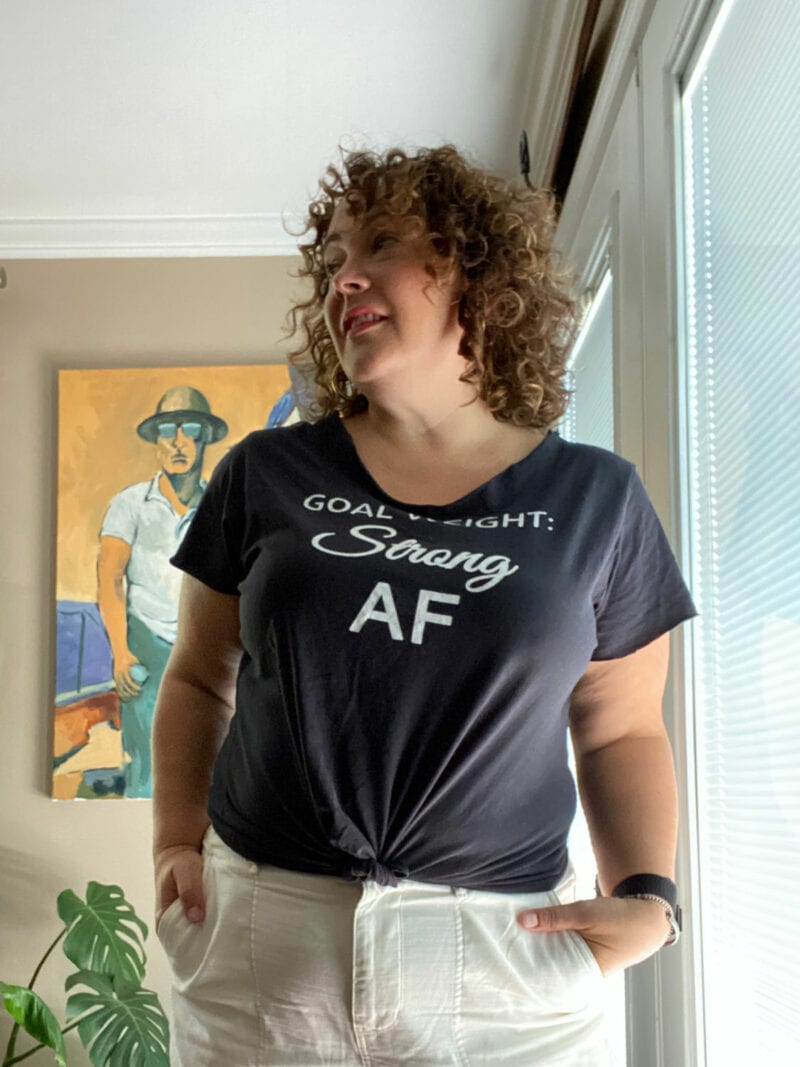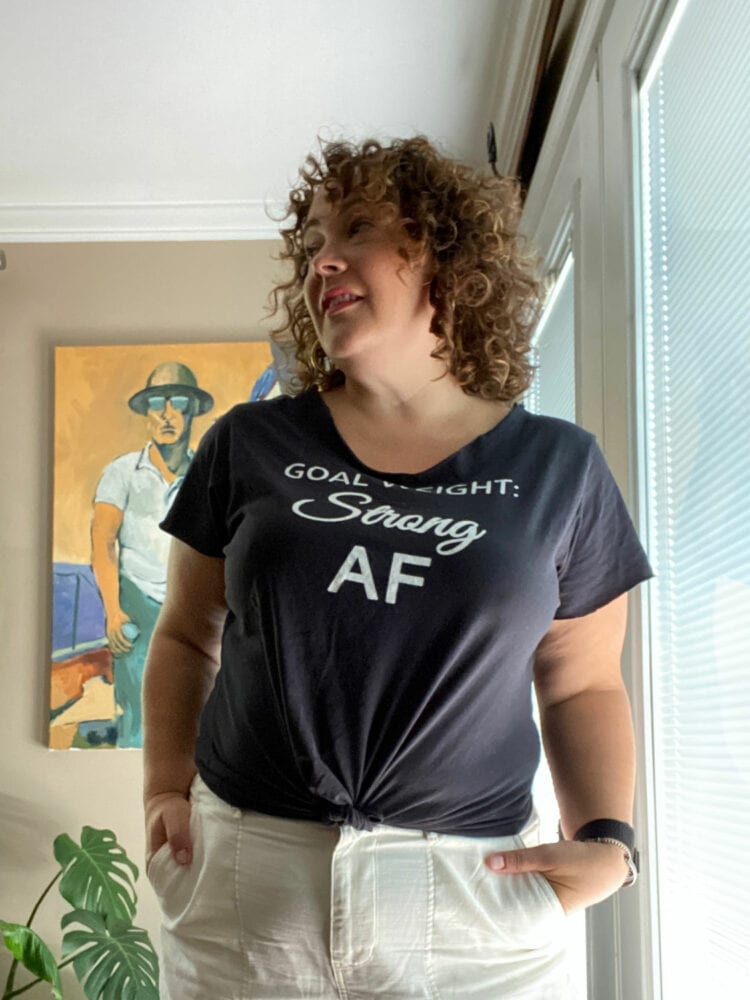 Before you trim again, tug it a bit more; t-shirts are super stretchy without their seams and you very well may not need to do anything more to get what you desire. In fact, if you're unsure wash your shirt before going further. Frustration and uncertainty have destroyed many a t-shirt.
How to Shorten a T-shirt That is Too Long
Like sleeves and necklines, a cut hem of a t-shirt will roll, and unless you're just trimming off the hem, cropping it, tying it, or tucking it in, this can look messy (and can roll more, especially if the shirt is fitted over the stomach). However, some standard-issue t-shirts for jobs, teams, fun runs, and family reunions can end up looking like dresses without some modification.
To ensure this is done evenly, I press my t-shirt so it is as smooth as possible, and use straight pins to have the front and back stay together. Use a ruler to draw dots with a tailor's pencil, chalk, or soap the specific amount you want off (remember to be conservative because the shirt WILL roll up), and then use the ruler to connect the dots. Cut with the t-shirt against a table or flat surface. Do NOT tug to roll when finished, you want it to roll as little as possible.
If your shirt is a bit too snug, try trimming off just the hem of the shirt. Use the same process I used for the sleeves. just removing the hem will loosen the shirt, and a couple of tugs here and there can make a meh shirt look and feel wow. The hem will roll, but if the shirt isn't so snug and you haven't shortened it a lot, it shouldn't roll up too much.
How to Make a Unisex T-Shirt Sleeveless
Learn from me, you can't just cut off a shirt's sleeves and think it will look cute. This is better with a shirt 1-3 sizes large and knowing you'll want to wear a cami or cute bralette underneath because it will gape.
Just like with the neckline, cut right along the shoulder seam, removing the seam along with your sleeve. Again, I do not recommend tugging to roll; it will do it on its own a bit but you don't want to encourage it or make the arm openings any wider.
I do like cutting out the neck of a t-shirt, cutting off 2-4″ of the hem, and then the sleeves for a cute top to wear with a sports bra for working out and outdoor activities. This can also make for a cute layer over a dress or jumpsuit.
How to Knot a T-Shirt Without that "Penis" Sticky-Outie Part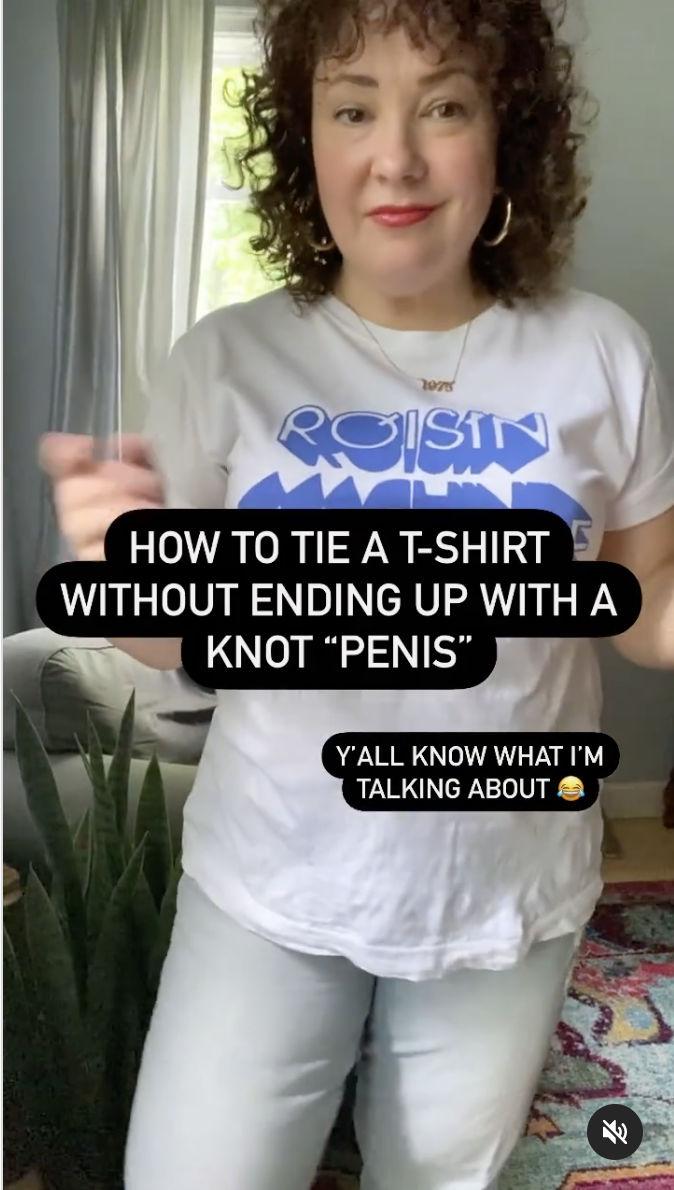 I know you know what I'm talking about. You grab your shirt's hem and loop it around itself to knot it. It looks great… except for that appendage sticking out. My video above and linked here shows how I knot my t-shirts by creating two "tails" and tying them in a knot. After laundering, the shirt goes back to its original shape.
This works especially well on shirts where the hem is cut off; if you know you will be wearing your t-shirt in such a manner every time you may wish to just snip off the bottom hem to get more stretch for a t-shirt knot.
If you plan on always wearing your shirt knotted, slice the shirt from the center of the front bottom hem up about 3″ and tie! For visuals, see the second bulleted video from Vintage or Tacky that I link below.
Final Tips and More T-Shirt DIYs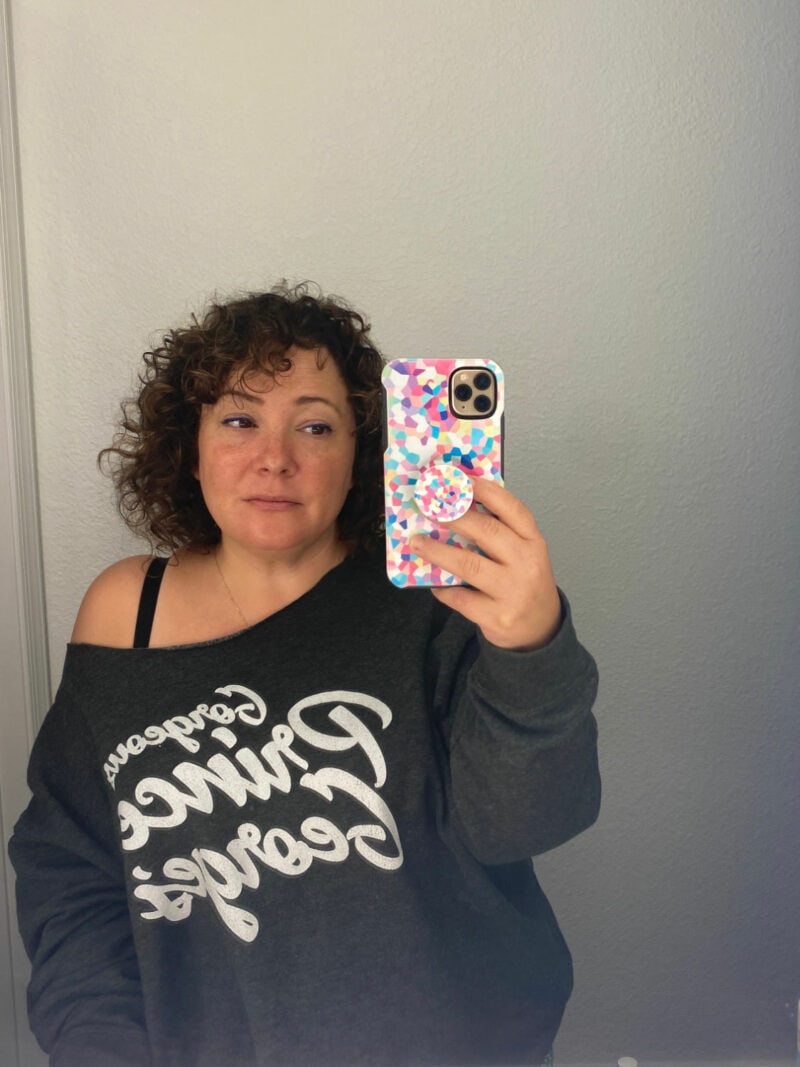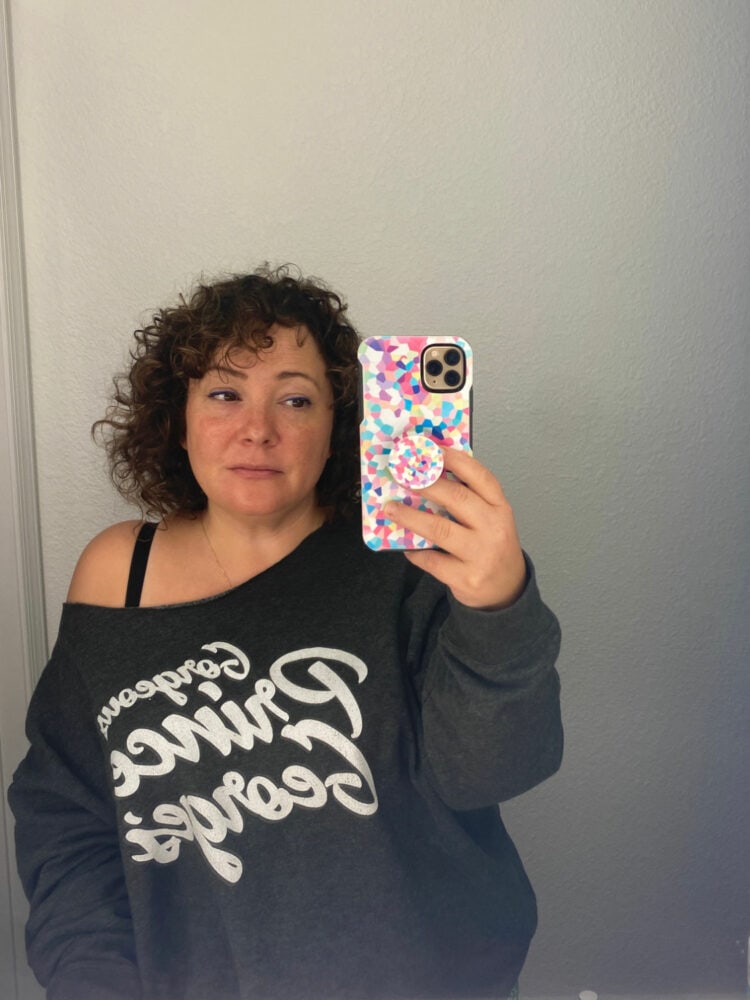 I am very conservative with cutting my t-shirts for a more feminine shape because I have been burned in the past. Nothing worse than snipping too much off a t-shirt you love and make it something you hate. Don't be afraid to just cut off the sleeves and/or neckband and sit with that for a while. Wash it, tug it, get to know it before you go further.
Consider taking a t-shirt you don't love, or one you thrifted or scored from Freecycle or your local Buy Nothing group to test out these methods before going to town on your beloved band tee. Who knows, that meh shirt may DIY into your favorite top!
Cut your t-shirt in a well-lit room and try on in a well-lit room with a clean mirror. If you're using scissors that also cut plastic, paper, etc. prep them by cutting folded up aluminum foil; this will clean and sharpen them a bit. Do not modify your favorite t-shirt while under the influence of drugs, alcohol, heartbreak, or TikTok.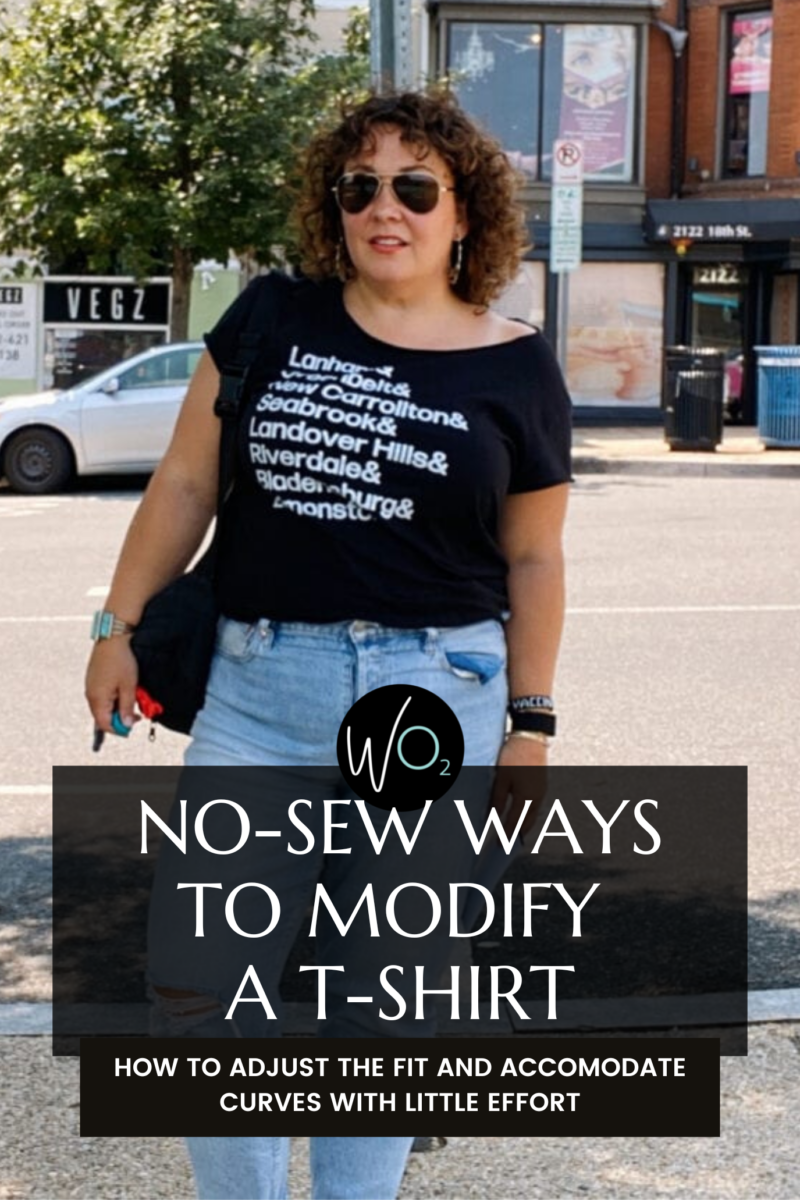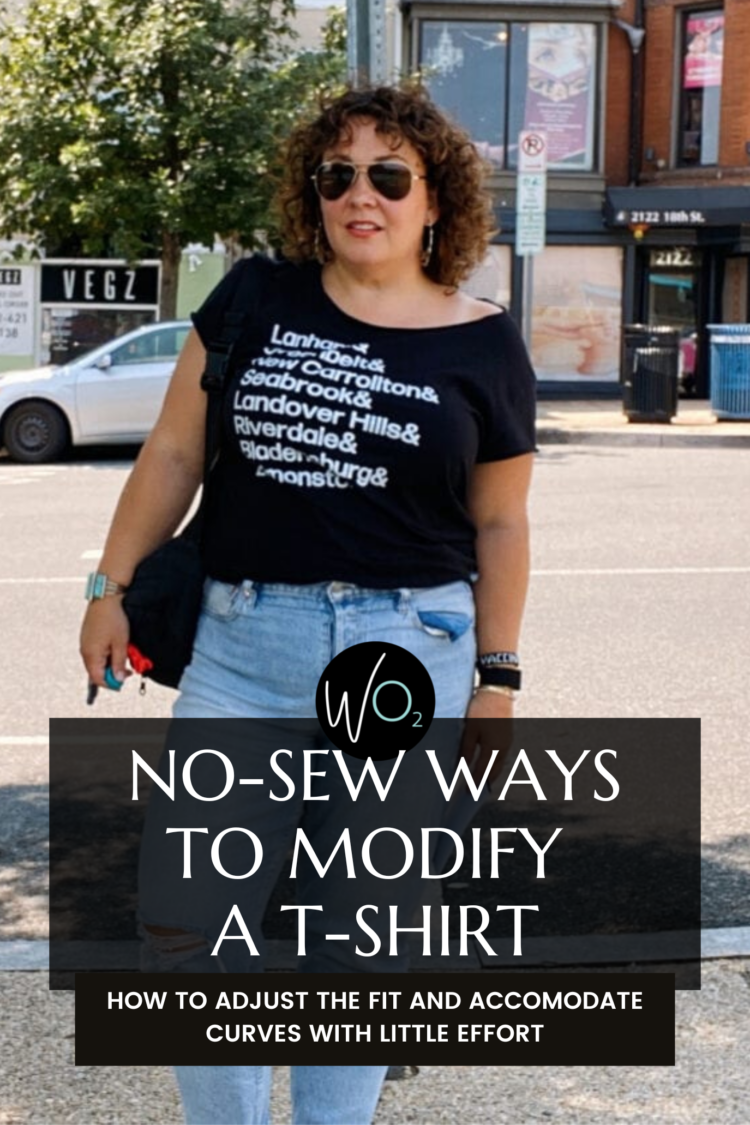 More T-Shirt Modification Tutorials:
If you're looking for ways to get supa dupa creative with your t-shirts, here are some fun tutorials I found:
Do you have any no-sew DIY t-shirt modifications I didn't cover that you love? Please share them in the comments! This post was originally published in 2021 but due to recent interest, I updated it for 2022!