This article may contain affiliate links; if you click on a shopping link and make a purchase I may receive a commission. As an Amazon Associate, I earn from qualifying purchases. 
While Emerson did Trick or Treat last year, she was too young to fully understand it. This year… she got it. She was so excited for the whole event – wearing a costume, going from door to door, saying, "Trick or Treat!" and being able to be outside when it's dark out.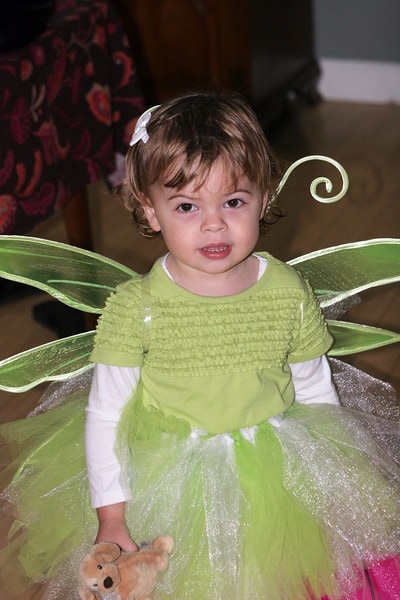 Emerson as Tinkerbell at the birthday party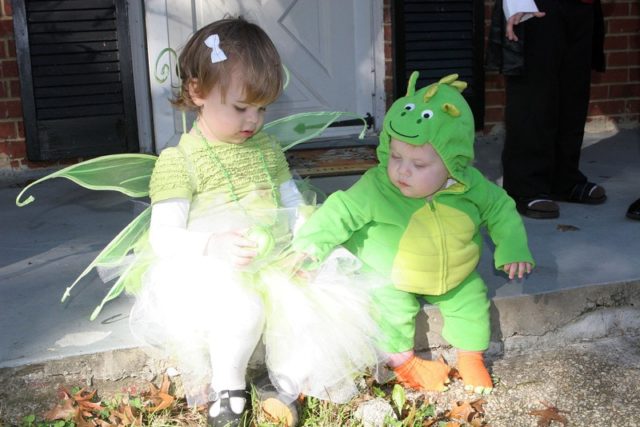 Emerson and our good friends' son E
Emerson had a costume birthday party to attend a couple weeks ago, she went as Tinkerbell – my sister made her a fabulous green tutu, we put her in white tights, a green top, and green wings. The wings got pretty beat up at that toddler fete, but I figured would be fine for Halloween as well.
Yesterday I got off work and saw as I was driving home that kids were already out in full force. I ran inside, grabbed Emerson who was wearing a black long-sleeved tee and black leggings and just put the tutu on over that. It was cold out, so I put her in a white faux fur coat that her Aunt Debbie gave her as a Christmas gift last year. Wings on top of that. Plastic pumpkin basket and a "magic wand" and we were ready to go out!
As that we were in a rush, I only captured pictures of Trick or Treating via my phone…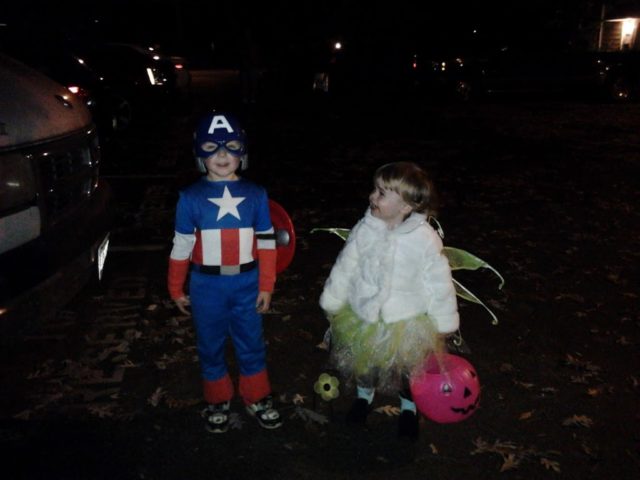 Emerson and her best friend Captain America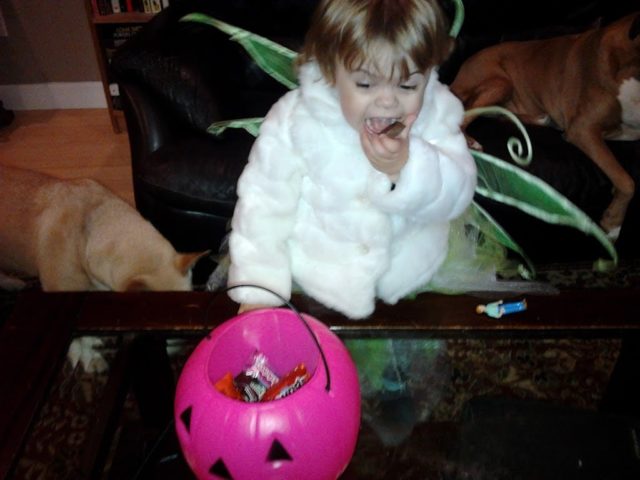 Digging in to her first-ever Reese's Peanut Butter Cup
We didn't go to a lot of houses – about six in our court, three in the court across the street.  We were going to visit a third court but it required us walking past our own home, and Emerson decided she wanted to Trick or Treat Daddy, who was home passing out candy!
Follow Me | Twitter | Facebook