This article may contain affiliate links; if you click on a shopping link and make a purchase I may receive a commission. As an Amazon Associate, I earn from qualifying purchases. 
I love your blog thank you for all the great advice! I was wondering if you had any tips for wearing ankle booties for curvy ladies? I love the look of them but can't seem to make them work on my size 14 body.

I have big calves like you, how can I make ankle booties work?

Can plus size women wear ankle boots? I want a pair but don't want to look stupid.
This is a tough question to answer because each woman is built differently. However, I will assume that you're asking me because you do have thicker legs, which is making such booties not look the same on you as they do on a model or another blogger. As a curvy woman with large legs, I steered clear of ankle booties for a long time because they cut me off at the slimmest part of my leg and emphasized my large calves. And then I tried a black pair with black tights and loved the look.
After owning that one pair of black ankle booties, I got more bold with them. I wore them without tights, with jeggings, with maxi skirts… and I even bought a pair in a different color. Now I own a couple different styles of shooties and ankle booties and will share what I have found to make such footwear look good on my curvy frame:

THE BEST ANKLE BOOTS FOR THE CURVY WOMAN

Accept You Will Never Look Like the Model. I don't care if you find a pair of booties with the baggiest opening, they will never look the same on you as they do on a woman with calves half your size. This isn't a bad thing. Again, we women come in all shapes and sizes and I believe we all deserve to have fun with fashion. Embracing your shape makes it far easier to successfully rock trends like ankle booties. Don't try to look like the model… try to look like you.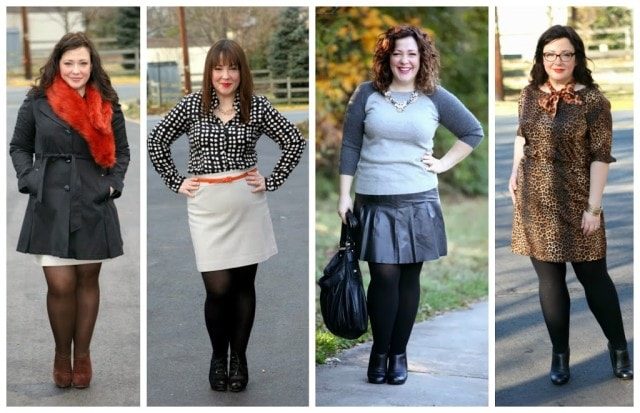 Wearing ankle booties with the same color opaque tights to create a continuous line
Create a Continuous Line. If you feel that an ankle bootie cuts you off too much, consider wearing it with opaque tights in the same color. I have brown ankle booties I wear with brown tights, and two different pairs of black booties I wear with black tights. It's less extreme of a look and lets you wear the trend without it wearing you.
Wearing ankle booties under jeans, jeggings, and skinny pants
Over, not Under. A hot look is skinny jeans or leggings tucked into a bootie. This bootie is usually loose on the ankle, making the model's legs look even longer and slimmer. However, when you have thicker legs and more curvy of calves, this has an opposite effect. Wearing the bootie under straight, slim, or bootcut jeans or pants (loose enough to not show the bump of the boot top, tight enough for a long leg line) will keep the leg line going, and better show your curves. I have even been able to successfully do this with my Miss Sixty booties and a stretchy legging or jegging.  This styling trick also hides thick ankles and calves, and those of you like me who often find booties don't stay zipped up because of ankle girth.
Wearing my "Gateway Ankle Booties" – the Miss Sixty Jaiden, which has a high slim heel
Go Slim and High. A high and slim heel will lengthen the leg and give your calf a great shape. I have two pairs of black ankle booties – one with a wedge heel, one with a stiletto heel. Both are the same height, but the stiletto booties make me look taller and my legs more shapely. Also, having a great detail like a slim heel will garner compliments and individuals will notice the shoe more than how your leg works with said shoe.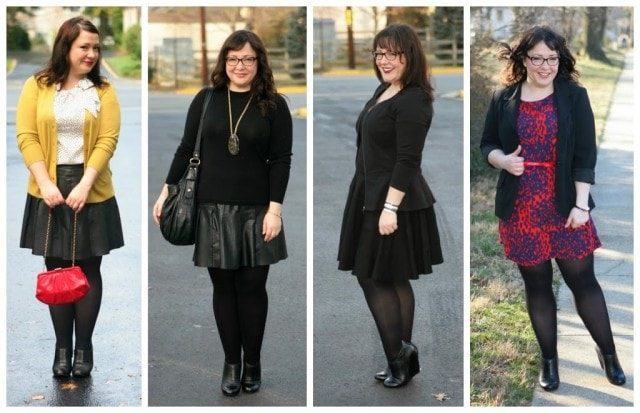 Wearing my Nine West wedge and Cole Haan slim heeled shooties 
Consider a Shootie. A shootie is similar to an ankle bootie, but with a lower vamp. Such styles allow the ankle to be seen, which better shows the flattering curves of your leg. While this style doesn't work as well with the skinny jean look, it works really well with tights and under different styles of trousers and jeans.
Don't Let the Shoe Suffocate You. If your leg is pouring out of the top, don't buy the shoe. If the top of the bootie cuts into the back of your leg when walking, don't buy the shoe. If you think you can stretch out the top of the shoe with wearing to make it look better, don't buy the shoe.
Wear it with Gusto.  If you love them, and wear the best ankle boots with confidence, they will look great.  If you wear them with trepidation, it will show and look awkward.  It's not necessary to adapt popular trends to look fashionable, a stylish woman knows which trends to embrace and which to ignore.  Wear if you love it, and let the world know it!