This article may contain affiliate links; if you click on a shopping link and make a purchase I may receive a commission. As an Amazon Associate, I earn from qualifying purchases.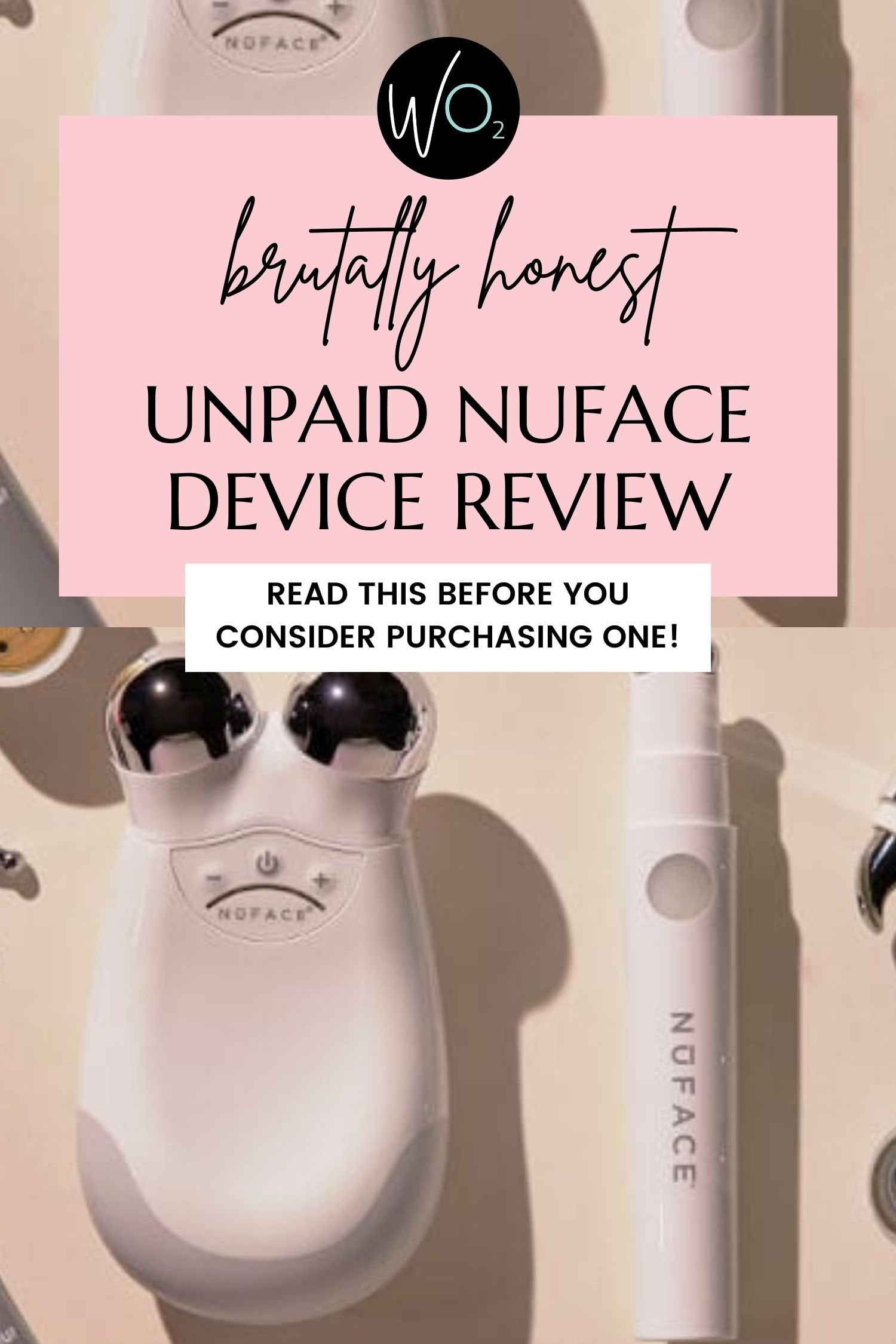 I was reading Bobbi Brown's interview with Into the Gloss and she mentioned she used a NuFACE device. I follow Brown on Instagram and she looks great – she doesn't look 25, but she glows and looks healthy and cared for. I am over 40 and seeing gravity affect my skin; I ordered a NuFACE mini device hoping for the same results as Bobbi Brown. I didn't want to write this negative nuFACE review but I pride myself on being honest on Wardrobe Oxygen.
This NuFACE review was originally published in 2016, but has been updated as I ordered from NuFACE two more times over the following years, and wanted to share my thoughts on those devices, and why I still have this as a negative NuFACE review.
Get Ready to Turn Back Time: A NuFACE Mini Review for Women Over 40
Other than a tough year in middle school, I've had pretty good skin. I worked for a skincare company after college so I learned early the benefits of regular cleansing, polishing, and protecting. However, I was a sun worshipper and spent a good percentage of my college years inside a tanning bed. I had my first sunspot at age 29 but things changed once I turned 40.
It seemed as though my skin changed overnight once I turned 40. Suddenly I was dealing with dry patches, loss of elasticity, and wrinkles. Creams and serums that plumped and hydrated didn't seem to be as effective.
I went to a dermatologist to get a full-body scan (a very… exposing experience but one I recommend to get a very detailed check) and asked about Retin-A and red light therapy. Many of you have recommended it for improving skin. My doctor suggested Differin as a budget-friendly alternative but I didn't see the results I desired and hated how it made me so photosensitive.
Then I was reading Bobbi Brown's interview with Into the Gloss and she mentioned NuFACE and I was intrigued.
What is NuFACE?
NuFACE is a microcurrent device. This device does exactly that, sending microcurrents to the skin. But it also works towards helping tone the skin and lift jowls, contouring the jawline, reducing nasal labial folds and wrinkles, lifting eyebrows, and opening eyes. It's essentially supposed to increase collagen and elastin and reduce the appearance of fine lines and wrinkles.
The full-sized NuFACE is almost $400 which is completely outside my price range, but I researched and many said the NuFACE Mini was just as effective and almost half the price.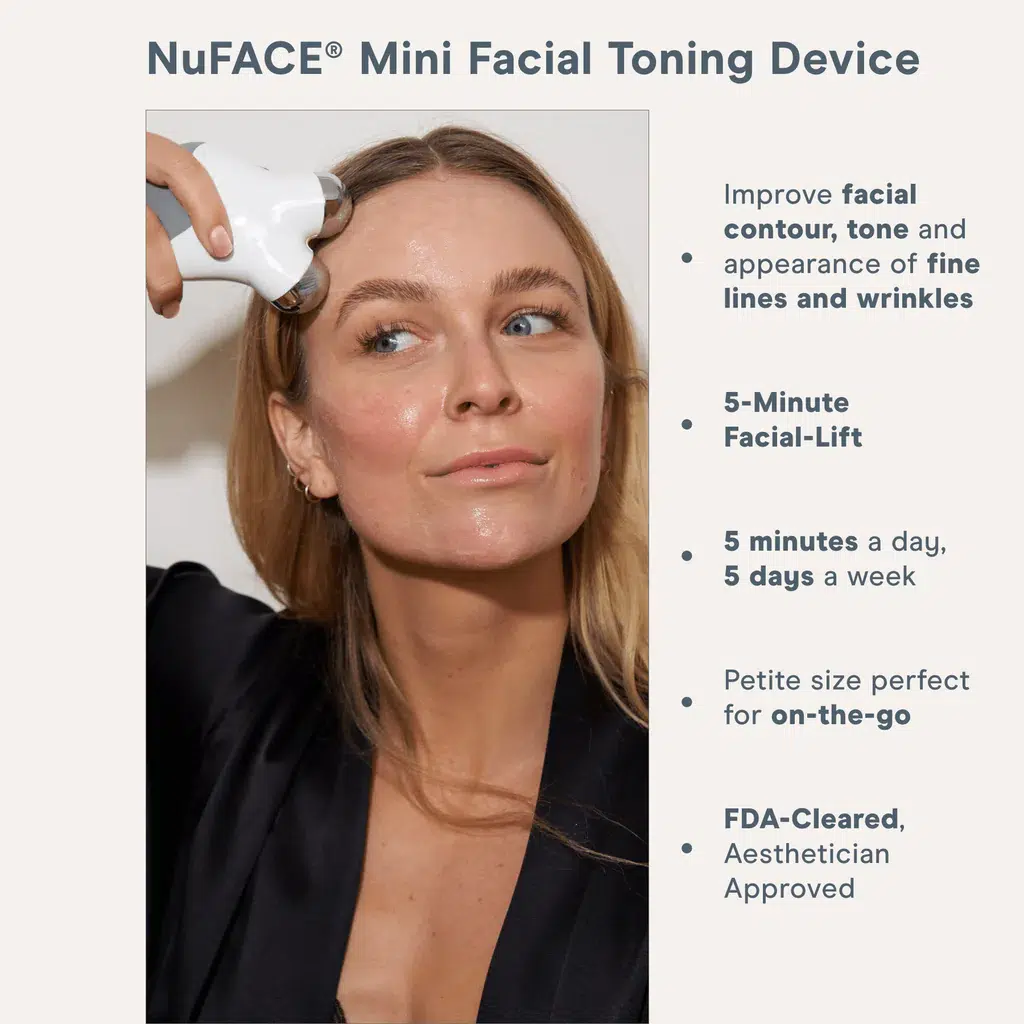 Selling anywhere between $160-$250 on sites such as Amazon, QVC, Ulta, and Sephora, I chose to buy it from Nordstrom knowing that if I had an issue with it I could easily return it without a return cut-off date. The NuFace is regularly part of the Nordstrom Anniversary Sale and a good time to purchase it for less.
This is a long but detailed video from when NuFACE Mini was featured on QVC and one of the few videos where the models aren't 25. It explains the difference between the original and mini and shows how microcurrents work.

The NuFACE Mini comes with a palm-sized device, a charging cord, a tube of their gel primer, and a laminated card with the general 5-minute daily routine to complete with the device. If you download their app (advertised in the package), not only will it send you notifications when it's time to do your treatment (optional), but it has videos for more elaborate treatments.
To use the NuFACE, you must first cover that portion of your face with their gel primer, which has a consistency similar to aloe vera. The laminated card and videos on the app are very clear to follow.
How to Use the NuFace Device
I charged the NuFACE Mini for 24 hours before first use, and plugged it in to charge overnight every few days a week for maintenance. The NuFACE Mini is set to turn off after five minutes; when getting familiar with the device or if you wish to do the more elaborate just turn it back on and keep going (this is one of the things different between the Mini and the full-size version). You can safely use the device for up to 20 minutes a day.
The NuFACE Mini stays charged for almost a week, but I found it best to plug it in overnight every Wednesday and Sunday to keep it ready to go.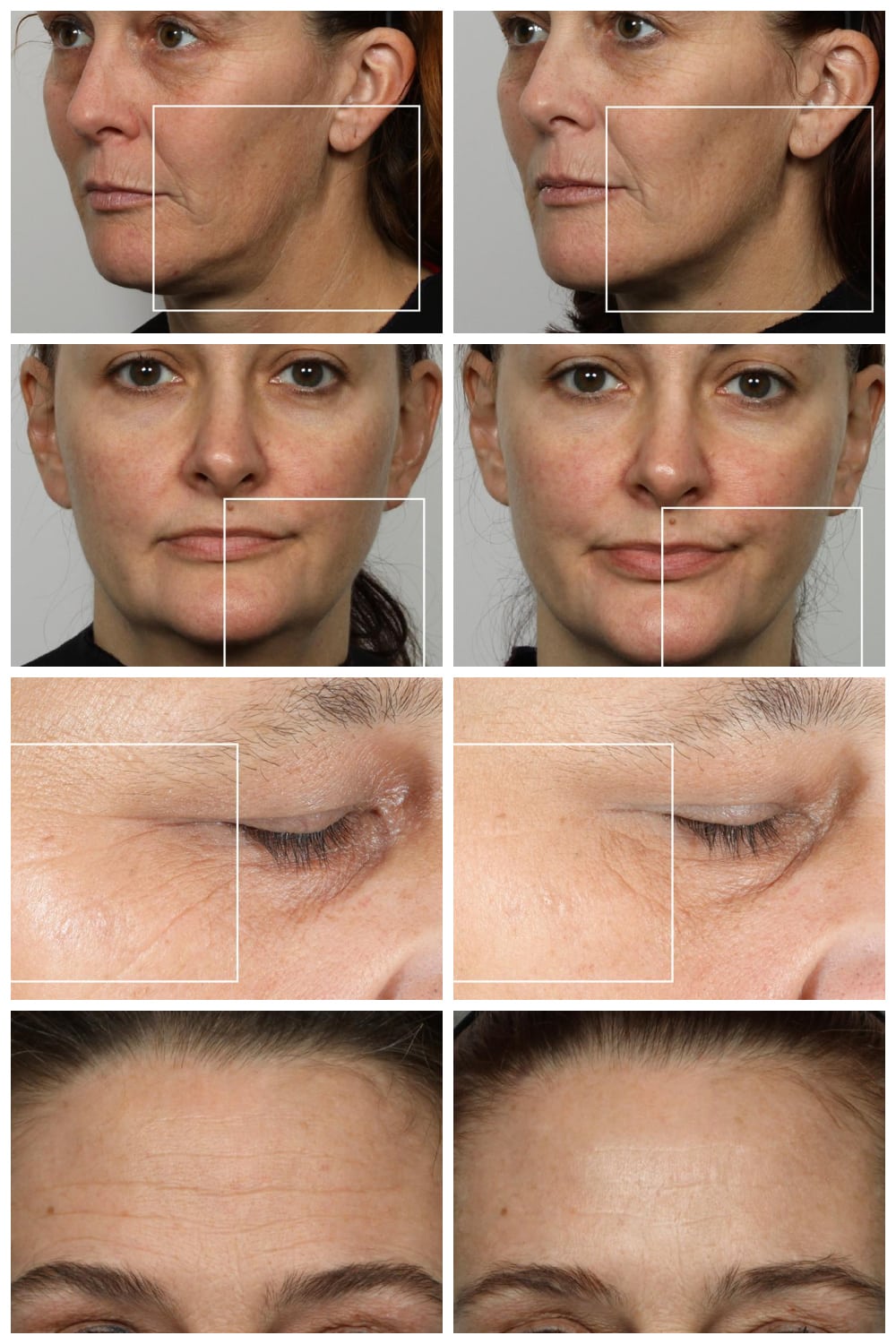 You slowly glide the NuFACE device over your skin and the round metallic balls on the gel make it very smooth and comfortable. When you do the more elaborate routines on their website or app, you may hold the NuFACE in one place for a few seconds, but I didn't experience any pain or discomfort with such techniques.
If you use a thick layer of gel and stay far away from your eye sockets, there's little to no feeling when using the NuFACE Mini. I occasionally had a bit of a metallic taste in my mouth after using but it goes away pretty quickly. If you don't have the gel or have a sensitive part of your face you may feel a slight pinch or twinge on the skin like a hair getting caught in a spring.
NuFACE makes it hard not to use the product correctly. With information leaflets in the packaging, an app, and plenty of tutorials on the NuFACE website, you are armed with all the information to have success with the NuFACE device… that is if it works for you.
Does the NuFACE Work?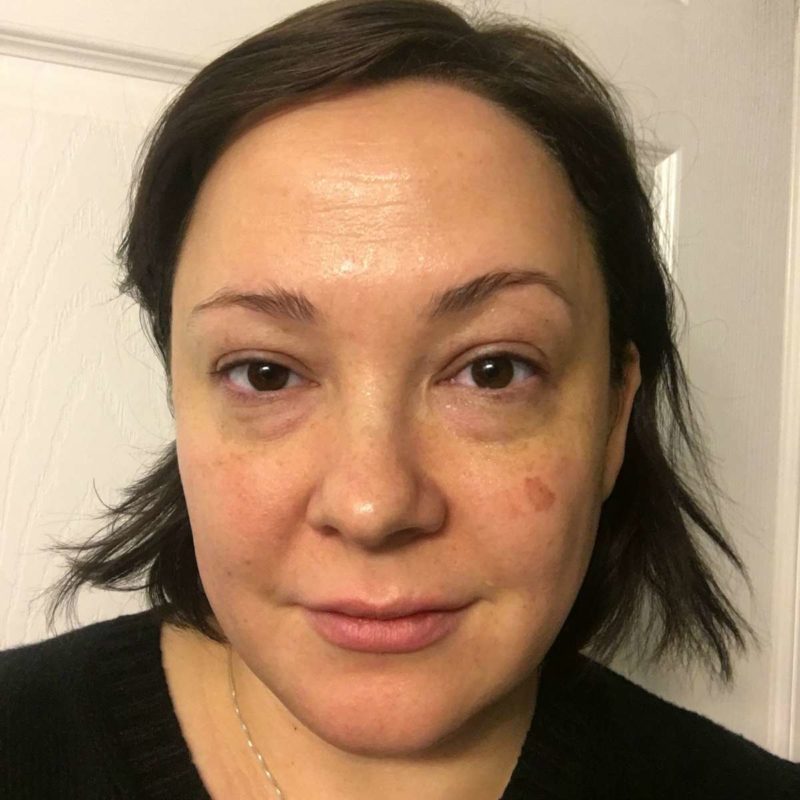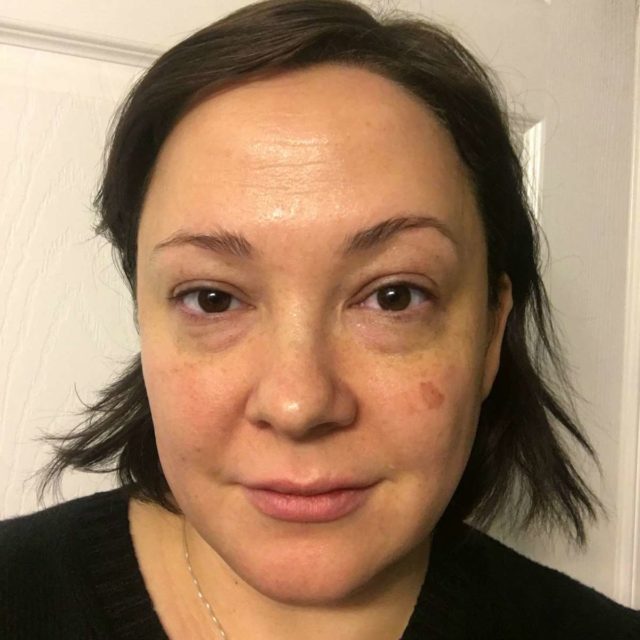 So, Alison, this is all fine and good, but does the NuFACE work?
Before writing this review, I used the NuFACE mini daily for over two weeks before sharing my thoughts. It frustrates me to read glowing reviews on items and then find the person only used it long enough for the glamour shots in their bathroom. I wanted to be sure I gave the NuFACE enough time, and that I could honestly see lasting results (or no results) before ranting or raving.
Yes, the NuFACE Mini does work. It worked well for me. I could do one side of my facial muscles and it would look as though I was half-smirking and raising one eyebrow. It reduced the furrows on my forehead and made my jawline more pronounced. My skin in general looked healthier, not so dry, not so flat. I found the results could last up to 48 hours, and the longer I used it, the longer the results lasted.
I would do the 5-minute microcurrent facials most days and when I had time, would go more in-depth and do it for about 15 minutes. But even five minutes five times a week will be enough that people will ask if you've gotten more sleep and maybe changed your makeup. That subtle something different (unless your partner walks in after only doing one side and freaks out and wonders if you had a stroke; may or may not have happened in this household).
The combo of the gel and the machine can cause some serious breakouts if you don't clean very well afterward. I was getting insane deep whiteheads around my mouth and I thought it was hormonal, I thought it was my diet, my new night cream. Then I was reading around online and found many other NuFACE users experienced the same. With a deep cleaning after use, the breakouts stopped. So I NuFACE, wash my face at the sink with CeraVe, and then hop in the shower and wash again with CeraVe or a random facial scrub or wash sample I have.
My First Negative NuFACE Review: Was It a Dud?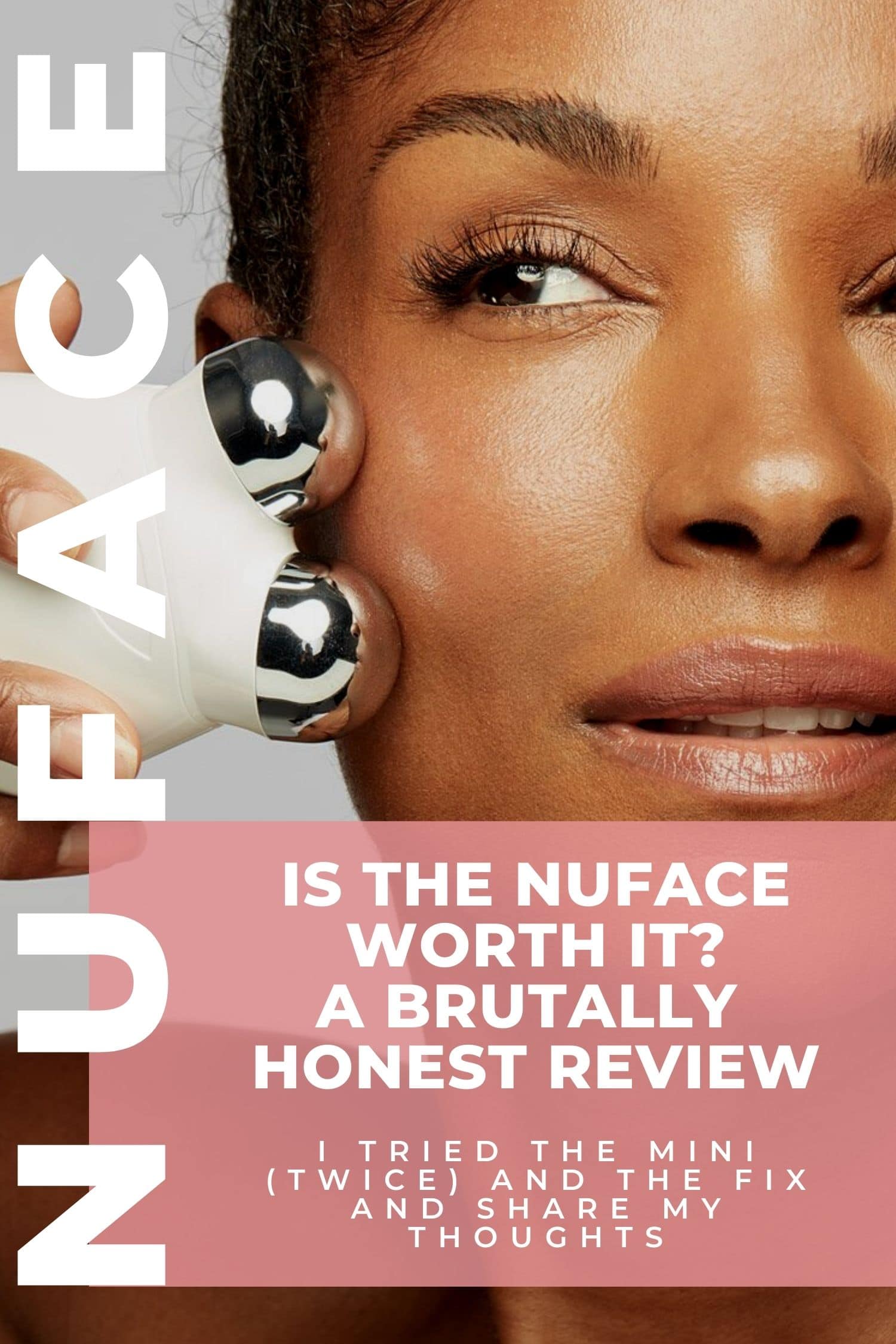 If I wrote this post after two weeks of using the NuFACE device, I would end it right here. It's great, it works, the NuFACE Mini can be purchased at Sephora, Nordstrom, QVC, Ulta, Dermstore, and the NuFace website. But I've been slow with my Over 40 Beauty posts and this time it's a very good thing. Because my NuFACE went from awesome to awful in just a few weeks.
I used it fine for about three months. I couldn't rave enough; while $200 may be a lot at first, the results were better than all the random tubes and pots I had purchased over the years. I saw it as an actual saving and an alternative to Botox and other injectables.
After a few weeks, my NuFACE Mini seemed to lose its charge earlier than usual. I plugged it in; it ended up charging for two days straight. It wouldn't turn on again. No light, no beep, nothing. I was frustrated, how could an item this expensive (and raved about all over the place) break down after just a few weeks? I left it on the top of my toilet and figured that weekend I'd box it up and return it (this is why I bought it from Nordstrom after all).
A few videos I captured of my first NuFACE Mini facial toning device before I packed it up and sent the possessed thing back!
I didn't get around to returning it promptly, the NuFACE Mini sat uncharged on my bathroom counter for over a week. Then one day my daughter was taking a bath in our bathroom and she started screaming. I race up the stairs fearing the worst. "Mommy your machine is beeping!" And sure enough, the NuFACE Mini, which was silent for weeks, was beeping the way it does when it needs a charge.
So I plugged it in again, excited it was working again. I waited 24 hours, tried it, and still it wouldn't turn on. I left it there and plugged it into the charger.
That night around 3 a.m. it started beeping. Beep beep, be-buh-la-la-beeeeeppppp beep. Beebeebeebeebebeeb… I went in and all the blue lights were flashing in different patterns! I unplugged it and it stopped… and wouldn't turn on. I left it unplugged and went back to bed.
That morning around 5:30 am my alarm went off and I, half-asleep, wandered into the dark bathroom and sat on the toilet and the unplugged NuFACE started going bonkers again, lighting up the bathroom with blue strobes. I was no longer half asleep! I turned it off and it was quiet for a few days… but then Monday night while brushing my teeth it started going off again! My NuFACE was possessed!
I packed up the NuFACE and sent it back, worried the package would be destroyed before it got to Nordstrom, with USPS thinking it was a bomb. But Nordstrom sent me an email that they received my return and credited my account.
I figured my NuFACE device was a dud. I kept seeing so many positive reviews, it had to be an accident. So when the Nordstrom Anniversary Sale came around the following summer and I saw the NuFACE Mini was part of it at a great price, I ordered another one.
My Second NuFACE Mini Review: More of the Same
Almost a year later, my second NuFACE Mini arrived in the mail. And again, I was impressed by the results after the first use. The NuFACE does a great job of lifting and tightening without pain or discomfort. I felt such confidence, my face looked younger and more rested.
And again, three months into owning my second NuFACE, it became possessed. It wouldn't turn on when I wanted to use it but would start beeping with lights flashing in the middle of the night, even if it hadn't been charged for a week. Again, I returned the nuFACE, glad I purchased it somewhere with a lenient return policy.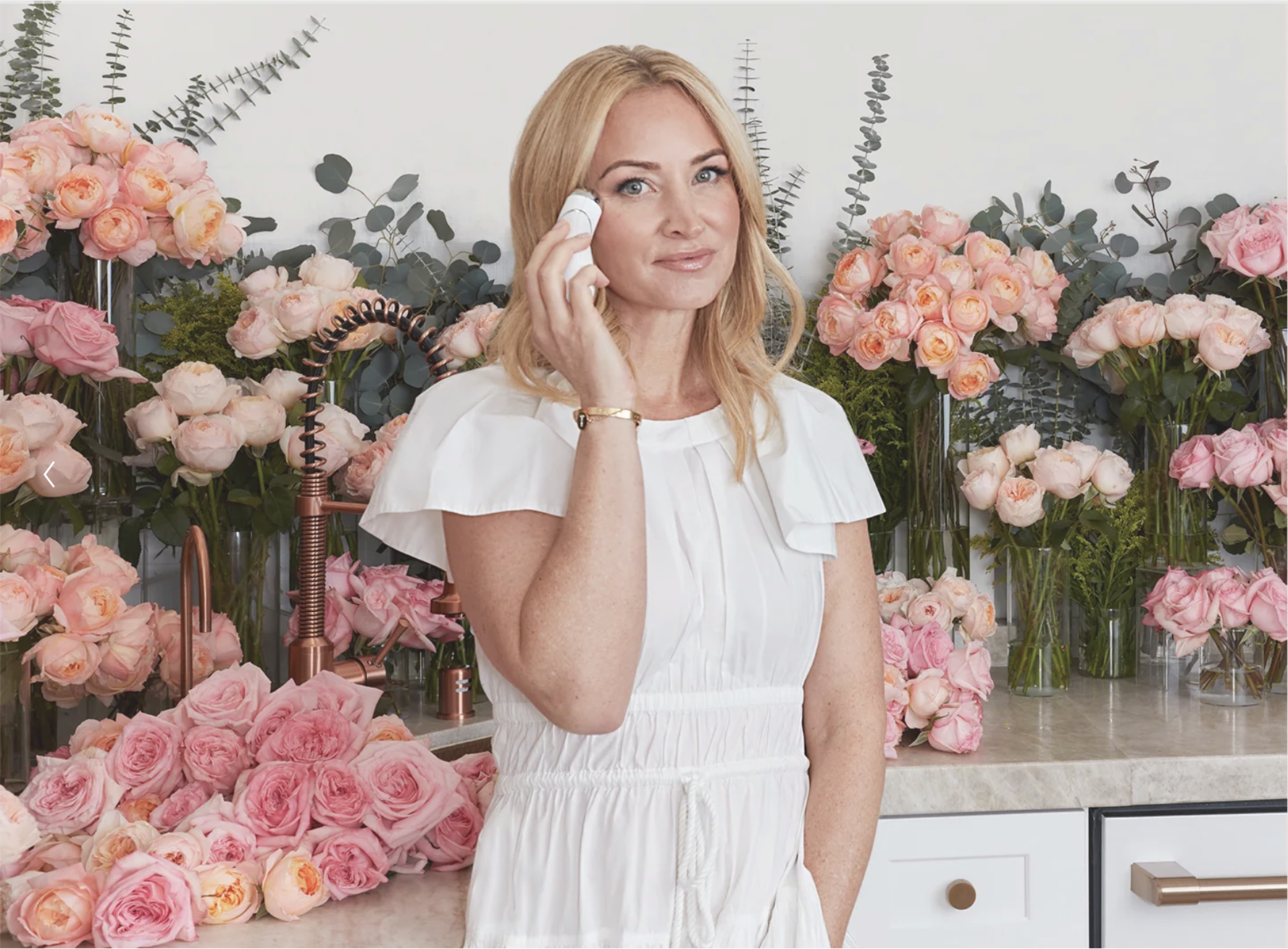 My NuFACE The FIX Review: Third Time is NOT The Charm
Maybe I am a glutton for punishment, but a good year after my second possessed NuFACE Mini, I saw many of my favorite Instagrammers, YouTubers, and bloggers raving about the NuFACE FIX.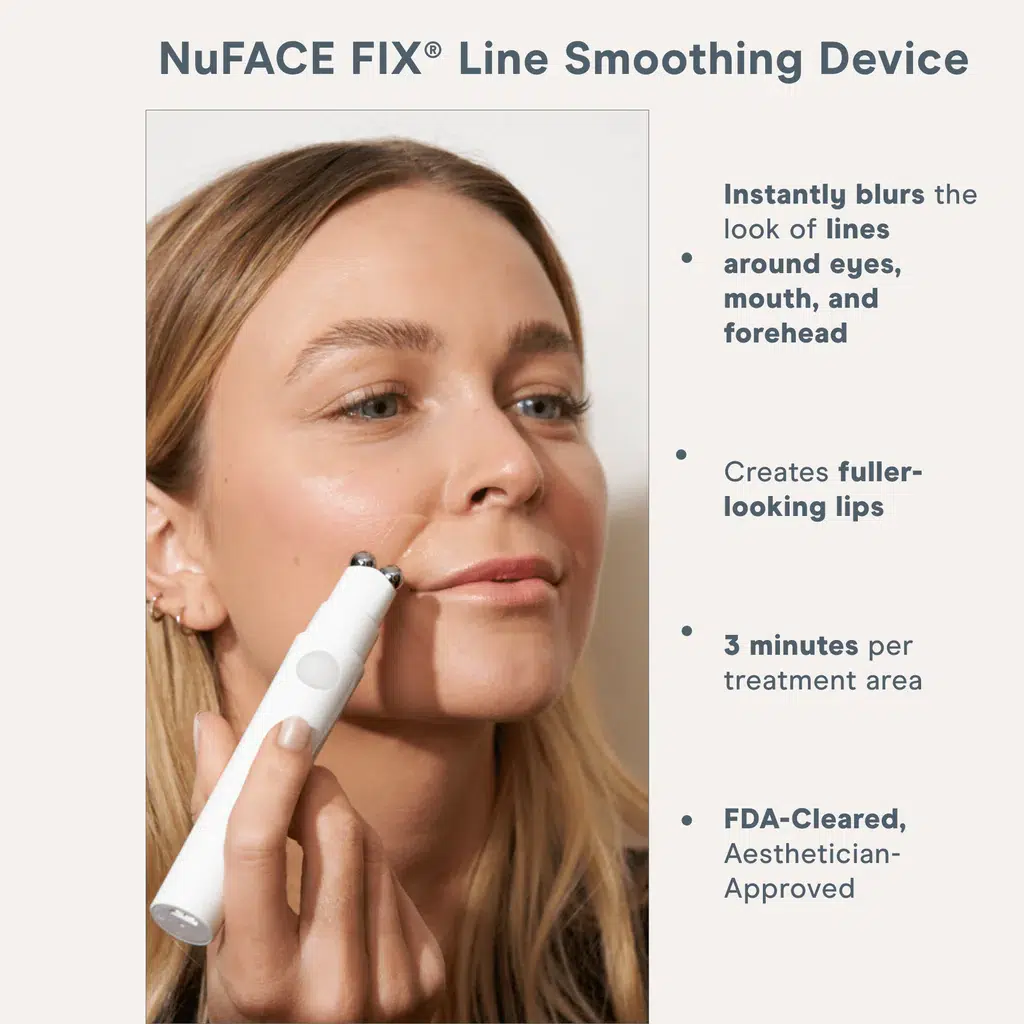 Over $50 less than the NuFACE Mini, the NuFACE FIX is a smaller device that specifically targets fine lines and wrinkles around the mouth, eyes, and forehead. During a Sephora sale, I ordered myself a NuFACE Fix figuring the brand got its act together and its microcurrent technology would last longer than three months.
Nope, in less than a month, the NuFACE FIX stopped working. If you look at the Sephora reviews, you will see several others had the same thing happen. Luckily it happened early enough that I could return it to Sephora.
Why I Do Not Recommend the NuFACE
Since my experience trying three NuFACE devices, dozens of Wardrobe Oxygen readers have reached out sharing they had similar experiences with NuFace. They experienced their NuFace devices malfunctioning anywhere from a couple of weeks to a year after purchase.
The NuFACE works. It is a truly effective non-invasive method for dealing with fine lines and sagging skin. However, the technology is not stable enough for me to recommend any of their products.
I question all the rave reviews I have read about the NuFACE. How long did the reviewer have the product before sharing their thoughts? Did they continue to use the NuFACE after their review? What are their thoughts a year after? I recommend you ask such questions with any review you read online, including any reviews in the archives of Wardrobe Oxygen.
If you are willing to take a risk and try the NuFACE Trinity, I recommend purchasing it from Nordstrom or another site with a lenient return policy. Ulta lets you return it beyond 60 days, but only for store credit. If you know of another NuFace retailer with a good return policy do share it in the comments. I hope this device provides you with years of success, but in case you have a negative NuFACE review experience like me, you will be able to get your money back!