This article may contain affiliate links; if you click on a shopping link and make a purchase I may receive a commission. As an Amazon Associate, I earn from qualifying purchases.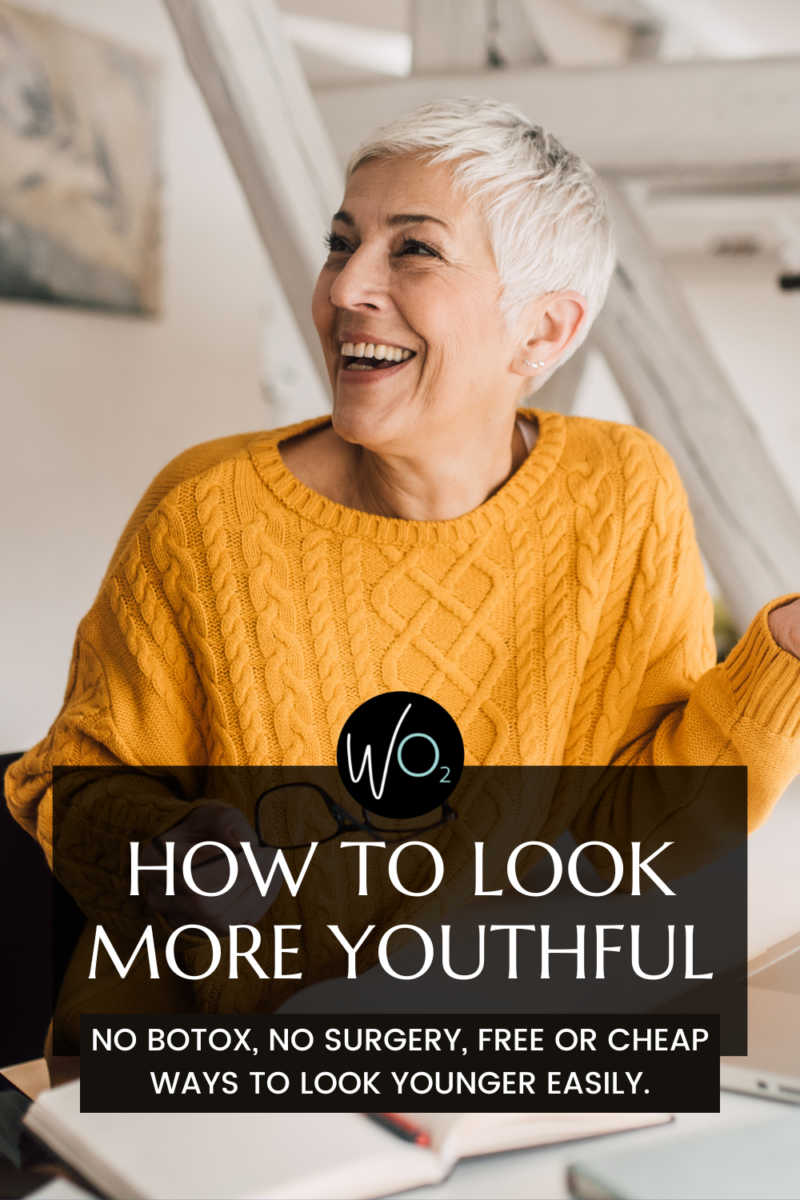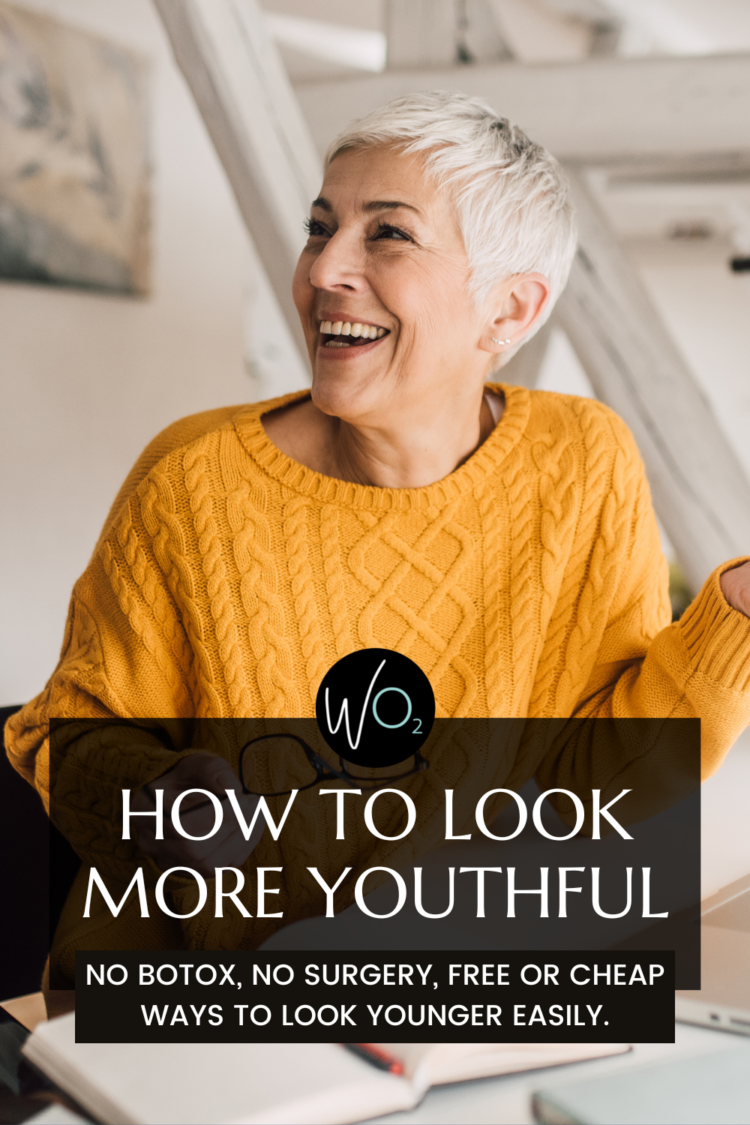 Recently in the Wardrobe Oxygen Community on Facebook, a member said she was mistaken for being older than her age and wanted to know how to look more youthful without injectables or cosmetic modifications. As we all told this individual, the issue is with the other person, not with her. She's fabulous, and others, especially those younger than us, think anything over 35 is ancient. But if you want to look more youthful, here are some ways I think work:
How to Look More Youthful: My 6 Tips
These are things I believe will change how you look to others without changing who you are. Try one, try none, there's nothing wrong with how you look right now. As always, I offer guidance, not gospel. Also, these tips are focused on the United States culture; I know other countries and communities have different priorities and ideas.
1. Whiter Teeth
I think overly white teeth look weird as heck but as we age (and as we drink more coffee and red wine), our teeth will get duller and darker. Crest Whitestrips are surprisingly effective in not making you have Chicklet teeth, but brightening and whitening and making your teeth, your smile, and you look a bit more youthful. Just know they need to be used regularly to see results and have results remain.
I have the Snow at-home teeth whitening kit. I actually bought this kit back in 2019 and used it until I left part of the kit at an Airbnb. Then this summer, Snow offered to send me another one. This does work. It doesn't work as impressively as the company's before and afters, but it's more powerful but not more painful than Crest Whitestrips.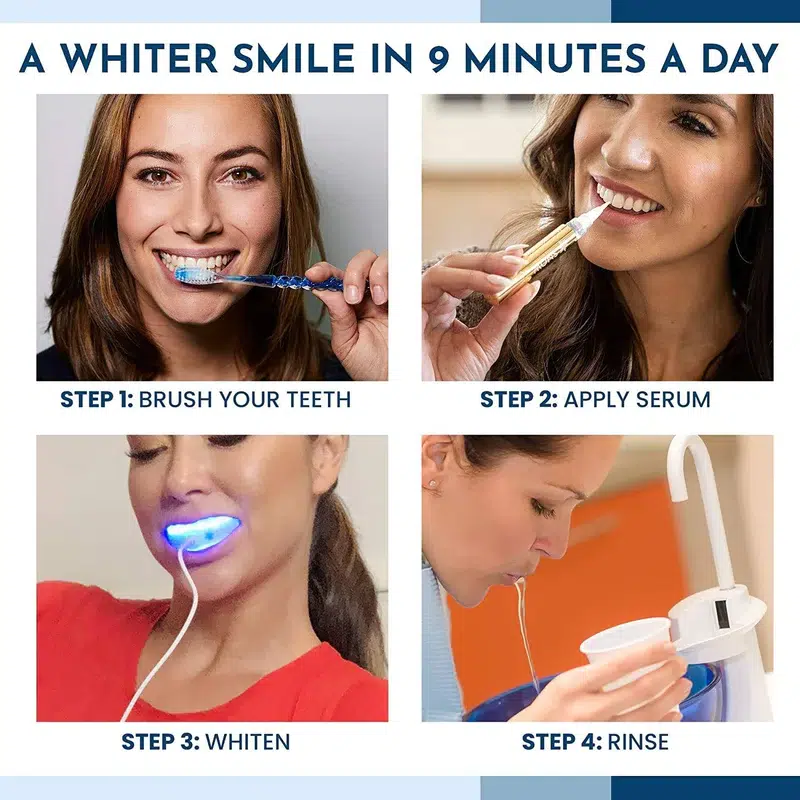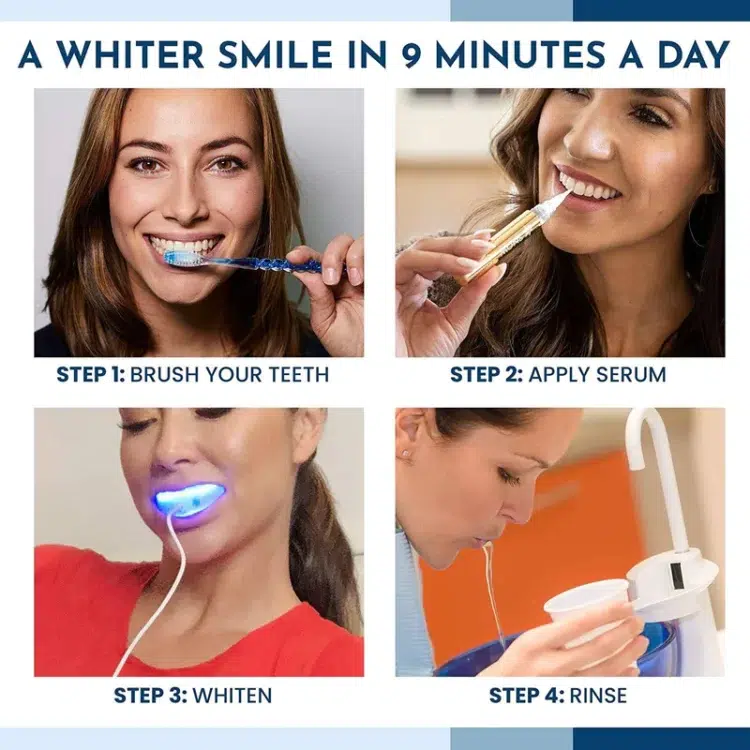 I brush my teeth when I get up, and as I putter around the house before the rest of the family wakes up, opening curtains and letting out the dog, I use my Snow device. I paint my teeth with the gel, insert the mouthguard device, plug it into my phone (it uses your phone's energy to light up the mouthguard), and put my phone in my robe pocket. I'll listen to an audiobook or music, meditate, whatever for 10 minutes, then rinse, wash the mouthguard, tuck it into its storage case and keep it and the gel pen in my robe pocket for the next morning.
I have gone to the dentist and gotten trays and bleach… and it works fastest but I found it to be the most uncomfortable. As we age, our teeth may get darker or yellower, and they also often get more sensitive. I find the Snow device to be a good balance of comfortable and effectiveness, but that is only my personal experience. If you are serious about teeth whitening, do ask your dentist who will know about the latest, greatest, and safest for your smile.
Those in the United States are far more concerned with the color of their teeth than most any other country, and our country's youth are really into white teeth (thank you influencers and their veneers). A young person may mistake your age purely based on your teeth, which is ridiculous. Healthy teeth come in all colors, shapes, and formats but if you feel you want to look more youthful, teeth whitening may be an option.
2. Hydrated, Glowing Skin
Trends affect not only what we wear and how we style our hair, but also our skin. And in the past decade, there has been a real trend towards glowy, dewy, hydrated skin. Gone are the days of mattifiers and powdering your nose; now the look is practically mid-hot flash in the middle of August in Mississippi.
Keep your skin hydrated morning and night. Look into products like hyaluronic acid which help your skin retain more moisture. The Ordinary is a brand that is effective and budget-friendly. Apply it to damp skin (or dampen your skin with something like rosewater) and put a good moisturizer over it. Skincare with vitamin C can also give skin a glow without being irritating.
Consider a glow product, something that makes your skin look lit from within. If you wear a tinted moisturizer, I like this one from NARS that has subtle illumination without making you look like a sweaty disco ball. I also like this primer from Flyte.70 which isn't sparkly or shimmery but somehow makes my skin look more hydrated. I will wear it alone, mixed with tinted moisturizer, or as a primer under other makeup (and there's no color/white cast on darker skintones).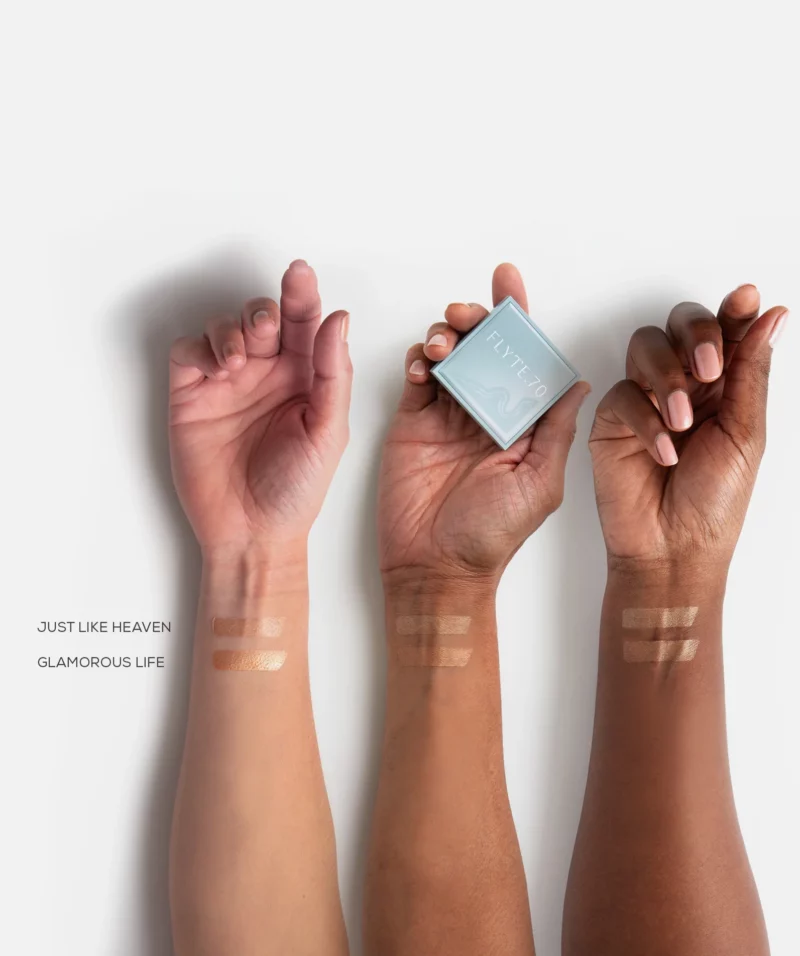 With or without makeup, I love this highlighter from Flyte.70; it comes in two colors and I think "Just Like Heaven" is good for very fair to medium skintones; "Glamourous Life" is better for medium to darker skintones. Use your finger and do a "C" from end of eyebrow to cheekbone, a touch at your inner eye, a touch in your cupid's bow above your lips, and pat to blend. You can add in other places but these are the easiest/basic places that will have you glow without being over the top or obvious. I made a video on Instagram showing how I use this highlighter.
I believe in the power of keeping skin hydrated from within. I add a tablespoon of flax oil to my morning oatmeal, I take a fatty acid supplement (also helps my knees feel more lubricated), I drink a lot of water, have a green juice daily with this powder, and eat a lot of fruits and vegetables with high water content. Consuming collagen can also make your skin look and feel more hydrated and plump. From personal experience, I have found that dairy and alcohol will negatively impact my skin, especially under my eyes. I've learned to not consume either the day before an event when I want to look as fresh as possible.
3. Exfoliate
Exfoliating gets rid of dry, flaky skin and helps with collagen production. At least once a week use a chemical or physical exfoliant. If you're new to chemical exfoliants (AKA acids), don't go straight into retinol or tretinoin. I like Pixi Glow Tonic, which you can buy at Target. Apply to a reusable cotton round after cleansing at night and wipe your face just like you used to back in the day with Sea Breeze or witch hazel. This won't burn and will gently exfoliate; apply your moisturizer over it.
If you're ready for the next step, retinol is a popular choice, but I also like lactic acid, which can do an immediate transformation in one night. Again, check out The Ordinary which has effective lactic acid for a very nice price. I did a review of The Ordinary's lactic acid a couple of years ago. Apply moisturizer after. When starting with acids, try every other night and see how you react before trying it nightly. And always use SPF during the day as acids can make your skin sun-sensitive.
If you prefer a physical exfoliant, put down the apricot scrub and find something gentler that won't scratch your skin. My husband, daughter, and I are all obsessed with this scrub from Colleen Rothschild. We keep it in the shower and with very little pressure you massage it into your skin and it rinses clean. Even though this is gentle, I still only recommend a physical exfoliant once a week or so.
4. Fuller, Natural Brows
As we get older, our brows become more sparse. And of COURSE, we have thinning brows from time on this planet and already thin brows from tweezing them to pencil lines in previous decades and the trend is for thick, full brows.
To keep it easy, get a fine-tip pencil a bit lighter and ashier than your haircolor and sketch in the thin spots of your brows. I like this pencil from NYX; I use Taupe even though I have brown hair. I once had the opportunity to have my brows shaped by Erwin Gomez, brow expert; he told me that even if you color your hair, if you have grays your brows will look more natural if you use taupe instead of brown.
If you have unwieldy brows, brush them up with an old toothbrush sprayed with some hairspray or a brow gel. Take some cuticle scissors and cut any hair that is far longer than the rest. Then brush your brows up and out to get a not too perfect, natural effect. Then fill in any spots.
Some folks get their brows microbladed, which is a semi-permanent tattooing of tiny lines that replicate brow hairs and fades over time. I have considered this myself, but am scared for I have seen many folks who have gone to highly-rated microblading artists and still ended up looking weird AF. Brow trends change pretty quickly; know what you get you'll be rocking for up to two years. Do your homework before considering this; know that what worked for your sister/best friend/coworker may not work for you.
The sculpted, stenciled brows were popular, but the more natural look has taken over. Take advantage, and keep this simple. A bit of pencil to fill in, even if you wear no other makeup, will make you look more youthful.
5. Wear Color
The quickest way to look more youthful? Switch out that black or gray sweater for one in a color. I am not talking the "lady of a certain age" shades of dusty rose, muted plum, and sage green. A primary color, a watercolor bright, a jewel tone, an autumnal shade, a highlighter bright or an icy pastel that is clear and true.
If a color you love is on trend, buy a sweater, or t-shirt, or blouse in that color because that will read youthful to those in the know (and even those not in the know who are surrounded by those who are).
If you aren't one to rock a lot of color, ivory and winter white can also brighten up your look. If you choose this route, consider a piece with some texture so it looks luxe, not dingy. A sweater, a tweed jacket, a velvet top… texture will elevate and the soft color will be an instant highlighter.
6. Hair
If you think I am going to suggest coloring your hair to look more youthful you're wrong. Just like wrinkles, gray hair doesn't make you look old. It's the condition of your hair that makes the difference and if you're just throwing it up/back without much thought that can be making you look older than any lines on your face or silver streaks in your tresses.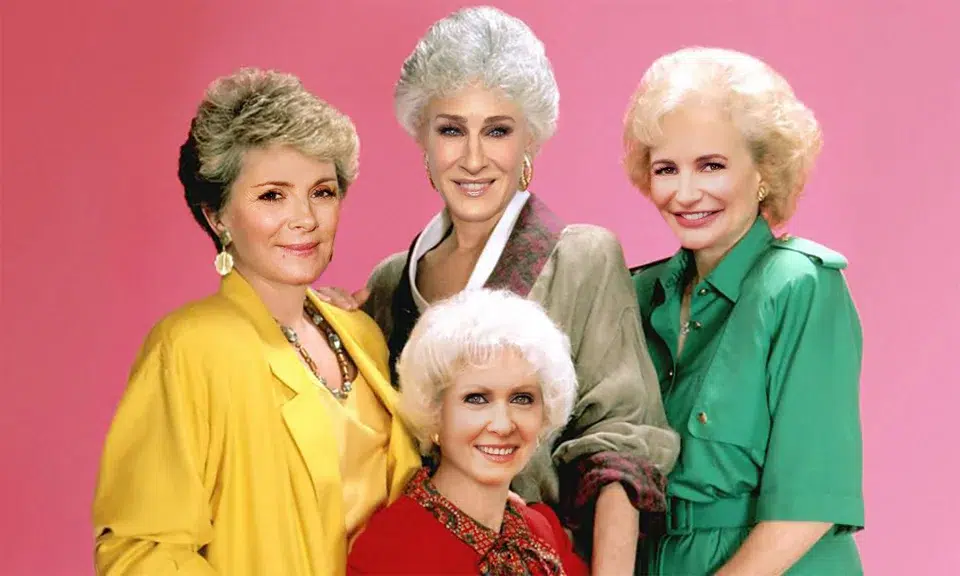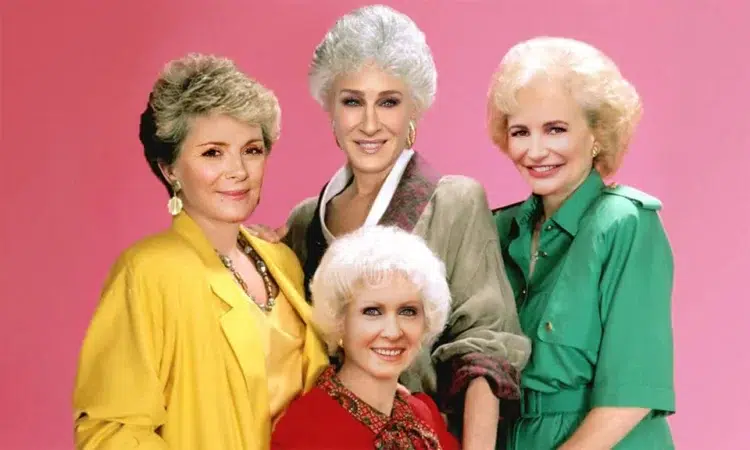 A very set hairstyle can be aging (just look at this video on YouTube how they "modernized" the cast of The Golden Girls with current hairstyles). But so is unkempt hair. if you're not one who likes to spend a lot of time on your hair, consider a style that embraces your natural texture and only needs to be trimmed every couple of months.
This is a big reason why I embraced my wavy hair and realized my hair is actually curly. Doing this, my hair looks fuller, is lower maintenance, and feels more youthful. If you have straight to wavy hair, consider a bob or lob (a longer bob that's grazing or just below your shoulders). If you don't plan on having it cut regularly, ask your stylist to cut it where there's no specific part so it doesn't look uneven during grow-out and can be brushed to the side, pinned up, put in a ponytail and more with low effort.
If your hair is getting thin, just like men with their combovers you're not fooling anyone with your creative style to "hide" it. Consider a shorter cut, embracing natural texture to add natural volume, or heck, go with a wig which have really improved in the past years and have become downright cool. Hair closer in color to your scalp will hide thinness better; consider going a lighter color which can also brighten up your face and provide a "youthful glow."
I still have much to learn in life, and I learn so much from all of you. What are your tips for appearing more youthful? Do share in the comments, your tip may be just what a fellow grown woman needs in her life!