This article may contain affiliate links; if you click on a shopping link and make a purchase I may receive a commission. As an Amazon Associate, I earn from qualifying purchases. 
I bought a lot of beauty products this year. Maybe it's getting closer to 40 or maybe it's changing my makeup to change my personal style, but I did a lot of experimenting, watching more YouTube tutorials, and subscribing to more beauty blogs. Through it all I lost some money, but I found some real winners. Some of these have been mentioned before on the blog, some have better reviews now than they did last time I reviewed them, some were never before mentioned which is crazy since I love them so much…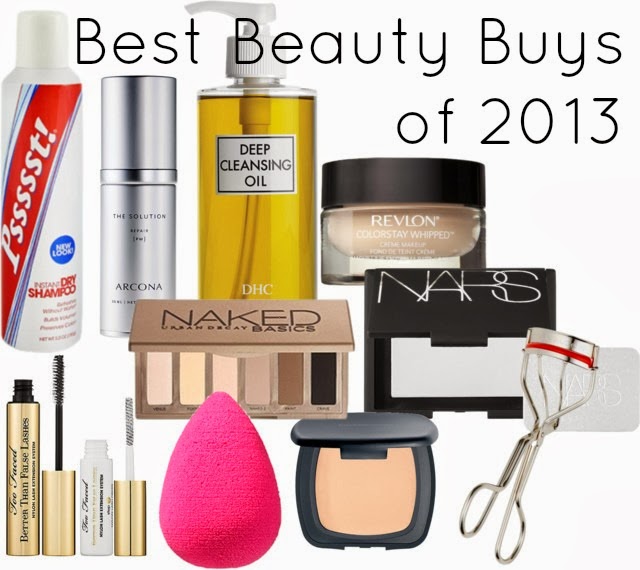 Revlon Revlon ColorStay Whipped Foundation in Natural Beige
So good. So good I'm buying a second jar this week. It's rich and creamy but doesn't slip off your face by lunch or even by 5pm. It blends really nicely, doesn't enhance my fine lines and pores, stays all day and gives a natural finish. You don't have to head to the department store to find quality makeup, and this foundation proves it.

BeautyBlender
So my friend Lexa emails me and tells me this is a "gamechanger" so I order one the very same day. And I get it and I feel meh for a week or so, then for some reason it kicks in and I understand the gamechanger status. It doesn't rub everything away or rub product into your pores (which your fingers can do), it doesn't leave a weird finish on your skin (which I find with brushes), it doesn't soak up as much product as a traditional makeup wedge, and its shape makes it easy to gently blend around your eyes and nostrils. Also if you do any contouring, it does a good job of blending without muddying it or rubbing it all away. It's not cheap, it takes a while to get the hang of it, but I gotta agree with Lexa, it is a gamechanger.
BareMinerals Tinted Touch-up Veil
Yes, I am still obsessed. I have a compact in my dressing table, one in my purse, and one in my desk. I don't use it as much in the winter, but in spring and summer I swore by this compact. I used as powder to set my face before leaving the house, at noon to powder a shiny nose, and at the end of the day to refresh my look for an after-work event. It doesn't cake, doesn't look false, doesn't make the dry parts of my face look more dry, and doesn't make me itch like other mineral-based products.
NARS Light Reflecting Pressed Setting Powder
Sometimes I have a lot of fun with my makeup and the time to play with it. Primer, multiple concealers and contouring products, foundation, highlighter, blush… and even with proper blending I can look pretty made up. But then I take a fluffy powder brush, swipe it over this compact and cover my whole face and everything suddenly looks toned down, cohesive, natural, finished, polished, and pretty. It doesn't dull any shine or dewy-ness, it doesn't cake or get weird in lines and pores, it just airbrushes everything and makes my skin look pretty and it lasts for a couple hours before needing a touchup.
DHC Deep Cleansing Oil
I reviewed this before and received many suggestions on cheaper alternatives. And I tried a bunch of them and sorry… they don't compare. Other oil cleansers left makeup on my face, irritated my eyes, wouldn't rinse off, came in a bottle that made a mess. DHC really sticks to makeup and dirt and oil and removes it from the face. It rinses off nicely, not leaving goopy eyes or greasy cheeks. A little goes a long way, and when I use it I have fewer bumps and a nicer complexion overall. While it seems to be best when removed with Avene, it still works great with regular water.
Reusable Cotton Rounds
Still using the same ones I bought a year ago and work even better after several washings. I keep them in an oversized mason jar on the back of my toilet, and keep a mesh lingerie bag hanging in the bathroom with the towels to hold the used rounds. When I'm down to just a few, I zip up the bag and throw it in the laundry with other linens. I don't use them for nail polish remover, but use for makeup remover, toner, removing face oil, and anything else that will wash off without staining.
PSSSST
Still the only dry shampoo I like. Blends into my dark hair, doesn't leave it gummy or overly fragranced. It works best if I put it in before bed and let it rub into the scalp while sleeping, but I can still put it in my hair in the morning (if straight/brushable style) and a few swipes of a brush will blend it nicely.

Urban Decay Naked Basics Palette
Wrote about it before, but so good it needed to be in my Best Of list! I use W.O.S. for the top part of my lid, Naked 2 on the lid. I will create a subtle smoky eye for day by adding Faint in the crease and along the lash line, a more intense smoky eye with Crave and a bit of Venus in the inner corners of the eyes, or wet a slant brush and use Faint or Crave like a liner. The shadows are the perfect color and last all day.
Two Faced Better than False Lashes
Good enough to mention twice! It's messy, it needs eye makeup remover to get it all off at the end of the day, but by golly does this product give me amazing lashes! Once you get the hang of it you can get full-on drag queen lashes, light fringy long lashes, or just a bit of oomph on the outer corners. I don't recommend putting it on your lower lashes, I don't recommend going to sleep wearing it, and you want a good eye makeup remover so you don't have to rub to get it off, but it really does give you fab long lush lashes without falsies.
Kevyn Aucoin Lash Curler
I don't even miss my Shu Eumura any more, this lash curler is fantastic. Can't go on and on because it's only a lash curler (and I already wrote about it), but it gives a natural curve, doesn't pinch, doesn't stretch out after a week of use.

ARCONA The Solution
I got a sample from Beauty.com and liked it so much I bought it… and I still love it. At night after cleaning, I put on eye cream and then choose some treatment before my night cream. Sometimes it's retinol, sometimes it's a sample I received, but every other night it's The Solution. Two pumps and rub into the face and it keeps away little bumps, makes my skin glow, and I think helps keep my skin looking healthy and happy.
So what were your best beauty buys from 2013? I'd love to hear as many of the products I buy are from your recommendations. And stay tuned, I asked a few of my friends to share their favorite beauty products from 2013 and will be sharing them next week!
FYI I noticed that Beauty.com is having 20% off all BareMinerals products today, and if you first go through Ebates, you'll get 4% cash back from Beauty.com (you also get 4% cash back from Ebates for Sephora, there's no point to NOT use Ebates when shopping online!)
Follow Me | Twitter | Facebook | Instagram