This article may contain affiliate links; if you click on a shopping link and make a purchase I may receive a commission. As an Amazon Associate, I earn from qualifying purchases. 
I was slow to get on to the quality leather goods train. I worked for five years for Express, and so during that time I seemed to buy a new bag every month when they gave us 55% off. When I lived with my sister, our apartment's hallway was decorated with my purse collection. Cow print, red snakeskin, sequins, beading… you name it I had it. But all of them were cheap and either destroyed or dated by the end of the season.
My wallet was no exception. For YEARS I lived with a microfiber wallet from The Limited. I think I paid $9.99 for it, I remember grabbing it from the lucite sale bin on the counter while buying a few pairs of their Drew trousers. It was… fine. I liked all the pockets and compartments. When it broke, I will admit I "fixed" it with some black electrical tape that I thought matched the patent trim quite nicely.
I know. I know.
Well a couple years ago, Nordstrom had one of their lovely half-yearly sales and I saw a mustard-colored Hobo International wallet in the sale bin. It had everything I desired – change purse with two sections, a place for bills, a window for my ID, places for credit cards, and tons of space for randomness. I loved the color too – different without being gaudy, fun without being overly trendy, and easy to find at the bottom of a deep dark slouchy purse.
Since then, my Hobo International wallet has seen some hard times. It experienced leaking bottles of pumped breast milk, a tube of toothpaste that decided to commit suicide, my endless collection of medium-tipped black ball point pens that I carry in case I have the desire to write about bad fashion on the road, and some Orbit gum that melted while my bag was stuffed in the glove compartment during Bonnaroo.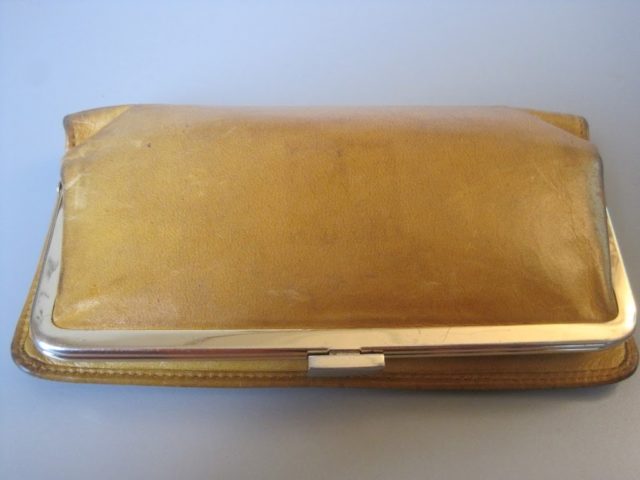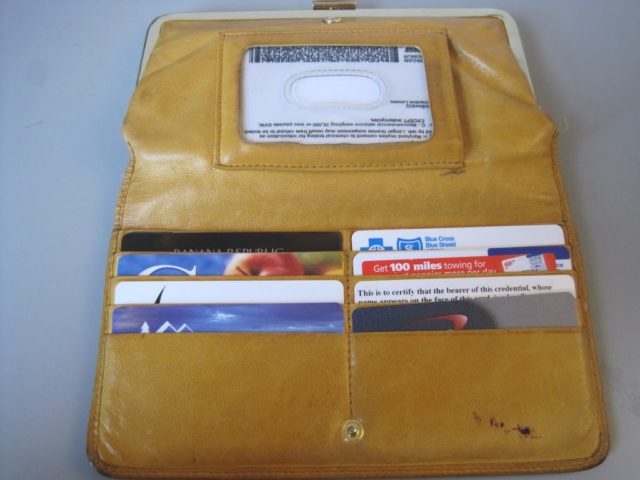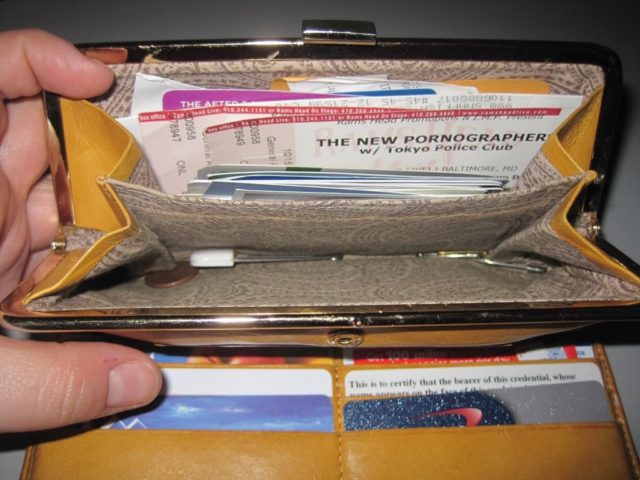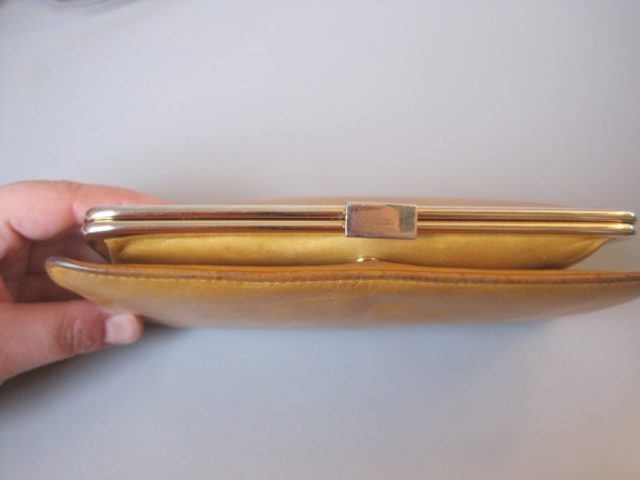 I gave all my change to a homeless dude this A.M.; usually my wallet is bulging with quarters for meters and when I am thisclose to the right fare for the Metro…
I try to clean it up, and I keep on trucking with my beloved wallet.
Because it is perfect.
And I don't think Hobo International makes this wallet any more. There are many other lovely wallets on their site, but none in the same style as my baby.
I found out that Hobo International is having a Sample Sale later this month, and their headquarters is in Annapolis, Maryland. I am totally making the trek to it. Maybe I will find a replacement wallet, maybe I will find a new bag for winter. Whatever I get, I bet it will be as well made and smartly designed as my lovely mustard wallet!