This article may contain affiliate links; if you click on a shopping link and make a purchase I may receive a commission. As an Amazon Associate, I earn from qualifying purchases. 
According to the CDC, the average American woman is just under 5'4" and weighs almost 165 pounds. Funny how most fashion "advice" we receive from shopping magazines and Web sites seem to be geared towards women who are over 5'5" and a size 6 or smaller.
This season is about the skinny jean! Pair them with some over-the-knee boots for a great look for all! 
Try red lips for a classic Mad Men look that is flattering on everyone! 
Show off your curves with a belt!
Every woman needs a classic trench in her wardrobe – an instant way to look chic on a rainy day! 
The five must-have items for every woman's wardrobe this fall! 
The seven must-have items for any woman's closet! 
The ten items that look great on any woman! 
Every woman can wear animal prints! 
We'll tell you the best jeans for your body, be you petite, have full hips, are plus size, or are tall!
Reading a fashion magazine looking for shopping advice is the equivalent of reading a book about Monet to learn how to paint with oils.
Reading articles about how every woman has a right red lipstick, pair of jeans, or LBD and they will tell you which one is right for you can be a bit depressing. No matter your size or age, I bet you often look at these lists and either don't fit one category, or span over multiple categories. What if you are petite and have wide hips? If you have light eyes but olive skin? If you have a heart-shaped face when at goal weight, but right now have some extra softness around the jaw line? These categories don't help the average woman, they just make women feel even more awkward.
Stop trying to be trendy; trendy is usually tacky when you are over the age of 21. Use your fashion magazines and Web sites as you would a coffee table book of Monet's works – something for inspiration, for entertainment, for meditation. Absorb the whole look, not just the boot or the lip color. See the beauty, note what draws you in and what makes you flip the page faster.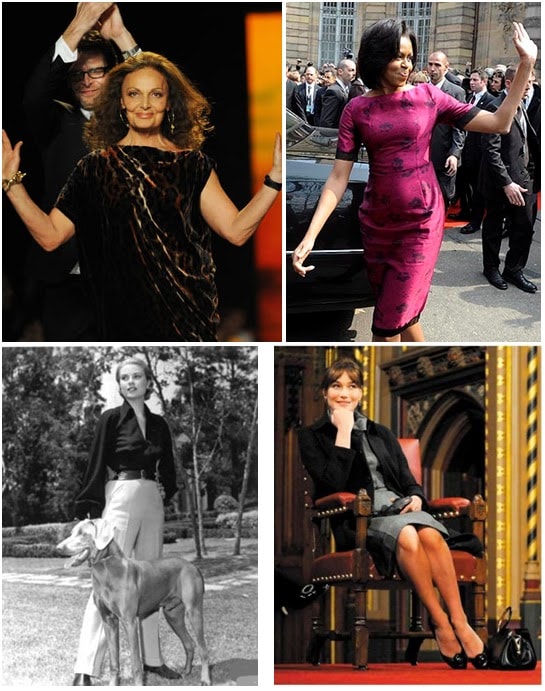 Think of women who are considered stylish. Grace Kelly, Jackie Kennedy Onassis, Audrey Hepburn, Carla Bruni-Sarkozy, Gwenyth Paltrow, Michelle Obama, Diane Kruger, Carolina Hererra, Diane von Furstenberg. These women aren't known for adopting every trend that comes across a runway. They are perennially stylish because they don't adopt trends, they have slowly, over time, found their personal style. A look that works with their figure, their personality, their lifestyle.  There is nothing trendy about them, and that is a GOOD thing.
Fashion magazines and Web sites, blogs that notify you about the latest looks and designer collections – they are wonderful references. But keep them as just that – a reference. When you wrote research papers in school, you were encouraged to find information from a variety or primary and secondary resources. No one ever received an 'A' from writing a paper solely off information in the World Book Encyclopedia, or even from interviewing the person who was the topic of the research. Good research, just like good style comes from a variety of sources and adding your own opinion to what you have collected. Just as with a quality research paper, one does not accomplish style overnight. It takes time, thought, and careful editing. Often it is best when seen with a second set of eyes, be it your roommate proofing your paper, or your best friend helping you decide between the strappy sandals or the D'Orsay pumps.
When you try to replicate the trend or style of another, it always looks like that – a copy. Not everyone can wear a crisp white shirt or a trench. Not every woman looks stylish in red lipstick, and there isn't the right pair of jeans out there on a rack for every woman. This doesn't mean you need to lock yourself in your home in your Snuggie, but it means you need to find and accept your personal style. Once you do, you will see that shopping and fashion is far easier than your Senior Thesis.