This article may contain affiliate links; if you click on a shopping link and make a purchase I may receive a commission. As an Amazon Associate, I earn from qualifying purchases.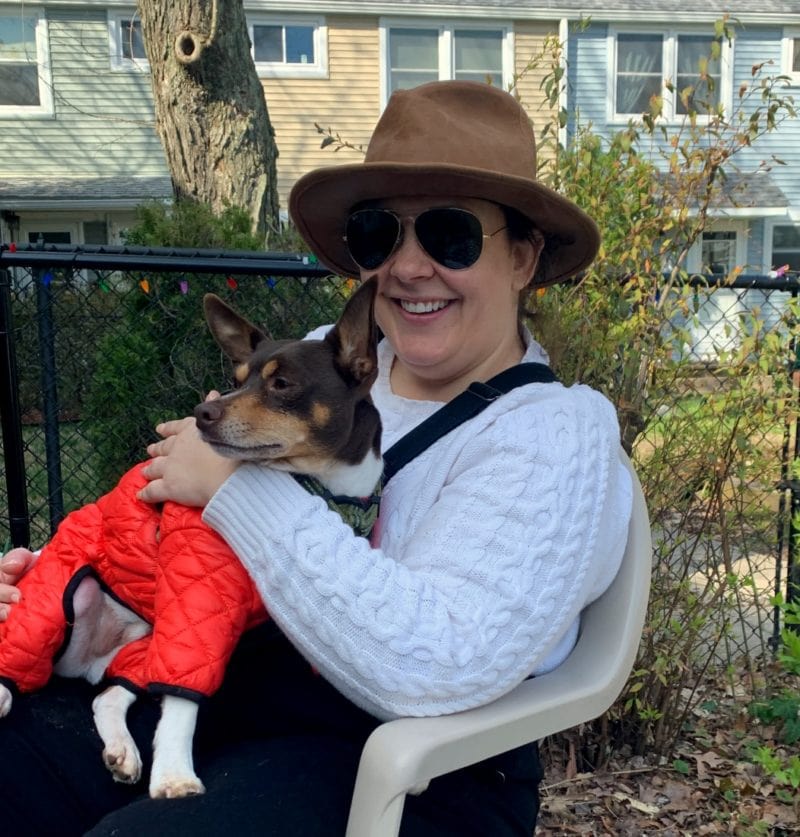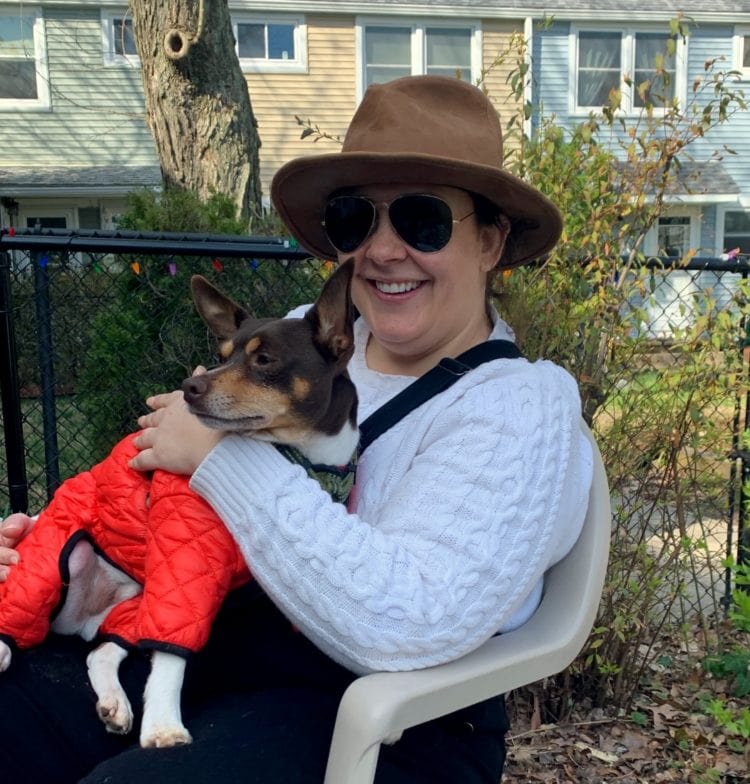 It feels really weird and wrong to be showcasing myself in power suits and high heels when I, and many of you, are sheltering in place.  Those unable to do so are also not wearing such items as they are working hard to keep us safe, keep us healthy, keep us fed, and keeping deliveries and the basic needs of life going for us.  So I have started sharing on Instagram each day what I really wear at home.  I know not all of you are on Instagram and the algorithm there can have you miss content, so I will recap it each Monday here on the blog.  And without further ado, my staying put at home looks from last week:
Monday: If It Wasn't Photographed Did It Happen?
Every weekday I am sharing my workouts from my living room.  This past Monday was my first workout and I wore a plum colored tank from Athleta (this one to be specific) with a pair of magenta cropped leggings also from Athleta (old and no longer available but these are darn similar) and my Brooks "Ghost" sneakers.  And keeping it real, I kept that on until around 4:30pm when I finally got around to taking a shower.  And nope, didn't capture any photos of that final look nor do I even recall what it was at this point!
Tuesday: Have Sunshine, Will Emerge from The House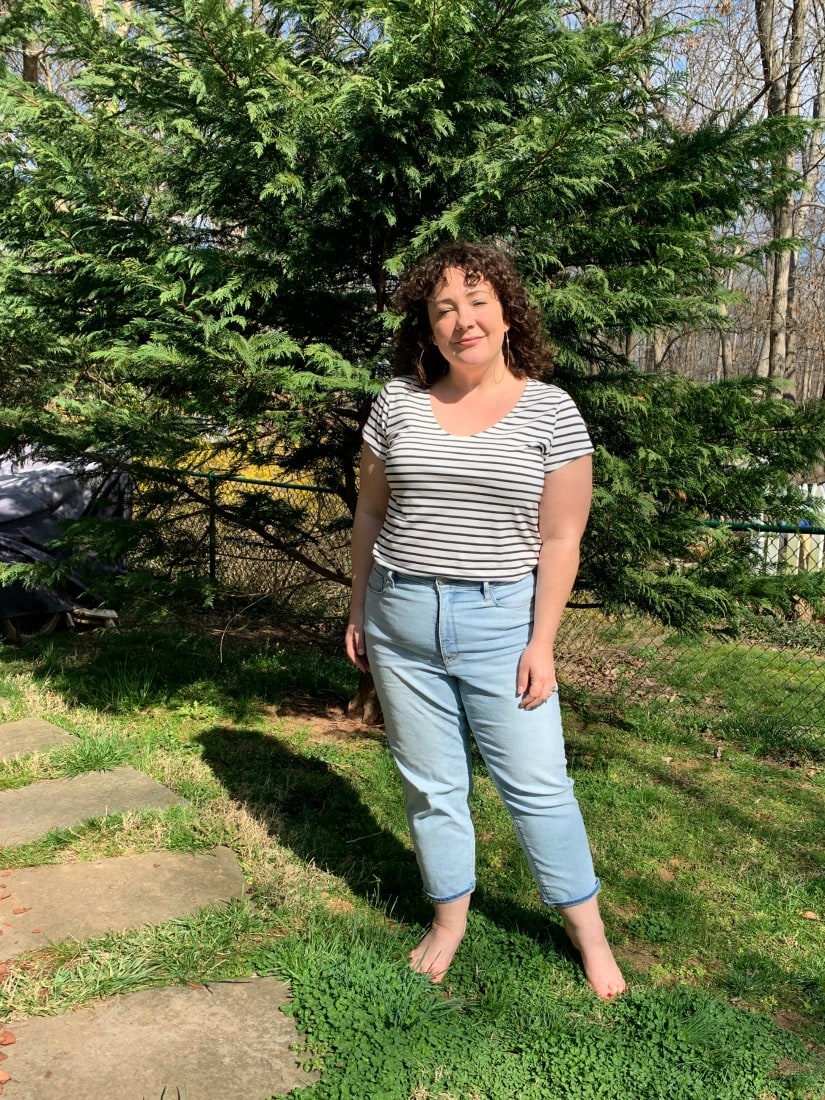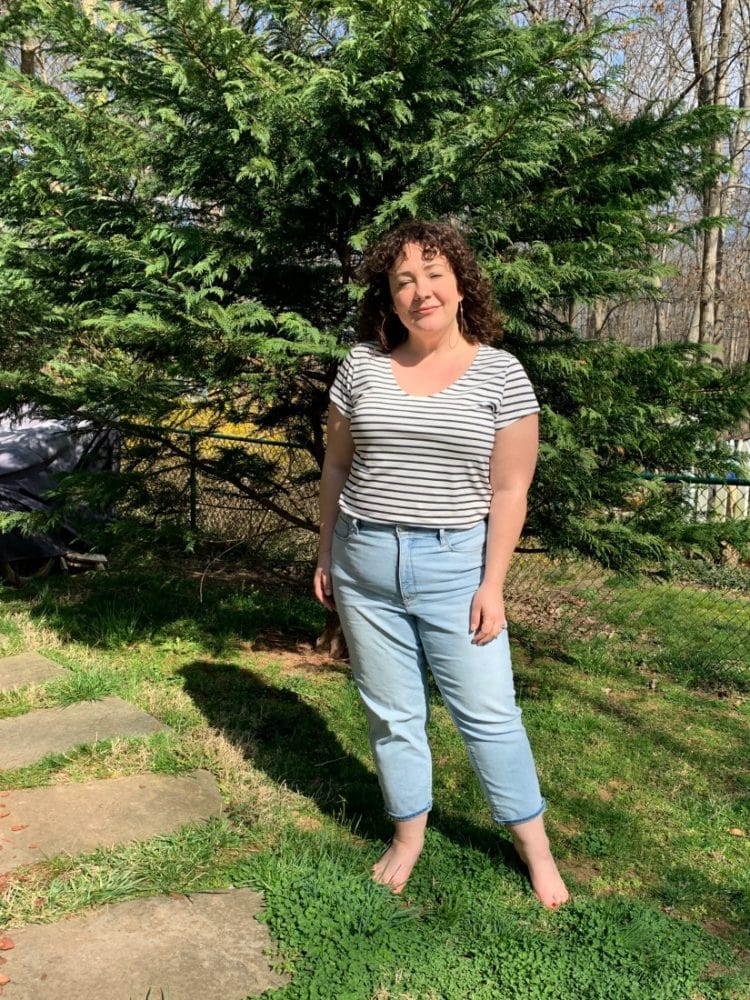 We are sheltering in place, but luckily have a yard so when the sun came out, so did we and Karl captured my outfit while we were absorbing a bit of Vitamin D.  The shirt is from Boden; it is a size 14 as the size 12 is a bit too snug on my upper arms and bust for casual wear (would be better if I plan to wear under other items or tucked into a fuller skirt).  The jeans are the ones from Athleta that I've mentioned previously.  I've washed them a couple of times and I find them super comfy though if I could do it again I would have gone with a 12 petite instead of a 14 petite.
Wednesday: One Day, Two Looks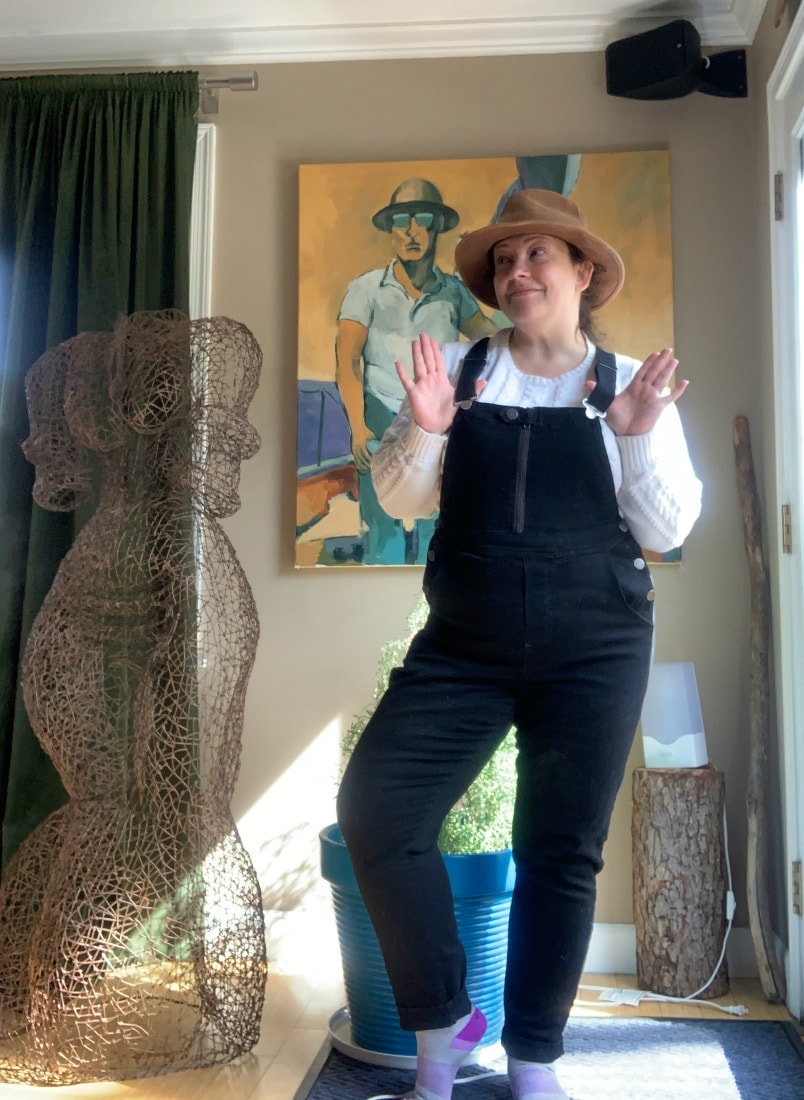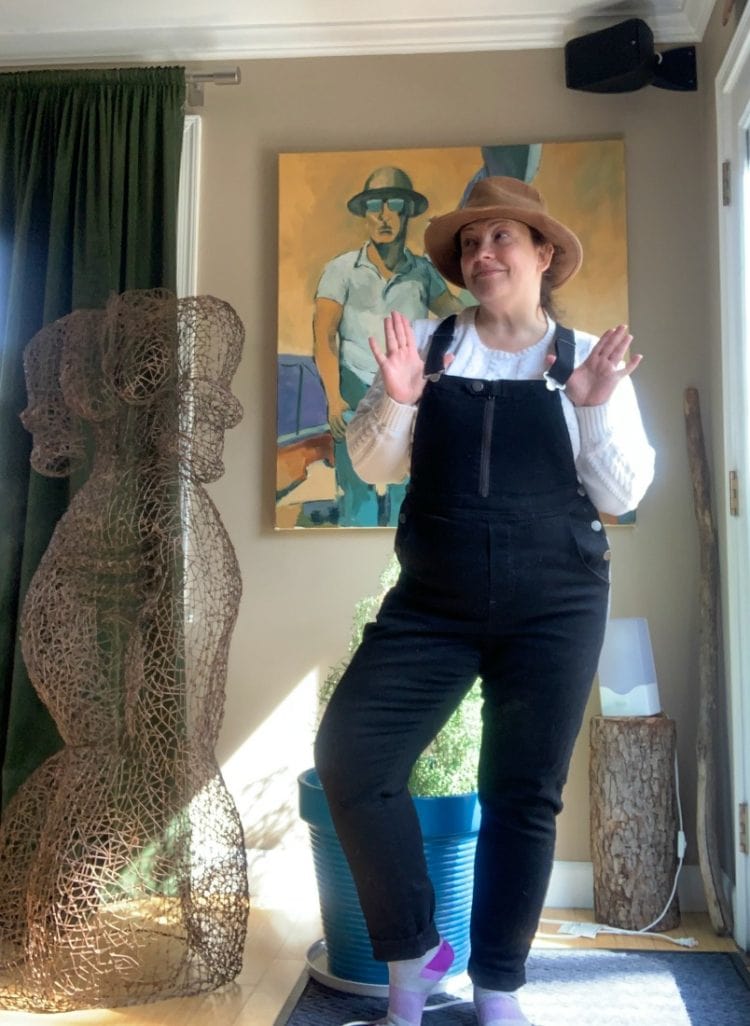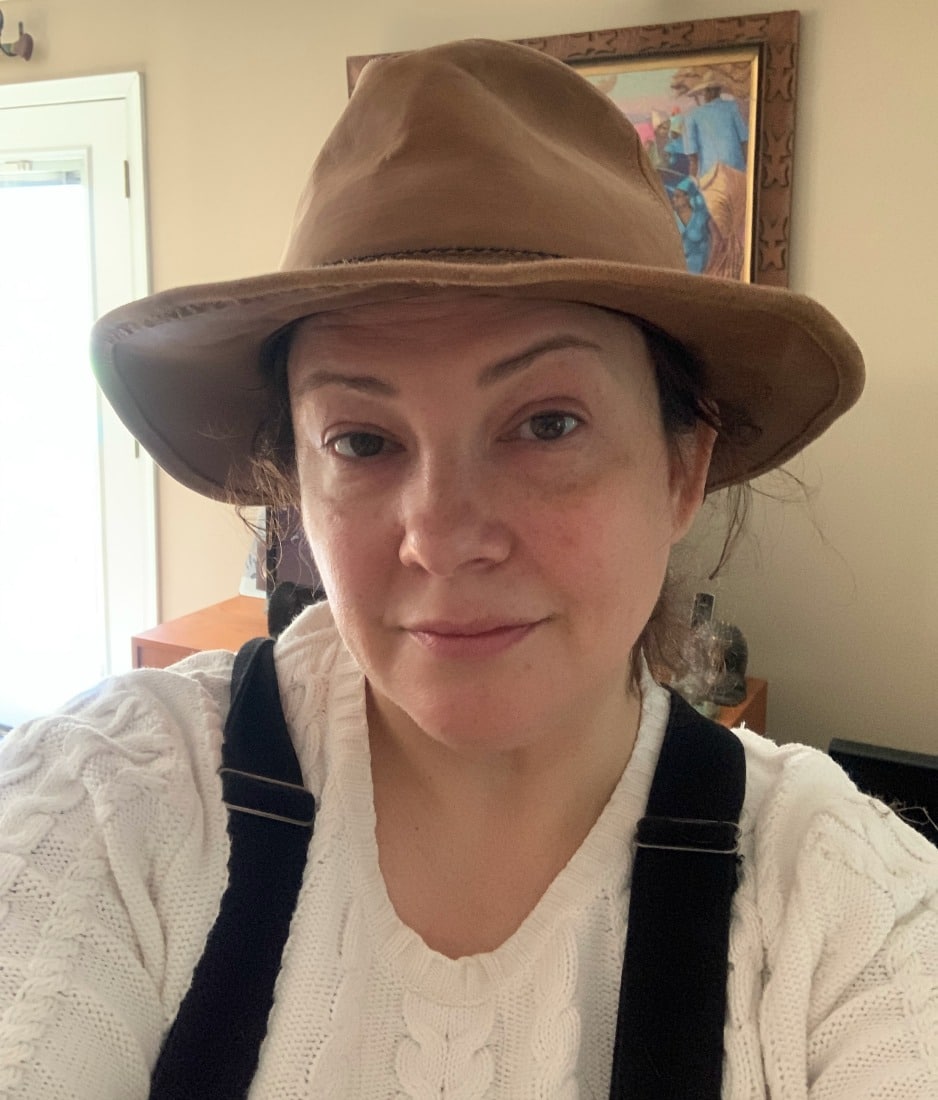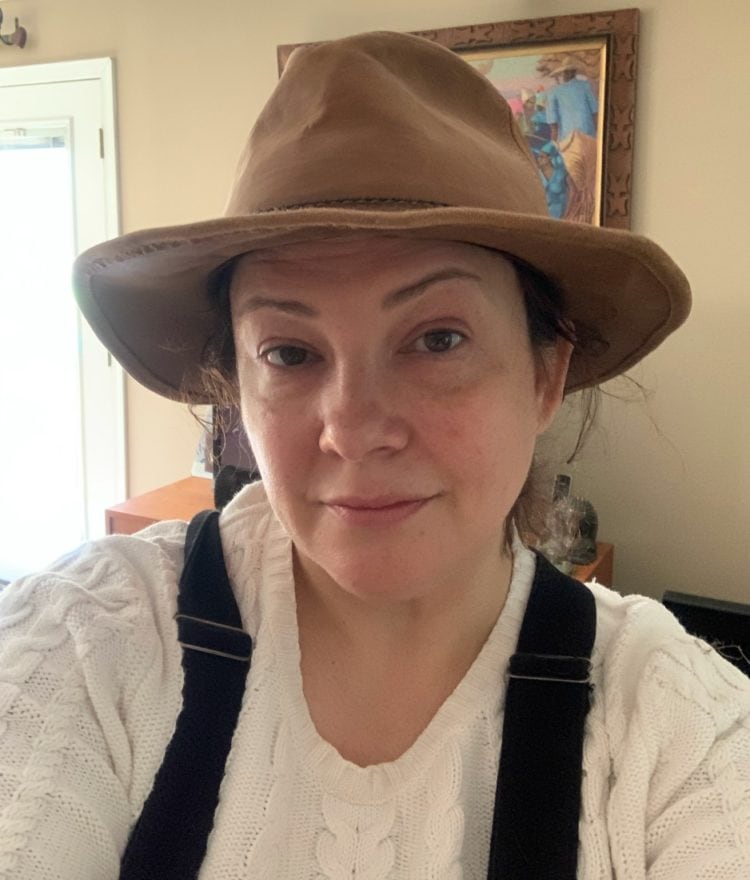 In the morning, my daughter and I walked Oscar the half mile to my sister's house.  She had set out two chairs and a table at least six feet from her front step.  We brought coffee and water to have a little social hour from an appropriate distance. If you choose to do this, don't have those outside your home pet your pup; there's a chance your pet could transfer germs and it's better not to have that risk.  For this walk since it was a bit chilly, I wore my L.L. Bean cotton cableknit sweater (Large) under my Universal Standard overalls (XS) and my La Canadienne boots.  I didn't do my hair so I put on my leather Stetson safari hat so I didn't have to think about it.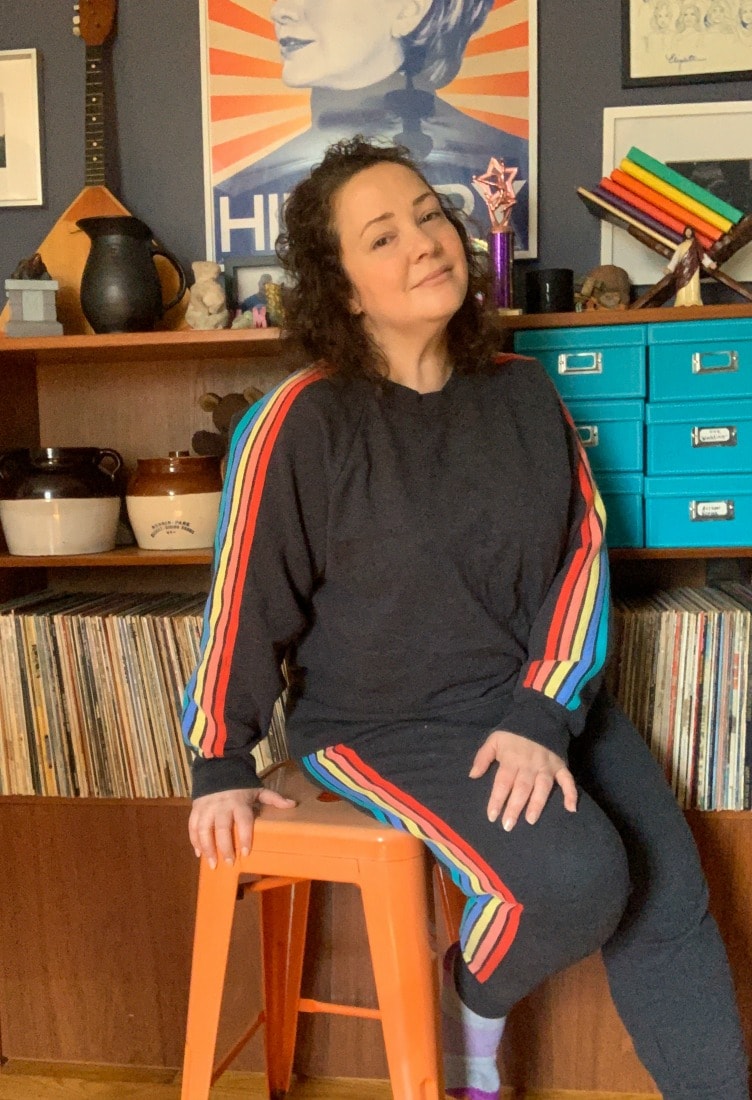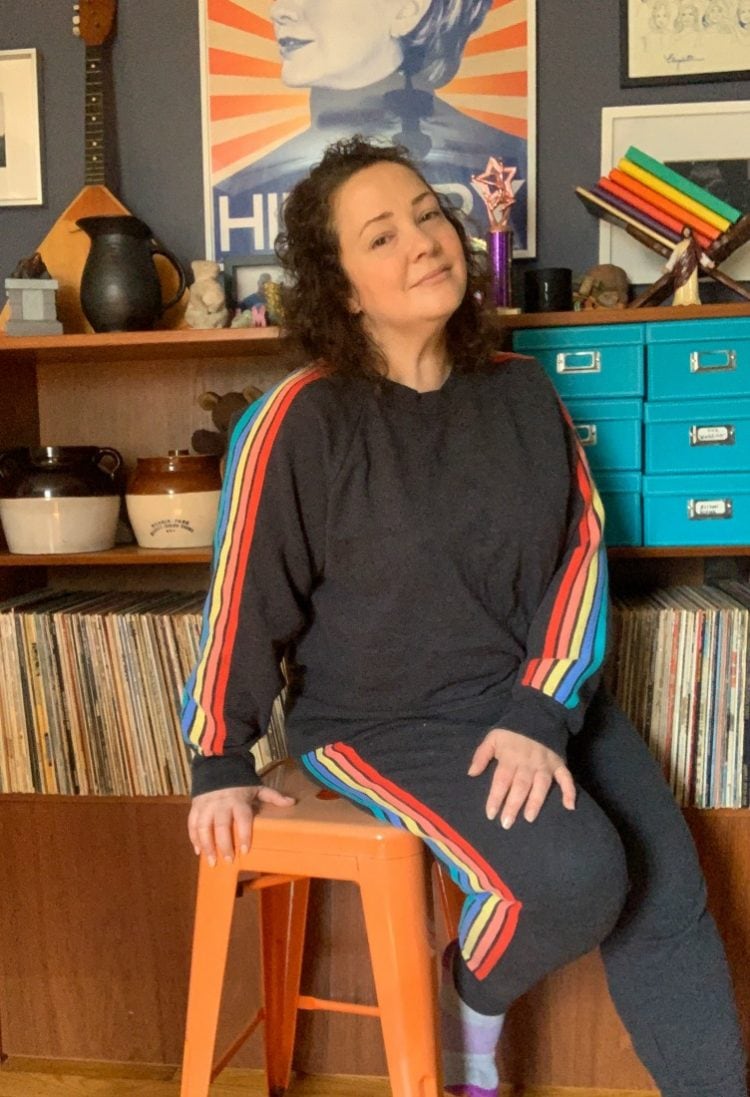 I got home and showered and changed into some of my favorite clothes: a rainbow-trimmed sweatsuit I bought at Gap this past winter.  Both pieces are size XL.  I wish they still had it; they'd be smart to bring it back this fall but I hope then they add pockets for total perfection.  I know a few of you snagged one or both pieces when I featured it this winter and I hope you're enjoying the cozy softness and comfort right about now.
Thursday: Wrapping It Up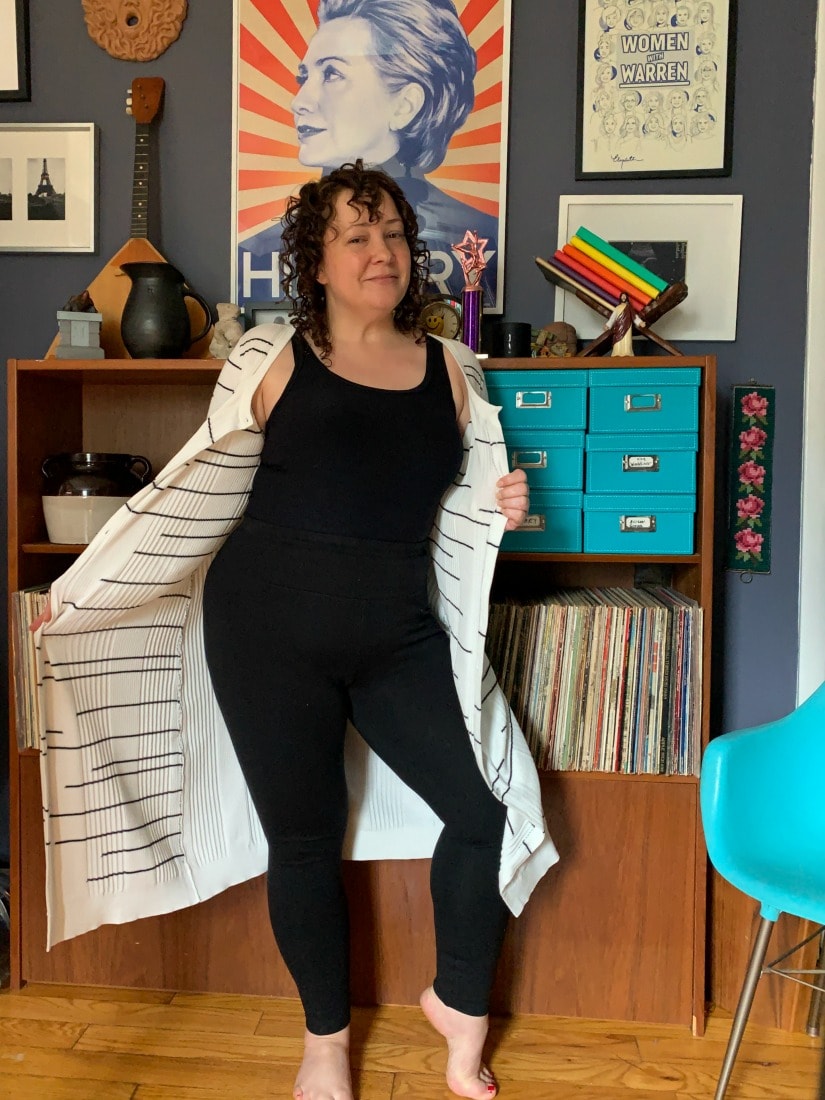 My work from home look is very often a fitted tank or tee with leggings or joggers and a cardigan or soft topper, and that's what I rocked on Thursday.  I wore this tank from Soma; it's cool in how one side is a traditional scoop neck, the other a v-neck so it's like two pieces in one (I'm wearing it in Large).  The leggings are the cropped one cabi has this spring, but on my short self they are a perfect ankle length (I'm wearing a medium).  The cardigan is also from cabi this season; this is a Large.  It's lightweight and drapey and I love wearing it on the couch watching TV because I can wrap it around me.
Friday: Self Love and Repeats
And Friday I wore the same jeans I wore Tuesday!  With it, I'm wearing a t-shirt that says "Self Love" which is from the merch that fellow influencer Kellie Brown has on her website And I Get Dressed.  I got the shirt in Large and TBH I don't love the fabric or the fit.  The sleeves are snug, the cotton is that thick kind that if you stretch it, it stretches out.  But I love supporting fellow influencers and this graphic is also available on a loose t-shirt, long-sleeve tee, and sweatshirt.  If I did it again, I'd choose the loose t-shirt.  This isn't the only graphic she has on her site, they are all body positive and unique.
Saturday: You May Have Seen This Before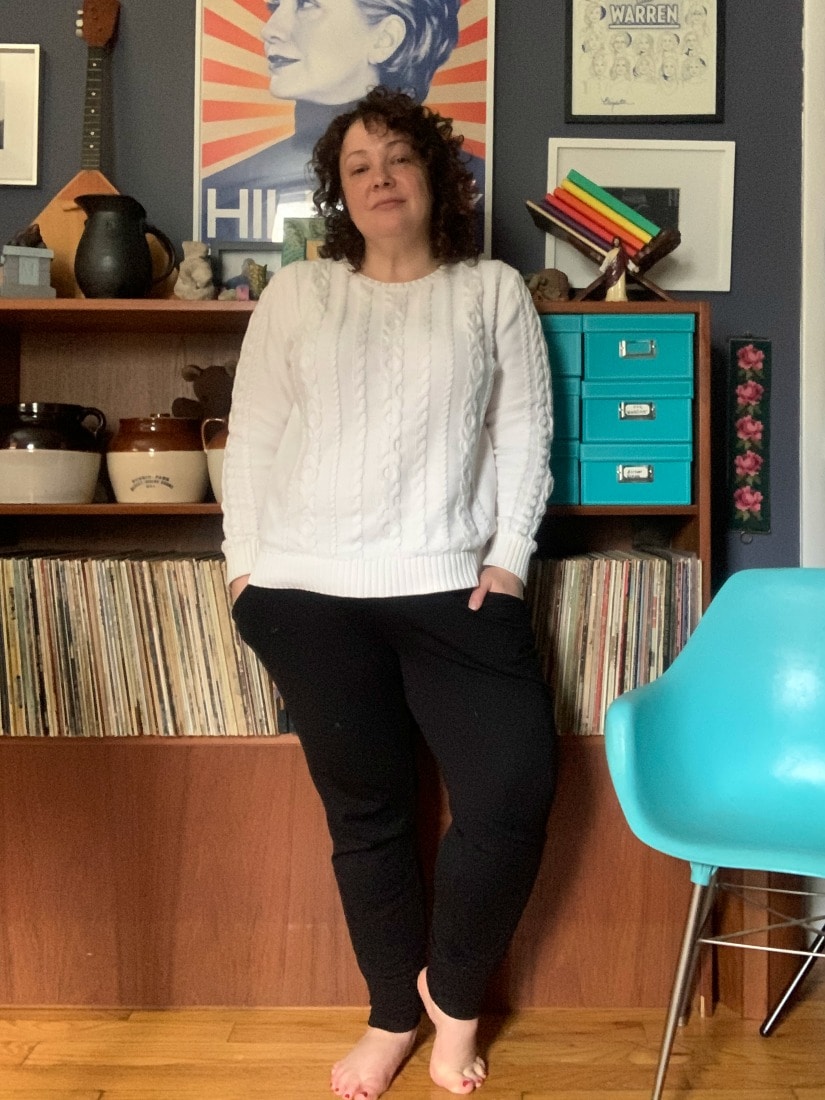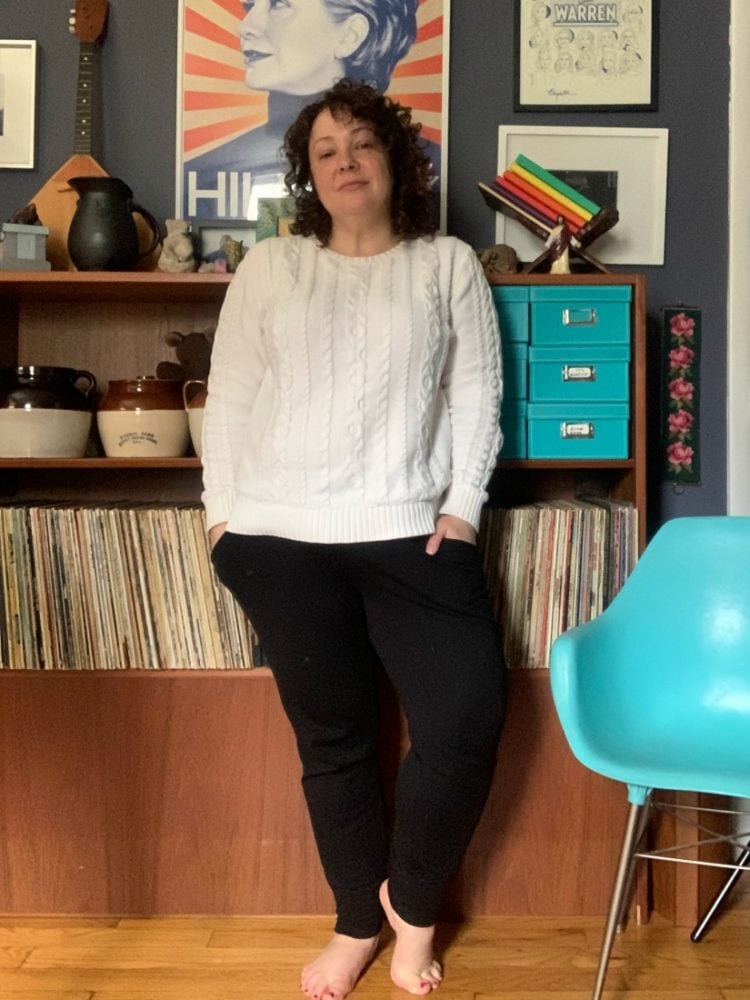 Saturday I wore the same sweater from Tuesday with my cabi joggers from last season that you've seen in this outfit post and this outfit post.  I own two pairs, I love them, and I know you'll see them again very soon.  A lot of people have asked for a similar item available now; I've heard good things about Universal Standard's joggers which are available in sizes 00-40, and these from Athleta that are only available up to XL but come in lengths.
Sunday: Making an Effort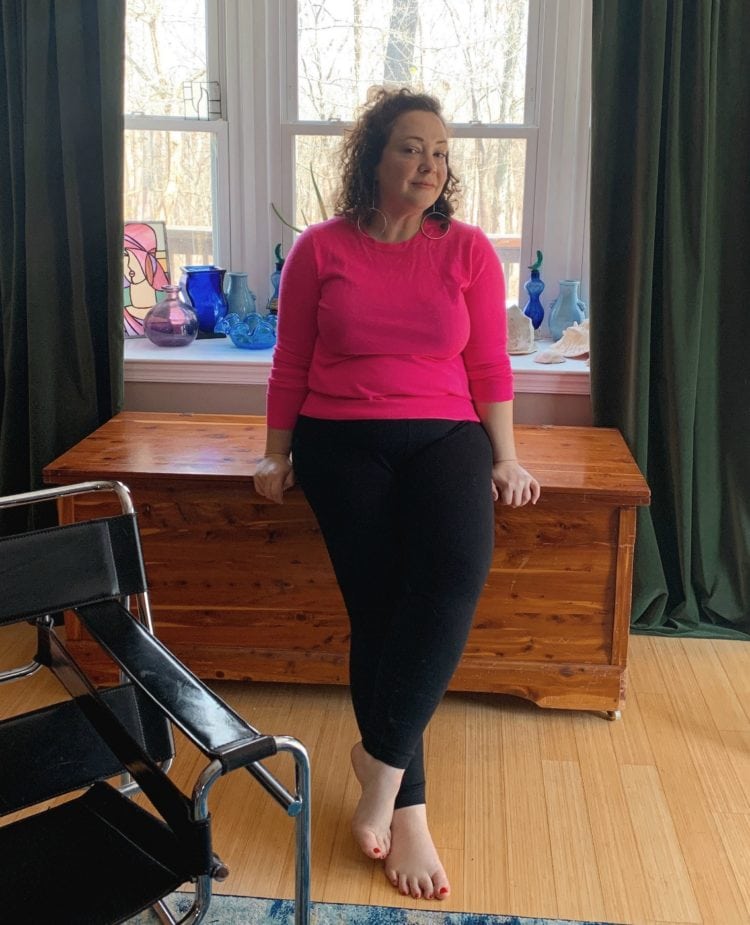 Three of my dear friends and I planned a 9am virtual brunch on a webinar platform and I decided for the occasion to make a bit of effort with my appearance.  I wore my hot pink J. Crew sweater which I featured in this capsule wardrobe and my favorite earrings from Jenny Bird (no longer available). I even did a bit of makeup – concealer, Charlotte Tilbury Hollywood Flawless Filter, mascara, brows, and a bit of gloss.  On the bottom are the same cabi leggings I wore Thursday.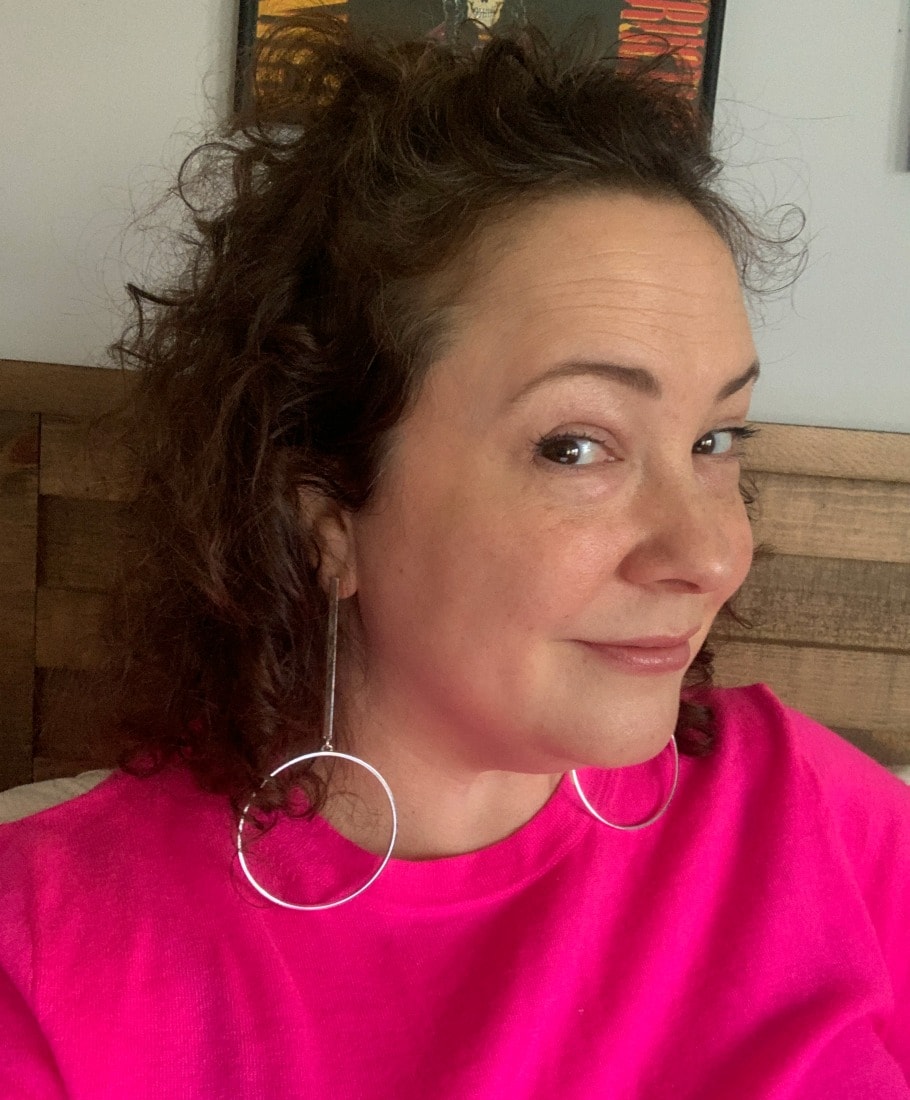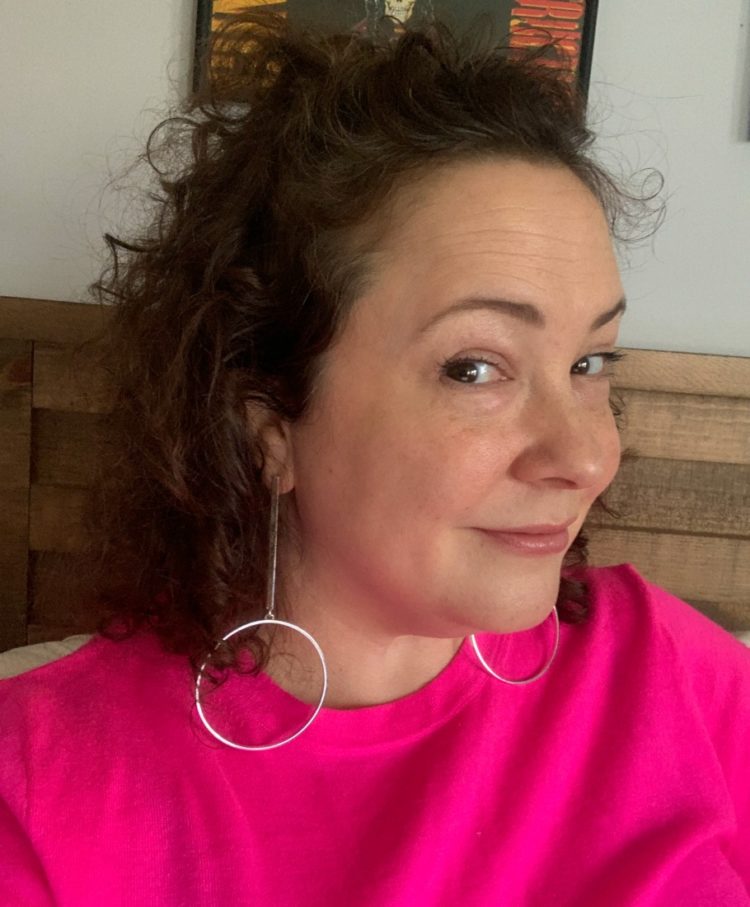 And for those who have been saying I should let my grays grow in, here's how it's going so far.  Not the clearest photo, but it's not like real gray, just enough to make my hair look thinner.  But I don't plan to dye my hair during this process, I'm going to let it come in and see what happens and will continue to keep it real with all of you!
I'm finding that journaling my outfits on Instagram is motivating me to actually get dressed and put some thought into it, which lifts my spirits, gets me going to be productive during the day, and makes me maintain a schedule.  If you start journaling your outfits on Instagram, tag me so I can cheer you on!
Shop the Post: