This article may contain affiliate links; if you click on a shopping link and make a purchase I may receive a commission. As an Amazon Associate, I earn from qualifying purchases.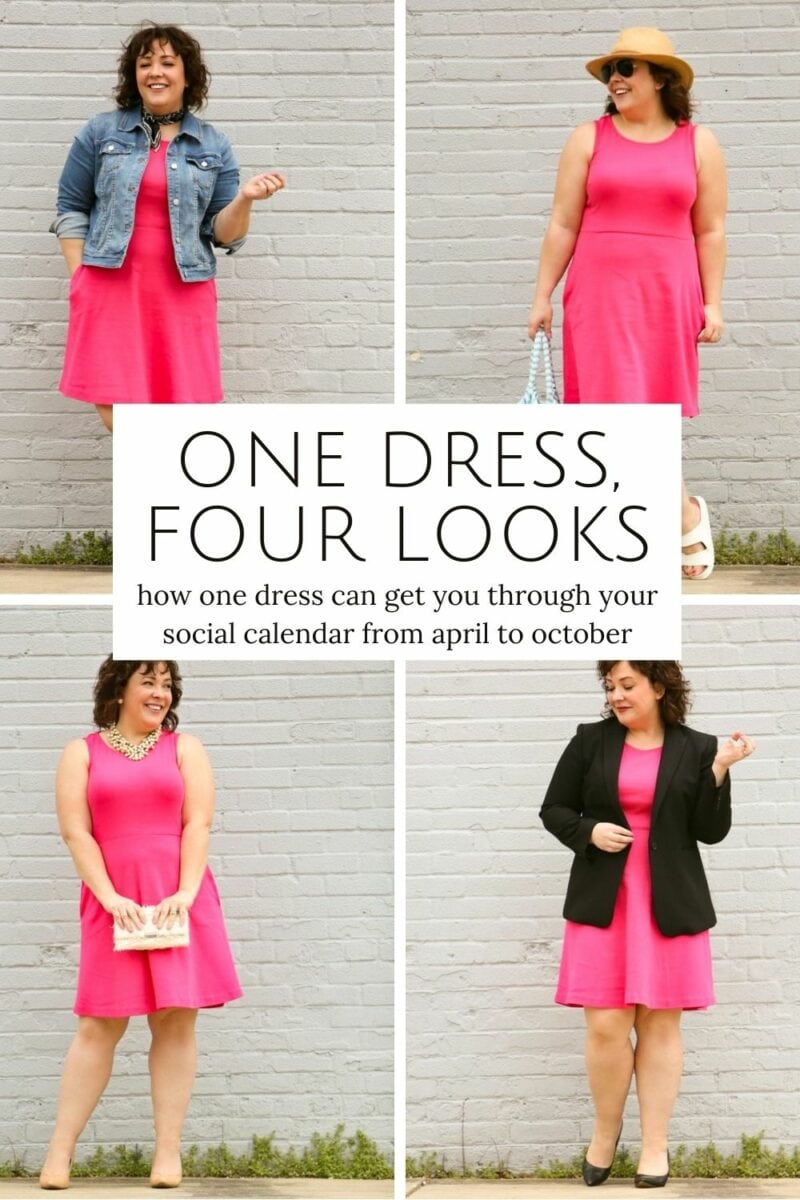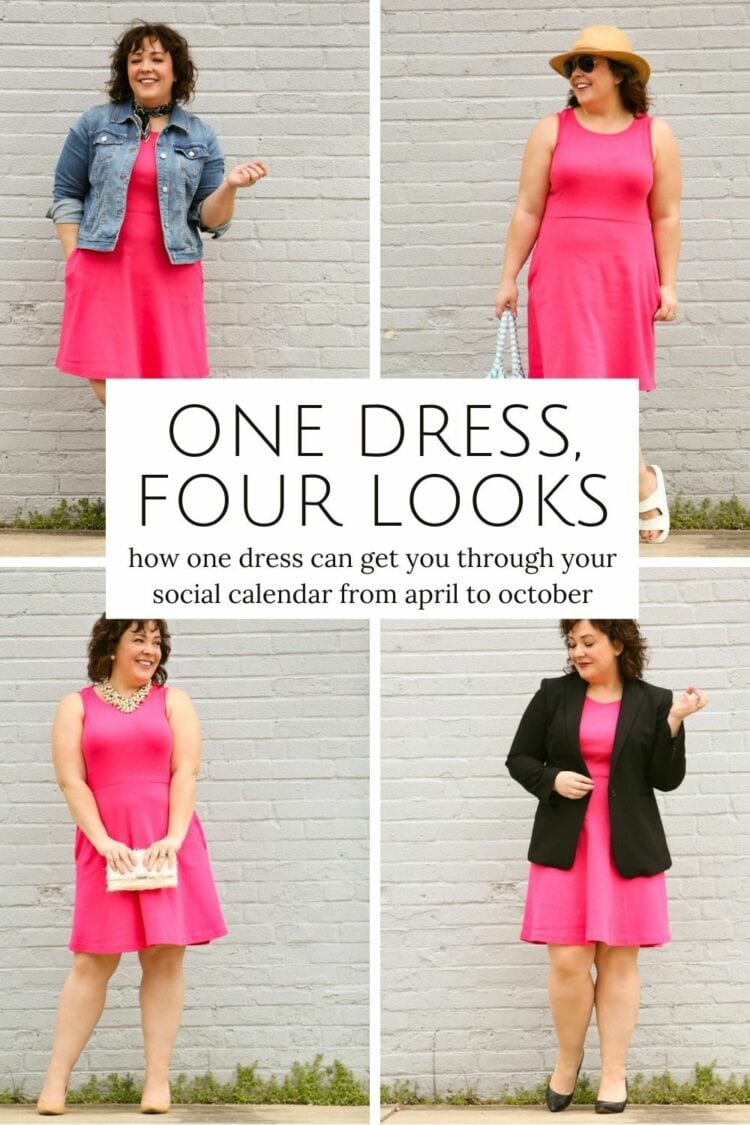 Spring and summer is dress season. Without having to worry about staying warm and covered up, dresses are a great one-piece way to be ready for work, weddings, weekends, and beyond. I love a ponte or other refined knit dress with a subtle fit and flare or a-line shape because it's so darn versatile. I always have one in my wardrobe because it's the perfect spring go-to for so many situations.
In 2019 I received this dress from Talbots; it's such a classic and such a pretty color I am not surprised to see that they brought back the dress this season. This dress is available not just in pink, but also black as well as Talbots' full size range (misses, petite, plus, and plus petite).
Styling One Knit Dress Four Ways for Spring, Summer, and Fall
I decided to update this post to show how you can style one knit dress four ways for four very different situations. This one dress can get you through spring, summer, and fall with just a switch of shoes and accessories.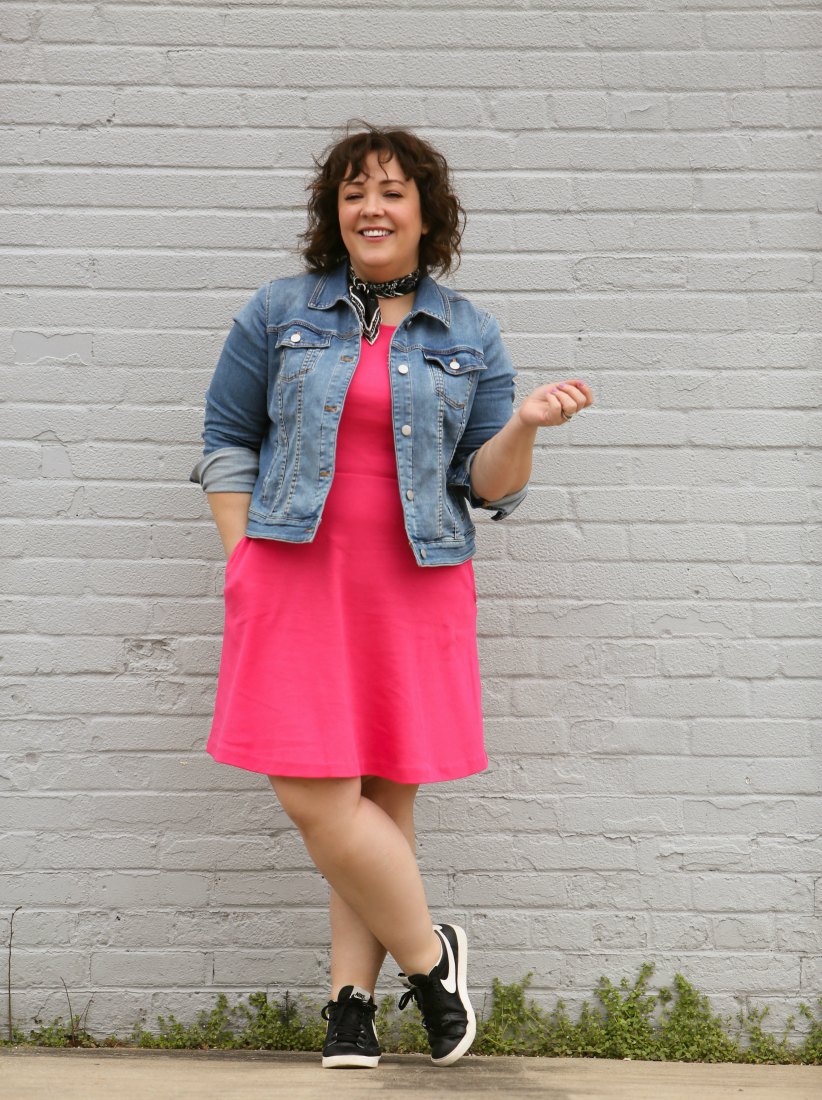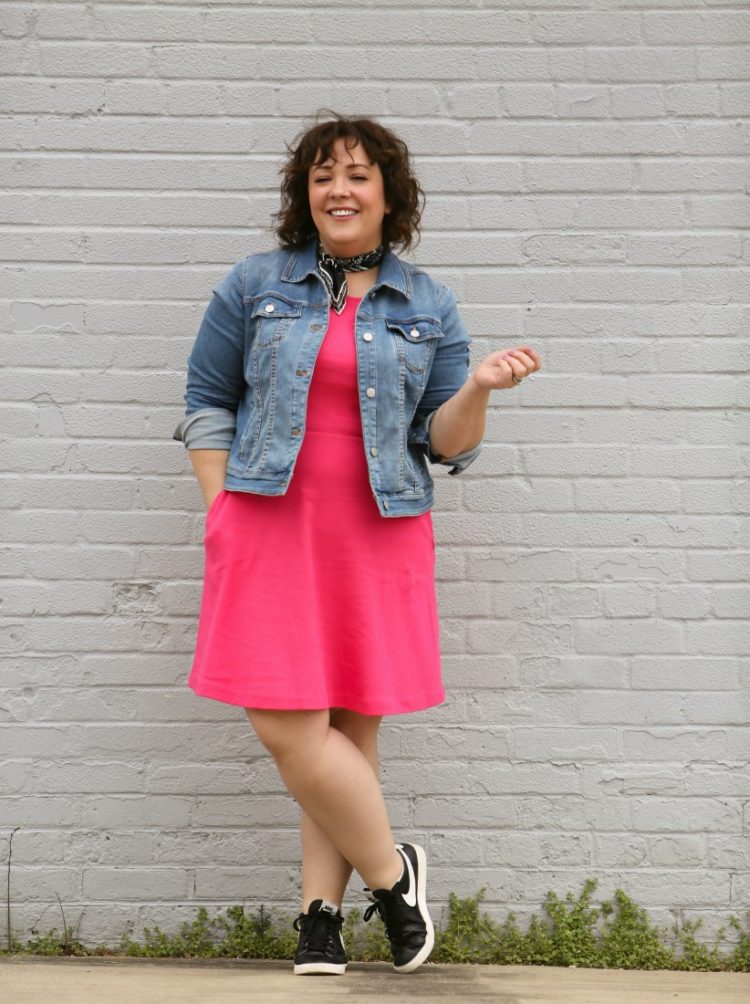 This is a spring running around town uniform for me. Knit dress with pockets, denim jacket with pockets, comfortable shoes, and an accessory to pull it together. Throw some Skimmies under the dress and you're covered for both chub rub as well as a visit to the playground after school.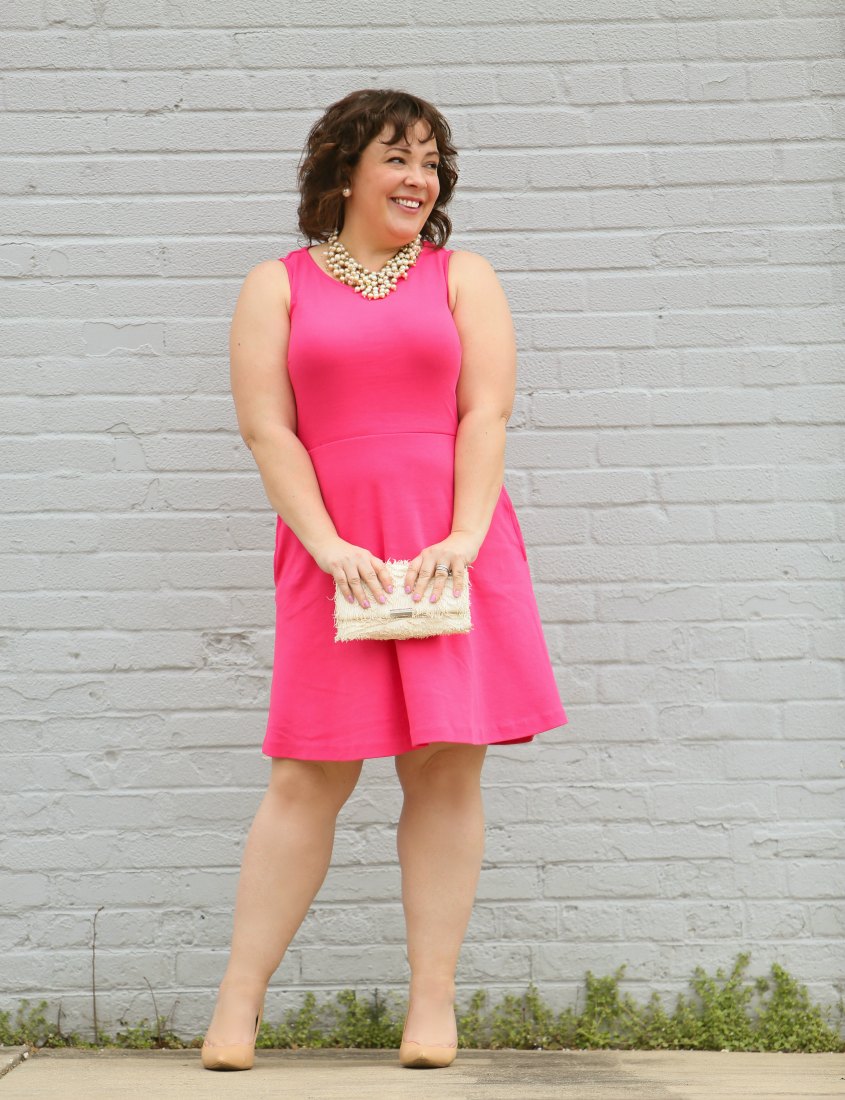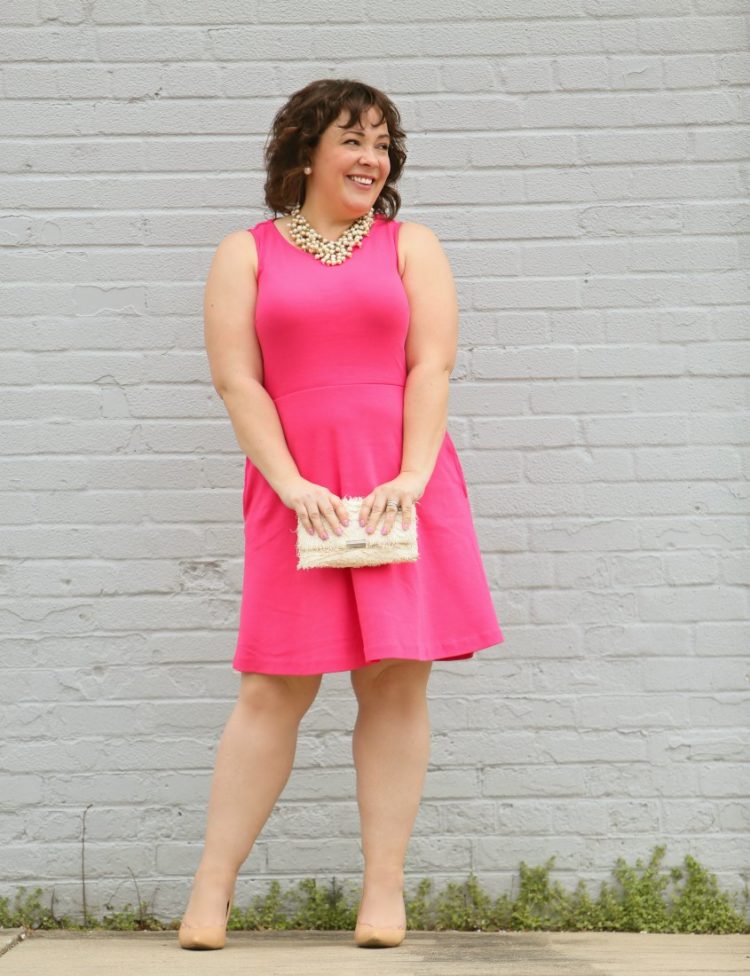 For a day wedding, a shower, a house of worship, and more you can easily glam up a dress like this with the right accessories. Nude-to-you shoes give a spring vibe and look dressy. Pearls are always a great choice, especially for spring. Add a rosy lipstick with a bit of shine to complete the look; this is a recent favorite in the color Strawberry.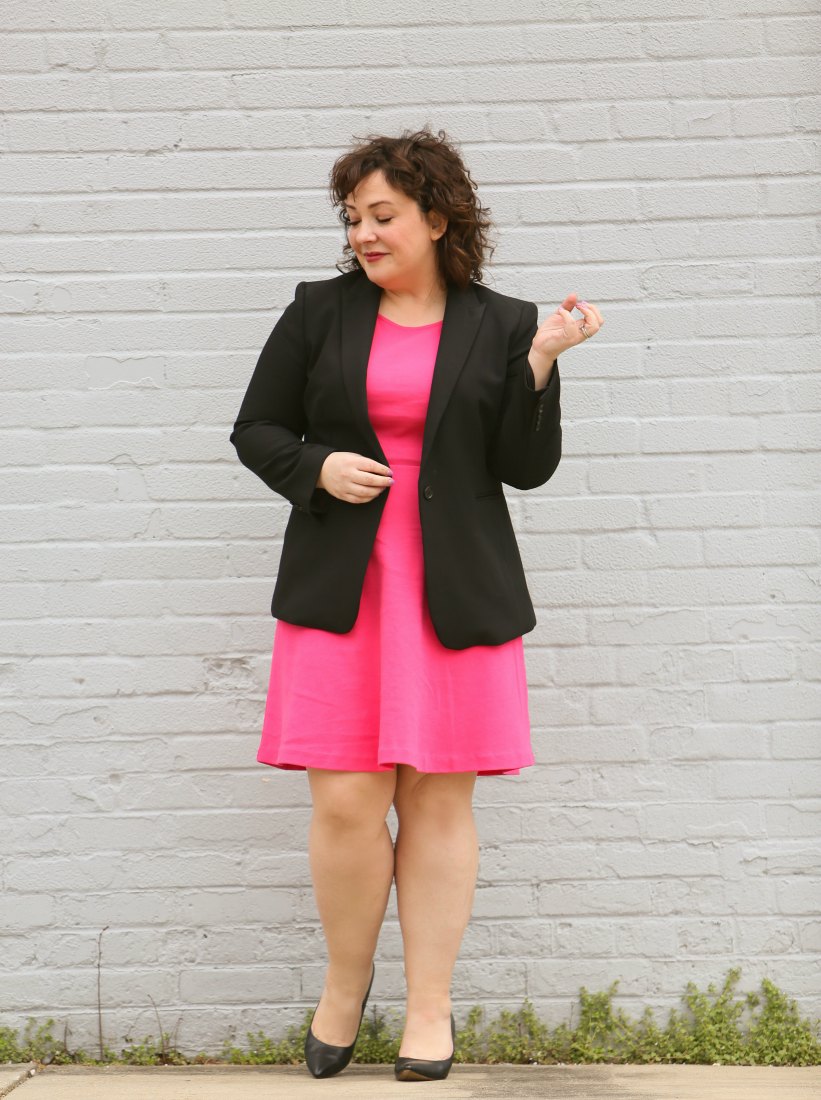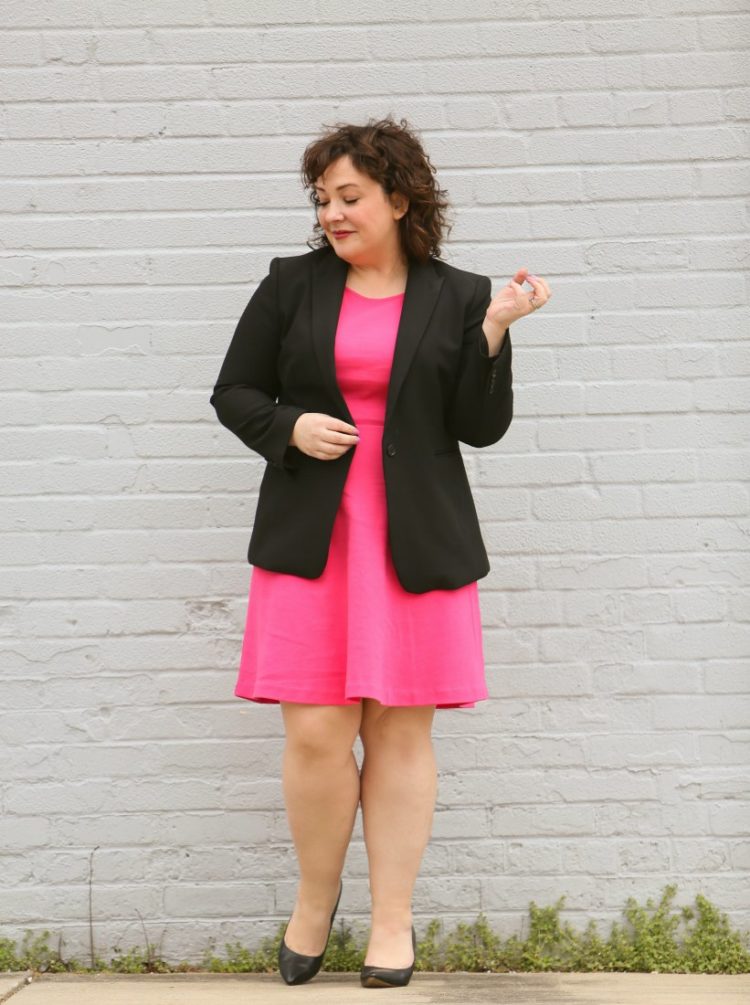 Such a dress can also work for the office. A fit and flare style dress works well with a one-button blazer since they both nip in at the waist. It doesn't have to just be a blazer; such a dress looks great with a cardigan, a moto-inspired jacket, and depending on the dress and your shape, with shorter collarless Chanel-inspired jackets.
Shop Blazers and Jackets Great for Such Dresses:

And don't think you need to wear heels with such a dress; fit and flare dresses look fantastic with sneakers, flats, and other style of heel-free shoes.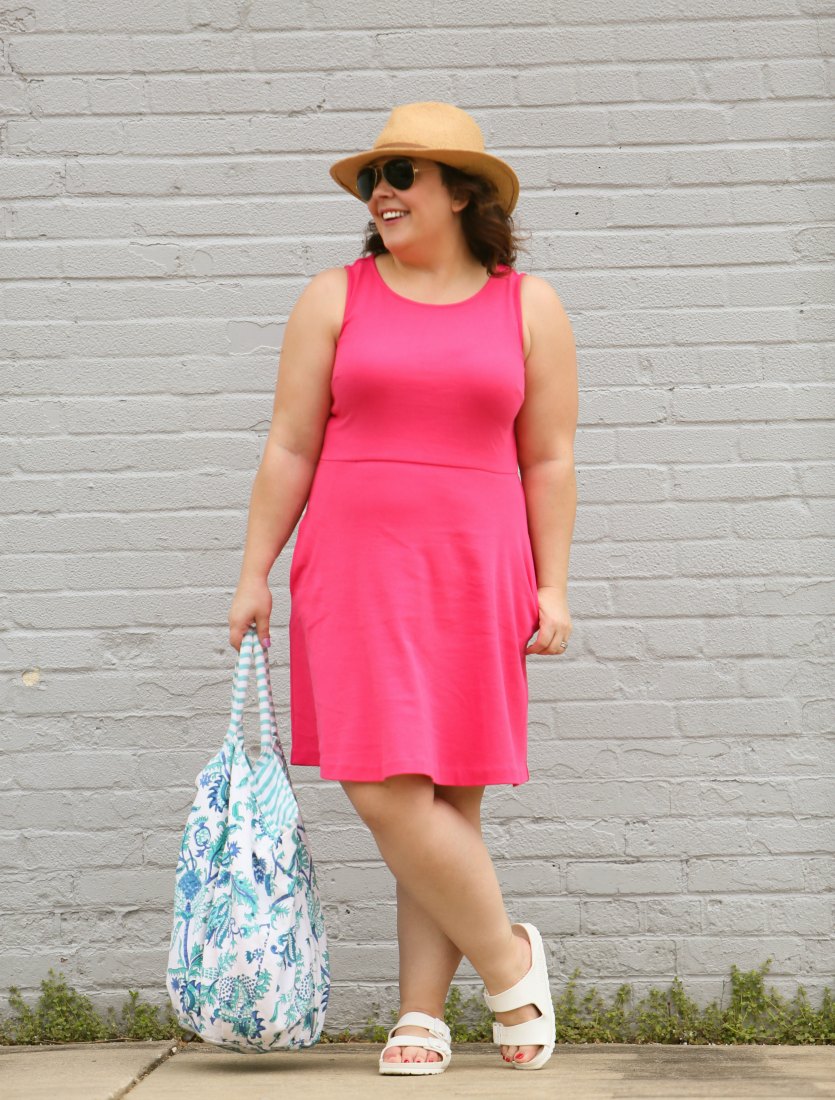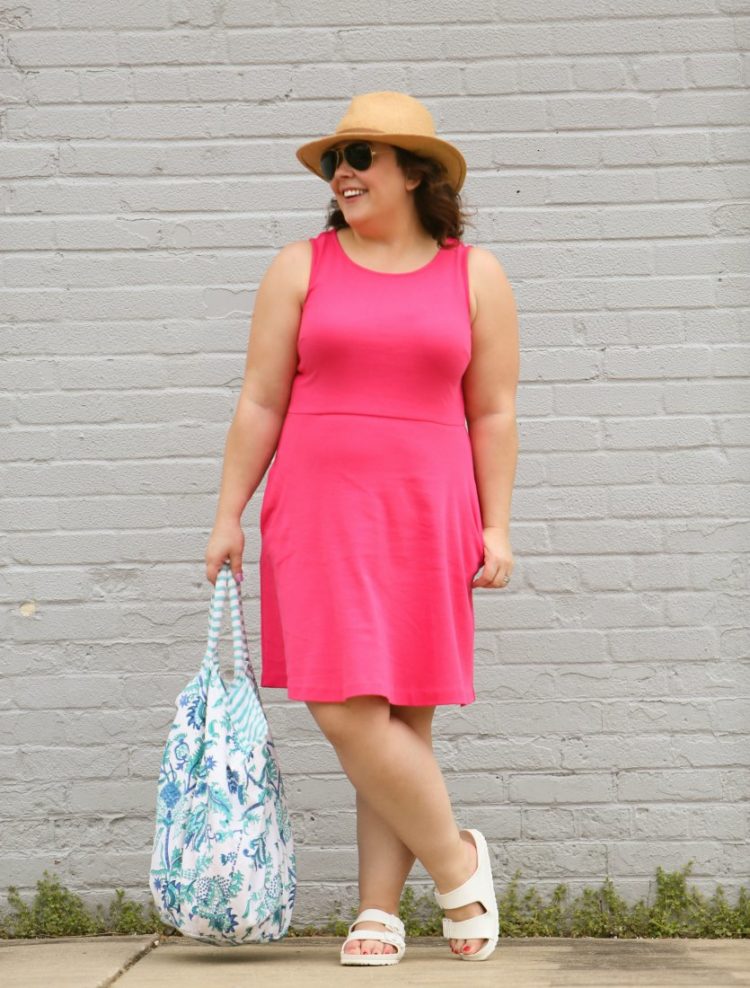 This kind of dress transitions great into summer, and I love them for beach weekends. Throw on with EVA Birkenstocks or your favorite sandals for easy dressing for lunch or heading to the beach. While I wouldn't take the same dress I wear to work to the beach, you can look for a lower-priced alternative or give well-worn dresses in your closet a new life with this role.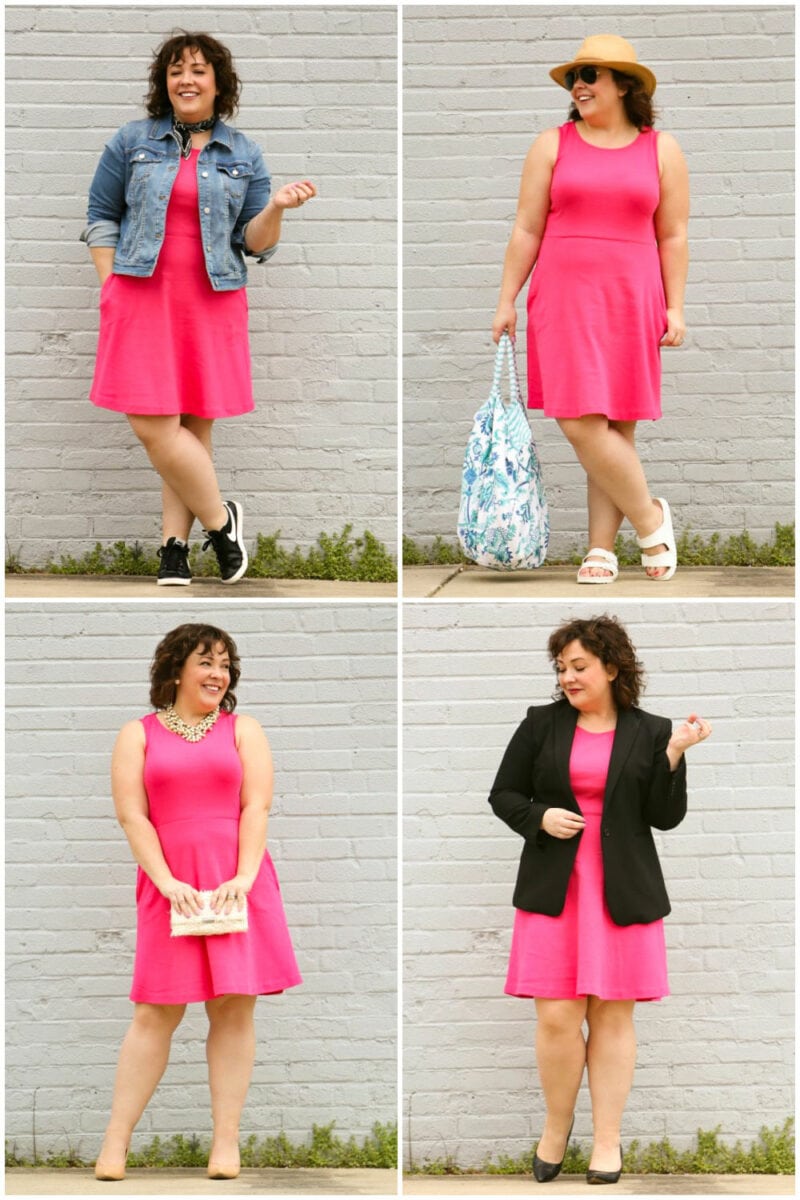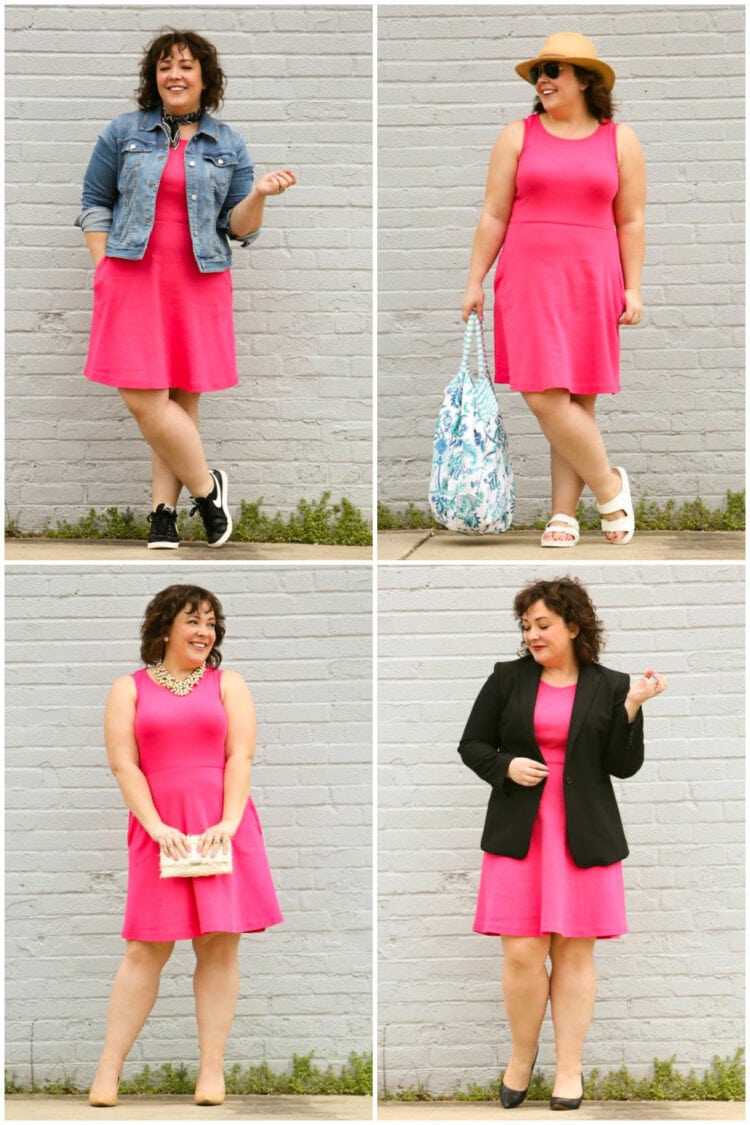 This concept of dress can be found at most every price point and in most every size. I've search the internet to find a variety of colors and styles and have them in the carousel below.
Shop Knit Fit and Flare Dresses:

I hope this post inspires you to shop your own closet and give fresh life to items you already own. If I can style this one knit dress four ways, I bet you can achieve similar results with closet staples you currently possess.
Shopping Tips for the Best Versatile Dresses:
Solids are more versatile than prints. A solid can dress up and down more easily, plus it is less memorable. Also, solids usually can look more expensive than a print.
Choose a heavyweight knit. Look for terms like scuba and ponte, which are used for a dense, heavyweight knit that will help the dress shape better and not cling. A heavyweight knit that is tightly woven (not sweatshirt or sweater material, something more dense) also looks more polished and can better fit in a dressy or business situation. If you live in a warm climate or wish to have a lighter-weight fabric, look for matte jersey as it's equally versatile and doesn't cling.
Minimize details. As with prints, details will be more memorable and make the dress less versatile. Also, details can age a dress making it look dated after a season. Watch out for cut-outs, embellished necklines or hems, mixed media (part of the dress knit, another part a different fabric), and superfluous buttons or zippers.
Keep it classic. Sleeveless to elbow-length sleeves, a round or soft v-neck at a height that is comfortable for you, a covered back, and clean lines will make this a dress that is truly versatile, timeless, and easier to dress up and down.
Find a dress that hits right above, right in the middle, or right below the knee. Any shorter or longer and it won't be as versatile. As for where exactly it hits around the knee, that is up to you and your comfort level. If you find a midi dress that is otherwise perfect, a tailor or even your dry cleaner can easily shorten it to the perfect length for your body. For an unlined knit dress, the cost shouldn't be exorbitant.