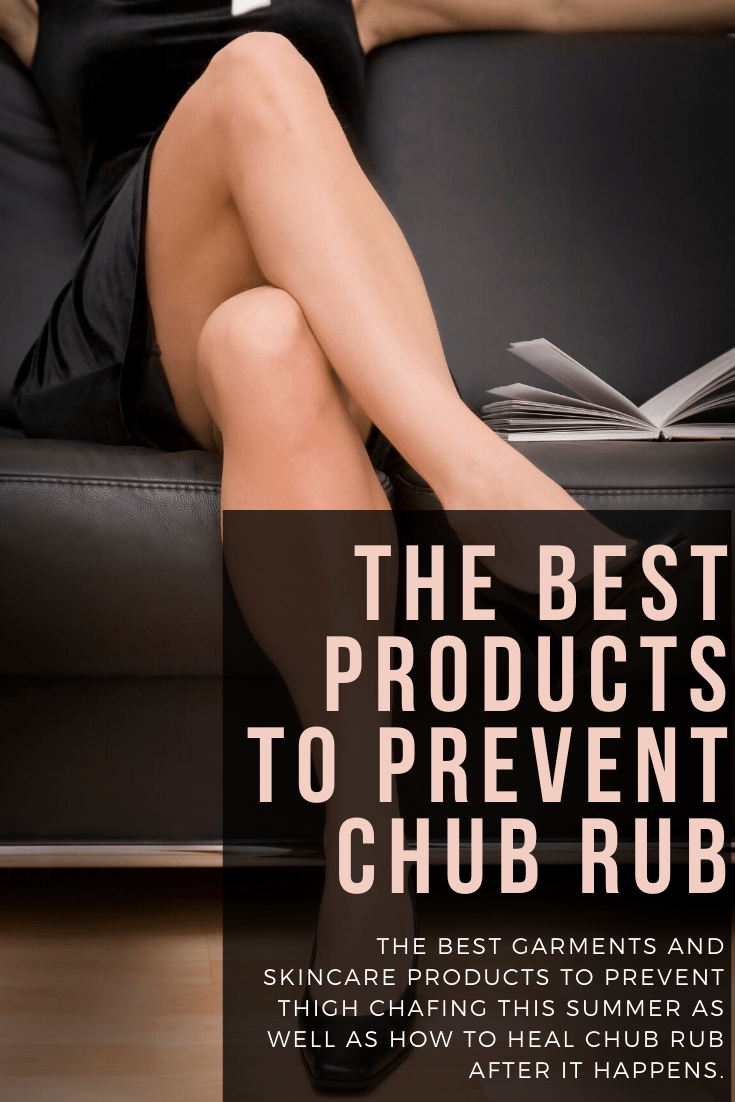 Woman, I see your Google searches and I feel your pain… literally. The dreaded chub rub. Thighs rubbing together is bad enough, but add sweat and you can end up with a rash, welts, zits, and more. I've tried a ton of products on the market and more fail rather than win. Let's not focus on the negative, let me share the best products on the market to prevent chub rub, tested by me and Wardrobe Oxygen readers.
This post was originally published in 2016 but I continue to update it every so often as new products come on the market and brands increase their size offerings and selections.
How to Prevent Chub Rub
There are two ways to prevent chub rub – with clothing and with products you apply to your skin. It is a personal preference as to which one is more effective. Extra fabric can be uncomfortable in the heat and humidity; products applied to the skin need to be reapplied as you sweat. I encourage you to read the comments on this post from fellow Wardrobe Oxygen readers to help you make a decision if you've never used a product before to prevent chafing.
Undergarments to Prevent Chub Rub
Below is a list of the best undergarments on the market to prevent chub rub or thigh chafing. Some brands offer a variety of products that are right for different height people, different outfit needs, have wicking or cooling features, and more. I focused on size-inclusive brands, but state in each product review the size range offered by the retailer.
I reviewed Jockey Skimmies in 2014 after I saw a kazillion bloggers write raving reviews that were sponsored by the brand. I had to see for myself and see if I'd rave even without being paid. After using them, I was also raving. Jockey sponsored me to try out Skimmies once again and again I raved, but this time with a free pair. I now own several pairs of Jockey Skimmies. They have cooling, wicking, and tummy control versions; I find the Original to be the best for staying in place and holding up through washings. The Original can be a bit long if you're petite or wearing a shorter skirt, but I find more success hiking up the Original size than the shorter ones, which roll up on me. Jockey Skimmies may look like a pair of Spanx but they don't suck, smooth, or restrict unless you pick their Slimmers version. Don't put these in the dryer, and wash them on gentle with as much care as a frilly pair of panties and they'll last you for several seasons. Jockey has expanded their size range for Skimmies in the past years and now offers their slipshorts up to a 3XL. I find these run big, if between sizes go down.
I was the biggest Jockey Skimmies fan… and then I experienced Thigh Society. A woman-owned Canadian brand (that ships free to the US), Thigh Society creates slip shorts up to size 4XL in two inseams and three colors (black, beige, and brown). They have two styles: cooling shorts and original shorts. The cooling shorts are thin and I find quite comfortable even on a swampy August day in Washington DC. Thigh Society shorts have a cotton crotch and are made to replace underwear, reducing the layers you need to wear on a summer day. The classic shorts aren't as synthetic feeling as many slipshorts and feel more like a very lightweight legging. I own both and find they don't slide down, don't roll up, they don't dig or create leg lines, and hold up beautifully.
Bandlettes was created when cofounder Julia Abasova was struggling with thigh chafing and sewed some stretchy thigh bands to deal with it. She shared her problem and the product she created with her friend, Rena Abramoff and together they created Bandlettes. Bandlettes are bands of stretchy lace with silicone grippers; sort of like the top of a thigh-high stocking without the stocking. They're placed on your thighs right where they touch and prevent friction. These are a fantastic option for hot days where the idea of wearing another layer of clothing sounds like torture. They're also great for lightweight clothing where bike shorts or Skimmies may show through. I find the best way to wear Bandlettes is to put them on at an angle with the outer sides higher up. On an angle, the Bandlettes don't slide down yet still cover the right area. I know some like to have them higher on the inner thighs and lower on the outer thighs; play with them and find the right spot for your body. Bandlettes come in a variety of colors and sizes and cost less than $20; they're great to tuck into your purse or suitcase for those unexpected situations.
Created in April 2018 by Founder and CEO, Brie Read, Snag Tights believes that anyone who wants to wear tights should be able to have tights that genuinely fit in comfort, regardless of size, shape, age or gender. While they are known for their amazing hoisery that fit great, hold up great, and come in amazing colors, Snag Tights also carries Chub Rub Shorts. Available in several colors and only $13.00, Snag Tights are available in hoisery sizes A/B through G which is equal to US fashion 2/4 to 26-32. There are sites to shop Snag across the globe; the links above are for those who are in the US. To shop Snag Tights in other countries, scroll to the bottom of the site where they have links to the UK, Eurozone, Australia, New Zealand, and everywhere else.
CarrieRae Munson was a teacher in Texas and desired something for modesty and to prevent chafing during the hot summer months and in 2011 founded Undersummers. Undersummers has one of the most extensive collection of slipshorts available on the market and they are made in the USA. They offer up to size 5XL, have maternity options, and a detailed size chart so you can get the right size for your shape. With five different lengths, options with pockets, fun colors, and versions with lace trim, there is likely an Undersummer that is right for your needs. I personally have not tried Undersummers but Wardrobe Oxygen readers have and rave about the fit, quality, and customer service.
Pettipants are divided slips that will provide fabric between your legs to prevent chafing while offering anti-static properties and plenty of ventilation. These are a great choice if you wish to spend the summer in skirts and dresses. While pettipants were far more popular in the past, you can still find them online. Vermont Country Store carries a cotton and a nylon version and both are available up to 3XL. The tiers of lace are so you can trim the pettipants to the length perfect for your body and outfit. Shadowline also carries pettipants in a variety of lengths and fabrics and offers styles up to a 6XL. Underworks carries a variety of pettipants made in the USA that are available up to 6XL.
Skin Products to Prevent Chub Rub
Below is a list of the products that I am readers believe help preventing chafing without having to add extra layers of clothing. Some that readers adore I haven't found effective and vice versa. I find that products you apply to skin are a more personal choice, if one doesn't work don't assume there isn't any hope. I will share consistency details which may help you narrow down your choices of what to buy to prevent chub rub.
Created by fashion influencer Katie Sturino, Megababe is a line of products that is cruelty-free, nontoxic, talc-free, paraben-free, and made specifically for women. Megababe is best known for its product Thigh Rescue. With a subtle citrus scent, this is a consistency similar to… well Bodyglide or a thick lip balm. A little goes a long way; if you don't like this stuff it may because there is too much product. I find it works better than any other anti-chafe products on the market.
Megababe also carries a product called Bust Dust. Unlike most powders, this product comes in a pump bottle. Shake and pump exactly where you need it to fight sweat. I love wearing it under my breasts in the summer for comfort and to stop chafing, but I also like it for my thighs (it's really great when sleeping without wearing pants or shorts).
I gave this product a good opportunity – the Bonnaroo Music Festival. Middle of June in a field in Tennessee. It didn't last the walk from my tent to the gates of Centeroo. But over and over Wardrobe Oxygen readers recommend this product in comments, email it to me, Tweet it to me, and in general swear by it. For me, notsomuch. However, it's a cheap dupe for Smashbox primer, so while it may not keep chub rub at bay, it can help keep your makeup in place this summer!
I'm annoyed that Bodyglide has a 'Her' formula that they admit is exactly the same product except it has some moisturizers in it and it's in a pink package. I'm also annoyed that for this bit of hydration and a pink package the product is more expensive (different sized package but per ounce, it's more expensive than the blue). I really wish I could promote an alternative that is gender-neutral but I've tried alternatives and they're just not as good. I buy the blue, I'm not going to pay extra for Barbie packaging, but you have the right to buy what you wish.
The consistency of an anti-chafing product matters, and different people desire different kinds. For those who prefer a powder, the best on the market is Anti Monkey Butt Powder, which has a terrible name and marketing, but a good product. What makes it unique is it's made with calamine, which soothes the skin. They have versions for men, women, and babies. The version for women is talc-free and instead uses cornstarch so it creates a silky feel. The brand encourages you to purchase this product from their Amazon storefront.
Antiperspirant
Yep, that stick of Dove or Degree can really help prevent chub rub. I have resorted to this when on travel, and find it effective (though it needs to be reapplied) not just for preventing chafing on low-impact days, but also for helping to heal and protect any area that is irritated from previous chafing.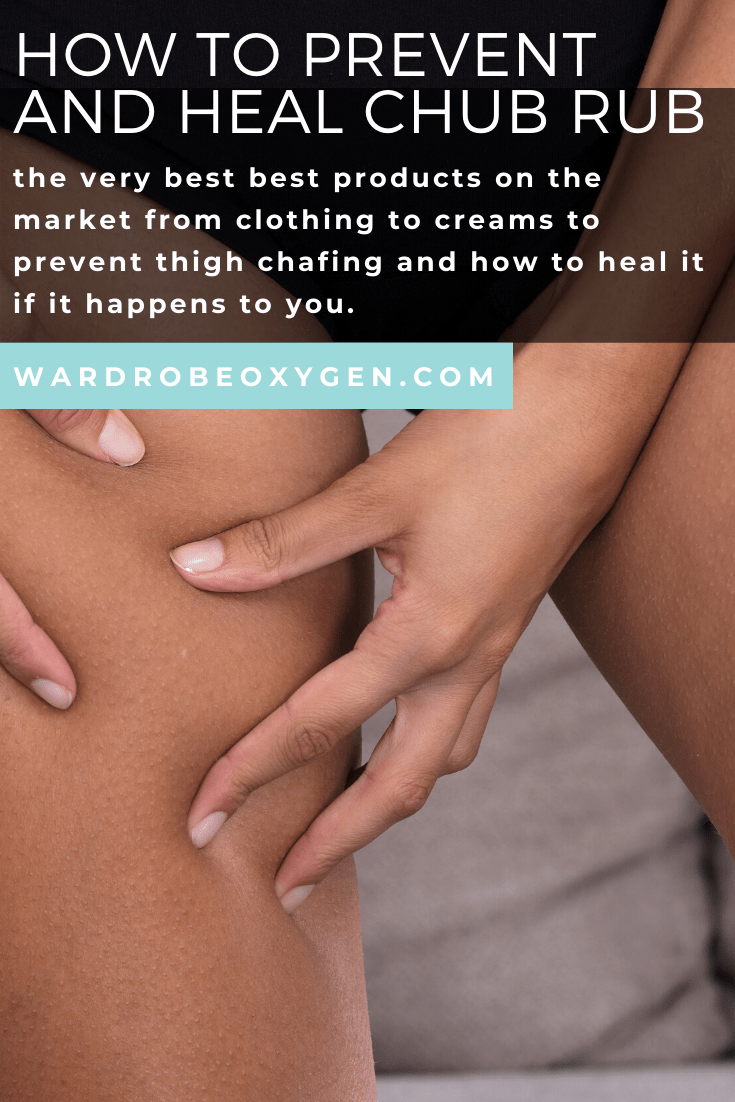 How to Heal Chub Rub
So your shorts took a hike up your legs while you hiked that forest trail. Maybe you forgot your Skimmies at home on your weekend getaway. Possibly one of the above-recommended products just didn't work for you. How to heal your chub rub?
Clean the area. Once you get home, wash with a gentle soap. The skin may be raw, so this isn't the time for scented body washes and scrubby bath poofs. I find a washcloth and some Dr. Bronner's (NOT the peppermint!) gets the job done. Pat dry.
Protect the area. Got a kid still in diapers? Have some leftover diaper cream from that point in life? This is a good use for it. If not, head to the drugstore and grab some. It's made to heal angry skin without irritation, and I found it works better than any "adult" product on the market. Some use the same Monistat anti-chafing product above for this, but I find a tube of Desitin or tub of Boudreaux's Butt Paste heals faster.
Keep it dry and separated. This is a perfect excuse to slip on those funky-printed rayon wide-leg pants. A non-fuzzy fabric (no sweatpants or fleece) that is loose and goes to your knees or lower is perfect while your skin heals. My favorite are the Cool Nights pants from Soma. Even if you're one to sleep commando or in a pair of briefs, I recommend having some fabric between your thighs until you're back 100%.
Is there a chub rub solution you swear by that isn't mentioned in this post? Share it in the comments and help your fellow woman stay chafe-free this summer!