This article may contain affiliate links; if you click on a shopping link and make a purchase I may receive a commission. As an Amazon Associate, I earn from qualifying purchases. 
Last fall, Marmi Shoes reached out to me and offered a pair of shoes from their current selection. I had not heard of the company previously, and was impressed by their wide range of sizes and widths available, as well as shoe brands I knew and loved like VANELi.
I chose a pair of black leather ankle booties from VANELi that had a slim heel and pointed toe. Those shoes are AMAZING; I wore them to death this past fall and winter and already got them polished and reheeled to be ready for the end of summer.
It's rare to find shoes that are stylish and comfortable, but these did both (you can see me wear them in this post, this post, and this post).
The Marmi Shoe Boutique at Westfield Montgomery Mall
This spring, Marmi Shoes invited me to host the grand opening of their boutique in Westfield Montgomery Mall. I was excited to get to know this brand better and understand why they stand out from other shoe boutiques. I learned that, and so much more that I became a mega Marmi Shoes fangirl.
What is Marmi Shoes?
Marmi is the retail division of Wolff Shoe Company a family-owned and operated business headquartered in St. Louis Missouri. Wolff Shoe has existed for almost 100 years and four generations have been a part of it.
Since its inception in 1918, the St. Louis-based company began manufacturing shoes and over the decades, has have grown into one of the nation's largest and most recognized footwear importers including VANELi and Sesto Meucci from sources all over the world.
Yes, you read that correctly. The reason Marmi Shoes is such a special shoe store is that they make the shoes. That brand VANELi that you love from Zappos or Nordstrom? Wolff Shoe Company made them, and Marmi Shoes can provide the most variety and the largest selection of sizes and widths than any other retailer.
Wolff Shoe Company opened their first Marmi store in 1986. Positioned as an upscale woman's boutique with an extensive selection of quality footwear, Marmi's primary focus was built around providing exceptional service while fusing fashion with fit by offering an unprecedented size range from 4-13 and widths from slim to wide.
Marmi Shoes Review
Marmi currently operates over 20 specialty stores nationwide and steadily continues to grow its retail base today. Visiting the store, I was floored by the almost cult following Marmi Shoes has. Customers drove from hours away to visit the boutique. Many women had feet that aren't easy to fit, but many came purely for the selection and the service.
The service was… unheard of in this day and age. I have retail roots, I worked in retail and apparel for a decade and considered myself a pretty great salesperson. I'm pretty picky when it comes to customer service and the staff at Marmi Shoes blew me away with their knowledge, their patience, their true love for the product and their customers.
No one was rushed, no one was ignored, and their staff could accurately gauge size, width, and the specific shoes that would fit, flatter, and work with a customer's lifestyle and personal style. Watching them work with the customers was a thing of beauty.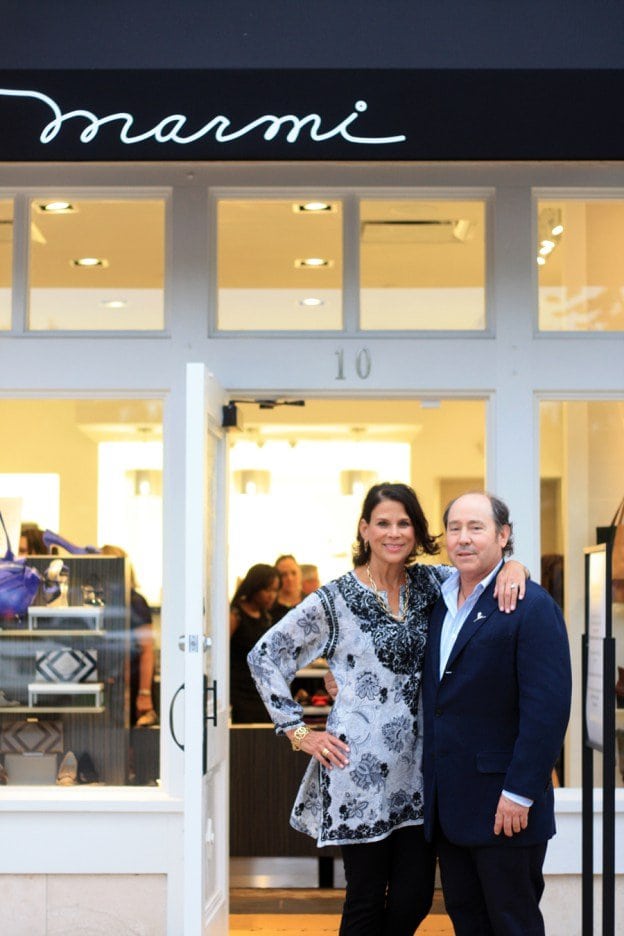 Photo of Gary and Sherry Wolf by Kim Thomas of KPFUSION. Click this link to read her experience at the Marmi store opening in Memphis,TN.
Speaking of unheard of… Gary Wolff, Chairman and Owner of Wolff Shoe Company was at the opening. He and his wife Sherry were not just observing the event, but getting down on the floor, sizing customers' feet, choosing merchandise, and working just as hard as the salespeople. Customers had no idea that the head of the company was sliding their tootsies into a pair of sandals!
Gary told me that his son, Todd, was the 4th generation part of the company and wasn't at the opening because he was in Italy sourcing materials for an upcoming shoe line. I had no idea that Marmi Shoes was such a fabulous company, dedicated to quality footwear, phenomenal customer service, and keeping it in the family.
Interview with Todd Wolff, President of Marmi Shoes
I had a chance have Todd Wolff, President and 4th generation part of this company answer some questions about Marmi:
Alison Gary: When I attended the Grand Opening for the Marmi Shoes in Westfield Montgomery Mall, I learned that Marmi doesn't just sell shoes in hard to find sizes, but is a part of Wolff Shoe Co. and most of the shoes they sell are brands the company creates! Can you tell me what brands Wolff Shoe Co. creates?
Todd Wolff: We are the manufactures for VANELi and Sesto Meucci.
AG: Wolff Shoe Co. is a family business, how many generations are involved in the company and in what capacity?
TW: There are three current generations involved. My grandfather William is the chairman emeritus. My father Gary is the chairman of the board, and I am the president.
AG: Where do you get inspiration for each season?
TW: We shop trends both here and abroad to keep in step with what is happening globally in fashion.
AG: Where do you source your materials?
TW: 90% come from Italy, specifically around Tuscany where our Italian office and design team are located.
AG: What are the top selling shoes this season?
TW: We cover the spectrum for great flat sandals to fashion wedges and heavy heels. Also, we are selling espadrilles and anything that is in a fun or whimsical material.
AG: I saw that Marmi boutiques carry other brands like Botkier and Hammett handbags; how do you decide which companies to feature?
TW: Our buyer shops the market for emerging trends finds brands that are both on-trend and appealing to our customer base to our customer. We also try to find brands that are not widely distributed, so that we can offer something special to our customers.
AG: Since some of your brands like VANELi are sold at other retailers, what is the benefit of visiting a local Marmi boutique?
TW: Selection of product (we carry more than any other retailer), customer service, sizes and perks.
AG: I was so impressed by how passionate and knowledgeable the staff was at my local Marmi Shoes store. They could just look at my feet and know not just my size and width but which styles would likely fit and flatter best. Does your staff undergo specific training?
TW: Many are experienced shoe sellers with years of knowledge under their belts. They, along with new sellers train in other Marmi stores to ensure that our sellers know our shoes, our fit and our level of customer service.
AG: If one doesn't live near a Marmi store, how can they shop Marmi?
TW: Shop online at marmishoes.com or through our catalog 1.800.966.2764
Thank you so much, Todd, for answering my questions!
I have a fab pair of VANELi sandals from Marmi Shoes that I got at the grand opening. They have been waiting patiently for sunnier skies. I'm glad to see the weather has improved, expect to see them in a future outfit post. And don't be surprised to see me wearing more shoes from Marmi Shoes, they have made a lifelong fan out of me!
Shop Marmi Shoes: