This article may contain affiliate links; if you click on a shopping link and make a purchase I may receive a commission. As an Amazon Associate, I earn from qualifying purchases. 

Dear Gap:
Do know I love you, and I have loved you for a very long time. When I turned 16 I headed to my nearby Super Gap (think it was a precursor to Old Navy) and turned in a job application. You never called (maybe because I was 16 and had no experience?) but it didn't change my love for you.
One of the first outfits I recall purchasing was from that same Super Gap. Emerald green tee-shirt hiked up with a brown leather belt at the hips, an emerald and navy plaid cotton drop-waist skirt that puffed out quite nicely. My sister had a similar look in pink.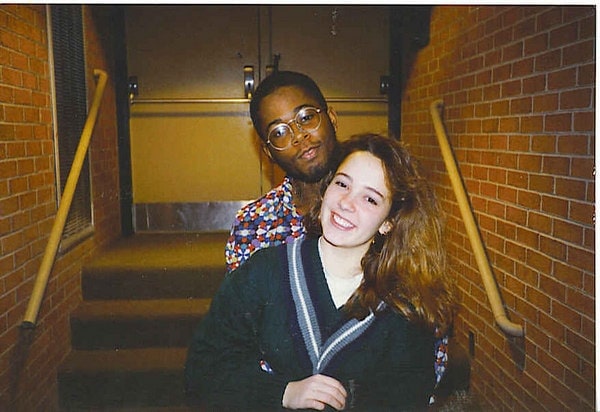 I still have that forest-green v-neck sweater I bought for my high school boyfriend Shaun (that is not Shaun in the picture). Remember it, with the wide stripes of navy, gray and ivory at the neck? It was 1992 and very preppy in a cool way. We broke up around Thanksgiving and I was secretly grateful for then I could keep the sweater for myself.
How about that pewter shantung a-line wrap skirt I found on the clearance rack for $9.99? The snap was missing but was otherwise perfect. I paired it with a black silk twinset and black ballet flats and felt like Audrey Hepburn. That skirt is sitting in my attic waiting for the moment when I again fit into a size 10.
Gosh, I am still sporting my forest green hoodie with the half-zip neckline that I got in 6th grade. Then it was paired with leggings and puffy socks, but now it goes with me on every camping trip and it is thrown on every sick day. Other than the torn seam at the pocket, it looks almost brand new.
I did denim cheat a few times in high school and college. Guess, Calvin Klein and Express were shiny and attractive, but you were the one that always fit me best. You were always who I went running to when the others were too tight/too loose/too trendy.
After college, my body became more… curvy and it seemed that the only store that accommodated my curves was you. I found jeans that were not only the right rise on my petite frame, but the right length to let me wear heels without either tripping over the hem or have my ankle bones show. Oh the original Lowrise Bootcut… I kept my first pair for two years after they tore at the crotch in some hope that the Denim Fairy would come and make them whole.
But Gap, you started betraying me. You modified the Lowrise Bootcut, making the denim stiffer and the legs slimmer. Don't you know by now that I have "athletic" thighs? I still bought them, but instead of a custom fit, I had to do squats each morning to get them to be comfortable. It made me feel… the way Express started making me feel at the beginning of the new millennium: used… and fat. Then you discontinued the Lowrise Bootcut altogether. Why, Gap? Why?
On one of those increasingly rare occasions, I had the pleasure to work with a salesperson who was A. knowledgeable about your line, and B. helpful. She suggested I try your new Curvy line of denim, suggesting the Curvy Bootcut as a decent alternative to the Lowrise. The denim wasn't as refined, the color not as hip, the fit not as exquisite, but it was good enough that I could again own a pair of jeans and not show my thong each time I sat or fear that my "athletic" thighs would bust a seam. I purchased a pair and wore them regularly, the denim molding to my figure with each wash and wear.
After a season of wear, my Curvy Bootcut was looking a bit ragged and the trends were heading toward more indigo of territory. I returned to you, hoping for a replacement pair. Yet again, you betrayed me by discontinuing this line as well! I tried every style in your store, finding them all to be built for someone else – a woman with skinny legs, no curve to her belly, and no junk in her trunk. When you chose to bring back this line, yet again it was altered to no longer fit a REAL curvy body.
What happened? Did I go to sleep and wake up to a world of stick-people? I looked around me and saw the same women as before – curvy, soft, natural, and in desperate need of a decent-fitting pair of jeans. Beautiful women in jeans way past their prime – waistbands above the belly button, tapered ankles, dated stonewashed hues. Gorgeous ladies with muffin tops, exposed ankle bones, exposed undergarments, and suffering legs in binding denim. Women who are clinging to old pairs because nothing current fits. Women who have succumbed to denim built for plastic mannequins and not human beings. Women with NEEDS.
Last year I was in San Francisco, your stomping grounds. My job had me visit your hallowed halls and I even ate in your cafeteria and sat on your terrace and admired your view. I felt as though I was Home. I met one of your bigwigs and together we went to your flagship store to go shopping. I, a curvy petite brunette and she, a leggy blonde scoured all the many floors of your store for new fall jeans. On a whim, I picked up a pair of your denim trousers in a size 12 Regular no less (at the time I was a solid 14 Petite). You know what? They FIT!
For the first time since my affair with the Lowrise Bootcut a pair of your denim fit me as though they were made for my body. It didn't hurt things to know I comfortably slid into a size smaller too. I left the fitting room to find that Leggy Blonde had also fallen for your denim trousers. The magic was back – your ability to dress all women and make us all feel great about our figures.
I wore the heck out of those denim trousers. I would hang them dry and iron them to press a crease down the front. I got rid of all my not-quite-right denim, slipping into the trousers at least once a week, of not more. Each time I wore them, I got compliments on the style, the color, and questions as to whether I had lost weight. I glowed; I had that look of love.
Even with careful maintenance, those denim trousers started to falter. The color began to fade, the hem began to fray, the fabric between the thighs started showing signs of wear. I went to your website to buy a replacement pair but they were no longer available. I ordered an alternative and returned them before even trying them on – I could tell in the package that they wouldn't flatter. The denim was too stiff, the slash pockets would bulge from my curves, the waistband would probably dig into me when I was sitting.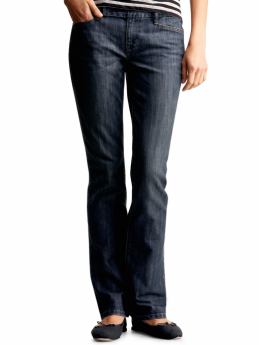 A couple of weeks ago, I came back to you. You had updated your website and I eagerly logged on to see your fall collection. Your denim selection was extensive, but I didn't see anything that was quite right… the straight leg trouser jean. No slash or patch pockets in front, no flap pockets in back. A clean look and a delectable color and finish. A worthy replacement to my San Fran pair, almost exactly like the original. I ordered them in haste and waited with bated breath for their arrival.
Finally, they arrived. They were even more beautiful in person. I put them on… and they fit well. Not as well as San Fran, but not too shabby. I liked the 2007 details – the detail on the back pockets, the tab waistband, the dark grainy wash.
Today I decided to finally wear them. I looked in the mirror and was pleased with the reflection.
I drove to work, and when I got out of my car, the tab waist unsnapped (there is an inner button, then an exterior snap for the waistband). Maybe I moved weirdly; I re-snapped the pants and walked to the building.
The pants unsnapped twice on the walk to the building and once in the elevator. As soon as I stood up from my desk chair to retrieve a document from the printer, my pants unsnapped again, having the denim tab stick straight out from my waist through the denim, making this wardrobe malfunction obvious to everyone around me. I used my document to cover my waist and rushed back to my desk, searching my purse for a safety pin. All I had was one of those little gold ones that attaches tags to garments. I attempted to use it to hold my pants together, but your denim was too strong and the pin bent and collapsed under the weight.
I was angry and could not wait to get home and throw these pants back in the box and send them back. Then I went to the local grocery to grab lunch. I was walking from my car, walking carefully and with perfect posture to keep the pants intact. I saw my friend Megan who was grabbing a drink from Starbucks. "Look at you Al, have you lost weight?"
Oh, Gap, how you toy with my mind and heart. You KNOW I am a sucker for the weight loss compliment. I followed Megan to Starbucks and we chatted, your jeans staying snapped the whole time. Walked back to the car, jeans still on good behavior. Then walking back to the office building, and you unsnapped. TWICE.
You know what the problem is? These jeans were not made for a tummy. No tummy at ALL. If I suck in my stomach and have perfect posture, the jeans stay relatively intact. But if I move, walk, BREATHE they unsnap. A quarter of an inch more on the tab, and these jeans would have worked for a woman with a six-pack or with a bit of softness to her shape. But noooo…. Yet again you have betrayed the softer sex and made jeans that have us believe there is something wrong with US.
Gap, I know you haven't been doing well financially and I would hate to see you go. I think of many great outfits in my past, and most had at least one Gap garment in it. But if you don't stop and see the population of this country, you will fade away.
You have Old Navy for the cheap basics and trendy pieces. Banana Republic is great for the young professional and elegant staples for many ages. And you? You should be a guaranteed spot for great jeans, well-made tee shirts and a bunch of fun pieces to jazz up a wardrobe of staples.
The last hoodie I got from you had two seams fray in the wash. My newest denim skirt faded after one round in the washing machine, and the new scoop-necked tees I got from you in a Large are too big and the Medium are like bodysuits. Your chance for survival is not going to be based upon designer collaborations but from being reliable.
You need to be a standard for American women (and women around the globe), but now you are a place I see many females walk right past in the mall to head to J. Crew, Levis, or a department store.
No, you can't compete with the high-end designer denim, but you still have a chance to hold onto your title as American Fashion Mecca. Just remember who it is you're actually trying to dress. Your mannequins aren't the ones with the money.
Love,
Allie