This article may contain affiliate links; if you click on a shopping link and make a purchase I may receive a commission. As an Amazon Associate, I earn from qualifying purchases. 
New clothes!
I bought a few things recently from Banana Republic (everything too big except this dress), Gap (nice new tees but their European line is disappointing and will be returned) and Nordstrom (everything ugly) and then of course Sephora. My seasonal web-based shopping spree.
So a lovely black merino wool sweater dress from Banana Republic. How cute is this, and how cute will it be in colder months with tights and a turtleneck? How fun would it be with a thermal long-sleeved top and some chunky boots? It's the cool-weather equivalent to the Jones New York tee-shirt dress I sported all summer! With it I have my black croco peeptoe heels from BCBGirls, my silver hoops and cuff bracelet.
Hair was washed, conditioned and air-dried last night. This morning hit a few pieces with a curling iron, straightened the bangs with a dryer and round brush and then a bit of Matrix Sleek hairspray for body and definition.
Makeup is L'Oreal True Match concealer in W4-5, Benefit's That Gal Brightening Face Primer on cheek and brow bones, Philosophy's The Supernatural Airbrushed Canvas powder foundation in Beige, Nars blush in Orgasm, Nars lipstick in Dolce Vita, Pop Beauty shadow set for brown eyes – light khaki on lid and darker khaki in crease and along lash lines, Maybelline UltraLiner in black on top lash line (again, a new tube) and for mascara Imju Fiberwig in black over curled lashes.
Product Reviews: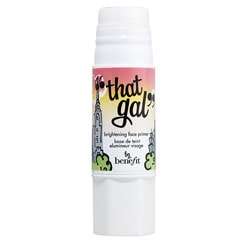 Benefit That Gal Brightening Face Primer – An interesting product. I usually hate highlighters on my face – they look greasy and false. However Morgan from Cult of the Black Sweater liked it and we have very similar coloring and tastes so I decided to try it.
The product is in a container that looks an awful lot like a glue stick. Instead of rolling up a sticky white tube of goo, you click up a pearly pink liquid through tiny holes at the applicator tip. I tried applying straight to the face, but needed fingers to blend, so the next time I used it, I just applied straight to fingers for more even application. It doesn't feel heavy, sticky, greasy or like any other highlighter I have tried. It really disappears into the skin and leaves… a natural look. Very light liquid formula.
Can it be? A highlighter that doesn't make me look like a greased pig or a raver? On bare skin, That Gal gives a slight glow – not as obvious as my Smashbox Soft Lights, but not invisible. Gave me that honeymooner glow I always want to have when I go bare-faced. Under foundation or powder it still showed it's glowy self, but in a more subdued manner. It made my skin look fresh, healthy and elegant. Over foundation, it gave that honeymooner glow and didn't ruin the foundation finish.
This will be in heavy rotation in my makeup regime.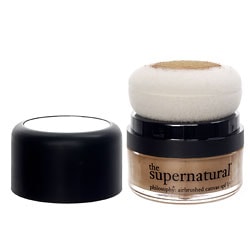 philosophy The Supernatural Airbrushed Canvas – Sooo not something I would purchase. I don't like hokey gimmick foundations, I never buy foundation by mail unless it's a reorder, and honestly, I am the one person on the planet who finds the philosophy line NOT cute or charming or quaint. I find their scents to be too candy-like, their eau de toilettes too feminine for my tastes, and what I have purchased in the past I find to be no better in quality to drugstore brands. But I heard good things and I am not loving the look of my mineral foundations and my L'Oreal True Match is too fair for this time of the year….
Omigoodness I am really really REALLY liking this stuff! I mean, I have been a big fan of the classic s- Bare Escentuals, L'Oreal True Match, MAC Studio Fix but this stuff… this stuff makes me have dream skin. I feel like an actress in a film noir. Airbrushed? Hecks yeah. Natural looking? Can we say that my weird red veins and acne scars are invisible yet my freckles still peek out in an adorable way? No falling into wrinkles, creasing around the eyes, wearing away by 4pm or feeling heavy/thick/itchy/false. I put this on over eight hours ago and still my skin feels smooth (I think it inhibits oil production on my nose!), looks finished and natural.
It is a powder but it covers just as nicely as a regular liquid or cream foundation. And like a cream foundation, the more you apply the more coverage you receive. The powder is encased in the container, and a sponge is affixed on top. You press the sponge to your face and then use it to buff the color in. No mess like Bare Escentuals, yet just as much beautiful coverage and buffed finish.
Only problem? This is not a sweat-proof or cry-proof product. Yesterday I had a day of bad traffic, getting lost going to an event, dog getting in the trash, rain and unexpected news and a few frustrated tears were shed. Went upstairs and I had ivory-colored streaks down my cheeks. Rest of the makeup was intact, but the foundation went a bit awry. Think this is a good choice for cooler months and normal days where I don't plan to cry my eyes out or run a marathon.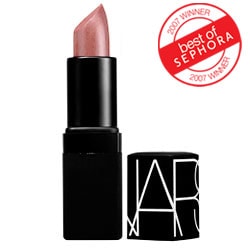 NARS Lipstick in Dolce Vita – Some magazine or website said this was the most versatile and complimentary color out there for the majority of skintones. I don't remember where I read it, but when I desired something new (and very fun to whip out of my handbag for a touch-up) I decided to go to my beauty wishlist and this was my choice. Yes, I keep a wishlist in my planner, don't you?
So the lipstick feels expensive. I don't buy expensive lipsticks because I switch them often, get fickle, and well…. I don't usually wear a lipstick – just a gloss that I eat off before lunch. But this fall is about more refined makeup and I thought a lipstick would be an lovely change.
Sepohra says this is a sheer dusty rose, but I think it has a berry undertone. This is not pink, this is an elegant color that ladies wear. Ladies with elegant walks and great blowouts and classically beautiful leather handbags. I wear it, and my lips look defined, full, feminine and not at all girly or cheesy. This is my new interview lipcolor.
And the formula? Matte enough to fit with this fall's trends, hydrating enough to leave my lips in the same condition they were at the beginning of the day, yet dry enough that it lasts until lunch. And it's very nice to pull out the tube with the big NARS on the side (yes I am a sucker for things like that). I think this lipstick is definitely worth the money. There are some cosmetics that are worth the department store price and it seems that every single item I have ever tried from Nars has been worth it.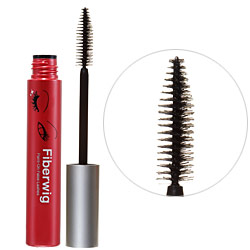 Imju Fiberwig Mascara – Another gimmick that I like! Hard to explain, so this is what the Sephora site says:
Fiberwig
What it is:
Fiberwig is the top-selling mascara in Japan – beating the competition with remarkable, "false eyelash-like" results.

What it is formulated to do:
Engineered to create the perfect lashes with twice the amount of micro-fine interconnecting fibers, the instant drying formula creates a long lasting film coat around your natural lashes. Fiberwig imparts a perfect, smudge-proof maximum lash extension effect with a water-resistant formula that's easy to remove with warm water, without risking damaging or losing your natural lashes.

What else you need to know:
A jet-black fiber film coats the surface of each lash with long-lasting, clump-free, lash lengthening color that's resistant to tears, sweat, and oil.
And it is all that. The first day I got it, I tried it on over my DiorShow Unlimited and I really did look as though I had false eyelashes. I batted my eyes and my lashes hit my cheeks when I smiled. I went downstairs and my husband asked if I had just put on mascara. The great thing was that it didn't clump or get weird and goopy looking. It just added to the thickness and length of my lashes. On clean lashes, I found one or two strokes to give a natural look and the more strokes I added (no need to dry between coats) the longer and thicker my lashes looked. I think I could keep applying for five minutes straight and have better lashes than a set of falsies!
Funky thing – I removed my liquid liner with a cotton pad and remover and the mascara came off with it – and it was all over the pad like a black cobweb, not a black smear like most mascaras. It really is different from traditional formulas. I plan to play with it more – adding over other products and trying for a real glam look and will keep you posted!