This article may contain affiliate links; if you click on a shopping link and make a purchase I may receive a commission. As an Amazon Associate, I earn from qualifying purchases.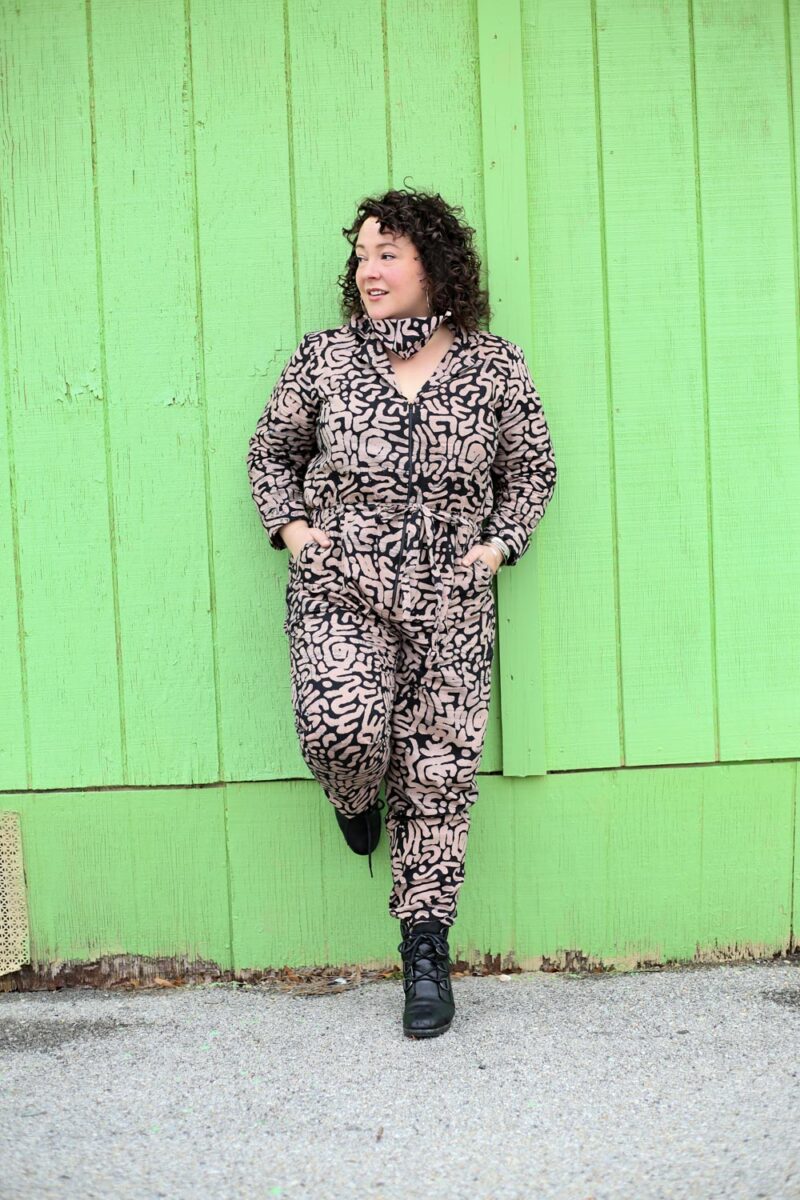 I'd like to thank Lissa in the Wardrobe Oxygen Community for tuning me on to the brand Osei-Duro, a sustainable, ethical fashion brand that does good, looks good, and offers their clothing up to size 3XL (which is a 44″ waist, up to 52″ bust and up to 60″ hips). With so many ethical fashion brands offering limited sizes and/or limited colors and prints, Osei-Duro is a breath of fresh air.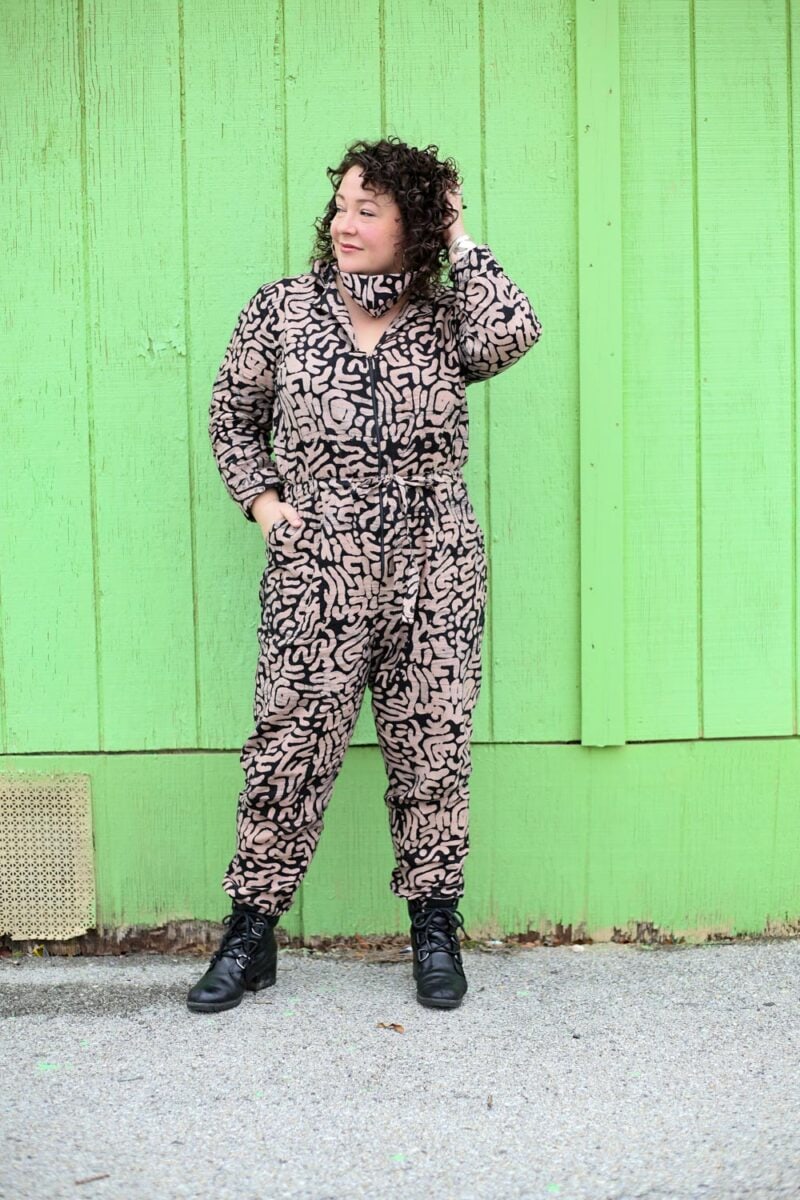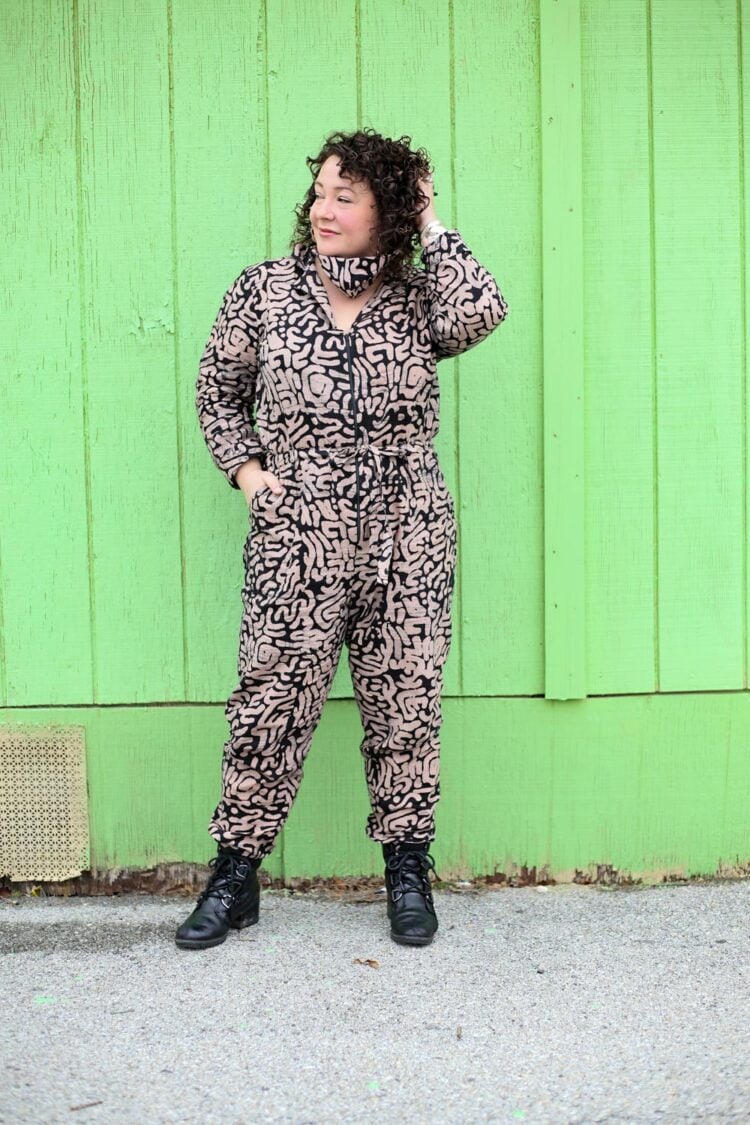 I decided to make a purchase to experience Osei-Duro myself and I struggled to choose which item. Dresses, shirts, jumpsuits, totes, and more. I doubt many are surprised I got a an Osei-Duro jumpsuit as jumpsuits are by far my favorite type of clothing to wear. Osei-Duro has three styles of jumpsuits; I chose the Fuga Flightsuit because it was the best style to wear now while it's cold out, and I also liked the zipper closure.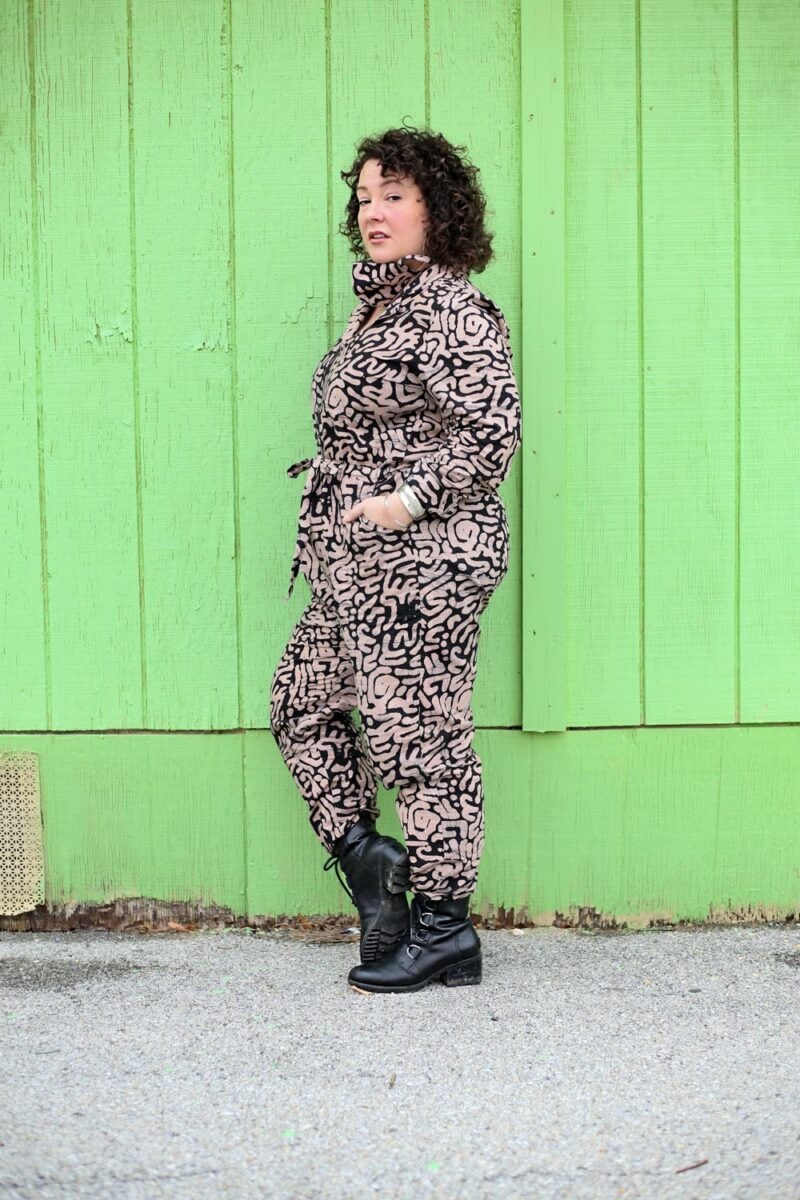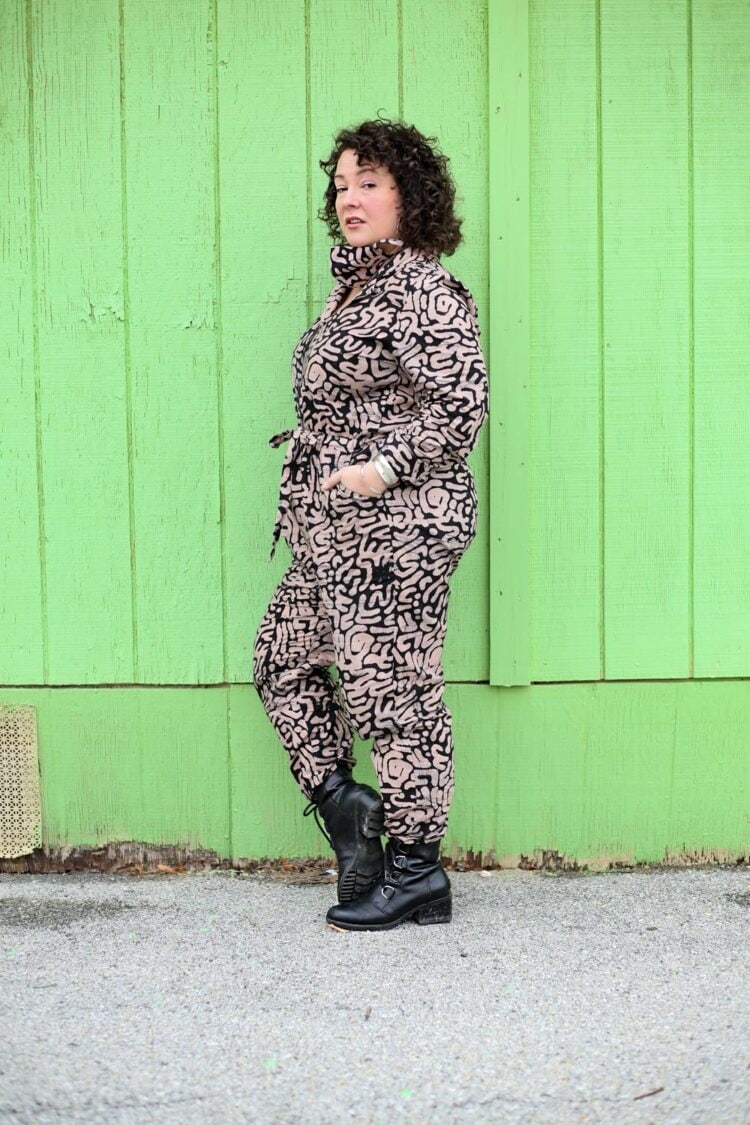 At this time, there are four different prints of the Osei-Duro Fuga Flightsuit; I chose the E-Z Maze because I loved the print and thought it would be versatile for footwear. I was envisioning black lace-up boots in winter, Birkenstocks in summer, and a pair of strappy heels if I wish to dress it up.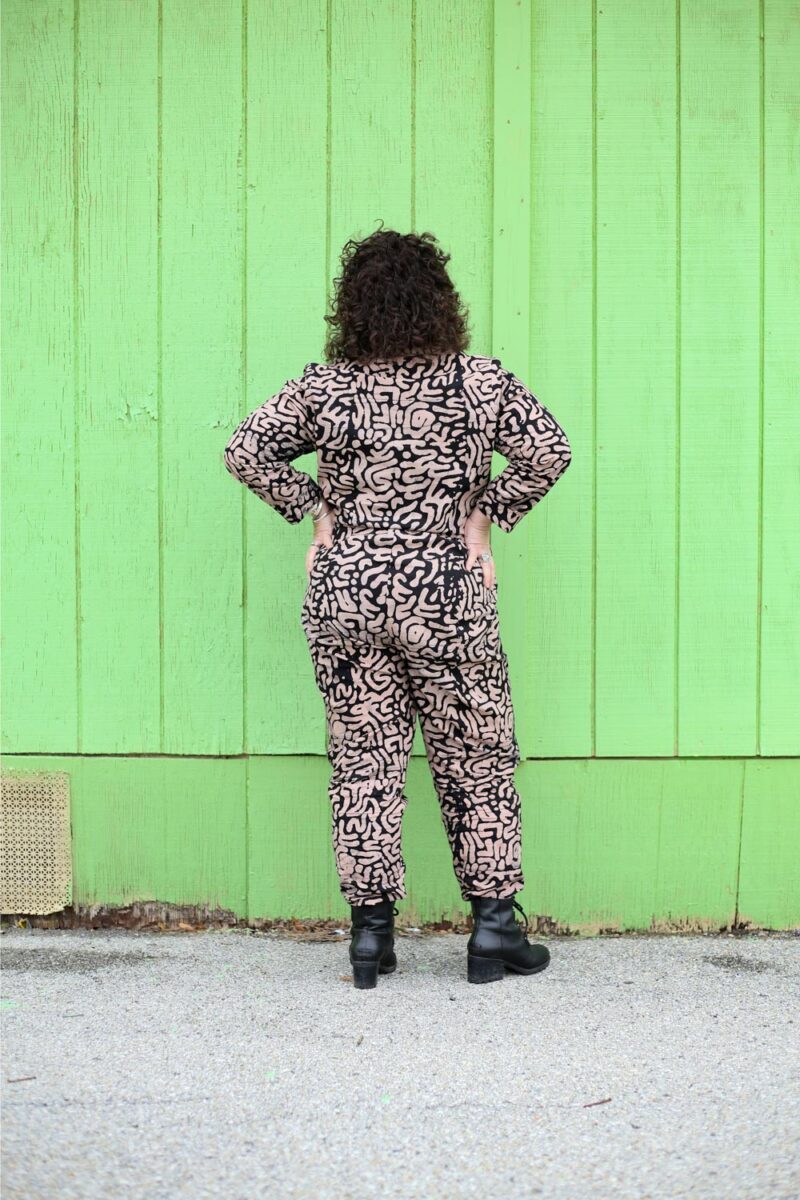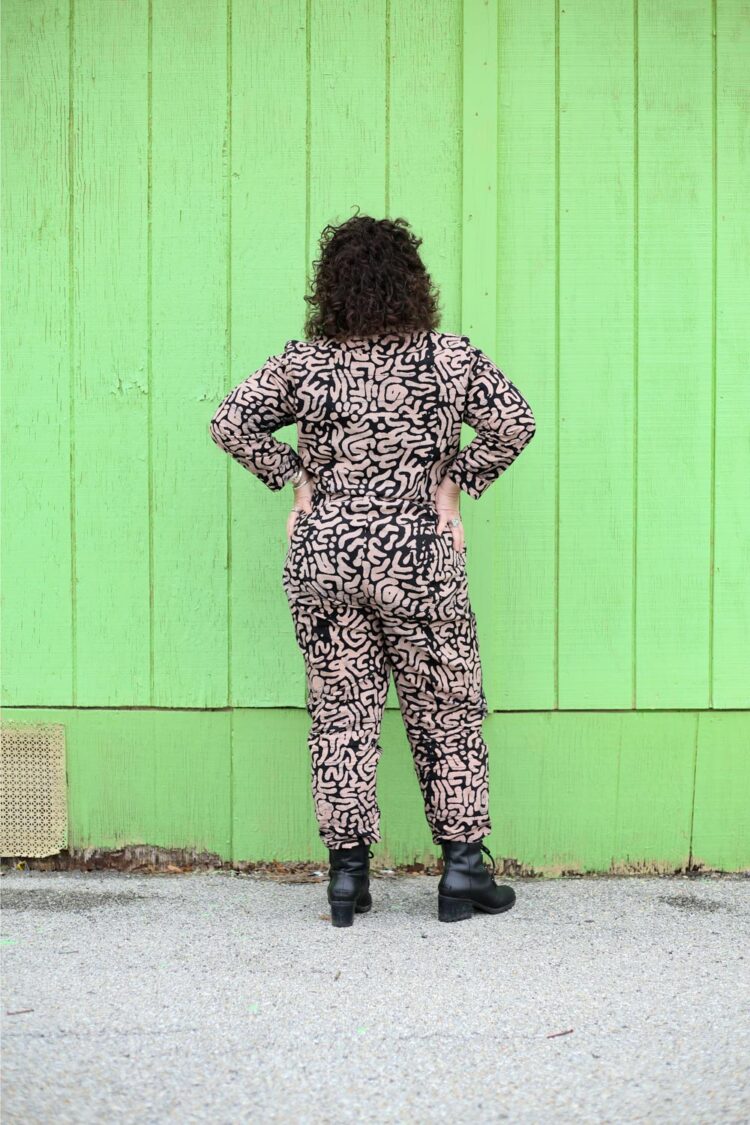 Jumpsuit: Osei-Duro (XL) | Earrings: Custom design by Denisa Piatti (read my experiencing commissioning a custom piece with Denisa Piatti)| Mask: Osei-Duro | Boots: Sorel (on sale at Zappos!)
Osei-Duro Jumpsuit Review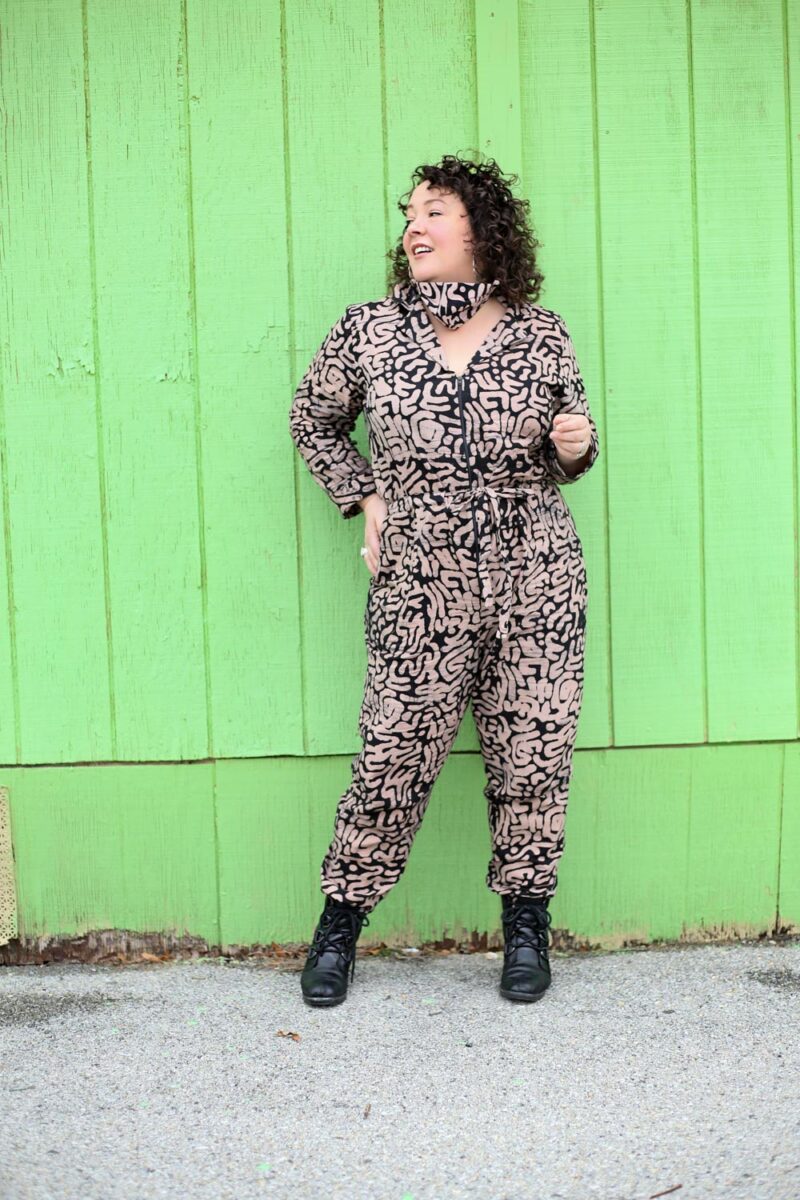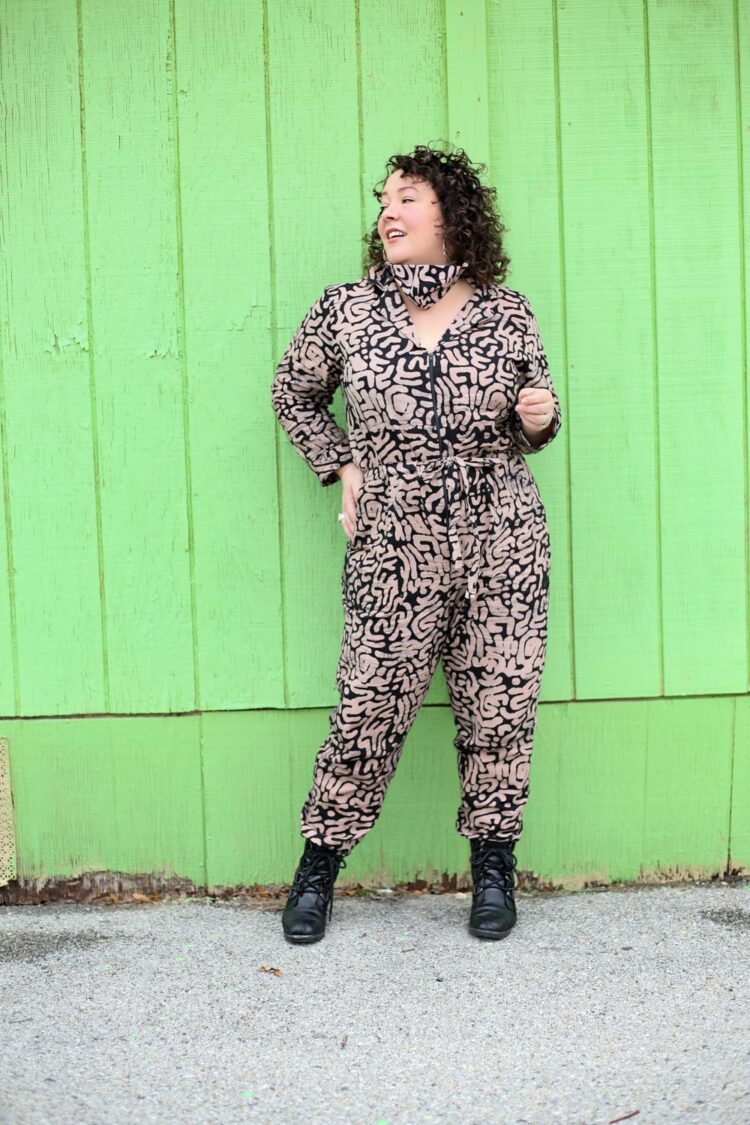 This jumpsuit is made from 100% cotton with a hand-dyed batik print made in Ghana. This Osei-Duro jumpsuit has a drawstring waistband and zips up the front. No back pockets, two front pockets.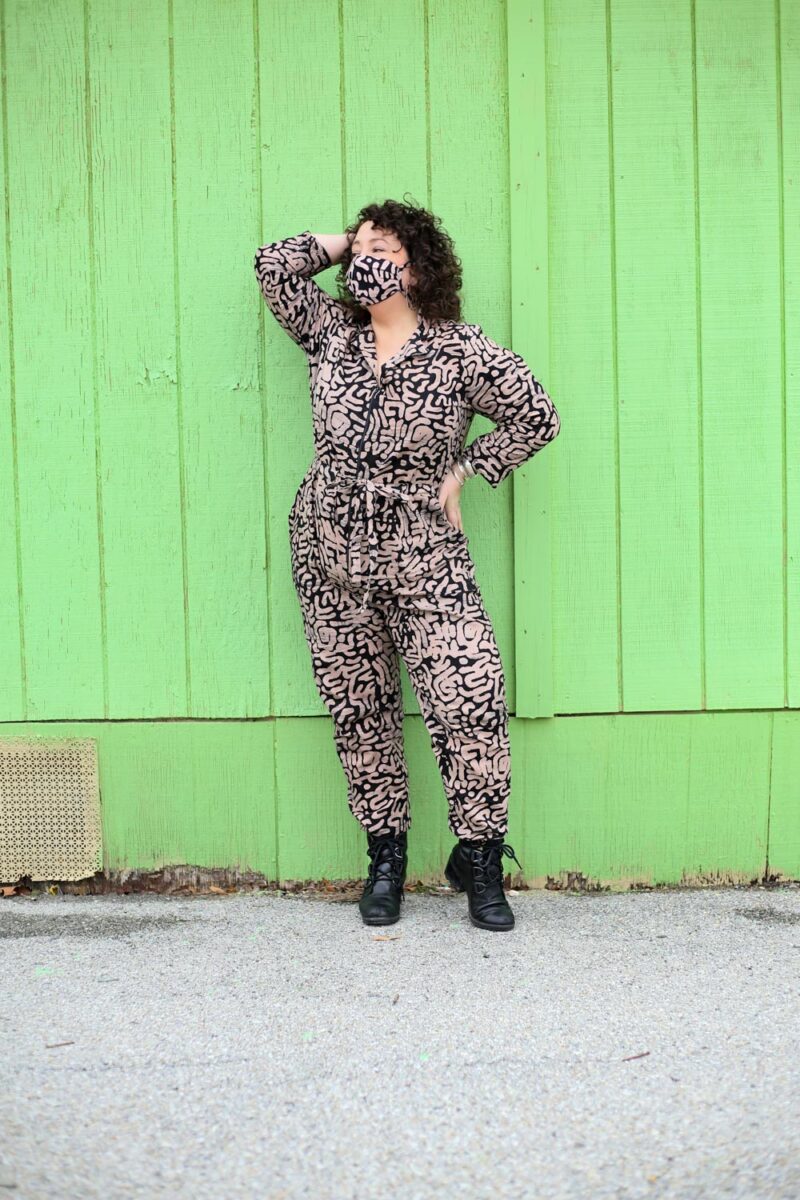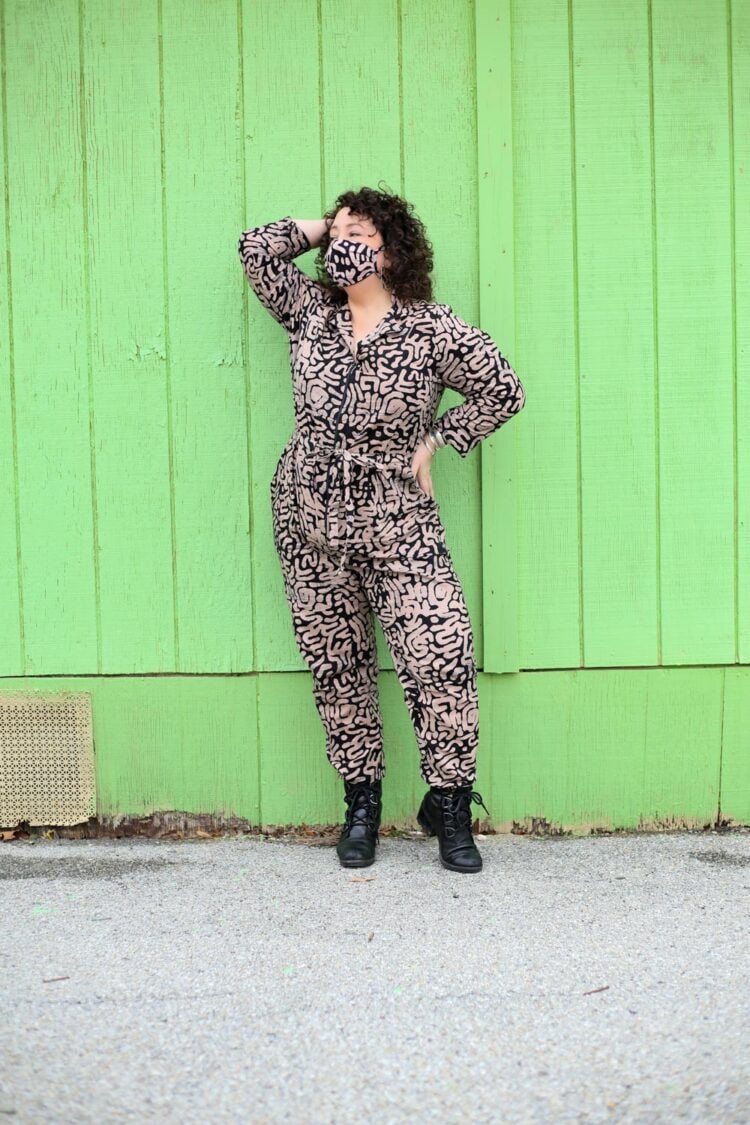 I chose a size XL not sure about the sizing of this brand, even with their helpful size chart. I figured better too big than too small. I am glad I went with an XL as it's more comfortable and easier to get on and off. If I was still having a lifestyle when I went out and about, I think a Large in this Osei-Duro jumpsuit would look more… dressy.
I cuffed the sleeves and tucked the hem into my boots because both are too long. However, since this jumpsuit isn't lined it is an easy alteration. I do find the torso a bit long for my 5'3″ self and may once I go back to my tailor, have him shorten it a bit from the shoulders as well as hem the legs and arms.
Osei-Duro Face Mask Review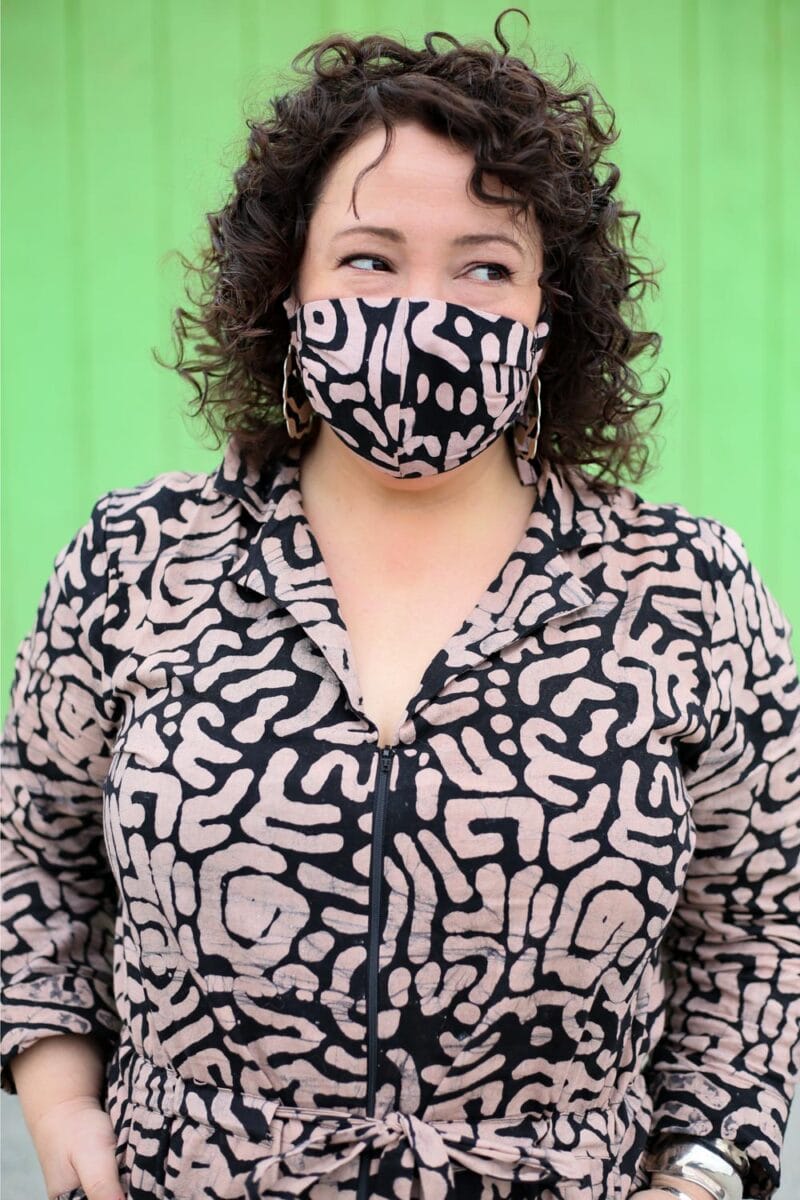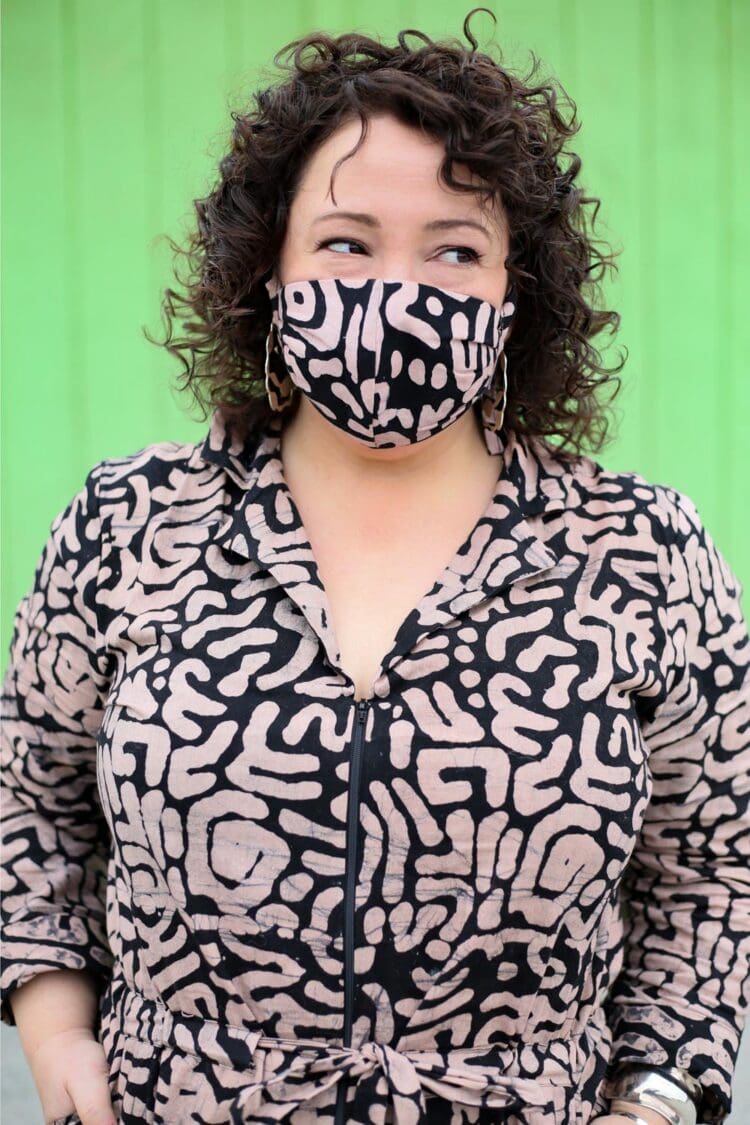 I couldn't resist getting the matching face mask. It's really the only perk of this new must-have accessory, and I love a matchy-matchy moment. The mask has ties instead of loops; it says you can tie to loop around the ears but the ties are too thick and stiff to really achieve that. I tied the top strings to fit across the back of my head and then tied the lower ones at my nape; when I untie the lower ties it sits comfortably at my neck.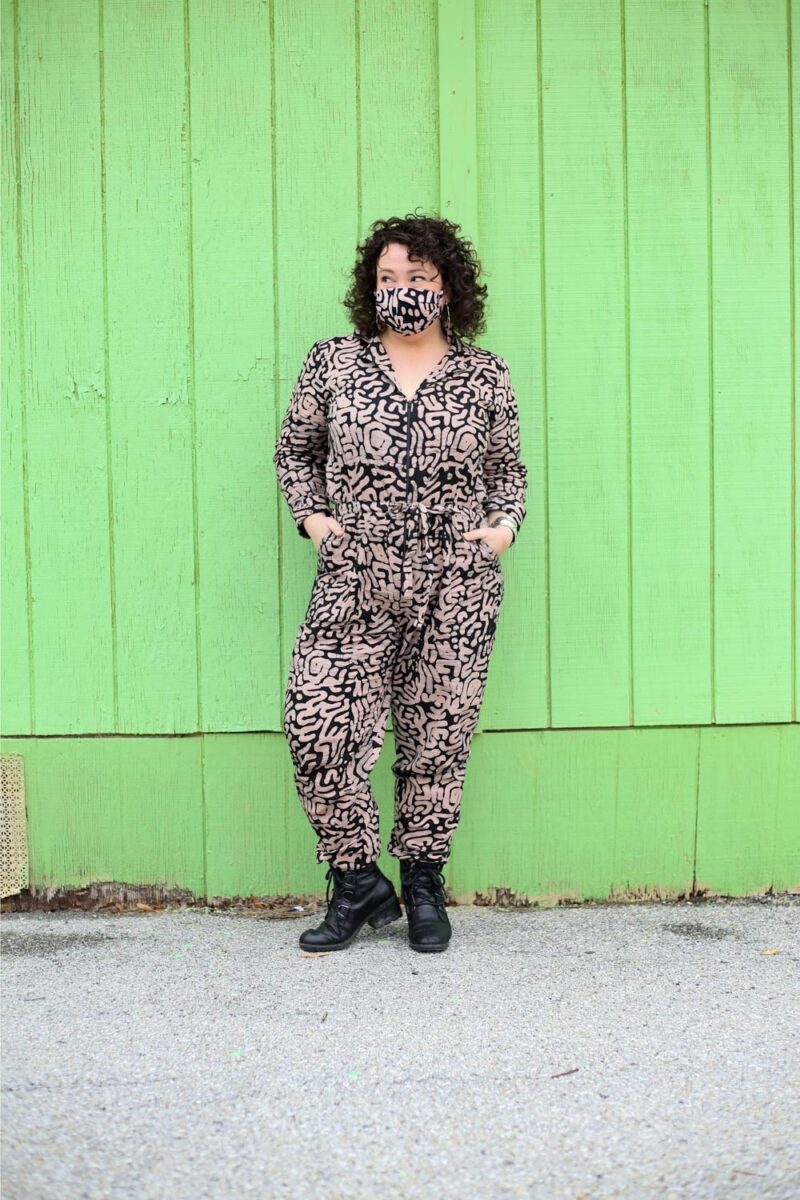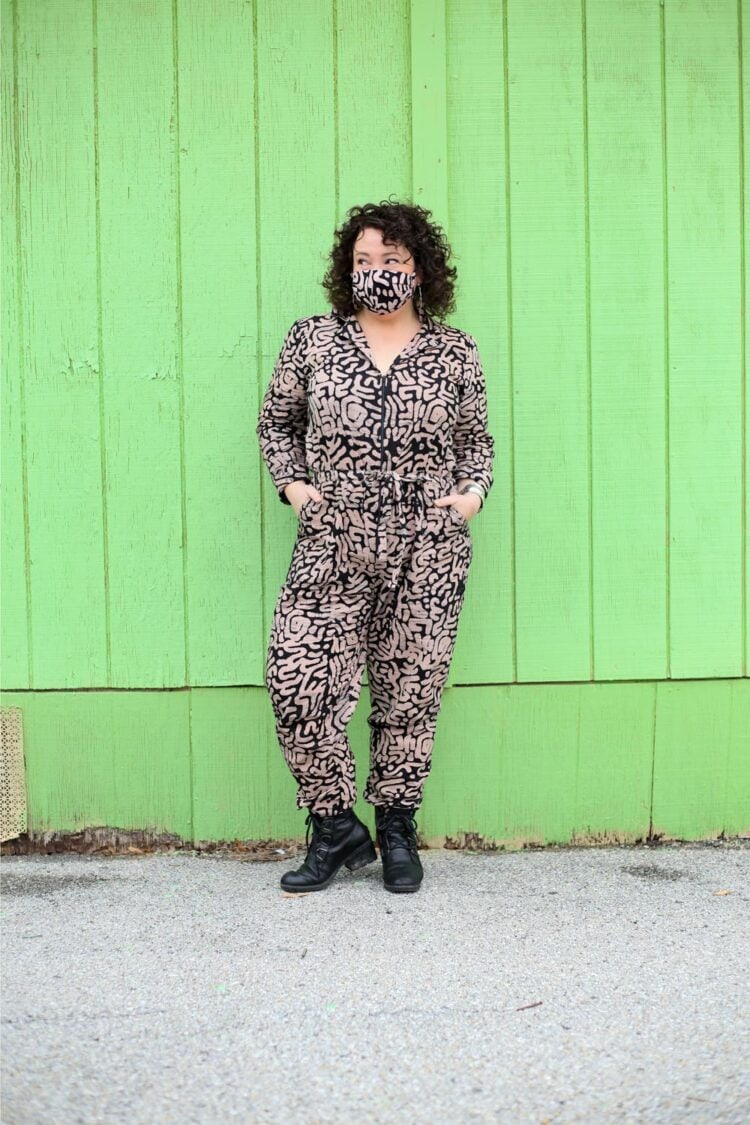 I don't love ties; they're complicated and jack up my hairstyle. But this mask is one of the best-fitting and comfortable face masks I own. It's double-layered with interfacing in between; the interior layer is a blue batik print. It's shaped so nicely and because it's stiffer, it sits away from my mouth and nose while still having a good fit around the cheeks and chin.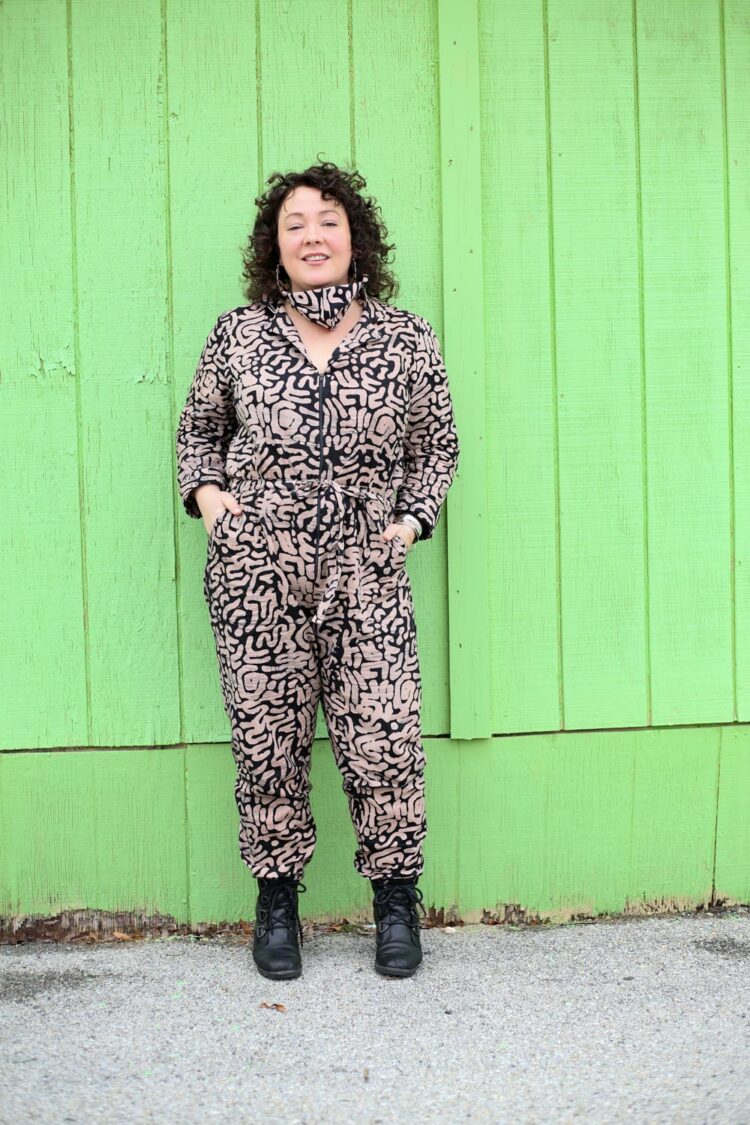 The boots are from Sorel, and you've seen them many times before. I bought them back in 2019; they were first featured in this blog post. They're waterproof, have a nice grippy sole, yet look stylish and add a bit of height. I have never been disappointed with Sorel boots, and these are currently on sale!
About Osei-Duro
Osei-Duro is a Canadian women-owned fashion brand that has been in business for a decade. Osei-Duro recognizes that as a brand owned by white North Americans, they prioritize social responsibility and transparency. Osei-Duro's sewing and dyeing is done in small workshops in Ghana where they have direct relationships with the artisans and can ensure their pay is well above the minimum wage.
Fabric scraps are not discarded; instead Osei-Duro uses them to make patchwork, or gifts them to artists, schools, quilters, or anyone else who has a productive use for them. Osei-Duro used to have a scrap program, but put it on hold due to the 'demic. Osei-Duro also has a buyback program. As much as possible, Osei-Duro sources materials in Ghana to reduce the carbon footprint while supporting local textile producers.
Osei-Duro is very transparent with their staff and labor; on the site Osei-Duro breaks down the staff makeup, the benefits they receive, and share the company's 2019 financials. Osi-Duro is available in sizes XS-3X.