This article may contain affiliate links; if you click on a shopping link and make a purchase I may receive a commission. As an Amazon Associate, I earn from qualifying purchases. 
I hesitated to write about this tan satin pantsuit because it's on clearance and sizes are limited. But at the end of May I got this blazer and these pants from Ann Taylor and wore the pantsuit for three different occasions in June and know this is just the beginning of ways to style this pantsuit. I was writing my monthly What I Wore Last Month post (coming soon!) and was writing so much about the occasions when I wore this tan satin pantsuit, I felt it warranted its own blog post.
The Unexpected Versatility of a Satin Pantsuit from Ann Taylor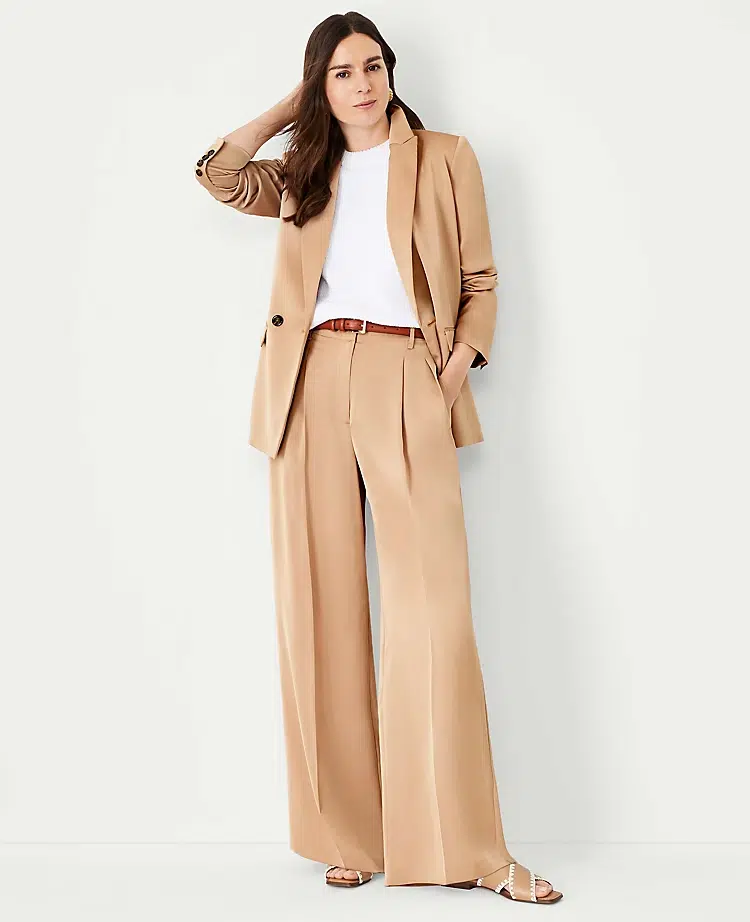 Full disclosure, I got this suit for free but was not under any obligation to wear it or feature it. In fact, I didn't plan to buy it. I saw this satin blazer in navy at Ann Taylor and thought it would look really fresh with a cami or even graphic t-shirt and jeans. And then I saw there were matching pants, but my size was sold out. My contact at Ann Taylor, someone I now consider a friend after years of working together at different brands, said the Cafe Au Lait color was pretty lovely too, and available in my size. I was hesitant, but agreed to try it. I am so glad I did!
I am usually a 16 petite in Ann Taylor suiting (Ann Taylor offers sizes 00-18 and that full size range in petite and tall). These pants were sold out in 16 petite, but my contact said the style was roomy and I may fit in a 14 petite. Again, she was correct! I still got the jacket in 16 petite, which I found perfect. Neither piece was tailored.
I feared it would be too camel of a color and blend too hard with my skin and hair, but the Cafe Au Lait color is cool/neutral toned and looks expensive. After getting this suit, I went to see what other garments at Ann Taylor came in this color and was pleasantly surprised. It inspired me to get this mixed media shell which matches perfectly (if in doubt size up for drape).
Only after I got the suit did I realize it was washable! I have had horrible luck with washing suiting in the past, but because this is a drapey unlined set in an unusual fabric, I was going to risk it and follow the washing instructions. See below the results!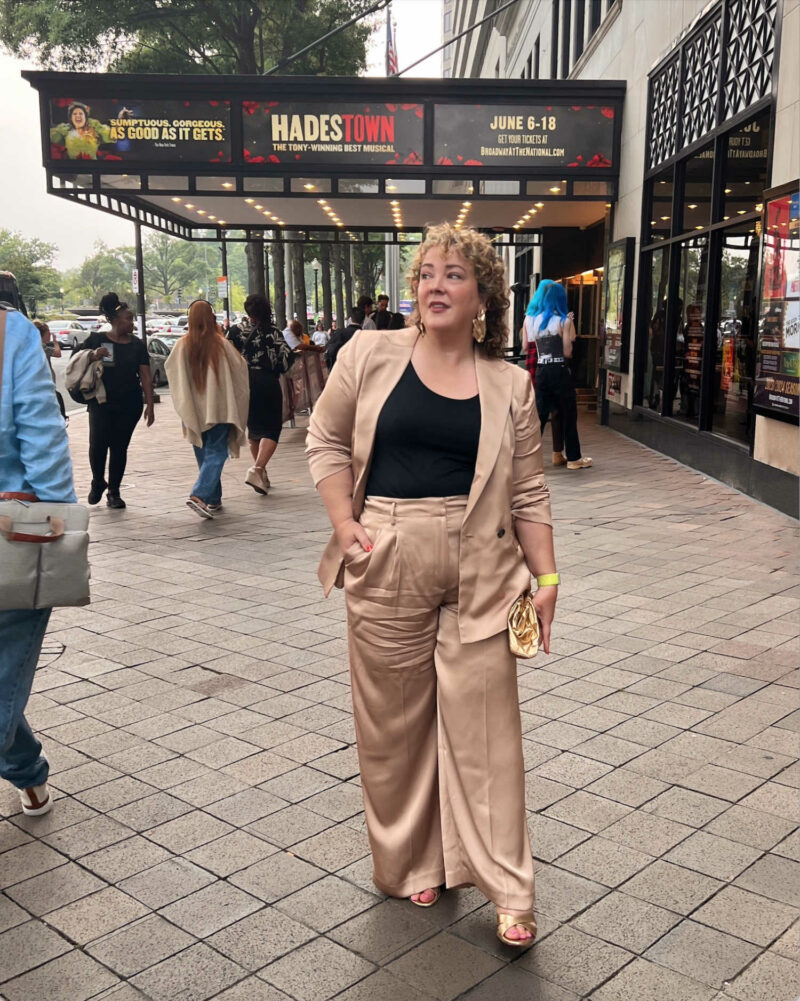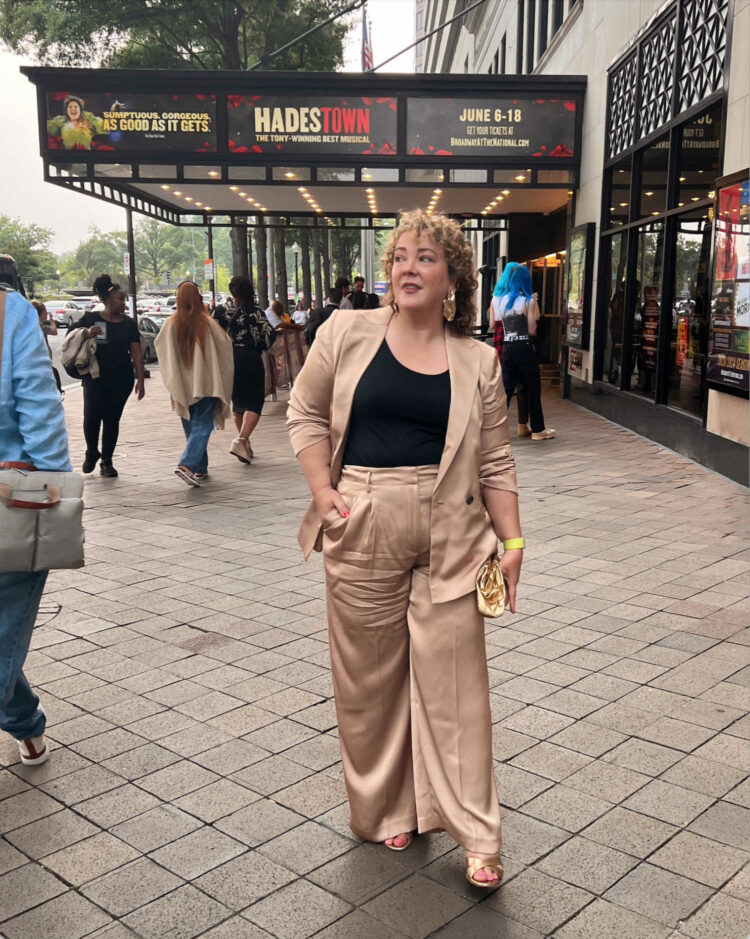 The first time I wore this pantsuit out and about was to go see Hadestown at The National Theatre in DC.
I liked how the matte satin wasn't too shiny but still read special occasion. I paired it with a black Chico's microfiber tank (size 2). I love these tanks, I own several in colors and neutrals. They wear like iron and don't feel like microfiber but instead a tight knit with a subtle sheen.
The shoes are the Uptown Sandal from Margaux that I reviewed. These exact shoes are no longer made by Margaux but these are very similar. Margaux shoes are NOT cheap, but I've worn this pair dozens of times. They're roomy (they carry widths), they have a timeless style, are comfortable, and for me, they're great because the cross straps hold in my tiny pinky toes that like to escape sandals.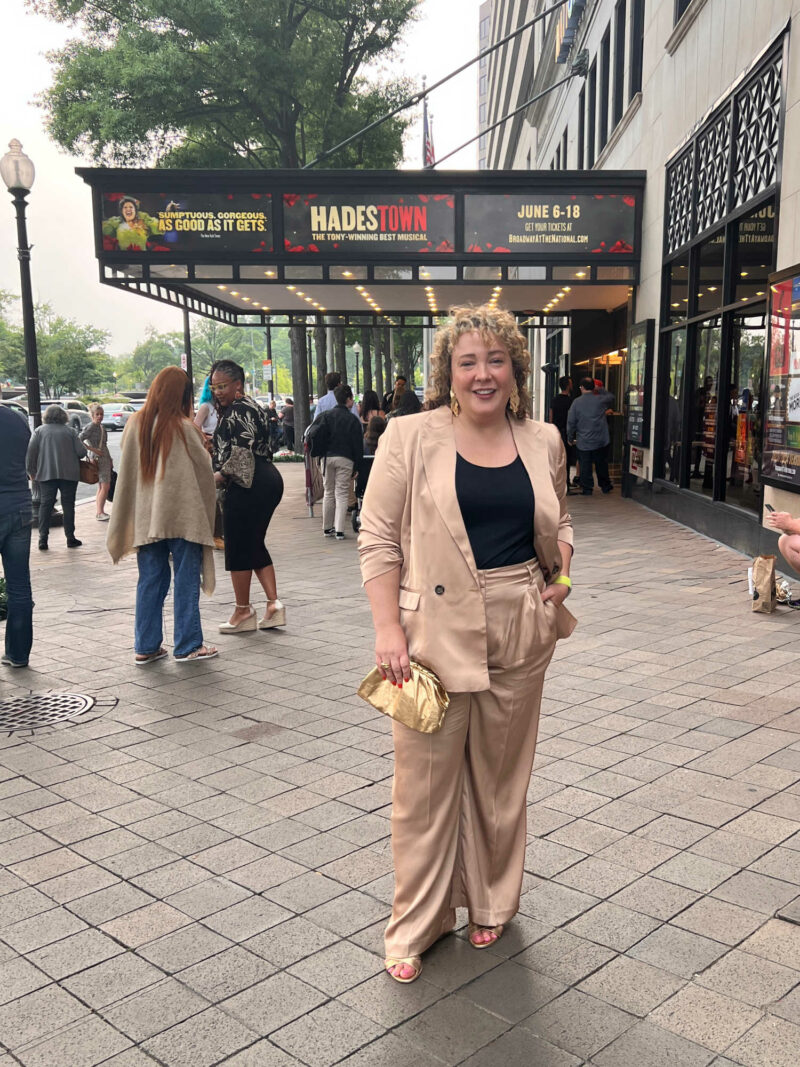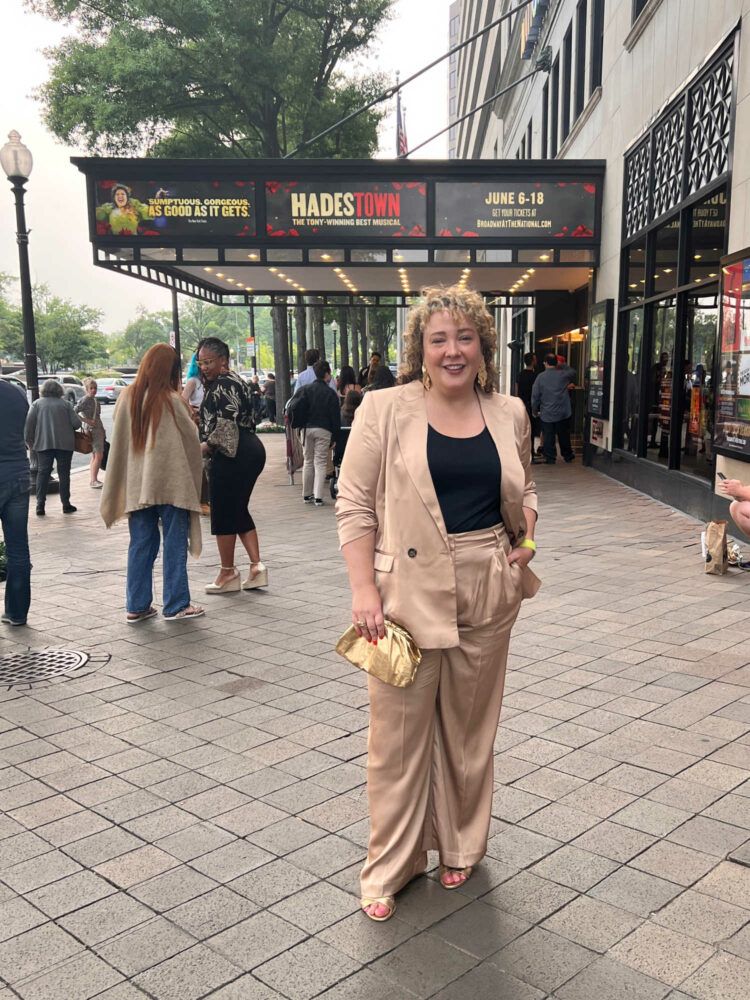 The bag is this dumpling clutch from Etsy. When it arrived I felt it was too small, but I'm now glad I got this size. And it's plenty big to hold sunglasses, reading glasses, a card holder wallet, an iPhone Max, lipcolor, eye drops, and other small purse necessities.
The earrings are old from Nordstrom's brand Open Edit and are very similar to a far more expensive style out right now from Alexis Bittar. I think I got these earrings before the pandemic, and I know I paid less than $30 for them! Open Edit's jewelry is worth a look if you want a bold statement that doesn't look juvenile and doesn't cost an arm and a leg.
For example, two of these cuffs will be something you wear for eons. Over a turtleneck, with a jersey maxi dress, for a Halloween costume, with a linen shell and wide leg pants and flat sandals, when you go to a fancy artsy event and really don't want to buy a new dress and just want to wear the one already in your closet but you don't want to look boring… I own two gold cuffs (and two stretchy rhinestone ones) and while I don't wear them often, I am always glad I have them for such occasions. Keep them in Ziploc baggies so they don't tarnish.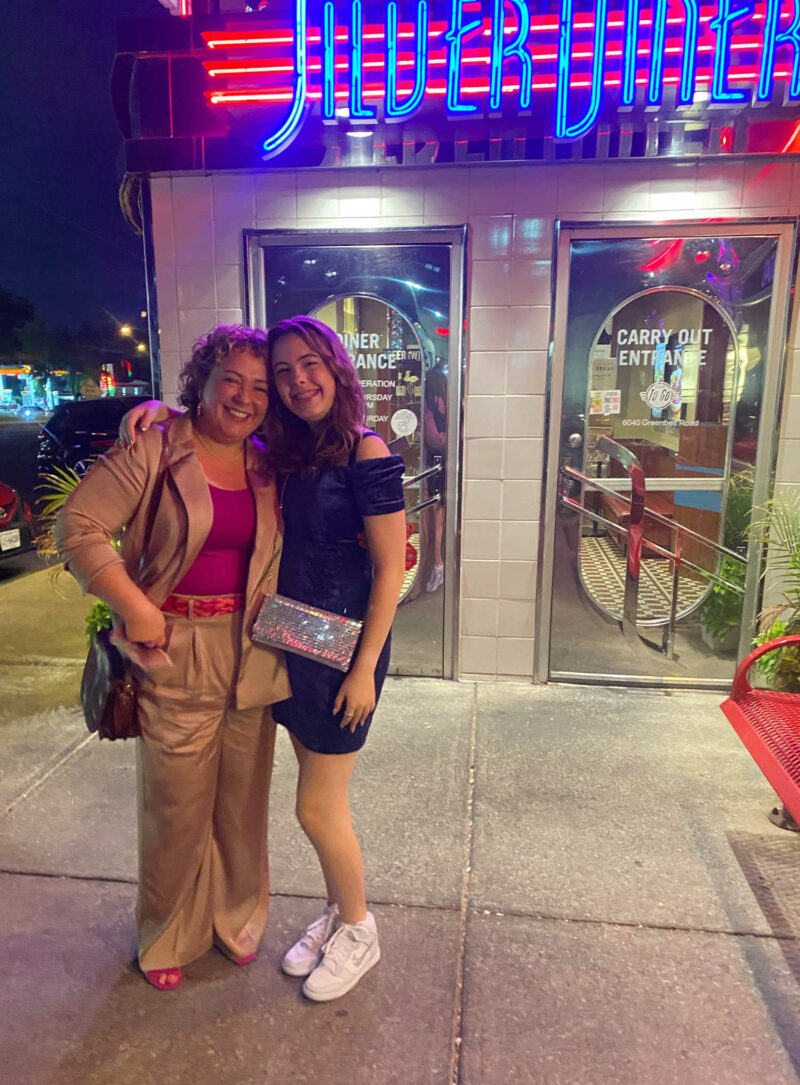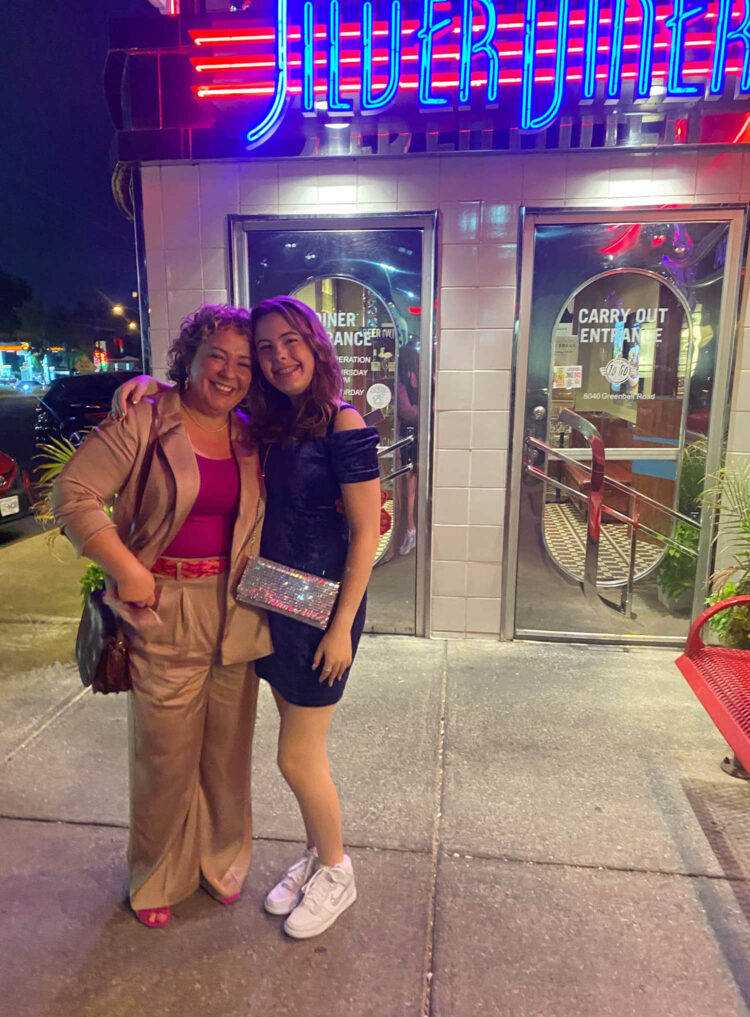 For my daughter's graduation, I wore the suit again, but made it more festive with color.
Instead of black, which reads more formal, I chose a magenta colored Chico's microfiber tank (I told you I have a lot of these tanks!). The color is darn close to my well-loved old magenta suede heeled sandals (same cross strap that holds in my pinky toes) and I finished the look by adding my magenta Hermès scarf as a belt (see the scarf in this 2017 post).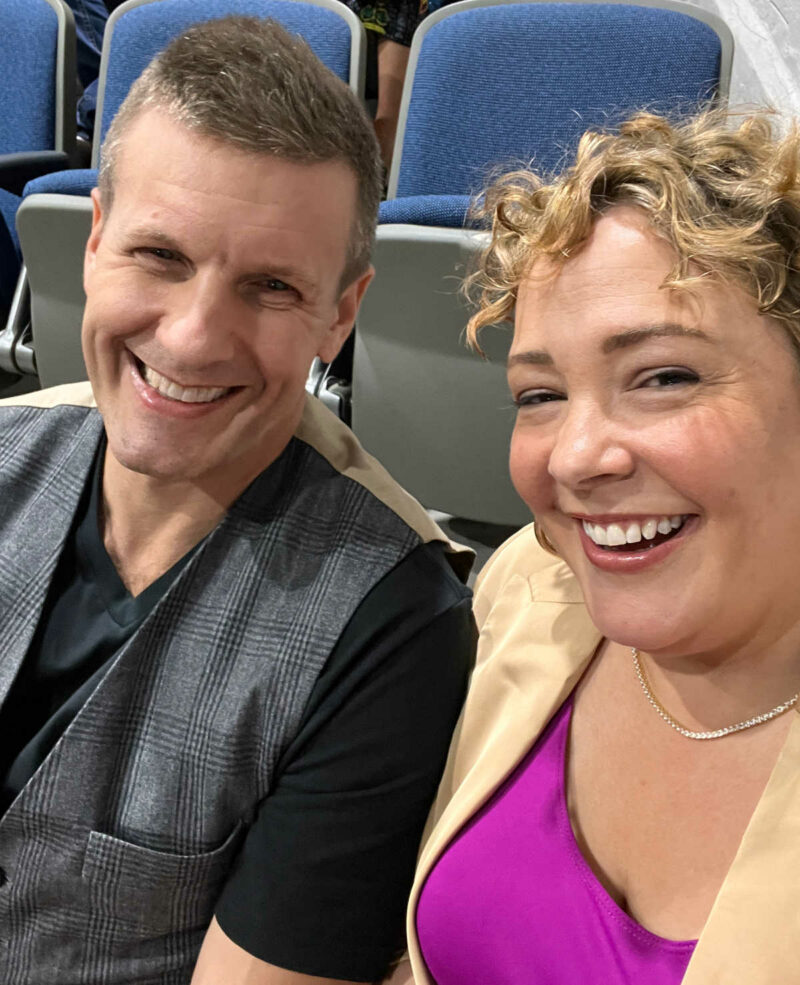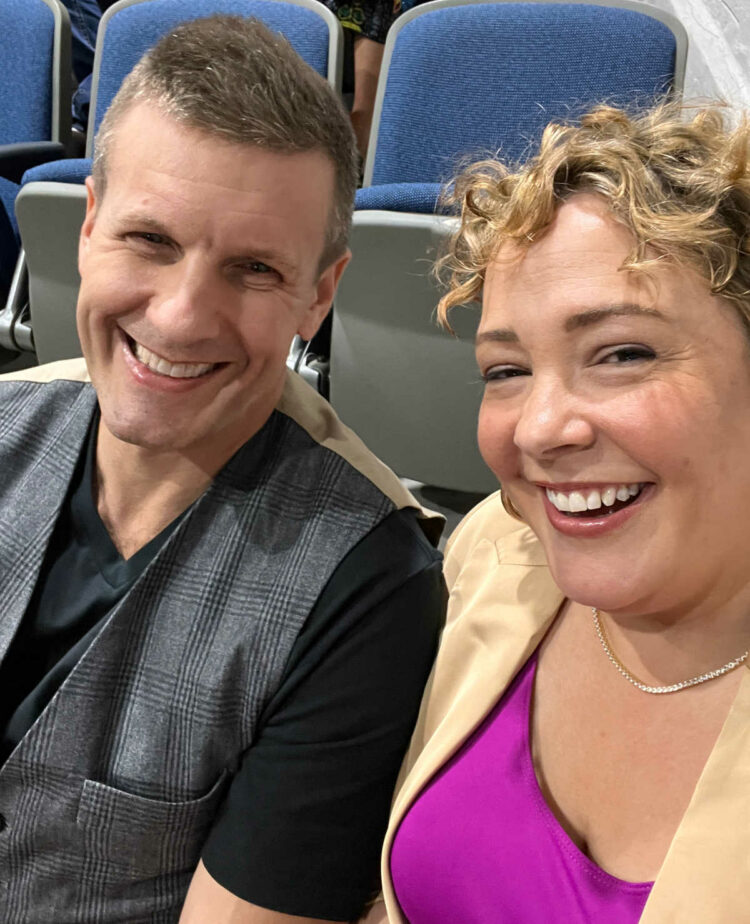 I added a tennis necklace from LOFT for a bit of shine. The whole effect felt both festive and a bit like workwear, which was my goal as most parents were arriving to the ceremony after a day at the office. I was impressed how a satin suit could be dressy and daytime with a switch of details.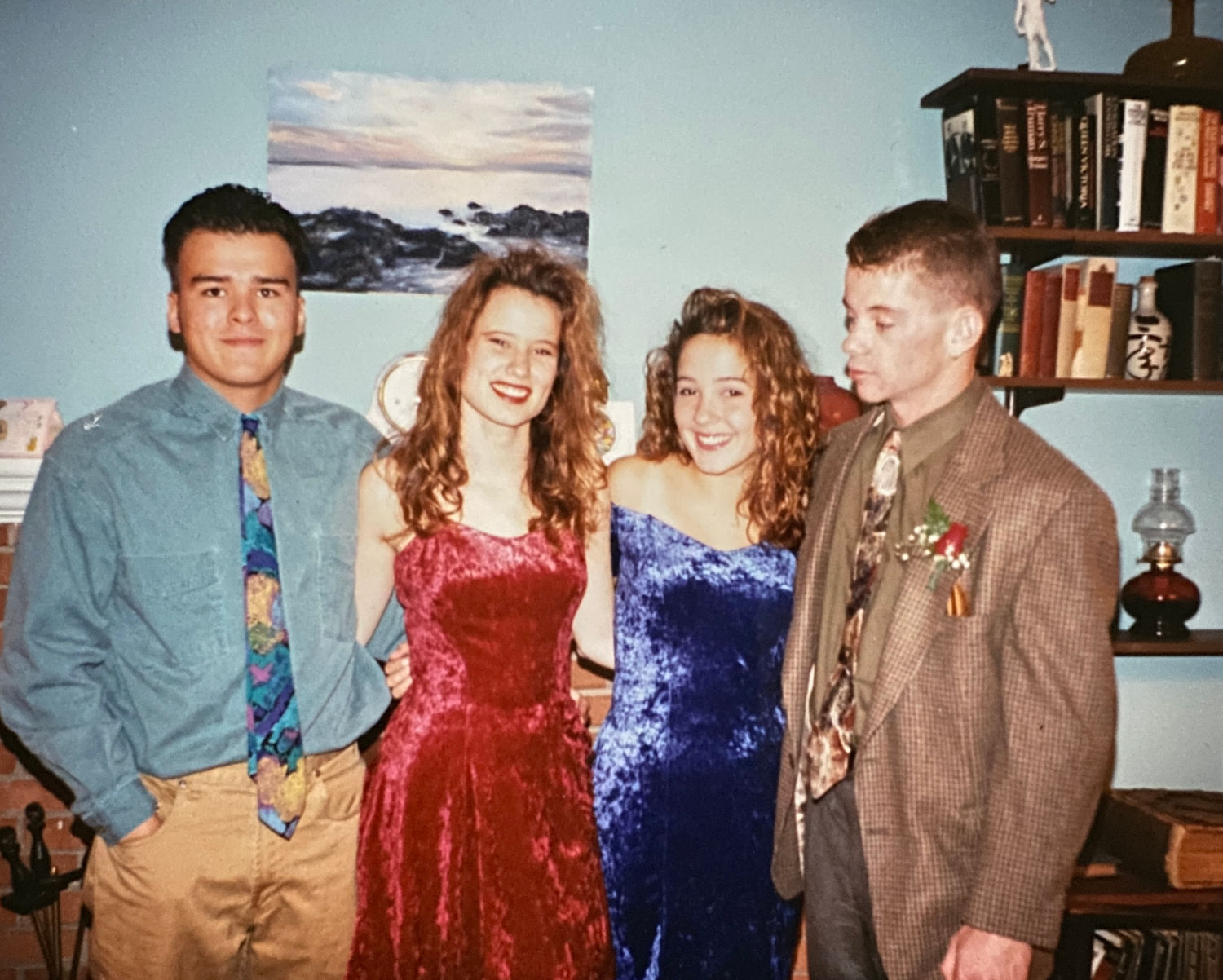 As an aside, the dress my daughter is wearing is the same one I wore to my 12th grade homecoming dance! Clearly, stretchy crushed velvet was a thing in 1992. Her bag is mine, from Nina Shoes (old, this is similar), and her shoes are Nike Dunks. Love the GenZ trend of sneakers with dresses, way better than the black stockings and black suede suede heels I teetered in all night.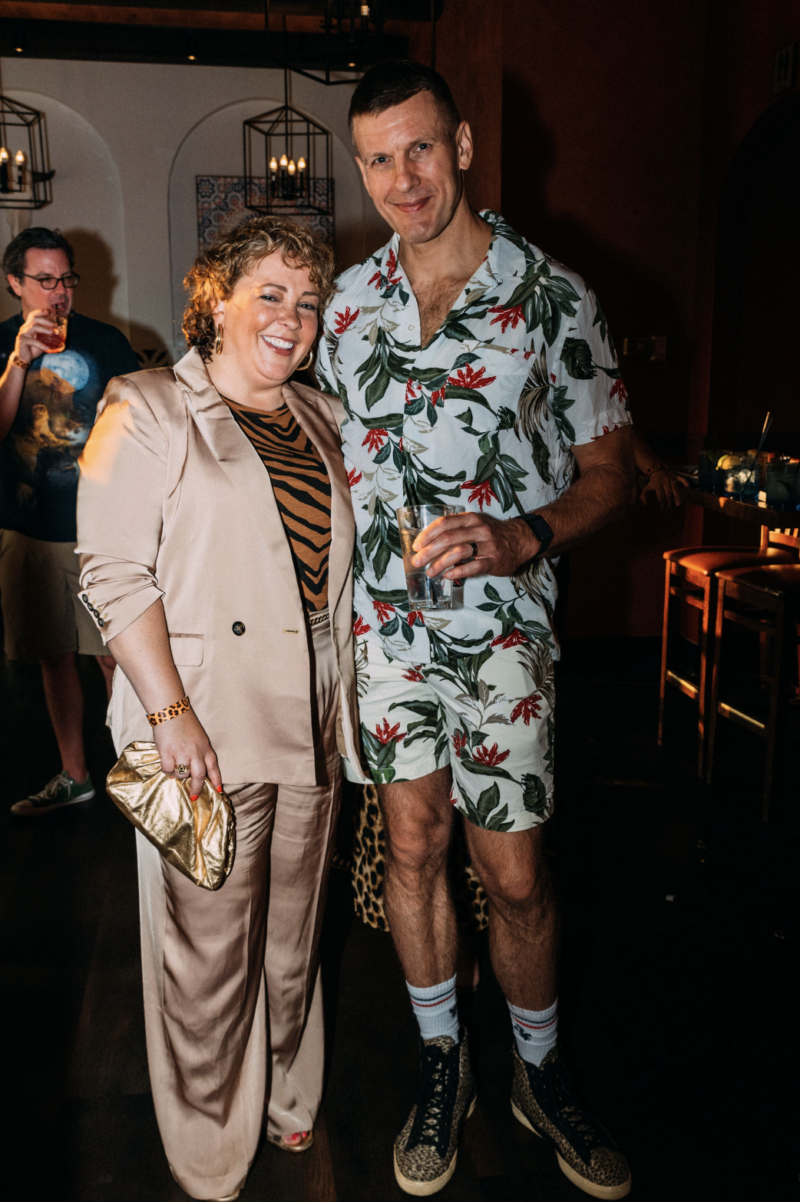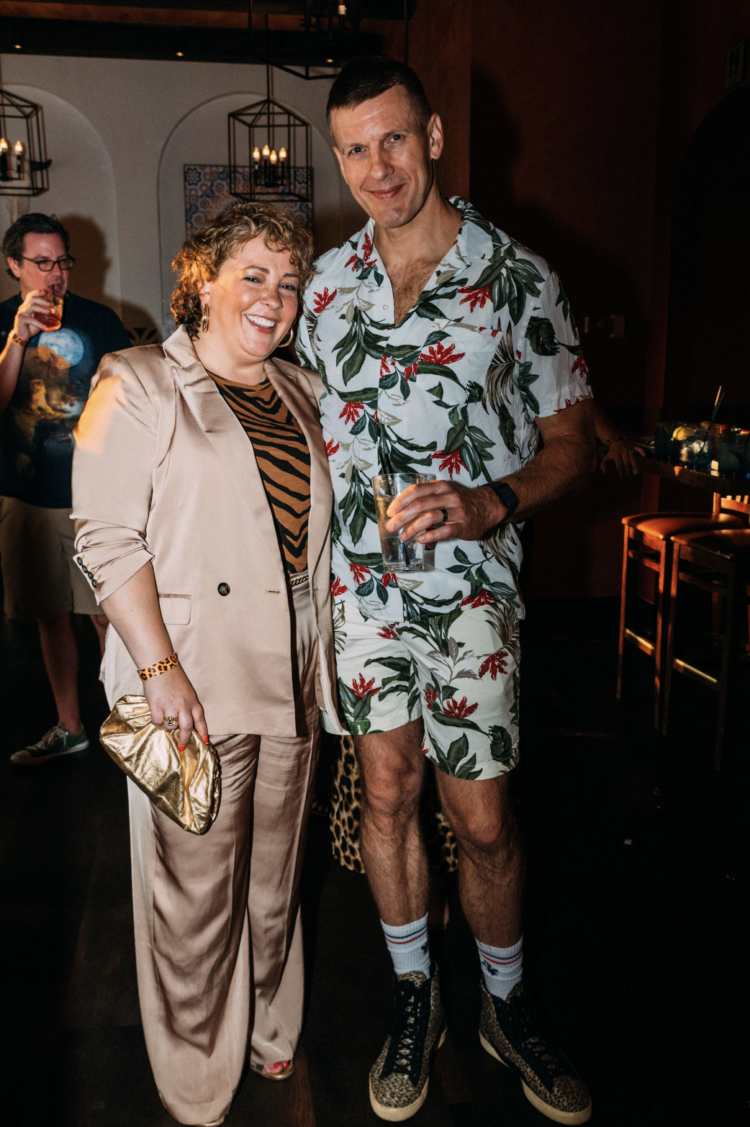 The dress code was Big Cat, and the event was on a weekend late afternoon and indoors. I knew it would be a fun and fashionable group, with the focus on fun. And I was struggling as I realized in 2023, I don't own a lot of animal print apparel. Shoes and bags and accessories for sure, maybe a winter coat or sweater, but the only animal prints in the closet for this time of year were snake.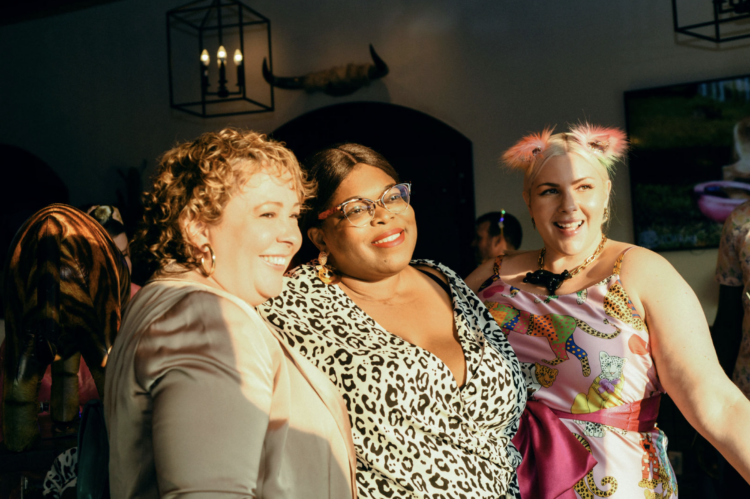 I ordered a bunch of things, which is exactly what I tell folks on this blog NEVER to do. And I'm glad they all either sucked or were backordered. Because as I was putting away some of my t-shirts the week before the party, I saw this tiger print tee from Banana Republic I bought several years ago (I think the last time it was on the blog was in 2019). It was well worn, but time made it cooler, almost vintage looking. I thought the combination looked cool and decided to glitz it up with the same gold clutch and heels I wore to the theater.
My husband wore his cheetah-print Puma high-tops with a jungle-themed two-piece set he got at Gap a few years ago. He's the king of having a small but not boring wardrobe and the right outfit for any occasion. Who wouldathunkit that an ivory jungle print rayon shirt and matching twill shorts bought on clearance five years ago would be so incredibly versatile and even more chic now than when purchased? I mean, I'm the one who saw it and bought it (Clearance and in tall? Done and done), but he's the one who saw the true potential and longevity.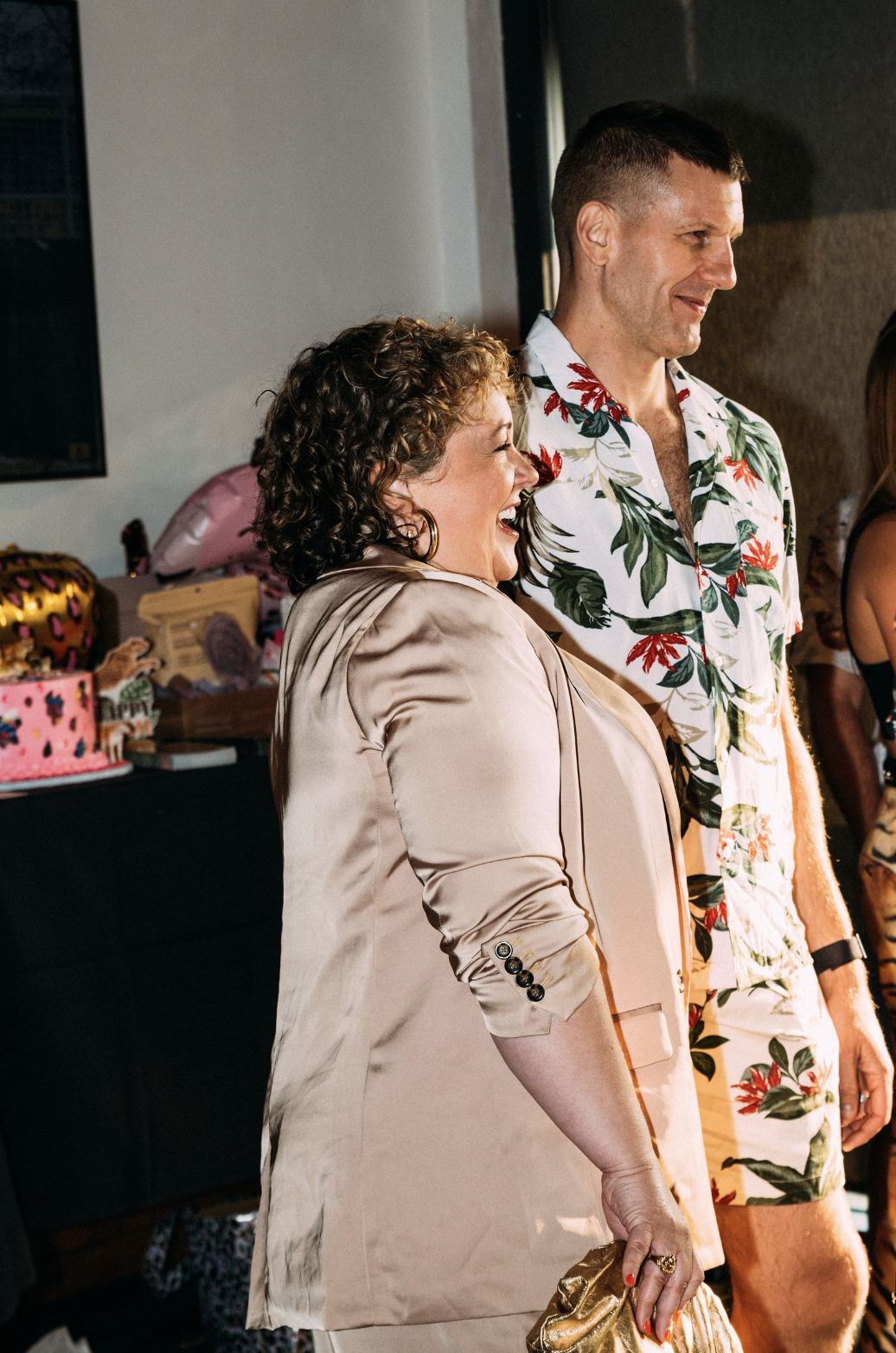 More thoughts on the satin pantsuit:
I had washed the suit after the graduation, but didn't have time to steam or press it before the party since it was a bit last minute of a look. This photo shows how it looks rumpled along the bottom and the back vent. But the washing didn't affect the finish, the fit, or the structure of this suit and how you don't need a professional pressing; a garment steamer can get the job done.
I have an event coming up, and plan to wear the suit with the matching shell so I can remove the jacket as the event is indoors and out. I like having the pants long enough for heels, but I found that my platform Adidas sneakers have enough lift to keep the pants from dragging, so expect to see me wearing this suit with white sneakers and a graphic t-shirt.
When I got this suit in the mail, I was wearing an Evelyn & Bobbie Defy bra in black and because the pants are high waisted, there was only a sliver of exposed skin. It made me think if I'm feeling bold I may do such a look for an influencer event, a concert, or something festive.
The jacket is a relaxed fit, and I think it looks good with jeans. I can see in the fall wearing it with a Breton top and sneakers, a tissue turtleneck and boots… and while writing this I was thinking it may look cool with the Bright Melon Thames Fog Top from Universal Standard that I featured in my how to style neon post!
And the pants are great. I wore them once on their own (no photo, sorry!) with the pale pink Annika washable silk tee from M.M.LaFleur seen in this post. I wore brown leather flat sandals and a scarf that had pinks, tans, and creams in it as a belt. Come fall, I'd totally wear these pants with the berry silky blouse I wore back in March, and they will look chic with merino and cashmere sweaters in a range of colors.
I apologize for this suit being out of stock in a lot of colors, I hate to feature pieces that may not be available. But I think it's important to see situations where atypical items can be quite versatile. Where going outside your color comfort zone may be a good thing. Where typical "evening" fabrics are styled successfully for day (and vice versa).
It's okay to create a small, simple, and hardworking wardrobe. I respect that completely. But if you look at your closet and find it boring, uninspired, or the wardrobe of someone you used to know but aren't now… don't be afraid to step out of your comfort zone. Try a new color, a new silhouette, a new fabric. You may be surprised how much you like it and how it changes your perspective!