This article may contain affiliate links; if you click on a shopping link and make a purchase I may receive a commission. As an Amazon Associate, I earn from qualifying purchases. 
I didn't have many long-standing female relationships during my school years. Sure I had plenty of besties, but things always faded away or crashed and burned royally. I feel so blessed to have such an amazing relationship with my sister who I have considered my best friend even when we were younger, but I never could relate to women who had lifelong best friends that were like family, there when they were needed, who stuck around even after disagreements or miles apart.
Until Shelly. I met Shelly in 2002 at a bull roast. We had a mutual friend who invited both of us. We got in line for the buffet and learned we both attended the same college at the same time, had the same major, some of the same friends. We both went to Paris around the same time and had similar experiences while there, and most importantly, we both liked late '90s hip-hop and Malibu with Sprite. A few weeks later Shelly invited me to a girls' weekend at Dewey Beach and a few months later I asked her to be a bridesmaid in my wedding.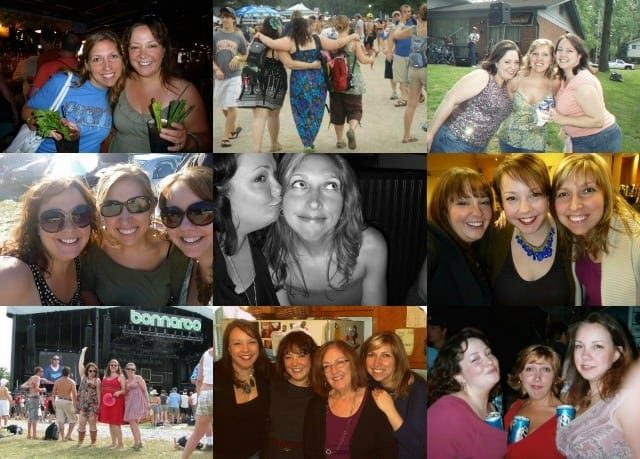 Shelly has become a part of our family, she even calls my mom Mommy and Emerson calls Shelly and her husband Aunt and Uncle. Shelly is a "Front Porch Friend", and proved it when I was in labor at the hospital and Karl was home violently ill. When I needed to call someone in the middle of the night to help Karl and hopefully get him okay enough to be there for Emerson's birth I called Shelly, who went right over to my house. I know I can rely on Shelly, she can rely on me, and what best is she's a best friend and like family with my sister as well. We all get along so well together, no third wheel. Shelly has been a best friend for over a decade, and is someone I trust, who loves me, and totally gets me.
At the end of January, my sister, Shelly and I headed to Berkeley Springs, WV for a brief girls' getaway. My sister and I both had birthdays that month and all three of us really were in need of R&R. I didn't expect anything special for my birthday, spending a weekend with my two best friends was such a treat, but when we got to our hotel, Shelly handed me a box. In it was a bracelet made of pennies, each penny from the year of my birth, 1975.


I love me an arm party, but even more than an arm party I love jewelry with significance and meaning behind it. This gift was so cool looking, with such a cool message behind it, and it came from one of the coolest human beings I knew, that I immediately dissolved into tears. I put the bracelet on that instant and I have worn it several times a week ever since. Since it's copper it's a great contrast to my silver and gold bracelets, and I like making a mix of metals and beaded bracelets for a unique arm full of stories. I love looking down at my wrist (as I have several times while writing this) and think of my friend.
Shelly got my bracelet from the Etsy shop Coin Collection. Based in Missouri, Coin Collection offers all sorts of accessories made of dimes and pennies from the year of your choice as well as cute greeting cards. Not just jewelry made from coins, along with bracelets and necklaces Coin Collection offers cufflinks and keychains. I think this concept is such a thoughtful way to commemorate a birthday, anniversary, or major accomplishment. Not only that, you're supporting a small USA-based business with a reasonably priced gift that will be treasured.
After writing this, I wasn't sure if my Friday Favorite was about my friend or my bracelet. I guess either way it's a favorite that I hold dear to my heart!