This article may contain affiliate links; if you click on a shopping link and make a purchase I may receive a commission. As an Amazon Associate, I earn from qualifying purchases.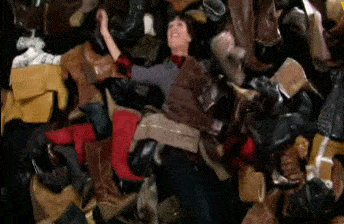 Oh shoes… one of my favorite subjects!
Flats are a puzzle to me. It seems ballet flats are "the" flat shoe if you want to look fashionable, but I rarely find a pair I think look nice on me. I'm needing a flat shoe that's versatile, comfy, and looks good. What should I be looking for?
Ballet flats look like crap on me. I have big calves, thick ankles, and fat short feet so ballet flats make it look as though someone lopped off my toes. However, that doesn't mean I can't wear any flats. The pointed flat has made a return which makes me AND my non-lopped off tootsies happy. They elongate the leg but still keep your heels close to the ground. I also like the almost-flat (as seen in my leopard flats in this post). A very very low heel or wedge gives a touch of lift which flatters the leg yet is still wearable all day long. Finally, this season has so many flat shoes to choose from that aren't a typical ballet flat – check out a slipper-inspired flat or a pair of brogues for low-heel comfort but high-octane style!
I've always thought you can't wear ballet flats with socks or pantyhose. For some reason, I feel so dumb when you can see my socks/pantyhose between my shoes and my pants. Are there rules here?
I don't love the look, but I also don't love frostbite or hypothermia. Many choose sheer trouser socks for such a situation but I find they don't offer much more warmth than a bare leg. However, a black textured or patterned sheer hose is a great choice, as is an opaque hose that blends in with the pant and shoe. Steer clear of traditional socks of cotton for they aren't refined enough, and everyone just accept that we can see your "peds" so either wear a full sock or go sockless, the little beige exposed band just ruins the look of the shoe all together.
I see a lot of open-toed shoes, even now in fall. I'm up in Canada, and obviously, it's completely ridiculous to think I can go barefoot all winter long! Is it okay to actually wear open-toed shoes in winter with hose of some sort?
Yep, rules have been broken all over the place the past few years. I regularly wear open-toed shoes with opaque hosiery. I either wear the same color hose as the shoe, or else go for a very extreme purposeful contrast.
I purchased black suede high wedge heeled ankle boots from Lands End Canvas that I just love! The wedge heel is a tan rubber material giving it a more casual look, I think. I want to wear them often this fall, but the only way I know how to wear them is with skinny jeans. I see other people wear ankle boots with skirts and dresses and would love some tips on styling the boots. Thank you!
Such a boot would look adorable with black tights, a pleated or fuller short skirt, and most anything on top. Channel 1990s Winona Ryder with such shoes, just put a 2012 spin on it. Floral dresses, denim and leather jackets, even winter shorts with tights would look fantastic with such booties!
Hi Allie, I have a question about wearing black with brown. I have a great pair of brown tall boots and would like to wear them with some black pieces I have but I've heard for so long that it's a fashion no-no to mix the two. Is this a fashion myth or can these two colors be worn together?
I wrote about mixing black and brown here, but for the record I am all for it as long as you do it in a purposeful fashion. Brown boots with black hose and a black dress is quite chic, but brown boots, red tights, black skirt, and blue sweater could make you look as though you dressed in the dark. Using prints to connect the black and brown is an easy way to make the combination look purposeful – I find a leopard print belt, scarf or base layer is a great choice as the print has both black and brown in it!
Hi Allie, I'm a commuter so I like to wear flats or low heeled shoes on my walk to the Metro and then change shoes when I get to work. I typically wear trouser style pants. The problem is that my pants are hemmed to be worn with heels and drag on the ground when I put on flats. Because the pants have wide legs, I can't roll up the cuffs like I would with skinny jeans. Do you have any thoughts on this?
Get yourself a pair of Style Snaps. I know many women who swear by them.  I have also heard good things about Zakkerz from other bloggers.

Follow Me | Twitter | Facebook