This article may contain affiliate links; if you click on a shopping link and make a purchase I may receive a commission. As an Amazon Associate, I earn from qualifying purchases. 
This is the time of year when I am at my largest. Shorter spans of daylight, holidays full of fattening goodies, and plenty of ice and snow to scare my arm into perma-hibernation takes its toll on the body. I've made a few purchases to fill in a couple gaps in this current size (a 14 petite in most brands) but have also made a couple purchases thinking of warmer months.
Like last spring, I'm still on a kick of black, white, navy, gray, and denim with pops of red-orange. Orange just makes me happy, and the version that has more red in it (some call blood orange, hot coral, tomato) is my all-time favorite. My personal style goes in two directions – clean and simple, or colorful boho. For very long I felt it has to be one or the other, but I don't see why the two can't play nice in one closet. I came to this realization last year when I read this book by Diane von Furstenberg and thought about her personal style. She embraces color and prints, fabrics that catch the breeze and bracelets that jingle when she speaks with her hands. However, Diane is never too much, she keeps it pretty simple from her low-fuss hair and makeup to the simple silhouettes to let the patterns shine.  She knows when to switch it up for a certain situation; I've been embracing my inner-DVF by sticking to my simple looks for day, but enjoying frills with colorful maxi dresses, bold lipsticks, and statement-making accessories.  Recent purchases and whether they are a fail or win: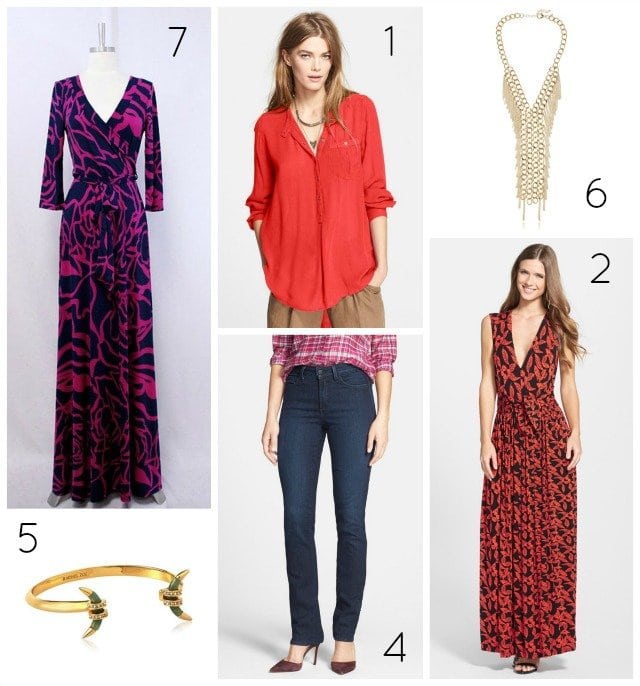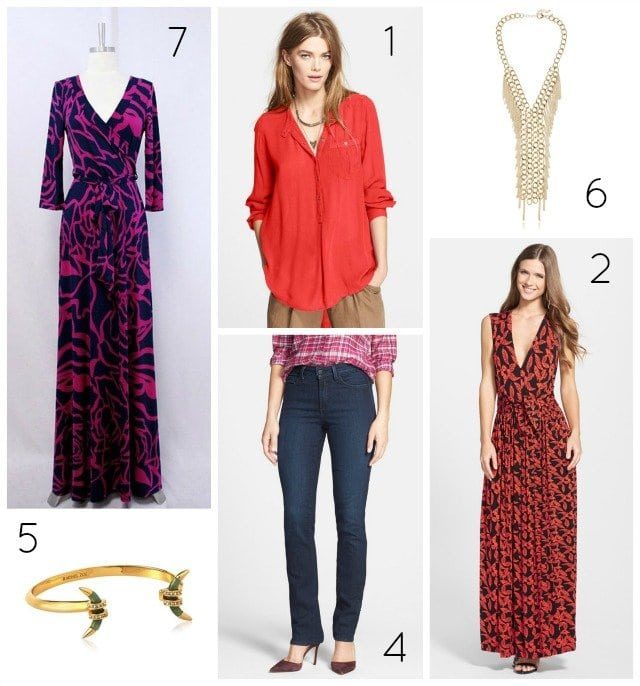 This top from Free People looked perfect for Casual Friday or weekends; right now I imagined it with a layer underneath for warmth, skinny jeans, tall boots, and a long gold necklace. Come spring, I thought it would look adorable paired with distressed boyfriend jeans and metallic sandals or worn as a beach coverup. And after receiving, I think all would work… if you were in your third trimester of a pregnancy. Even with my curves this top was just too big in the body. However, I couldn't size down because a Large fit perfectly, almost to a point of being snug, in the shoulders and arms. I like loose and floaty, but this is more boaty than floaty, with enough fabric for several sails. Too bad, because the color is super pretty and I love the gauzy crinkle fabric.
The name of this dress scared me; with a large chest I usually shy away from anything described as having a deep v-neck because that usually means it would show my bra. And this girl and her girls can't go without a bra. But it's that color of reddish orange I love on a ground of black and it came in petite (I ordered 14 petite) so I figured I could give it a try. So glad I did, this dress is AWESOME! Yes, the neckline is low enough to show cleavage, but I can wear my daily bra without it showing. The petite length of this dress grazes the tops of my feet, making them it the perfect length for flat sandals. There are pockets, but they're not on the side seams but instead in the front almost like a hoodie's kangaroo pocket. But still, they're deep enough for a phone or lipstick to stay in place. My chest is a bit big for the dress, making the fabric stretch a bit, but a black bra disguises this fact quite well. The rest of the dress including the back and waist (which is empire) fits quite comfortably. This is a jersey dress, may be dressy enough for a beach or day wedding, but not much more formal than that. I plan to wear this on weekends, a date night, and I know it will go in my bag for our annual trip to Rehoboth Beach.
I've already shared my rave reviews for the NYDJ Alina in black twill. I still love them; I wash them on gentle inside-out and line dry to keep them dark black and in good shape. I loved them so much I decided to order another pair in denim. I ordered my same size (12 Petite), they arrived, and I could hardly get them pulled over my legs and there was no way in hell I was going to be able to zip and button them. They weren't just "I gained 10 pounds" tight, they were "these are three sizes too small" tight. I exchanged them for another pair, thinking they were mis-sized and the next one was the same ridiculously small fit. Over the past few years I have tried almost a dozen different styles from NYDJ and while I have found the twill versions run a bit more loose and some skinny versions are too tight for my calves, in general I usually wear the same size. Not these.
So when the Alinas didn't work out, I decided to try these. Success! These fit like traditional NYDJs and because they are a straight, not skinny leg, they fit my calves. Do note there's no contrast stitching on these so they don't look super "denim-y," but I actually like that because it makes them more appropriate to be worn to the office.
I had some MYHABIT refer-a-friend credit burning a hole in my virtual wallet and I saw this bracelet was marked down from $125 to $41 and was intrigued. I wear my gold Rebecca Minkoff 'Major Laser' bracelet all the time, and was thinking this may look pretty with it, or on its own. I loved the aventurine detail, the bit of sparkle, and how it was tough yet feminine. It arrived, and it wasn't as nice in person as it looked on the site. While the aventurine horns and the bit of sparkle was lovely, the gold was really fake looking and it was ill-designed, with the horns catching on everything. But it was technically "free" thanks to my credit so I wore it around the house and a friend complimented it so I decided to wear it to work the next day. By time I reached the office, one of the horns slipped completely out of the sparkly ring and was gone forever. I tried to push the other horn out but it was securely wedged in there. It must be a flaw, so I sent it back.
This is another item I bought with my MYHABIT credit. This one, unlike the Rachel Zoe bracelet, looks like it's original price of $150. It's a pretty badass necklace, a night weight, a nice color of gold, a nice size and shape. I use a necklace extender to lengthen the chain when I wear it outside of a shirt, but I've worn it peeking out of a button-front shirt and have it shorter so a bit of it shows. This is a necklace that gets attention and causes strangers to stop you and compliment it. This is how it has been with me and MYHABIT, there's occasionally a fail, but more often than not I end up with a win.
Last year I found this dress on Etsy and I've worn it so many times.  It's stretchy, sexy without being too much, and comfortable.  However the print can be a bit much at times.  I wished I had the same exact dress, but in a less jarring pattern.  I found this dress on Etsy, and while it's from a different seller, it looked so much the same in cut and shape that I decided to try it.  Not only is it similar looking, it's the same exact dress from the same brand and the same type of material (stretchy synthetic, almost like bathing suit material but with better drape)!  While the pattern I purchased isn't currently in stock at YOURBEACHBOUTIQUE, they do have three other fun patterns available.  Head's up, I do use a safety pin to close the neckline a bit, and this one is a tad longer than my floral print one so I'll likely have my drycleaner take off an inch so I can wear with lower shoes.
Shop the Post:


Have you bought any fails or wins lately? Share in the comments!