This article may contain affiliate links; if you click on a shopping link and make a purchase I may receive a commission. As an Amazon Associate, I earn from qualifying purchases.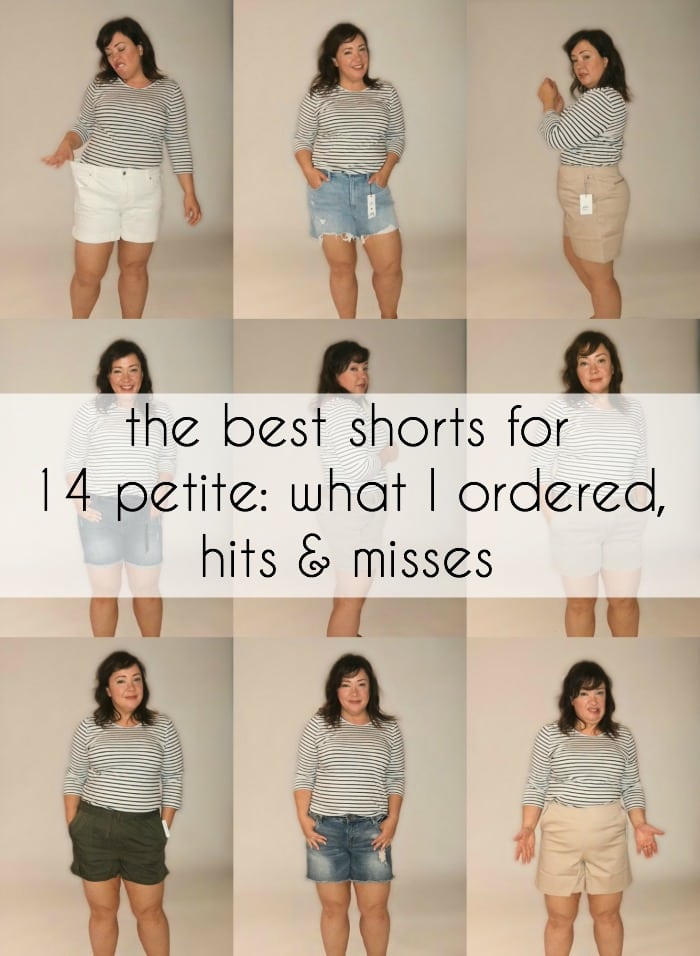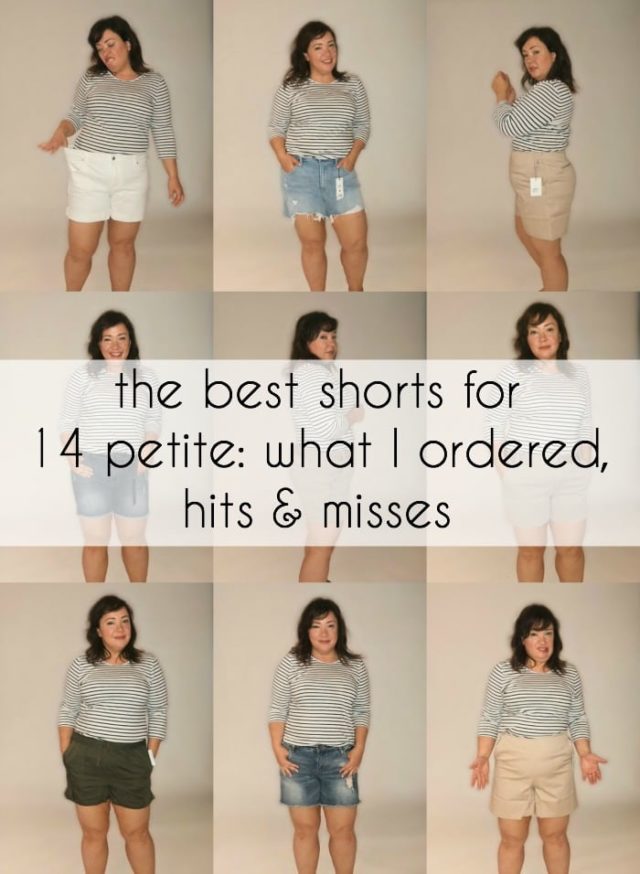 Shorts are one of the hardest things to shop for. Outside of bathing suits, shorts can have you over-examining your body with cuts, lengths, and shapes that can accentuate that which you don't love and minimize the good. Many women choose to never wear shorts and I get it and respect that decision. I didn't wear shorts for many years. However, once I turned 40 I decided to wear them no matter what so I could be active and comfortable in the summer heat. Almost all my shorts from last summer either don't fit or fit strangely so I needed to get a couple new pairs. I am 5'3″ and vary between a 12 and 14, petite and regular.
For today's hits and misses post, I took my photos with the Amazon Echo Look. Amazon sent me an Echo Look to try out. A hands-free camera with fashion advice, the Echo Look has built-in LED lighting, lets you save looks into Collections, get advice from fashion experts, while having all the features of Amazon Alexa. I wasn't required to do any sort of promotion in exchange for receiving the Echo Look; I chose to use it for this shoot because I felt it would provide better photos than my mirror selfies. Let me know what you think, if you prefer these or the mirror selfies.
I've had the greatest success sizing up for shorts (either going up a size or choosing regular instead of petite). This explains the broad range of sizes in the shorts I ordered and show below. All of these shorts are available at Nordstrom; I chose this retailer because of the range of brands and sizes, and how easy it is to return those which don't work. Read below to find out which shorts were the best shorts for my 14 petite self, and which were misses..
I love an easy pull-on pair of shorts, but usually, they are of linen or some sort of outdoorsy fabric. I wanted something that would look polished, not REI or pajamas. These receive positive ratings and come in four colors. They have a 2.5″ inseam which concerned me as my sweet spot is 3″ – 5″ but I was willing to try. The large is equal to a 12/14.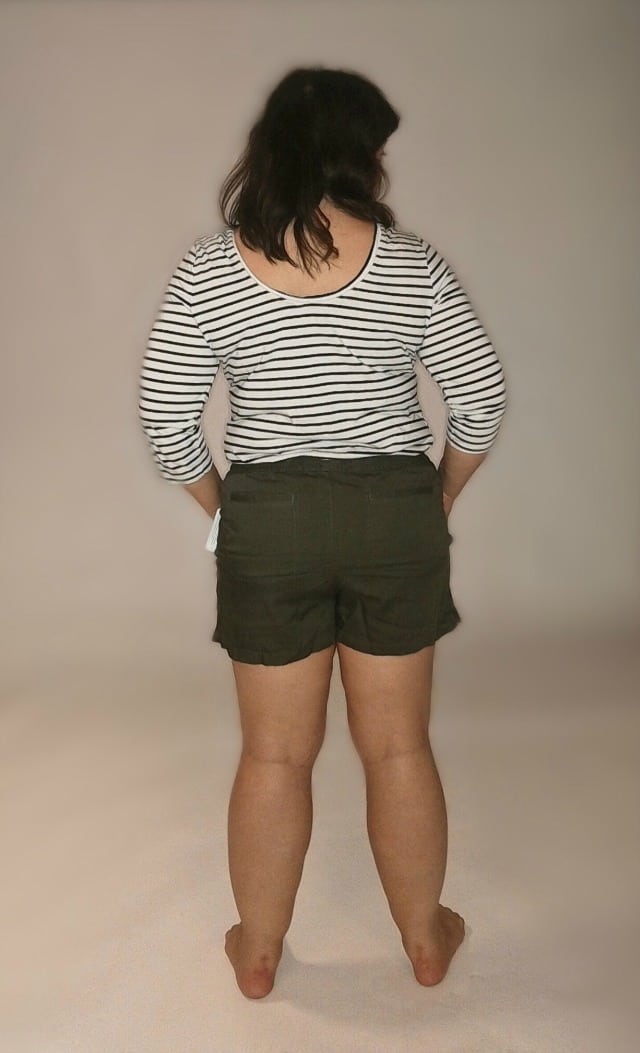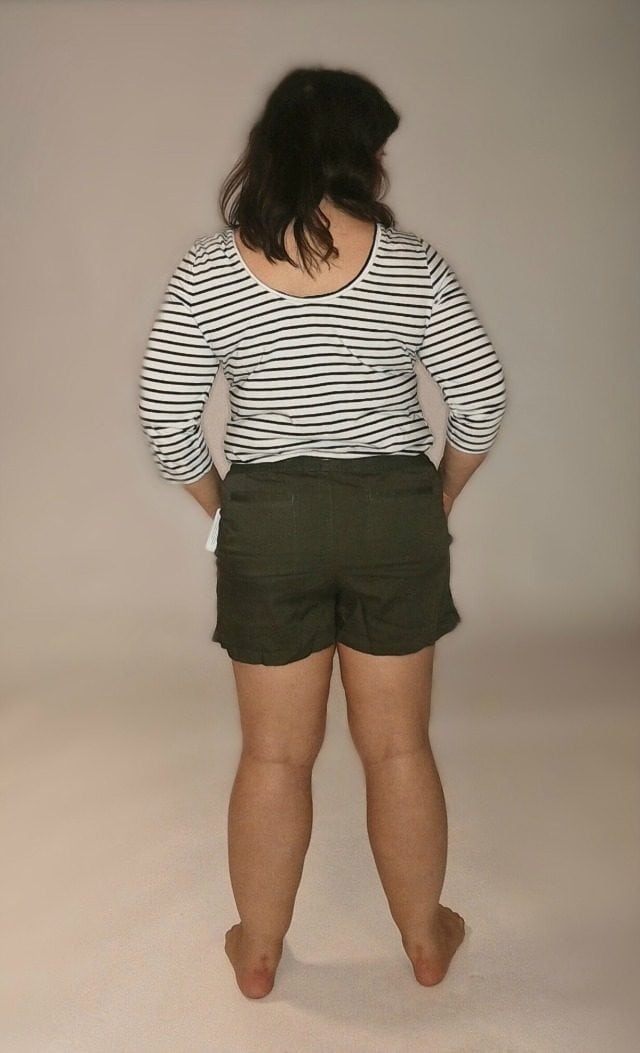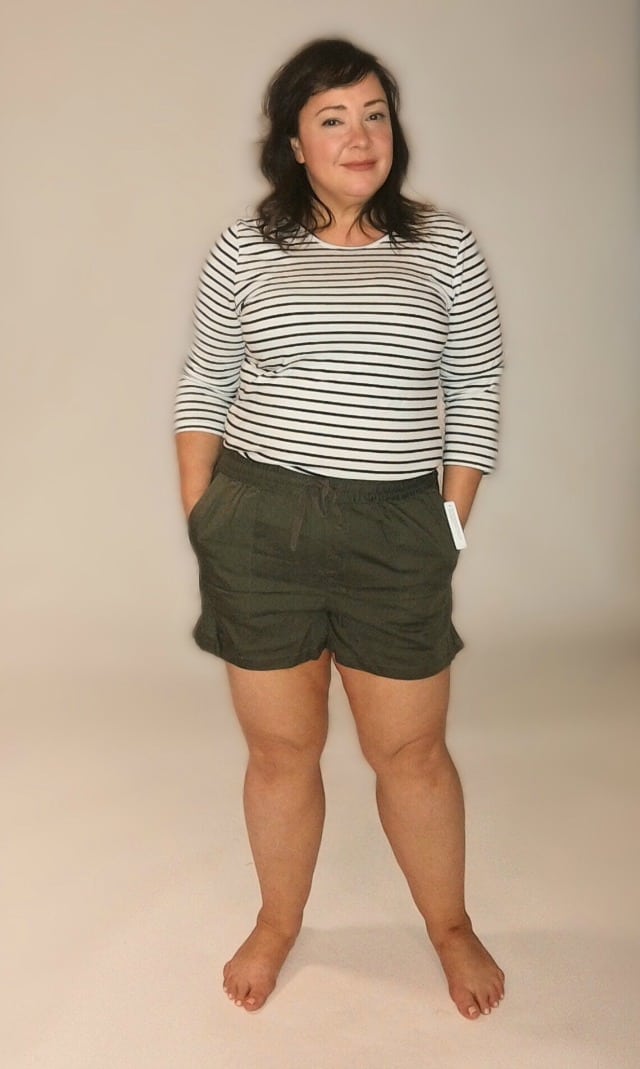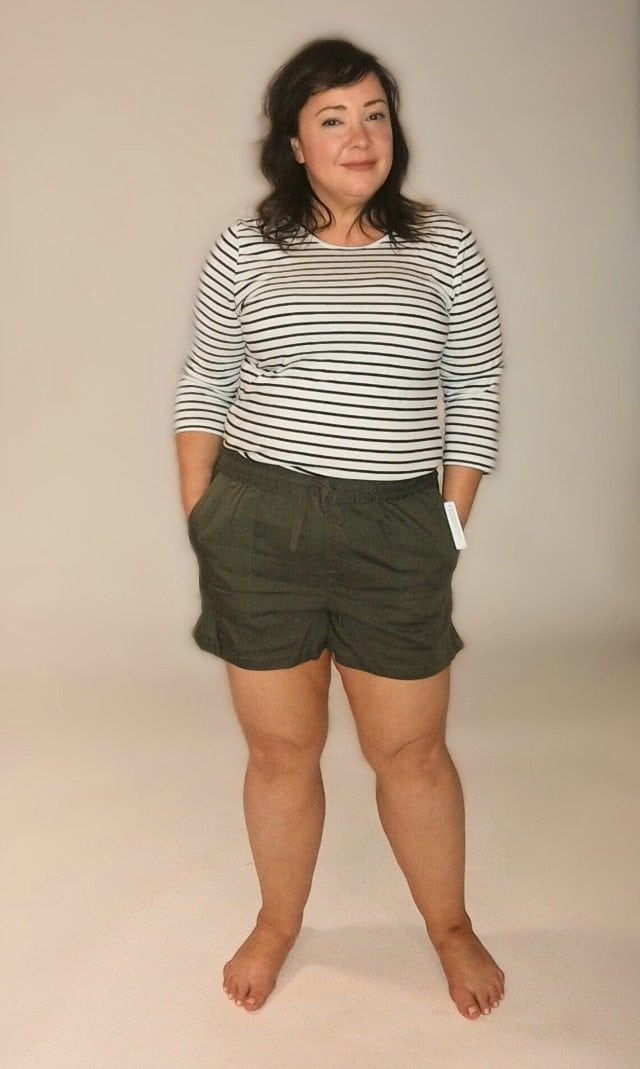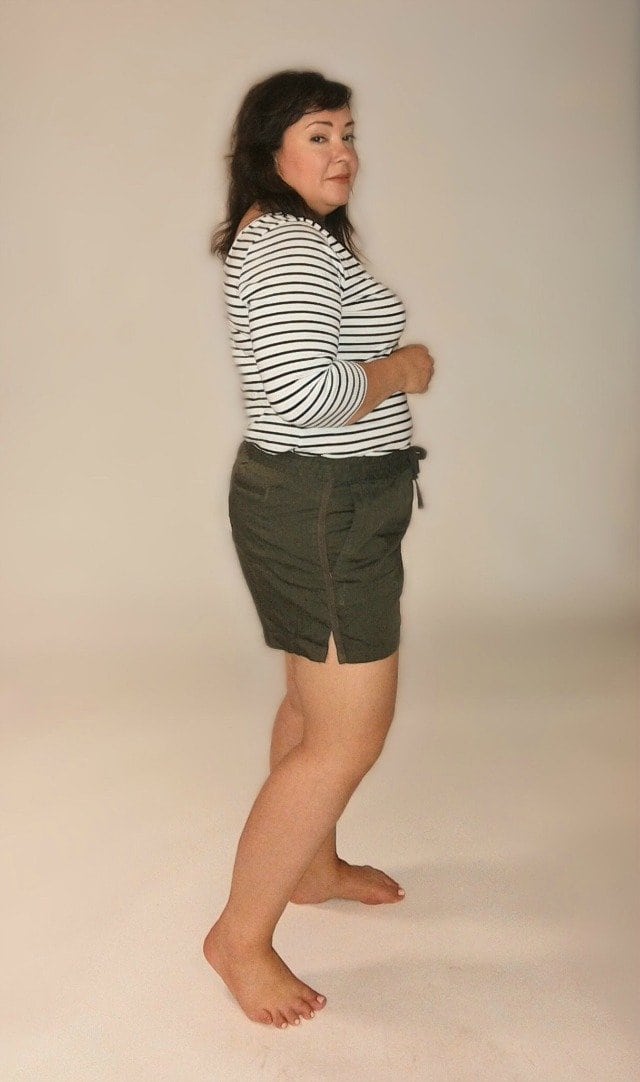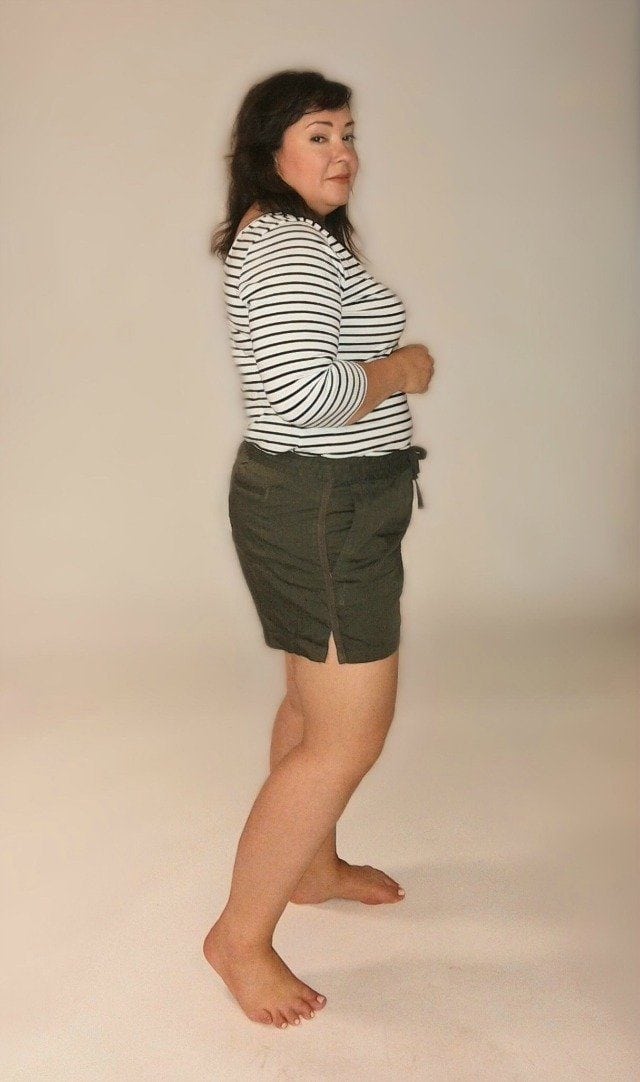 The size large fits well, I think the XL would be too baggy. These shorts are shorter than I usually wear, but because they ride a bit lower on the waist, it's not as drastic. I love the olive color, it's a nice change from khaki, white, and denim yet just as versatile. The fabric is nice and soft but doesn't stretch out like linen. The only thing I don't like is the trim on the side of the shorts isn't the same color as the material and makes the shorts look a bit more casual/REI. These are almost great, but I wish they were just a half inch longer so they cover the heaviest parts of my thighs and are sure to not allow chub rub. That and the off-color seams make me not love them so they're going back. MISS.
(as an FYI these shorts also come in plus sizes with a 4.5″ inseam)
I bought these same shorts in the past so I knew they'd be a decent fit, quality, and cut. So good… they're already out of stock at Nordstrom AND at Nordstrom Rack! I still linked to them in case they come back in stock. I've seen them in stores, so you may be able to find them if you have a Nordstrom nearby. From the past I found the petite to be a bit too low in the rise for my booty, so I went with 14 regular, which is a 5.5″ inseam.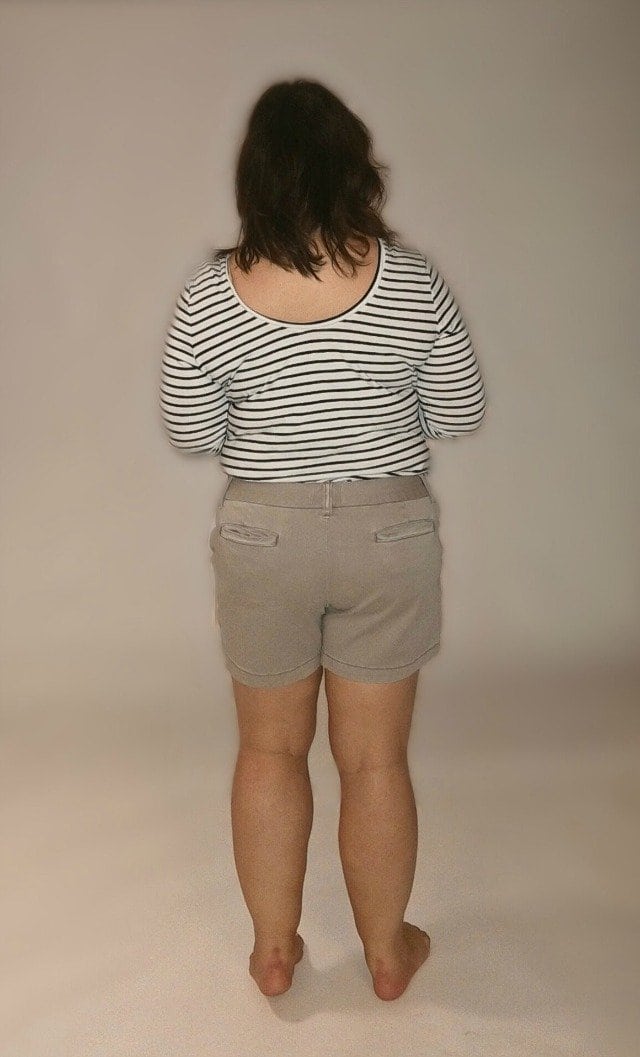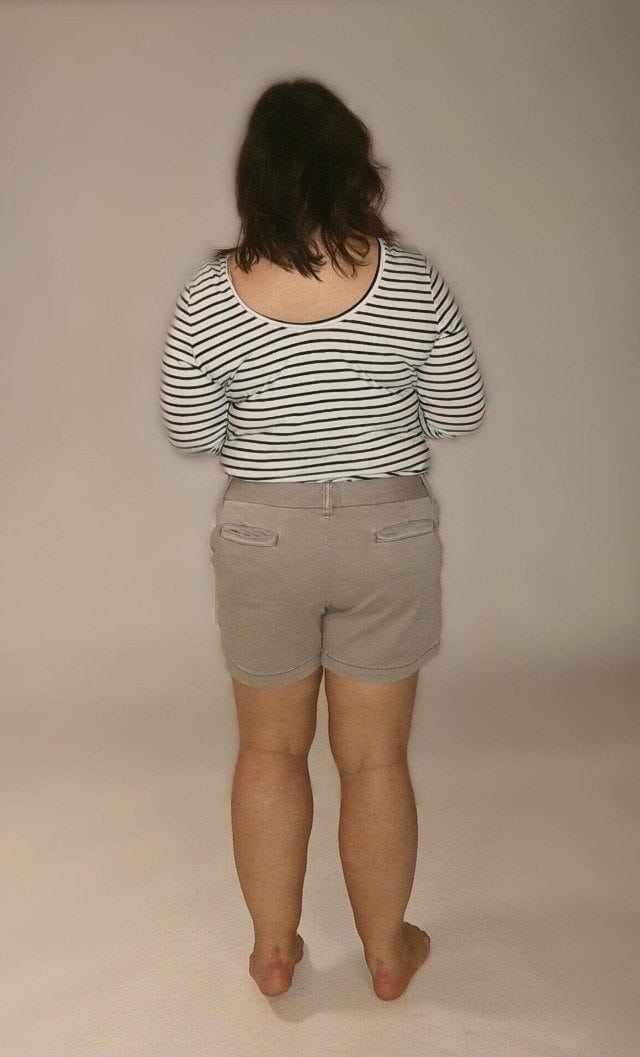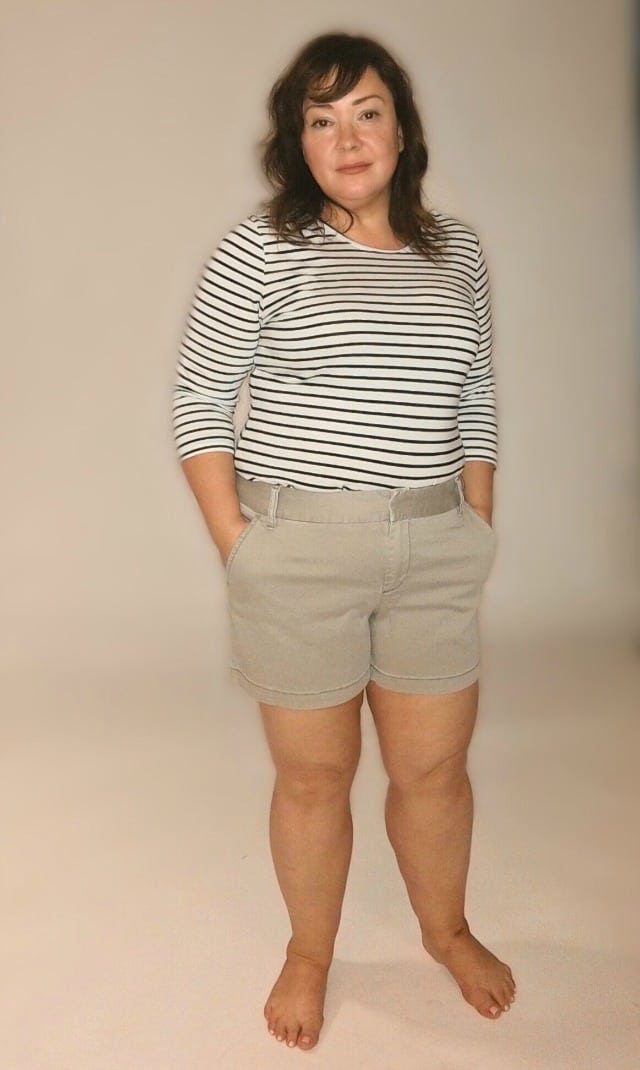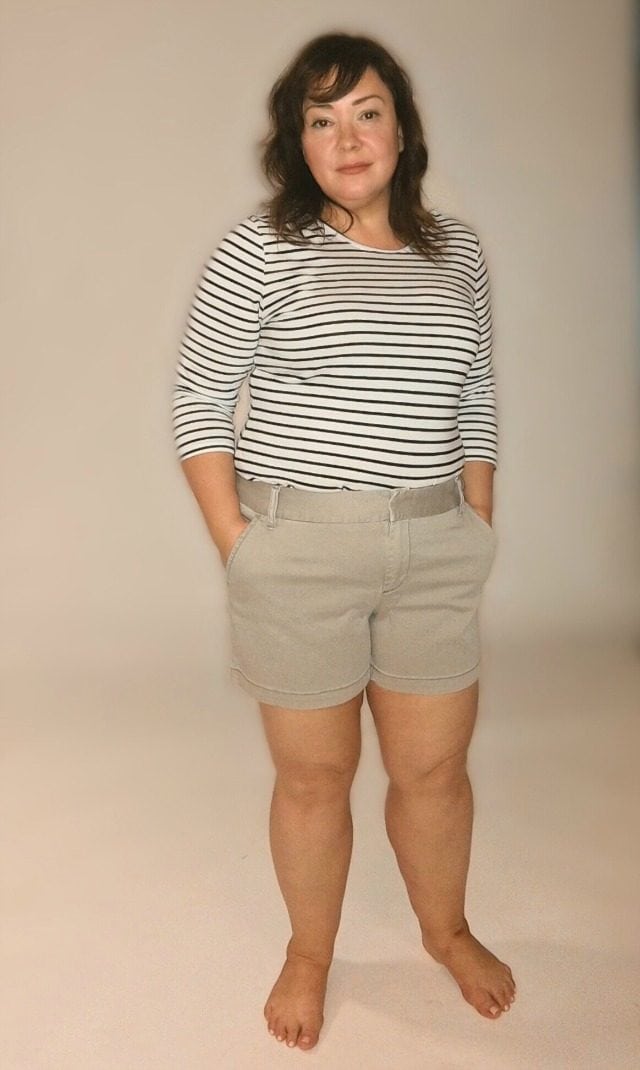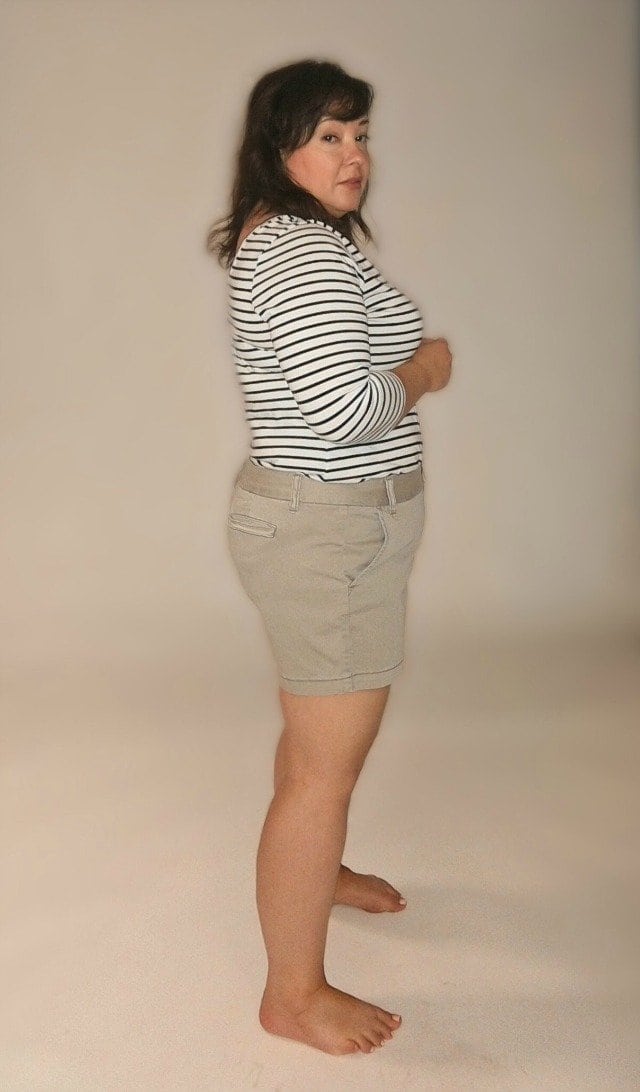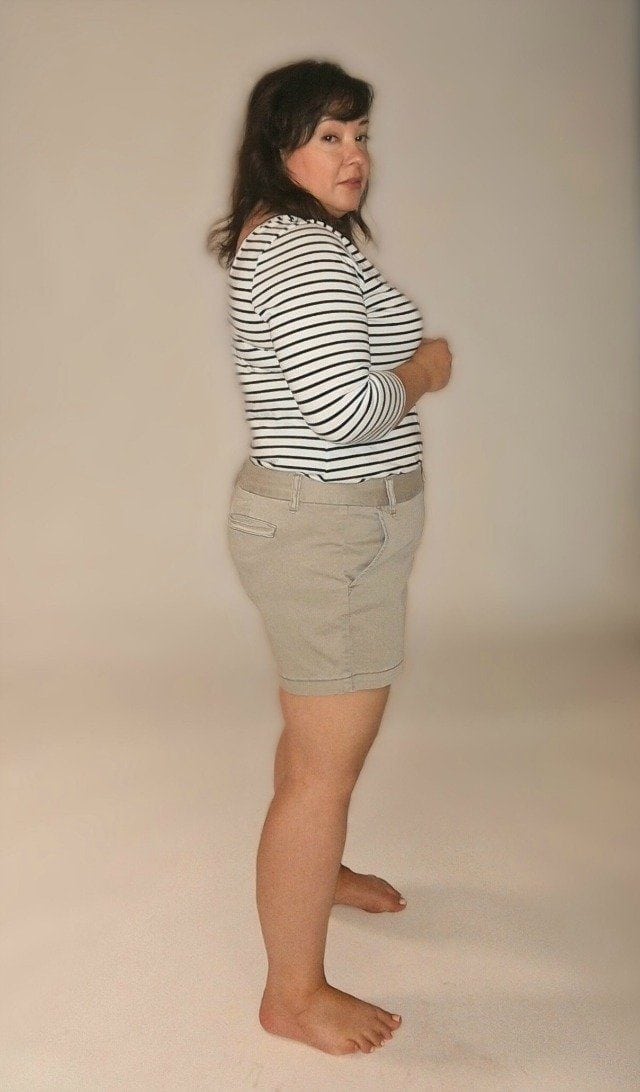 I also know from owning these before that they stretch out a bit with wear. These are straight from the box, not stretched. These are good basic shorts that can look nice with a polished top for an outdoor barbecue, or go casual with a simple tank and Birks for running errands. They wash well, and are comfortable. I hate to say hit since they're out of stock but I think they are a hit!
When I visited Trunk Club, my stylist Kelsey let me know 1901 was the new Nordstrom in-house brand to replace Classiques (RIP). I like the clean lines, what I've tried from the line is high quality, but most pieces are a bit too preppy for my tastes. These shorts, however, looked classic, clean, and flattering. They looked to have a high rise so I chose the shorts in 14 petite instead of regular.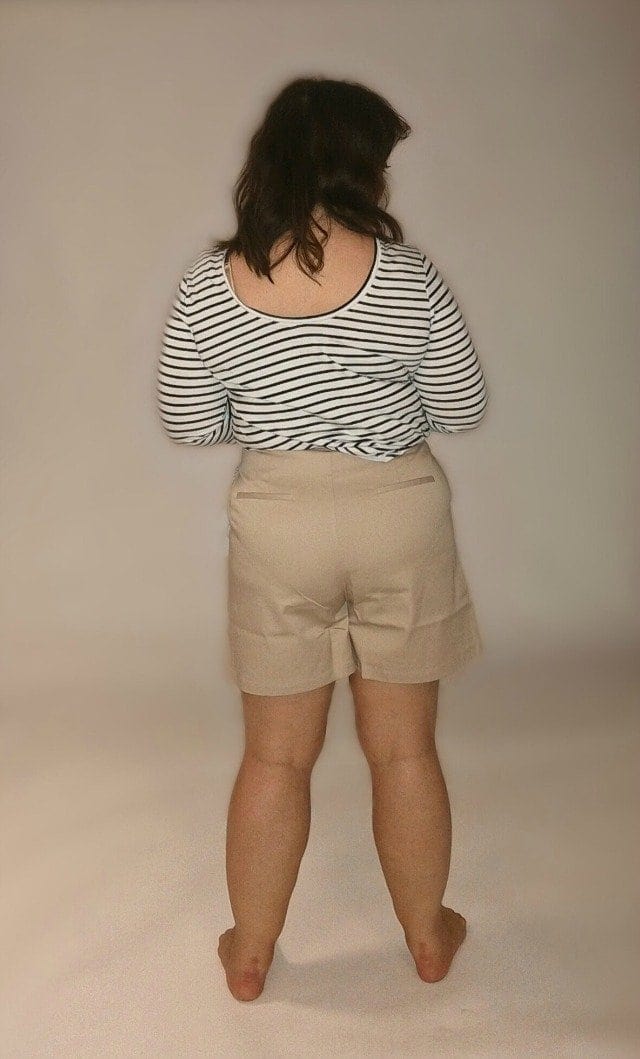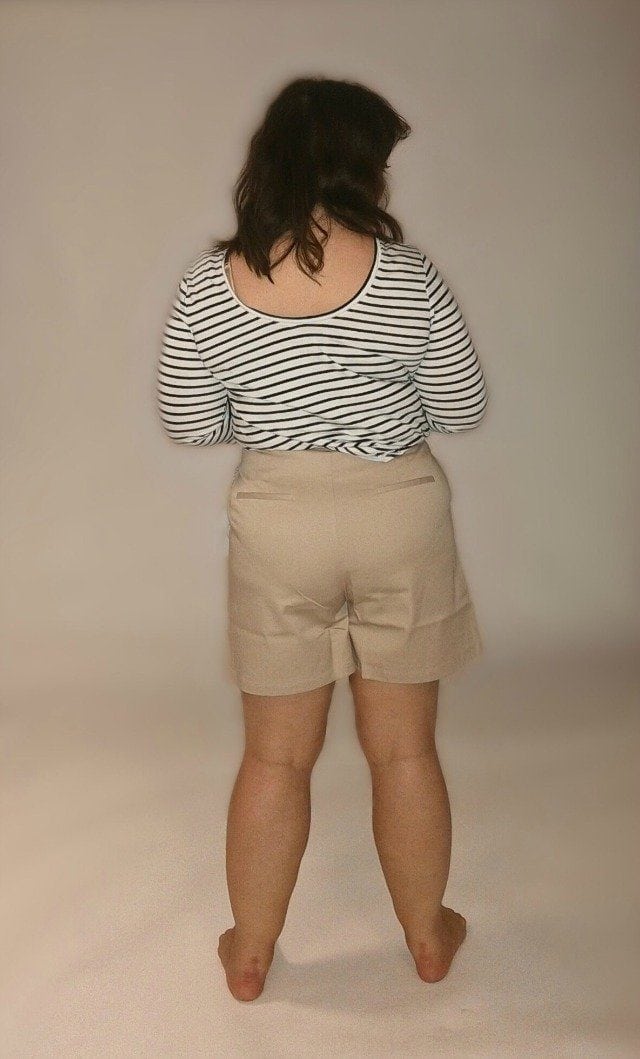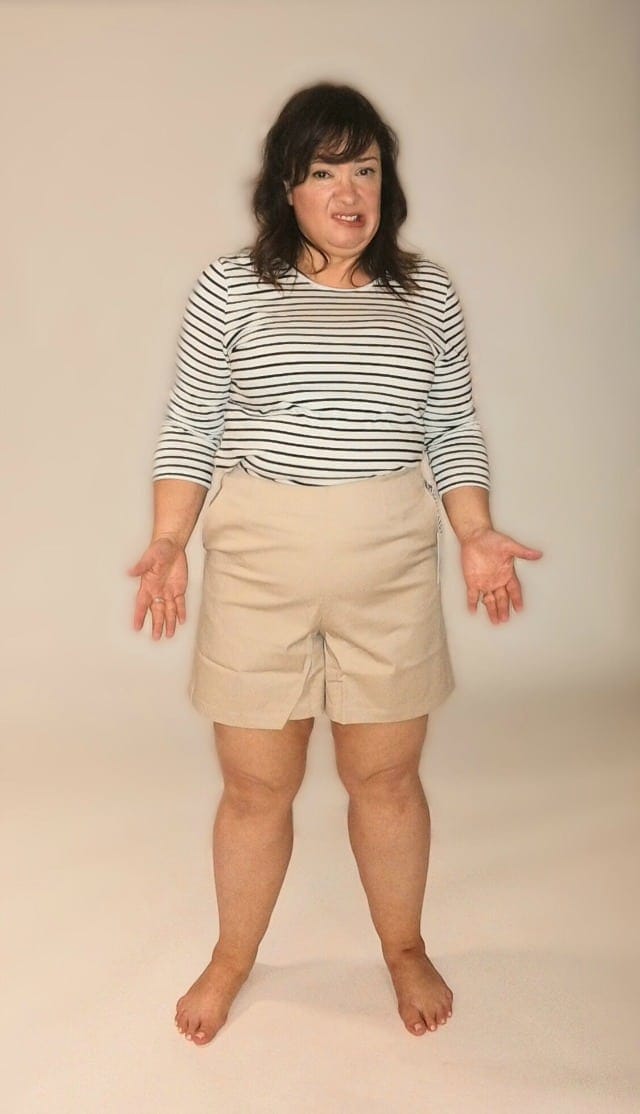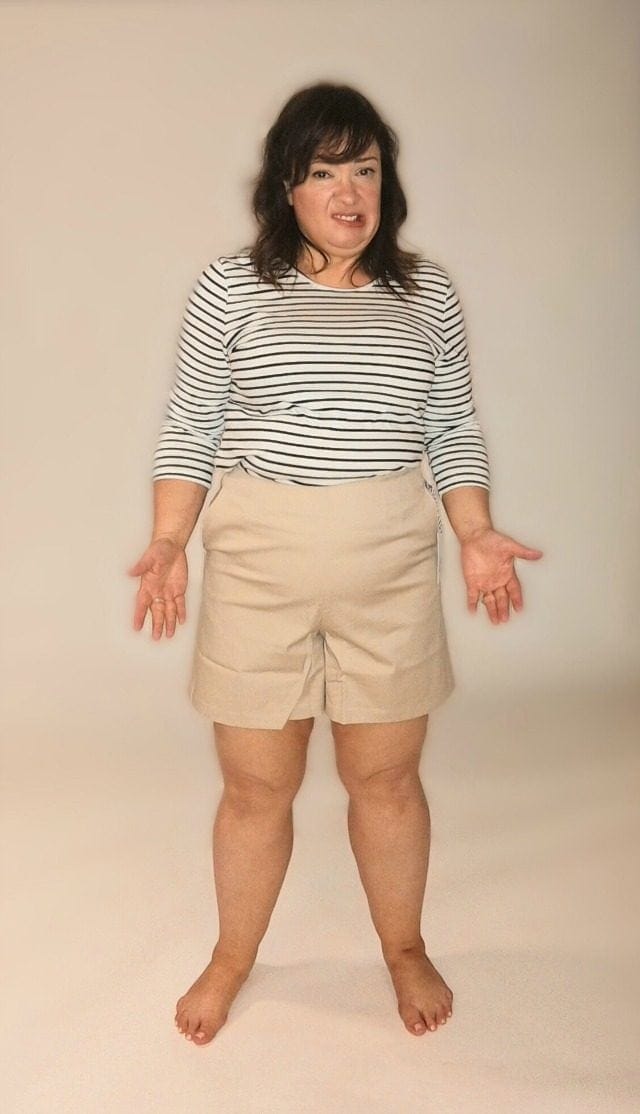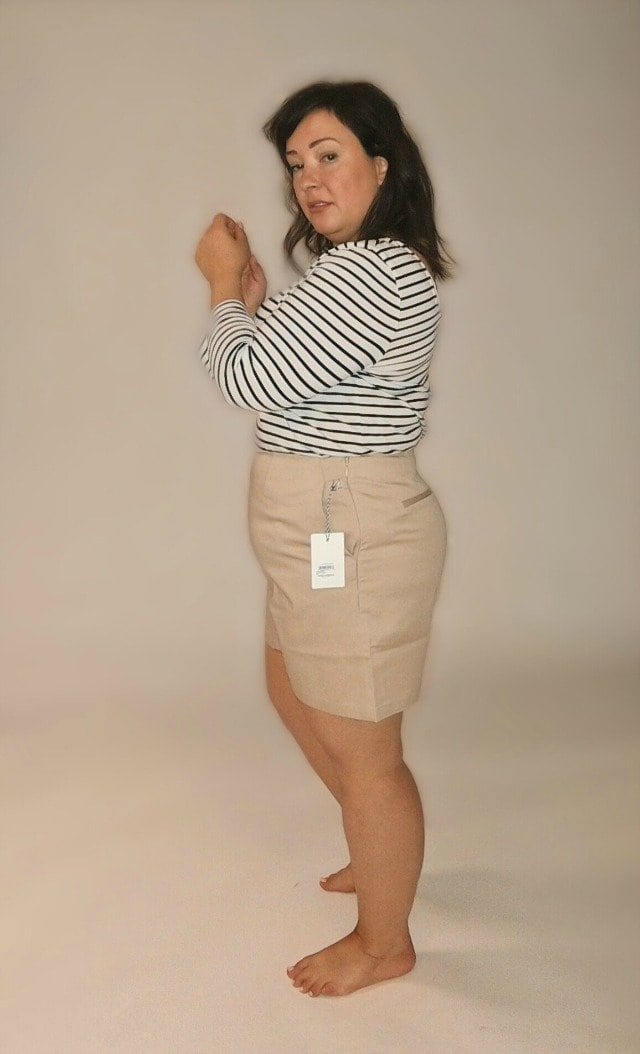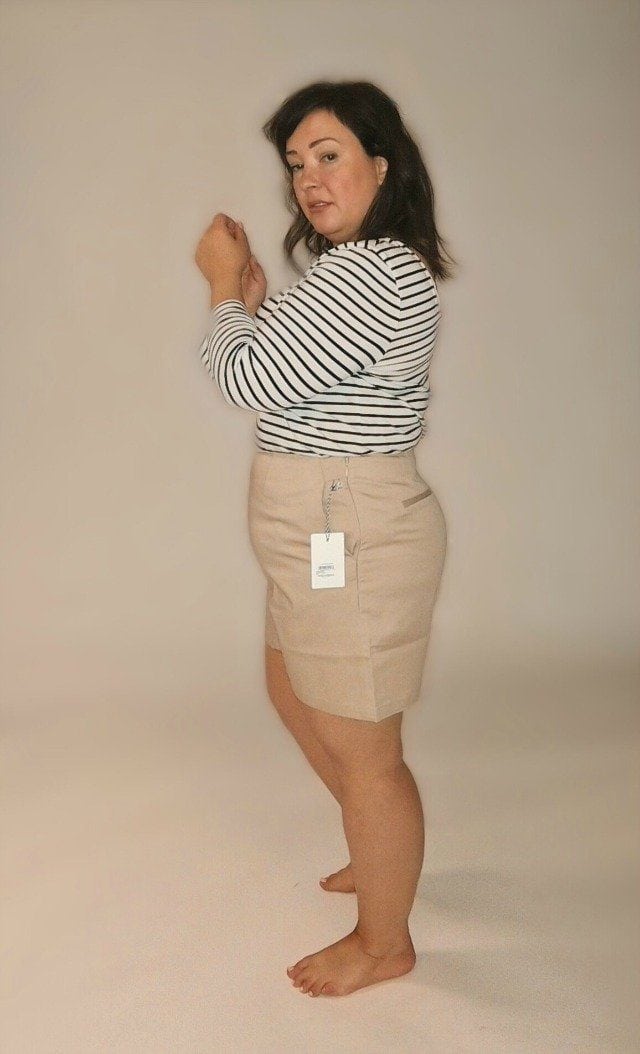 Yeah, these do not fit. I struggled to connect the hook and eye closure and had to suck in like crazy to get the zipper zipped. I hoped I wouldn't bust the zipper before the photo shoot was finished. And even if they did fit, they look like awful camp counselor shorts. I think if you were very thin with maybe a pear shape these would be flattering but for everyone else, I think it's a hard pass. MISS.
I am not sure why I ordered a size 33. Maybe because my best fitting jeans are a size 33? The size chart for these shorts shows that a 33 is larger than a size 16 (okay that confuses the heck out of me because a 33 is usually a 14/16 with other retailers). So anyway, I ordered a 33.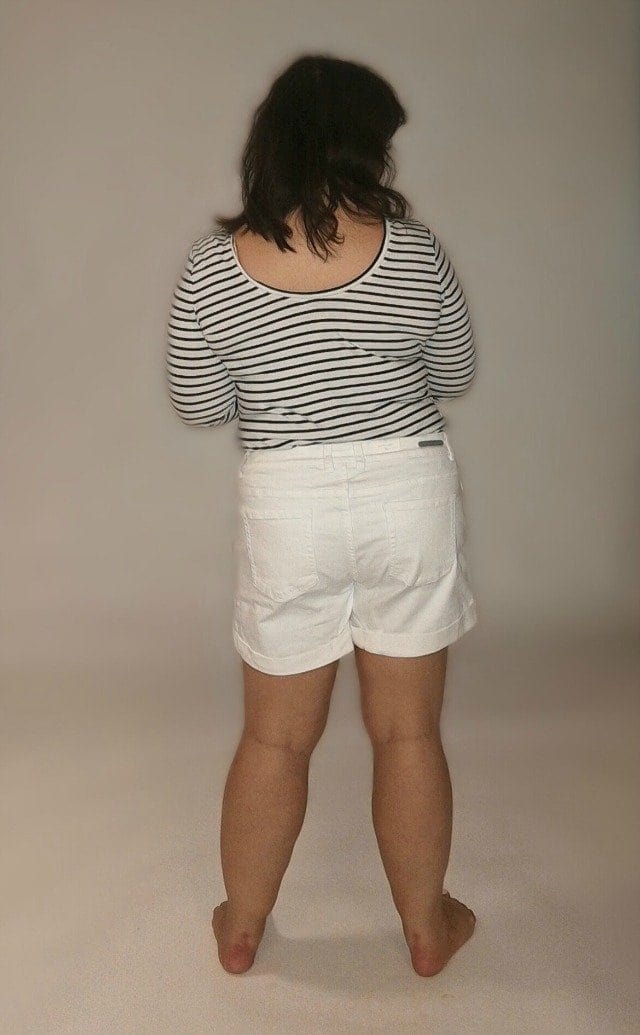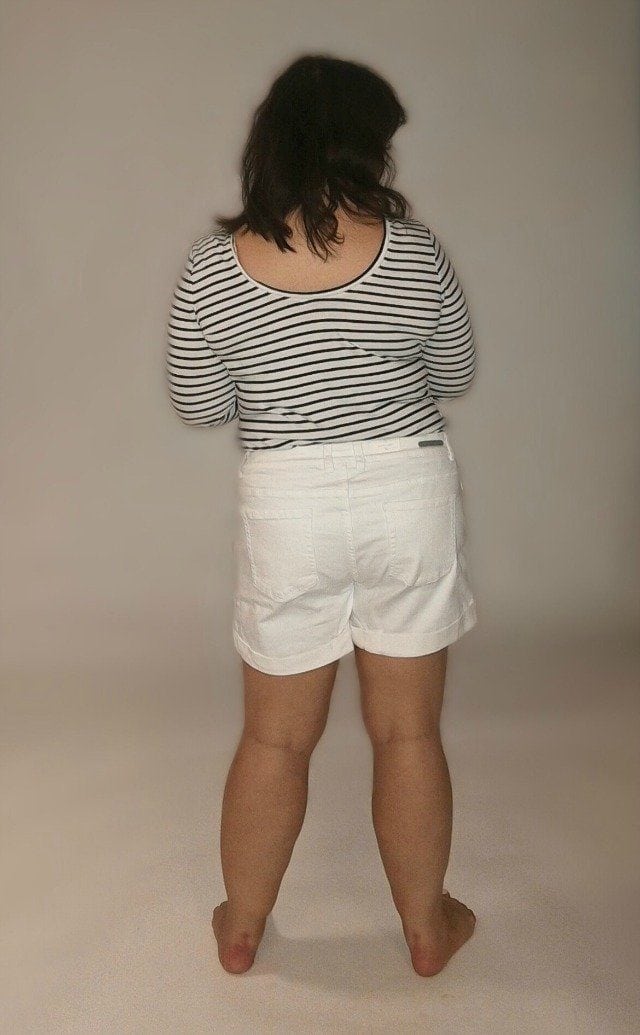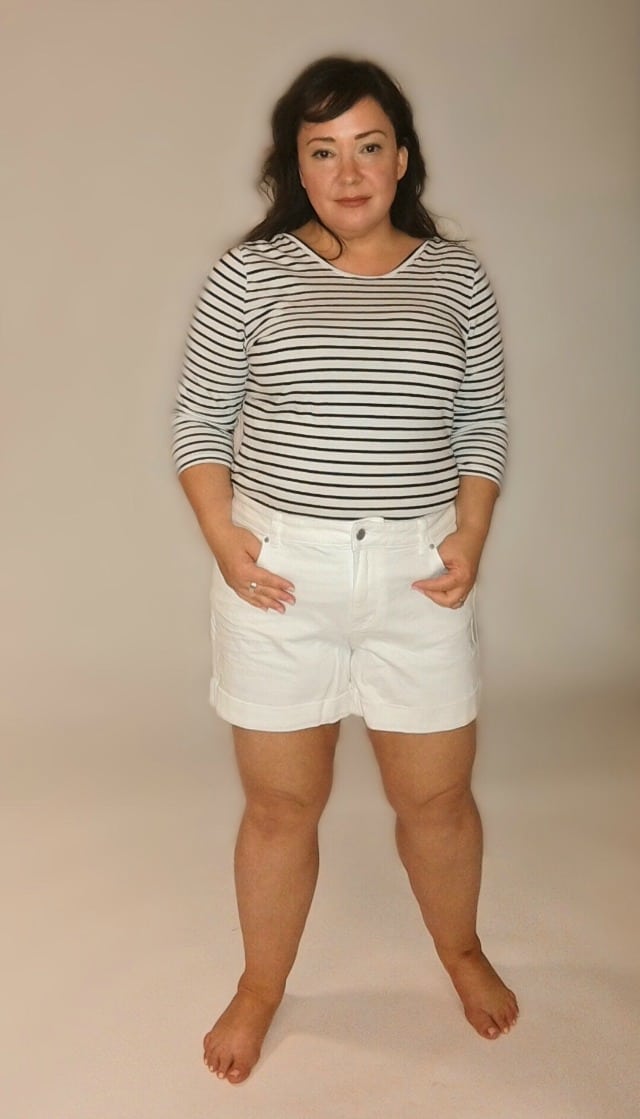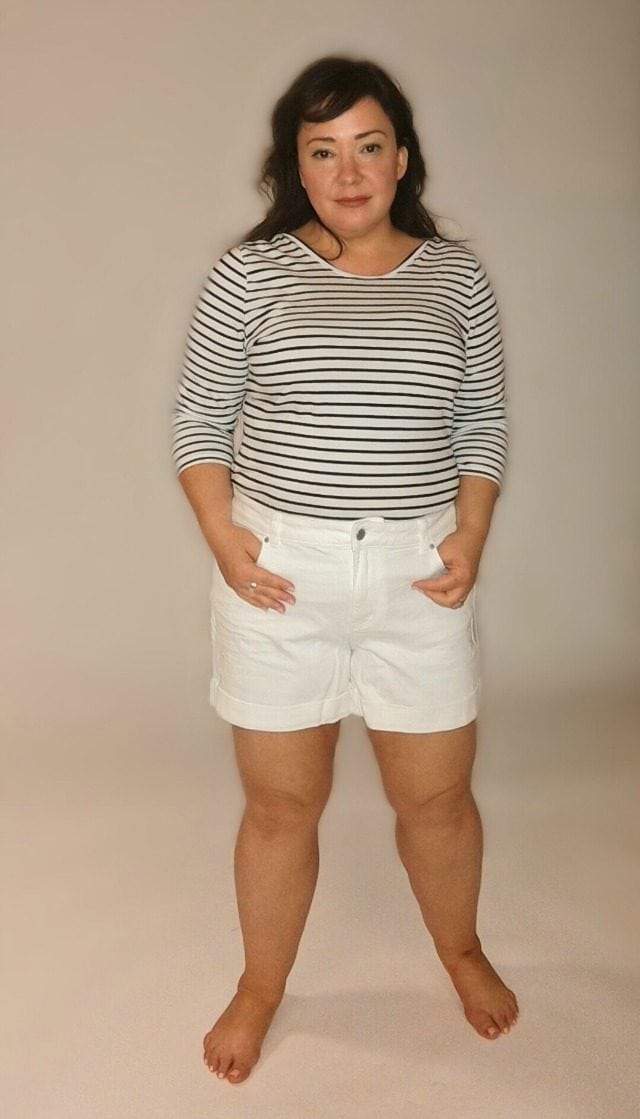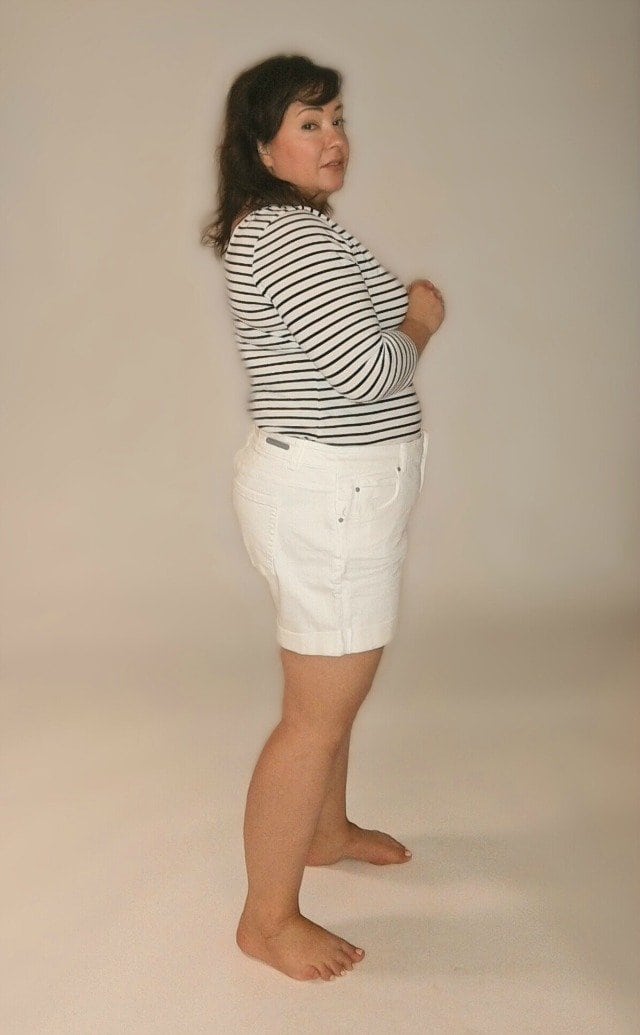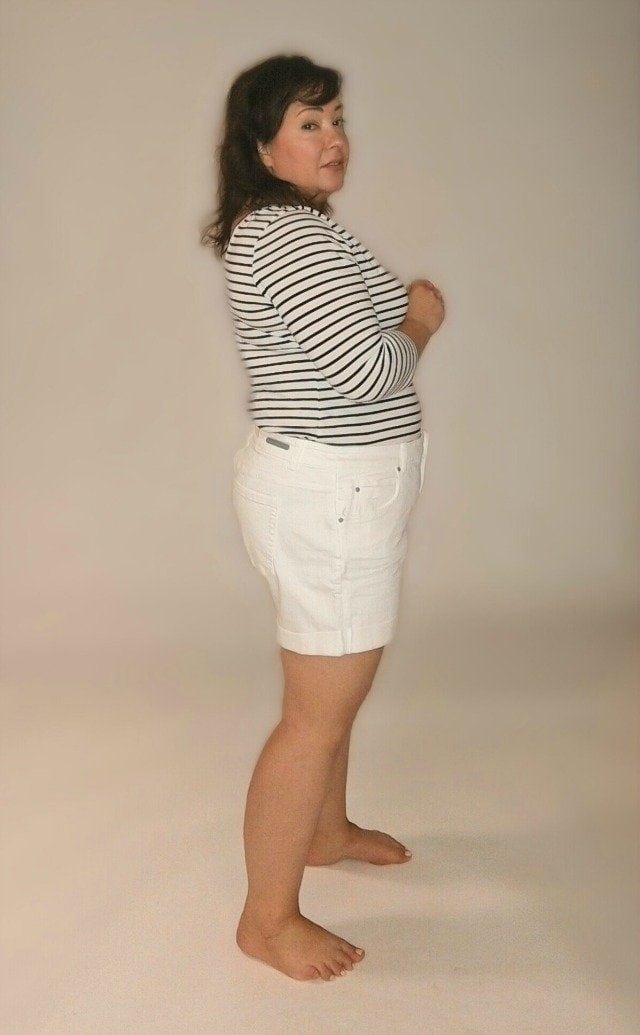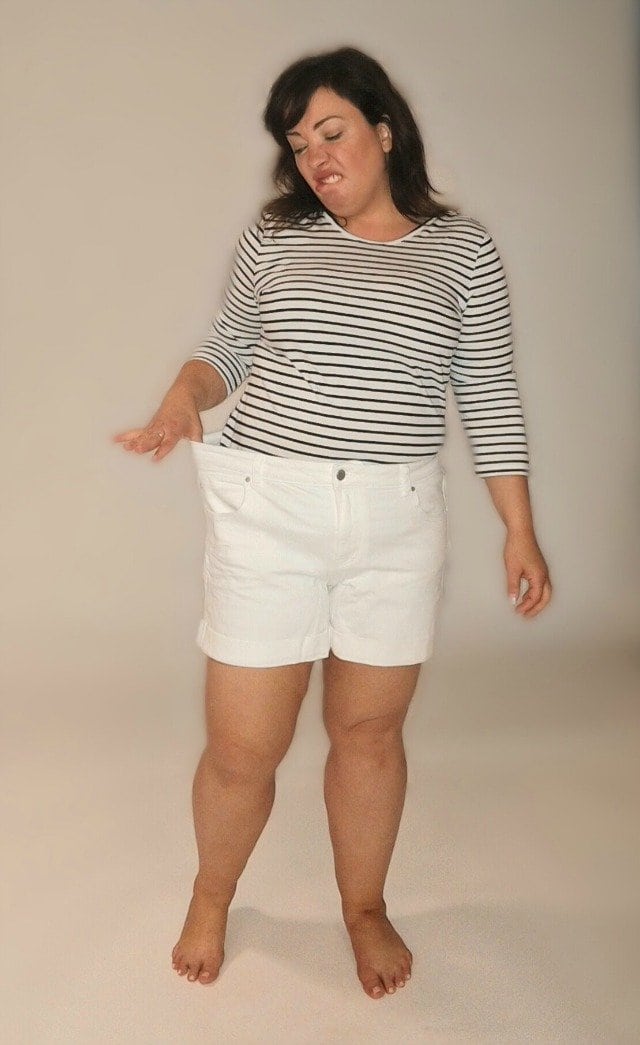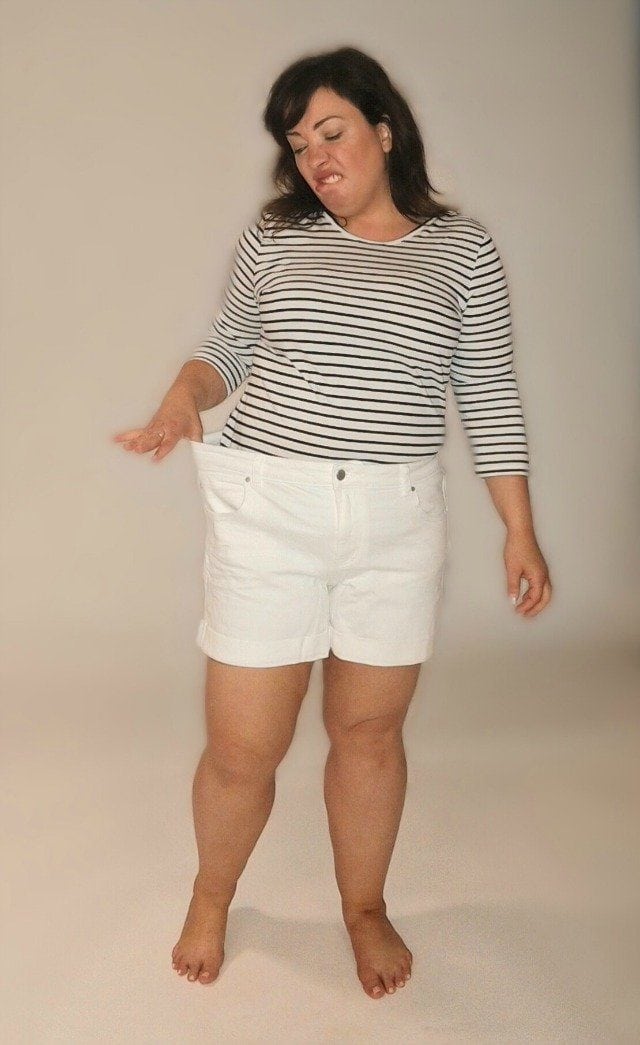 Clearly, they are too big. I think if I went down two sizes, they would fit great. However, with trying on shorts with Trunk Club and this post I realize I don't really like cuffed shorts this season. I'm at this age where I am really aware of things looking too old or too young on me. They may look great on others the same shape or the same age, but otherwise normal clothes will look too try-hard or frumpy on me. And cuffed shorts on me feel a bit juvenile and look a bit dorky. That being said, they don't on everyone and these are nice. They're not too thick, but not thin, completely opaque, they stretch, and I think are pretty flattering casual white shorts. But for me, a MISS.
Every summer I order Liverpool shorts and every summer I return them. The denim is very thin and stretchy, which can be great but I also find that Liverpool runs narrow in the legs so their denim shorts on me end up looking like cut-off jeggings.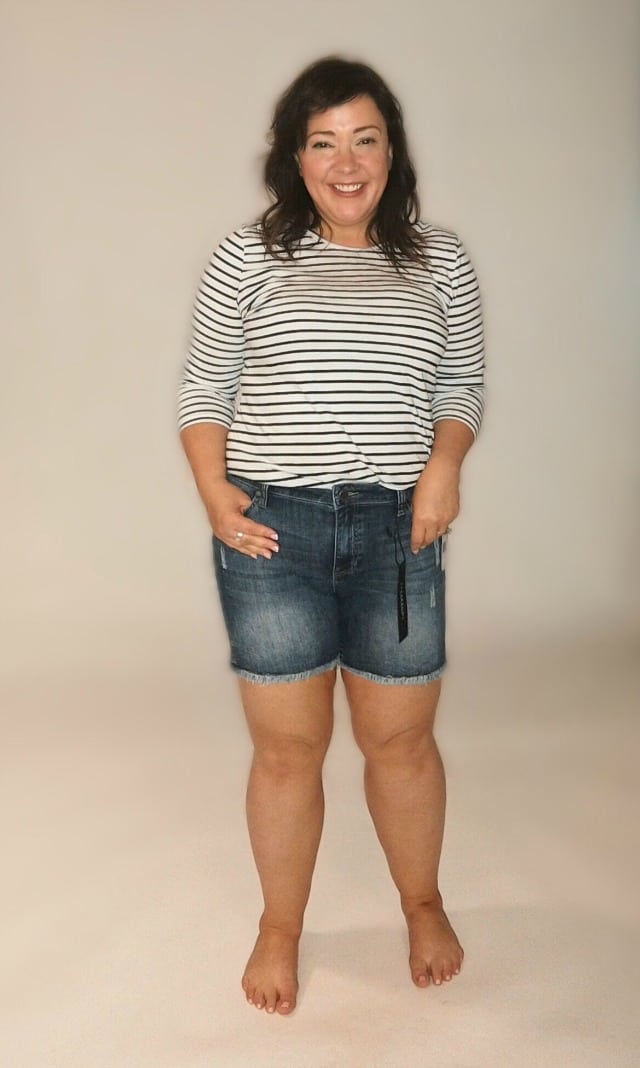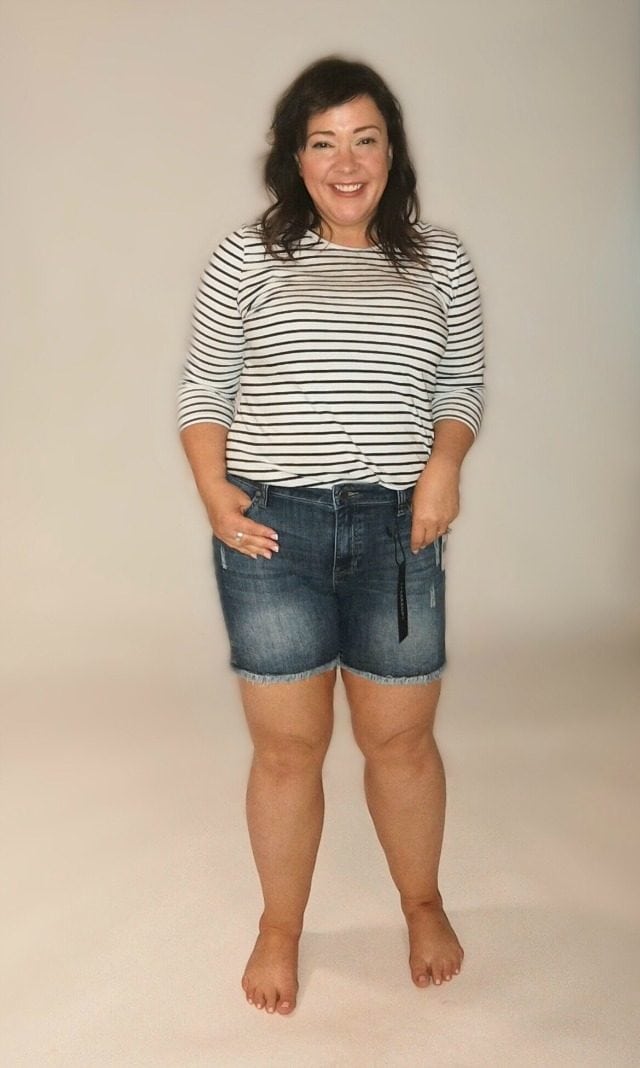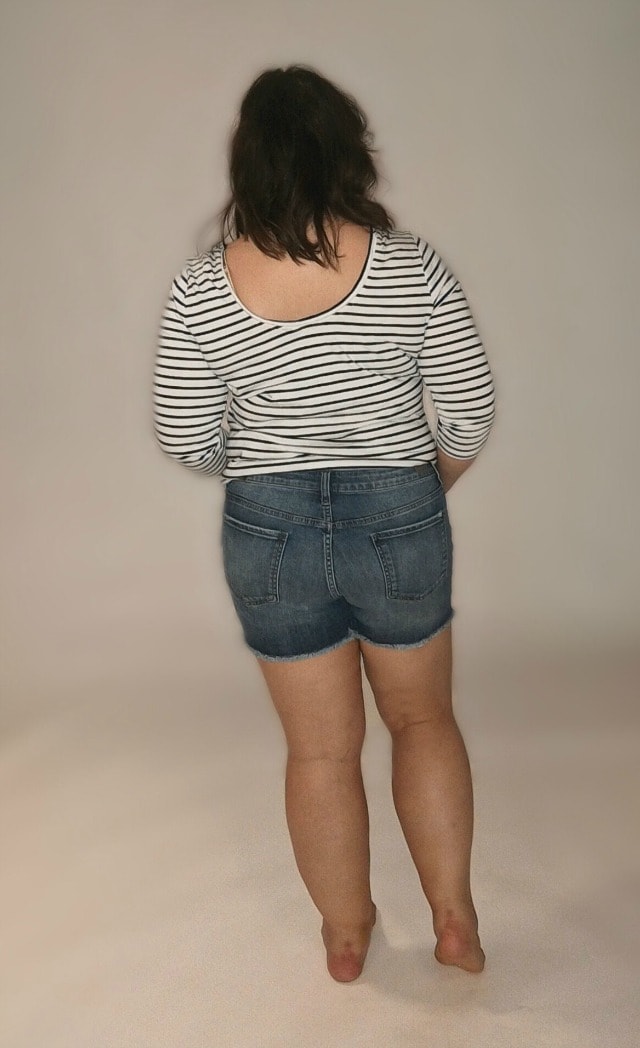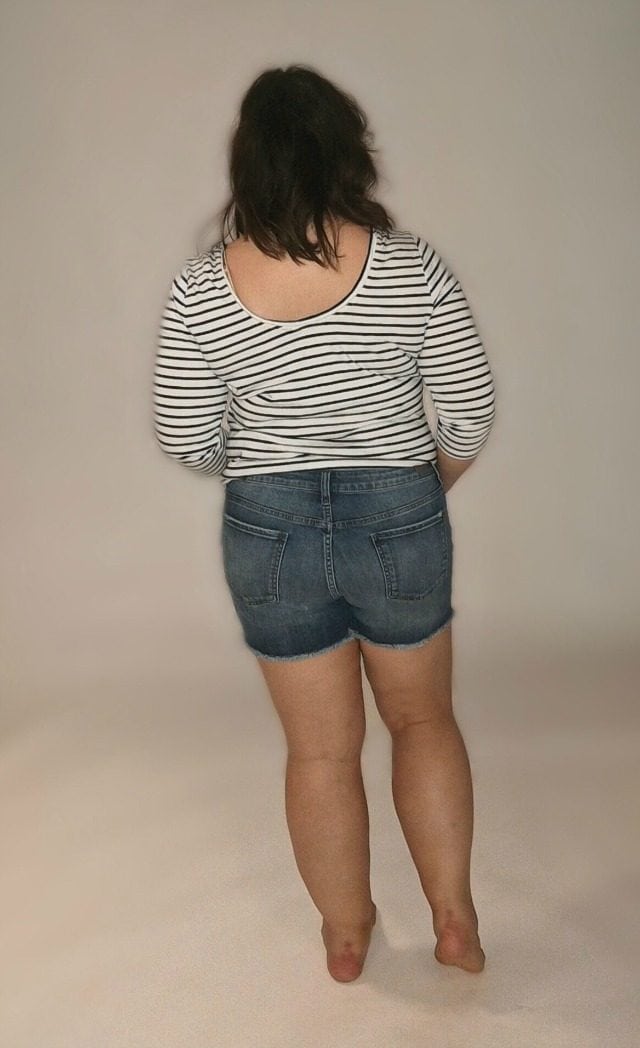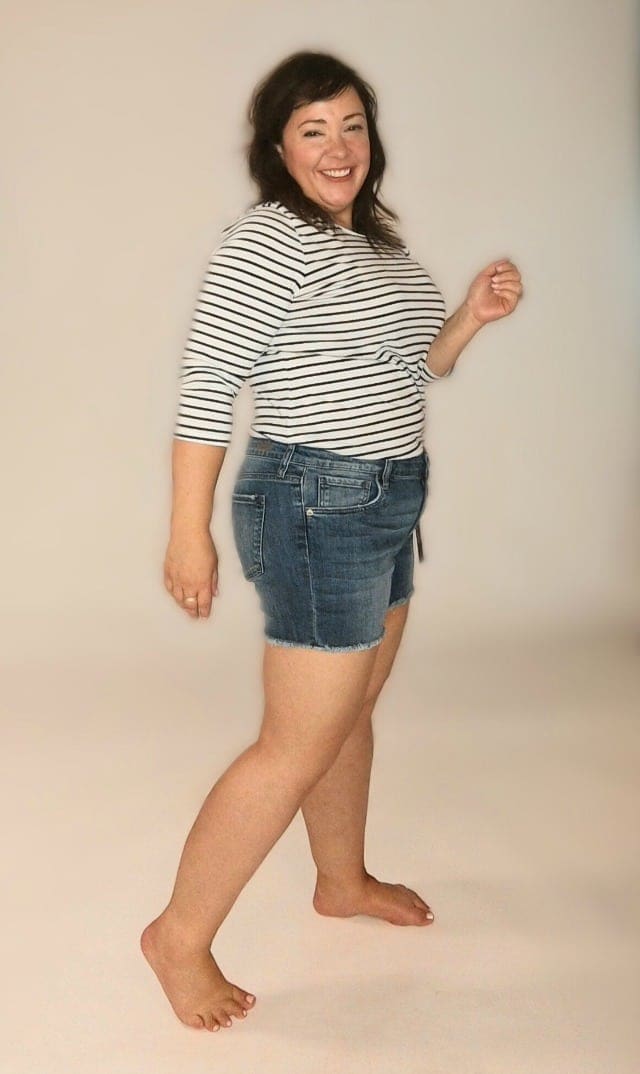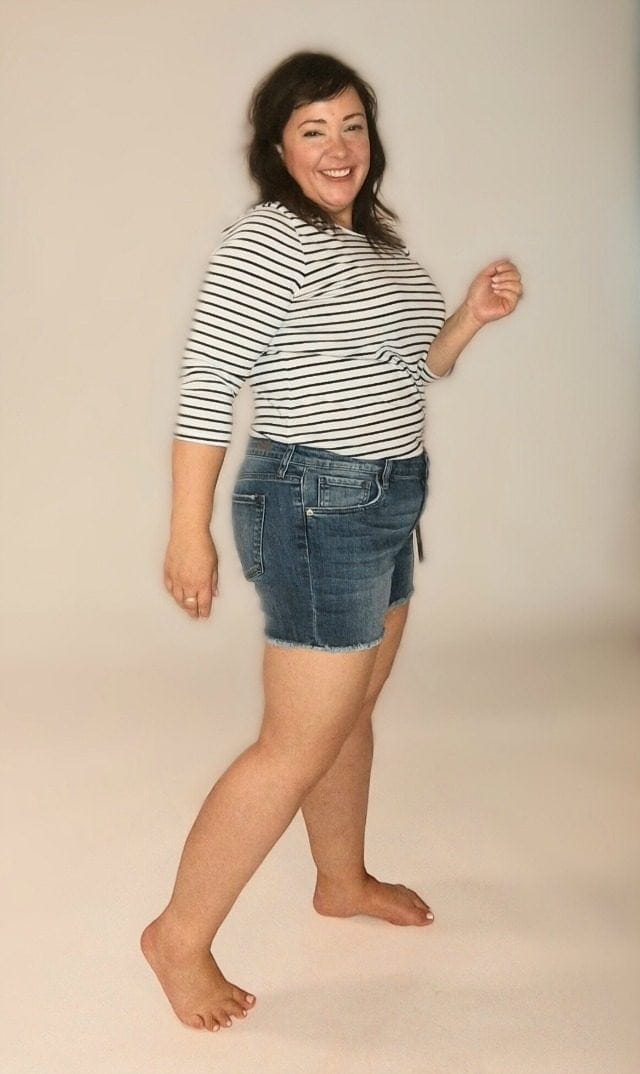 Because the denim is thin and stretchy, fancy washes always look a bit odd on Liverpool jeans, as though they're silkscreened. These shorts are no exception. The plus to these shorts is they are a really good length. If you have skinny legs, these could be good but otherwise, I think they look too goofy especially for $49. I've found chicer of denim shorts at Walmart. MISS.
I have a pair of Treasure and Bond shorts from last year and adore them. Great fit, great style, great price. These looked hip and cool, but not too short or too tight.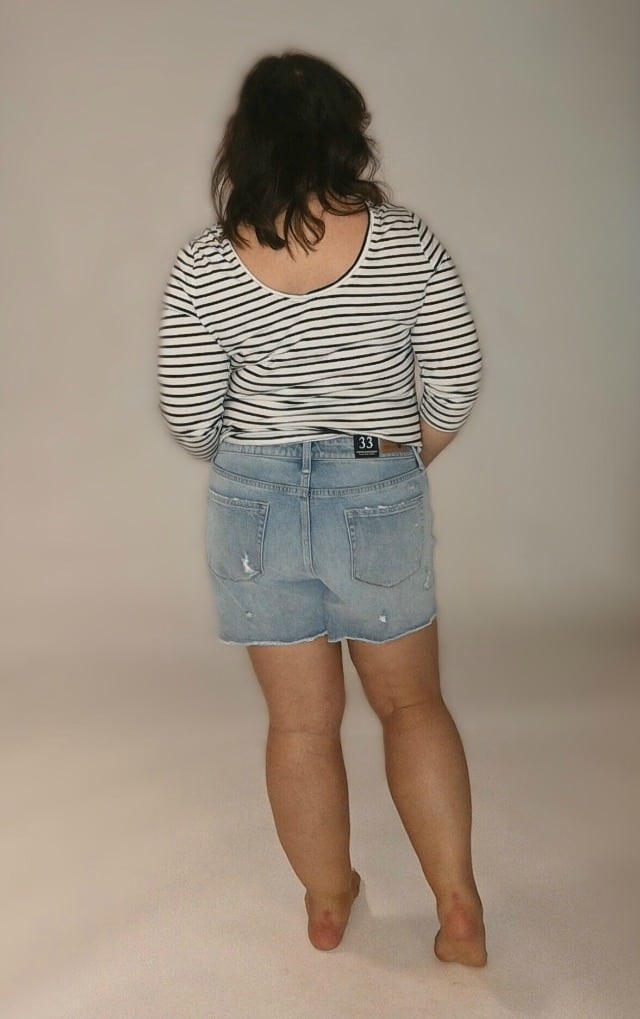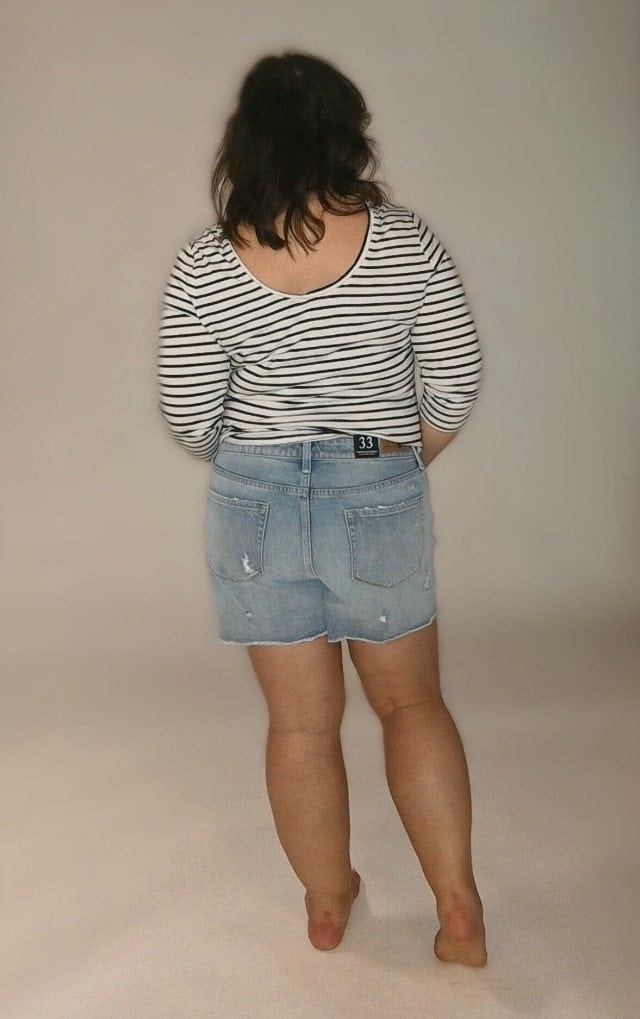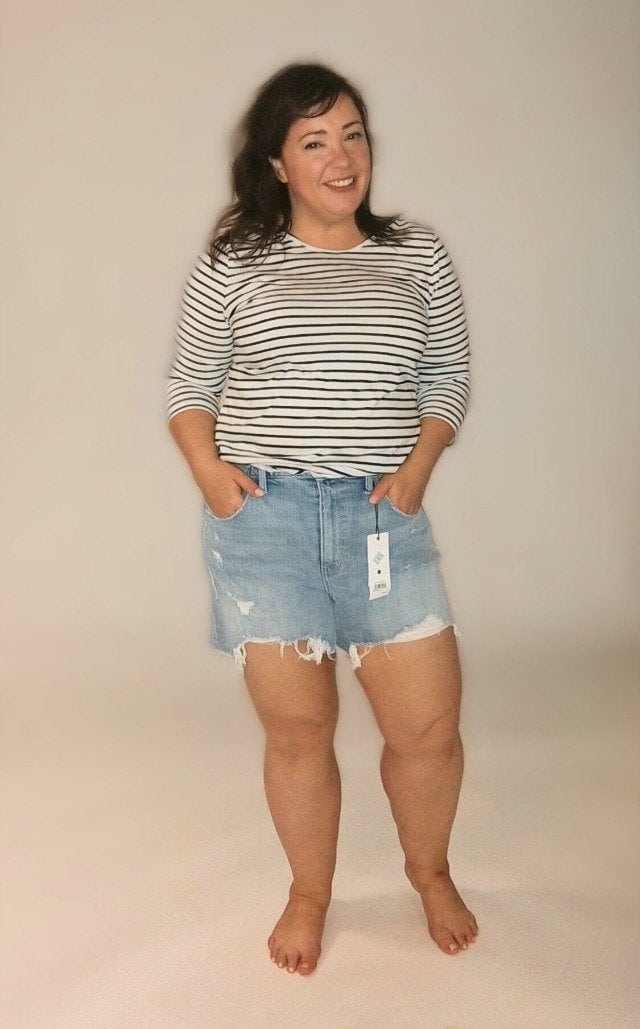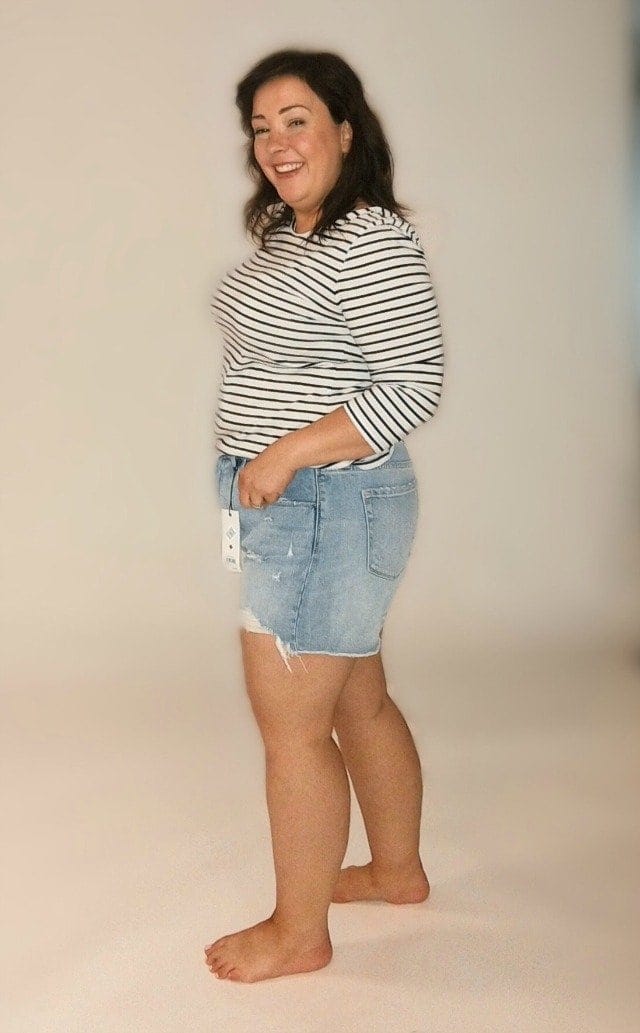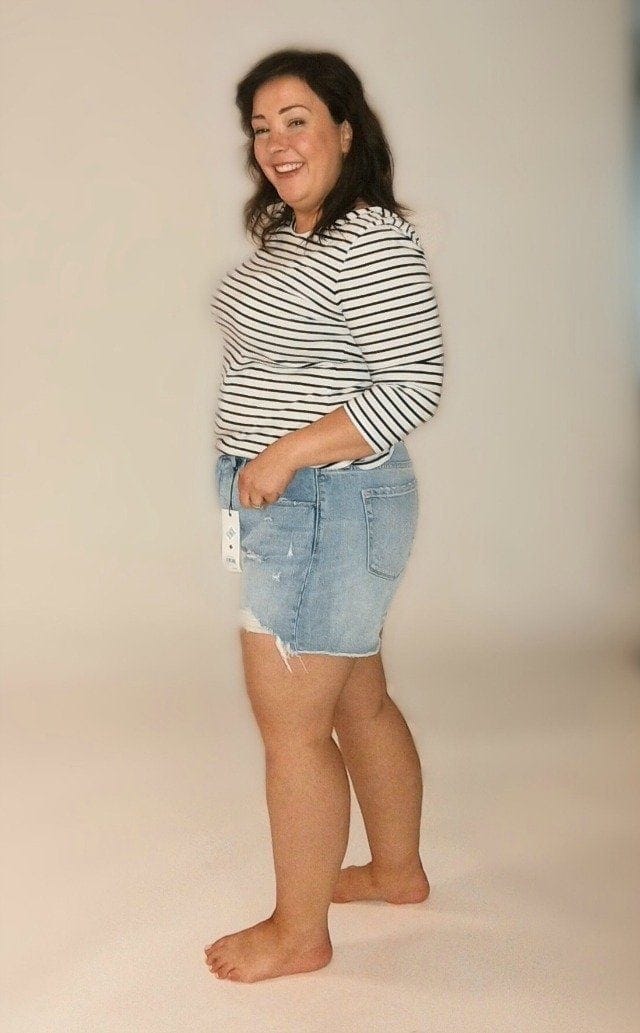 I put these on and Karl walked in the room. "Do you want me to be honest?" he asked. Of course. "I think they're try-hard." He was right, these shorts are like the cuffed shorts. There are some styles I just find look too young or too old at my current age and size, and these look too young. A bit too distressed, a bit too light, a bit too trendy. I would have rocked these three years ago but now they just feel wrong. But if they're your type, these are great shorts. They fit nice (I sized up and am glad I did), nice quality denim, comfortable. But for me, MISS.
Kut from the Kloth is another brand I regularly have success with. They're one of my favorite brands for opaque white jeans so I hoped I'd have similar success with their shorts.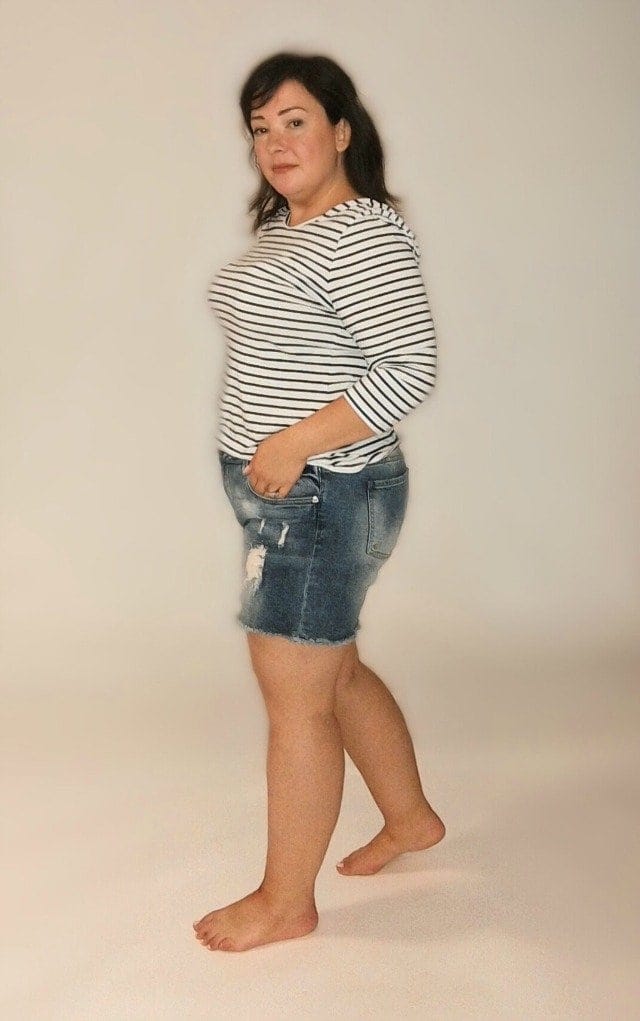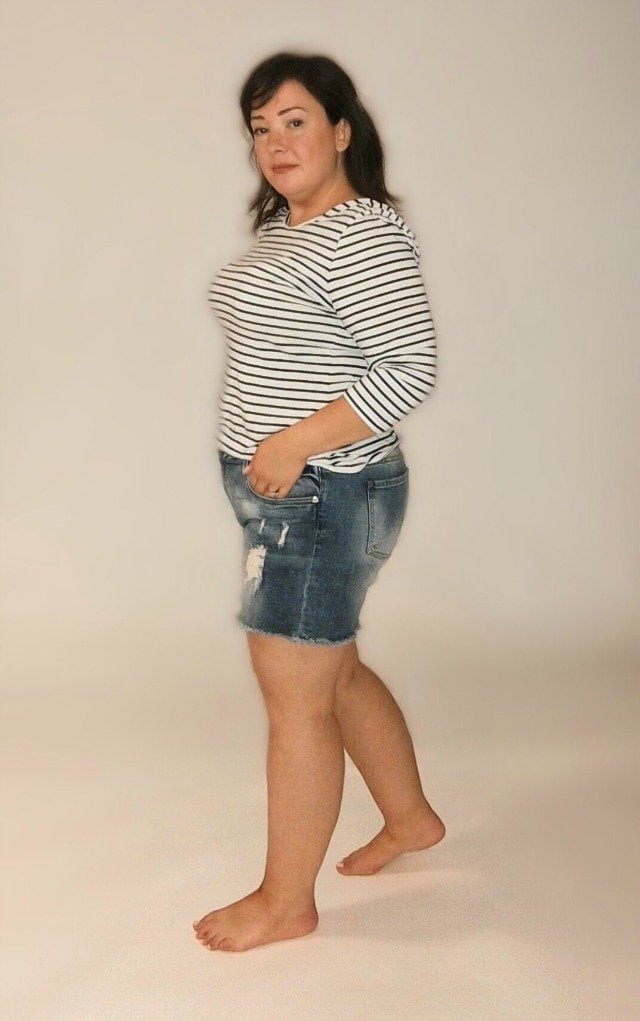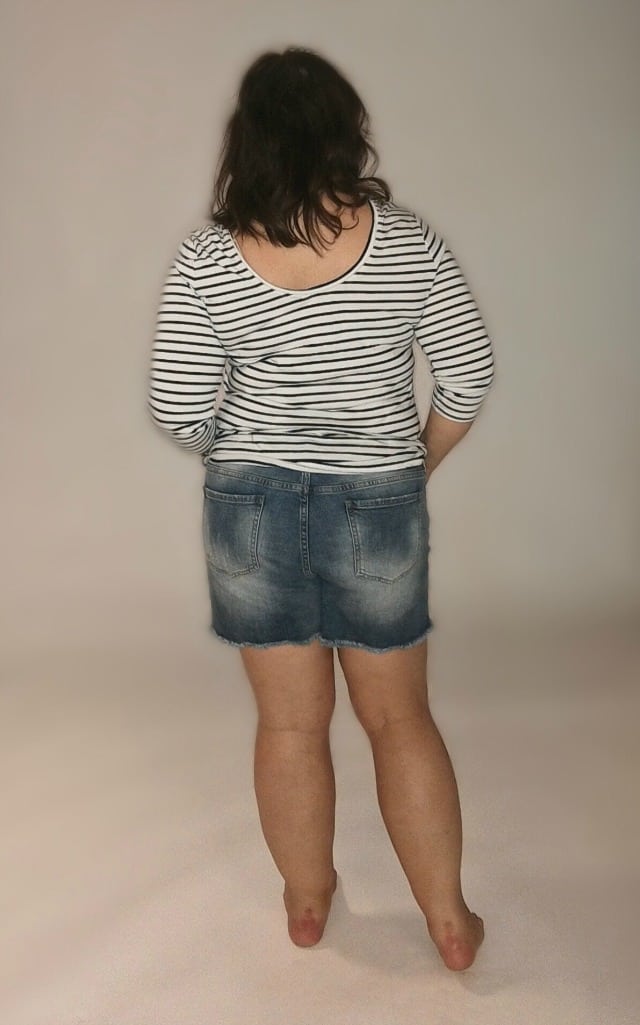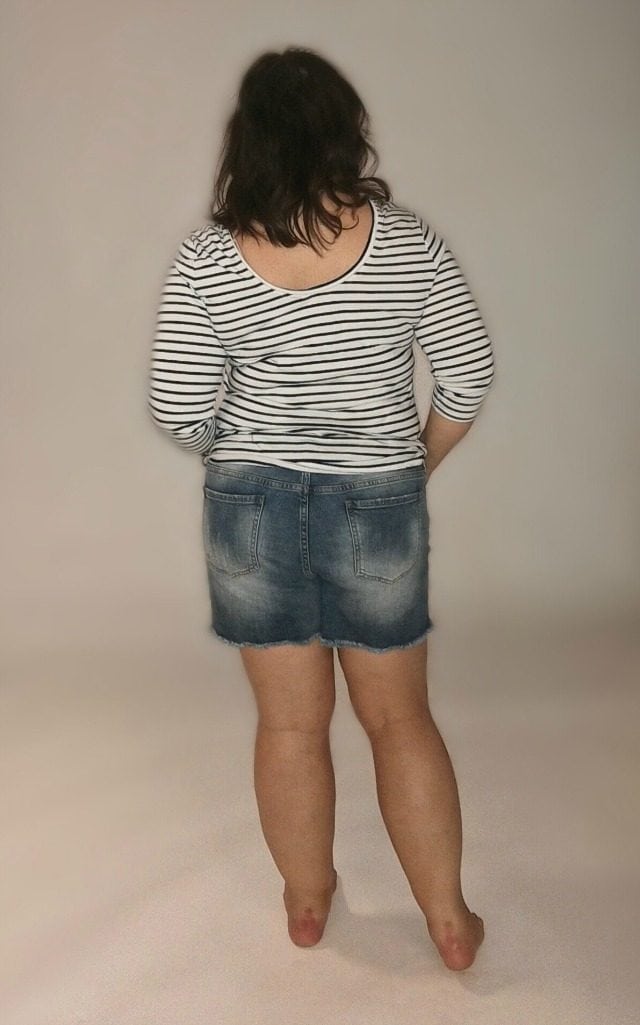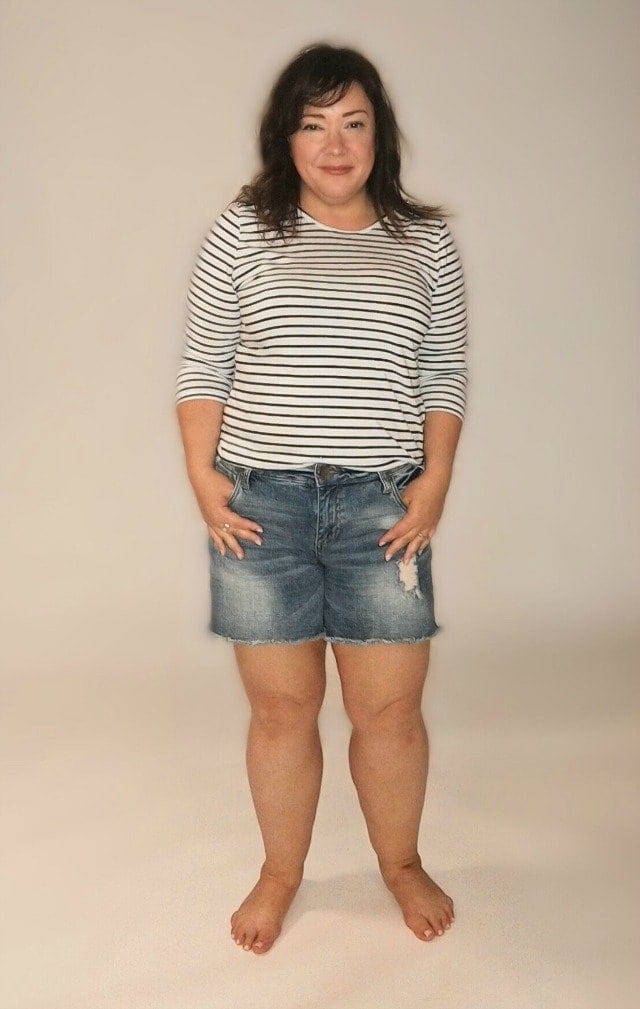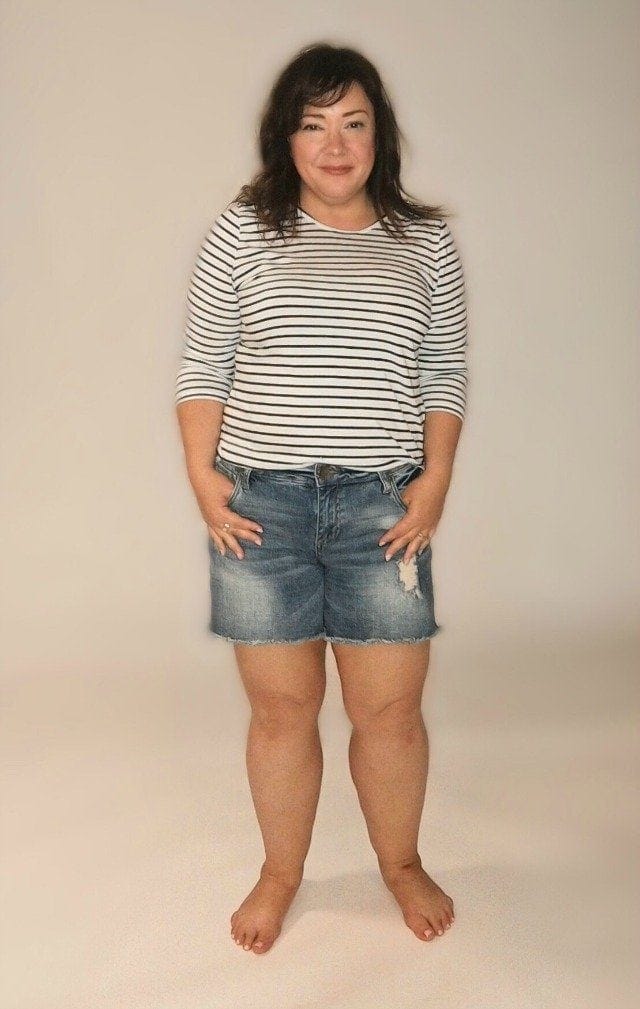 If you follow me on Instagram and Instagram Stories you've seen these shorts a lot so clearly, they are a hit. Long enough that they don't ride up or allow chub rub, loose enough that they breathe and allow free range of movement, distressed but not so distressed that I look try-hard, not too low or too high of a rise, and heavy denim but with a hint of stretch. They're a 5″ length which is pretty perfect. HIT!
So now I own two pairs of shorts, and honestly, this may be enough to get through the summer. However, if I do buy any more pairs you know I will be sure to share them with you in a future hits and misses post!