This article may contain affiliate links; if you click on a shopping link and make a purchase I may receive a commission. As an Amazon Associate, I earn from qualifying purchases.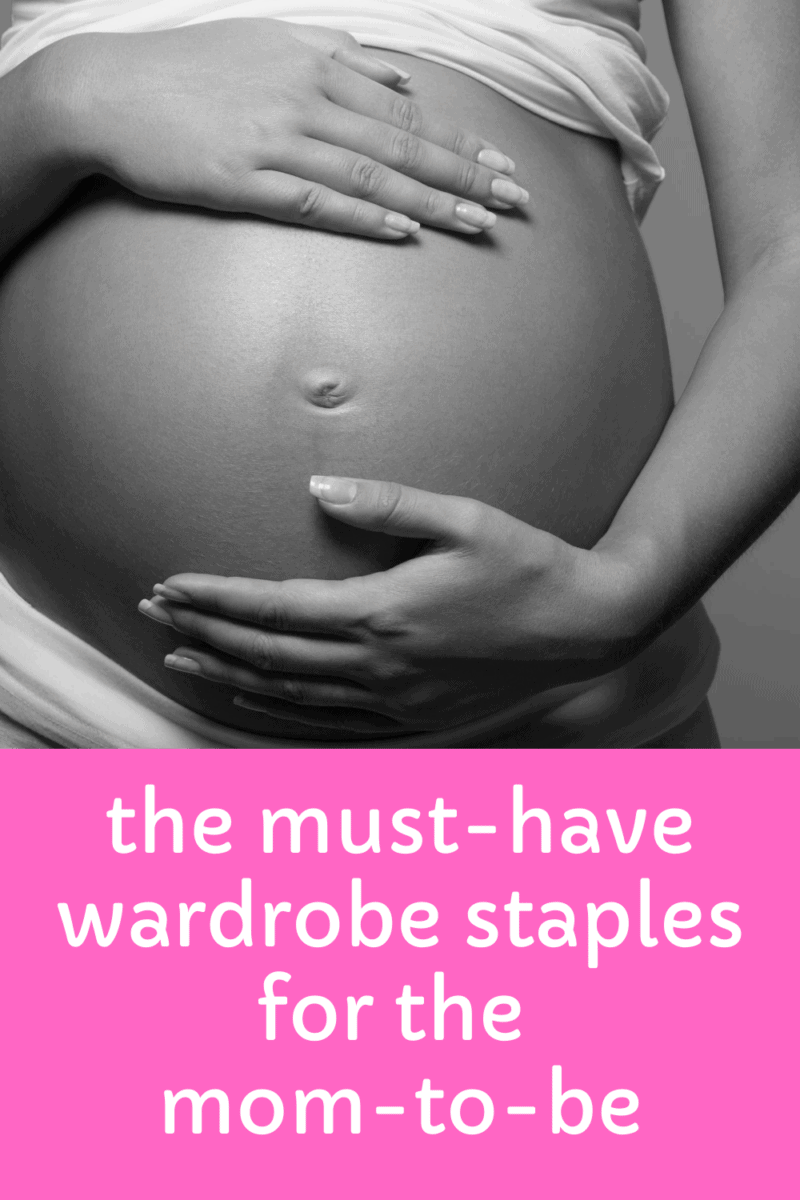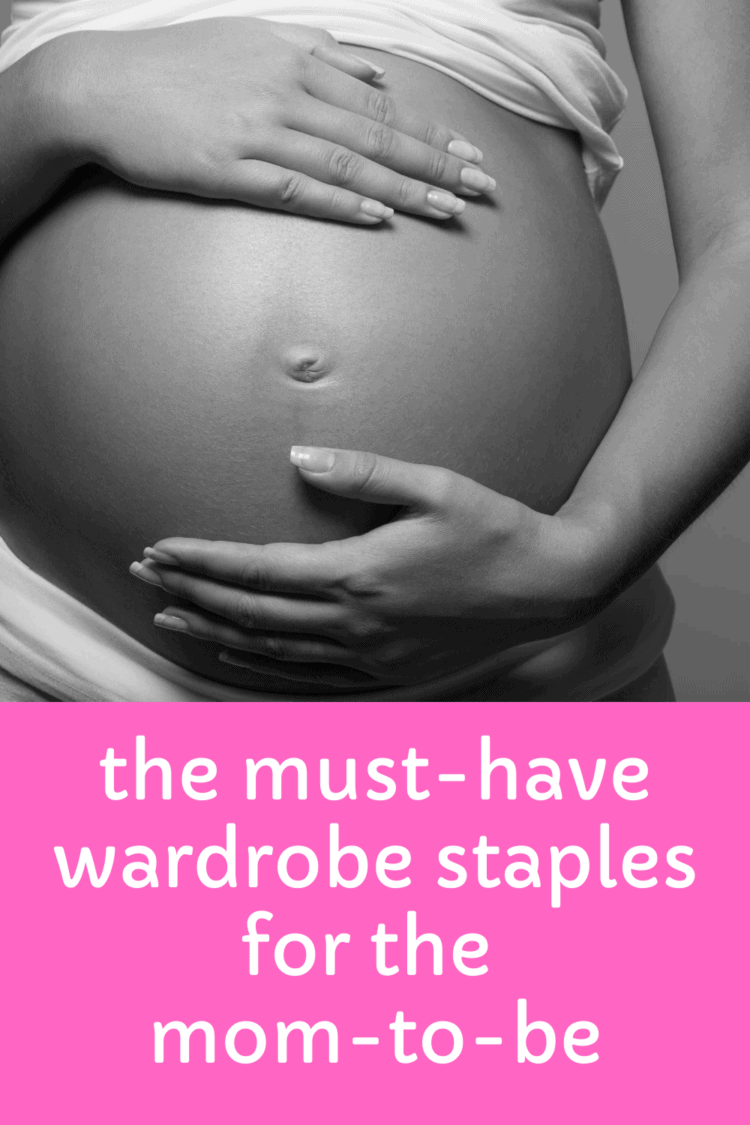 The list below of pregnancy wardrobe staples is not only from my experience from being pregnant, but complied after speaking to several other women who had been pregnant. This list of wardrobe staples when you're pregnant will give any woman who is expecting a simple, stylish wardrobe that should have her ready for most any situation that comes her way.
Pregnancy Wardrobe Staples
The Not-so Little Black Dress
For pregnant women, I highly recommend the wrap style of dress. It is terribly flattering for the figure, it is usually of a really comfy non-itchy fabric like matte jersey, silk knit or a poly blend and it is versatile. A three-quarter sleeve length will work in almost every season – if you are in a warmer climate a flutter-sleeve or short puffed sleeve will keep you cool while flattering your softer shape. Add tall boots and a camisole for work, wear it with pumps for a wedding, pair with leggings and flats for the weekend.
The dress doesn't have to be black, but black is more likely to look dressy if a wedding or evening event ends up on your social calendar. If you know in the upcoming months you won't have such an affair, another dark solid color (chocolate, indigo, blackberry, charcoal) can be quite versatile. Use accessories like necklaces, scarves and camisoles to add color and interest to the dress. It's better to keep basics like these solid so they are less memorable – easier to wear more often without looking as though you have a tiny wardrobe.
Black Knit Pants
Why do maternity fashion designers try to dress pregnant women in stiff chino? It's not comfortable, it creases, it shrinks, it collects lint. If a maternity clothing line isn't trying to get a pregnant woman to wear chino, it's trying to get her to wear cheap polyester. Well if you search enough, you can find some pretty fantastic knit trousers out there that are worthy of the workplace but feel as great as your yoga pants.
Ponte de Roma fabric (also known as ponte) is a pregnant woman's best friend. This fabric is a heavyweight, tightly-woven knit that has a refined finish. It stretches like regular cotton knit, but due to its weight and finish, it looks totally appropriate for the workplace and can dress up for dinner or a party. I found ponte maternity pants at Target and Old Navy but have seen them at many other retailers since my pregnant days. The ones I had were fashioned with a wide waistband similar to yoga pants – this kept the trousers comfortable through all trimesters, and the waist was nearly invisible under fitted tops. If you find a pair, buy in bulk. Have a pair for now, and then two pairs that are slightly longer (if possible) for your last trimester. My Target ones were too long and I kept putting off hemming them and was glad because come the end of the last trimester they were the only pants that were truly long enough for me. And by the end of that third trimester (and the first few weeks postpartum) I practically lived in those ponte pants (I even wore them home from the hospital after delivering Emerson).
A Casual Cardigan
If you're pregnant in fall and winter, this can be a sweater coat or swingy chunky cardigan. If you are due in the summer, you may want a lighter weight piece. A solid color, and a color you adore is a great choice. I had one in hot pink that not only coordinated with a few of my print pieces in my closet, but also made me look and feel happy and refreshed.
Pregnant women are hot one moment, and chilly another. Often times coats seem to be way too bulky and heavy for an expectant woman. Cardigans are a great way to have that extra layer to keep you comfortable, but can easily be tucked in a bag if you get hot.
Cardigans are also a great way to change the look of your maternity wardrobe basics. It can be paired with a tank or knit top for the weekend, with your black trousers for work. Put over a dress for a completely different silhouette. I also often tied my cardigan around my shoulders for a preppy look that also balanced out my bottom-heavy frame.
A basic cotton or wool knit is a great choice – I had a fine-gauge cotton one from Ann Taylor LOFT that had a jewel neckline and simple buttons. It laundered well, was simple enough that it could be versatile, and didn't scream maternity. Similar ones can be found at most any maternity fashion retailer – steer clear of too many decorations and embellishments – a simple cardigan will get you more miles of wear and will be more likely to look stylish if you keep it for a future pregnancy (or if you hand it down to a pregnant friend or relative).
A Dressy Cardigan or Soft-structured Jacket
This is a cover-up that is a bit more refined. It may be a cardigan with pave or pearl buttons, or even a jacket out of ponte or boiled wool. Something that isn't structured, isn't lined, but can make a pair of pants and a knit top look a bit more professional or sophisticated. Paired with jeans and a tank, it still can look great for the mall or brunch with your gal pals.
I had a collarless jacket out of ponte that was not maternity. I bought it before pregnant from the Banana Republic Outlet, but it worked up until the end of the last trimester. It made basic knit tops and my ponte pants suddenly look appropriate for a work meeting. I also would toss this jacket over my maternity dresses to look a bit more professional, or to ward off chill on cooler fall days. I was a pregnant person who got hot easily, and I can remember using this jacket as my fall coat – I would loop a pashmina or scarf around my neck to cover my front and the ponte jacket would keep my arms and back warm enough for my comfort level.
Jeans for the Second Trimester
Your belly won't be the only thing that is different in the latter part of your pregnancy. I found that jeans I ADORED in the first several weeks of having a bump I despised in the third trimester. You may like a demi belly band, and now you love a secret fit; before you may have liked the maternity panel and now you like the jeans that don't have any stretch and just sit under the stomach. And really… you won't know until you get closer to that time. So buy yourself a pair or two of well-fitting jeans now, and have a fund ready for the ones you will need in a couple of months.
For these jeans, a dark color and even rinse will be the most elegant, most versatile, most slimming. I liked a straight or slightly bootcut fit because it balanced out my shape. Flares look even more exaggerated with a baby bump and skinny jeans can easily make you look like a lollypop. Jeans with a hint of lycra will be less likely to stretch out, and will fit longer.
Don't be in a rush to hem them to the perfect length – as you get larger, you will find that you require a longer inseam. Err on the side of a bit too long – it will get you more miles. Also, the further into your pregnancy you go, the lower the heel of your shoe will most likely be.
Jeans for the Third Trimester
See above.
Low-heeled Black Pumps or Dressier Flats
Pregnancy does not give you a license to wear hideous footwear. I wore low heels all the way until the day I entered the hospital. In fact, a low wide heel can be more supportive and comfortable than a true flat. Leather is dressier than suede or other fabrics (and easier to polish up and look new).
A black pair of pumps (can be peeptoes, mary janes or slingbacks) will be so useful. You can pair with trousers or dresses for work, have an easy way to dress up your not-so LBD for a festive occasion, and if it's well made, it will be your favorite footwear as time goes on.
This is something I did NOT have when pregnant and desperately wish that I had. I instead found a pair of brown suede mary janes from Sofft that fit the bill. They had a vintage feel to them – wide rounded toe, thicker stable heel, a little leather and suede flower on the strap. They stretched when my feet grew, they had a lovely padded insole, and the heel was high enough to look feminine but low enough that I could walk to the Metro or wear them all workday without being miserable. If only they were black and leather, I would have found they went with my entire wardrobe, instead of just a few random pieces.
Knee-High Flat Boots
Another item I wish I had. I had mid-height boots, and I wore the heck out of them. With dresses, you feel more covered. With leggings, you look less naked. When it's cold out and all your tights are too short, you can cut the feet off your tights, tuck them into your boots and no one is the wiser. Boots will balance out the short hemlines of dresses as your belly grows. Leather boots can protect you from the elements without being too hot, and can offer support when you swell.
And finally, some days it's hard to look sassy when you are pregnant. Somehow a pair of tall boots can make an entire outfit look more posh. Tall flat boots are fantastic post-partum as well for this same reason. Riding boots are a classic – dark brown or black. Keep a simple, classic look and you will get years of wear out of them – from pregnancy and beyond.
Black Leggings (or Heavyweight Opaque Tights)
You will get to a point where you have no desire to put on anything that binds, itches, constricts, has stiffness, or doesn't feel like pajamas. On top of that, as you get closer to the end of your pregnancy, you will find that many of your dresses look more like tunics. A pair of black leggings or tights (I had some maternity tights from Spanx that I adored, and found a cheap pair of leggings from Liz Lange for Target) will get a ton of wear, even if you are currently a leggings-hater.
Pair with your dresses and black flats or tall boots. Wear with a longer top and a drapey cardigan and boots for a casual weekend.
At Least Two Really Supportive Bras
Your breasts will change. They will get bigger, and heavier. Your old bras will not cut it any more. You will look better and feel better with good bras. Find one with a bit of padding and it will protect overly sensitive nipples as well as become invisible under knits.
A Belly Band
Some people find these a waste, but I found it had so many uses for me. Before I fit into maternity wear, I could use it over unbuttoned pants to keep them up and look smooth under tops. Once into maternity clothing, I found many pants slid down and a Bella Band did a great job at holding them up. Last few weeks of pregnancy, my Bella Band covered the part of the tummy (and maternity panel) that now too-short shirts did not. Postpartum, the Bella Band again helped hold up too-big maternity pants and cover open zippers on non-maternity trousers. When nursing, the Bella Band could be worn under non-nursing tops to cover the midsection.
Black is a good choice – it will be less visible with your black trousers, and also work well with jeans. White can be too casual looking and since it is made with Lycra, can look yellowed or old over time. Some come with lace or trim; you will get more mileage and style with a simple one free of adornments.
There are different brands of these bands – no need to go with the Bella brand. However, one made of plain stretch jersey may not hold up as well or support as much as ones like the Bella Band which have a high percentage of Lycra and are of a tightly-knit fabric. My Bella Band still looks brand new, after so many washes and wears (and being worn since by two other friends who were expecting).
At Least Three Knit Tops
I really don't know why so many maternity designers make tops out of cotton and poplin. Like trousers, a pregnant woman wants fabrics that don't crease, chafe, or require ironing. The further you are in your pregnancy, the less you will want to wear itchy, stiff, constricting garments.
These knit tops are not standard maternity tee shirts. These are made out of a refined jersey, a soft synthetic that drapes, even a silk jersey. They are solid in color and have interesting details like blouson or flutter sleeves, a surplice or a ruffled neckline. They are tops that feel as comfy as a tee-shirt but can be paired with your black knit trousers and a necklace and look smashing for work or play. Choose rich, delicious colors that make you feel fantastic. Neutrals may seem the way to go, but after morning sickness, swollen feet, round ligament pain and insomnia you could probably use a bit of color to your day. Candy pink, bright aqua, leaf green, teal blue, royal purple, garnet red – these are colors that will look polished and refreshed.
Keep in mind that you will get warmer than usual as the pregnancy continues – long and tight sleeves may not be the most comfortable come third trimester. Also, many women's arms grow along with their bellies. Consider something that floats (yet still skims your curves – too much volume is not flattering for anyone) for longer wear and comfort.
Two Long Ribbed Tanks
Black and another neutral appropriate to your color palette (chocolate, heather gray, white, bright red). These can be paired with the cardigan or jacket, put under a knit dress for modesty, worn to extend the wear of pre-maternity attire, and worn under all those maternity tops that will be far too short come the end of your third trimester. Look for a high quality knit – heavyweight, lots of stretch, color saturation. Don't expect a maternity tank to necessarily be long – look for ones that advertise themselves as longer so you can be sure that it really will cover that one inch of belly that always ends up showing in those last couple of weeks.
Two Jersey Knit Dresses
Sometimes pants can be a pain. Dresses are simple one-item dressing, and they can make you look put together even if you feel that your world is falling apart. Knit dresses are comfortable, cool, washable. They don't wrinkle, they fit over your belly, and if cut well, really flatter your frame.
Solid colors are again the way to go – have one in a neutral, and one in a delicious hue. When choosing colors, consider the rest of your palette and pick one that will compliment your cardigan, your jacket, your tanks. Keep things in a simple color palette, and you will spend less time staring at your closet and sighing. A wrap style is always a great choice for a pregnant frame; also flattering are dresses cut on the bias, and dresses with surplice necklines. Look for a defined empire waist for shape (no one looks good in a muumuu).
Pair with a long-sleeved tee and tall boots for colder days, and sandals or flats and a long beaded necklace for warmer months. Your accessories can transform this dress so that you can wear it every week and not look like a broken record.
A Pair of Slip-on Shoes/Flats
The further you are in your pregnancy, the larger your feet will probably get. You also may be unsteady on your feet. On top of that, it will become harder and harder to touch your feet (let alone see them). Having a pair of shoes you can slip into will be your saving grace.
A simple ballet flat can be chic, but usually doesn't have the support necessary to baby swollen tootsies. Look for a simple flat that has a proper sole and arch support. Be sure the shoe has a non-slip sole. I had some simple slip-on gladiator-style flat sandals that I wore while pregnant, but they had a leather sole and I slipped a couple times, once falling on a sidewalk. You're not only eating for two but living for two – be smart and choose a rubber or other sort of sole that grips the pavement. Some brands that offer stylish yet comfortable slip-on shoes:
Pregnancy Fashion Shopping Tips
Don't shop exclusively in maternity boutiques. I personally only got two items from a classic maternity shop, and they were on the clearance rack at their outlet. Your favorite non-maternity brand may have a pregnancy line, many department stores have a more extensive line of maternity clothes online, and the majority of these retailers offer free returns as that they do not sell the pieces in their shops.
Check eBay and Poshmark. I found a cocktail dress, sundress, and wool peacoat all on resale sites and paid less than $15 for each one.
Ask friends… and friends of friends. Your best friend isn't your size? Well, her coworker who just had a baby might be. She may be willing to loan you some pieces or at least sell you some for a great price.
You don't have to wear only maternity clothing. One of my favorite dresses when pregnant was a dress from the Merona for Target line. It was charcoal gray, ponte knit, with a defined empire waist, scoop neck and short puffed sleeves. It was a bit long, so on pregnant moi it came to the knees. I wore this dress every week, and even to my shower. I had another dress that was non-maternity and I wore until the last few weeks (another style with empire waist). I even had a pair of ponte knit trousers from Old Navy that weren't maternity but I wore through all three trimesters (once my belly popped, I wore them below the bump and at the end wore with my Bella Band). If you stick to the concepts above (solid colors, knits, wrap styles, empire waists) yet check the non-maternity sections, you may end up finding a couple winners.
Why You Deserve a Maternity Wardrobe
You aren't being frivolous or selfish to purchase a maternity wardrobe. It seems as though it is a blip in time, but these months are an important time. You will have a changing body, changing emotions, changing lifestyle. It will be easier if you have the right armor to deal with it all. When you feel attractive, you exude that confidence. You stand taller, you have more energy, you have more grace. If you purchase quality and simple pieces, they can be stored and worn again for your next pregnancy (or the pregnancy of a friend or sister). My maternity wardrobe consists of some pieces from other women I knew who were my size and weren't planning to have more children, and my collection has been loaned to two friends who got pregnant. Also, if you don't plan on having any other children, maternity clothes are quickly gobbled up on eBay and Poshmark for a good price. Anything that isn't in sellable condition can still be valuable to an expecting mom – offer a bag of your leftover maternity clothing on Freecycle or your local NextDoor or Facebook group and it will be happily received.