This article may contain affiliate links; if you click on a shopping link and make a purchase I may receive a commission. As an Amazon Associate, I earn from qualifying purchases. 
Allie-
I've been loving both of your fashion blogs for years and years, but especially since getting pregnant with my now 13 month old. I am still nursing her, and don't plan to stop for a while yet, but I'm finding I really miss wearing dresses! I notice that you wear a lot of dresses, but are still nursing at least some, so I was wondering on your thoughts about nursing-friendly dress-wearing.
Thanks a bundle!!
~Kati
Hi Kati:
Emerson is now 19 months old (woah, how did that happen? I feel that I just got pregnant yesterday!) and am still nursing at least twice a day (before work if she is awake, once I get home and at bedtime). For the first year of her life, I not only nursed on demand, but also pumped at work so I pretty much needed an entire wardrobe that allowed me to whip out my boobs 24/7. I have found that dresses are actually some of the best wardrobe staples for a nursing mom.
Before even thinking about getting pregnant, I was a huge fan of wrap dresses. Wrap dresses whittle the waist, flatter the figure, and are simple dressing. A basic black matte jersey wrap dress can be paired with flip flops and a strand of turquoise for a beach barbecue, paired with pumps and pearls for a respectable office look, or jazzed up with strappy heels and sparkly earrings for a festive evening affair. Matte jersey is a fabric that is seasonless, doesn't cling, doesn't fade, doesn't wrinkle, and washes easily (I put my wrap dresses on the gentle cycle in the washing machine and then line dry).
Not only that, but matte jersey doesn't stretch out. This makes it fabulous for nursing. I will safety-pin the neckline closed, then remove the pin and move one side of the wrap over to expose just enough for nursing. It ends up being more discreet than many nursing tops, yet is still chic and flattering. I also have wrap dresses in jersey and since they can more easily stretch out, I often pair with a nursing tank or Second Base underneath so I maintain some modesty if Emerson ends up tugging at the fabric.
Surplice necklines are great for nursing. Just as with a wrap top, you can move one side of the dress under the armpit for discreet and easy nursing. You will see that almost every dress I own is either wrap or surplice neckline. They are great for nursing, and also flatter my figure (hide the tummy and flatter the breasts).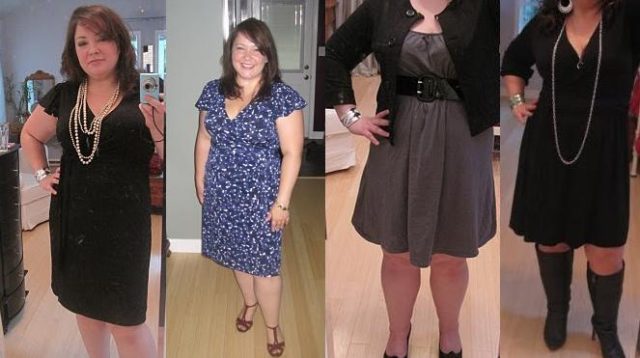 All dresses I have worn that are very nursing friendly. 
I also find sundresses with smocked bodices and straps, and dresses with elasticized necklines pull down pretty easily for quick and discreet nursing. I have a maxi dress with a smocked elasticized top that is one of my favorite weekend dresses because it hides a nursing bra, is breezy, and stretches back into place after nursing.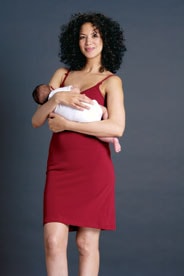 There are a couple decent nursing dresses out there that don't exactly LOOK like nursing dresses. If I were more comfy with my postpartum tummy, I would be picking up a couple of these cute tank dresses from Glamourmom. The On the Go Dress by Motherwear is a very classic dress that doesn't scream "Nursing Dress!"
When I was on maternity leave and pretty much nursing around the clock, I lived in nightgowns and maxi dresses with surplice necklines. They were made of jersey, washed easily, were comfy, and could slide over easily. Added a drapey cardigan and I was ready for when visitors appeared on my doorstep. I loved my nursing tanks from Anita because they looked like real bras, had a deep neckline so they didn't show in lower-cut dresses, yet were very easy to hook and unhook with one hand.
When I headed back to work, I wore almost exclusively wrap and surplice-neckline dresses because they were comfy on my still-swollen postpartum body. My old pants no longer fit, I did not want to invest in new pants, and the last thing I wanted to do was wear those darn black maternity pants that I wore almost daily in my last trimester. Dresses made me feel pretty and polished, even when I working on two hours of sleep.
As my body started returning and Emerson started sleeping more, I could function a bit better in the closet. I started wearing pants and making outfits. However dresses have always been my go-to when I am short on sleep or creativity, as that they are one-piece dressing and nursing friendly.
Once I stopped pumping is when I started buying shift and other styles of dresses that aren't nursing friendly. However I hardly ever wear them on weekends and take them off once I get home from work.
So get out there, and get yourself some dresses! You'll be amazed how much easier nursing can be, and how much better you will feel when you look in the mirror!