This article may contain affiliate links; if you click on a shopping link and make a purchase I may receive a commission. As an Amazon Associate, I earn from qualifying purchases. 
How much would you spend for something that would give you better hair? Less frizz, more time between shampoos, extended life on your highlights and dye jobs and lots of shine to boot? What if this item also gave you softer skin?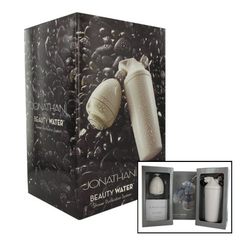 As I mentioned in an earlier post, I treated myself this birthday month to a beauty product. After a while of eyeing it at Sephora and remembering episodes of Blow Out, I finally succumbed and bought the Jonathan Product Beauty Water Shower Purification System
.
Why did I hold off for so long? Well the $95 price tag scared me a bit. Come on, it's just a freaking water filter; maybe I could figure out a way to jimmy-rig my Brita pitcher in my shower. And could a filter really make THAT much of a difference?
Then I thought about my bi-monthly visits to the salon where I get a cut and color touchup. I think about the hives I have been plagued with the past several months. I then think about how fabulous my hair is when I visit other states such as Maine. Oh, to have Maine hair… when I used to visit there each summer as a teen my hair was perfect Shirley-Temple ringlets without any styling tools or beauty products due to the quality of water.
So I took the plunge.
Two weeks later… that $95 was the best money I have spent in a very very long time. My hair has a shine I usually only see right after a salon visit (and it has been over my two-month mark). It's soft, my scalp doesn't seem to get greasy as quickly, my split ends don't seem as noticeable, I need less or no product to get a decent look, I can straighten with ease and my curls seem more defined and less Kip Winger.
This morning I shampooed and conditioned as usual and when rinsing my locks didn't feel squeaky clean – and I knew that was a GOOD thing. I let my hair air dry for a few minutes while I let the dog out and made myself a bowl of oatmeal. When I returned to the bathroom, my hair was in soft damp waves, not the stringy tendrils I usually find when I have let my hair air-dry sans any product. I took a simple wood-toothed brush and brushed my hair while drying it and ended up with faintly wavy hair with lots of body and shine. A round brush smoothed out the ends and bangs and I looked better than I used to after product, drying, use of a hot straightening or curling tool and some shine serum. Ten hours later, my hair looks almost exactly the same, not limp and greasy from products.
And my skin? After a few days, I have had hardly a hive. My skin feels softer and more supple, I have soft elbows and heels and I think my body oil seems to absorb into my skin better post-shower.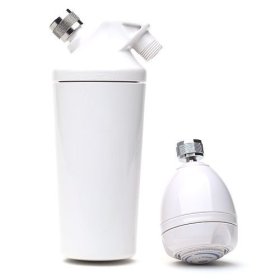 The filter comes with its own shower head, but I preferred to use the one I had; not a problem, my Bed Bath & Beyond dual shower head fit on the filter without trouble. I was also able to keep my shower caddy; the filter ended up sitting in the top bin of it next to my shower gel and shampoo!
The water in my area is known as being hard. Leave a Nalgene on your office desk over the weekend with a bit of water and you'll have a faint white residue all over it by Monday and the bottle will smell like… a bit of chlorine, a bit of metal and the signature DC-area "water" smell. I have known this for decades, but never really put two and two together and consider how that water was affecting my skin and hair. Not all of you readers may have this same plight, but for those of you who do, I highly recommend this shower filter. May seem like a hefty purchase, but when you consider the value of your hair and skin and the amount you spend yearly on products to fix your limp/frizzy/greasy/fading hair and dry/itchy/scaly skin… well you might find this could end up being a savings!
Would love to hear from any of you who have used the Jonathan Product Beauty Water Shower Purification System
or a similar product!