This article may contain affiliate links; if you click on a shopping link and make a purchase I may receive a commission. As an Amazon Associate, I earn from qualifying purchases. 
I was at CVS near work buying a birthday card for a coworker and it was the week before Bonnaroo so I was roaming, seeing if I could find any beauty product that may make my trip more terrific. Almay products were on some deal – buy one get one 50% off or something. I needed waterproof mascara, so I figured might as well do Almay. And their foundation that goes from white to color has always fascinated me – did it really work? Or was it like mood lipstick that was green in the tube and fuchsia on every person, regardless of skintone?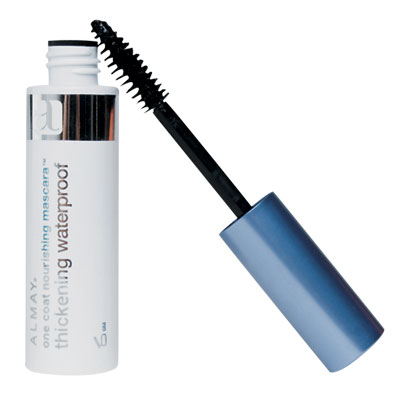 Almay One-coat Nourishing Thickening Waterproof Mascara
– It sucks. Can I end the review now?
I guess I should explain WHY I think it sucks. It doesn't clump, it does leave lashes feeling relatively soft even though it is a waterproof formula. But it smears, it flakes, it makes my eyes itch and blur and burn. This wasn't just when I was sweaty at Bonnaroo, this was 30 seconds after applying it. I went to use my regular makeup remover and it wouldn't come off, just smear everywhere. I couldn't see, I took out my contacts and they were coated with the mascara. In all my years, I have never had such an experience. I had to throw away my contacts because I couldn't get the mascara off of them, yet I still had raccoon eyes. I had to scrub with makeup remover and then almond oil to get off the mascara.
The masochist I am, I tried it again. While on vacation. WTH was I thinking. Yet again, I experienced pain, blurred vision, destroyed contacts and raw skin trying to take off the mess. The tube was left in the hotel bathroom's trash can. FAIL.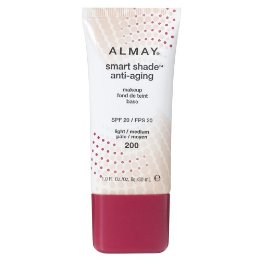 Almay Smart Shade Anti Aging Foundation/Makeup
– This stuff is AWESOME. Seriously, I haven't enjoyed a drugstore foundation since L'Oreal True Match, and that love affair fizzled when my skin went from durable 20-something (and early 30-something) to mid 30-something who has gone through pregnancy, birth, lack of sleep and too many tanning beds in college. It no longer seemed to blend and disappear like it used to. I ended up switching to powders, creams, and tinted moisturizers because regular foundations looked too obvious on this new face.
I chose the anti-aging mainly for the higher SPF, but figured if L'Oreal True Match sits weird on my skin, maybe I am of the age where the anti-aging products will be kinder to me. Dunno, but this stuff pretty much rocks. When it comes out of the tube, it's a weird grayish white color with teeny specks in it – sort of reminds me of Breyer's vanilla ice cream. I tried rubbing it on a piece of fabric and it stayed the weird white/gray color. I rubbed on my hand and it blended pretty well. Rubbed it on my face and it blended GREAT. Seriously, this stuff disappeared like a tinted moisturizer, but covered like a classic foundation. Layering a bit more would cover small imperfections. I tried it with both my Redpoint and Laura Mercier concealers over it, and it didn't get weird or cakey. It lasted all day, and I couldn't feel it on my skin.
This stuff isn't great in the extreme heat, but it's a fabulous daytime foundation for work and errands. I can easily put it on, a bit of bronzer and some mascara and feel polished.
Oh, and I got the Light Medium color for my tone. This color worked pre-Bonnaroo and even after when I ended up getting a bit of a tan. I usually wear Light Medium shades in most brands, often find foundations to be too yellow or too pink. This wasn't either – it was a beige color that disappeared and evened my skin tone. WIN!