This article may contain affiliate links; if you click on a shopping link and make a purchase I may receive a commission. As an Amazon Associate, I earn from qualifying purchases. 
When I was in Middle School, I was invited to the birthday slumber party of a girl who I had become new friends with. I didn't know her circle of friends but was thrilled to be invited to her party.
As soon as I entered the house I knew I wouldn't fit in. These girls were wearing full faces of makeup, had clothes I had only seen on the pages of Teen magazine and just looked so… sophisticated. Gosh, they even wore silk nightshirts! We were told we would be doing makeovers on one another and to bring our beauty products. I had a couple Revlon lipsticks my mom had discarded, a tube of Almay One-Coat mascara and a gray Cover Girl eye pencil, these girls has Kaboodles full of products from Clinique and Estee Lauder.
After the initial shock of these "adult" girls, I ended up having a great time with them and a couple I am still friends with to this day. However there was one girl there who was a total jerk and snob. She was very mean to most of us, and decided I would be her target for the whole evening. She teased me about my "baby clothes," my "tacky makeup," my "ghetto school" that I attended. I went to the bathroom and her Kaboodle was in there. I opened it up and it was overflowing with fancy cosmetics, perfumes and nail polishes. I grabbed a little green pot of lip gloss and stuck it in my pocket. I knew it was wrong, but I felt as though I was getting back at her in some way for doing that.
I felt so bad about what I did; I never used that lip gloss. I also never threw it away until I was packing up for college five years later. I held on to it, a totem representing how I let jealousy and one person affect who I was as a human being.
And, I never could use Clinique.
A couple years ago, Mr. Allie and I registered at Macy's for our upcoming wedding. They gave me a goodie bag in thanks. Most of the bag was full of ads and stupid tips on how to register (ladies do NOT put where you are registering in your wedding invitations! Taaaa-cky!) but there were a few samples at the bottom. One was a tiny shimmery white shadow in that well-known green marble case. Clinique. I was almost afraid to open it. It took me over a week to even try it on my face and it ended up being the highlighter shadow I used on my wedding day and it finally got me to realize that Clinique is brand just like the rest, and that I am no longer the little girl at that slumber party.
So after that long spiel, here's some products I have tried out lately: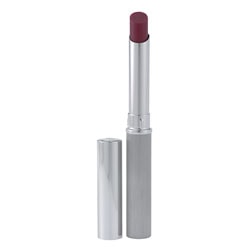 Clinique's Almost Lipstick in Black Honey – Well I just HAD to try this; people rave about this product as being the "must-have lipstick for all skin tones!" I am such a sucker for beauty products that gain cult-like status. As with many other "must-have" beauty products I ended up a bit disappointed with this product.
Yes, this is a color that could work the fairest or darkest of complexions. In the tube it is a dark plummy black color that looks almost like purple-tinted dried molasses. On the lips it is very sheer dark berry hue – think tinted lip balm level of color. However unlike a tinted balm, the more you apply of this product, the more saturated of color you get. Though it gets darker, it never looks cakey, dark or extreme. You could easily have a swipe or two for day, and add a few more swipes before going out to make the look more appropriate for evening. It maintains its soft, sheer balmy consistency no matter how many times you apply it.
The color is pretty and flattering. The formula is soft and sheer. It lasts about as long as a classic lipstick. That being said, no angels started singing when I put this on my lips. I found the formula to be almost exactly like Body Shop's Sheer Lip Shine, which even has a slightly similar packaging (and has a slightly lower price). So if you are looking for a sheer plum lipcolor that feels as nice as it looks, this is a good choice. Does it have to be in your cosmetic bag or else you are unchic, uncool and without the very prettiest lips possible? Notsomuch.
Clinique Colour Surge Eyeshadow Duo in Like Mink
– This duo came within a palette from the bonus that Macy's was offering recently. I had read glowing reviews about this color duo and was thrilled to have it in the bonus as that it has been discontinued. One shade is a champagne-tinted sheer off-white and the other is a sparkly bronzey chocolate color.
(wow realized somehow the rest of the review for this product disappeared… here you go…)
The colors are extremely flattering; though they are sparkly they are perfect for day wear.
The light color is very tightly pressed which makes it hard to get product on the brush, or even the stiff sponge applicator that came in the palette. I had to actually scrape the top of the shadow to get pigment. However once I applied the powder, I found it to be very sheer, flattering and a great highlighter that wouldn't turn silver in sunlight or flash photography.
The darker color is far more metallic and didn't have the pigment issue – in fact it is almost too soft and I would end up with quite a lot on my brush and face even with a gentle pat to the block of color. Slightly messy, but I could deal as that this color could go from a subtle sparkly tan to a deep bronze-chocolate dependant on how much you applied. Neither creased, faded or got weird through the day, and seemed to last the normal amount of time for a traditional shadow. The darker of the two worked well when wetted; I used a slant brush to apply as liner and it didn't irritate and lasted through the day. It is unfortunate that this duo has been discontinued: though the formula is strange (maybe that's why they were in a palette and discontinued), the colors and level of shimmer/sparkle are perfect basics for most women's cosmetic collections.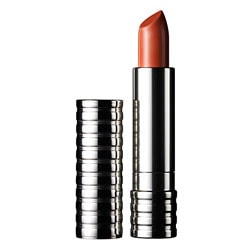 Clinique Long Last Soft Shine Lipstick in Beauty
– Again, this is an item that came in the bonus from Macy's.
Beauty is a mauvey browny pink color – one of those colors that Allure magazine would claim would look amazing on every skintone. Reminds me of a slightly darker and glossier version of Nars' Dolce Vita. It's one of those shades you can apply without a mirror and know you won't end up looking like The Joker. On my pale, cool skin it is quite flattering and a great day shade, but it may be too cool or pink for a warm or much darker skintone.
It feels creamy on the lips and does seem to last longer than a traditional lipstick, but isn't one of those super-long wearing formulas. This is the middle ground I enjoy – my lips feel soft and natural, the color lasts through a cup of coffee, and when it does actually wear away it does it in a natural way so weird spots of color aren't left in the wrinkles and around the rim of the lips. It doesn't feather or stain, and my lips don't get dried out from wearing it. As for the soft shine, it is very soft to the point that it just seems creamy, and not at all shiny or glossy. If you are looking for a glossy lipstick, this isn't it. However, it is an excellent lipstick to have in your purse for day wear that will compliment most makeup looks and colors of clothing.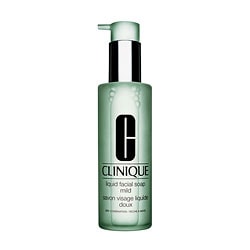 Clinique Liquid Face Soap (Mild)
– This came with a bonus from Macy's. Not the type of cleanser I would usually purchase for my sensitive skin. It is a clear, thin gel that has a very mild fragrance. It foams up a lot – something I usually steer clear from due to my skin. It does a great job of removing all makeup and dirt from the skin. It claims it is mild and for dry to combination skin; I found it not as drying as most foaming washes, but still a bit too drying and harsh for dry skin. Also, it tastes terrible! Oh gosh, I don't mean to eat my face wash, but some residue ended up on my lips and it tasted like the stuff you put on your nails to discourage biting them.
Really, this stuff is… fine. I think there are far better products in your local drug store, and much better products in practically every skin care line on the planet for dry or combination skin. I used it for a week and it caused slight irritation and tightness through the day… I don't get that with Dove, Olay or Cetaphil. However the small bottle will be great for travel so I'll toss it in my linen closet to take on my next vacation.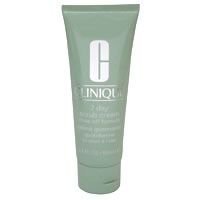 Clinique 7 Day Scrub Cream Rinse-Off Formula – From InStyle's Best Best Beauty Buys: A perennial favorite of doctors, this ultrafine scrub "won't irritate skin and washes off cleanly without any residue," N.Y.C. dermatologist Jules Abadi says. It has just the right amount of granules to provide a gentle but thorough pore cleansing, says L.A. dermatologist Ronald Moy.
This product is a white cream with small grains that feel a bit like sugar. It's like a gentle version of the Neutrogena Advanced Solutions At-Home Microdermabrasion System. It spreads well, scrubs without scratching or hurting my sensitive skin (even under my nose), and rinses so easily and completely. It is a decent product and my skin doesn't react to it in a negative manner. My skin is happy to have a slightly coarser exfoliant than what I had been previously using – my skin feels soft and seems to have a glow.
Again… no angels sang when I have used it. It's nice, it's good, but to me it's like Maybelline's Great Lash Mascara – a Godsend for some, whatever for a few others, and ick for the rest. I recommend you get a sample from your nearby counter before you purchase to see if it's worth your fundage.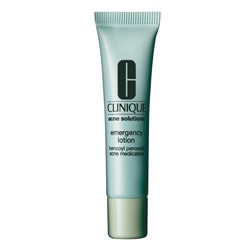 Clinique Acne Solutions Emergency Gel-Lotion – This stuff doesn't work. It isn't a good replacement for my Clean & Clear gel that caused my hives. In fact, I wonder if it makes my zits worse. I got a little bump on my jawline and put the product on before I went to bed. Woke up and it was bigger and turning white. Put more on it and kept makeup away. By lunchtime it was poppable. Came home, did some steaming and manipulating and added more of the gel-lotion. By time I was getting ready for bed it had turned into a blackhead that felt deep like a wart and hurt like the dickens. The next morning, I had bumps all over the area, pretty much where I had applied the product. I used tea tree on the bumps and the redness dissipated but it didn't help with shrinking of the zits. However, they all came to heads and popped on their own without any irritation.
I know many of you suggested tea tree – I know tea tree, my husband is an organic natural guy and I worked for the Body Shop for years. I know that tea tree helps with irritation and redness for me, but it doesn't help little bumps shrink. Neither Clinique nor tea tree do what the Clean & Clear used to do. Le sigh. Will keep searching…