This article may contain affiliate links; if you click on a shopping link and make a purchase I may receive a commission. As an Amazon Associate, I earn from qualifying purchases. 
It's already hot where I live and will only get hotter and humid. How can I look professional and stay cool? My lined suit pants are already feeling oppressive.
Dresses!
I'm all about dresses when the temps rise. You get the air flow, but you still look polished. Thing is, it's all about cut and fabric. Wrong choice and you're just as miserable as if you're wearing acetate-lined tropical wool trousers or else you look like you're dressed in a paper bag or ready for a Mai Tai. Luckily this spring, there's a ton of dress styles that are perfect for the workplace as well as rising temperatures. Some I've seen online that would be perfect for the workplace.


Shirtdresses
The shirt dress is back and it's brilliant for work. The tailored shape and buttoned front looks professional and the crisp cotton and fuller skirt lets you catch a breeze. Keep it knee to midi length to be office-appropriate and style it with a more professional shoe (pump, peeptoe wedge, pointed toe flat) so it looks more boardroom than garden party. If your office is more professional, choose cotton, silk, or another crisp fabric in solid colors or more sophisticated prints (pinstripes, dots, soft florals, graphic prints in neutrals or subtle shades). It's best to shy from denim, chambray, linen, or seersucker and actual shirttail/rounded hems unless you have a creative or business casual office environment.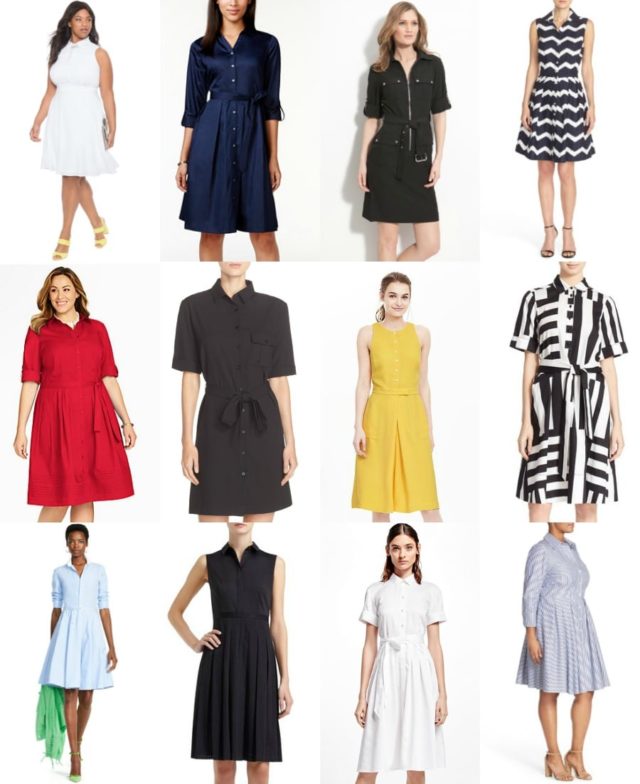 1 | 2 | 3 | 4
5 | 6 | 7 | 8
9 | 10 | 11 | 12
Shift and Flounce Dresses
Shift dresses (and this season's popular flounce which is a shift with a flippy hem) are cut to not cling which is perfect for steamy summer days. Fabric is important in determining whether a shift is office appropriate or ends up looking like a sack. In general, jersey, linen, denim, chambray, and any crinkle fabric will look too sloppy for the workplace. Stick to cotton, silk, and synthetics that don't have a lot of stretch and give clean lines.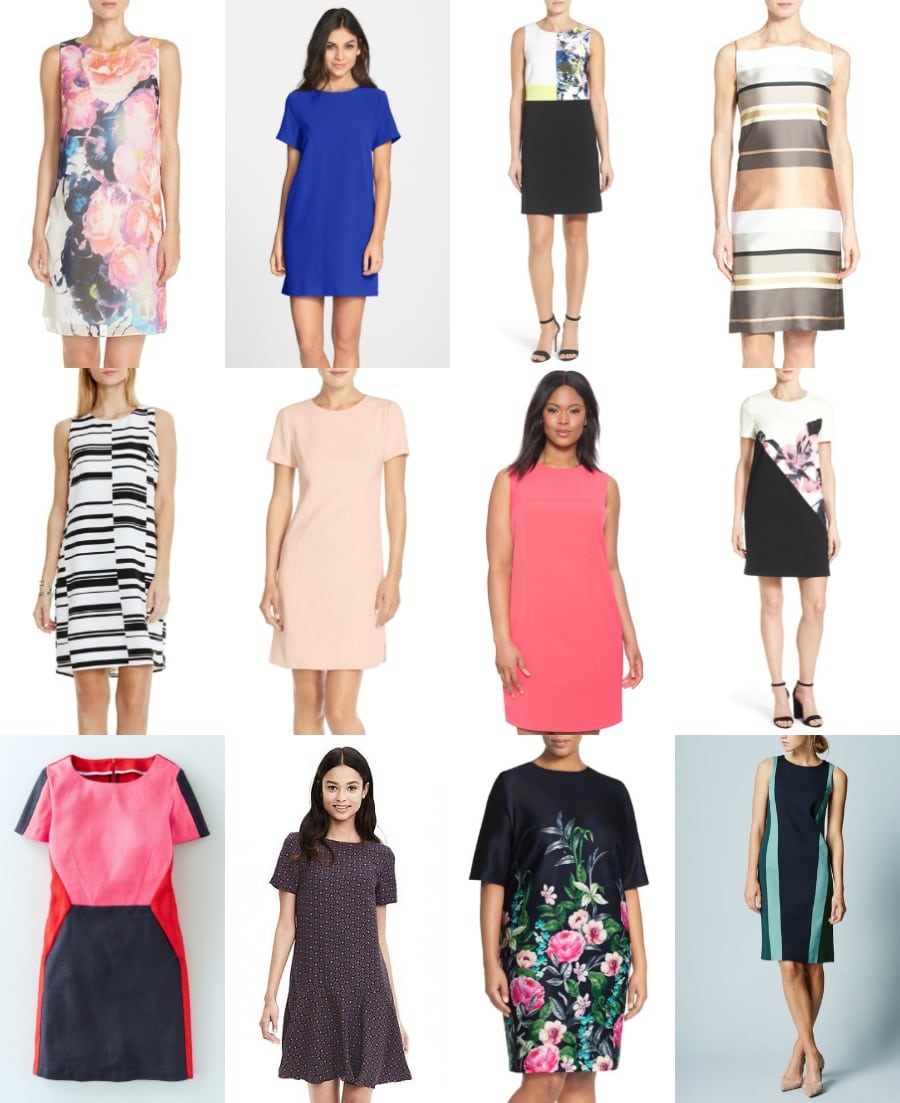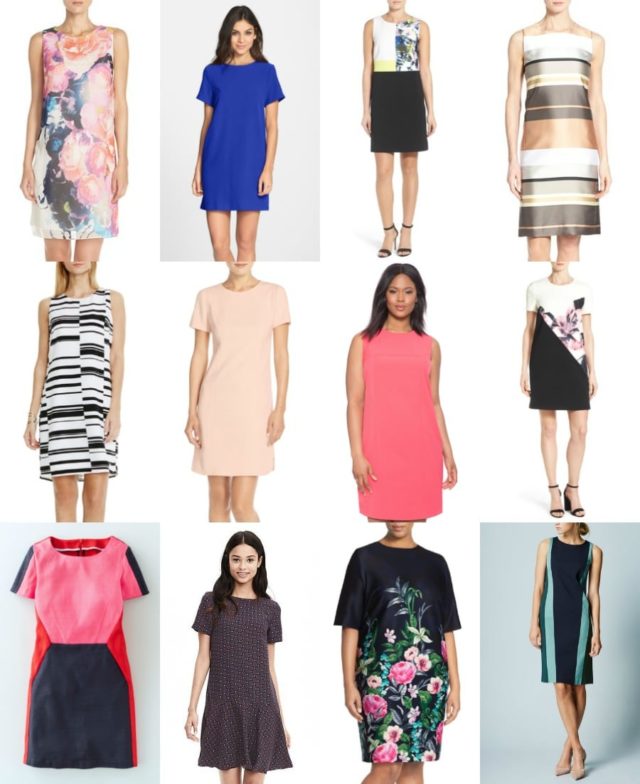 1 | 2 | 3 | 4
5 | 6 | 7 | 8
9 | 10 | 11 | 12
Wrap and Faux-wrap Dresses
These aren't your winter ponte and jersey wrap dresses. From a synthetic like matte jersey to crisp cotton, you want a fabric that won't stick to you when the temperatures rise. You also don't want a fabric that will cook you alive. Like a shirtdress, a wrap dress can have a fuller skirt to improve air flow. And like a shirtdress, keep it knee to midi length to look polished and professional.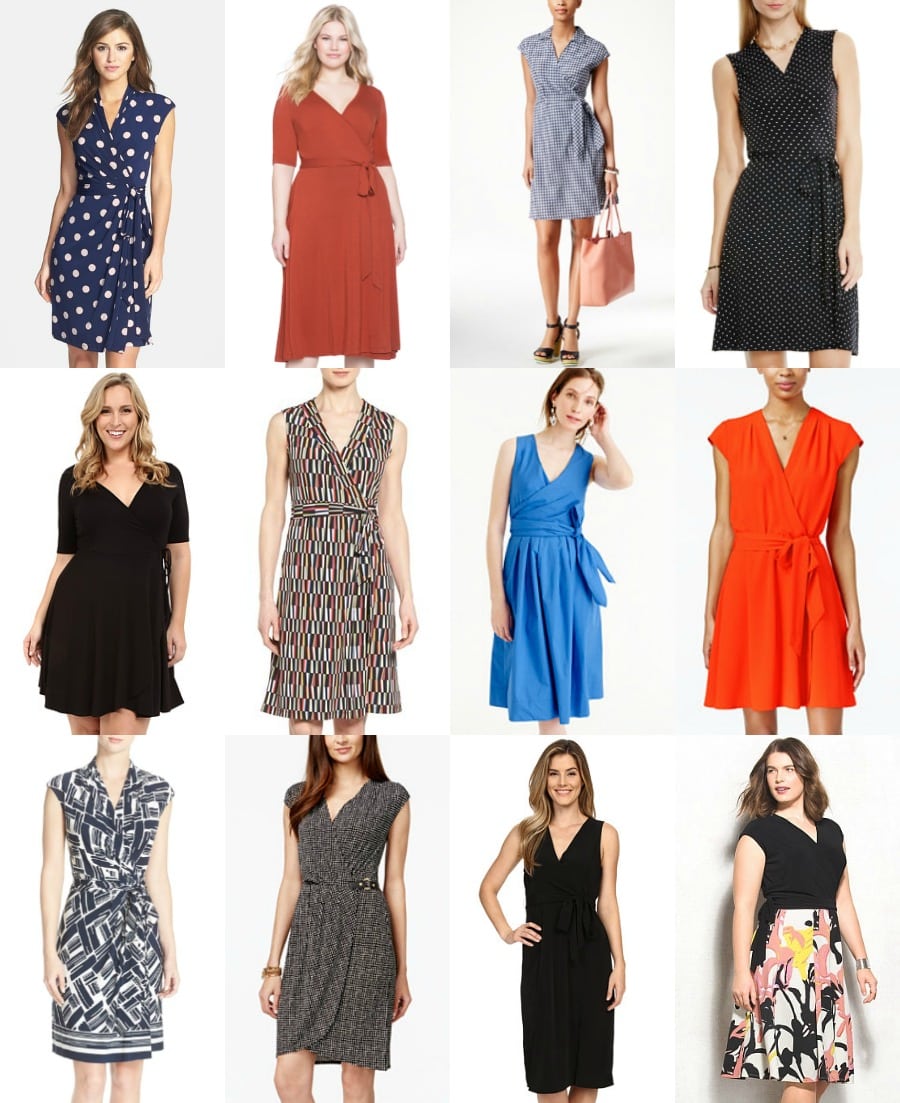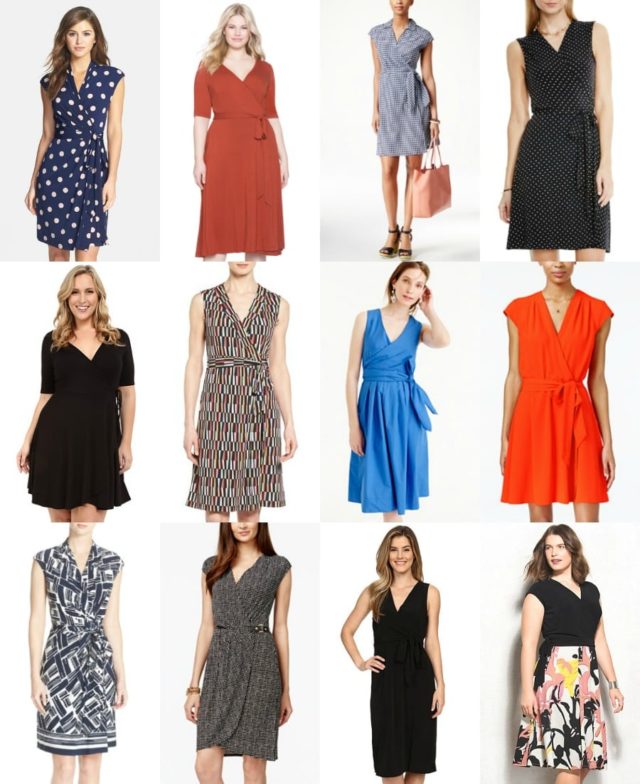 1 | 2 | 3 | 4
5 | 6 | 7 | 8
9 | 10 | 11 | 12
Fit and Flare Dresses
Ah the most flattering dress shape! A fit and flare is perfect for most any situation; for the office it's important to consider fabric, print, and length. Keep it between just above the knee to upper calf so it's neither frumpy nor twee. Keep the dressy fabrics (shantung, chiffon overlay) and the very casual fabrics (eyelet, denim) for your weekend activities and focus on prints that are more appropriate for the office (softer florals, stripes, watercolor prints, dots) instead of those for a garden wedding (cabbage roses, very bright prints).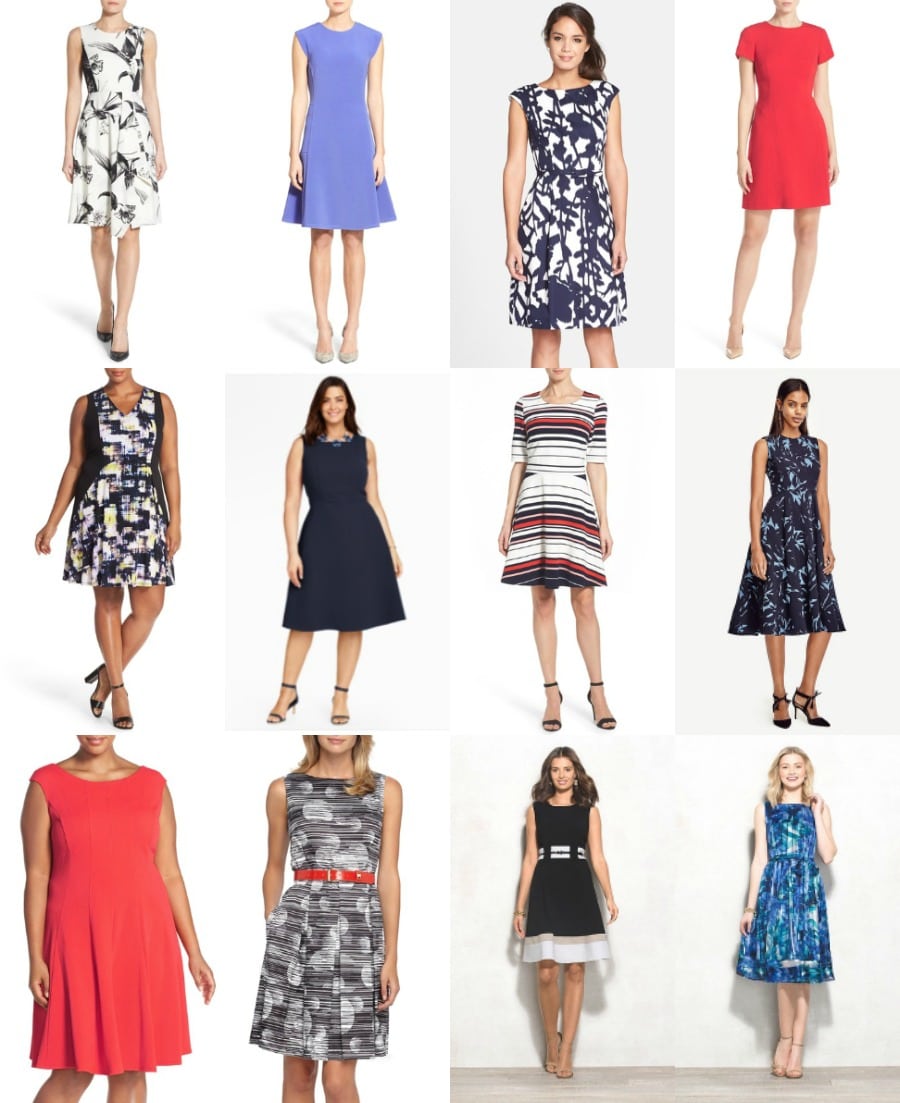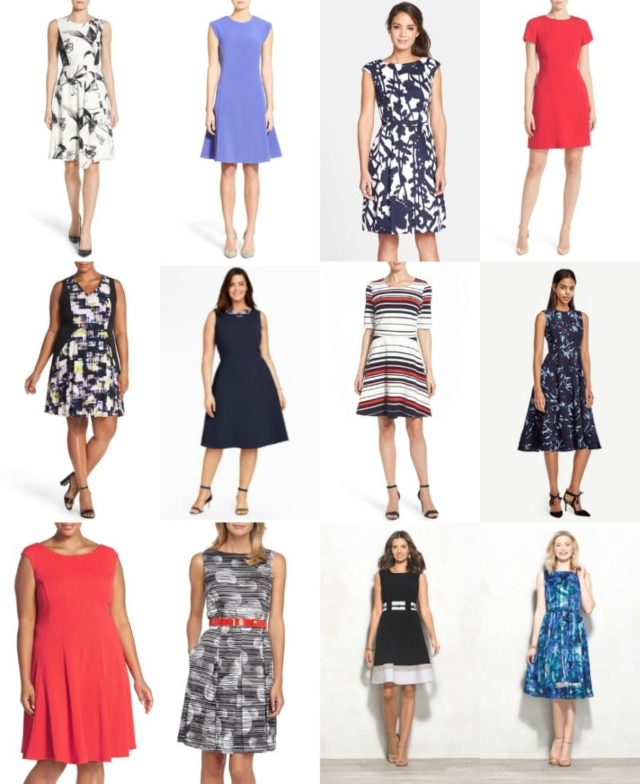 1 | 2 | 3 | 4
5 | 6 | 7 | 8
9 | 10 | 11 | 12
Dress Buying Tips for Summer Office Wear
Say No to the Maxi. For me, maxi dresses are a summertime staple… but not for the office. It doesn't matter if whether you top it with a cardigan or pair it with pumps, a maxi is too casual and reminds people of vacations. This also goes for high-low (AKA mullet) skirts and anything where there is a sheer layer longer than the lining.
A Cardigan Doesn't Cut It. Rarely can a cardigan make your spaghetti strap or strapless sundress look office appropriate. Usually the neckline is too low, and cardigans move. Quality not quantity; it's better to wear the dress code-friendly pieces more often than try to add variety by "making do" with one of your barely-there weekend frocks.
A Romper is Not a Dress. Unless you work for an extremely creative workspace (if then, you're likely not trying to get work fashion advice from me), rompers are not acceptable workplace attire. Even when paired with a blazer, like maxis rompers make one think of music festivals, not middle management.
Shoes Make All the Difference. I recommend shopping with the shoes you plan on wearing with a dress. A frock can look perfect in the fitting room and once home with your work pump can seem too flashy, too short, or too frumpy.  Along with this, shoe choice can make a dress look office appropriate, or more fitting for an evening wedding or a Sunday brunch.  Even if it's hot, consider more structured materials and a bit more coverage for a professional effect.
Play with Accessories. Consider switching out a self-belt for one in a contrast color. Change up a neckline with a necklace in a different length. Switch out your regular pumps for a peeptoe wedge, or your ballet flats for a pointed-toe option. We often pull out our current season clothing and find it boring and desire to buy new. Often, being creative with accessories can give your current wardrobe a new life. A belt is far cheaper than a new dress and can get far more use in the long run!